June 24, 2015
Italian Flank Steak Pinwheels
Flank steak pinwheels stuffed with salami and provolone, rolled tightly, and grilled. Go ahead, impress your friends – they don't have to know how easy this is to make.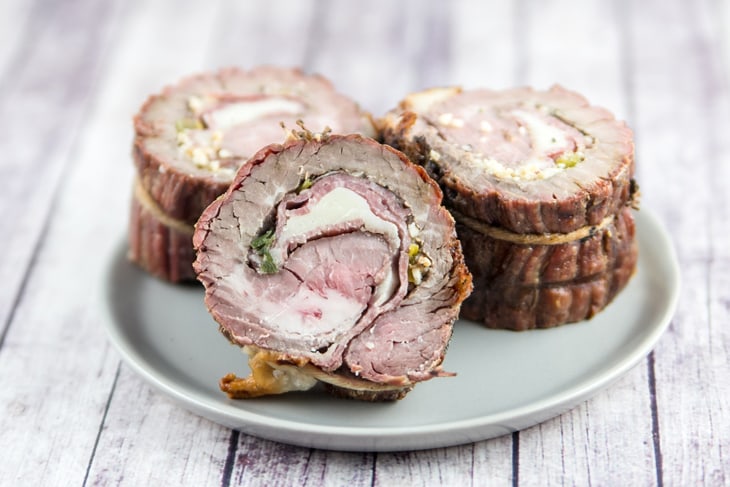 Looking for an impressive but relatively quick dinner option, worthy of serving to guests? Look no further than these flank steak pinwheels. Step aside, gents. Yours truly will woman the grill tonight.
First, a little backstory (feel free to skip ahead if you can't wait to dive right in to making these – I won't blame you!).
If you know anyone in the medical field, you may have heard a phrase that goes something along the lines of "the fourth year of medical school is the best year of your life since kindergarten!" Friends, let me tell you: it's true.
Many moons ago, my husband was a 4th year medical student and found himself with an absolutely epic amount of free time. Sure, there were real rotations – acting internships and whatnot – but most of the rotations were nothing short of a joke.
Radiology rotation? Home by 10am most days (no wonder that's what he chose for residency…). Pathology rotation? He was called in one day out of an entire month for an autopsy.
He did a radiology "research month" which consisted of about 10 hours of work putting some data into a spreadsheet… and then asking me to do all the statistics since he couldn't remember how to do chi-squared analysis.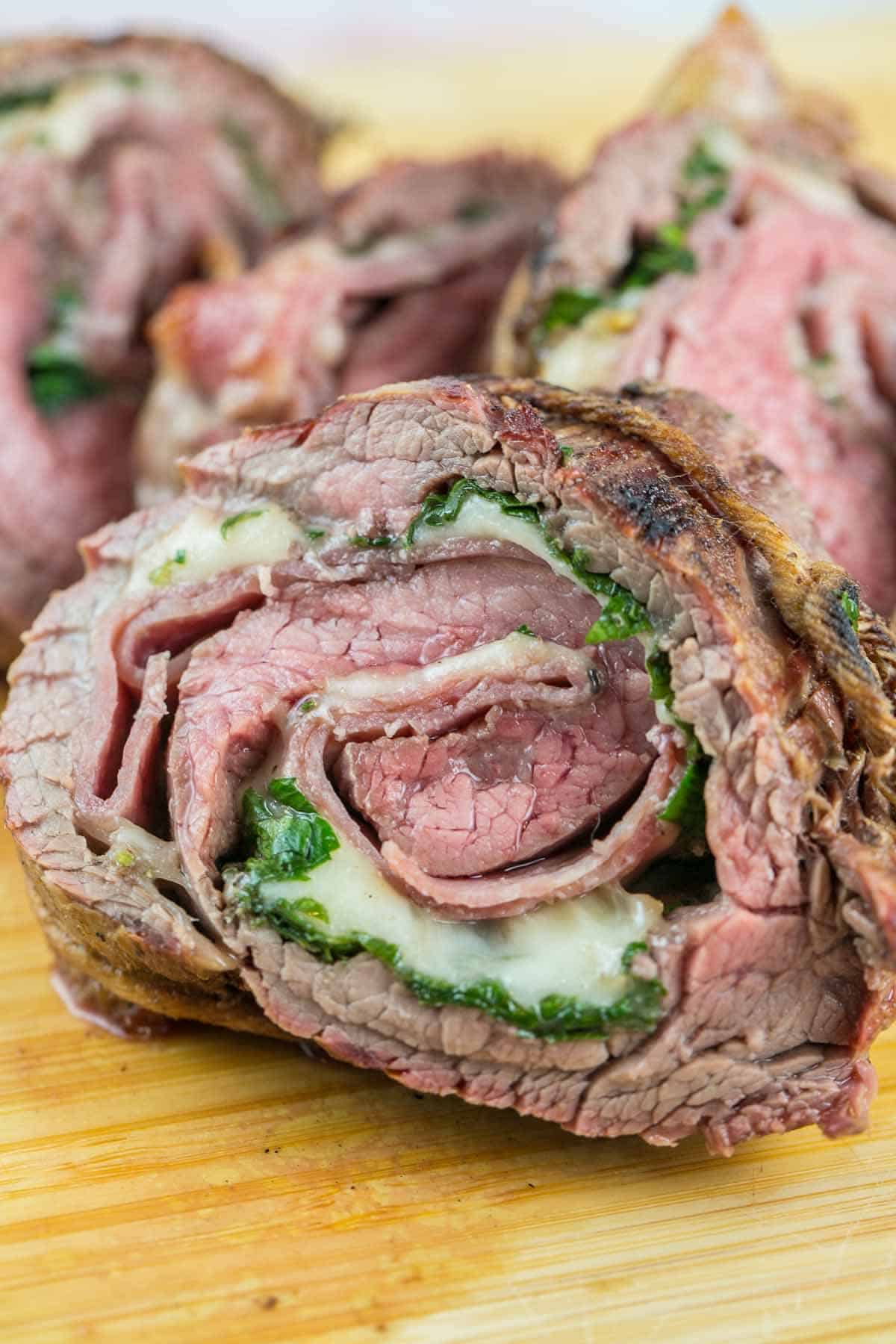 I'd come home from long, miserable days in my graduate lab and find him on the floor, eyes glazed over, in the middle of an all-day playstation game with a fellow fourth year med student.
One day, I came home early and found him on the elliptical watching Oprah. Often, he'd be spread out on the floor watching the Food Network. My jealously knew no bounds that year.
(Things have a way of evening out, though – it was a tough transition when he had to work 110 hours in the ICU in his first 7 days as an intern.)
One of those days, I came home and he told me all about these flank steak pinwheel things he saw on Rachael Ray that looked really good, and after a dramatic eye-roll over his daytime Rachael Ray watching, I tucked the idea away for the future.
Fast forward seven years, and I finally decided to give them a whirl (ha, whirl… pinwheel… I'll stop now).
Since I'm home on maternity leave, we've been having friends over for weeknight dinners, a luxury that will probably stop once I head back to work. I love to grill, as do the friends we had over this particular evening, so it seemed high time to try out the flank steak pinwheels.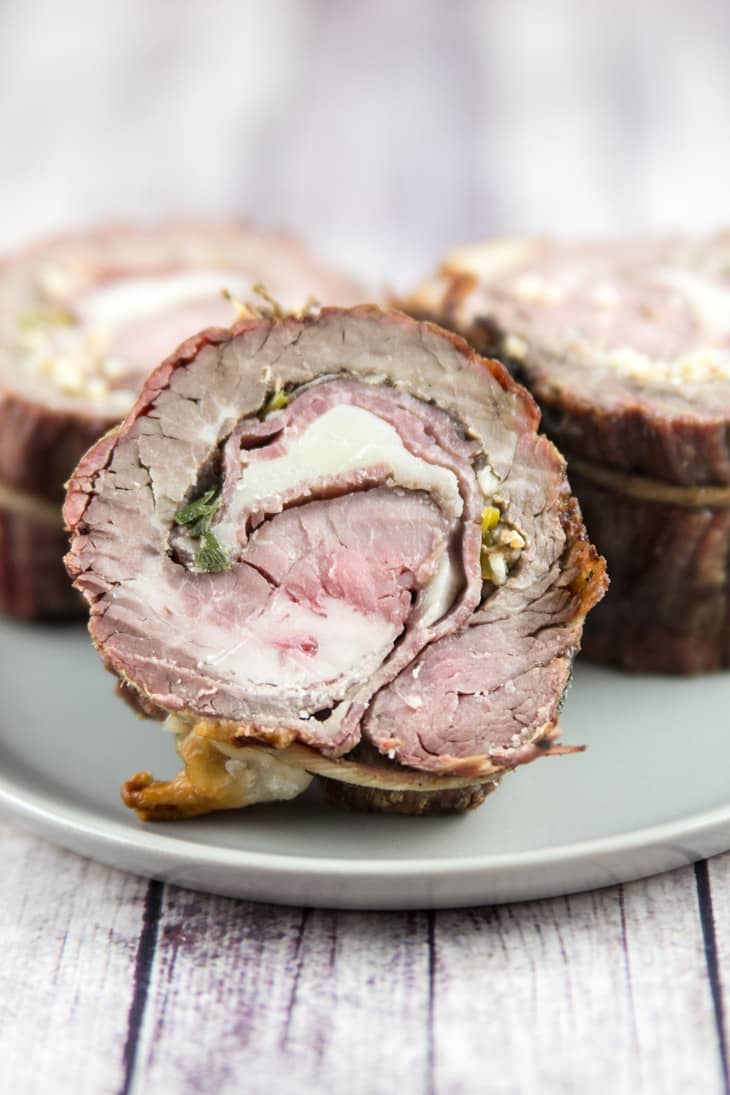 While our mid-week entertaining days will probably end, flank steak pinwheels definitely will not – despite a worthy-of-company appearance, they're quick to pull together and grill, so they remain an excellent weeknight choice.
The hardest part is butterflying the steak to allow for maximum stuffing. You just want to make sure to butterfly with the grain to ensure that the steak is sliced against the grain when it is cut into serving portions. Unsure how to butterfly a flank steak? The fine folks at Serious Eats have an excellent visual tutorial on butterflying, stuffing, and tying the steak for pinwheels.
The possibilities for stuffing your flank steak pinwheels are endless, but I went with a simple Italian-style filling, with lots of garlic, parsley, salami, and provolone cheese – delizioso!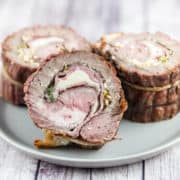 Italian Flank Steak Pinwheels
Flank steak stuffed with salami and provolone, rolled tightly, and grilled.  Go ahead, impress your friends – they don't have to know how easy this is.
Ingredients:
1 whole flank steak, 2 to 2.5 pounds, trimmed of excess fat
kosher salt and freshly ground pepper
3 cloves of garlic, crushed
1 cup chopped parsley
4 ounces thinly sliced salami
4 ounces thinly sliced provolone cheese
Directions:
Lay steak on a cutting board with grain running parallel to the edge of the counter.  Gently pound out thicker regions to form a rectangle.  Butterfly the steak, leaving the back edge attached by about half an inch of meat.  Carefully open the steak and flatten the seam gently to form a large rectangle.
Season open side of meat with salt and pepper.  Spread garlic and parsley all over the steak, leaving a 1-inch border along the top and the bottom.  Layer the salami and provolone over the steak, maintaining the border.
Carefully roll the steak into a long log, tightening as you go until it forms a cylinder.  Let it rest with the seam side down.
Tie the roll tightly with twine, spacing the ties evenly every 1.5 inches apart.  Tie from the outside in – the last piece of twine tied should be at the center of the steak.  Season the outside of the steak with salt and pepper, and cover with vegetable oil to prevent sticking to the grill.
Grill over medium-high heat, rotating 4 times during cooking to evenly brown the outside, until an instant-read thermometer register 140F for medium.  Remove from the grill and let rest for 10 minutes.  Slice between the pieces of twine and serve.
A Bunsen Burner Bakery Original Protocol