July 16, 2015
Simple Fudgy Brownies (Finally!)
Simple and easy fudgy brownies, rich and dense yet cakey, mixed by hand with ingredients already in your kitchen. Better than boxed mix!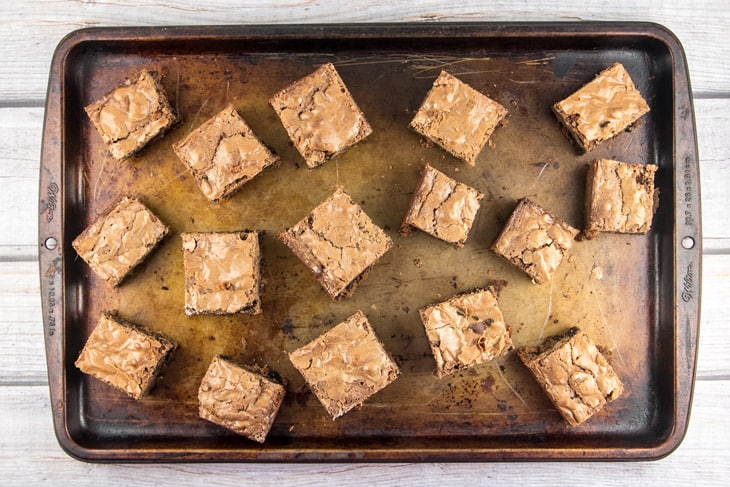 I can't begin to tell you how many times people have asked if I have a good, simple brownie recipe, and I've responded with "Yes! It's on my food blog!".  And since the inquiring individuals never followed up, I assumed they found the recipe and all was well.
A month or two ago, this same scenario played out like all the rest.  Except a few minutes later the friend texted me back saying she couldn't find the recipe.
I pulled up this site on my phone, entered "brownie" into the search bar, and found the recipes for chocolate chip cookie dough dip, hamantaschen, and chocolate chocolate chip muffins… but no brownies.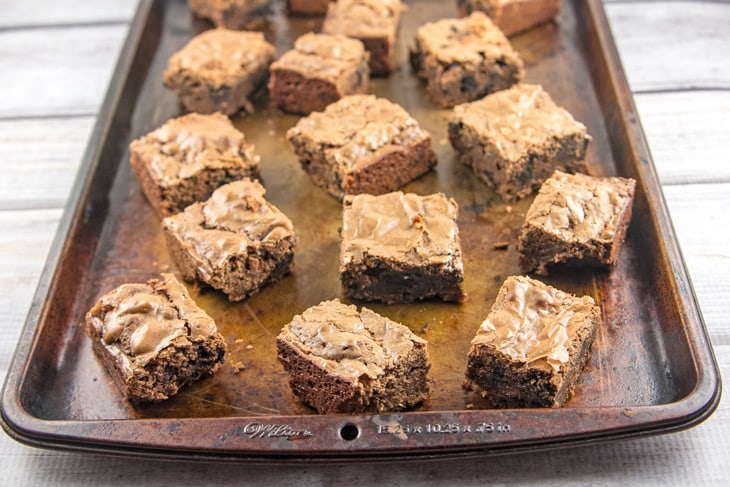 Huh.  I told my friend that the search feature must be malfunctioning on mobile, and I'd send her the link as soon as I was at a computer.  Later that evening, I sat down at my computer, searched again for brownies, and had the same result.
Clearly, something was wrong with the search algorithm, so I painstakingly clicked through each post on my food blog, seeking out the brownie recipe.
Apparently it wasn't the search function that was broken, it was my memory… because I never posted the brownie recipe.
If I've mistakenly directed you to a brownie recipe that didn't actually exist, please accept my humblest apologies.  Here's the recipe for easy fudgy brownies, finally, a few years too late.  I hope you find it worth the wait.
It really is quite lovely – easy and simple to put together.  These are the perfect "it's Tuesday night and I feel like making brownies with ingredients already in my kitchen" recipe.  Simple end easy, but still rich and fudgy.
Unlike a lot of relatively bland brownie recipes that rely on add-ins for flavor, these fudgy brownies are delicious when left plain, but cakey enough to stand up to any additions you want, from peanut butter cups to chopped walnuts to a layer of marshmallow fluff.
Not only do they taste great, but these brownies are downright pretty as well, with a perfect, shiny, flakey crust – no dull, matte, granular top here!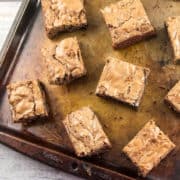 Simple Fudgy Brownies
Simple brownies, fudgy yet cakey, mixed by hand with ingredients already in your kitchen. Better than boxed mix!
Ingredients:
4 eggs
1 1/4 cup cocoa powder
1 teaspoon salt
1 teaspoon baking powder
1 tablespoon vanilla extract
1 cup butter
2 1/4 cups sugar
1 1/2 cups flour
2 cups chocolate chips
Directions:
Preheat the oven to 350F.  Lightly grease a 9×13" pan.
Combine the eggs, cocoa, salt, baking powder, and vanilla in a medium bowl and whisk by hand for about 5 minutes, until well combined.
In a medium-sized microwave-safe bowl, melt the butter.  Once the butter is melted, add the sugar and stir to combine.  The mixture will become shiny looking as it is stirred.
Add the melted butter/sugar mixture to the egg/cocoa mixture, stirring until smooth.
Add in the flour and chocolate chips, stirring until smooth and the flour is incorporated.
Spoon the batter into the prepared pan.
Bake the brownies for 30 minutes, until a cake tester inserted into the center comes out with just a few moist crumbs.  The brownies should feel set along the edges and the center should be very moist, but not uncooked.  Remove from the oven and cool on a rack before cutting and serving.