June 11, 2015
Healthy Extra Crunchy Broccoli Salad
Extra crunchy broccoli salad with almonds, bacon, and grapes. Packed full of flavor without all the guilt – no mayo necessary. Delicious and healthy!
My husband and I have been married for 7 years, together for 12.5 years, and known each other for 14 years. We met my first week of college – I strongly disliked him that first year before we started dating!
You'd think after all this time, I'd know most of his food preferences, but even now, sometimes he still surprises me.
We had our family over for some Memorial Day grilling, but I wasn't sure what to make for sides. I asked if he had any suggestions – I was expecting something like potato salad or pasta salad.
Imagine my surprise when my not-into-vegetables husband suggested… broccoli salad!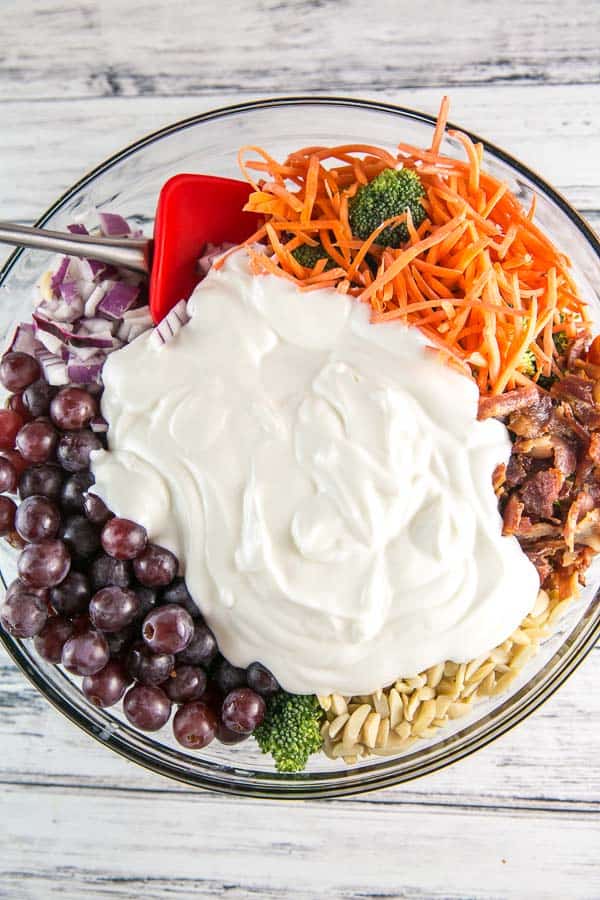 I've never really been a fan of broccoli salad. While I love the idea of crunchy broccoli paired with sweet grapes, it's awlays too dressing-heavy and soggy. Most of the recipes I found online were VERY heavy on the mayonnaise.
While I like mayo more than a northern gal probably should, there's a limit. A salad should at least be somewhat healthy, right? Enter everyone's favorite mayo swap: Greek yogurt!
(Sidebar: is it just be, or is full-fat plain yogurt REALLY hard to find these days? Low fat or no fat works great here, but I often want to use full fat yogurt for baking. Where is it hiding?! There are dozens of low fat, low calorie, artificially sweetened varieties, but none of the real thing.)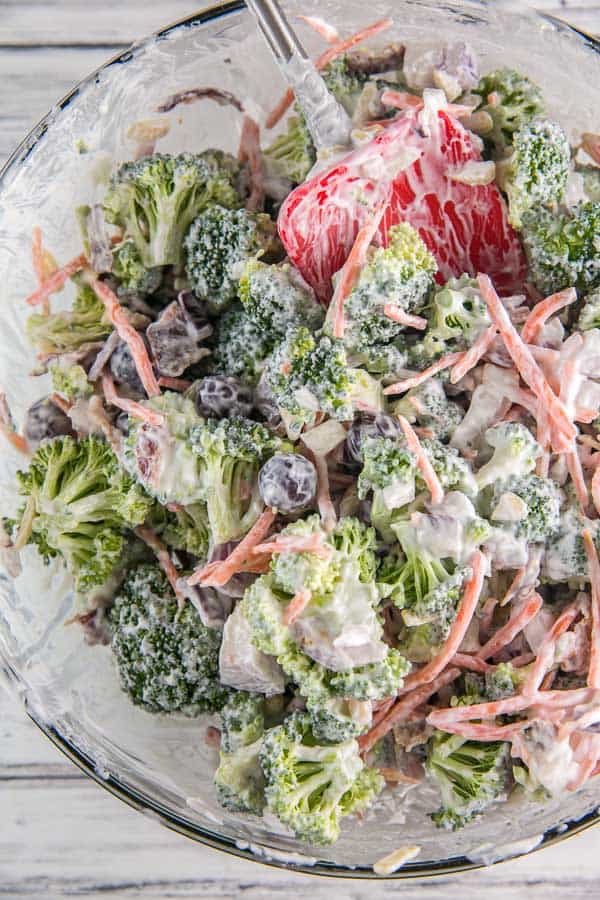 To our crispy, crunchy broccoli salad, we'll add a little bacon for that smokey flavor, some onion for a little bite, slivered almonds for additional crunch, grapes for a pop of sweetness, and a squirt of lemon juice.
The result is a delicious broccoli salad that actually focuses on the flavor of broccoli. Novel idea: broccoli is delicious! We don't need to mask it with copious amounts of dressing.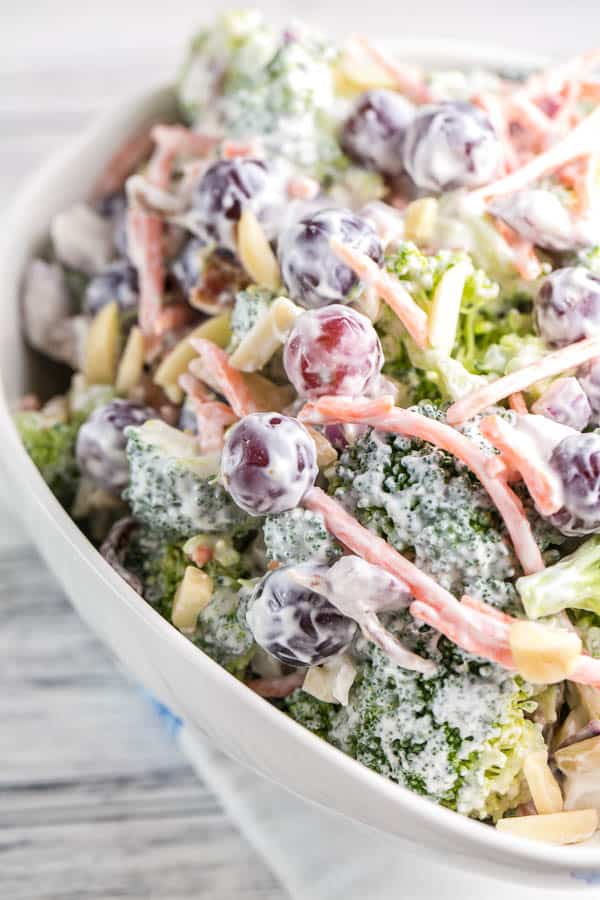 This is a perfect crowd-pleasing BBQ or picnic staple. The best part — make it ahead of time! We didn't have much leftover after grilling, but what was left was still crunchy three days later. Broccoli salad victory!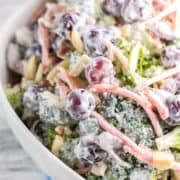 Extra Crunchy Broccoli Salad
Extra-crunchy almond, bacon, grape, and broccoli salad, packed with flavor without all the guilt.
Ingredients:
3 medium to large heads of broccoli
1 1/2 cup red grapes, halved
5 slices of bacon
1 red onion, diced
1/2 cup shredded carrots
3/4 cup slivered almonds
1 1/2 cup Greek yogurt (or mayo)
1/4 cup lemon juice
2 tablespoons white wine vinegar
Directions:
Place the bacon in a deep skillet and cook over medium heat until crispy.  Cool and crumble or chop into small pieces
Cut the broccoli into bite-sized pieces.  Combine with the grapes, onion, almonds, and crumbled bacon.
In a small bowl, whisk together the Greek yogurt, lemon juice, and white wine vinegar.
Stir the dressing into the broccoli salad and enjoy!  Leftovers will last several days, refrigerated in an air-tight container.
A Bunsen Burner Bakery Original Protocol