October 8, 2020
Homemade Pizza Rolls
A quick food processor pizza dough turns into delicious easy Homemade Pizza Rolls, filled with fresh basil and tomatoes. It's like the grown-up version of classic pizza bites.
There's no denying that the past 6 months this year have been… challenging. But there have also been some rays of sunshine mixed in, too.
One of the highlights of spending 5 months working from home while also watching two small children? Having built-in sous chefs!
We revisited some old, favorite recipes — and have been able to enjoy some formerly "weekend only" recipes during the week, now that I'm working from home during the day.
High up on the list of favorites: these easy homemade pizza rolls. While they do take some time to make (yeast rising), they're surprisingly easy – and the perfect way to get little hands helping in the kitchen!
(Side note: While most of my recipes are new, sometimes I'll republish old recipes with new photos, new tips, and new recipe updates. This is one of those recipes. When I first posted it, back in 2016, the initial post included:
"Sometimes, I think I have this mom gig figured out. And sometimes, it is 4:42 am and I am holding a still-awake 16 month old over my shoulder, I have yet to go to sleep for the night, and I have to go to work in 4 hours."
That 16-month-old? He's now the one kneading the dough for these pizza rolls. Life moves fast, and new moms, I promise, your children will eventually sleep better. Even if it feels like you'll never get there.)
Simple Pizza Roll Recipe
When I think pizza rolls, I usually think of some pizza dough, overstuffed with cheese and toppings, rolled into a tight spiral.
They're fine, but nothing special. Classic football party food.
These pizza rolls, however? They're a whole different category.
Light on the toppings. Stuffed in the middle and folded into thirds, rather than rolled.
Real, fresh ingredients literally bursting out of the top – fresh basil, whole pieces of tomato. These are so good.
Easy Food Processor Pizza Dough
Part of what makes these "easy" pizza rolls is this super fast, super easy, homemade pizza dough recipe.
It's made right in the food processor. Kneading dough can be intimidating, so this is the perfect beginner recipe.
But even if you're a dough veteran, sometimes you need a quick option. And sometimes, you have small hands helping you in the kitchen, eager to learn.
All this dough takes is adding all the ingredients to the food processor. Once you've mixed the dough, give it a quick knead by hand (quick like 30 seconds quick) to bring it together and set it aside for 1-2 hours to rise.
For this dough, we want to use bread flour rather than all-purpose flour. Why? It's time for my favorite subject… kitchen chemistry!
Kitchen Chemistry

Bread flour has a higher amount of both gluten and protein, compared to all-purpose flour. This results in a more structured dough which can withstand stretching, and yields a thick bread with a chewy texture and crisp outsides, perfect for pizza dough and bagels.
Real Food Toppings
After the dough doubles in size, stretch it out and layer on your toppings.
I like to use simple but quality ingredients here. Basil, fresh from my garden. Sliced pepperoni (to appease the smallest members of the household). Halved ripe cherry tomatoes. A little freshly shredded parmesan.
You can, of course, make your own sauce, but in fitting the "easy" theme, I use my favorite jarred sauce.
Once you spread your toppings, fold the dough over itself into thirds (like you're folding a piece of paper to put into an envelope), and slice the rounds. Add a few extra cherry tomatoes in the center of each pizza roll.
Then pop everything into the oven and bake. Easy and delicious!
Common Questions about Easy Homemade Pizza Rolls
Can I use store-bought pizza dough?
Yes, frozen pizza dough can be used instead of homemade dough (although I do encourage you to try the homemade version!).
Can this pizza dough be frozen?
After the dough finishes rising, roll the dough into a ball, coat lightly with a few sprays of olive oil, and slide the ball of dough into a freezer-safe bag. Store the dough in the freezer for up to 3 months. Thaw overnight in the refrigerator to use.
Can these pizza rolls be made ahead of time?
The dough for the pizza rolls can be made ahead of time and frozen. The pizza rolls can be baked and stored in an airtight container in the refrigerator for up to 3 days; reheat in a 250 °F oven for 15 minutes, or until warmed. Baked pizza rolls can be frozen for up to 3 months.
Can I use all-purpose flour instead of bread flour?
Bread flour has a higher protein content, which gives pizza dough the classic "chewy" texture. All-purpose flour can be substituted, but the texture of the crust will be different.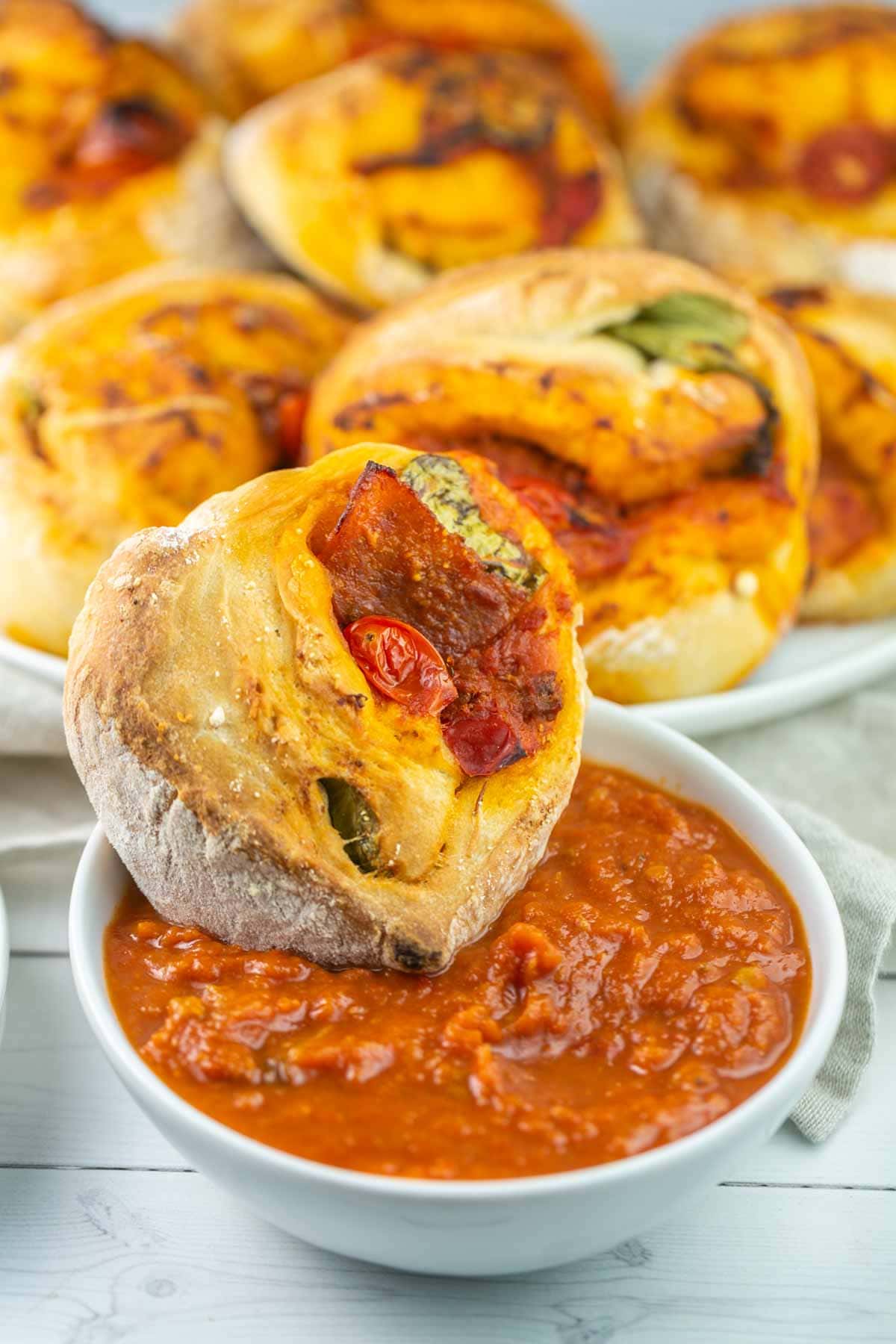 More Easy Dinner Recipes: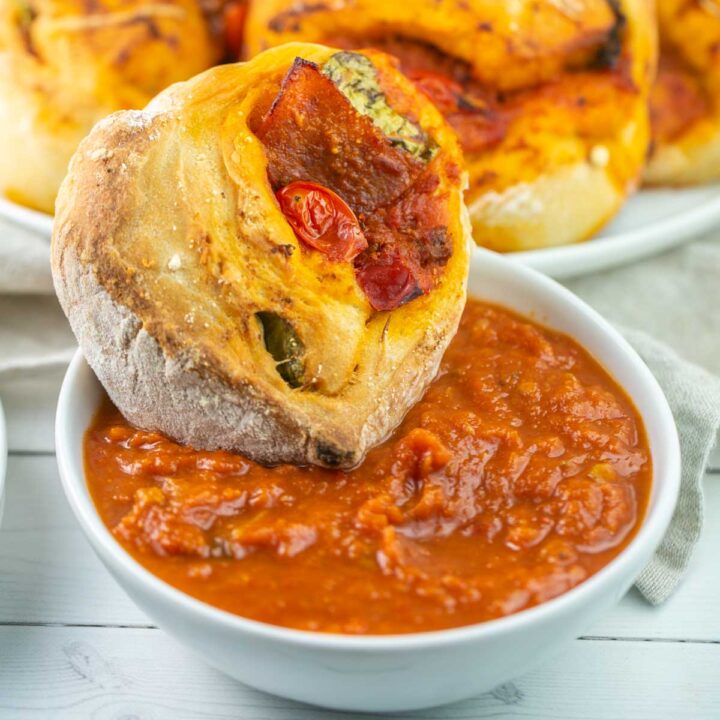 Homemade Pizza Rolls
Total Time:
2 hours
50 minutes
A quick food processor pizza dough turns into delicious easy homemade pizza rolls, filled with with fresh basil and tomatoes.
Ingredients
1 3/4 cups (397 grams) warm water
1 packet (2 1/4 teaspoons, 7 grams) quick-rise yeast
2 tablespoons olive oil
4 cups (480 grams) bread flour
1 tablespoon salt
handful of fresh basil
2 cups (16 ounces, 450 grams) tomato sauce or marinara sauce
1/4 cup shredded parmesan
1/2 cup cherry tomatoes, halved
desired toppings (suggestions: sliced pepperoni, sauteed mushrooms, olives, crushed garlic)
Instructions
Make the pizza dough. Combine the warm water and yeast in a small bowl and set aside until the yeast blooms, about 10 minutes. Add in the olive oil and mix well.
In the bowl of a food processor or a stand mixer fitted with the dough hook, combine the bread flour and salt, pulsing to combine. Slowly pour in the yeast mixture, continuing to pulse to combine. Process until the dough forms a ball, about 30 seconds. Knead briefly (30 seconds to one minute) to bring the dough together in a ball, then place dough in a greased bowl covered with a kitchen towel. Set aside in a warm, dark place to rise until doubled in size, 1 to 2 hours.
Shape the pizza dough. Once dough has doubled, preheat oven to 425 °F. Turn the dough out onto a well-floured surface. Roll the dough into a large rectangle. Scatter the basil leaves and desired toppings on the dough. Spread 1/2 to 3/4 cup of the marinara along the lengthwise center of the dough. Add some of the cherry tomatoes and sprinkle the cheese on top of the tomato sauce. Fold the lower third of the dough over the marinara sauce, followed by the upper third (as if folding a piece of paper to fit into an envelope). Slice the dough crosswise into 10 pieces.
Transfer the rolls onto a baking sheet, spaced about an inch and a half apart. Add the rest of the sliced cherry tomatoes into the open center of each roll.
Bake the pizza rolls. Bake rolls for 30 minutes, until crust is golden. Brush with additional olive oil after removing from the oven. Serve warm or at room temperature with remaining marinara for dipping.
Notes
Pizza dough can be made ahead of time and frozen. After rising, roll into a ball, spray lightly with oil, and store in the freezer in a zip-top freezer bag. Thaw overnight in the refrigerator or at room temperature for 1-2 hours before using.
Raw vegetables, like mushrooms or onions, should be sauteed before adding to the pizza rolls.

Pizza rolls can be stored in the refrigerator for up to 3 days or frozen for up to 3 months. To warm refrigerated pizza rolls, heat in the oven at 250 °F for 15 minute or until warmed through.
Recommended Products
As an Amazon Associate and member of other affiliate programs, I earn from qualifying purchases.
Nutrition Information:
Yield:

10
Serving Size:

1 pizza roll
Amount Per Serving:
Calories:

242
Total Fat:

3.9g
Carbohydrates:

43.5g
Protein:

7.4g
This Homemade Pizza Roll recipe was originally published on 08/19/2016 and republished with new photos and helpful tips on 10/08/2020.