July 24, 2017
4 Ingredient Watermelon Cherry Popsicles
Only 4 ingredients and 5 minutes are necessary to make these easy creamy, fruity Watermelon Cherry Popsicles made from pureed fresh fruit and yogurt. The perfect refreshing summer dessert!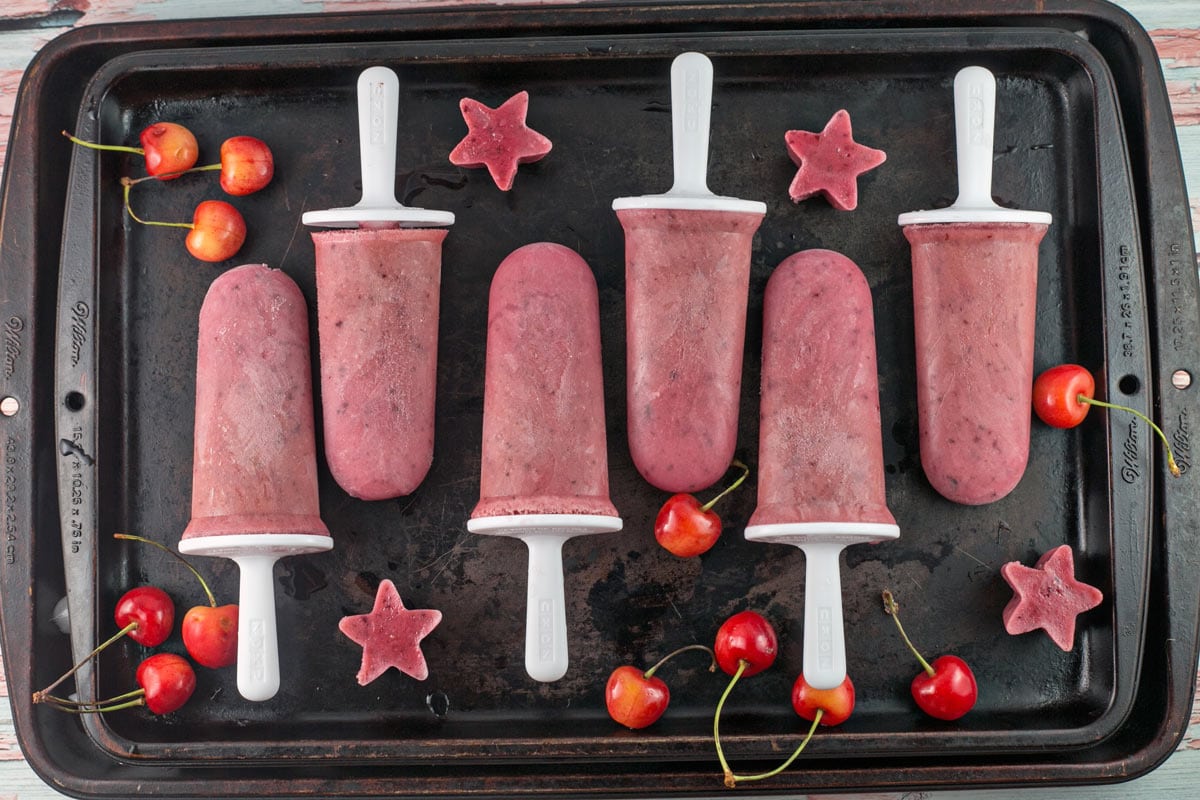 Four ingredients. That's all you need for these sweet, fruity, creamy, refreshing watermelon cherry popsicles. They take just 5 minutes to make, and at least 2 of those minutes are spent trying to wrestle your blender out from under the cabinet.
(6 minutes to make if you are pitting your own cherries. Do yourself a favor and buy this 4 at a time cherry pitter. Bonus points if you can convince your 2 year old that pitting cherries is SUPER DUPER FUN and he does them all for you, although that adds an extra few minutes because free child labor is kind of slow.) (Amazon links are affiliate.)
And then yes, you do have to wait a few hours for them to freeze, but that doesn't count as hands-on time.  That's go to the pool time.  Or read a good book time (I think I vaguely remember doing this in my pre-parenthood days).  Or go to sleep for the night and wake up to delicious popsicles time.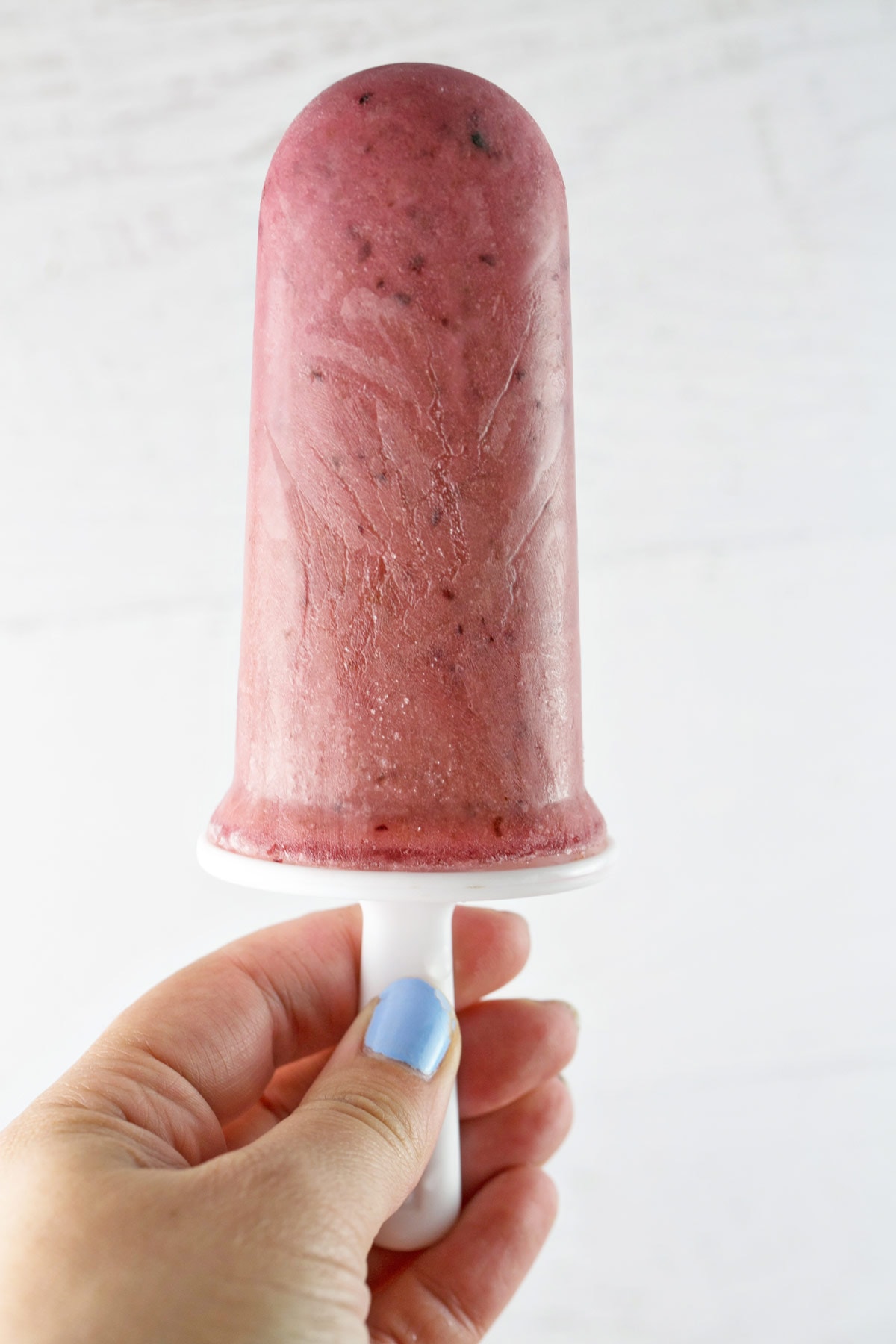 Ingredients and Substitutions
Let's take a closer look at the four ingredients we'll be using for these watermelon cherry popsicles:
Fresh Watermelon: Opt for a ripe watermelon with a vibrant red color and a sweet aroma. The sweeter the watermelon, the tastier your popsicles will be!
Cherries: Look for plump, ripe cherries. If fresh cherries are not available, you can use frozen ones as well.
Yogurt: I went with plain, unsweetened yogurt for this recipe. Greek yogurt works wonderfully too, but feel free to experiment with different types to suit your preferences. Using a sweetened fruit-flavored yogurt is a great way to pull in additional flavors!
Sweetener (Optional): If your watermelon is not particularly sweet, you may want to add a little sugar, honey, agave syrup, or another sweetener of your choice.
While you can buy watermelon just to make these popsicles, I find that they're the best use for the bottom-of-the-container watermelon. The 2.5 of us cannot eat an entire watermelon before it starts to get mushy. Once these pieces at the bottom of the pile start to get a little too soft, toss them into the blender and voila!  No wasted fruit and refreshing watermelon cherry popsicles.  Boom.
Yogurt for Creamy, Smooth Popsicles
Watermelon contains a high water content (obvious, given its name!), making it an ideal choice for popsicles. When we freeze the pureed watermelon, the water molecules form ice crystals. The higher the water content, the larger the ice crystals tend to be. Frozen watermelon juice on its own comes out more like a giant ice cube.
What if we want our popsicle to be a little softer and smoother? Yogurt to the rescue!
Kitchen Chemistry

Adding yogurt to a popsicle helps to prevent large ice crystals from forming, resulting in a smoother texture. Yogurt contains proteins that bind with the water molecules, impeding their ability to freeze solidly and resulting in a creamy consistency.
Creative Variations
While the popsicles are delicious as is, summer is long and hot and you might want to mix things up sometimes. Starting from the same base recipe, here are some different twists to try out:
Tropical: Add a splash of pineapple juice to the watermelon and cherry puree. You can even sprinkle some shredded coconut on top before freezing for added texture and flavor!
Chocolate Coating: After freezing your popsicles, you can dip them in melted chocolate for a little extra treat. Allow the chocolate to harden before serving for a fun twist on chocolate-covered cherries!
Fresh Fruit Slices: Add fresh fruit slices to the popsicle molds before pouring in the puree for some bites of frozen fruit.
Margarita Popsicles: Add a little freshly squeezed lime juice and a pinch of salt to the watermelon and cherry puree. (Tequila optional!)
Minty: Blend a handful of fresh mint leaves into the watermelon and cherry mixture.
Spicy: If you love a touch of heat, consider adding a pinch of cayenne pepper or a dash of chili powder to the watermelon and cherry puree. It's unexpected and a perfect complement to the sweetness of the fruit!
Boozy: If you're making these for a 21+ crowd, add a splash of rum or vodka to the puree mixture for the perfect adults-only summertime treat.
Recommended Tools to Make Watermelon Cherry Popsicles
Blender: This blender packs a serious punch – not only will it make perfectly smooth fruit puree, but you can also blend lots of ice cubes for your morning smoothie, too!
Popsicle Molds: This is the set of popsicle molds that I use – easy to pour into the mold and comes with reusable sticks.
Reusable Push Pop Molds: Making popsicles for little hands and don't want the sticky mess? I love these reusable silicone popsicle molds, similar to the long plastic tube popsicles everyone seemed to have in their freezer during my childhood.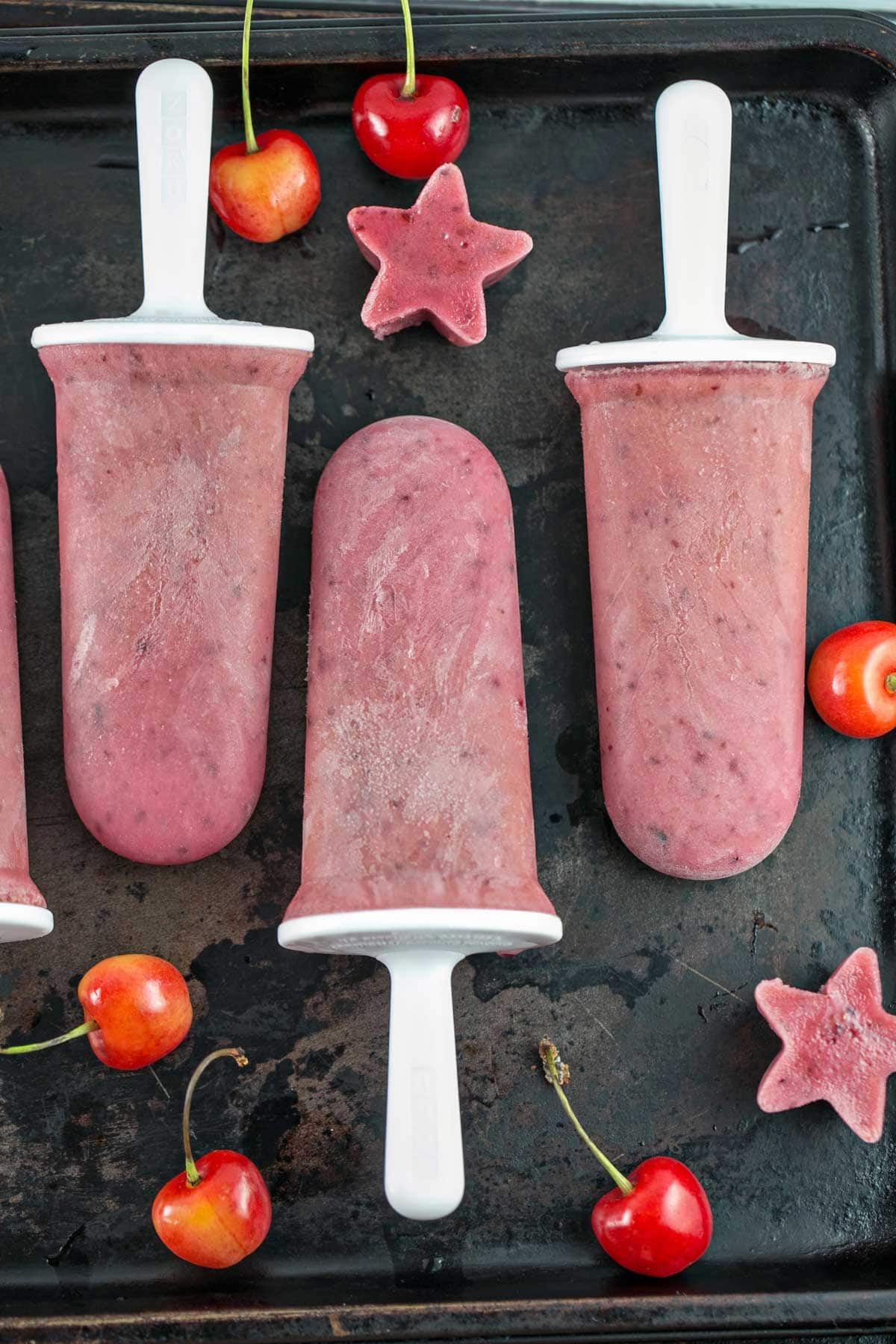 Tips and Tricks for the Best Watermelon Cherry Popsicles
For a smoother popsicle texture, strain the watermelon and cherry puree to remove any remaining pulp or fibrous bits. This step is optional but helpful if you don't like any potential fruity pieces left behind.
To create a swirled popsicle look, puree the watermelon and cherries separately and mix each with yogurt. Alternate layers to add a pop of color between the lighter pink watermelon and darker red cherries.
To speed up the popsicle freezing process, place the empty popsicle molds in the freezer an hour or two before making the popsicles. This helps the mixture set faster.
If you don't have popsicle molds, don't worry! You can use small paper cups or ice cube trays to make the popsicles. Cover the top with foil and poke a popsicle stick through the foil.
To easily remove the popsicles from the molds, briefly run warm water over the outside of the molds. This helps loosen the popsicles and makes them easier to slide out.
More Frozen Treats
Watermelon Cherry Popsicles
Total Time:
4 hours
5 minutes
Only 4 ingredients and 5 minutes necessary for creamy, fruity watermelon cherry popsicles made from pureed fresh fruit and yogurt. The perfect refreshing summer dessert!
Ingredients
3 cups cubed watermelon
1 cup cherries, pitted
6 ounces plain yogurt
1/4 cup sugar
Instructions
Combine all ingredients into a blender, processing until thoroughly combined. Scrape down the sides of the blender to mix well.
Pour into popsicle molds, stopping just below the top of the mold. Pour any excess into ice cube trays.
Freeze for 4 hours, or until frozen solid. To remove popsicles, run mold under hot water for 15 seconds, until loose.
Recommended Products
As an Amazon Associate and member of other affiliate programs, I earn from qualifying purchases.