August 13, 2015
Marshmallow Fruit Dip
Homemade marshmallow fluff, cream cheese, berry puree. Fruit optional – dig in with a spoon.
We spent Father's Day this year with family friends of my husband at their annual Father's Day potluck dinner. (Sidebar: another way in which women get screwed just by being female – Mother's Day is first, so of course you have to spend it with your family because how could you deny the new grandmothers the chance to spend the day with their new grandson? Then Father's Day rolls around a few weeks later, and your husband declares that since you just hosted your families for Mother's Day, you really don't need to see them again so soon. I SEE WHAT YOU DID THERE.) Dinner is simple – usually grilled hamburgers, or ordering in pizza and hoagies – but everyone else contributes some sort of appetizers or desserts. While I waited for my husband to hear back about what we should bring, I brainstormed ideas of what exciting new party food I would make. And then the text comes: "We could use a fruit tray."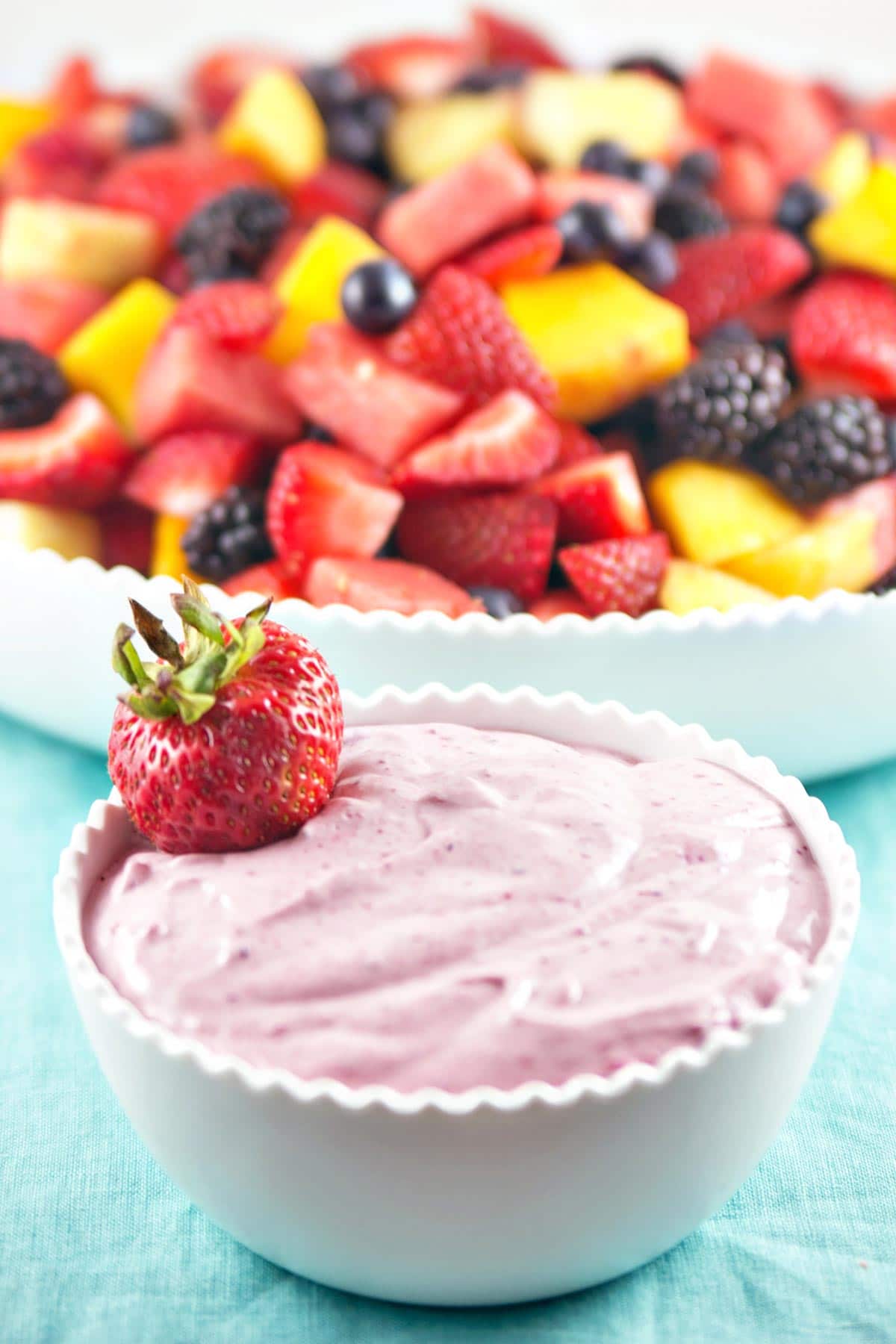 A fruit tray. Don't get me wrong – I love a good fruit salad – but asking someone who enjoys cooking and baking enough to run a food blog to bring a fruit tray is borderline cruel. There I was, all set to whip up a new dip with a homemade baguette, or perhaps bake a rhubarb pie with some fresh rhubarb from the CSA… and I get fruit duty. Harumph.
Obviously, I needed to add a little something to the fruit tray, so I made a berry marshmallow fruit dip to accompany it. It's based on the fruit dip that is sold with fruit trays at many grocery stores, which I suspect is as simple as a jar of marshmallow fluff mixed with some cream cheese. I don't know about you, but I usually don't happen to have a jar of marshmallow fluff sitting around, so I went ahead and made my own. Homemade marshmallow fluff is incredibly easy, made with ingredients you likely have in your cabinet (the corn syrup depends on whether or not you bake pecan pies!), and tastes even better than the stuff in a jar. I also had some berries that were rapidly nearing the end of their lifespan and a little softer than I wanted to include with the rest of the fruit, so I went ahead and pureed them and added them in to the dip to add a subtle berry flavor, thin the dip just a little, and tone down the sweetness.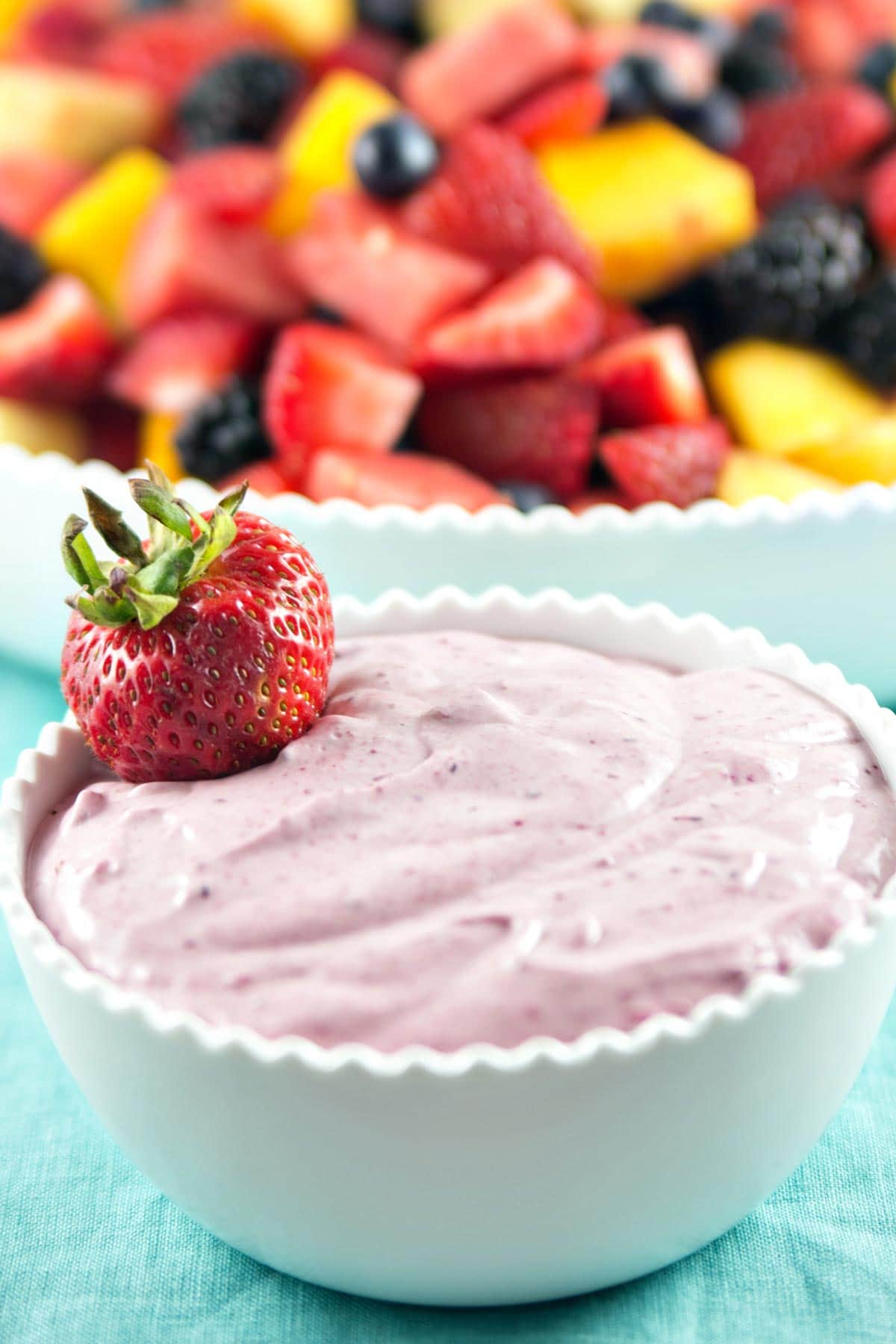 The dip was delicious, although as one might guess, in light of the many cakes, ice cream, cookies, and chocolate covered pretzels in attendance at the party, the fruit and fruit dip were mostly overlooked. But it meant that most of it came back home with me, which was a-okay because I ate all of it over the next week. Every last blueberry, pineapple chunk, and slice of mango. And probably licked the dip bowl when it was done.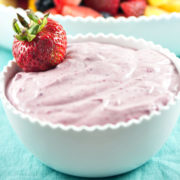 Marshmallow Fruit Dip
Homemade marshmallow fluff, cream cheese, berry puree. Fruit optional – dig in with a spoon.
Ingredients:
1 egg white, room temperature
3/4 cup light corn syrup
1/4 teaspoon salt
3/4 cup confectioners sugar
1 1/2 tablespoons vanilla extract
8 ounces cream cheese, softened
1 cup berries
Directions:
Using the whisk attachment of a stand mixer, whisk together egg white, corn syrup, and salt on high speed until the mixture has doubled in volume, about 5 minutes.  Reduce speed to low and add in the confectioners sugar, mixing until thoroughly combined.  Add in the vanilla extract.
With the mixer still on low, beat in the cream cheese until just combined.
Add the berries to a blender and puree until liquefied.  Drain the berry puree using a mesh sieve placed over the bowl with the fruit dip.  Gently fold in the strained liquid by hand using a rubber spatula.
Refrigerate the dip until use.  Tightly covered, the dip will last for one week.
A Bunsen Burner Bakery Original Protocol