August 18, 2015
Nectarine Upside Down Cake
This definitely isn't your grandmother's upside-down cake! Made with yogurt, this almond Nectarine Upside Down Cake is lighter, fresher, and highlights in-season fruit.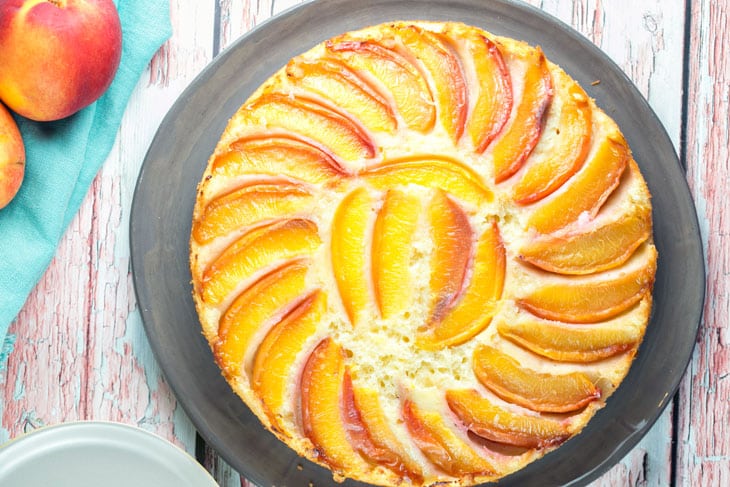 When you think of upside-down cakes, do you think about rings of pineapple and fluorescent maraschino cherries? With the whole cake covered in a kind of sticky, sugary layer?
Well, step aside, old-fashioned cakes, because this is a far cry from your grandmother's pineapple upside-down cake.
This is a light and fluffy coffee cake topped with beautiful fresh nectarines. No layer of sticky sugar – all the sweetness on top comes right from fresh summer produce!
The beauty of an upside-down cake lies in its presentation—the fruit is placed at the bottom of the pan, caramelizing as it bakes, and when the cake is flipped, you have a beautiful fruit mosaic on top. It's the perfect beautul presentation without needing to add any sort of frosting or glaze!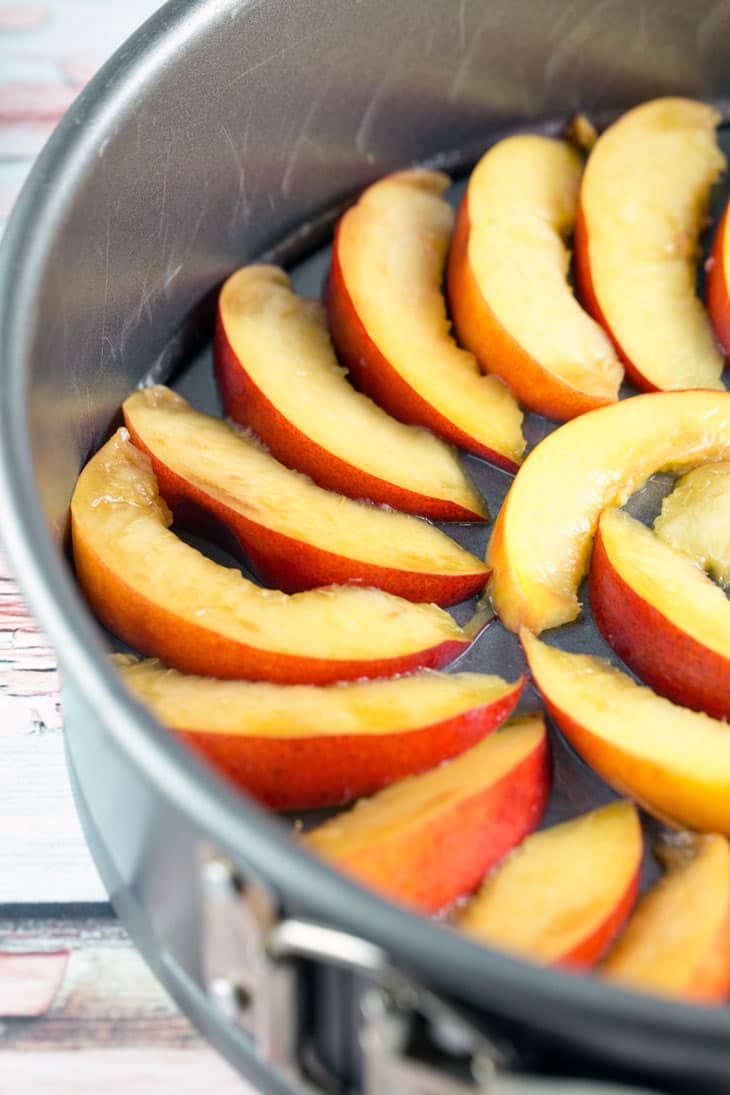 Modern Upside Down Cake
Traditional upside-down cakes have a brown sugar glaze covering the fruit, adding a sticky and sweet syrupy coating.  The brown sugar is placed on the bottom of the pan, followed by the fruit and then the batter.  When you turn the cake out of the pan and flip it over, the fruit is baked into the top and covered with a syrupy glaze.
But we're skipping the sticky glaze this time around. This cake is all about fresh, light, summery flavors! Ripe, in-season fruit is sweet enough, no glaze necessary.
Since we're eliminating that extra sugary layer, let's add a little extra flavor: almond.  An easy one-bowl coffee cake, flavored with vanilla and almond, and lightened up with some yogurt. (Not into almond? Feel free to omit – just double the vanilla extract!)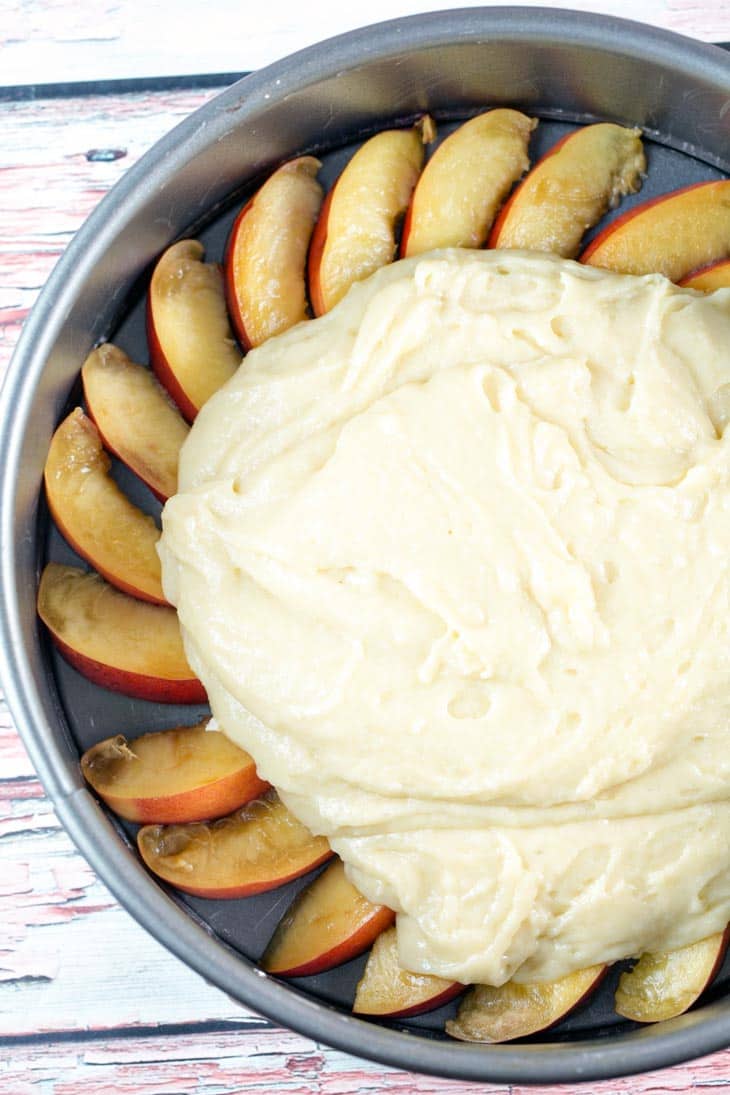 Baking with Greek Yogurt
If you've been following along with my kitchen experiments for any length of time, you know that I'm a huge fan of swapping in Greek yogurt in salads and casseroles – just check out my extra-crunchy broccoli salad, corn, crab, and tomato salad, or horseradish dill coleslaw.
So let's go ahead and continue that trend, and bake some Greek yogurt into this nectarine upside-down cake! Why do we include Greek yogurt in cakes? It's time for my favorite subject… kitchen chemistry!
Kitchen Chemistry

Greek yogurt is a great way to lighten up a cake, providing similar results to heavy cream or sour cream with a lower fat and calorie content. Greek yogurt has a lower water content than regular yogurt. Too much water can over-develop gluten, resulting in a more irregular crumb or a tougher end product. The more solid consistency of Greek yogurt results in a finer, more tender crumb.
Easy Mix by Hand Nectarine Cake
This cake is easy. As in, mix everything by hand, easy. As in, one mixing bowl, one whisk, and one rubber spatula to wash easy.
This recipe uses melted butter, rather than creaming the butter with the sugar. The big bonus: no need to pull out your mixer! The end result is a little more of a muffin-like consistency, which works perfectly with the fruit topping.
Slice the nectarines and arrange them along the bottom of a cake pan. I like to use a springform pan for easy removal, but a regular cake pan works, too.
Gently spread the batter over the cake, being careful to not push the nectarines out of the way.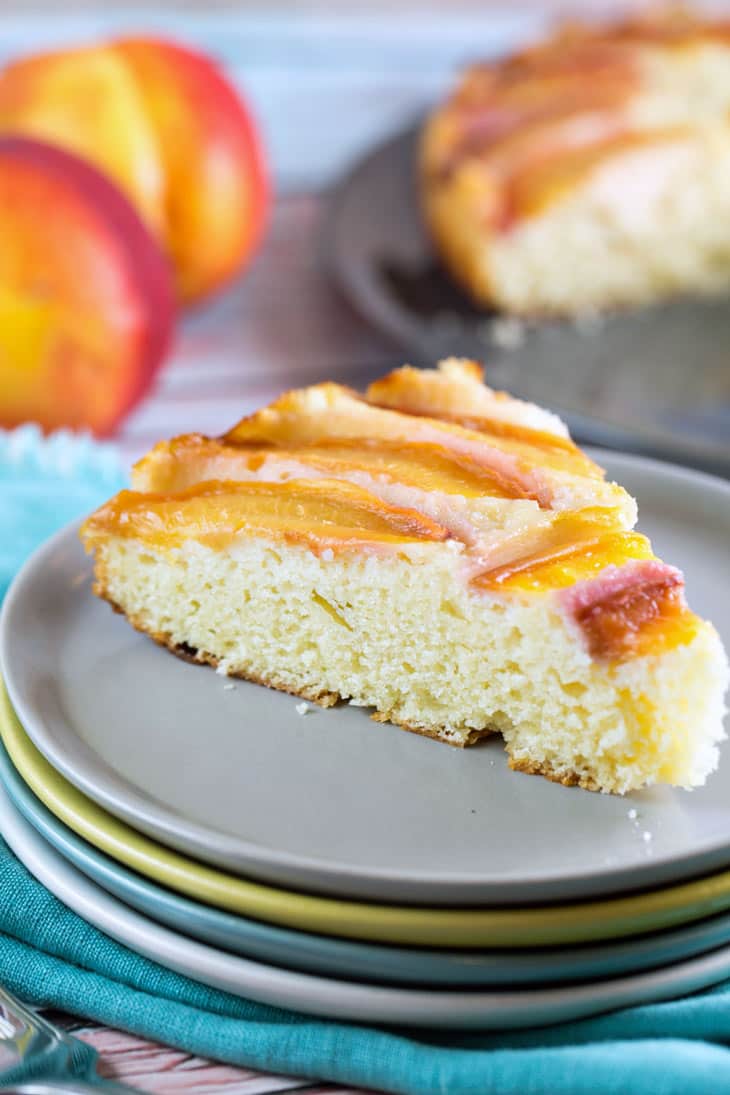 Tips and Tricks for the Best Nectarine Upside Down Cake
Use fresh nectarines (or other fruit) — frozen fruit adds too much moisture to the top of the cake.
While a regular 9-inch cake pan can be used, a springform pan makes it much easier to remove the cake after baking.
Allow the cake to cool before slicing – this will help ensure clean slices through the nectarines.
Substitute any in season fresh stone fruit, like peaches or plums, or pome fruit with a core, like apples or pears, for the nectarines.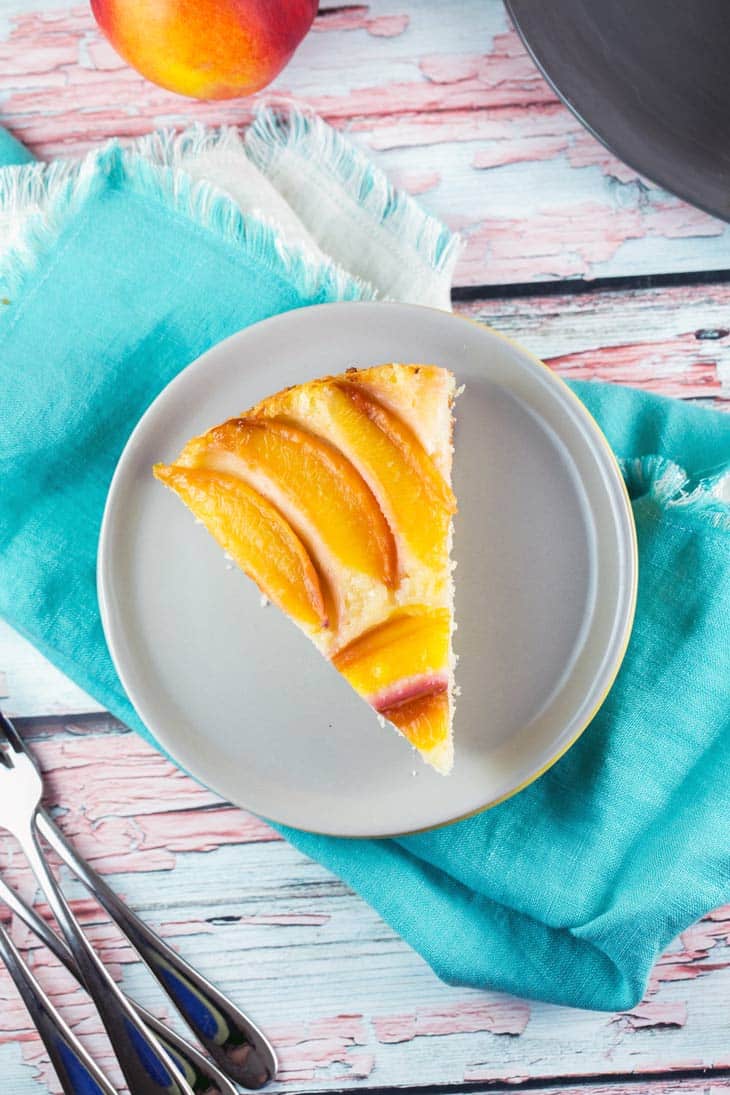 Other Easy Coffee Cakes: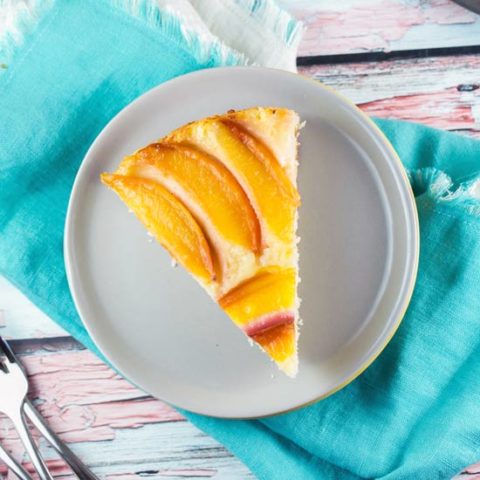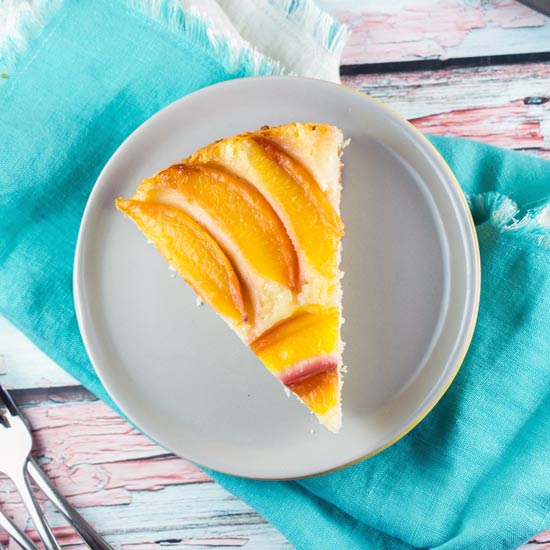 Nectarine Upside Down Cake
Skip the old fashioned syrupy covered upside down cakes - this nectarine upside down cake is lighter and made with fresh in season fruit.
Ingredients
1/2 cup (113 grams) unsalted butter
3/4 cup (213 grams) plain Greek yogurt
2 large eggs
1 teaspoon vanilla extract
1 teaspoon almond extract
1 cup (198 grams) granulated sugar
1 1/2 cups (180 grams) all purpose flour
2 teaspoons baking powder
3/4 teaspoon salt
2-3 nectarines, sliced into wedges
Instructions
Preheat oven to 350 °F. Coat a 9-inch springform pan with nonstick spray.
Make the cake batter. Add the butter to a large glass mixing bowl and microwave in 30 second increments until melted. Whisk in the Greek yogurt, eggs, vanilla extract, and almond extract. Once smooth, whisk in the sugar.
Switch to a rubber spatula and fold the dry ingredients into the wet ingredients, just until combined.
Layer the nectarines and batter. Arrange the sliced nectarines along the bottom of the springform pan. Pour the batter over top of the sliced fruit and smooth the top with the rubber spatula.
Bake the cake. Bake for 40 minutes, or until golden brown and a tester inserted into the center comes out clean.
Allow the cake to cool for 5-10 minutes, then remove the sides of the springform pan and invert onto a wire cooling rack. Carefully lift the bottom of the pan off the top of the cake, sliding a long knife along the pan bottom to loosen any fruit that may have stuck.
Notes
A 9-inch springform pan is recommended for ease of removal, but a standard 8-inch cake can pan also be used. Increase baking time 5-10 minutes.
Other stone fruits (peaches, plums) or pome fruit (apples, pears) can be substituted for the nectarines.
Use fresh fruit, as frozen fruit will add too much extra moisture to the cake.
Nectarine upside down cake can be stored at room temperature for 3-4 days, refrigerated for a week, or frozen for up to 3 months.
Recommended Products
As an Amazon Associate and member of other affiliate programs, I earn from qualifying purchases.
Nutrition Information:
Yield:

8
Serving Size:

1 slice
Amount Per Serving:
Calories:

339
Total Fat:

13.8g
Carbohydrates:

49.2g
Protein:

5.4g