April 27, 2018
Sheet Pan Steak Fajitas
Get dinner on the table in 20 minutes with these easy, make-ahead Sheet Pan Steak Fajitas. Don't forget all your favorite fajita toppings!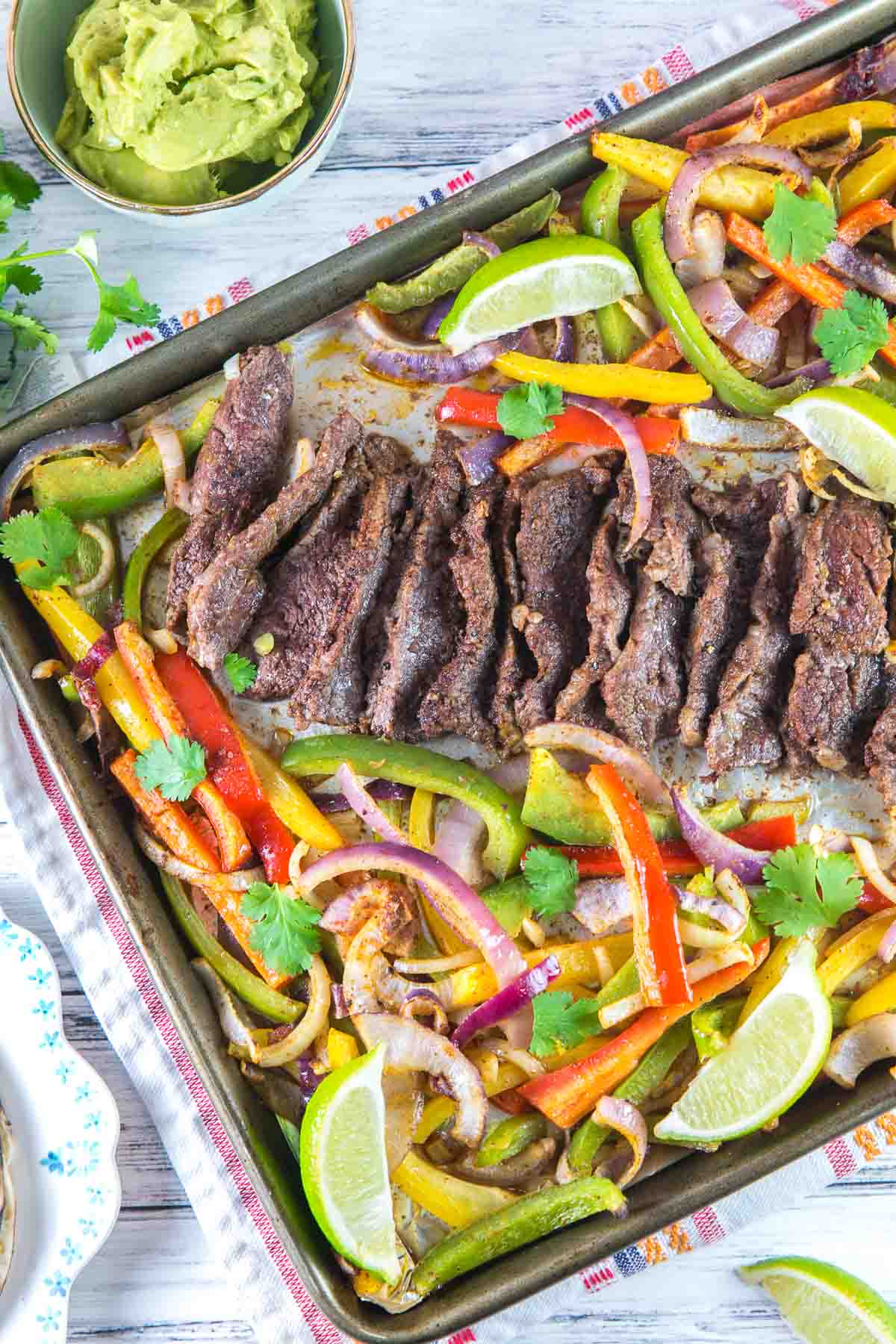 My just-turned-3 year old is in a full blown Mexican food obsession stage. (And really, who can blame him? Mexican food is delicious!)
It's pretty much a guarantee that every week, we will have either fajitas or tacos… and the days we don't, he still wants to talk about them.
Whenever we go outside to grill, he sits on the steps and says "Mommy, let's talk about tacos." As a lover of terrible food puns, I'm working hard to get him to say "let's TACO 'bout it" — no such luck yet.
And then when we're done talking about tacos, he asks to talk about fajitas. We talk about our favorite kinds of tacos and fajitas and our favorite toppings and our favorite way to make them. Is this my kid or what?
So because fajitas have been on my brain a lot lately, it's time to share a staple dinner recipe in the Bunsen Burner Bakery household: sheet pan steak fajitas.
I've waxed poetic about my love of sheet pan dinners before (sheet pan Asian salmon, sheet pan eggplant parmesan), and these sheet pan steak fajitas fit the bill.
Able to prep everything ahead of time? Yes. Everything cooks for the same amount of time in the oven? You betchya. Totally hands off while it's cooking? Absolutely. A well-balanced nutritious dinner with protein and vegetables? Yes and yes!
In other words, perfect for busy weeknights. Sheet pan dinners are truly my answer for getting a quality, home-cooked meal on the table as fast as possible.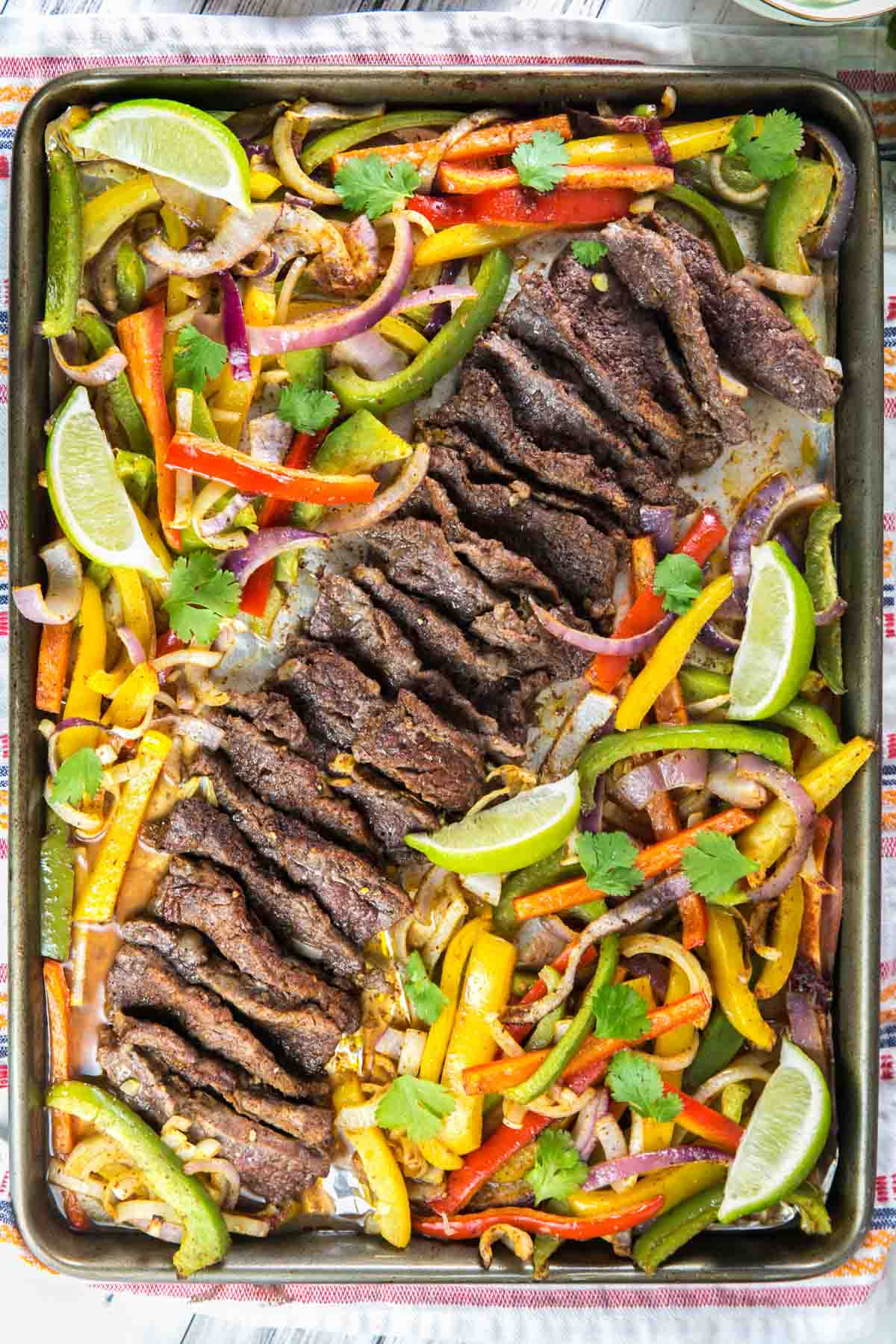 Ingredients and Substitutions
Ready to make some delicious easy oven baked fajitas? This is what we need to get started:
Flank Steak: Flank steak is always my go-to for fajitas, but you can also use skirt steak, sirloin steak, or even ribeye steak.
Red Onion: Red onions tend to hold their texture a little more while cooking, which makes them perfect for fajitas.
Bell Peppers: I always use a combination of red, yellow, orange, and/or green peppers to make a colorful dish.
Olive Oil: You can also use any neutral oil, like canola or grapeseed oil, but I always have olive oil on hand.
Chili Powder: This is a good opportunity to add as much heat as you like – we tend to use a general medium-heat all-purpose chili powder, but go as hot as you like!
Paprika: If you have smoked paprika, I love to use it for these fajitas to bring even more flavor than regular sweet paprika.
Cumin: Cumin is an essential spicy for Mexican cooking, bringing heat without a lot of extra spice.
Garlic Powder: You could use fresh garlic in the dish, but I find garlic powder easier to mix in with the rest of the spices.
Onion Powder: Yes, we're including onions, but onion powder brings even more flavor!
Cayenne Pepper: Depending on how spicy you want your fajitas, adjust with more or less cayenne pepper, but I recommend at least a pinch!
Salt: This recipe is written for table salt or Morton Kosher salt, but if you use Diamond Crystal, season to taste.
Tortillas: Corn tortillas are classic, but if your family prefers flour, feel free to use instead.
Your Favorite Toppings: This is the fun part! Some of our favorite toppings include charred lime wedges to squeeze on top, cilantro, guacamole, sour cream, black beans, and of course, pickled red onions.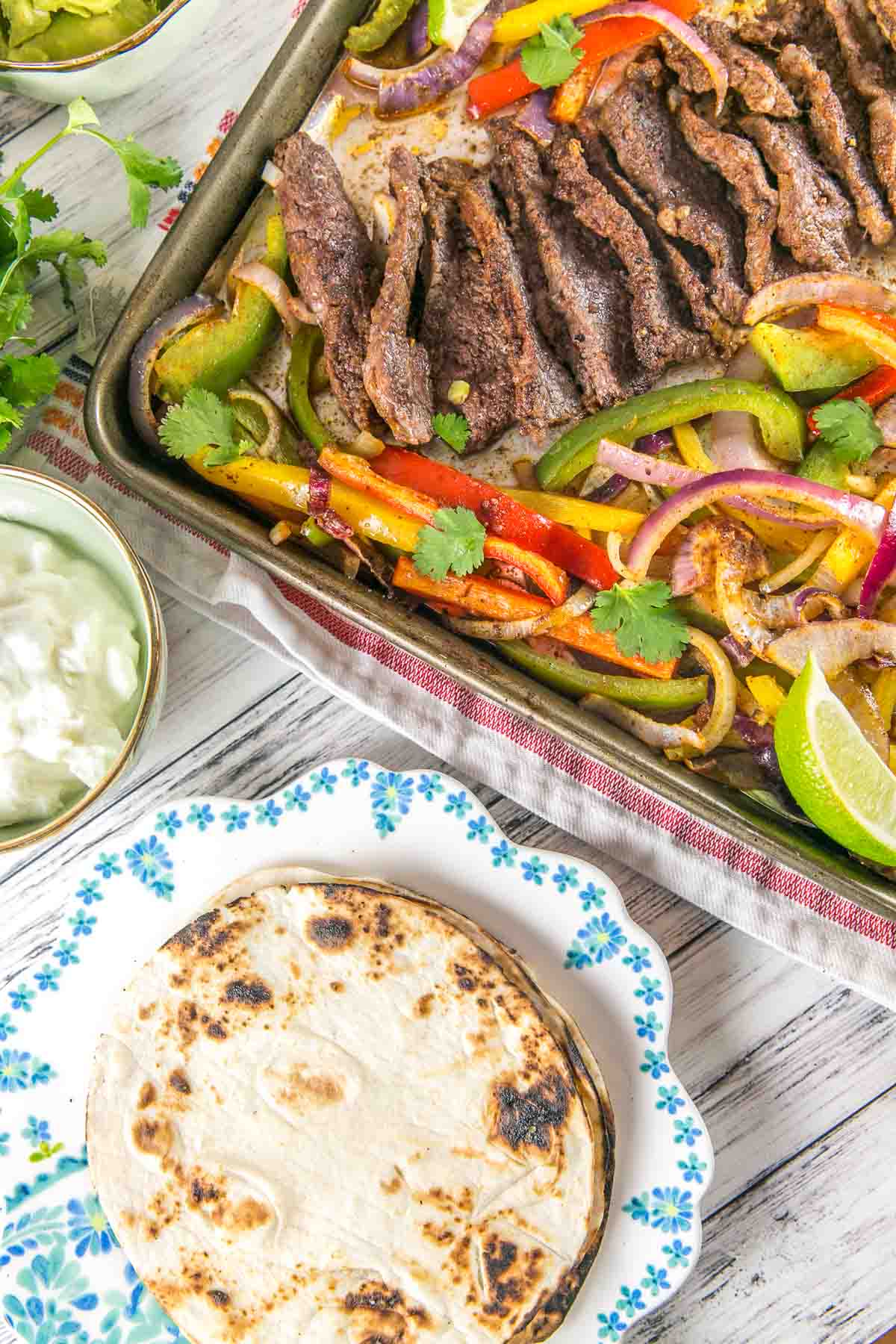 Best Type of Steak for Steak Fajitas
Flank steak or skirt steak are my favorite types of steak to use. They are both thin and lean cuts, perfect for slicing into thin strips. Both of these options can be a bit tough if they're not cooked properly, so we want to make sure to cook these quickly using high heat. Flank steak and skirt steak both have a great meaty flavor, which pairs perfectly with the other flavors in our sheet pan fajitas.
Sirloin steak or ribeye are also good options as well. Ribeye tends to be more expensive, but it's also more tender and flavorful than flank steak or skirt steak. Just make sure to trim off any excess fat before cooking!
For this recipe, I'll include directions for baking in a 425 °F oven, but if you have a broiler, I love broiling the sheet pan even more. When we really hit the steak with high heat, it results in a moister, more tender steak. Why does this happen? It's time for my favorite subject… kitchen chemistry!
Kitchen Chemistry

When meat is cooked, the proteins in the meat begin to denature and squeeze together, which pushes out moisture. As moisture is forced out, the protein strands shorten, toughen, and dry out. When meat is cooked quickly over high heat, however, the outside of the meat forms a crust, which helps to trap the moisture inside, retaining more of the meat's natural juices and flavor.
To lock in as much flavor as possible and keep our steak from getting too chewy, we'll cook it with higher heat for a shorter amount of time – and we can achieve this even better if we use our broiler.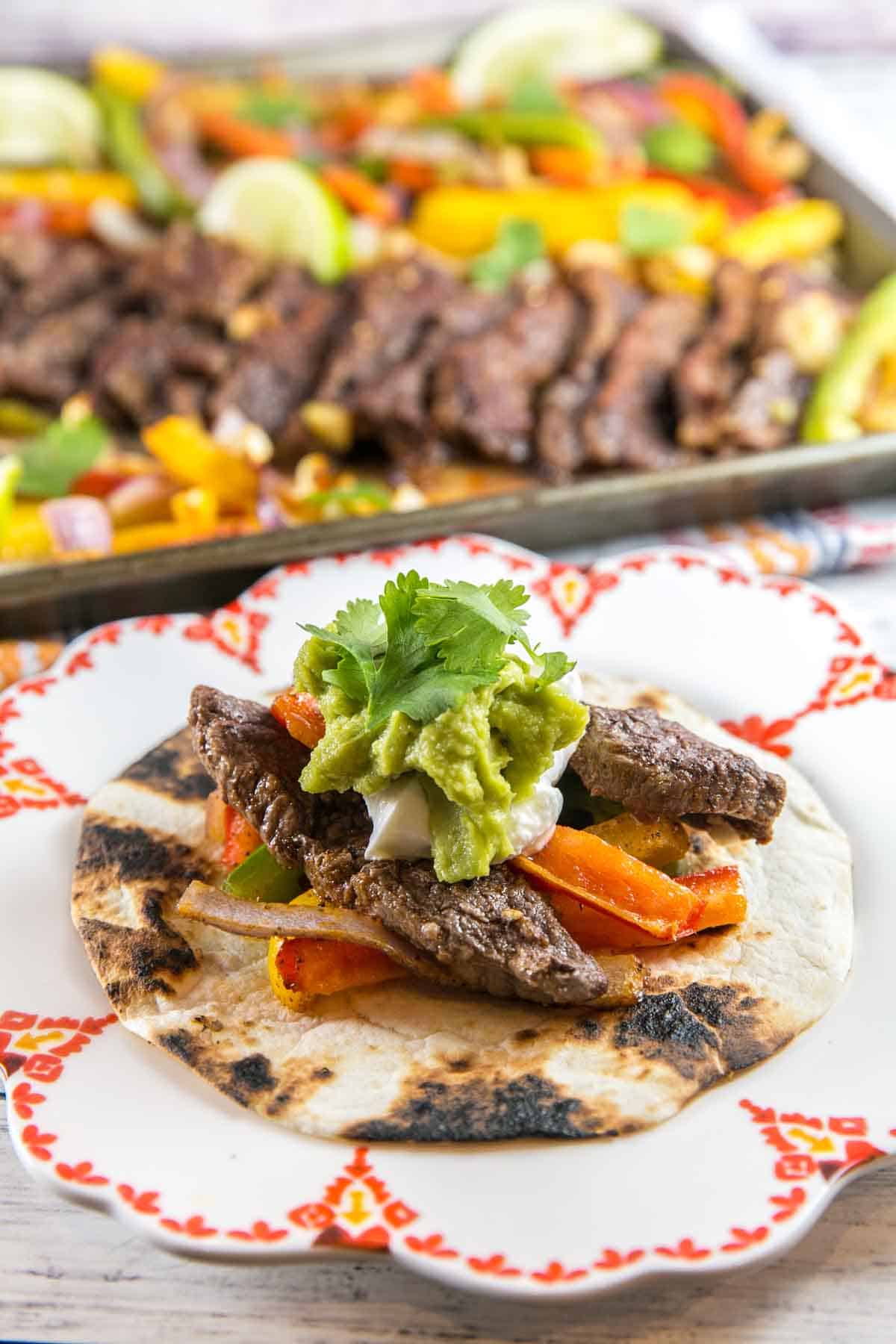 Perfect Prep-Ahead Dinner
One of my favorite things about this dinner is that I can prep everything the night before!
The most time consuming part of this entire mreal is thinly slicing the peppers, onion, and steak. And you can do that all ahead of time!
The night before we plan on having this, I thinly slice the steak (against the grain!) and the vegetables and season with all the spices. I'll then wrap the sheet pan in plastic wrap and store it in the fridge. After I get home from work the next day, I just have to preheat the oven or the broiler, pop the prepared sheet pan in the oven, and boom! Dinner in 15 minutes on a busy weekday.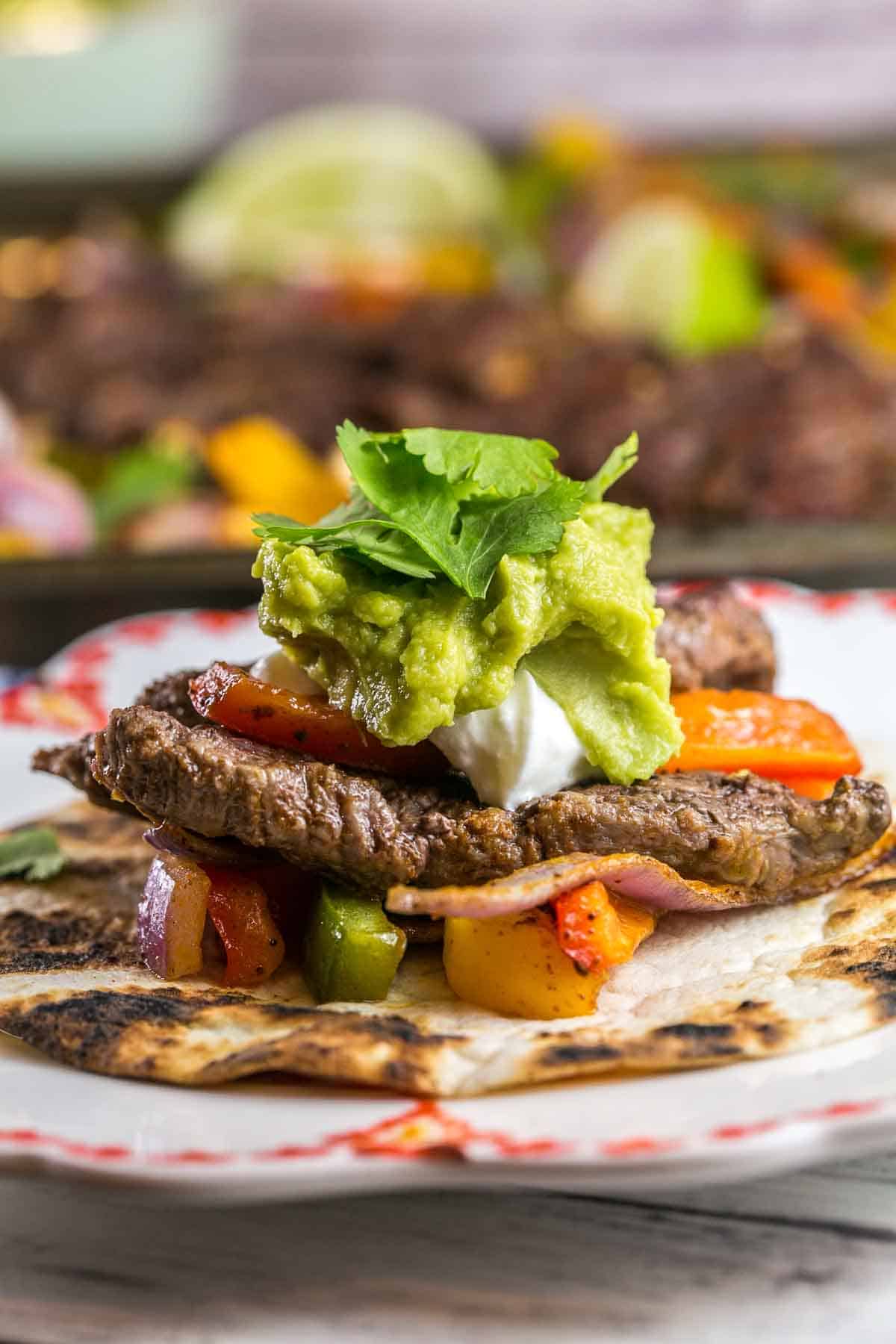 Recommended Tools to Make Sheet Pan Steak Fajitas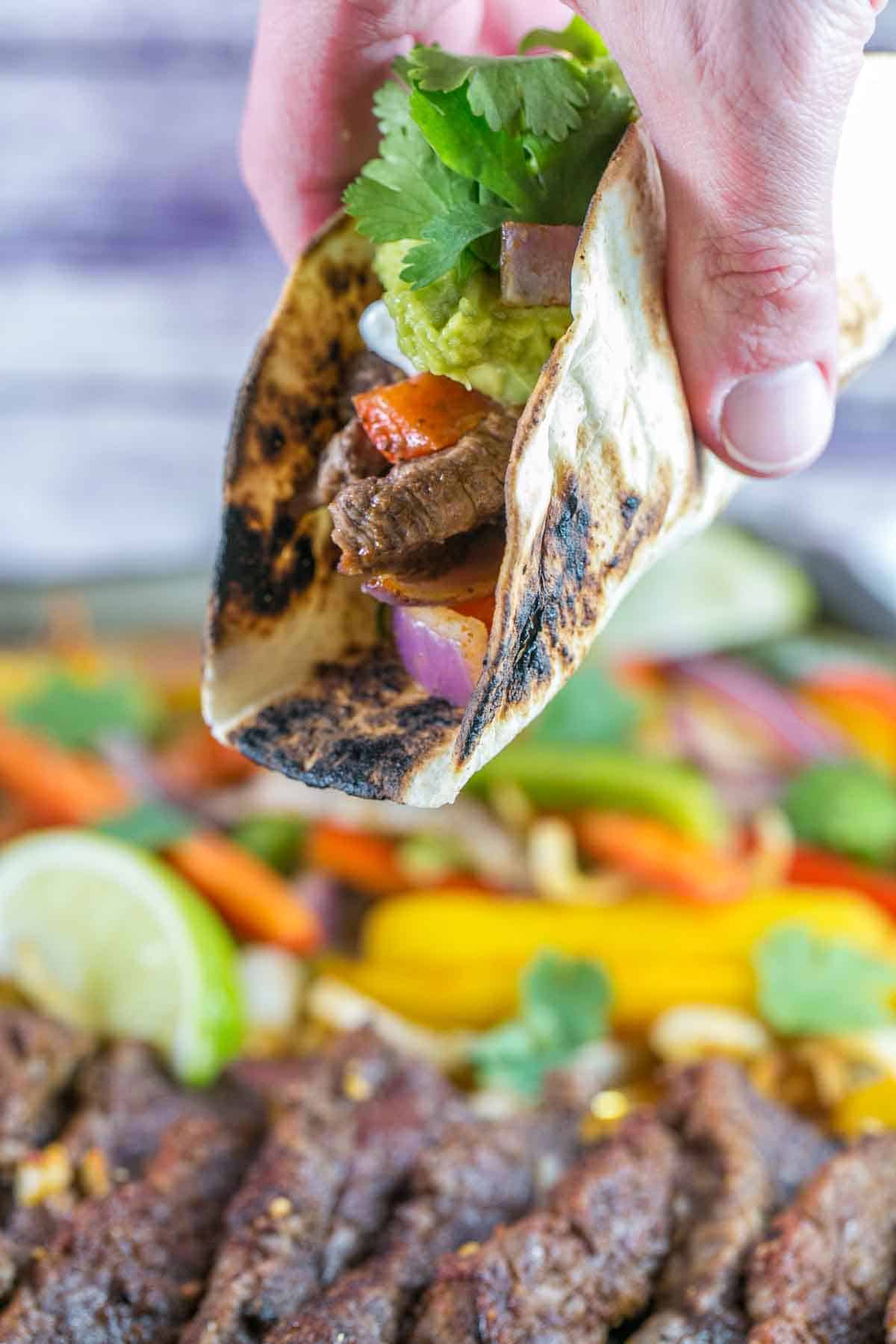 Tips and Tricks for the Best Sheet Pan Steak Fajitas
Slice the ingredients evenly. Keep the steak and the vegetables in thin, evenly-sized strips to ensure that everything cooks evenly in the oven.
Slice the steak against the grain. If you slice against the grain, the steak will be less chewy as you are slicing through the long muscle fibers that constrict and tighten once exposed to heat.
For even more flavor, marinate the steak in the spice blend before cooking. You can pop the sheet pan in the oven as soon as it's ready, but this is even more flavorful if you make it the evening before or earlier in the day and let the spices sit on the steak for a few hours!
Add more vegetables! If you're a veggie lover, feel free to add what you like – mushrooms, zucchini, or cherry tomatoes are all delicious additions.
Swap out the protein. Steak is our favorite for fajitas, but this recipe works just as well with chicken or shrimp. Cook the chicken until an internal temperature of 165 °F and the shrimp for just a few minutes until no longer translucent.
Don't overcrowd the sheet pan. If the sheet pan is too full, the vegetables will steam instead of roast and become soggy. If your pan is crowded, spit up the ingredients onto two sheet pans.
More Easy Sheet Pan Dinners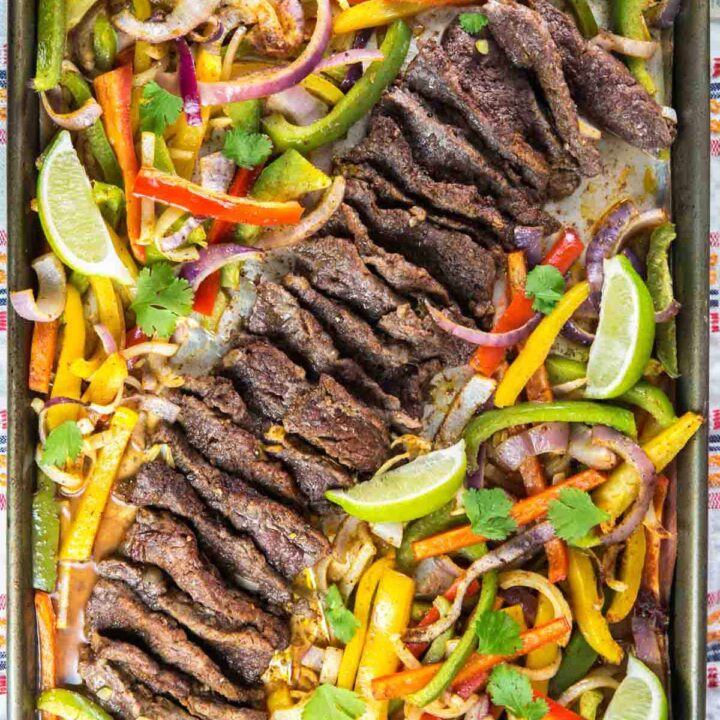 Sheet Pan Steak Fajitas
Get dinner on the table in 20 minutes with these easy, make-ahead Sheet Pan Steak Fajitas. Don't forget all your favorite fajita toppings!
Ingredients
1 pound flank steak, sliced 1/2-inch thick against the grain
1 red onion, thinly sliced into strips
1 red bell pepper, sliced into strips
1 yellow bell pepper, sliced into strips
1 green bell pepper, sliced into strips
1/4 cup olive oil
2 teaspoons chili powder
2 teaspoons paprika (preferably smoked paprika)
1 teaspoon cumin
1 teaspoon garlic powder
1/2 teaspoon onion powder
1/2 teaspoon cayenne pepper
1/2 teaspoon salt
8 corn tortillas
additional toppings: lime wedges, cilantro, guacamole, sour cream, shredded cheese, etc.
Instructions
Preheat the broiler to high or the oven to 425 °F. Line a large sheet pan with foil.
Combine sliced steak, onion, and peppers in a large bowl. Drizzle with olive oil and stir until everything is evenly coated. Stir together chili powder, paprika, cumin, garlic powder, onion powder, cayenne pepper, and salt in a small bowl; sprinkle the seasoning mixture over the steak and peppers. Stir well to combine.
Arrange steak, onions, and peppers in a single layer on the sheet pan. Broil for 8 minutes, flipping steak and peppers halfway, or bake for 10 to 12 minutes, until the steak reaches the desired doneness and the onions and peppers are cooked.
If desired, warm tortillas in a pan or toast over the flame of a gas burner. Serve with desired toppings.
Notes
Don't overcrowd the sheet pan. If you can't fit all the ingredients in a single layer, use two sheet pans side-by-side in the oven.
Slice the steak against the grain for the best texture.
Add additional vegetables like mushrooms, zucchini, or cherry tomatoes, if desired.
Swap out the protein for chicken or shrimp - cook the chicken until an internal temperature of 165 °F or shrimp until no longer translucent.
The vegetables and steak can be prepped ahead of time, arranged on the sheet pan, and stored wrapped in plastic wrap in the refrigerator for up to 24 hours before baking.
Recommended Products
As an Amazon Associate and member of other affiliate programs, I earn from qualifying purchases.