September 2, 2022
Oreo Cinnamon Rolls
Made with crushed Oreos in the dough, a crumbled Oreo filling, and Oreo cream cheese frosting, these Oreo Cinnamon Rolls are the ultimate dessert-for-breakfast for Oreo lovers! A fun twist on a classic cinnamon roll, this delicious treat is just waiting for your next special breakfast or dessert.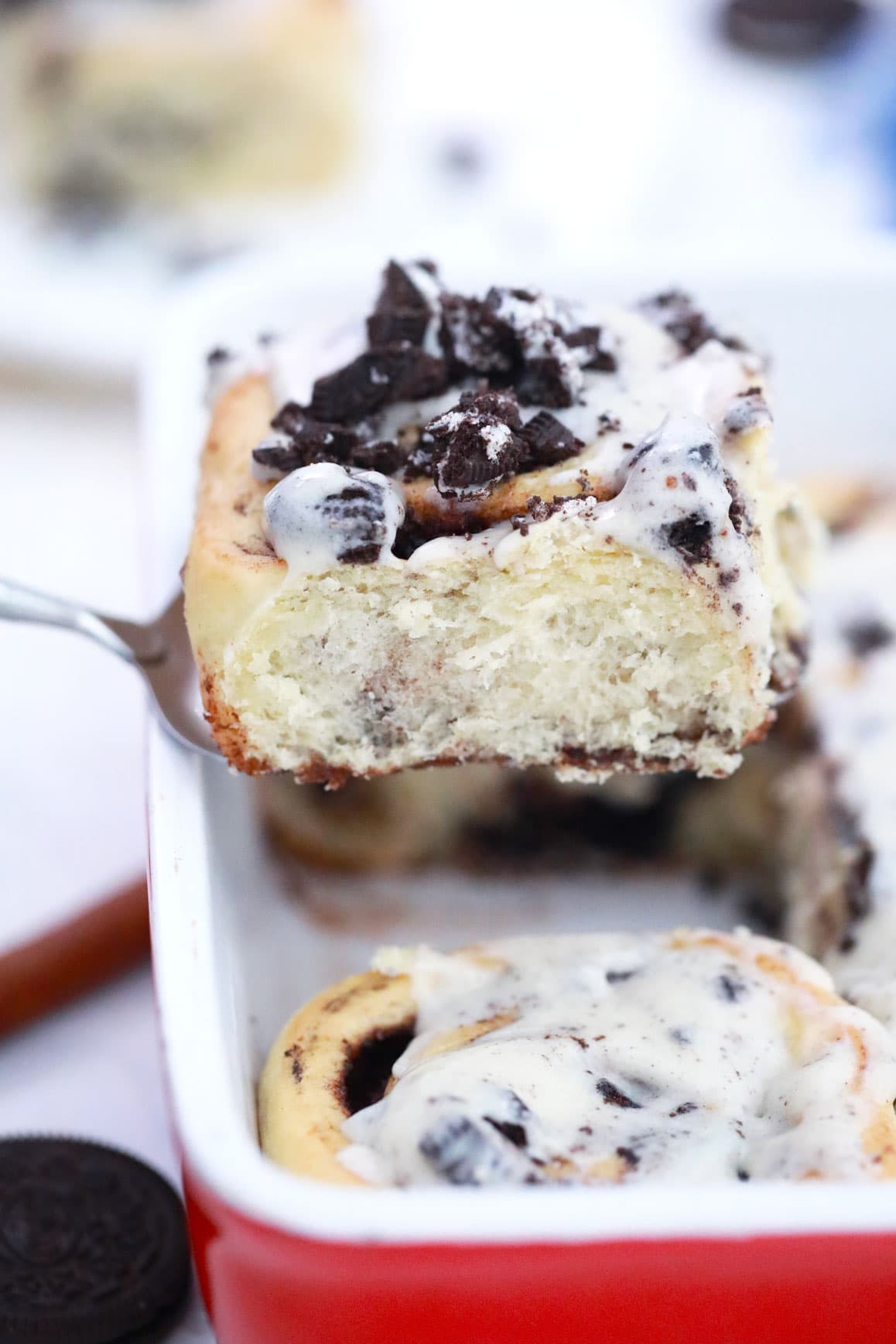 Do you love cinnamon rolls? They're such a classic breakfast treat – warm, doughy treats, full of cinnamon, and drizzled with sweet, gooey frosting. Whether you like them hot or room temperature, cinnamon rolls are a classic breakfast treat for so many families.
Today, we're going to take a little twist on cinnamon rolls… with these oreo cinnamon rolls! That's right — a cinnamon roll filled with crunchy Oreo cookies, mixed with a buttery filling, and topped with a thick layer of cream cheese frosting.
(And just in case Oreo cookies as a filling isn't enough, we're even putting Oreos into the cinnamon roll dough!)
Also: these are just plain fun to make. I don't know about you, but I love baked goods that are rolled, like chocolate pinwheel cookies, cinnamon chocolate babka muffins, or a pumpkin roll. Not only do they look beautiful, but it's also fun to get a little hands-on and messy in the kitchen.
Whether you make these as a sweet and chocolatey dessert, keep a batch in your freezer for the next time you have overnight company, or they become a future holiday breakfast tradition, these Oreo cinnamon rolls are fun to make and delicious to eat!
Yeast Dough from Scratch
Intimidated by yeast doughs? Don't be!
If you didn't follow along and make all my many babka recipes from my year-long series in 2020, don't worry. I have ALL the tips and tricks you need to make a yeast dough for these Oreo cinnamon rolls!
Start by proofing the yeast. Combine the warm milk with the yeast, salt, and sugar, and let it stand for 5 minutes, or until foamy. This tells us that the yeast is active and ready to go. Why does yeast get all foamy when we combine it with warm liquid? It's time for my favorite subject… kitchen chemistry!
Kitchen Chemistry

Yeast is a living organism! Yeast feeds on sugar and produces carbon dioxide. The foamy bubbles seen during proofing are the result of this carbon dioxide – and tells us that the yeast is alive and active.
Once we've confirmed that the yeast is active, add in the melted butter and slowly stir in the flour. Next, knead the dough. This can be done using the dough hook attachment of a stand mixer set to low speed or by hand. Knead until the dough is no longer sticky, adding the crushed Oreos at the very end and mixing just to combine.
Then the dough has to rest in a warm, moist place until it doubles in size. In the summer, your kitchen is probably perfect for this! In the winter, you place the dough in an oven along with a large bowl of hot water set on the bottom rack. Don't turn the oven on, though — the hot water will heat the oven slightly to help your dough rise.
(While you're waiting for the dough to rise, it's the perfect time to make the filling and frosting!)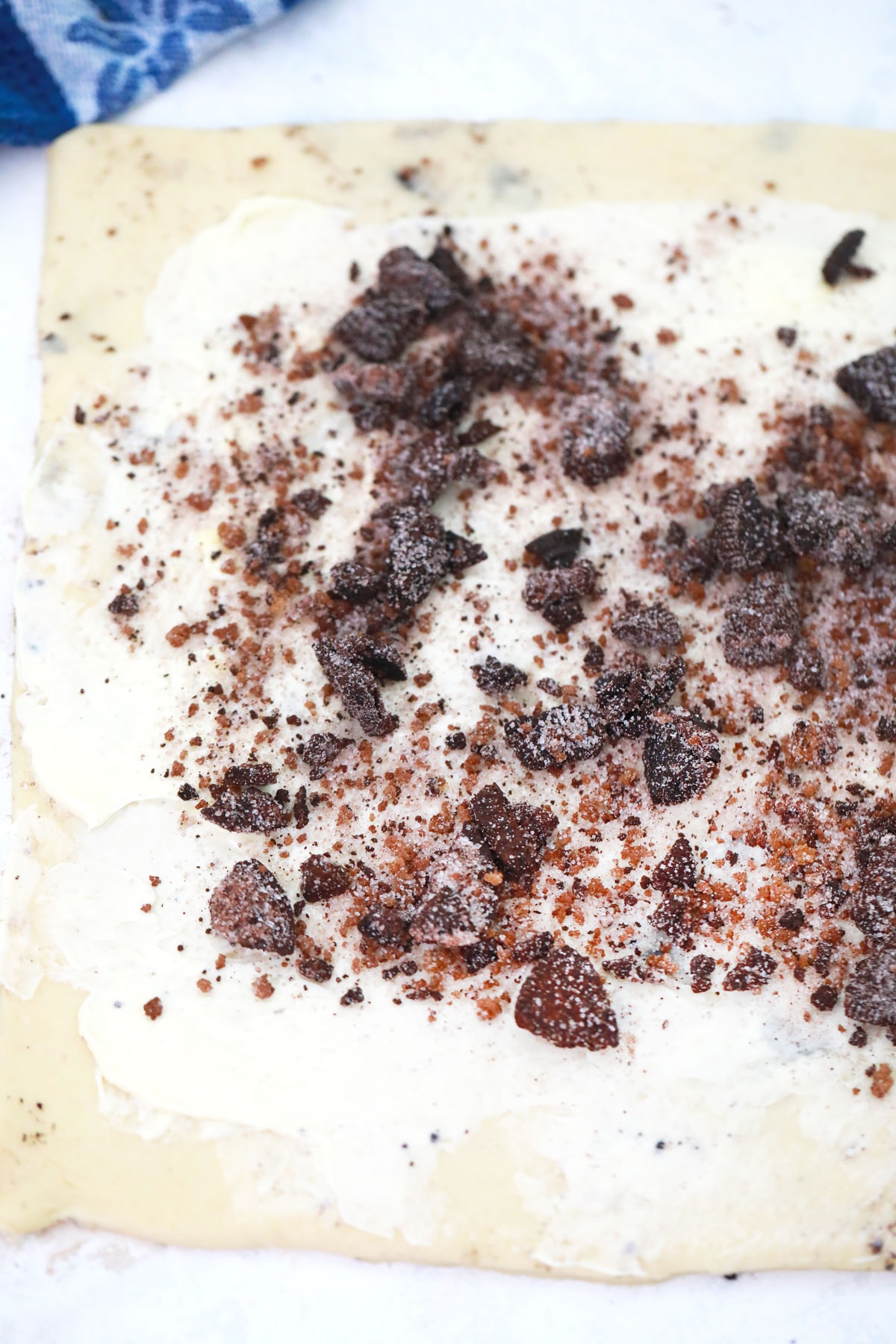 Assembling Cinnamon Rolls
Once the dough has doubled in size, gently roll it out on a floured surface to a large rectangle, roughly 16 x 20-inches. Spread the softened butter on top using a wooden spoon or offset spatula, then repeat using the Oreo filling. Leave a one-inch border along the edges of the dough (so the filling doesn't spill out when you roll it up!).
Once the butter and Oreo filling have been spread on the dough, roll the dough up lengthwise to make a long roll. Next, use plain (unflavored!) dental floss to cut 12 equal pieces of dough. Place the 12 rolls in a greased 9 x 13-inch baking pan, and let them rise a second time until doubled in size, approximately 30 minutes.
After the second rise, bake the rolls until golden brown (30 to 35 minutes). Let the cinnamon rolls cool for a little before spreading on a thick layer of frosting.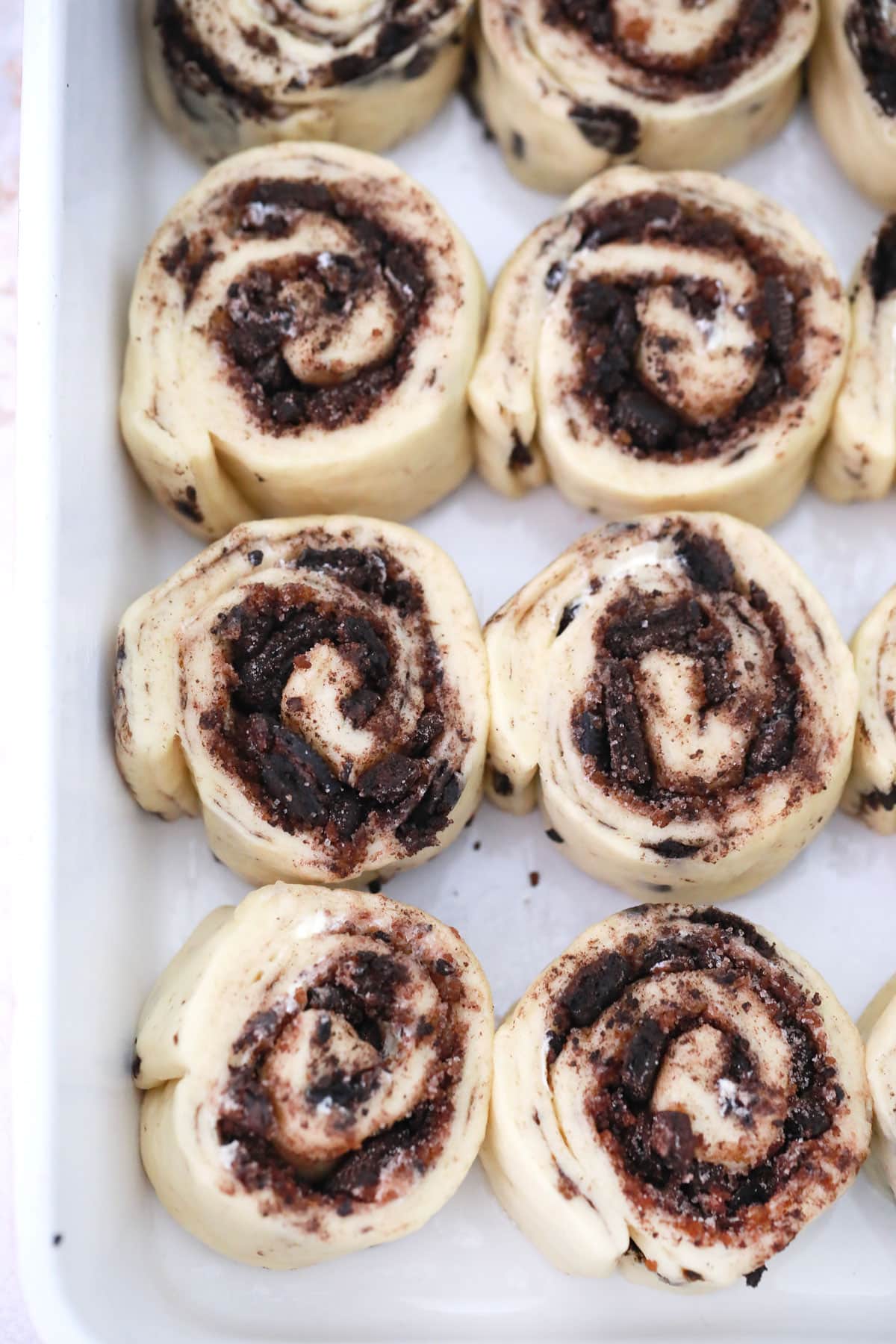 Recipe Variations
There are tons of changes you can make to these Oreo cinnamon rolls to customize them to your own preferences!
Heavy cream: Right before baking, pour 1/2 cup of warm heavy cream on top of the rolls for an extra creamy texture.
Other Oreo Flavors: Oreos come in all sorts of flavors, from red velvet to lemon cream to carrot cake! This recipe would be delicious with options like birthday cake, chocolate marshmallow or toffee crunch.
Other Cookies: For a totally different twist, use vanilla or strawberry-flavored sandwich cookies instead of Oreos.
Miniature Cinnamon Rolls: Especially fun for kids, make smaller rolls! Roll out two 8-inch by 20-inch rectangles of dough instead of one large rectangle, spread with filling, and then roll longwise for smaller circles. Cut each of these long rolls into 12, resulting in 24 half-sized cinnamon rolls.
Add Nuts: These would be so good adding some chopped pecans or walnuts into the filling.
Chocolate Drizzle: Love chocolate? Add a drizzle of melted chocolate either before or after the cream cheese frosting!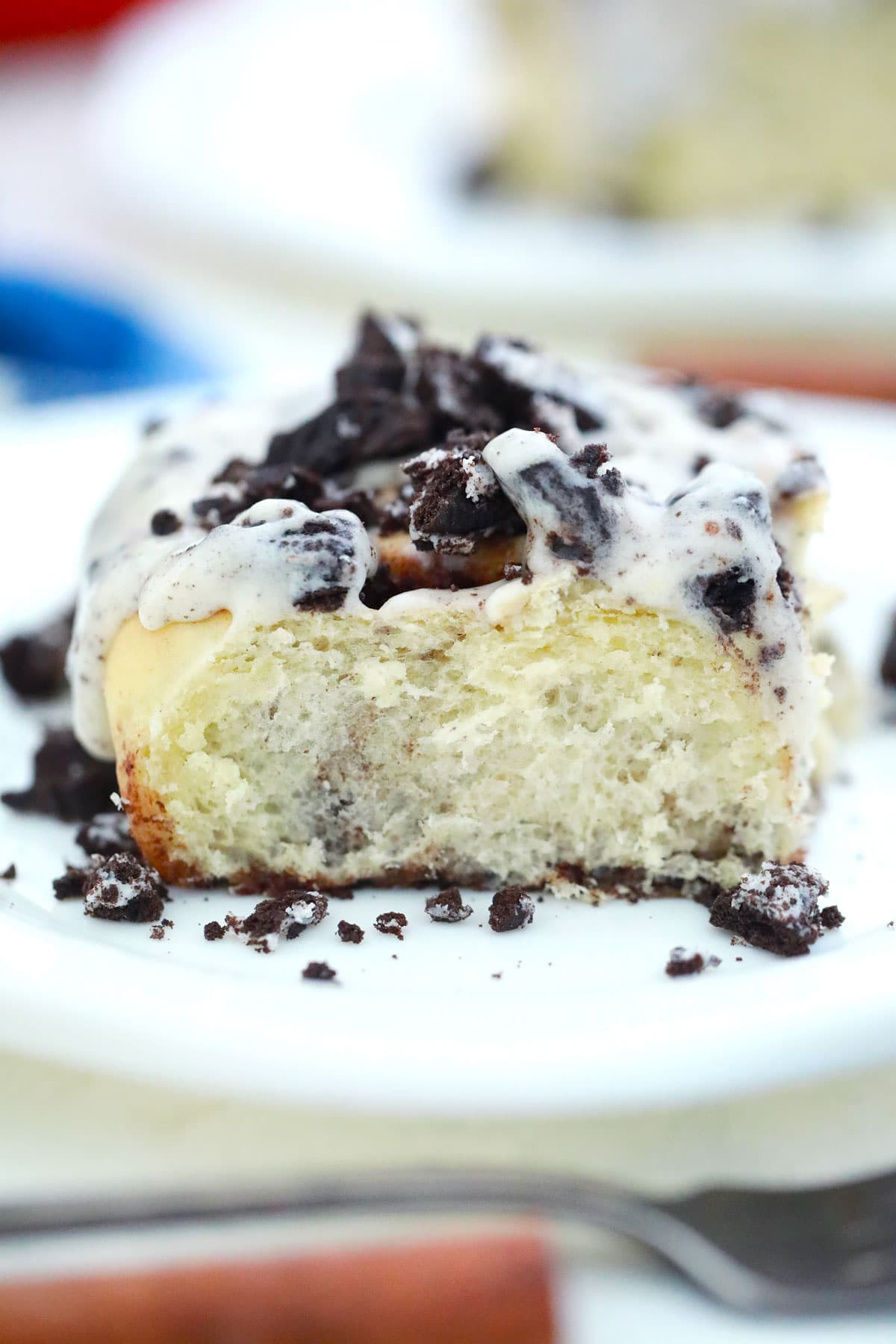 Common Questions about Oreo Cinnamon Rolls
Why did my dough not rise?
There are a few reasons why this may not have happened! Dry active yeast needs to be active – if old yeast is dead, it will not rise. This is why we proof the yeast first and make sure bubbles appear after mixing with the warm milk. If no bubbles appear, replace your yeast. Dough will also not rise if the environment is too cold, or if too much flour is added to the dough while kneading.
Why are my cinnamon rolls hard?
Just like using too much flour can affect how much the dough rises, it also affects the texture of the baked rolls! Measure flour by weight with a scale, or spoon the flour into a measuring cup and level it with the back of a knife to ensure the proper amount of flour is used. You may have also cooked the rolls too long or used melted butter instead of softened butter.
What is the difference between a cinnamon roll and a cinnamon bun?
A cinnamon roll typically does not contain nuts. A cinnamon roll usually has pecans or other nuts on them. Furthermore, a cinnamon bun has the frosting on the bottom and then the buns are flipped over during baking. Cinnamon rolls are baked right-side-up and frosted after they bake.
Can I freeze these Oreo cinnamon rolls?
Cinnamon rolls freeze wonderfully! Place the baked, frosted, and cooled rolls in an airtight freezer bag and store in the freezer for up to 4 months. Thaw the rolls overnight in the refrigerator, then move to room temperature. Serve at room temperature or reheat in the microwave for 30 seconds.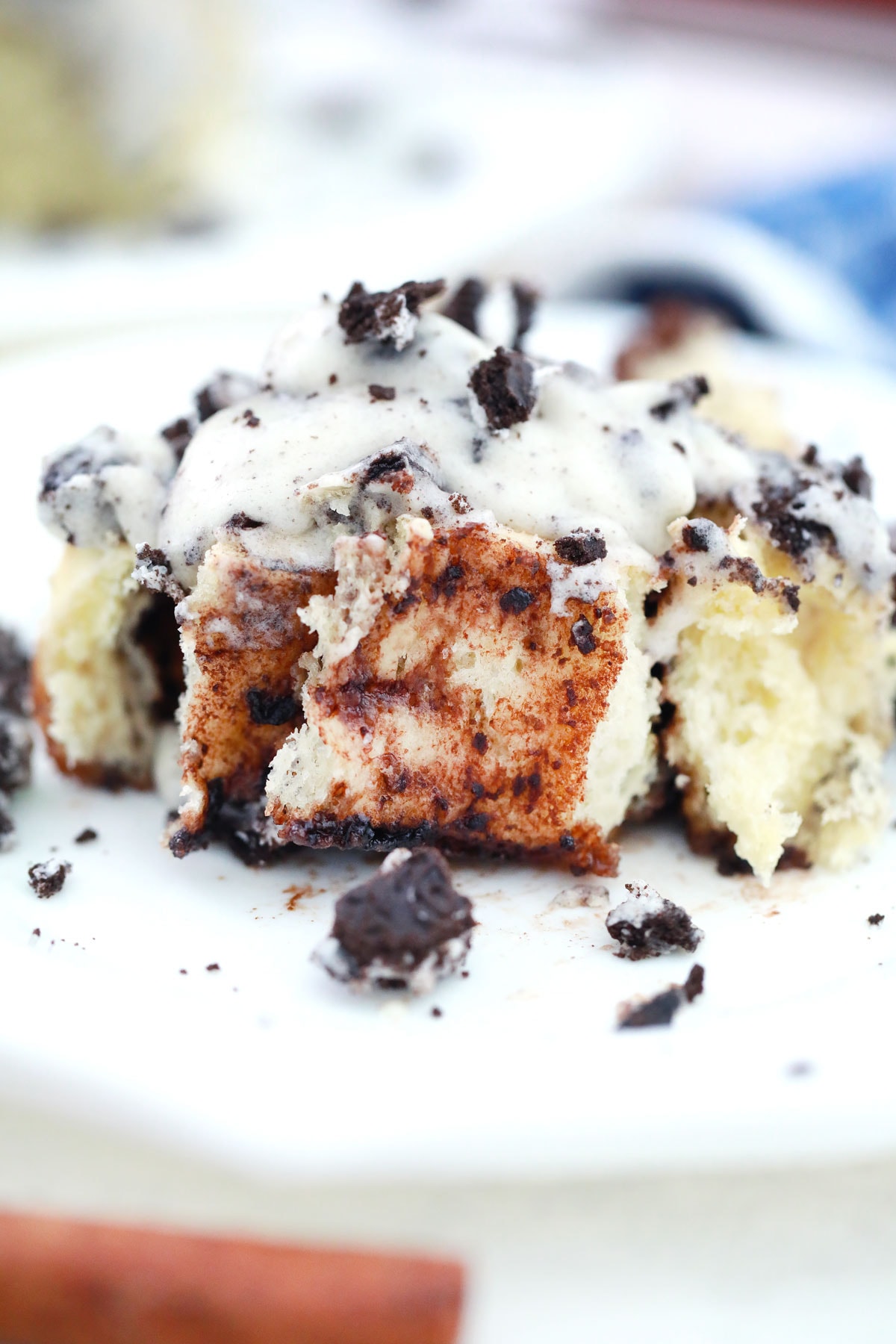 Tips and Tricks for the Best Oreo Cinnamon Rolls
Not ready to tackle yeast dough? Make this recipe even easier by using unbaked prepared cinnamon rolls. Unrolll the dough, stuff with the Oreo filling, and roll them back up.
To finely crush the Oreos, use a food processor or place the cookies in a zip-tight plastic bag and crush with a rolling pin or frying pan.
While black cocoa powder gives the classic dark color we associate with Oreos, either natural unsweetened cocoa powder or Dutch-process cocoa powder can be substituted for the black cocoa powder.
Cutting the cinnamon roll dough works best with unflavored dental floss, but a large serrated knife can be used instead to cut the dough into 12 rolls.
To prevent the cinnamon rolls from sticking together after frosting, store the leftovers in an airtight container with a layer of parchment paper in between each roll.
More Oreo Desserts: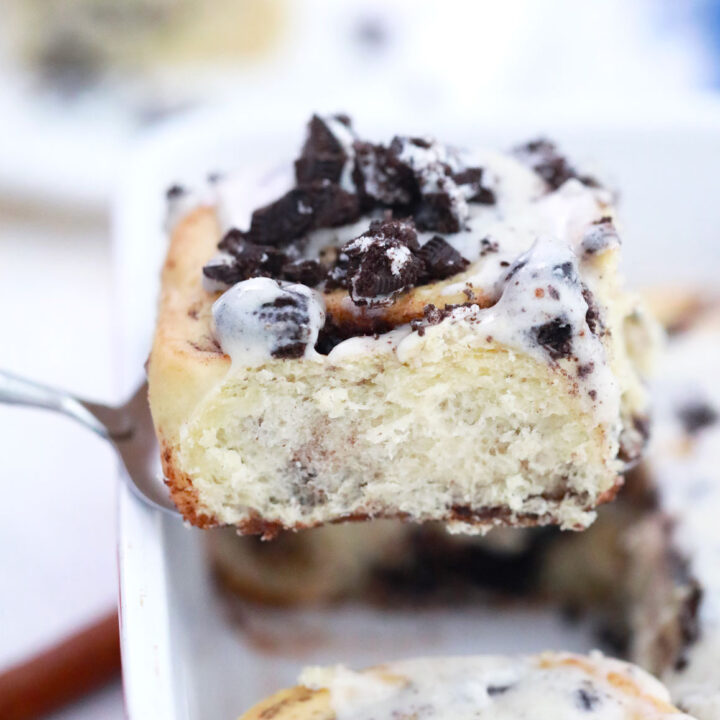 Oreo Cinnamon Rolls
Total Time:
3 hours
30 minutes
Made with crushed Oreos in the dough, a crumbled Oreo filling, and Oreo cream cheese frosting, these Oreo Cinnamon Rolls are the ultimate dessert-for-breakfast for Oreo lovers! 
Ingredients
For the Dough:
1 cup whole milk, warmed (~110 °F)
2 1/2 teaspoons active dry yeast
1/2 cup granulated sugar
1/2 teaspoon salt
2 eggs, room temperature
1/3 cup unsalted butter, melted and cooled to room temperature
4 1/2 cups all-purpose flour
1 1/3 cups crushed Oreo cookies
For the Filling:
1 teaspoon cinnamon
1 tablespoon black cocoa powder
1/2 cup granulated sugar
1/4 cup brown sugar
2 cups crushed Oreo cookies
1/2 cup unsalted butter, softened
For the Frosting:
8 ounces cream cheese, room temperature
1/3 cup unsalted butter, room temperature
2 cups confectioners' sugar
1/2 teaspoon vanilla extract
1/8 teaspoon salt
1/2 cup crushed Oreo cookies
Instructions
Make the dough. In the bowl of a stand mixer or a large mixing bowl, add the warmed milk. Sprinkle the yeast, sugar, and salt on top. Let this sit for 5 minutes, until the mixture is slightly frothy. With the mixer on low speed or mixing by hand with a wooden spoon, add the eggs one at a time, stirring after each addition. Stir in the melted butter. Switch to the dough hook, if using a stand mixer, and add the flour, one cup at a time, stirring to combine after each addition. Knead the dough for 5 minutes at medium-low speed or by hand for 10 minutes, until the dough pulls away from the edges of the bowl or is smooth and springy. Sprinkle the crushed Oreos over the dough and knead for one more minute. Transfer the dough to a greased bowl, cover with a clean cloth, and place the bowl in a warm place to rise until doubled in size, approximately 1 hour.
Make the filling. While the dough rises, make the filling. Combine the cinnamon, cocoa powder, granulated sugar, brown sugar, and crushed Oreos in a bowl. Set aside.
Make the frosting. Using a mixer on medium speed, beat together the cream cheese and butter until light and fluffy, 2-3 minutes. Add the vanilla extract and salt, followed by the confectioners' sugar, one cup at a time. Continue to beat until combined and smooth, scraping the bottom of the bowl several times. Fold in the Oreos. Set aside.
Shape the rolls. Once the dough has doubled in size, turn it out of the bowl onto a lightly floured surface. Use a rolling pin to roll out the dough to a large rectangle, 16- x 20-inches in size. Spread the softened butter for the filling across the rectangle and scatter the rest of the combined filling ingredients over top. Leave a one-inch border around the edge of the dough. Roll the dough up lengthwise, forming a long log, and cut into 12 pieces using unflavored dental floss or a serrated knife. Arrange the rolls in a greased 9 x 13-inch baking dish, cover with a cloth, and set aside to rise until doubled in size, about 30 minutes.
Bake the rolls. While the rolls are rising for the second time, preheat the oven to 400 °F. Bake the rolls for 30 - 35 minutes, until golden brown on top or the internal temperature reaches 190 °F on an instant-read thermometer. Remove from the oven and cool for at least 20 minutes before spreading the frosting overtop. Serve warm or at room temperature.
Notes
Black cocoa powder provides the classic dark color associated with Oreos, but natural unsweetened or Dutch-processed cocoa powder can be used instead.
To prevent the cinnamon rolls from sticking together after frosting, store leftovers with a layer of parchment paper between each roll.
Frosted Oreo cinnamon rolls can be stored in the refrigerator for up to 4 days or frozen for up to 4 months. Move the cinnamon rolls to room temperature 1 hour before eating to allow them to warm up, or microwave for 30 seconds.
Recommended Products
As an Amazon Associate and member of other affiliate programs, I earn from qualifying purchases.