February 12, 2018
Oatmeal Chocolate Chip Cookies
Thick and chewy, these oatmeal chocolate chip cookies are the cookie base of your dreams! Soft centers with a barely crispy exterior, a delightfully chewy texture from the oats, and packed full of chocolate chips. Whether you like them bite-sized or jumbo, these are a personal favorite!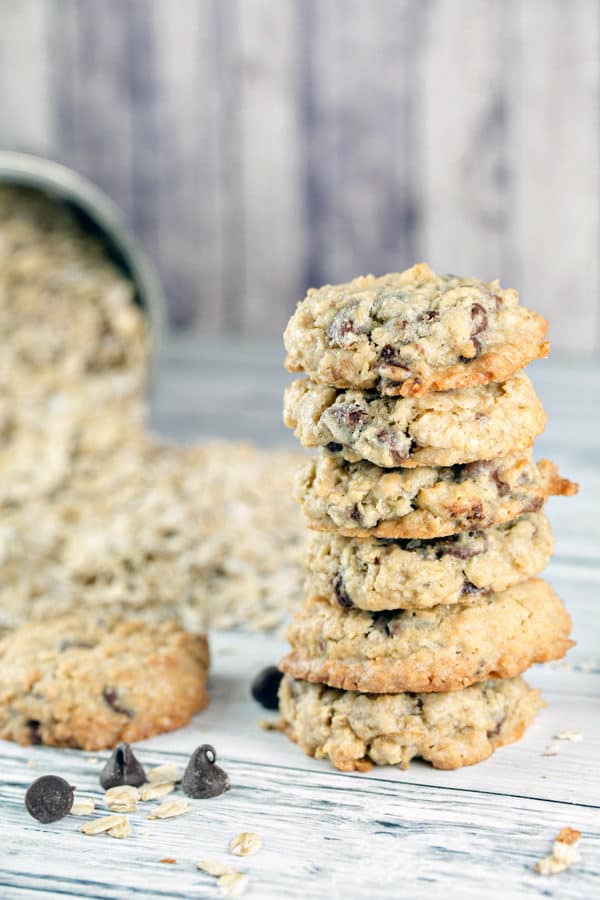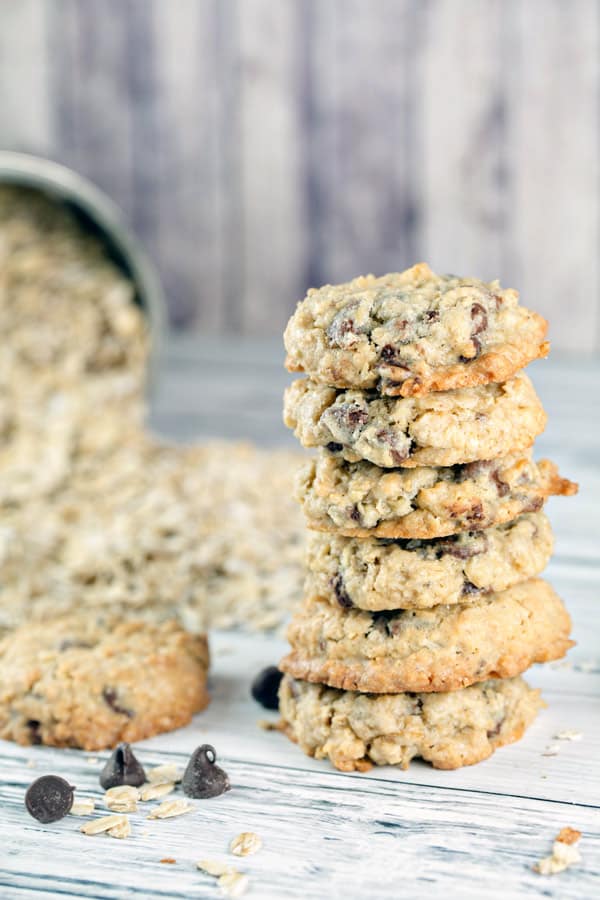 I really can't believe I haven't shared these oatmeal chocolate chip cookies yet. They are, hands down, my favorite cookies.
My grandmother's pinwheel cookies are my favorite sentimental, childhood cookie. These black and white cookies are my favorite labor of love, irresistable fancy cookie.
But simple oatmeal chocolate chip cookies? Slightly chewy, dense and oatmeal-y, stuffed full of chocolate chips? These are my favorite everyday, easy to make, whip up a batch of cookies on a whim cookie.
Sorry, classic soft & chewy chocolate chip cookies. I love you guys, too. But oatmeal cookies? Swoon.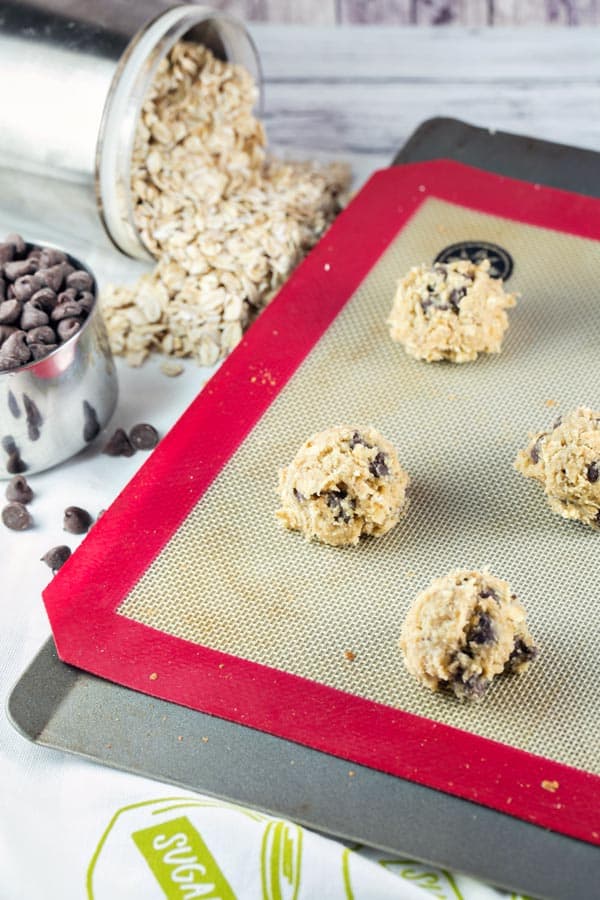 I love these oatmeal chocolate chip cookies so much, I used the recipe as the starting base for my oatmeal chocolate chip lactation cookies, which are continuously one of the most popular recipes on my blog. (Who knew there was such a market for delicious tasting lactation cookies?)
So basically, if we can fill them up with flaxseed and brewer's yeast (which smells kind of bad, and probably doesn't taste much better on its own) and they're still delicious… imagine how good the original recipe must be!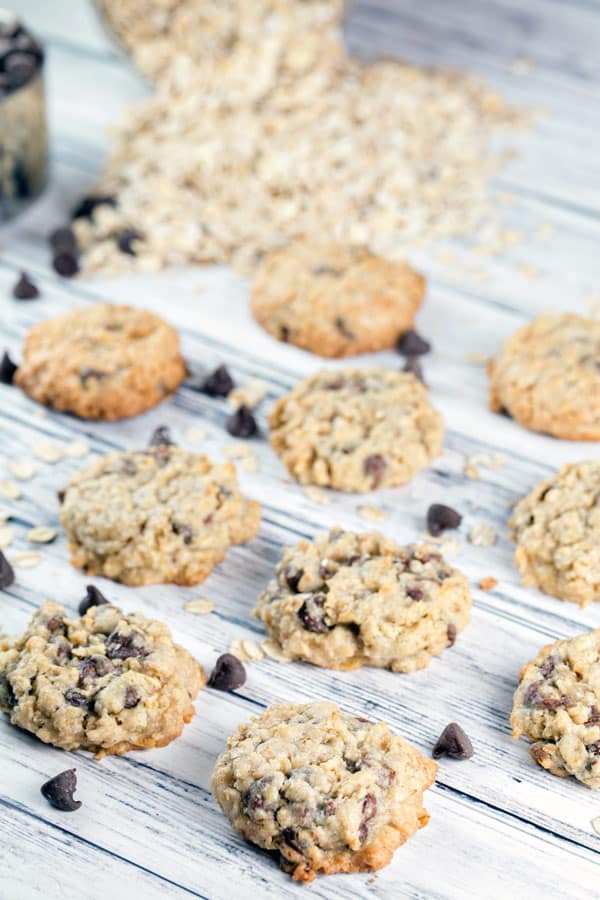 What I love so much about these cookies: the texture. They are thick and soft and chewy, but somehow just the very edges get a little bit crispy, too. And did I mention that they're thick? Delightfully so – no flat sad bendy cookies around here.
Another thing I love: no chilling time necessary. There is nothing worse than having a serious cookie craving and realizing you have to chill the dough for a few hours, amirite? Minimum amount of time from walking into the kitchen to cookie-in-mouth. That's what I'm talking about.
Plus, these oatmeal chocolate chip cookies are equally delicious big or small — I like to keep mine on the small side (because no matter what, you're going to go for a second cookie, right?), but if you want a giant bakery-style cookie, double up the dough and increase the baking time a little (17-20ish minutes).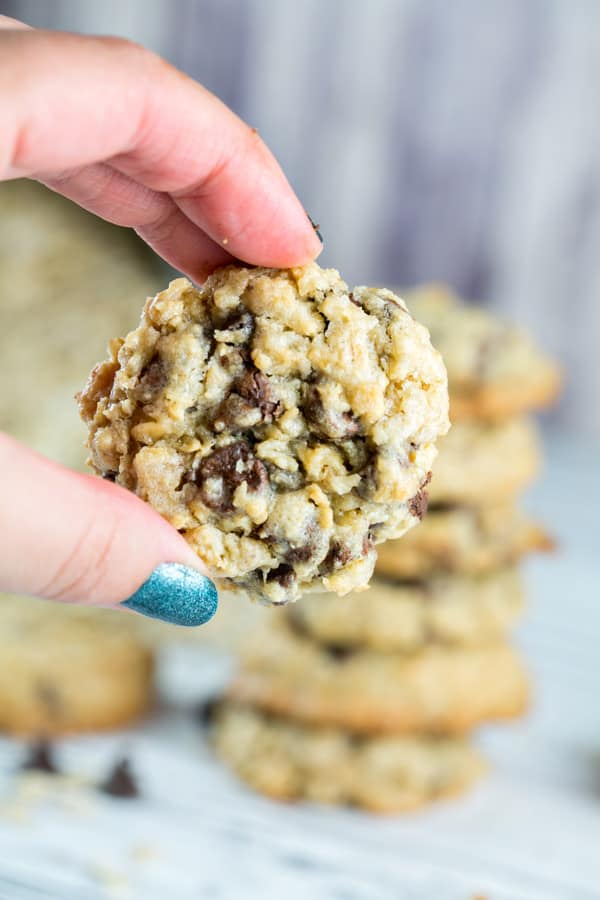 Most importantly, they're full of chocolate chips.
Now look, I know some of you probably love oatmeal raisin cookies. And the base to these oatmeal chocolate chip cookies is so good, you could substitute in raisins, or butterscotch chips, or whatever. I don't understand you people (I like raisins in my trail mix, but never, ever, ever in my baked goods), but I hear you. So go ahead and try.
But please know that you are seriously missing out on some gooey, chewy, delicious, chocolatey goodness.
I mean, really. Just look at that perfectly melty bite of chocolate. ↓↓↓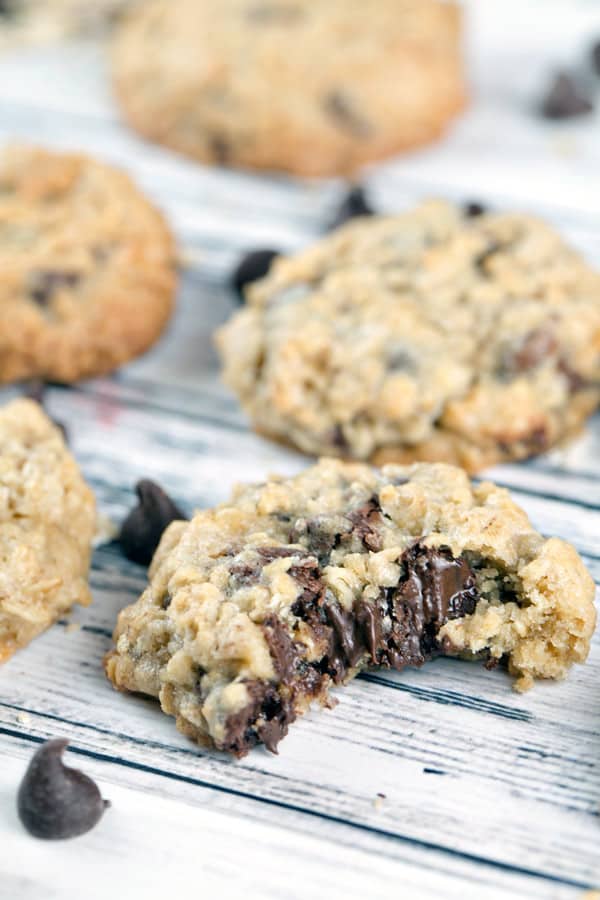 Enough said.
I've been using this recipe for oatmeal chocolate chip cookies for the past 10 years, and I'm sure I'll be using it for the next 60. (Assuming I'm still baking into my mid-90s. Life goals, people.)
And it's now you, too, have the perfect thick and chewy oatmeal chocolate chip cookie recipe. Get baking!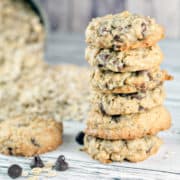 Yield:
2-3 dozen cookies (depending on size)
Oatmeal Chocolate Chip Cookies
Thick and chewy, these oatmeal chocolate chip cookies are the cookie base of your dreams!  Soft centers with a barely crispy exterior, a delightfully chewy texture from the oats, and packed full of chocolate chips.
Ingredients:
1 cup (2 sticks) butter, room temperature
1 cup light brown sugar, packed
3/4 cup granulated sugar
2 eggs, room temperature
2 teaspoons vanilla extract
1 1/2 cups all purpose flour
3/4 teaspoon salt
1/2 teaspoon baking powder
3 cups old-fashioned rolled oats
1 1/2 cups chocolate chips
Directions:
Preheat oven to 350°F.  Line a baking sheet with parchment paper or a baking mat.
Using a mixer, beat together the butter, brown sugar, and granulated sugar until light and fluffy, about 5 minutes.  Beat in the eggs, one at a time, followed by the vanilla extract.
Whisk together the flour, salt, and baking powder.  Add this to the mixing bowl and beat until just combined.  Add in the oatmeal in batches, stirring after each addition, until just combined.  Stir in the chocolate chips until evenly distributed.
Drop 1.5 tablespoons of dough onto the lined cookie sheets.  Bake 10-12 minutes, or until the bottom is golden brown.  Cookies will puff up a bit in the oven; if you prefer flatter cookies, press down on the top of each cookie with the underside of a spatula. Cool on the baking sheet for 10 minutes, then transfer to a wire rack to cool completely.
Cookies will last for up to a week stored in an airtight container, or in the freezer for up to 3 months.