February 12, 2018
Oatmeal Chocolate Chip Cookies
Thick and chewy, these Oatmeal Chocolate Chip Cookies are the cookies of your dreams!  Soft centers with a barely crispy exterior, a delightfully chewy texture from the oats, and packed full of chocolate chips.  Whether you like them bite-sized or jumbo, these are the BEST oatmeal cookies!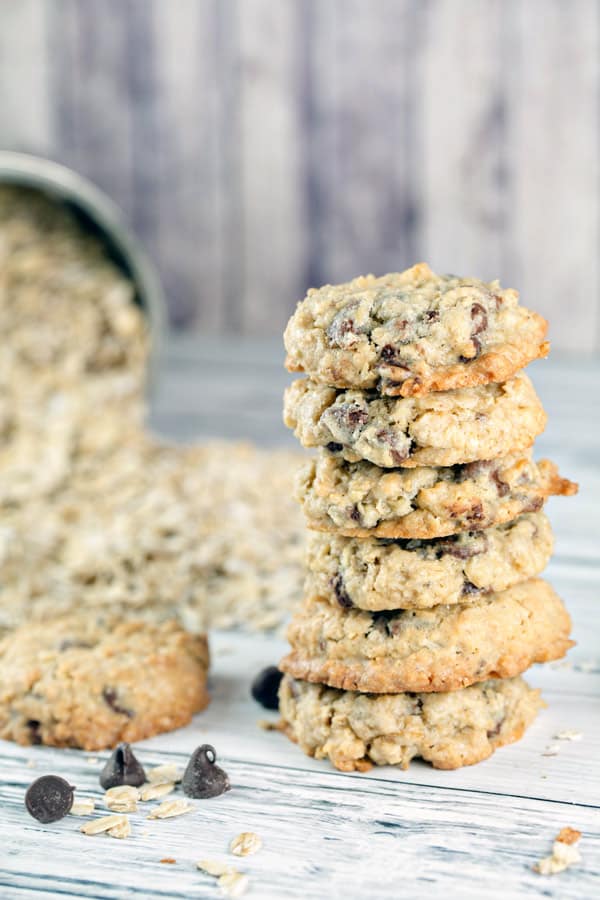 I really can't believe I haven't shared these oatmeal chocolate chip cookies yet. They are, hands down, my favorite cookies.
My grandmother's pinwheel cookies are my favorite sentimental, childhood cookie. These black and white cookies are my favorite labor of love, irresistible, fancy cookies.
But simple oatmeal chocolate chip cookies? Slightly chewy, dense, and oatmeal-y, stuffed full of chocolate chips? These are my favorite every day, easy to make, whip up a batch of cookies on a whim cookie.
Sorry, classic soft & chewy chocolate chip cookies. I love you guys, too. But oatmeal cookies? Swoon.
I love these oatmeal chocolate chip cookies so much, I used the recipe as the starting base for my oatmeal chocolate chip lactation cookies, which are continuously one of the most popular recipes on my blog. (Who knew there was such a market for delicious-tasting lactation cookies?)
So basically, if we can fill them up with flaxseed and brewer's yeast (which smells kind of bad, and probably doesn't taste much better on its own) and they're still delicious… imagine how good the original recipe must be!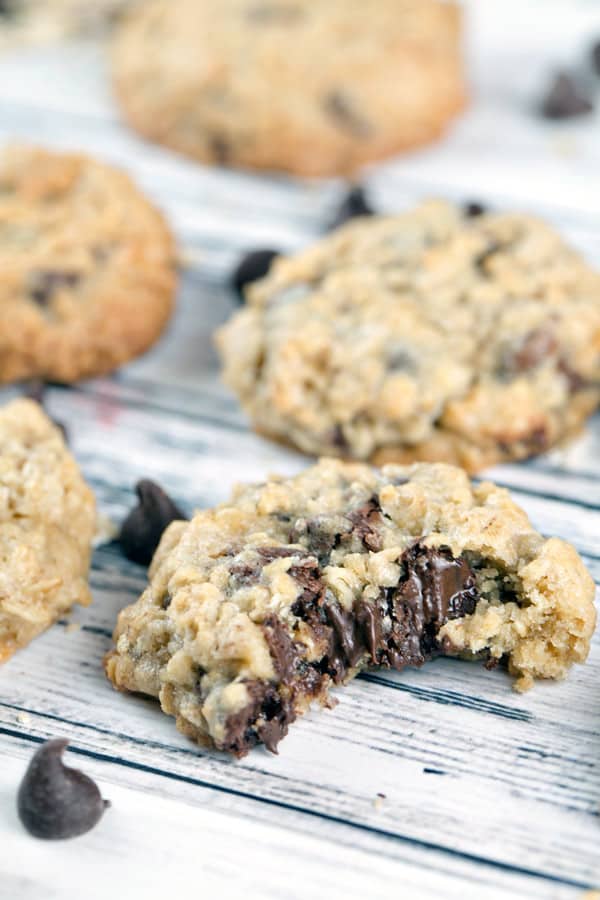 Ingredients and Substitutions
Butter: You'll want your butter to be at room temperature, which is 65 °F in baking terms – cooler than most people think! The texture of cookies depends heavily on butter being at the right temperature, so please don't try to use cold butter or microwave the butter to warm it up! To bring butter to room temperature quickly, cut each stick into 8 tablespoon-size slices and wait 10-15 minutes.
Brown Sugar: I usually use light brown sugar, but dark brown sugar works just fine, too. Brown sugar brings extra moisture and a deeper flavor than just granulated sugar alone.
Granulated Sugar
Eggs
Vanilla Extract
All-Purpose Flour: If you prefer the taste of whole wheat flour, you can substitute up to half of the all-purpose flour for whole wheat flour. To keep the cookies gluten-free, use a 1:1 all purpose gluten-free baking mix which includes xanthan gum.
Salt
Baking Powder
Old-Fashioned Rolled Oats: Make sure to use old-fashioned or rolled oats for this – not quick-cooking oats! We need the larger flake size of rolled oats for the chewy texture of the cookies.
Chocolate Chips: I love classic semi-sweet chocolate chips in these cookies, but feel free to use dark or bittersweet chopped chocolate, raisins, or nuts instead of (or in addition to) the chocolate chips.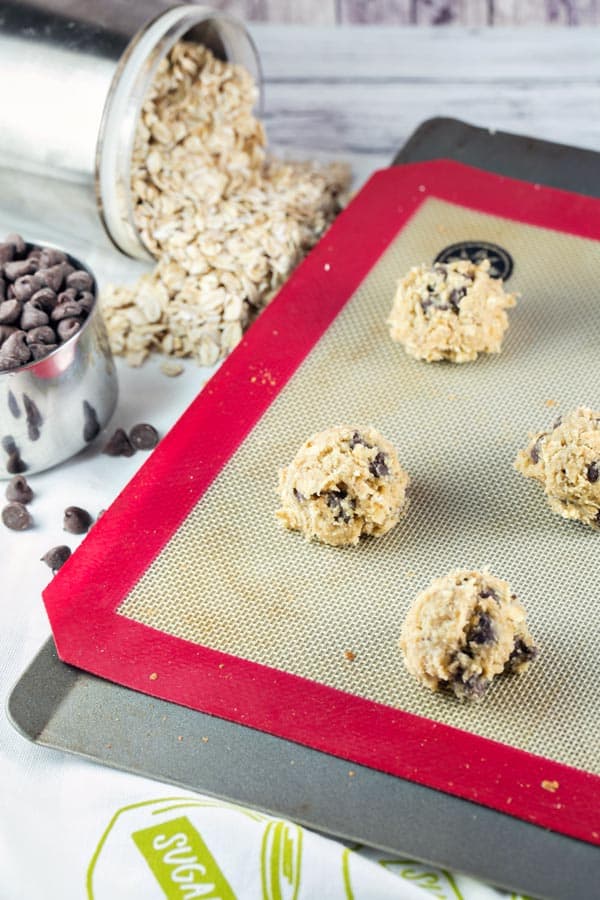 Perfect Oatmeal Cookie Base
What I love so much about these cookies: the texture. They are thick and soft and chewy, but somehow just the very edges get a little bit crispy, too. And did I mention that they're thick? Delightfully so – no flat sad bendy cookies around here.
Another thing I love: no chilling time necessary. There is nothing worse than having a serious cookie craving and realizing you have to chill the dough for a few hours, amirite? Minimum amount of time from walking into the kitchen to cookie-in-mouth. That's what I'm talking about.
(That said, if you DO have more patients than I do, you can absolutely chill these cookies – the flavors become even more pronounced with a few hours – even up to two days – rest in the refrigerator. I prefer to roll the cookies and chill them on the cookie sheet, as it takes a while for the cookie dough to come back to room temperature enough to scoop if you chill the entire bowl of dough.)
Plus, these oatmeal chocolate chip cookies are equally delicious big or small — I like to keep mine on the small side (because no matter what, you're going to go for a second cookie, right?), but if you want a giant bakery-style cookie, double up the dough and increase the baking time a little (17-20ish minutes).
Most importantly, they're full of chocolate chips. And while only chocolate chips are the way I like these cookies, you can of course choose your favorite version: try nuts, raisins, butterscotch chips, or peanut butter chips.
Now look, I know some of you probably love oatmeal raisin cookies. And the base to these oatmeal chocolate chip cookies is so good, you could substitute in raisins, or butterscotch chips, or whatever. I don't understand you people (I like raisins in my trail mix, but never, ever, ever in my baked goods), but I hear you. So go ahead and try.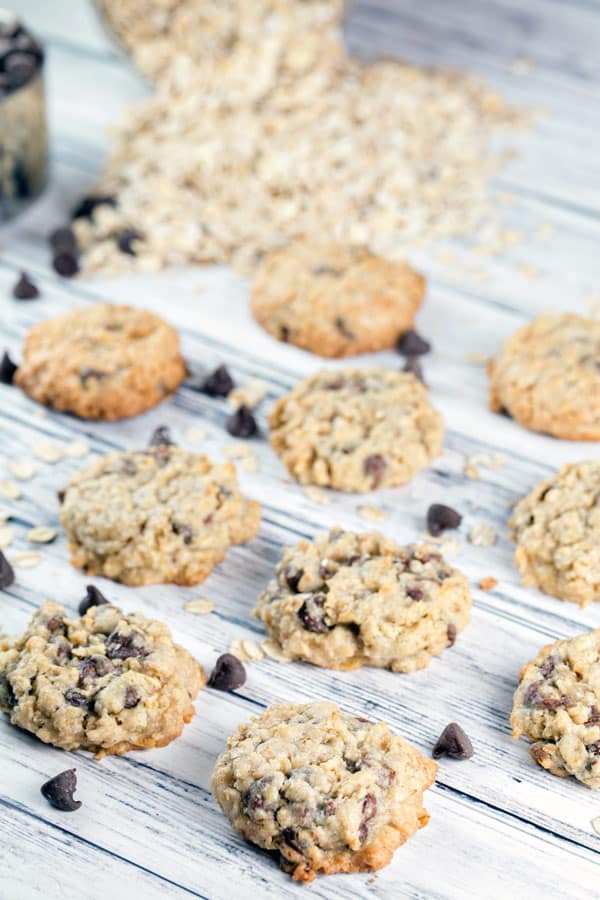 Oats for Extra Moisture
I mentioned in the ingredients section that we want to use old-fashioned oats, not quick-cooking oats, for these cookies. Old-fashioned oats are larger in size, which ensures that they maintain their texture and structure during baking. Quick oats, on the other hand, are cut into smaller pieces and are not as noticeable.
Adding oats is, obviously, key for making oatmeal cookies. But oats do far more than just provide flavor – they're responsible for the soft, chewy texture! How does this work? It's time for my favorite subject… kitchen chemistry!
Kitchen Chemistry

Despite their dry appearance, oats actually contain a decent amount of moisture – generally between 11-13%. This moisture is retained during baking, without altering the ratio of dry ingredients to liquids, which throws off the balance of the dough. This retained moisture helps create a softer, chewier texture in the cookies. During the baking process, the moisture in the oats turns into steam, which is trapped by the structure of the cookie dough. As a result, the interior of the cookie remains moist and tender, even as the exterior starts to get just a little crispy.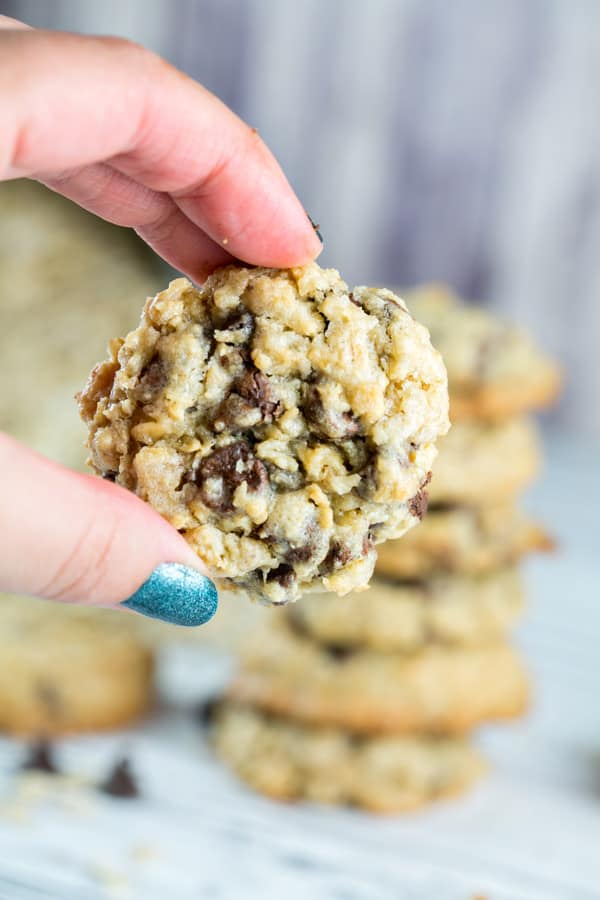 Recommended Tools to Make Oatmeal Chocolate Chip Cookies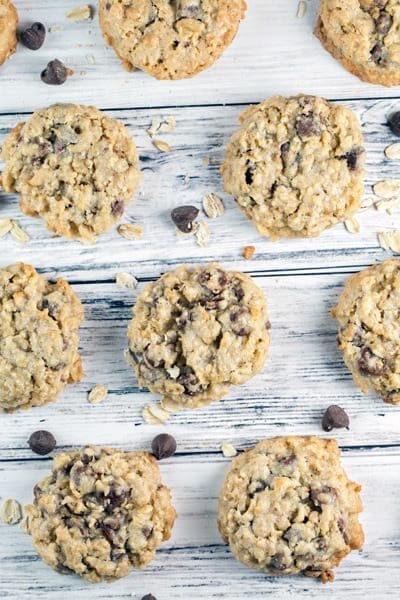 Tips and Tricks for the Best Oatmeal Chocolate Chip Cookies
Room Temperature Butter: Ensure your butter is room temperature (65°F) before using. This makes it easier to cream the butter with the sugar, resulting in a better-textured dough.
Measure Ingredients Accurately: Baking by weight is always the best option, but if you're using measuring cups, use the fluff, spoon, and sweep method for measuring ingredients.
Chill the Dough: These cookies are delicious baked straight away, which is how I usually make them (because I can't wait to eat some cookies!). For a deeper flavor, consider refrigerating the dough for an hour before rolling the cookies, or scooping the cookies into balls and refrigerating the scoops of cookie dough for up to two days before baking.
Use a Cookie Scoop: For uniform cookies, use a cookie scoop to portion the dough. When the cookies are an equal size, baking is more even – no more underbaked and overbaked cookies on the same sheet.
Keep an Eye While Baking: The baking time can vary depending on your oven, the position of your oven rack, and the size of your cookies. Start with the recommended time and adjust if necessary. Remember that cookies continue to cook as they cool on the baking sheet so it's better to pull them out when they still look a tiny bit under-baked.
Storage: These oatmeal chocolate chip cookies can be stored in an airtight container at room temperature for up to a week or frozen for up to 3 months.
More Cookie Recipes
Oatmeal Chocolate Chip Cookies
Yield:
2-2.5 dozen cookies
Thick and chewy, these oatmeal chocolate chip cookies are the cookies of your dreams!  Soft centers with a barely crispy exterior, a delightfully chewy texture from the oats, and packed full of chocolate chips.
Ingredients
1 cup (226 grams) unsalted butter, room temperature (65°F)
1 cup (213 grams) brown sugar, packed
3/4 cup (149 grams) granulated sugar
2 large eggs, room temperature
2 teaspoons vanilla extract
1 1/2 cups (180 grams) all purpose flour
3/4 teaspoon salt
1/2 teaspoon baking powder
3 cups (267 grams) old-fashioned rolled oats
1 1/2 cups (255 grams) chocolate chips
Instructions
Preheat oven to 350°F. Line a baking sheet with parchment paper or a baking mat.
Using a mixer, beat together the butter, brown sugar, and granulated sugar until light and fluffy, about 5 minutes. Beat in the eggs, one at a time, followed by the vanilla extract.
Whisk together the flour, salt, and baking powder. Add this to the mixing bowl and beat until just combined. Add in the oatmeal in batches, stirring after each addition, until just combined. Stir in the chocolate chips until evenly distributed.
Drop 1.5 tablespoons of dough onto the lined cookie sheets. Bake 10-12 minutes, or until the bottom is golden brown. Cookies will puff up a bit in the oven; if you prefer flatter cookies, press down on the top of each cookie with the underside of a spatula. Cool on the baking sheet for 5 minutes, then transfer to a wire rack to cool completely.
Notes
These cookies are delicious baked immediately after the dough is made, but for a deeper flavor, chill the dough for an hour before rolling the cookies. The dough can also be made up to two days ahead of time and refrigerated (recommended to scoop the dough into balls before refrigerating).
For uniform cookies, use a cookie scoop to portion the dough. The recipe is written for 1 1/2 tablespoons of dough, but for large cookies use a 2 or 2 1/2 tablespoon scoop and add 2-3 additional minutes to the baking time.
Store cookies in an airtight container at room temperature for up to a week or freeze for up to 3 months.
Recommended Products
As an Amazon Associate and member of other affiliate programs, I earn from qualifying purchases.