November 15, 2016
Spiral Sweet Potato Tart with Whipped Maple Ricotta
A baked Spiral Sweet Potato Tart with a layer of whipped maple ricotta: both delicious and beautiful enough to star at your next holiday dinner.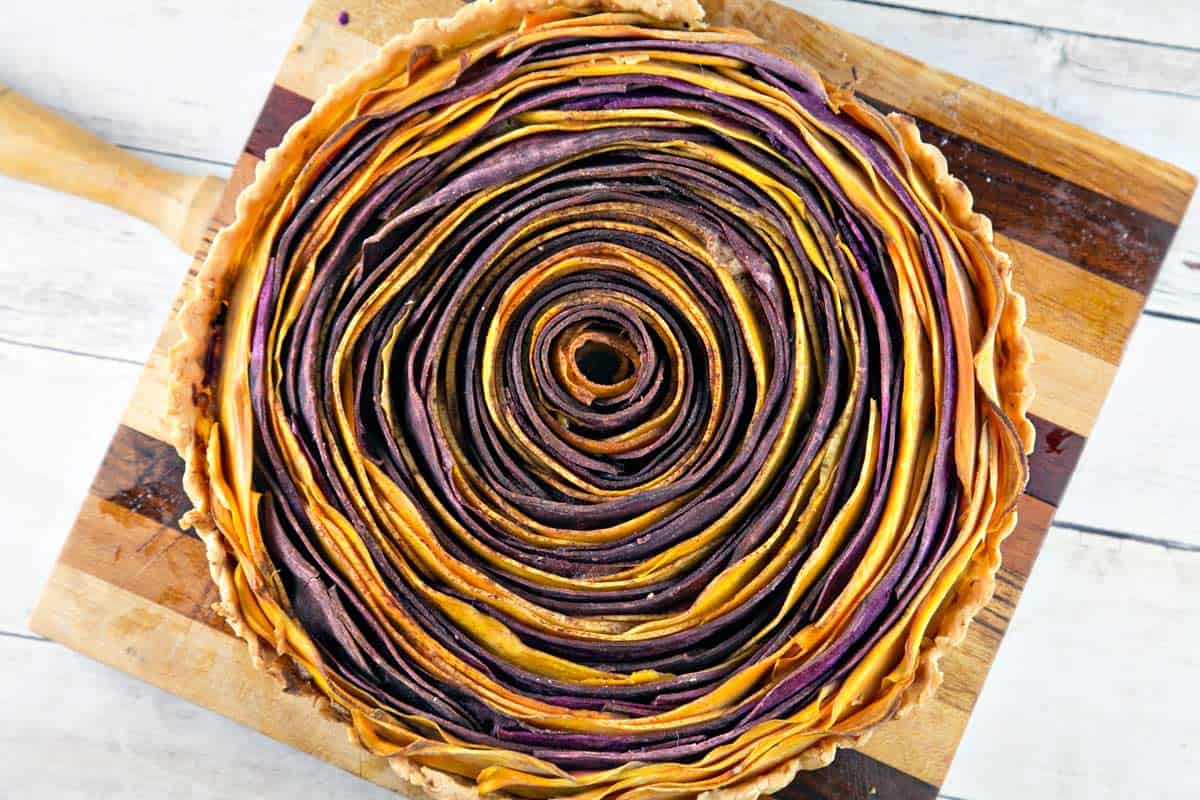 Ever since I made the spiral vegetable tart a few months ago, I've been dreaming of a winter version. Sweet potatoes. Butternut squash. Maybe some beets and turnips.
I knew I'd make a winter version – I just didn't know it would be so soon. But then my husband came home with the most beautiful purple sweet potatoes and purple sweet potatoes require something special.
What's more special and beautiful than this spiral sweet potato tart with whipped maple ricotta?
I'm so glad I made this earlier in the season than I thought because let me tell you: this is perfect for Thanksgiving.
Sweet potatoes are such a classic Thanksgiving side. Whether you roast them, mash them, or bake them covered with maple syrup and marshmallows, they seem to be on everyone's table.
How about replacing your typical sweet potato side with a gorgeous spiral sweet potato tart?
It's guaranteed to be the show-stopping centerpiece of your Thanksgiving table!
How to Make Spiral Sweet Potato Tart
The hardest part about making this tart is, as you can probably guess, prepping the sweet potatoes. You'll want to slice them as thinly as possible, which ensures they will fully cook and bend nicely around the middle of the tart.
I like to slice mine extra thin with a mandoline. If you're slicing by hand, you may want to consider microwaving or briefly par-boiling the slices to ensure they cook the whole way through in the tart.
The sweet potatoes sit on a layer of whipped maple ricotta. Crazy easy: combine ricotta, maple syrup, and a pinch of salt in a food processor (or blender, or whip on high speed with the whisk attachment for a mixer) until light and creamy.
The whipped maple ricotta lends just the tiniest hint of sweetness, but this tart isn't sweet. If you're used to super sweet sweet potato casseroles, I'd suggest drizzling some maple syrup on top just before serving. If you prefer your sweet potatoes savory like me, this is perfect as is!
The exposed edges of the sweet potatoes get just a little crispy; the inside edge gets meltingly soft. The two textures make for sweet potato perfection.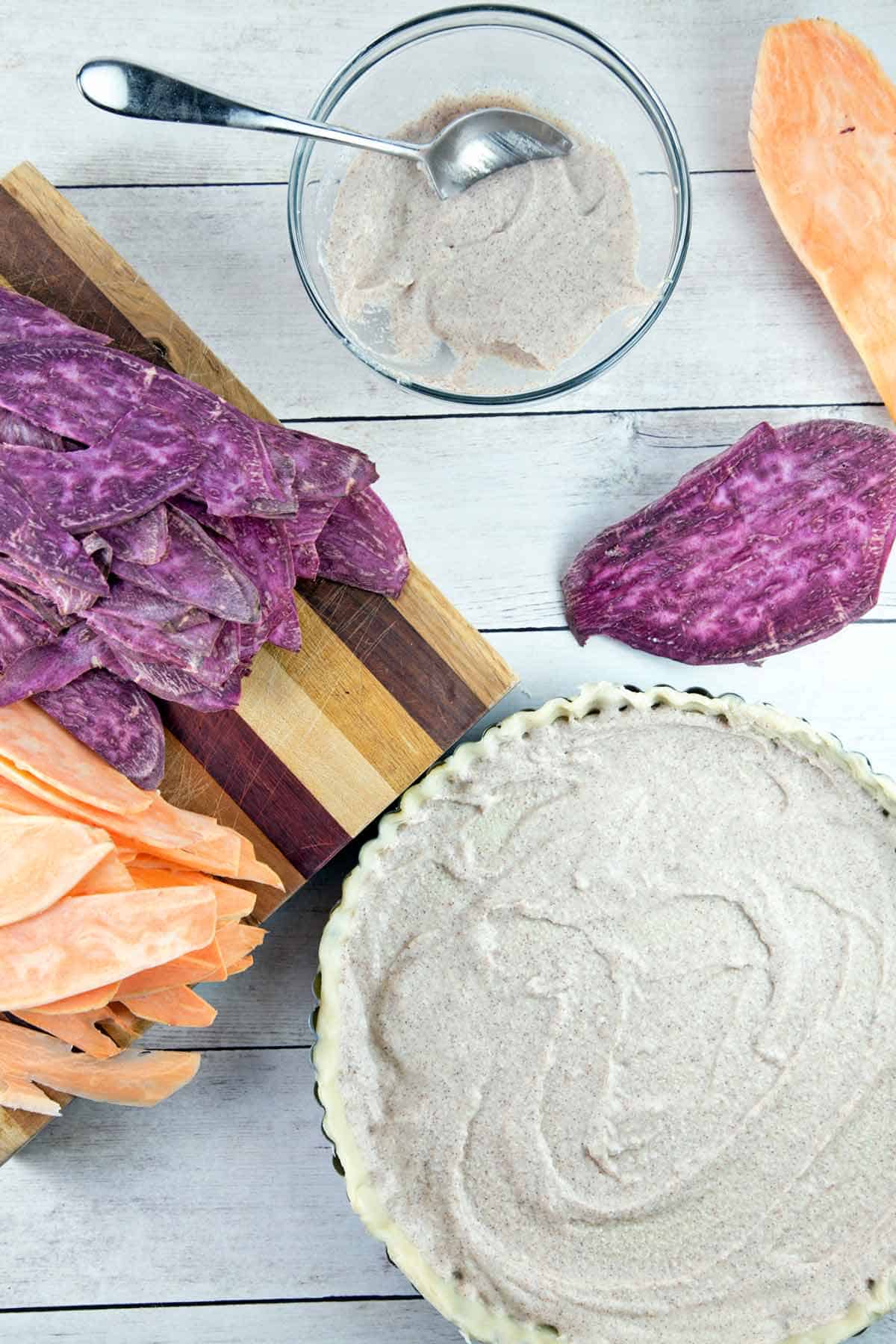 Slice Sweet Potatoes Ahead of Time
I get it. Thanksgiving (or any entertaining holiday!) is busy and rushed. You want to make everything you can ahead of time.
Unlike the summer version of this tart with sundried tomato pesto, this one doesn't hold up as well long term. The ricotta does make the crust a little soggy after a day, so I'd recommend baking it the day you want to serve it.
However, the majority of the prep work is in slicing the vegetables, which you can certainly do ahead of time. Peel and slice the potatoes, then store them wrapped in plastic wrap with a little squirt of water to prevent them from drying out.
Make your pie crust ahead of time; you can keep the dough in the refrigerator for a few days or freeze it for longer-term storage.
When you're ready to make the tart, you just have to blind bake the crust, make the whipped maple ricotta (food processor – so easy!), and start wrapping those veggies. Together, this takes under 30 minutes – totally manageable, even on a busy Thanksgiving morning.
And don't worry, the leftovers are still good — but a fresh, crispy crust just makes it a little more worthy of company.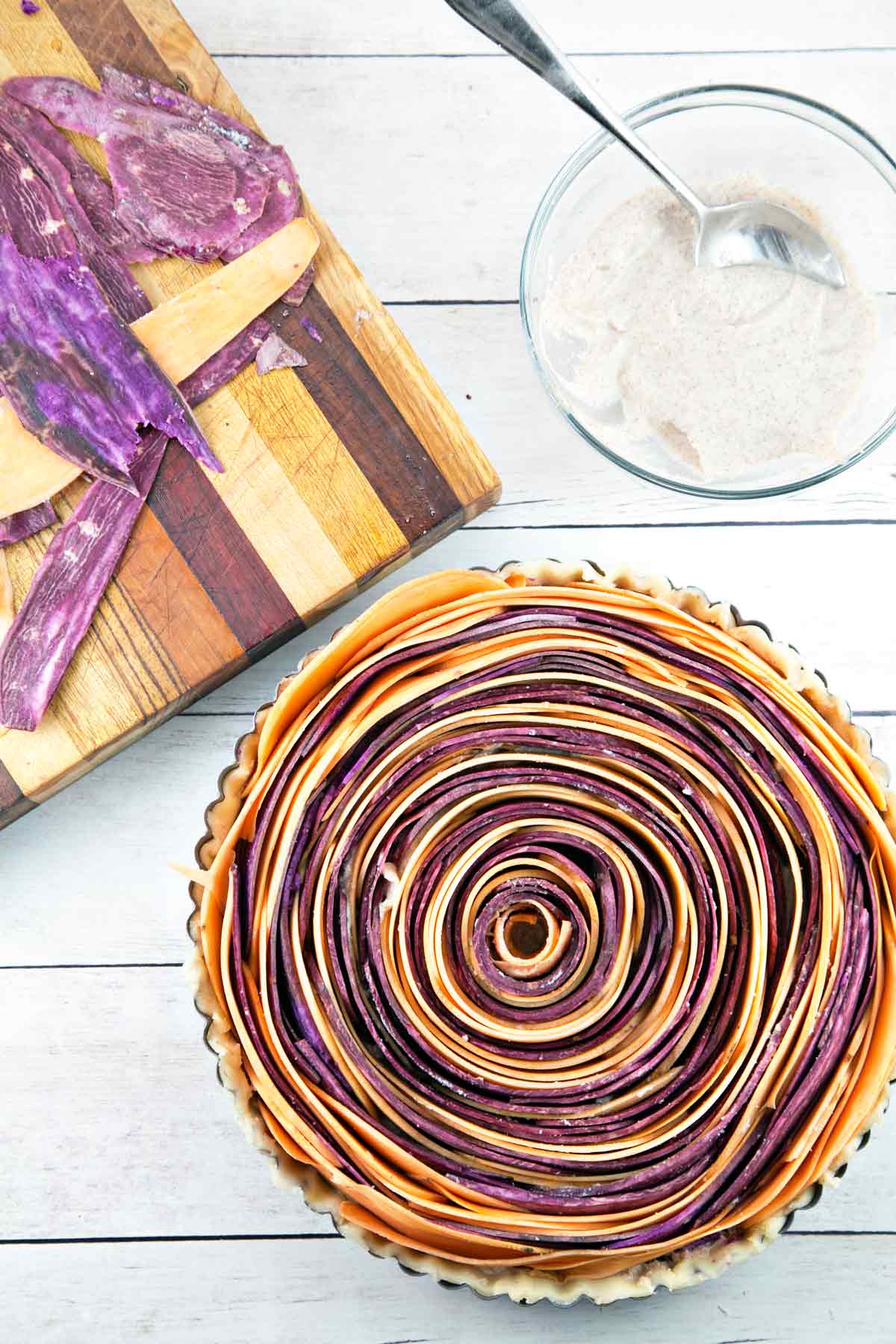 Sweet Potato Alternatives
Can't find purple sweet potatoes? Purple sweet potatoes are a little drier than orange, so if you can't find purple, fret not – I use them for their appearance, but not their taste. You can certainly make this with all orange potatoes. I even bet it will taste even better since there will be a little more moisture.
Or! Substitute it with another starchy vegetable.  A sweet potato and rutabaga spiral tart!  Or how about sweet potato and butternut squash?  Anything that can be sliced into long, thin, non-soggy (this is not the place for eggplant) strips will work in this recipe.
Whipped Ricotta Layer
Underneath our beautifully spiraled sweet potatoes lies a layer of fluffy whipped ricotta. The ricotta is smooth and creamy, sweetened with just a hint of maple syrup to really tie in all the fall flavors.
But why are we going through the extra step of whipping the ricotta, instead of just spreading it on the crust as is? It's time for my favorite subject – kitchen chemistry!
Kitchen Chemistry

When ricotta is whipped, tiny air bubbles are introduced into the matrix. This aeration process not only lightens the texture but also creates a velvety mouthfeel. As the ricotta is whipped, proteins start to unfold and bond with each other, forming a network that traps the air. This network contributes to the stability of the whipped texture, preventing it from collapsing back into a denser state while the tart is baked. 
The maple syrup also plays a role here, more than just providing a hint of sweetness. The sugars in the maple syrup also interact with the proteins in the ricotta, influencing the stability of the whipped ricotta. Now that's some delicious chemistry!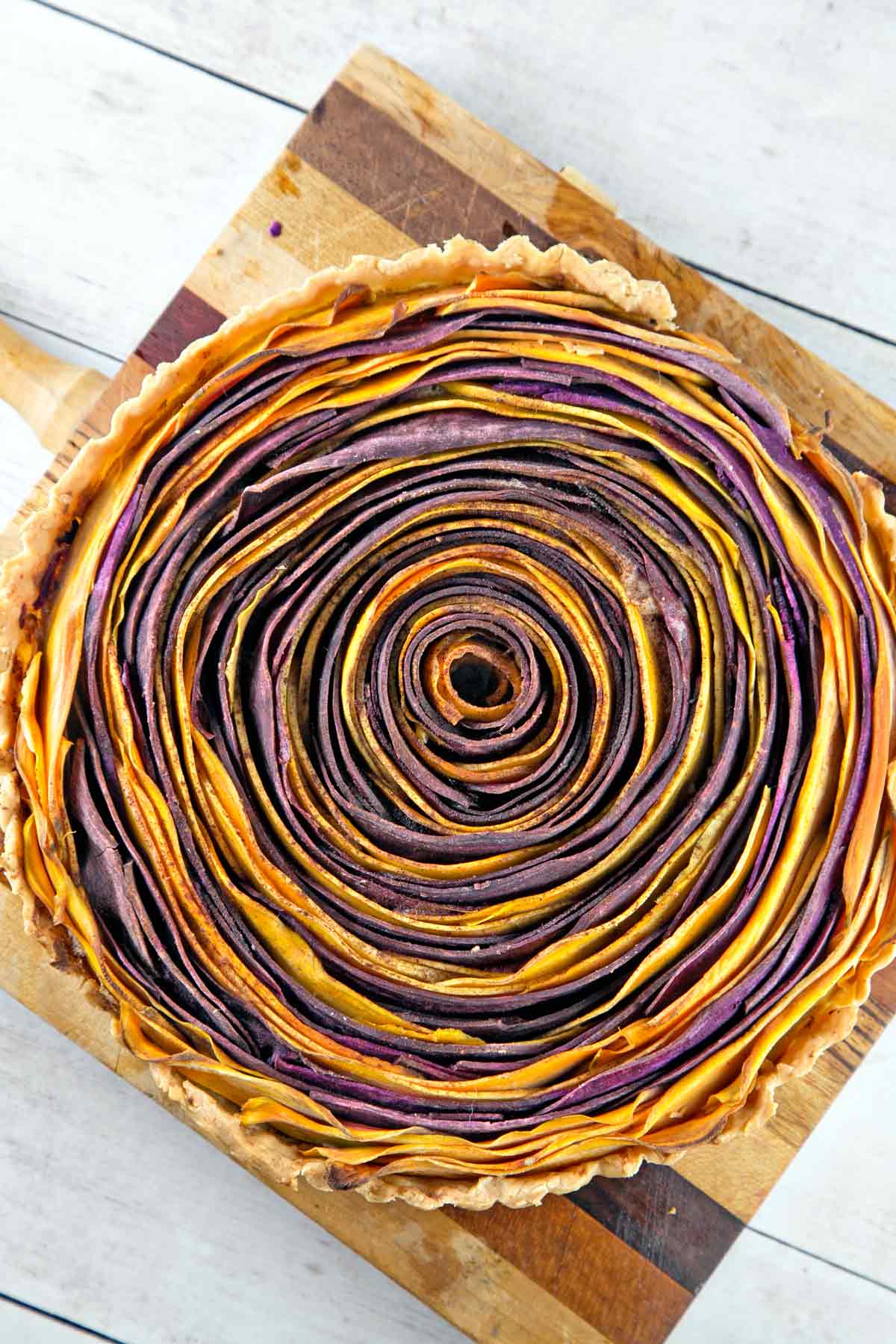 Recommended Tools to Make Sweet Potato Tart
Mandoline: A mandoline is the best way to get thin, even slices of sweet potatoes.
9-inch Tart Pan: I like to use a tart pan with a removable bottom to remove the whole tart in one piece.
Pie Weights: Use pie weights while blind baking the crust to prevent it from puffing up before adding the sweet potatoes.
Food Processor: While you can use a whisk, a food process results in the smoothest texture for the whipped maple ricotta.
Pastry Brush: Use a pastry brush to "glue" the ends of the sweet potatoes together with oil.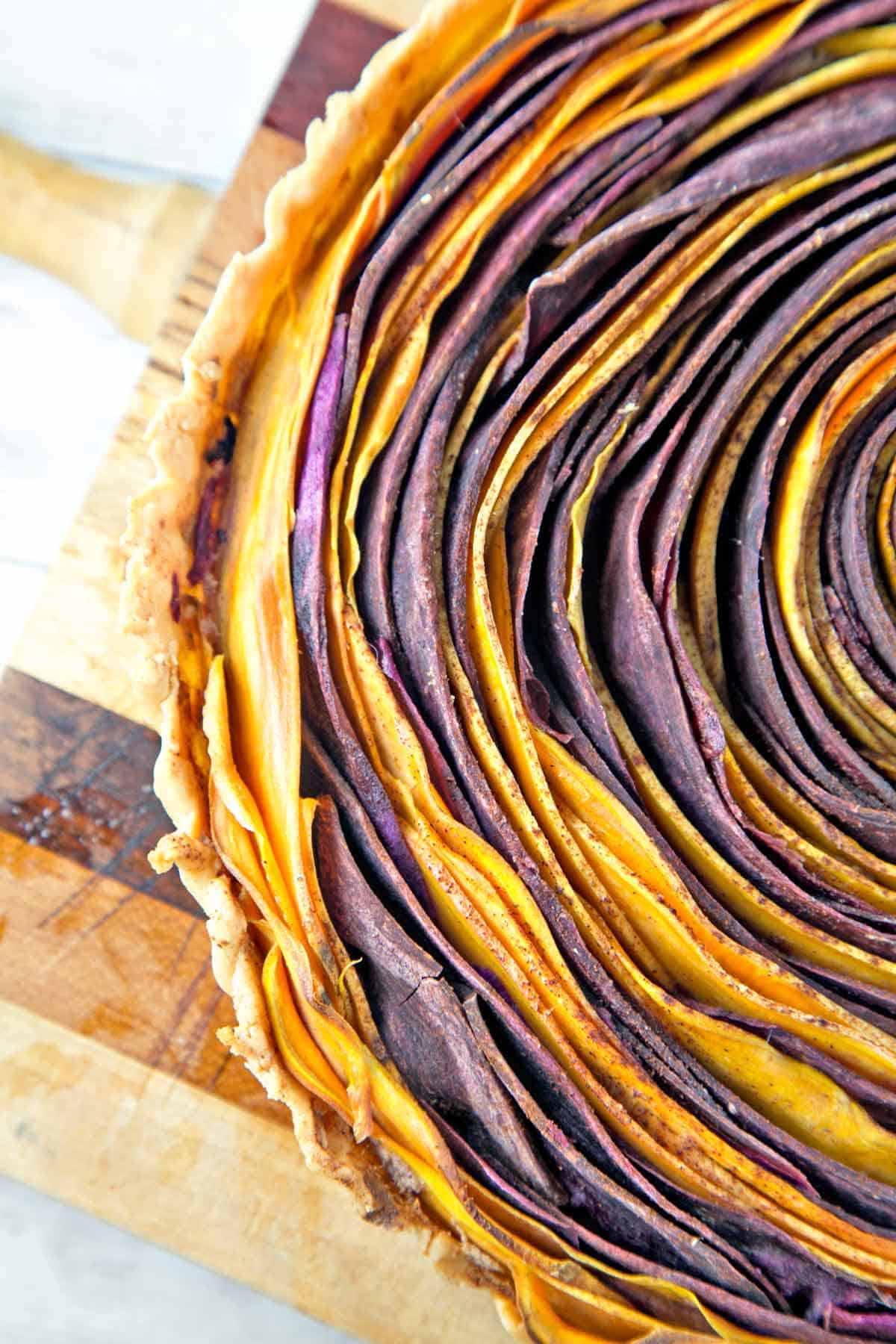 Tips and Tricks for the Best Spiral Vegetable Tart
Sweet Potato Alternatives: If you'd like to switch things up, try using thinly-sliced butternut squash, rutabaga, or carrots along with sweet potatoes.
Uniform Slicing: Take your time to slice the sweet potatoes into thin, uniform strips. This ensures even cooking and helps the visual spiral.
Use a Mandoline: For precise and consistent slicing, use a mandoline slicer for thin strips. If you are cutting the strips by hand, consider parboiling or microwaving the slices for a few minutes as the strips will be thicker.
Choose the Right Tart Pan: Select a tart pan with a removable bottom for easy removal and a beautiful presentation.
Experiment with Cheese or Herbs: Because of the maple in the ricotta, this tart is slightly sweet. But if you'd rather take it more savory, whip the ricotta with garlic and sprinkle your favorite herbs, like rosemary or sage, in between the layers of sweet potatoes, or sprinkle Parmesan cheese over the top.
Monitor Baking Time: Keep a close eye on the tart while baking. Cover the tart with foil if the top begins to brown too much before the sweet potatoes are tender and easily pierced with a fork.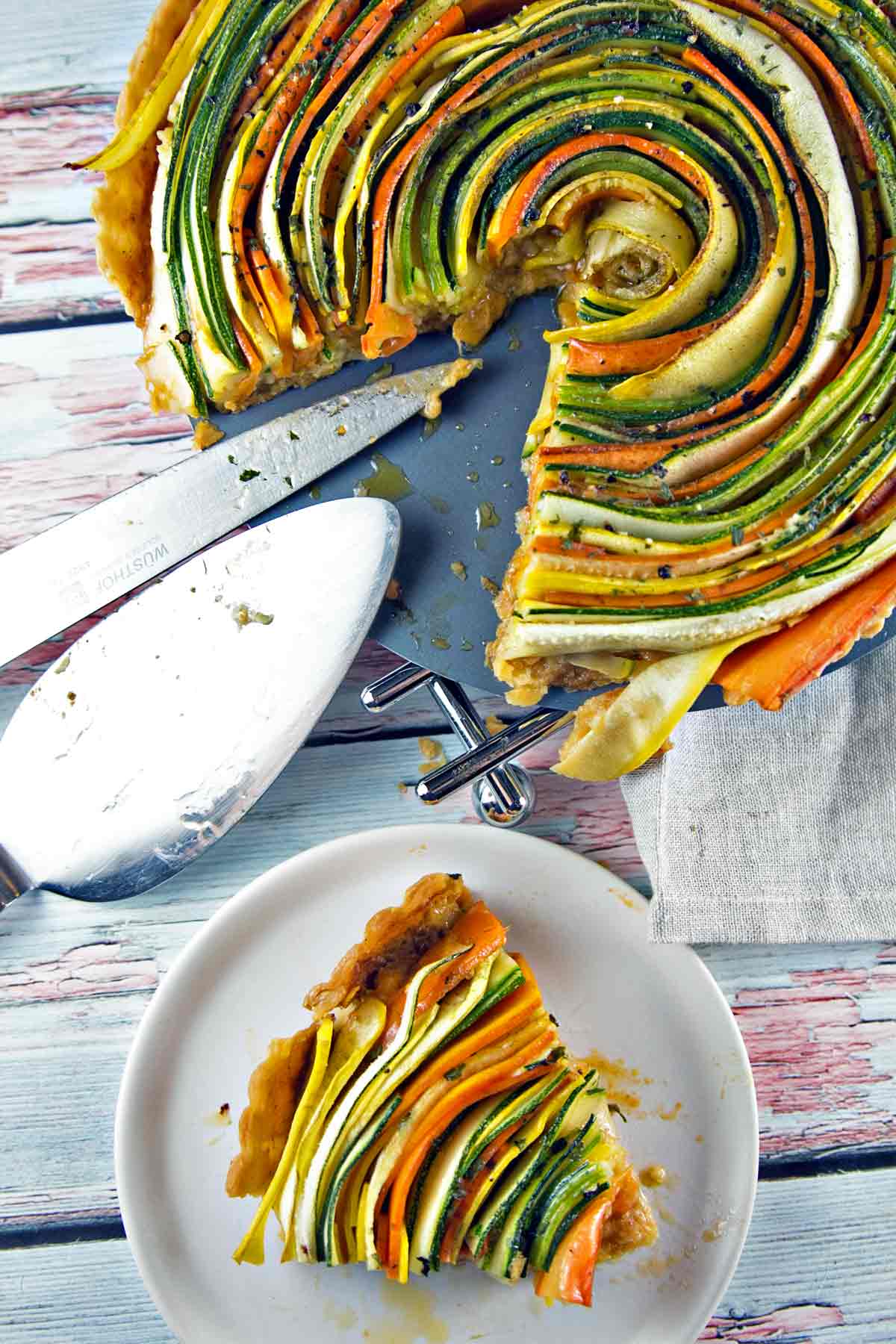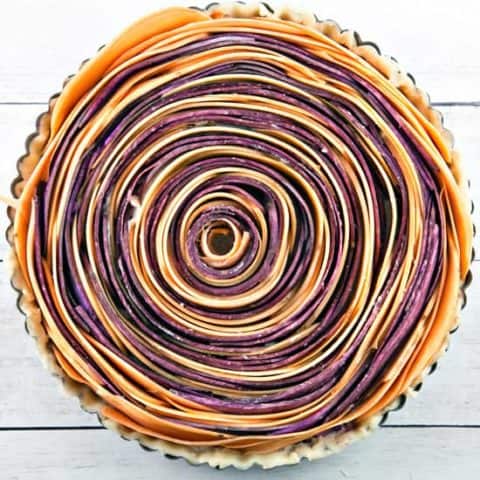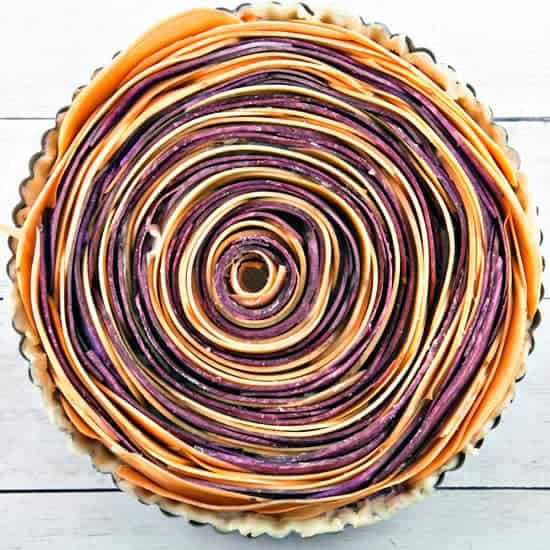 Spiral Sweet Potato Tart with Whipped Maple Ricotta
Total Time:
1 hour
15 minutes
A baked spiral sweet potato tart with a layer of whipped maple ricotta: both delicious and beautiful enough to star at your next holiday dinner.