November 15, 2016
Spiral Sweet Potato Tart with Whipped Maple Ricotta
A baked spiral sweet potato tart with a layer of whipped maple ricotta: both delicious and beautiful enough to star at your next holiday dinner.
Ever since I made the spiral vegetable tart a few months ago, I've been dreaming of a winter version.  Sweet potatoes.  Butternut squash.  Maybe some beets and turnips.
I knew I'd make a winter version – I just didn't know it would be so soon.  But then my husband came home with the most beautiful purple sweet potatoes and purple sweet potatoes require something special.
What's more special and beautiful than this spiral sweet potato tart with whipped maple ricotta?
I'm so glad I made this earlier in the season than I thought, because let me tell you: this is perfect for Thanksgiving.
Sweet potatoes are such a classic Thanksgiving side.  Whether you roast them, mash them, or bake them covered with maple syrup and marshmallows, they seem to be on everyone's table.
How about replacing your typical sweet potato side with a gorgeous spiral sweet potato tart?
The whipped maple ricotta lends just the tiniest hint of sweetness, but this tart definitely isn't sweet.  If you're used to super sweet sweet potato casseroles, I'd suggest drizzling some maple syrup on top just before serving.
The exposed edges of the sweet potatoes get just a little crispy; the inside edge gets meltingly soft.  The two textures make for sweet potato perfection.
Purple sweet potatoes are a little drier than orange, so if you can't find purple, fret not.  You can absolutely make this with all orange potatoes.  I even bet it will taste even better since there will be a little more moisture.
Unlike the summer version of this tart with sundried tomato pesto, this one does't hold up as well long term.  The ricotta does make the crust a little soggy after a day, so I'd recommend baking this one  the day you want to serve it.
However, the majority of the prep work is in slicing the vegetables, which you can certainly do ahead of time.  Peel and slice the potatoes, then store them wrapped in plastic wrap with a little squirt of water to prevent them from drying out.
Make your pie crust ahead of time; you can keep the dough in the refrigerator for a few days or freeze it for longer term store.
When you're ready to make the tart, you just have to blind bake the crust, make the whipped maple ricotta (food processor – so easy!) and start wrapping those veggies.  Together, this takes under 30 minutes – totally manageable, even on a busy Thanksgiving morning.
And don't worry, the leftovers are still good — but a fresh, crispy crust just makes it a little more worthy of company.
While this spiral sweet potato tart is a perfect addition to your Thanksgiving table, don't think it's only worthy of a holiday.  Dinner parties.  Casual gatherings with friends.  Or a low key Sunday night dinner, with your spouse and toddler – which is exactly how we enjoyed it.
Beautiful and delicious – a true work of edible art.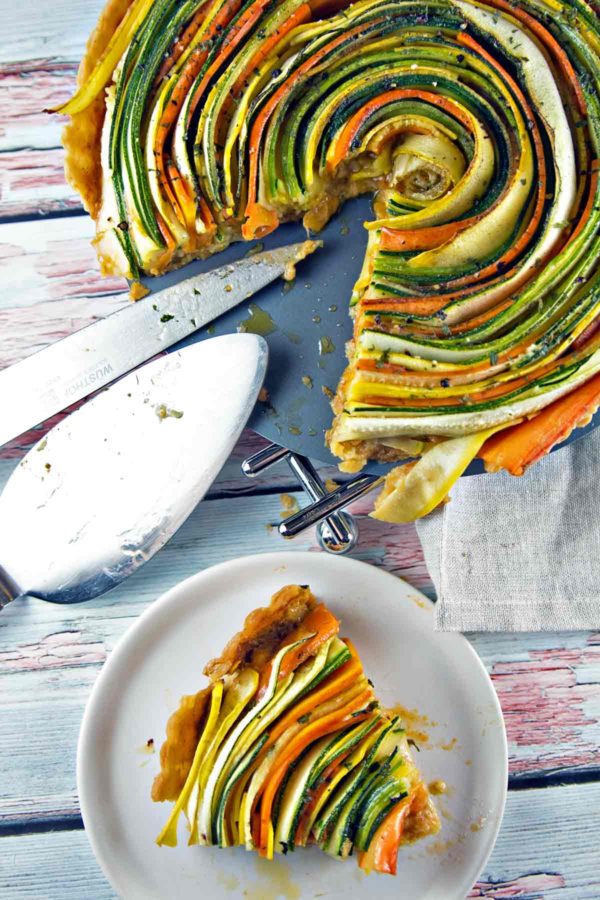 Spiral Sweet Potato Tart with Whipped Maple Ricotta
A baked spiral sweet potato tart with a layer of whipped maple ricotta: both delicious and beautiful enough to star at your next holiday dinner.
Ingredients:
1 no-fail pie crust (alternative: gluten free)
1 cup whole-milk ricotta
2 tablespoons maple syrup
pinch of salt
1.5 large orange sweet potatoes
1.5 large purple sweet potatoes
1/4 cup olive oil
1 teaspoon cinnamon
salt and pepper, to taste
Directions:
Prepare a batch of No-Fail Pie Crust (or gluten free or vegan alternatives, depending on dietary preferences).  Chill dough in the refrigerator for 30 minutes.
While the dough is chilling, trim the edges of the sweet potatoes.  Slice the vegetables into long, thin slices, using a mandolin, vegetable peeler, or a sharp knife.  Cut each slice in half horizontally, resulting in long, skinny slices.
Preheat the oven to 350 °F.  Grease a 9″ tart tan.  Roll the dough on a lightly floured surface until just a bit bigger than the tart tin.  Place the dough into the tin and press into the bottom and sides.  Trim any excess overhang.  Refrigerate the dough in the tart pan for 15 minutes.
Line the dough with parchment paper and fill with dry beans or a pie weight.  Bake for 15 minutes, until edges are slightly golden.  Remove from the oven and set aside to cool.
While the crust cools, make the whipped maple ricotta.  Combine the ricotta, maple syrup, and salt in a food processor or blender.  Process until ricotta is smooth and light.
Spread the whipped maple ricotta along the bottom of the tart.
Quickly dip one piece of sweet potato sliced in the olive oil, or bush with oil using a pastry brush.  Roll the strip into a tight circle and place in the center of the tart.  Dip the next sweet potato in olive oil and roll around the first slice.  Continue wrapping the sweet potato slices in concentric circles until the tart is full.
Brush the top of the spiral sweet potato tart with any remaining olive oil, then sprinkle with cinnamon, salt and pepper.
Bake at 350 °F for 45 to 50 minutes, until sweet potato are soft.  Cool in tart pan for 10 minutes, then slice and serve.
A Bunsen Burner Bakery Original Protocol