February 23, 2017
Soft Pretzel French Toast Casserole
Sweet and salty, crunchy and soft, with a melted sugar crust, this soft pretzel french toast casserole is the perfect make-ahead breakfast for company.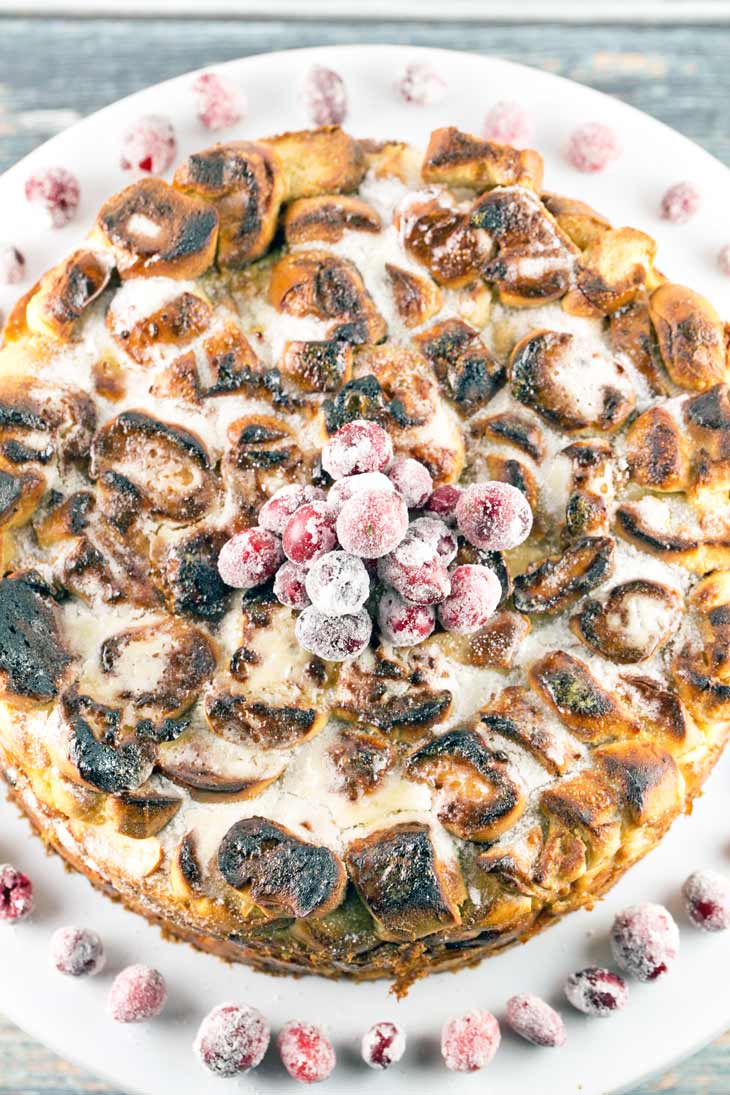 Last year, I shared a recipe for Chocolate Bourbon Soft Pretzel Bread Pudding.  I shared the backstory of my soft pretzel overload – every year, a friend brings a party tray of soft pretzels to our annual holiday party.
We live in Philadelphia, so obviously a soft pretzel party tray is a huge hit.  (Seriously, what is it with Philadelphians and soft pretzels?)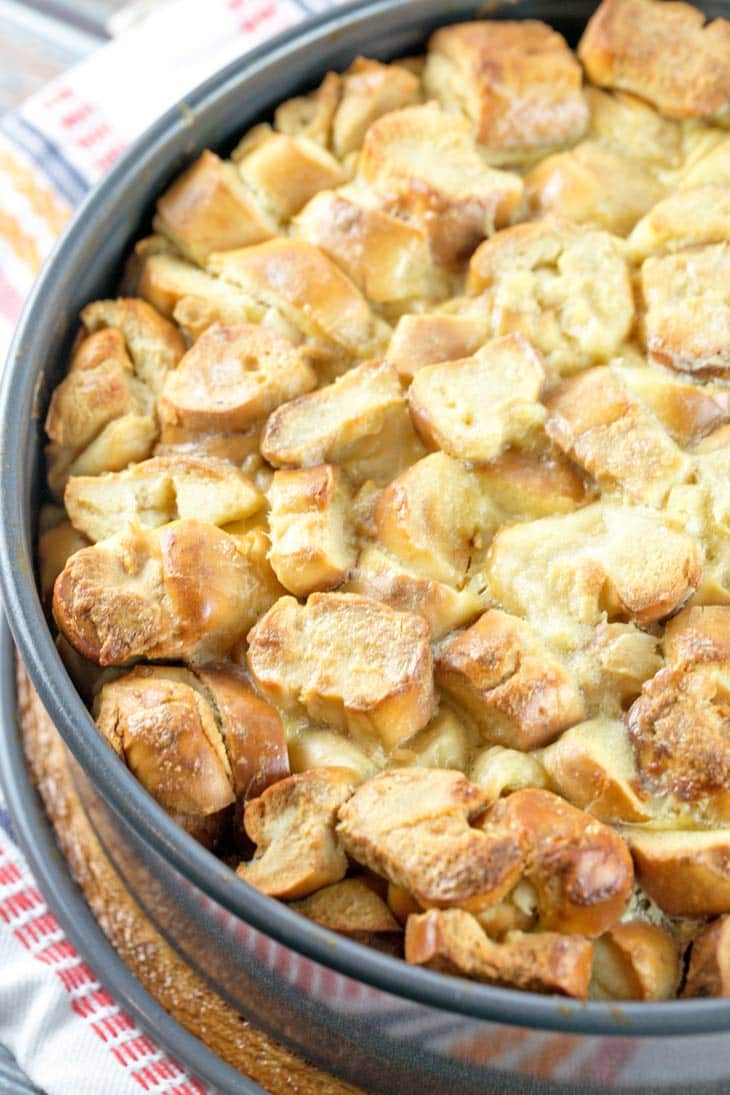 Soft pretzel bite party trays only come in one size, however.  And that size is really, really large.  So afterwards, we always have lots of soft pretzel bites left over.  (Which, mind you, is a-okay with me.)
Every year, it's a race to the end – can we finish the soft pretzels before they go through that weird soggy-yet-stale phase?
Every year, the answer to that question has been: no.  We just can't eat that many soft pretzels before they get weird.
So last year, I decided it was time to actually do something with the soft pretzels, and I turned them into bread pudding.  Really delicious, sweet and salty, chocolate bourbon soft pretzel bread pudding.
Winner winner, pretzel dinner!  (Or I guess, pretzel dessert.)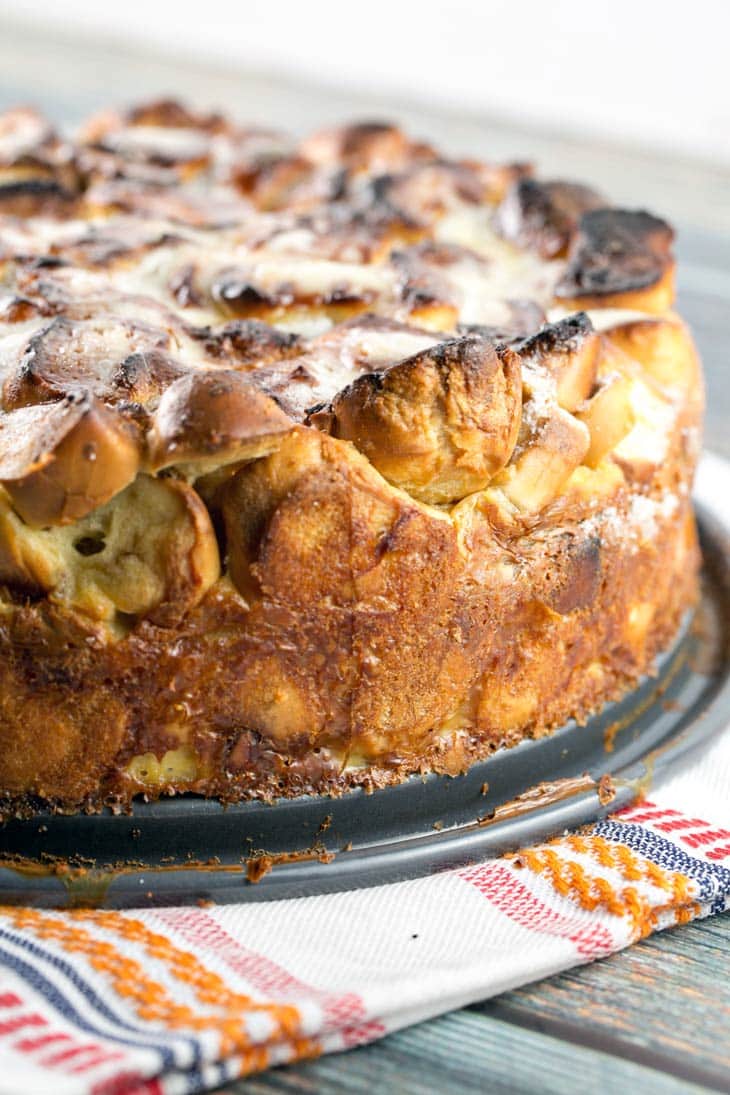 This year, we once again faced the pretzel overload.  We tossed around lots of good ideas (soft pretzel croutons in Dutch mustard soup?), but in the end, this soft pretzel french toast casserole won out of practicality.
Hello, breakfast for our overnight guests!  Two birds, one stone.  Or is this a lemonade out of lemons situation?  Either way, we had pretzels, and I had to make breakfast so – problem solved.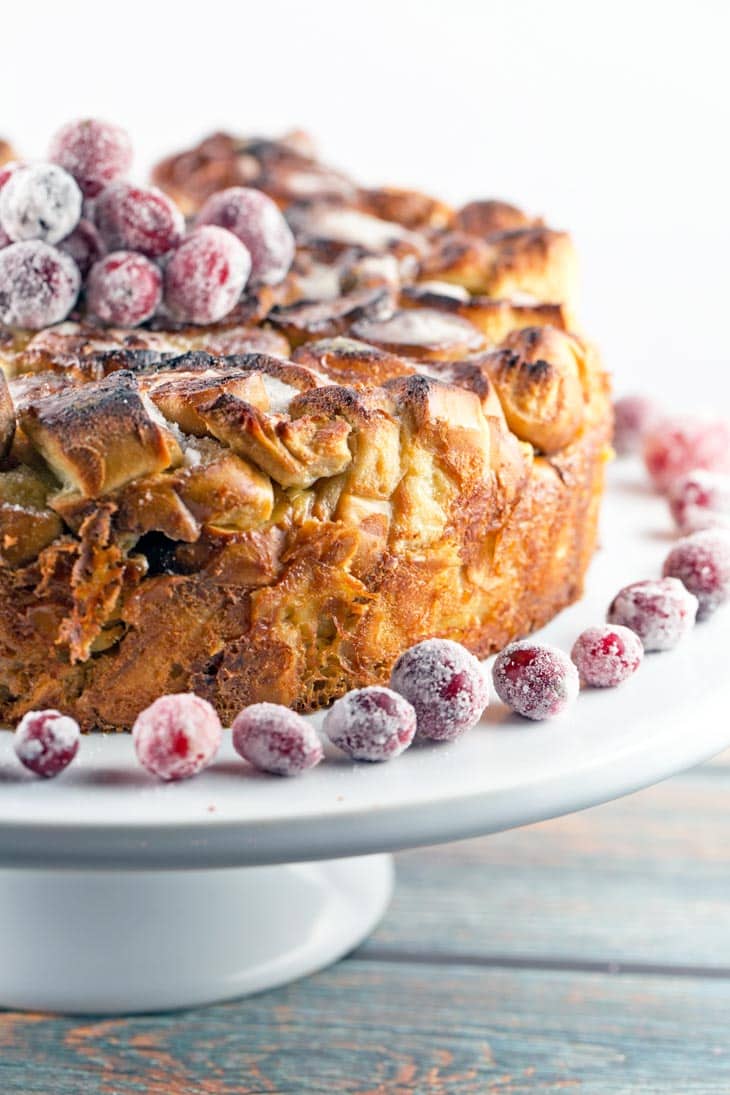 There's something about french toast casseroles in springform pans that always looks so delicious and inviting and worthy of company.
I prepped this the night before and let the pretzels absorb the custardy liquid overnight because I am not a morning person.  If you, however, are up well before breakfast, an hour or two soak is plenty.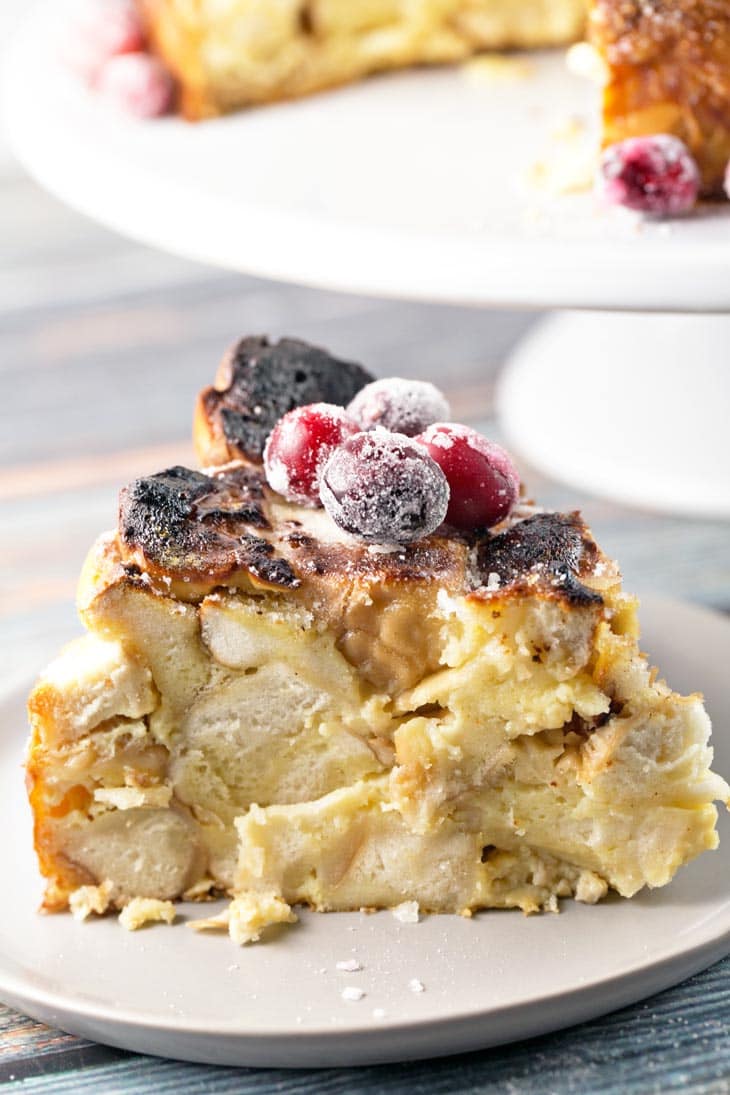 Stale pretzels start to lose some of the salty taste (why is that?) so I added a little salt into the egg mixture to play up the sweet-salty combination expected from soft pretzel french toast.
If you just want the sweet flavor, feel free to omit, but don't worry that the extra salt will make it taste too salty.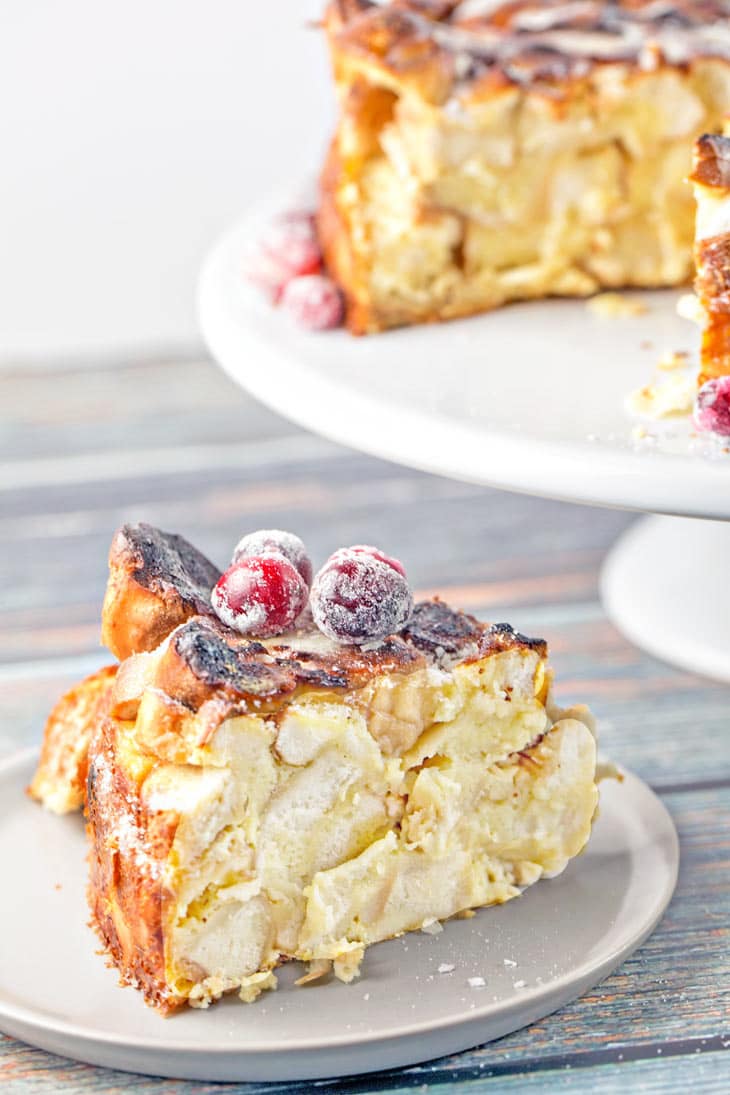 After the soft pretzel french toast casserole baked, I topped mine with some granulated sugar and popped it under the broiler to get a creme brûlée-esque sugar coating.
The melted, crackly sugar is the perfect texture contrast to the french toast.  Sure, it's a few minutes of extra work, but it's well worth it.
Top with some homemade sugared cranberries for a pop of color and tartness!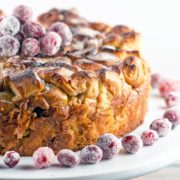 Soft Pretzel French Toast Casserole
Sweet and salty, crunchy and soft, with a melted sugar crust, this soft pretzel french toast casserole is the perfect make-ahead breakfast for company.
Ingredients:
8 cups cubed stale soft pretzels, packed
2 eggs
4 egg yolks
1 cup heavy cream
1 1/2 cup milk
1/4 cup sugar, divided
2 teaspoons vanilla
1/4 teaspoon salt
sugared cranberries, for topping
Directions:
Add the cubed soft pretzels to a large mixing bowl.
In a medium bowl, whisk together the eggs, egg yolk, heavy cream, milk, 2 tablespoons sugar, vanilla, and salt until well combined.  Pour the liquid mixture over the soft pretzels.  Stir well to combine, pushing the soft pretzels down into the liquid.
Cover with plastic wrap and set in the refrigerator, one hour up to overnight, to allow the soft pretzels to soak up the liquid.
Preheat the oven to 350 °F.  Grease a 9-inch springform pan.
Transfer the soft pretzel mixture into the prepared pan, pressing down on the pretzels to form a compact, even layer.  Bake for 40 minutes, until browned and no liquid remains.
Preheat the broiler to high.  Sprinkle the remaining sugar over the top of the french toast casserole.  Broil (or use a kitchen torch) to heat the sugar until melted, or until soft pretzels turn dark.  Remove from the broiler and set aside for 5 minutes, until sugar hardens.
Run a knife along the edge of the pan and remove the ring.  Top with the sugared cranberries.
A Bunsen Burner Bakery Original Protocol