February 27, 2017
Sheet Pan Asian Salmon
Life is stressful – dinner shouldn't be. Prep this gluten free sheet pan Asian salmon in the morning and bake when you get home. One pan and 12 minutes is all you need for a healthy dinner.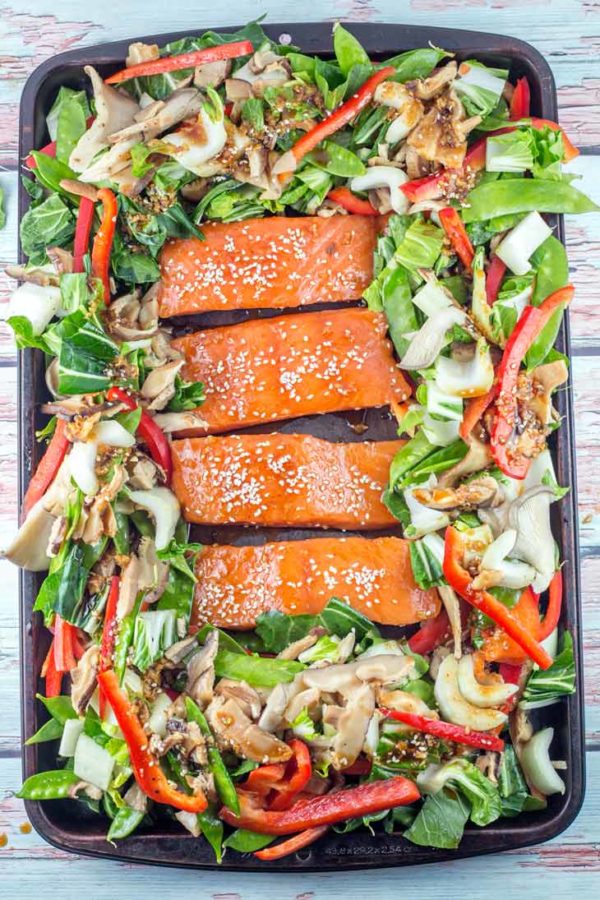 Okay, guys. Let's talk about quick, easy dinners. Because no matter how much we (…I) love desserts and baking, we all eat dinner a lot more than we eat dessert, right? Right.
The dinnertime struggle is real. I don't know about you, but we have a serious time crunch around dinner. I usually get home from work or the gym around 7, and my toddler goes to bed at 9.
So that leaves me with 2 hours to cook, eat, play, pick up his toys, and go through the bedtime routine. I used to come home and cook every night, meaning that we'd eat around 8 and bedtime constantly kept getting pushed back a little later and later. How is a busy working mom supposed to get a homemade dinner on the table before bedtime?
For a long time, the answer was slow cooker dinners. Now, Instant Pot is all the rage (love your Instant Pot? Don't miss these recipes for Instant Pot Orange Chicken and Easy Instant Pot Beef Stew!). These are both great, great tools – but they also have limitations.
Most slow cooker recipes don't work well if you're out of the house for 10 straight hours. The Instant Pot is a great way to cut down on cooking time, but all those "cook a chicken in 10 minutes!" recipes fail to mention that you also have to wait for the pressure cooker to achieve pressure, so 10 minutes still may be more like 30.
So now, I'm going to share my favorite weeknight dinner time saver: the sheet pan dinner. There are hundreds of recipes for sheet pan dinners out there but many of them require multiple cooking steps. Add the potatoes to the pan. 20 minutes later, add the meat. 10 minutes after that, add the vegetables. Or you have to prep a sauce or a side while the sheet pan roasts.
Sheet Pan Dinners: The Weeknight Hero
Here's what I've been working on: a series of make-ahead sheet pan dinners. Prep everything in the morning before you leave for work. Cover the sheet pan with plastic wrap and store it in the fridge. When you get home, take it out of the fridge while the oven reheats, pop it in the oven, and walk away. That's it.
This works amazingly for our family, because my husband gets home from work before I do. When I'm getting ready to head home, I text him and he preheats the oven. The sheet pan is in the oven when I walk in the front door, leaving me with enough time to take off my bag, hang up my coat, and maybe read a quick book with our toddler.
Then we eat – and we're done with dinner with plenty of time to play or take a long bath. There are a million things to stress over when you're a parent – dinner shouldn't be one of them.
(And don't think this is just for parents! This would have been great for me when I was a grad student, not getting home from the lab until after 9pm every day. Since there's no real "cooking" involved – just mixing a few ingredients and then putting a pan in the oven, it's also perfect for people who don't like to cook.)
How to Make Sheet Pan Asian Salmon
This sheet pan Asian salmon is my latest obsession. It's healthy, low carb, and extremely filling. Can you chop some vegetables? Can you whisk? Congratulations – you can make sheet pan Asian salmon! It literally only involves chopping some vegetables, tossing them with a little oil, whisking together a sauce, and spreading everything on a pan. That's it.
The sauce comes together in 5 minutes. It's a little sweet, a little spicy (hello, beloved sriracha!) and super flavorful. And we're using it on both the salmon and the veggies, so you only have to make one sauce. It's so easy, even my toddler can make it. Check out those whisking skills! ↓↓↓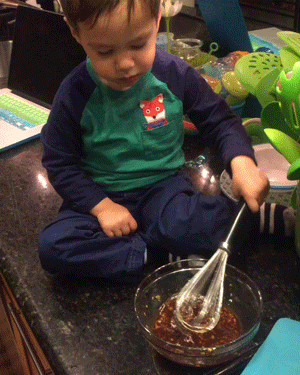 Other reasons why I love this sheet pan Asian salmon: it cooks really fast – 12 to 15 minutes fast, to be precise. Everything cooks in the same amount of time. Because the vegetables are piled on top of each other, they steam a little – meaning there's no over-roasted blackened bits. But since the cooking time is so short, they don't steam to the point of sogginess, either. Perfectly cooked – not too soft, not too crunchy.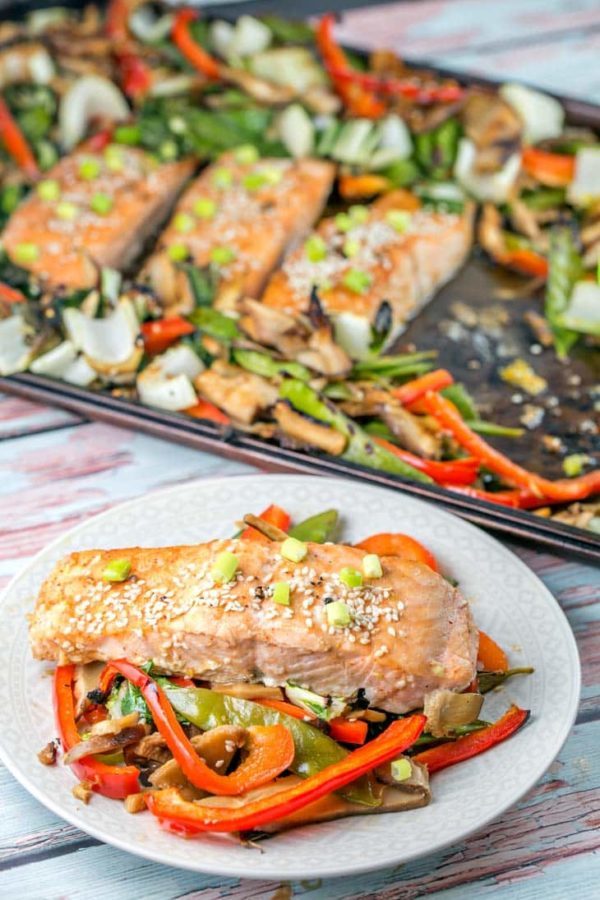 How to Serve Sheet Pan Asian Salmon
I make mine with a whole lot of vegetables, so this is completely filling. We eat it as is – just the salmon and vegetables, and I don't walk away hungry.
You can absolutely serve it with rice as a side, but if you're cutting out excess carbs, you won't miss it. And as an extra bonus, it reheats well the next day for lunch.
And most importantly for parents, this sheet pan Asian salmon is 100% toddler approved. ("More salmon, Mommy! More bok choy! More 'shrooms, please!")
Tips and Tricks for Sheet Pan Asian Salmon
Prep your sheet pan with frozen salmon. Buy your salmon frozen and forgot to thaw it last night? No worries! Make it exactly as described below, brushing the sauce on the frozen salmon, and let it thaw in your fridge on the sheet pan during the day.
If your honey is too sticky to whisk and combine well, heat the sauce in the microwave in 10 second increments just until it's fluid enough to mix before brushing on the salmon.
Cut the vegetables to a similar thickness so they cook in the same amount of time (if the peppers are too thick, they will still be raw in the middle).
Don't like mushrooms? Sub in some broccoli instead!
Leftovers are delicious cold, but you can also reheat in the microwave until just warmed throughout.
More Easy Sheet Pan Dinners: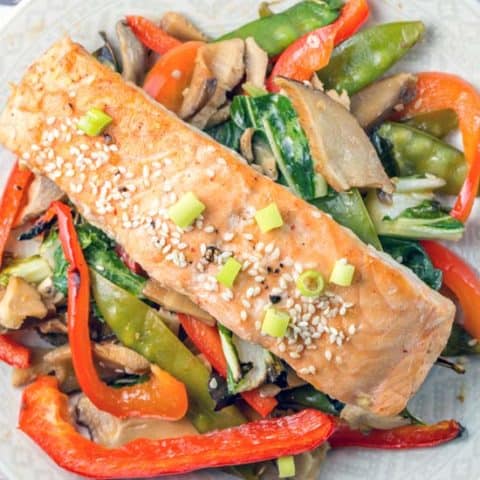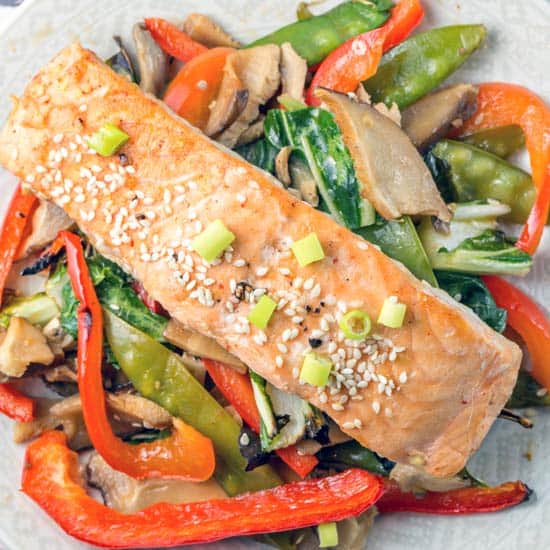 Sheet Pan Asian Salmon
Life is stressful – dinner shouldn't be. Prep this gluten free sheet pan Asian salmon in the morning and bake when you get home. One pan and 12 minutes is all you need for a healthy dinner.
Ingredients
1/4 cup honey
4 garlic cloves, minced
1 2-inch piece of ginger, minced
4 tablespoons low sodium soy sauce
2 tablespoons rice vinegar
1 tablespoon sesame oil
1 tablespoon Sriracha
1 tablespoon sesame seeds
16 ounces (1 large) bok choy, cut into 1-inch pieces
8 ounces snap peas
7 ounces shiitake mushrooms, quartered
3 ounces oyster mushrooms, quartered
2 red bell peppers, thinly sliced
1 tablespoon vegetable oil
4 (6-ounce) salmon filets, fresh or frozen
Instructions
Preheat oven to 450 °F.
Whisk together the honey, garlic, ginger, soy sauce, rice vinegar, sesame oil, Sriracha, and sesame seeds in a small bowl.
Place the cut vegetables on a sheet pan. Drizzle the vegetable oil over the vegetables and toss to combine. Push the vegetables to the outside edges of the sheet pan.
Season the salmon filets with salt and pepper. Place in the center of the sheet pan. Using a basting brush, brush the sauce over the salmon.
Pour the remaining sauce over the vegetables.
Bake until salmon is baked through and flakes easily with a fork, 12 to 15 minutes.
Notes
To prepare ahead of time: Complete up to step 5, then cover sheet pan with plastic wrap. Refrigerate sheet pan for up to 14 hours before baking. Frozen salmon may be used – brush with marinade and let salmon thaw in the refrigerator until cooking.
Recipe idea inspired by Tasting Table
Recommended Products
As an Amazon Associate and member of other affiliate programs, I earn from qualifying purchases.
Nutrition Information:
Yield:

4
Amount Per Serving:
Calories:

477
Total Fat:

19.8g
Carbohydrates:

35g
Protein:

41.5g