April 30, 2019
Cinnamon Chocolate Babka Muffins
Take your babka on the go with these individual-sized Cinnamon Chocolate Babka Muffins!  A rich, buttery babka yeast dough, filled with beautiful swirls of chocolate, baked in muffin tins.  Same great babka taste, baked in half the time!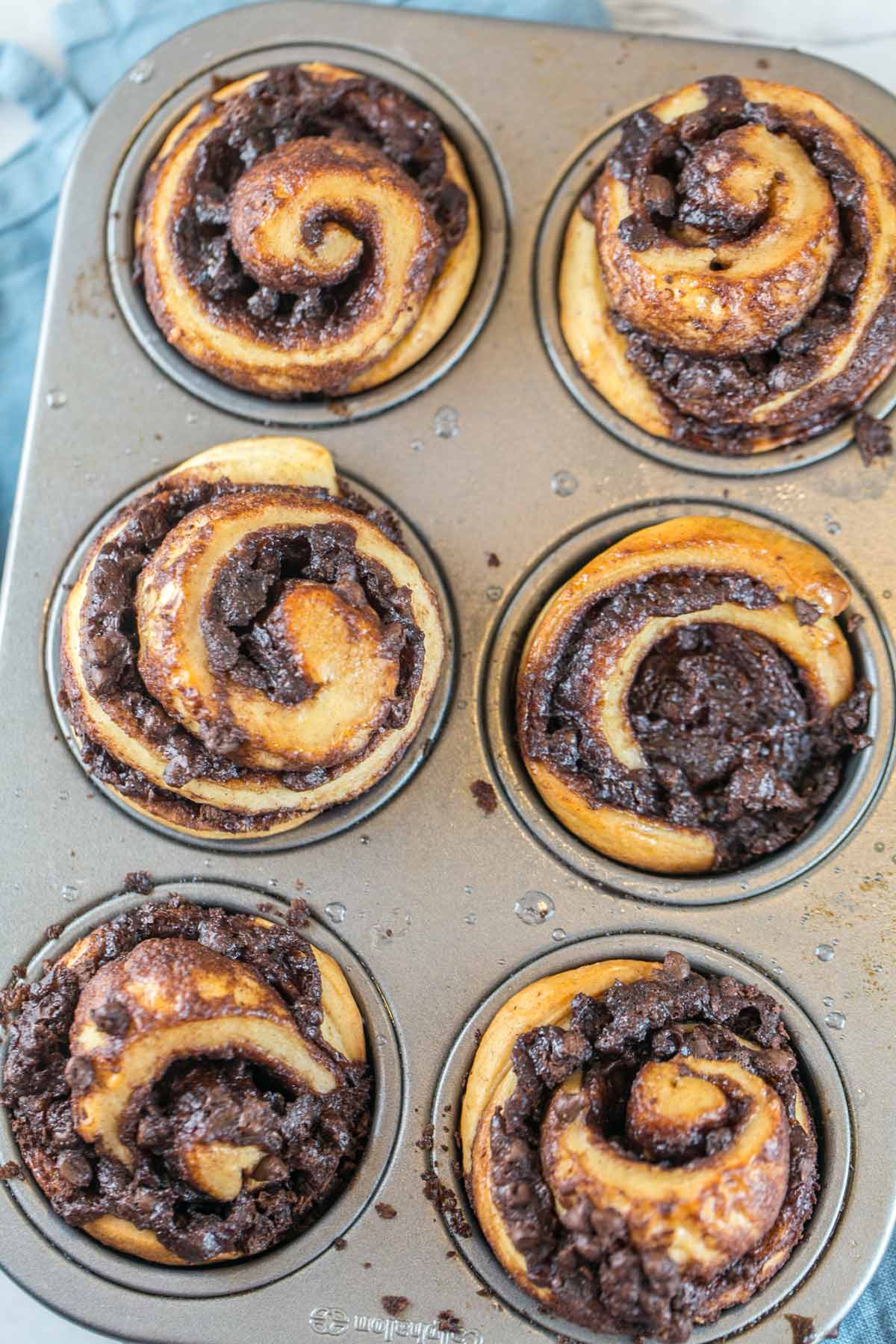 After last month's (outrageously amazing) pizza babka, we're heading back into sweet babkas for this month's Babka of the Month! But instead of a big loaf, we're doing things small-scale this time: cinnamon chocolate babka muffins!
Muffins may be a bit of a misnomer. We're calling them muffins because they're made in a muffin pan. And there isn't any sort of frosting/icing on them like a classic cupcake.
But these are muffins in the way a giant chocolate chocolate chip muffin with chocolate streusel and a drizzle of chocolate is a muffin: it's totally a dessert that we can pretend is appropriate for breakfast.
Rich babka dough filled with a cinnamony-chocolate filling and a healthy dusting of miniature chocolate chips. Rolled into a log, twisted together, and cut into 12 perfectly portioned pieces of babka.
Baked in half the time as a full loaf of babka.
Talk about an all-over baking win!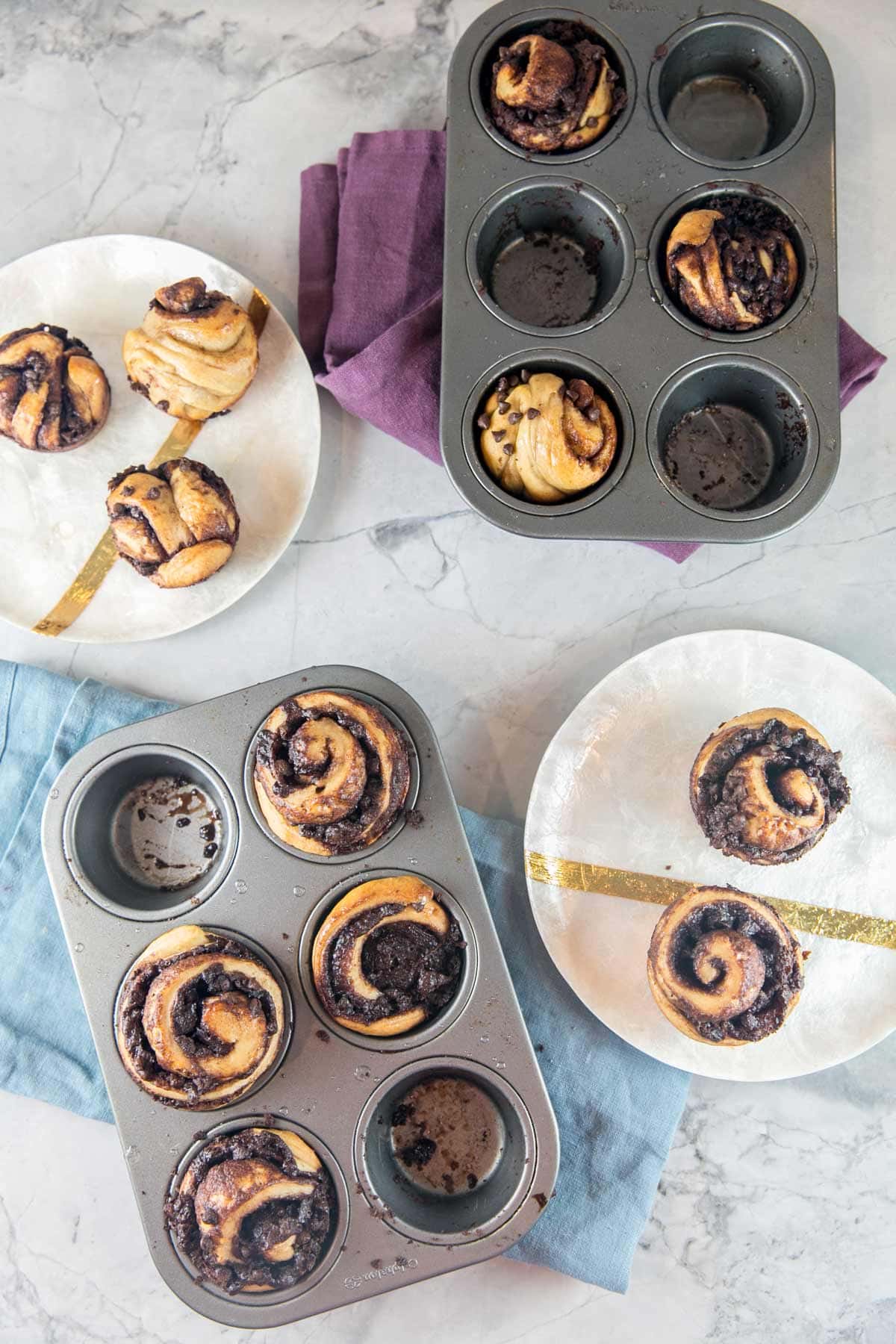 Babka – in Muffin Form!
What are chocolate babka muffins? Quite simply: a chocolate babka bread, but baked as muffins instead! 
If you're new to the world of babkas, please allow me to suggest that you check out this recipe for the Best Chocolate Babka, which kicked off my "year of babka" series.
In the post, I cover a little bit about the history of babka, the types of babka, and what it is. But in brief, this type of babka is a rich bread dough made from butter, milk, and eggs, with a delicious swirled filling folded into the dough.
And in this case, we're going to bake small versions right in muffin tins.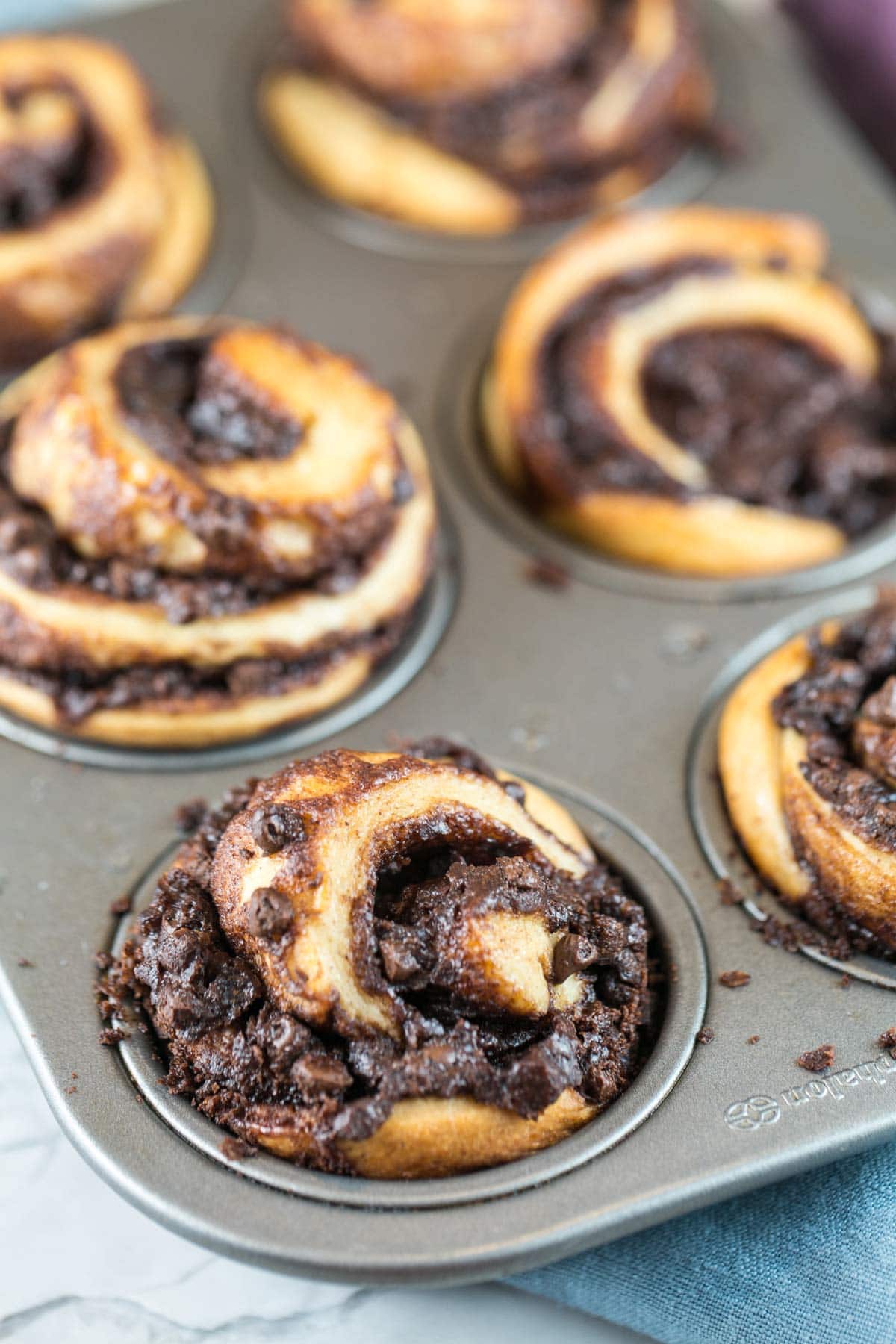 Why Bake Babka Muffins?
Why make your babka in muffin form? Well, for one, it's perfect to share! Or for built-in portion control (which I definitely need when it comes to chocolate babkas).
They're also neater and easier to transport — without the streusel topping and needing to cut individual slices, they are perfect to share with neighbors or toss into a little container or snack bag and take on the go.
Also, the bake time is a lot shorter, too — perfect when you need your babka fix and you need it NOW.
While I'll provide a recipe below for cinnamon chocolate babka muffins, you can use this technique for any of the babka recipes on my site. Pizza Babka Muffins? Yes, please! I'll take three.
Best Yeast for Babka
There are three main types of yeast available: active dry yeast, instant yeast, and fresh yeast.
Fresh yeast is not available as readily as active dry yeast or instant yeast. It has a two-week shelf life, requires refrigeration, and is harder to find – it's mostly used by baking professionals. As such, I'm not going to go into detail here… if you're already baking with fresh yeast, you know how to use it!
Active dry yeast is the yeast our grandparents used to bake. Live yeast cells are dried quickly at a high temperature. Traditionally, active yeast had to be proofed — dissolved in warm water — to separate out the dead yeast cells from the remaining surviving yeast cells. Because there are often more "dead" yeast cells, it can take a little longer for the dough to reach the "doubled in size" stage.
Instant yeast, on the other hand, uses a smaller granule size than active dry yeast. As a result, each yeast granule has more surface area exposed to liquid and thus dissolves more quickly. Instant yeast can be proofed, but it is not necessary and can be mixed into the dry ingredients. Compared to active dry yeast, instant yeast produces a faster rise.
One time when instant yeast doesn't produce a faster rise? When it's used in a high-sugar dough. And what is babka dough? High sugar! How can we circumvent this and speed up our rise if we're pressed for time? The answer, of course, lies with my favorite subject…. kitchen chemistry.
Kitchen Chemistry

Want to shorten the rise time and produce the biggest, fluffiest babka muffins in time? Use SAF Gold instant yeast! SAF Gold yeast is specifically formulated for sweet bread doughs, like babkas. SAF Gold uses yeast cells which requires less liquid to function, perfect for high sugar recipes where the sugar absorbs water from the yeast. If the weight of sugar in the recipe is at least 10% the weight of the flour, use SAF Gold for a faster rise.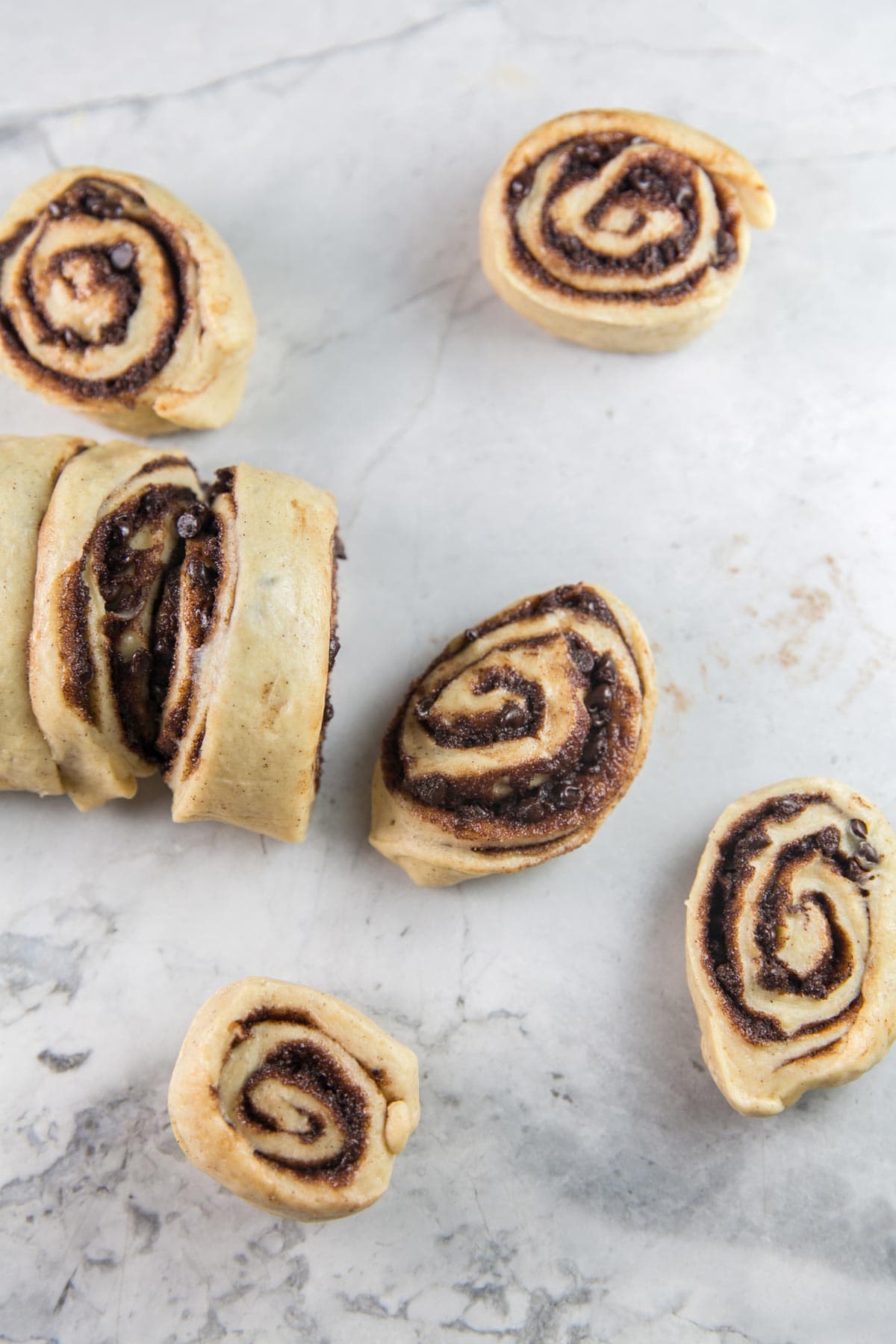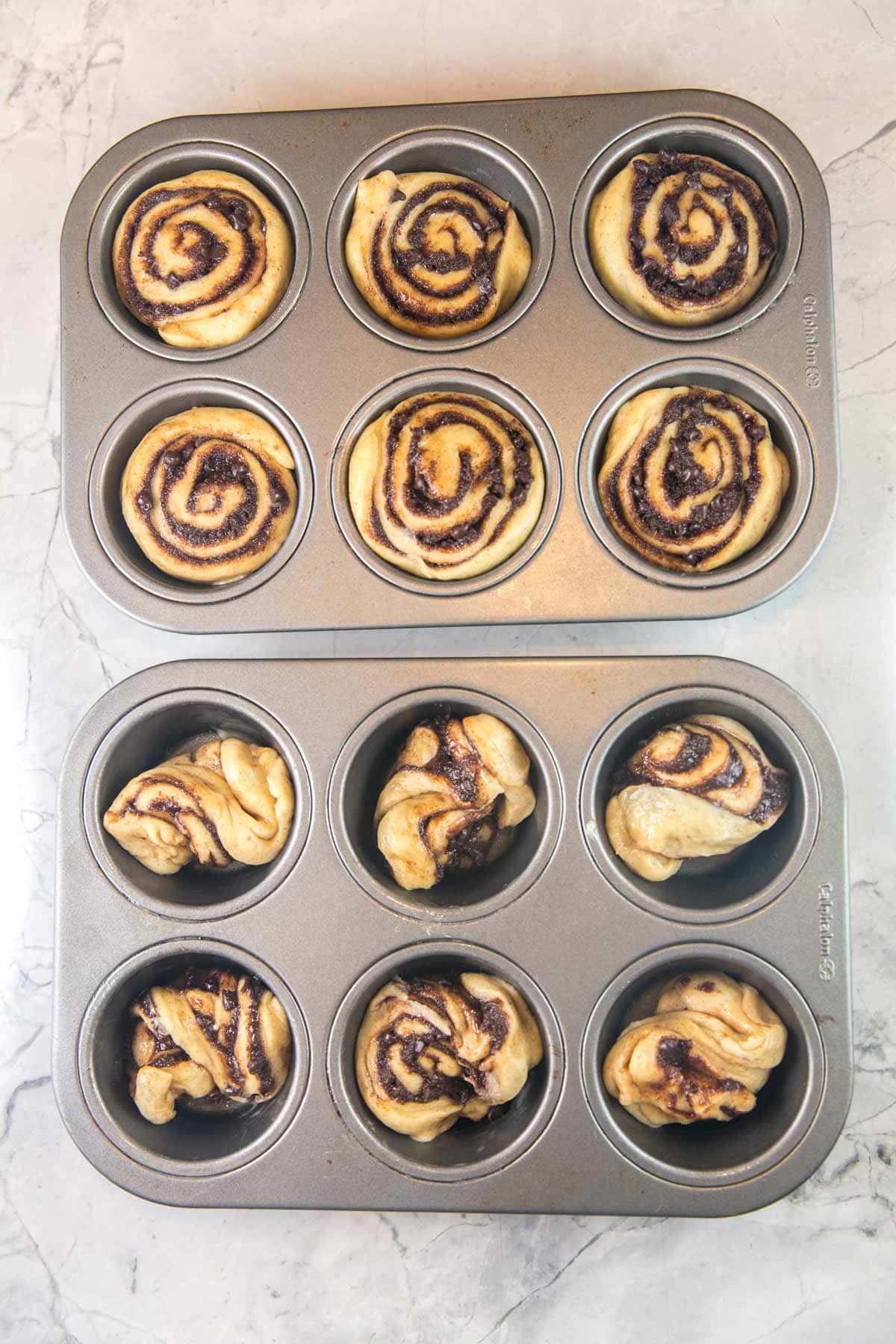 How to Shape Babka Muffins
The technique to make a babka muffin is actually pretty similar to a cinnamon roll. The dough gets rolled into one long log, then cut down the middle.
From here, it's a choose-your-own-Babka-muffin-style adventure.  Circle or twist: which one will you pick?
Want a beautiful concentric spiral, just like a cinnamon roll?  Put the cut round slice of babka in the muffin pan as is.  These will rise to soaring heights of cinnamon and chocolate-filled deliciousness, with the classic rich, eggy, buttery babka bread.
Basically, a chocolate babka that looks like a cinnamon bun. Except tastes way, way better than a cinnamon bun. ↓↓↓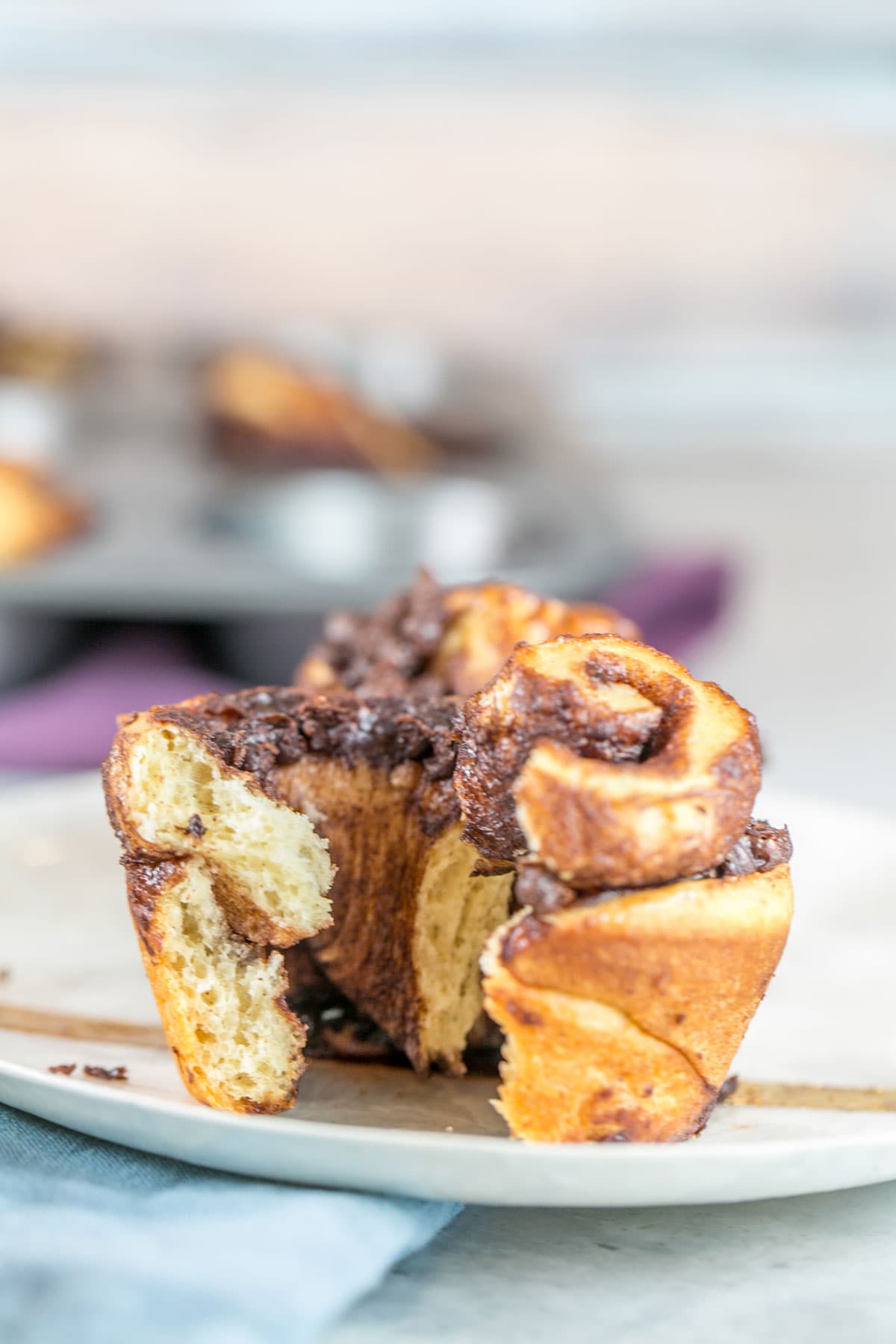 Want something more like a traditional babka, with distinct folded layers of chocolate running through the muffin when you tear it open?  Take that circular piece of babka and give it a twist, kind of like you're unwrapping a piece of saltwater taffy. 
One good twist in the middle, then set it inside the muffin tin.  If it untwists during the second proofing step, give it another twist before baking.
See the chocolate stripes inside of this muffin? ↓↓↓ Classic babka swirl in muffin form.
Recommended Tools to Make Babka Muffins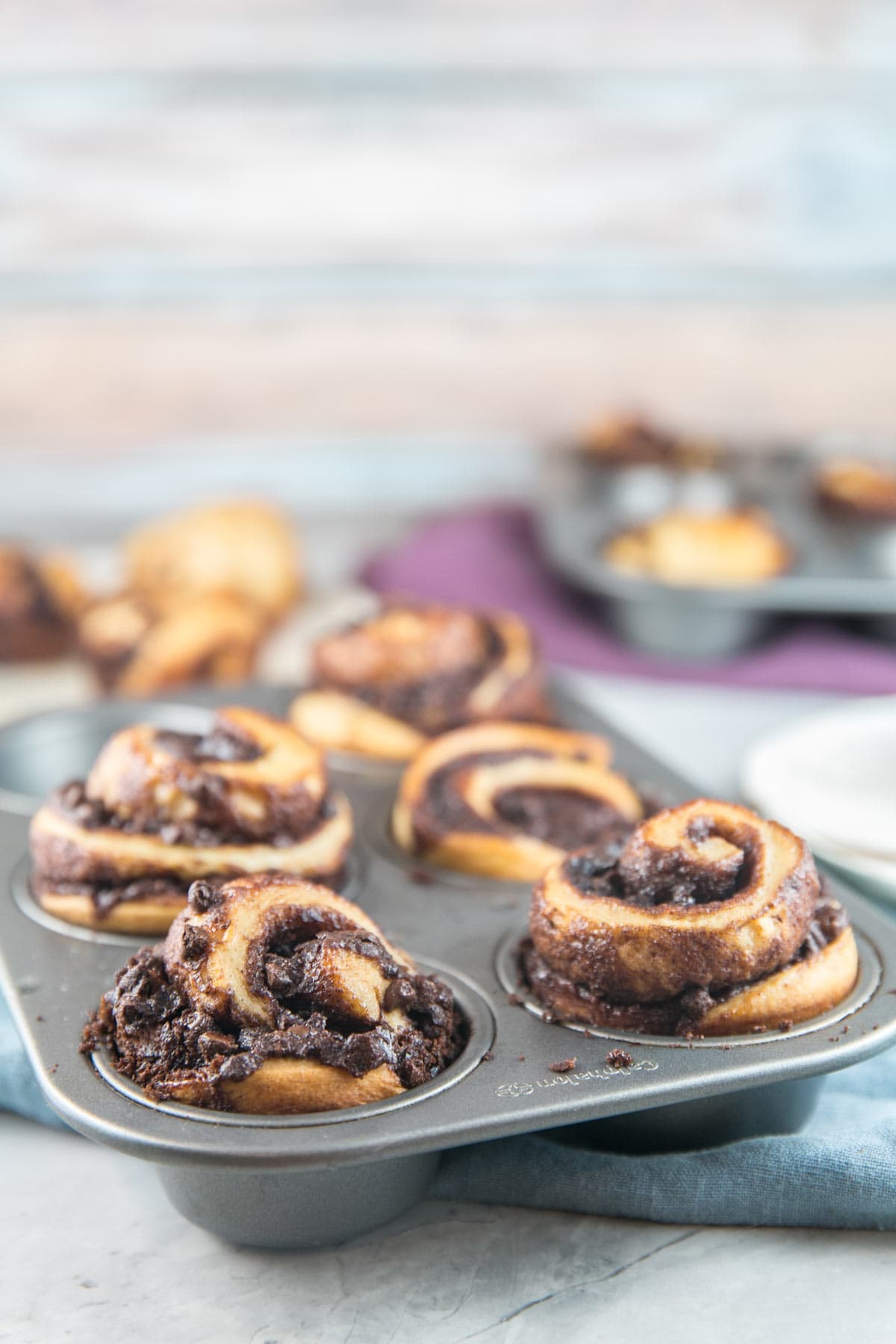 Tips and Tricks for the Best Babka Muffins:
Refrigerate the dough for the second hour of the first rise.  When the dough is cold, it rolls out beautifully with no real need to add excess flour.  Pro-tip: if you want to split your babka making into two days, cover it with plastic wrap and store the babka in the refrigerator overnight at this step.  Bring to room temperature for 15 minutes before rolling out the dough.
Allow the chocolate filling to cool completely before spreading it on the dough.  Better yet — pop it in the fridge for 10 minutes first.  The more solid the mixture, the less will spill out the sides while rolling up the babka.
Use a thermometer to determine if the babka muffins are done.  It can be a little hard to determine if the babka muffins are done by just using a tester since the chocolate filling is gooey as it comes out of the oven.  Instead, take out the guesswork and use an instant-read thermometer: when the center of the loaf hits 190 °F, it's done!
Brush the babka muffins with simple syrup. This may seem like an optional step, but it gives a gorgeous shine to the muffins and is really worthwhile.  Brush on the simple syrup while still hot out of the oven.
Allow the babka to cool for at least 30 minutes before eating.  I know, it's tempting to want to dig right in as soon as it comes out of the oven! But let it cool in the pan for 30 minutes before ripping in — this helps ensure the chocolate filling is set.
Store babka muffins at room temperature in an airtight container for up to 5 days.
For long-term storage, freeze babka muffins wrapped in foil and placed inside an airtight container for up to 3 months.  Bring to room temperature for a few hours before enjoying.
Babka muffins — the perfect new individual-sized treat.  Rich and chocolatey and just perfect to share!
More Muffin Recipes:
2019 Babka of the Month Recipes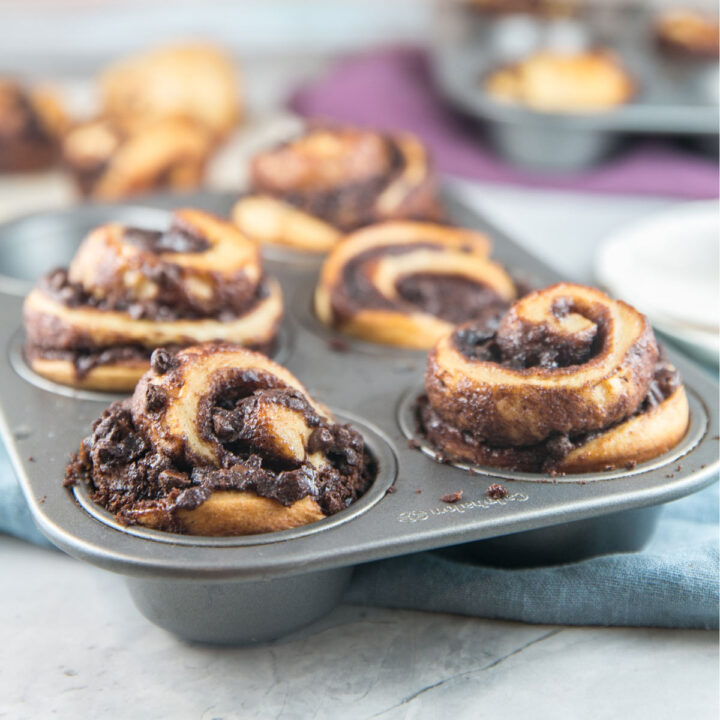 Cinnamon Chocolate Babka Muffins
Prep Time:
3 hours
30 minutes
Total Time:
3 hours
55 minutes
A rich, buttery babka yeast dough, filled with beautiful swirls of chocolate, baked in muffin tins. Same great babka taste, baked in half the time!
Ingredients
For the Dough:
1 1/2 teaspoons instant yeast (SAF Gold instant yeast suggested)
2 1/4 cups (270 grams) all purpose flour
1/2 teaspoon salt
1/2 cup (113.5 grams) whole milk
1/4 cup (50 grams) granulated sugar
1 large egg
1 teaspoon vanilla extract
6 tablespoons (85 grams) unsalted butter, room temperature, cut into 12 pieces
For the Chocolate Filling:
1/4 cup (50 grams) granulated sugar
1 teaspoons cinnamon
1 teaspoon vanilla extract
1/4 cup (21 grams) natural unsweetened cocoa powder
3 tablespoons (42 grams) unsalted butter, melted
3/4 cup (88 grams) miniature chocolate chips
For the Syrup:
1/3 cup (66 grams) granulated sugar
1/3 cup (76 grams) water
Instructions
Prepare the dough. In the bowl of a stand mixer or a large mixing bowl, combine the yeast, flour, and salt and mix until combined. On low speed, beat in the milk, sugar, egg, and vanilla extract. Mix just until the dough comes together, another 2-3 minutes. Increase the speed to medium-low and add the butter one piece at a time, beating after each addition until all pieces have been added. Continue mixing with the dough hook until the dough is smooth and pulls away from the sides of the bowl, about 10 minutes. (Alternatively, whisk together ingredients by hand until combined; knead by hand for 10 minutes until dough is soft and smooth.)
Transfer the dough to a large lightly greased bowl and cover it with plastic wrap or a clean kitchen towel. Set aside to rise at room temperature for 1 hour. After 1 hour, transfer the bowl to the refrigerator, still covered, and set aside for 1 hour, until the dough has doubled in size and is firm to the touch.
Prepare the filling. While the babka is rising in the refrigerator, make the chocolate filling. In a small bowl, combine the sugar, cinnamon, vanilla extract, and cocoa powder. Pour in the melted butter and stir to combine. This mixture will look a little granulated from the sugar. Set aside to cool.
Shape the babka. Grease 12 muffin wells in a muffin tin. Remove the dough from the refrigerator and gently punch it down.
Roll the dough into a roughly 10-inch by 18-inch rectangle. Spread the filling over the dough, leaving a slight border along the edges. Sprinkle the chocolate chips over the top of the dough. Working from the short side of the dough, roll the dough into a long cylinder. Using a sharp knife, cut the dough into 12 equal pieces (see the photo in post for more detail). Place one round of dough into each prepared muffin tin; twisting the dough in half if desired. Cover muffin pans with plastic wrap or a dish towel and set aside to rise again at room temperature, for another hour.
Make the syrup glaze. Combine the sugar and water in a small saucepan over medium heat. Simmer for 5 minutes, stirring occasionally, until the sugar dissolves. Set aside to cool.
Preheat the oven to 350 °F.
Bake the babka. Bake the muffins at 350 °F for 22 to 25 minutes, until the top of the loaf is golden brown and the inside registers 190 °F using an instant-read thermometer. As soon as the babka muffins are done baking and come out of the oven, use a pastry brush to brush the simple syrup on top of each muffin. Allow the muffins to cool in the pans for 20 minutes, then transfer them to a wire rack.
Notes
Babka muffins can be stored in an air-tight container for up to 5 days, or frozen for up to 3 months. To freeze, wrap fully cooled muffins in aluminum foil and place inside a plastic freezer bag.
Recommended Products
As an Amazon Associate and member of other affiliate programs, I earn from qualifying purchases.
Nutrition Information:
Yield:

12
Serving Size:

1 muffin
Amount Per Serving:
Calories:

316
Total Fat:

14.7g
Carbohydrates:

43.5g
Protein:

4.6g