February 20, 2017
Blood Orange Olive Oil Cake
An easy one bowl, mix by hand, dairy-free Blood Orange Olive Oil Cake – moist and delicious, it's a dessert worthy of a dinner party… or any old Monday, because it's just so easy.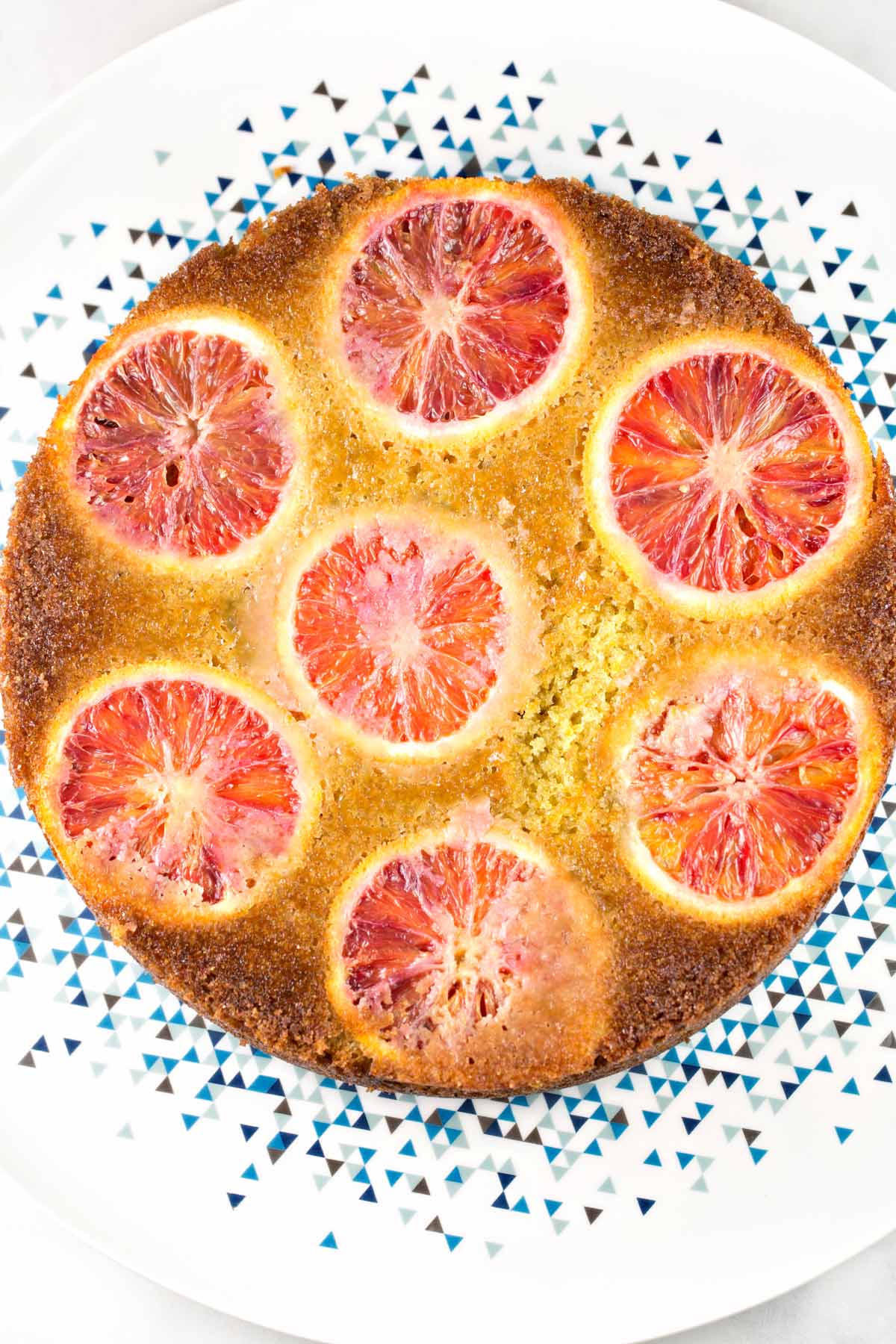 This week has been a week.  I've had at least a year's worth of stress and drama crammed into a ridiculous 36 hours, and good grief I am exhausted.  (Runaway foster cat missing for a night, finding out I'm the victim of identity theft and someone has been opening lines of credit in my name and having to file police reports and take my name off of credits – that sort of fun stuff.) My brain feels like a pile of mush right now.
We ALL have super stressful weeks, and sometimes, the best way to relieve a little stress is to bake. Or we're having a hectic week and yet we're still hosting guests and need to figure out what to serve.
Enter: the olive oil cake. One bowl. Mix by hand. Dairy-free. Moist and dreamy with big, soft crumbs. And in this case, the perfectly refreshing hint of blood orange.
Blood orange slices baked on the bottom, flipped over to become the top. But unlike a typical upside-down cake, this one doesn't have the gooey, sticky mess on top – it's much fresher, more modern, and overall better.
Yes, you can absolutely make this with any other citrus.  Oranges, Meyer lemons, grapefruits, clementines, etc.  But if blood oranges are available, do it.  
The beautiful, rosy reddish pink slices, the raspberry-like flavor – this blood orange olive oil cake is a dessert worthy of a dinner party. Or you know, a super hectic, stressful Monday night.  Because it's just that easy.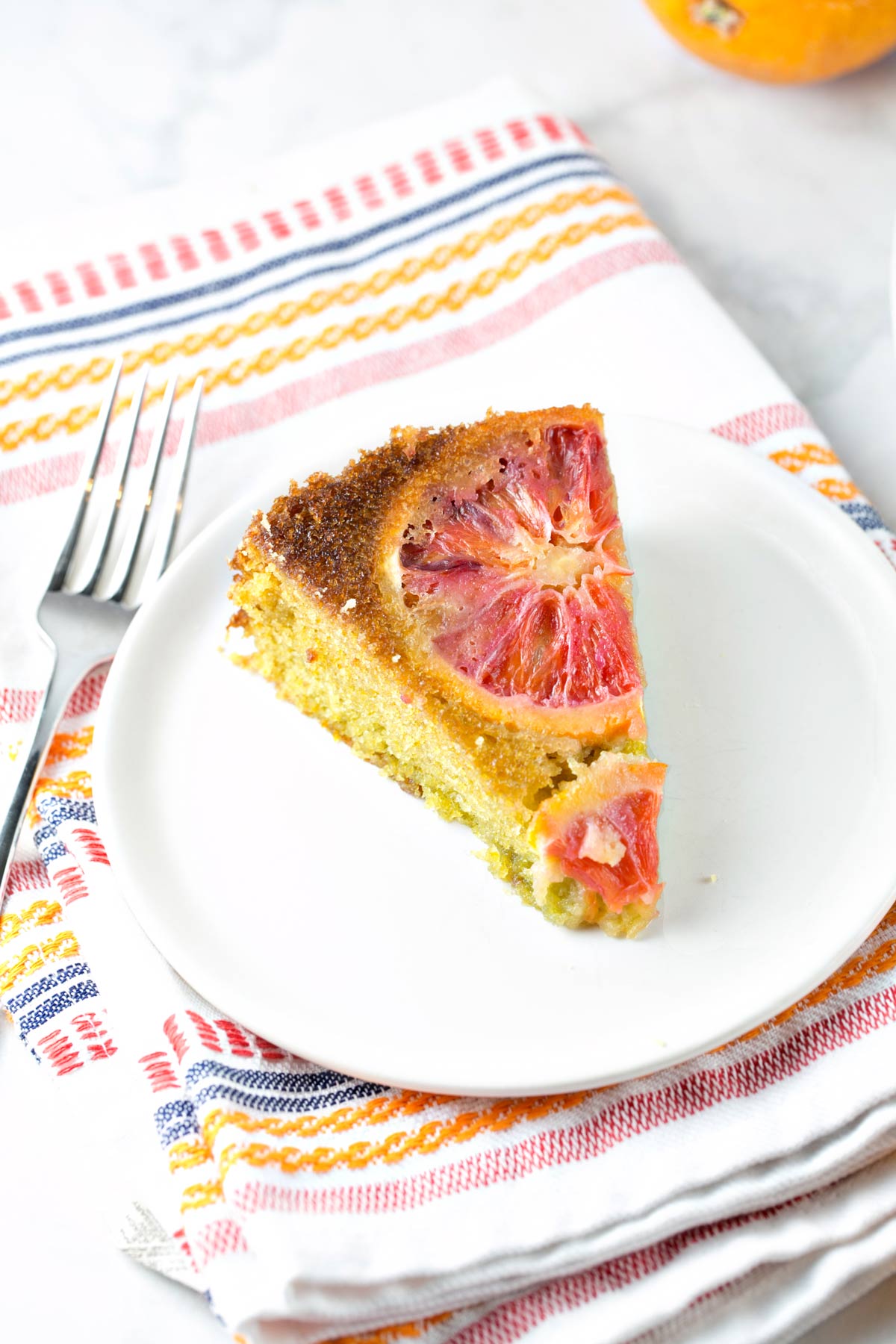 Ingredients & Substitutions
Olive Oil: Olive oil is the star of this cake! The flavor of the olive oil you use imparts into the cake, whether it's fruitier or spicier. It also adds tons of moisture.
Flour: Either all-purpose or cake flour can be used for this recipe.
Almond Flour: Finely-ground almonds add great texture and additional flavor to this cake.
Sugar: Use granulated sugar for the cake. This isn't a super-sweet cake as is, but if you are looking to further reduce sugar, you can lower it to 3/4 cup without altering the structure of the cake.
Leavening Agents: Baking soda and baking powder provide the rise and lift in this recipe.
Eggs: Eggs are used as a binding agent. For those with an egg allergy, a flax egg alternative can be used instead.
Salt: A necessary part of all baking recipes – leaving out the salt makes things taste flat. Use either table salt or Morton kosher salt.
Vanilla Extract: Adds a little extra flavor to the cake.
Blood Oranges: Olive oil cakes pair wonderfully with fruit, and blood oranges are my favorite! Substitution options include other citrus (lemon, grapefruit, clementines, etc) or berries.
Confectioners' Sugar: I love a little dusting of powdered sugar right before serving. Confectioners' sugar will absorb into the surface of the cake, so wait to add until just before serving.
Use High-Quality Olive Oil
As the name suggests, olive oil is the star of this cake! The flavor of the olive oil will shine through, so we want to make sure to use fresh, flavorful oil – something you would drizzle on a salad, rather than an older bottle you use for cooking.
Why is this so important? It's time for my favorite subject… kitchen chemistry!
Kitchen Chemistry

Volatile flavor compounds tend to break down at the higher temperatures used for sauteing, which means the flavor of olive oil isn't as strong in cooking. In baking, however, the internal temperature of cakes remains below 210°F, leaving many of the volatile compounds intact. A cake baked with olive oil will retain more of the olive oil flavor than food sauteed with olive oil.
As far as what type of olive oil, feel free to use any of your favorite flavorful options! I prefer olive oils that are a little fruitier for this cake. Some of my favorite options are Vignoli or L'Estornell. If you like slightly peppery options, try Cobram Estate or Wonder Valley.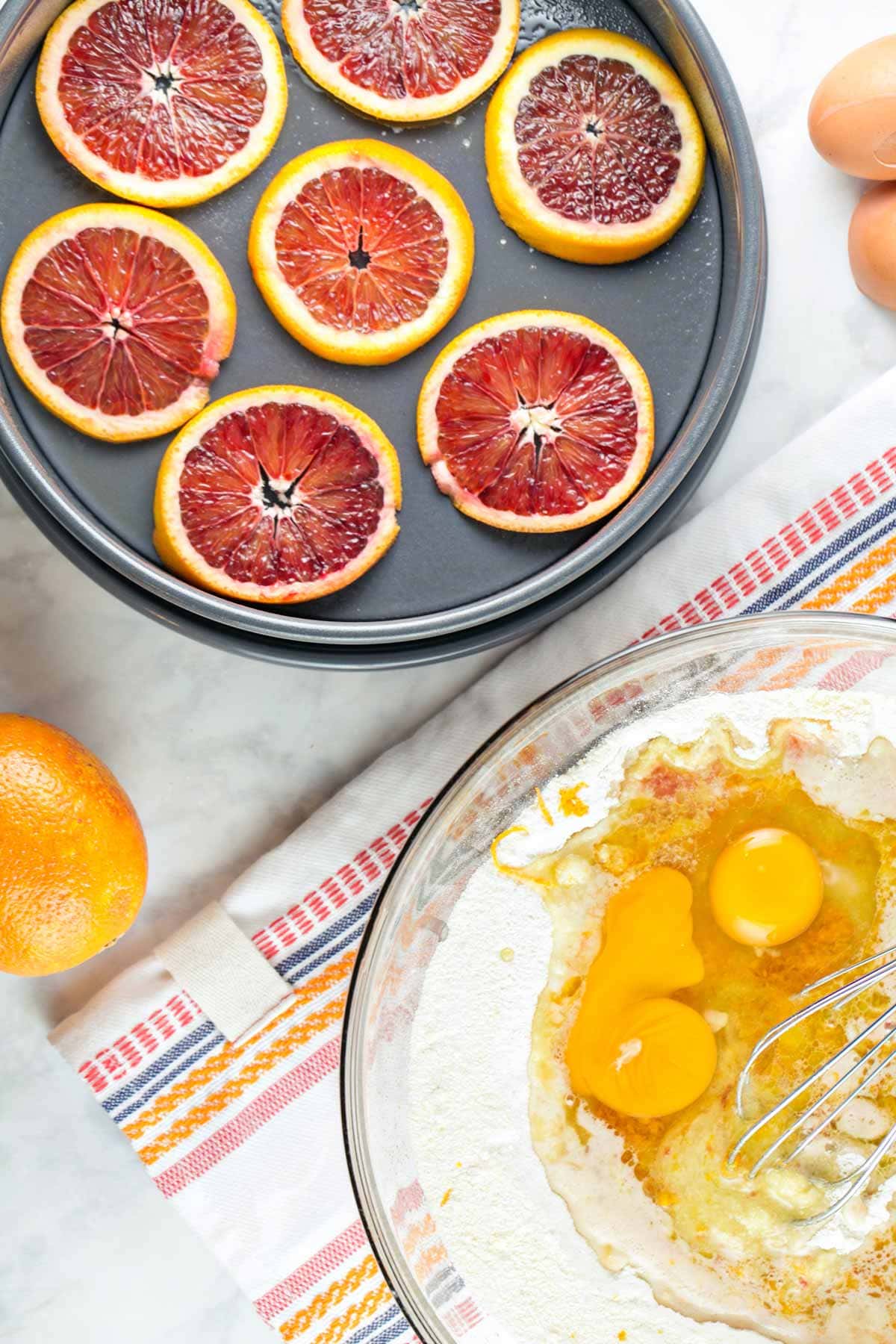 Recommended Tools to Make Olive Oil Cake
Tips and Tricks for the Best Blood Orange Olive Oil Cake
Use good-quality olive oil! As olive oil gets older, it starts to take on a slightly rancid flavor – this can be masked by cooking, but we don't want it in our cake!
A springform pan will help with removing the cake intact to highlight the rounds of blood oranges baked along the top of the cake. Place a baking sheet underneath the springform pan in case any batter leaks out the side.
Make sure the eggs are at room temperature, which will help them incorporate better into the cake batter.
The olive oil helps keep this cake super moist. It can be stored at room temperature for up to 4 days or frozen for. up to 3 months.
More Easy Cake Recipes: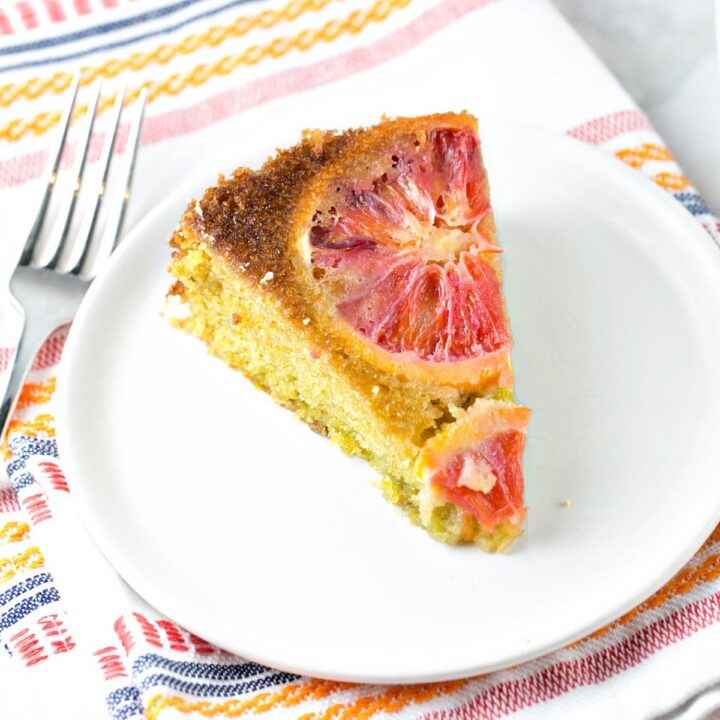 Blood Orange Olive Oil Cake
A moist and delicious, one-bowl, mix by hand, dairy-free olive oil cake full of blood oranges.
Ingredients
4-5 blood oranges
1 cup (120 grams) all-purpose flour
1/2 cup (48 grams) almond flour
1 cup (198 grams) granulated sugar
1/2 teaspoon salt
1 teaspoon baking soda
1 teaspoon baking powder
1/2 cup (100 grams) good quaity olive oil
2 large eggs, room temperature
2 teaspoons vanilla extract
1/4 cup (28 grams) confectioners' sugar
Instructions
Preheat oven to 350 °F. Grease a 9″ springform pan.
Prep the blood oranges. Slice two blood oranges into 1/4-inch thick rounds. Zest two other blood oranges and set the zest aside. Juice these two oranges, followed by the third if necessary, to obtain 1/2 cup of blood orange juice.
Line the bottom of the springform pan with the rounds of blood oranges.
Make the cake batter. In a large bowl, whisk together the flour, sugar, salt, baking soda, and baking powder. Add in the olive oil, eggs, vanilla extract, blood orange zest, and 1/2 cup blood orange juice. Whisk again until ingredients are just combined and no lumps remain.
Bake the cake. Pour the batter into the prepared springform pan. Bake for 25-30 minutes, until the top of the cake is brown and the edges begin to pull away from the side. A tester inserted into the cake will come out with a moist crumb.
Cool on a rack for 10 minutes, then release the sides of the springform pan and invert upside-down onto a cooling rack. Immediately before serving, dust with confectioners sugar.
Recommended Products
As an Amazon Associate and member of other affiliate programs, I earn from qualifying purchases.