February 20, 2017
Blood Orange Olive Oil Cake
An easy one bowl, mix by hand, dairy free blood orange olive oil cake – moist and delicious, it's a dessert worthy of a dinner party… or any old Monday, because it's just so easy.
This week has been a week. I've had at least a year's worth of stress and drama crammed into a ridiculous 36 hours, and good grief am I exhausted. My brain feels like a pile of mush right now.
I thought one day was dramatic – a day involving the escapades of a stray cat who seems to have adopted us. It's a crazy story that involves an unintentional escape on the way to the vet, a fearful run, a catch and miss, giving up, and someone ringing my doorbell at night holding the very same cat who I thought I'd never see again.
In the end: I now have a foster kitten living in my bathroom.
But then the next day brought news that I am now a victim of identity fraud. Not run-of-the-mill someone used my credit card number to make an unauthorized purchase identity fraud. I'm basically a pro at that (online shopping, what?) and will be an AmEx customer FOR LIFE because of how easy it is to deal with fraudulent charges.
No, I'm talking about legitimate identity fraud: someone using my name, social security number, phone number, and former address to open lines of credit. In my name. For which I would be responsible. Someone likely running around with a fake form of identification with my name and address on it.
So I got to spend all afternoon at work calling banks and credit cards and credit bureaus and the Federal Trade Commission and everyone else and well, in the words of Frank Costanza, "SERENITY NOW!!!" And then the next day, I discovered that multiple other cards were opened in my name, as well.
I still have to go file a police report in person. And then make a long-term plan for what to do about someone with access to my name and social security number. Do I take myself off all our financial accounts so this person is unable to access them? But then I go through life with zero dollars in my name.
I felt like I had things under control until someone from the FTC mentioned that identity fraud victims often choose to remove their name from their mortgages so they don't lose their house if they have to declare bankruptcy over charges made in their name.
Is this real life? I mean, one day I was stressed over a stray cat. The next day, I learn that someone out there has stolen my entire identity and potentially has access to all my money. Stress level: ONE MEEEEELLION.
There's absolutely no tie in here between the current happenings of my life and this deliciously moist, citrusy blood orange olive oil cake. I suppose it's just a long excuse for why I can't come up with anything better to write about at the moment. My brain = dead.
But blood oranges are so perfectly in season right now, I just can't wait until I'm in a better writing mood to share this. (Blood orange season may be long gone by then!)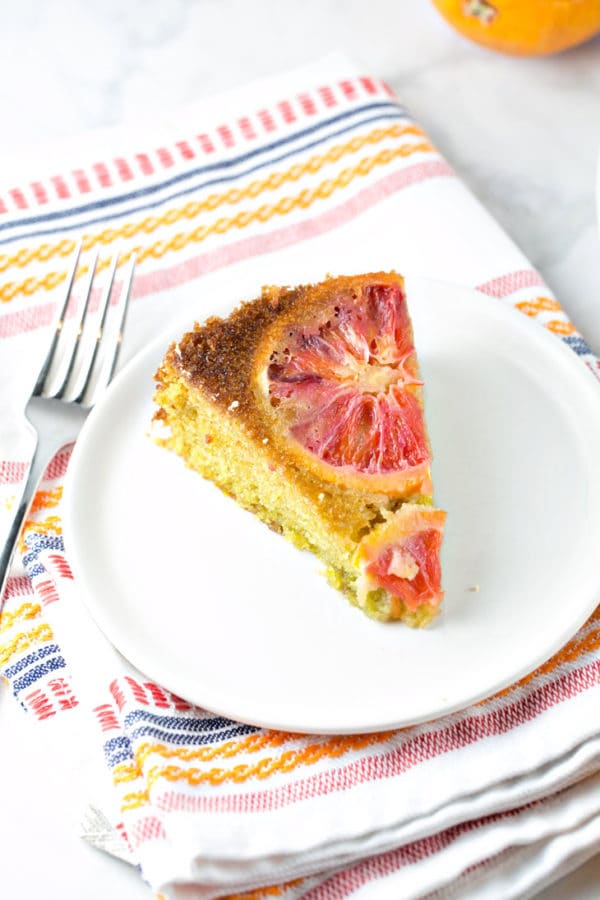 So let's just talk a little about this blood orange olive oil cake. One bowl. Mix by hand. Dairy-free. Moist and dreamy and big, soft crumbs with the perfectly refreshing hint of blood orange.
Blood orange slices baked on the bottom, flipped over to become the top.
So I guess this is an upside-down blood orange olive oil cake, but without the gooey, sticky mess that usually comes with upside-down cakes. (In other words – much fresher, more modern, and overall better.)
Yes, you can absolutely make this with any other citrus. Oranges, meyer lemons, grapefruits, clementines, etc. But if blood oranges are available, do it.
The beautiful, rosy reddish pink slices, the raspberry-like flavor – this blood orange olive oil cake is dessert worthy of a dinner party.
Or you know, a Monday night. Because it's that easy.
Blood Orange Olive Oil Cake
A moist and delicious, one bowl, mix by hand, dairy free olive oil cake cake full of blood oranges.
Ingredients:
4-5 blood oranges
1 cup flour
1/2 cup almond flour
1 cup sugar
1/2 teaspoon salt
1 teaspoon baking soda
1 teaspoon baking powder
1/2 cup olive oil
2 eggs
2 teaspoons vanilla
1/4 cup confectioners sugar
Directions:
Preheat oven to 350 °F.  Grease a 9″ springform pan.
Slice two blood oranges into 1/4-inch thick rounds.  Zest two more and set the zest aside.  Juice these two oranges, followed by the third if necessary, to obtain 1/2-cup of blood orange juice.
Line the bottom of the springform pan with the rounds of blood oranges.
In a large bowl, whisk together the flour, sugar, salt, baking soda, and baking powder.
Add in the olive oil, eggs, vanilla, blood orange zest, and blood orange juice.  Whisk again until ingredients are just combined and no lumps remain.
Pre-heat oven to 350F. Oil a regular-sized bundt or springform pan.
Pour the batter into the prepared pan.  Bake for 25-30 minutes, until the top of the cake is brown and the edges begin to pull away from the side.  A tester inserted into the cake will come out with a moist crumb.
Cool on a rack for 10 minutes, then release the sides of the springform pan and invert onto a cooling rack.
Immediately before serving, dust with confectioners sugar.
A Bunsen Burner Bakery Original Protocol