March 6, 2019
Vegan Curried Lentil Soup
Thick and creamy, this Vegan Curried Lentil Soup is bursting with flavor and made entirely without cream, making it perfect to freeze and store for later. Plus, it cooks in just an hour, meaning it's even a weeknight dinner option.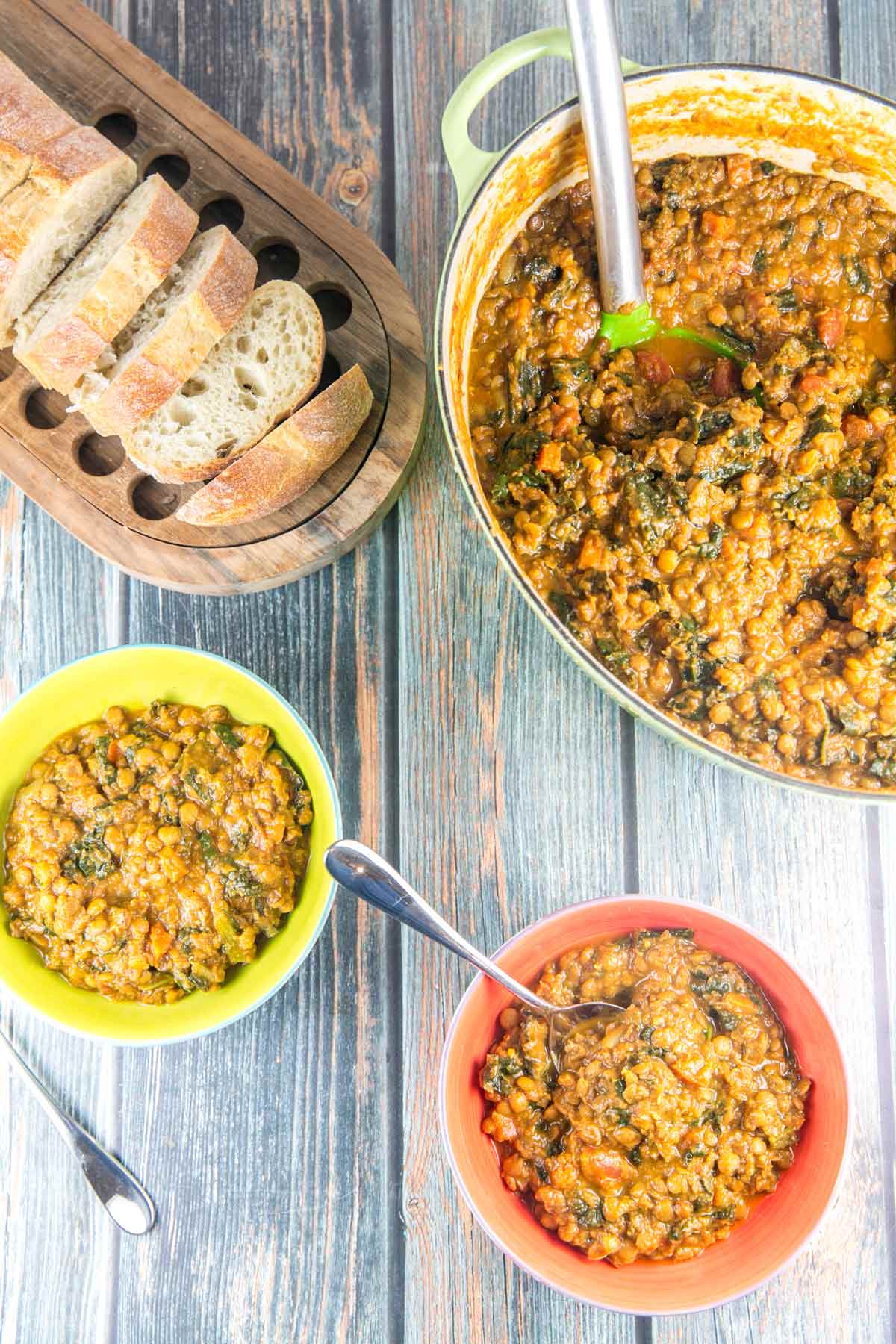 I did not think I'd be sharing a new soup recipe come March. I mean… March! The month we (incorrectly) associate as the start of spring! Warmer weather, trees growing leaves, birds chirping…
Except the reality is snow and sleet. And a temperature in the teens as I walked my children to preschool and daycare this morning. Spring schming… it's definitely still soup weather.
And so, we'll share one last soup for the season — this vegan curried lentil soup, which both my children (3.75 years and 11 months) devoured, so I can officially say it is family-friendly, too.
I've touched before on my general dislike of soup, and my "rules" for soups I will eat:
Must be thick and hearty.
Must have lots of delicious "things" in it.
Must cook long enough that said things are soft and creamy and melty.
Must not contain chicken. (I don't like chicken, and I REALLY don't like chicken that has been boiled to death in soup.)
This vegan curried lentil soup checks everything off the list! It's thick and filling, with vegetables and lentils. It's not remotely boring and bland (like so many lentil soups are) because it's packed full of curry powder, turmeric, and smoked paprika.
And despite being vegan (and gluten-free, too!), it's still pretty darn creamy — learn my favorite trick for this below!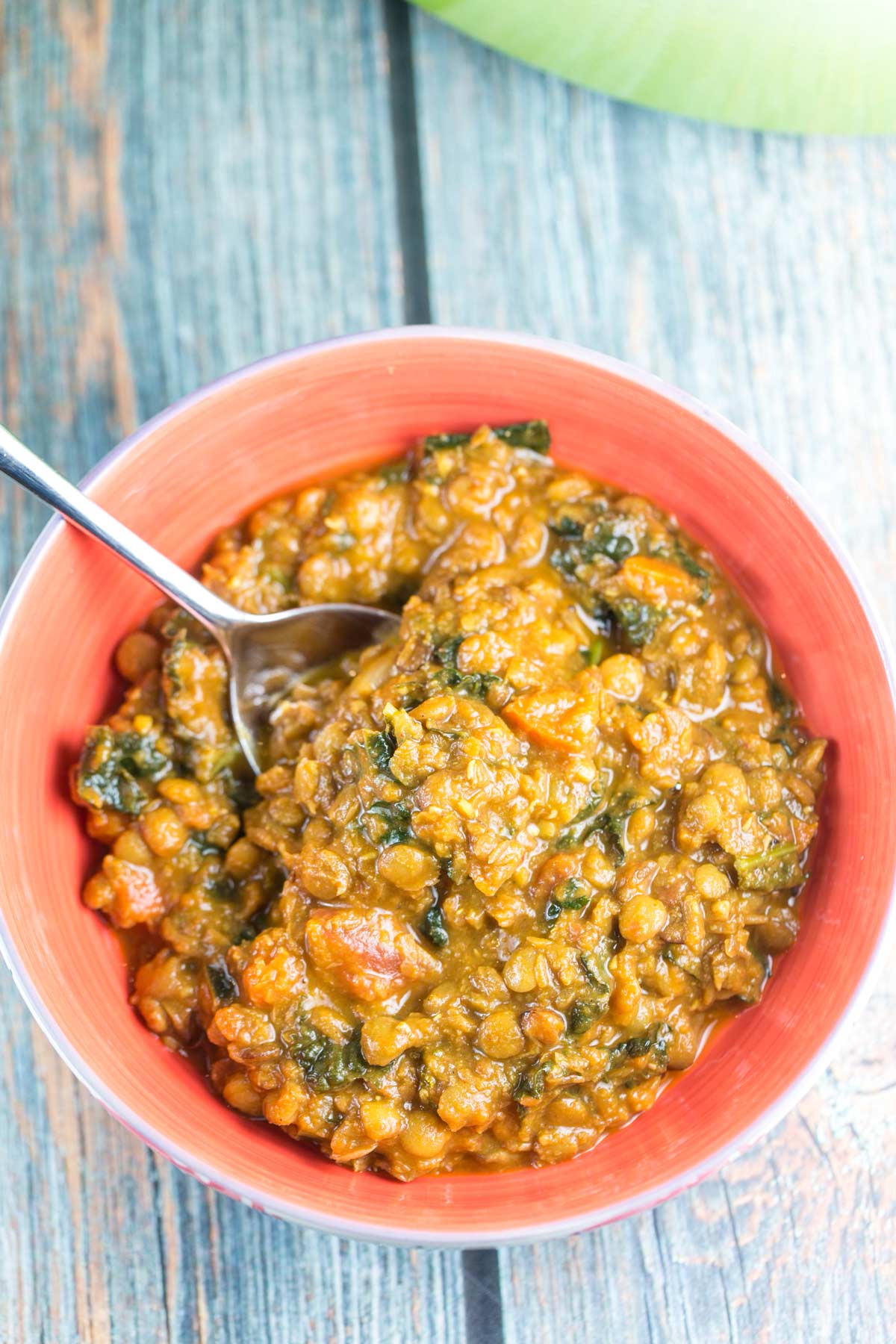 Super Flavorful Lentil Soup
One of my favorite parts about this soup is it's made entirely from pantry staples (for my pantry, at least).
Dried lentils. Vegetable (or chicken) broth. Onion and carrots. Lots of garlic cloves. A can of diced tomatoes. Some kale or other leafy greens.
All things we generally have in the pantry or the freezer.
(And if you notice from that list of ingredients, this lentil soup is gluten-free, too!)
You'll need a well-stocked spice drawer, as well.
Lentils themselves are pretty bland, so we need lots of spices to bump up the flavor. Bland soup is a drag, right? To combat this, we include cumin, curry powder, turmeric, and smoked paprika.
The actual how-to-make part is easy. Simmer the vegetables in olive oil until fragrant and soft. Add the spices, along with diced tomatoes and some tomato paste. Pour in the broth, along with the lentils, and cook until lentils are soft. Blend up some of the soup, then add in the leafy greens just before serving.
Done. Easy.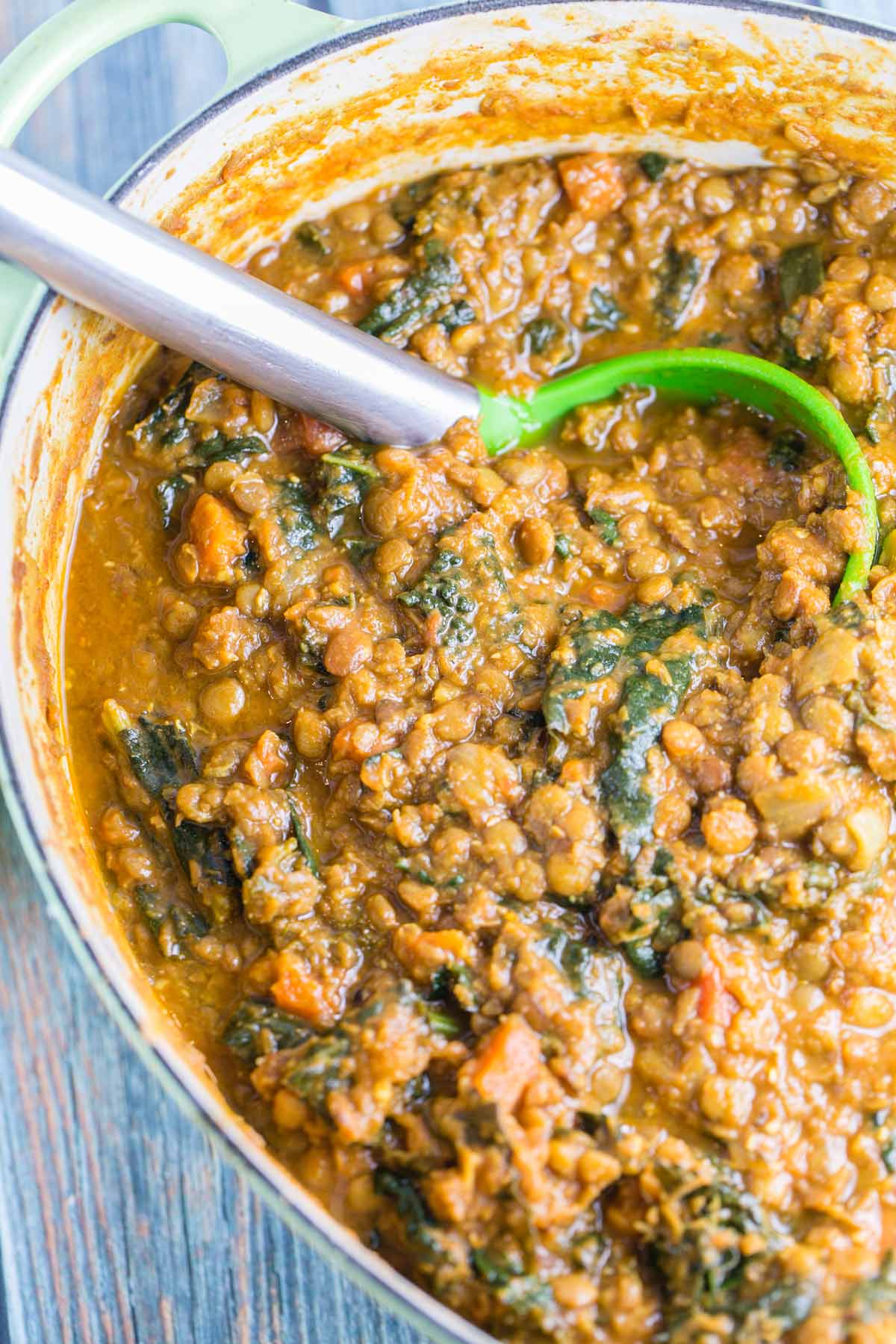 How to Make Creamy Vegan Soups
We (obviously) eat a lot of dairy around here (have you seen my dessert recipes? butter galore!), but dairy in soups doesn't always freeze well.
Have you ever noticed that creamy soups (made with real milk or cream) turn grainy after you thaw them? We can explain this with my favorite subject… kitchen chemistry!
Kitchen Chemistry

When heavy cream is mixed into a soup, it forms an emulsion — the proteins bond with each other to prevent the water molecules from splitting the fat molecules. When cream is frozen, however, the membranes enclosing the fat globules in the cream are broken, causing the fat to spill out. This results in a gritty, grainy texture.
If I'm making soup, I like to make a double batch and freeze leftovers for later.
So instead of using cream, we'll get the creamy texture of our soup from two non-dairy tricks.
First up: olive oil. It might seem like there's a lot of olive oil in this soup, but it really helps provide the smooth, thick texture we're after. Trust: this makes a big pot, so it's divided up, and it's delicious.
Secondly: we'll blend some of the soup to make a thicker base. Instead of a water-based thin broth, pureeing some of the lentils and veggies creates a much thicker base, more like tomato soup.
You can choose how thick or thin you want your soup by pureeing just a little, or most of the soup. I use an immersion blender for this, but you can remove a few cups of the soup and puree it in a blender, as well.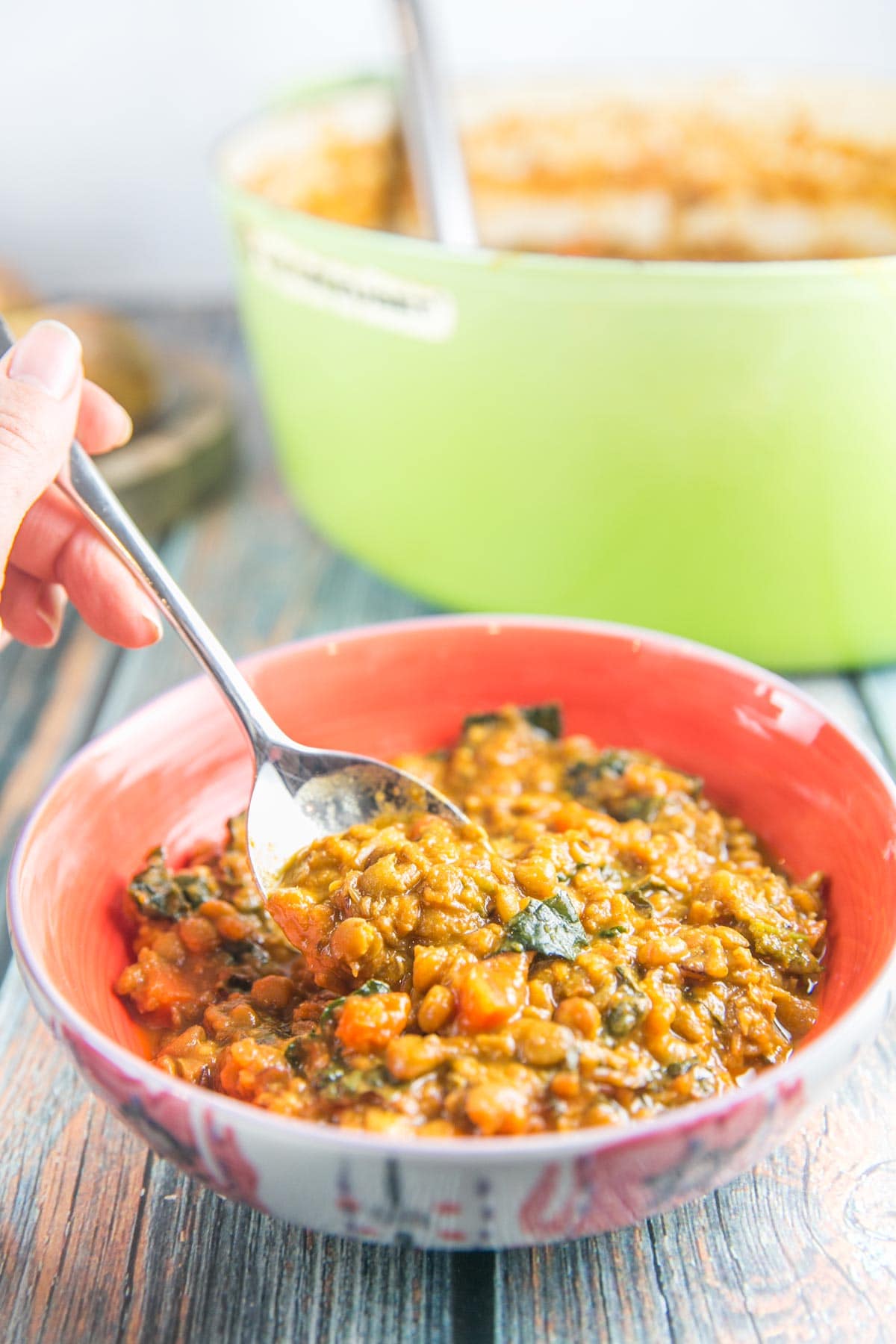 What to Serve with Curried Lentil Soup
This is always one of my biggest dilemmas: how do we make soup a meal? In warmer weather, I like to serve soup with a big green salad, but it's not always the most tempting in the winter.
I always recommend a good loaf of crusty bread to soak up any extra soup broth (or these delicious homemade garlic cheddar buttermilk biscuits!) and an additional vegetable.
For this round, I made some zucchini and carrot cornmeal fritters. My 11-month-old loves them, they're perfect to pack in her daycare lunches, and I spice them up with turmeric, smoked paprika (notice a trend in my favorite flavors?), and ground chipotle to continue to expose her to bold flavors.
(My 3-year-old was iffy on the fritters, but hey — you're never going to win everything. At least he really liked the soup.)
Easy, filling, warm and cozy. Make a big pot this weekend and freeze half for later. Maybe spring will show up eventually, but if not… you'll be all set.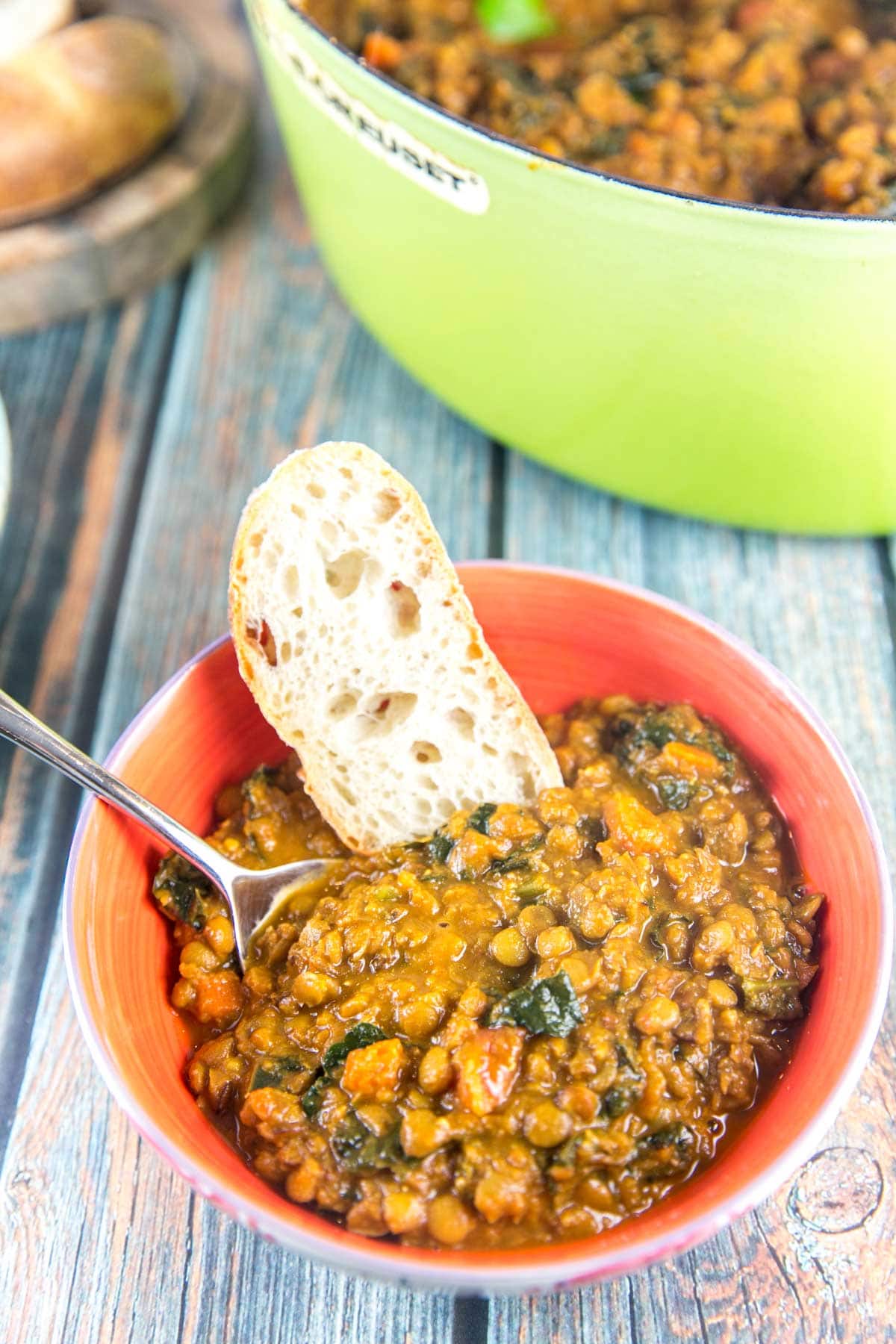 Common Questions about Curried Lentil Soup
What's the best way to reheat leftovers?
Refrigerated leftovers can be reheated either in the microwave or heated on the stovetop, covered with a lid until warmed through. The microwave is usually easier for one bowl at a time, while reheating multiple servings works better on the stovetop as it is easier to stir more frequently.
Can lentil soup be frozen?
Because we've eliminated any dairy, this soup freezes beautifully.  Cook on the stove, cool to room temperature, and store in either a freezer-safe container or (my favorite method) ladle into a gallon-sized freezer bag and freeze flat.  
How should I thaw frozen lentil soup?
When you're ready to enjoy your frozen soup at a later date, either transfer to the refrigerator the night before to thaw and reheat in the microwave (stovetop is fine, too!) or use scissors to cut open the frozen bag and push the brick of frozen soup into a large stockpot or dutch oven, reheating over medium-low heat until thawed and warm.
What kind of lentils should I use for lentil soup?
Red lentils are my favorite for soups, as they slowly start to break down as they cook, making the soup taste even creamier. Green, yellow or brown lentils also work well. Just avoid the black French lentils, as they don't soften as well when cooked. Use dried lentils for this soup, rather than canned cooked lentils.
Is this soup gluten free?
Yes. Ensure all ingredients used are free from cross-contamination, but as written this recipe is gluten-free, dairy-free, and vegan.
More Soup Recipes: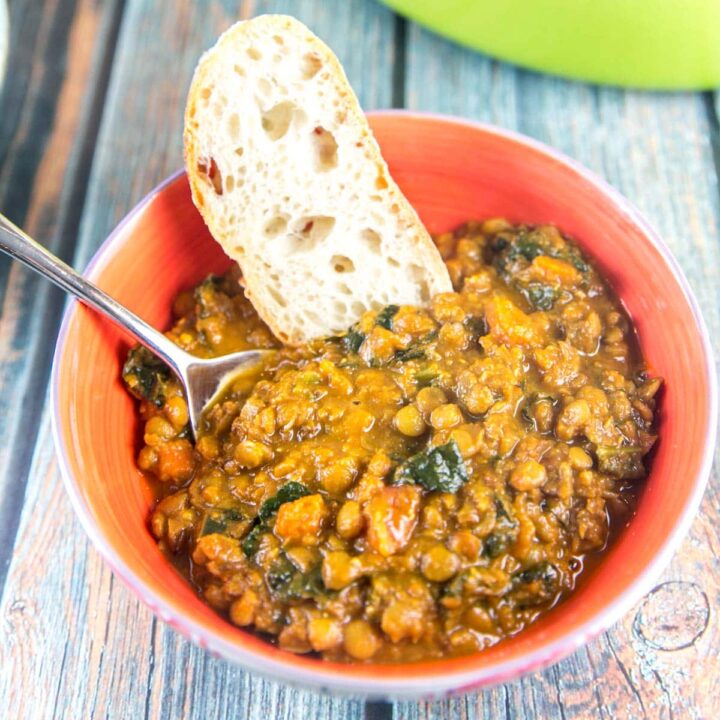 Vegan Curried Lentil Soup
Thick and creamy, this vegan curried lentil soup is bursting with flavor and made entirely without cream, making it perfect to freeze and store for later.
Ingredients
1/4 cup olive oil
1 medium onion, chopped
3 carrots, peeled and chopped
5 garlic cloves, minced
1 tablespoon cumin
2 teaspoons curry powder
1 teaspoon turmeric
2 tablespoons smoked paprika
2 tablespoons tomato paste
1 (14-ounce) can diced tomatoes
2 cups lentils
4 cups vegetable broth
2 cup water
1 teaspoon salt
pepper to taste
2 cups chopped kale
2 teaspoons apple cider vinegar
Instructions
Heat the olive oil in a large Dutch oven or heavy-bottomed pot over medium heat. Add the onion, carrot, and garlic and cook until onion is soft, about 5 minutes, stirring frequently to prevent the garlic from burning. Stir in the cumin, curry powder, turmeric, smoked paprika, and tomato paste and cook for 30 seconds.
Pour in the diced tomatoes (with juices), lentils, vegetable broth, and water. Add the salt and season to taste with freshly ground black pepper. Increase the heat to high and bring the soup to a boil, then reduce heat to low and simmer for 45 minutes, until lentils have softened.
Use an immersion blender to puree the soup until desired thickness is achieved (or transfer 2-3 cups of soup to a blender).
Add the kale and apple cider vinegar and stir for an additional 3-4 minutes, until wilted and softened. Add additional salt and pepper to taste.
Recommended Products
As an Amazon Associate and member of other affiliate programs, I earn from qualifying purchases.
Nutrition Information:
Yield:

Serves 4
Amount Per Serving:
Calories:

557
Total Fat:

16g
Carbohydrates:

82.4g
Protein:

27.2g