January 17, 2017
Spinach and Artichoke Biscuit Skillet
Up your spinach and artichoke dip game with this spinach and artichoke biscuit skillet  – flaky biscuits surrounding bubbling hot dip!
Raise your hand if you're a football fan!  (??)  Is your team in the playoffs?  My Steelers are still going strong.
(And by strong, I mean… winning a not really impressive game thanks to field goal after field goal.  Let's get it together for the AFC Championship Game, please and thank you.)
Whether or not you're a football fan, there's one thing we can all agree on — football food.  The best, right?  I mostly share desserts around here, because I love to bake.  I post quick and healthy weeknight dinners, because that's mostly what we eat.
But what I love to eat?  Dips! Nachos! One handed, cheesy, salty, delicious snacks! Fried foods!  Gimme all of them.
So get ready for some of my favorite party foods, just in time for the Super Bowl.  Go ahead and invite your friends over for the game; it doesn't really matter who plays – I'll make sure you have the best Super Bowl party food in town.
Three years ago, I shared my favorite recipe for spinach and artichoke dip.  Three years, and many spinach and artichoke dips later, it's still my favorite.  It's a little heavier on the spinach than many other variations, which I love.  (Don't worry, there's still plenty of creamy cheesiness to it!)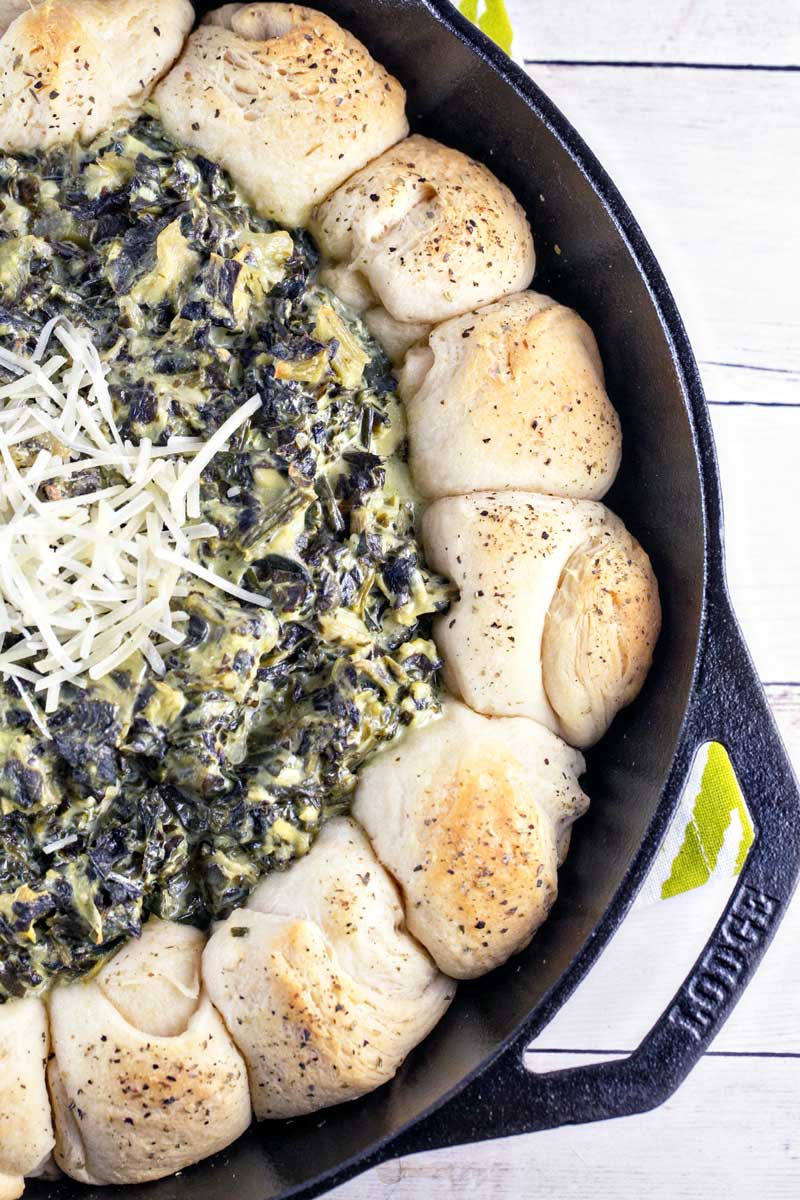 This year, I'm giving it a little update.  The dip recipe is still the same.  Buuuut… instead of baking it in a casserole dish or cooking it in the slow cooker, we're going to bake it in a skillet.  Surrounded by biscuits.
That's right – a ring of biscuits, baked right around bubbling hot spinach and artichoke dip.
A spinach and artichoke biscuit skillet.  This, friends, is football party heaven.
Not only is it delicious, it's a fun presentation, with the perfect little ring of biscuits surrounding the hot dip.  Pop out a biscuit, scoop up some dip, and enjoy the game!
In the interest of wanting to make all the dips for our little football playoff watching gathering, I used a can of premade biscuits.  So easy.  If you want to make your own – by all means!  But I find that football parties usually involve lots of time prepping in the kitchen, so why not make it easy on yourself?
Confession: even though this is "spinach and artichoke" dip, I actually used a frozen spinach/kale combination mix for the dip.  A++.  Feel free to toss some kale in there, guys – your dip will be so trendy!
Regardless of the outcome of the game, this spinach and artichoke biscuit skillet is the real winner.
Spinach and Artichoke Biscuit Skillet
Up your spinach and artichoke dip game with this spinach and artichoke biscuit skillet  – flaky biscuits surrounding bubbling hot dip!
Ingredients:
one recipe spinach and artichoke dip
one tube refrigerated biscuit dough
1/2 tablespoon olive oil
1/2 teaspoon salt
1/2 teaspoon garlic powder
1/2 teaspoon dried oregano
1/2 teaspoon dried basil
Directions:
Preheat oven to 350 °F.
Combine all ingredients for the spinach and artichoke dip in a large bowl.  Mix well.  If the cream cheese is too thick to stir, microwave for 30 seconds, then stir again.
Separate each biscuit into two pieces.  Roll each piece in a ball.  Place rounded biscuits along the outside edge of a cast iron pan.  Brush the tops of each biscuit with olive oil.  Combine the spices in a small bowl; sprinkle the spice mixture over the biscuits.
Scoop the dip into the center of the pan, spreading it to the edge of the biscuit circle.
Bake for 25 minutes, until dip is bubbling and biscuits are golden brown.