July 30, 2015
Almond Crumble Blueberry Pie
Flaky crust, fresh blueberries, and an almond paste crumble topping. This Almond Crumble Blueberry Pie may just be the most perfect pie for summer.  (Or make it with frozen blueberries and enjoy year-round!)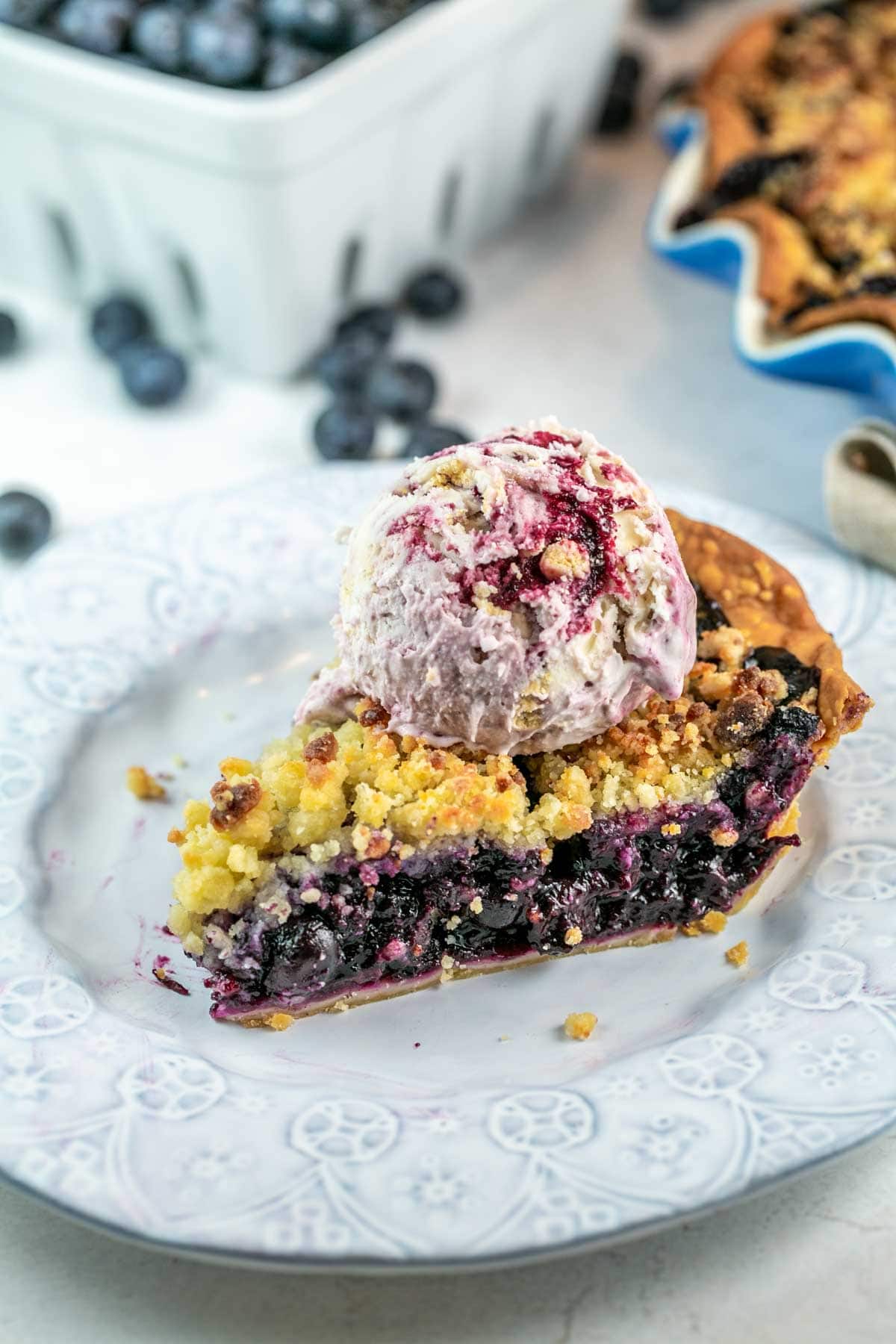 Yesterday, I shared my no-fail pie crust recipe. Today, I'll share what to put into that crust. The short answer is: anything! The crust works equally well for no-bake cream pies (like the banana cream pie I shared for Pi Day) and baked fruit pies, like the blueberry pie below.
The crust recipe will suit all your various pie-baking needs (and yes, sometimes baking a pie is indeed a need).
But out of all the choices, this almond crumble blueberry pie, topped with a crumble made from butter, flour, and almond paste, is my favorite pie.
I think I'd go even further to say that this my all-time favorite dessert.  If I was on some sort of magical dessert desert island and had to choose one dessert to have for the rest of my life, it would be this pie.
I can't believe it has taken me four years to share this recipe on here – I have made it with the intent to share it no less than six times, as evidenced by the six different series of intact pie pictures sitting in my "food to blog" folder.
So why not share it sooner? I've been waiting to get a picture of an individual slice of pie… except every time I make this, it's devoured before I have a chance! Sad but true: I have never had one single leftover slice of pie to use for a picture.
I decided enough was enough and made this almond crumble blueberry pie again just to take pictures. No slices of pie were consumed before the pictures were done!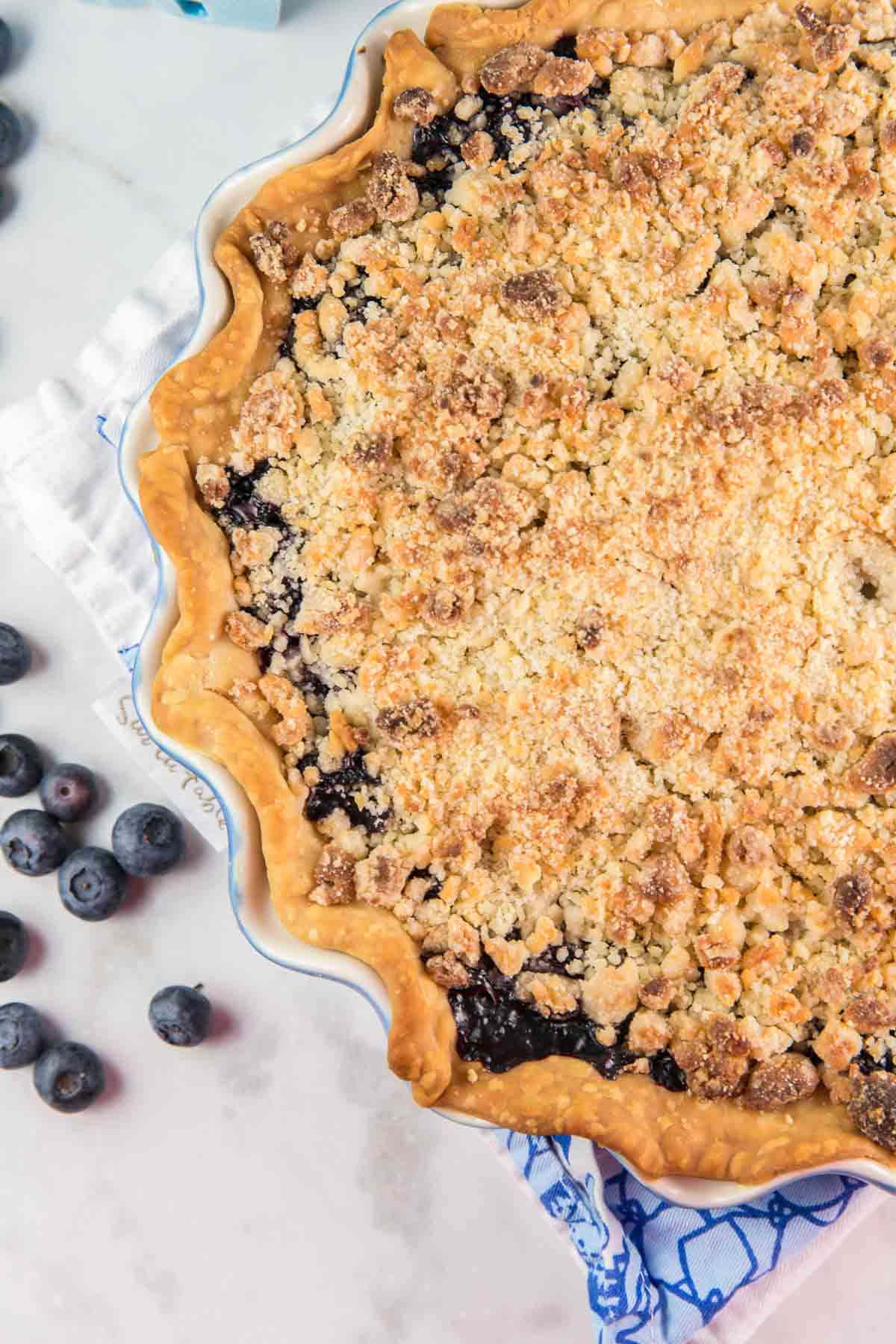 Flaky Homemade Pie Crust
As I mentioned, I recently shared this post with all the tips and tricks you need to make the best homemade pie crust – I call it my No Fail Pie Crust, because it truly is foolproof. Head over to that post for everything you need to know to make a perfect pie crust every time!
Not into making a homemade crust? Go ahead and use storebought for this pie – the filling is so delicious and flavorful, it works with even a blander-flavored crust.
But! Here's my favorite tip for fruit-filled pies: before you add the blueberry filling, sprinkle some sugar and flour along the bottom of the crust. This little extra bit of flour and sugar helps to absorb any extra blueberry juices and helps prevent your pie crust from getting soggy!
Best Blueberry Pie Filling
Blueberries are my favorite fruit, so I load the pie up with lots and lots of blueberries.  We'll cook down most of these blueberries with sugar, cornstarch, and lemon juice.
But! We're also going to reserve some of the blueberries to add in after cooking down most of the mixture. This ensures that the pie has the perfect ratio of whole juicy blueberries and gelled blueberry filling. I love multiple textures in desserts, and simply saving some of the blueberries to mix in uncooked makes a huge difference!
I always think of this as a summer pie and make it with fresh summer blueberries, but you an absolutely make this with frozen blueberries, year-round. No need the thaw the blueberries first – just cook them down from frozen (it make take a few extra minutes).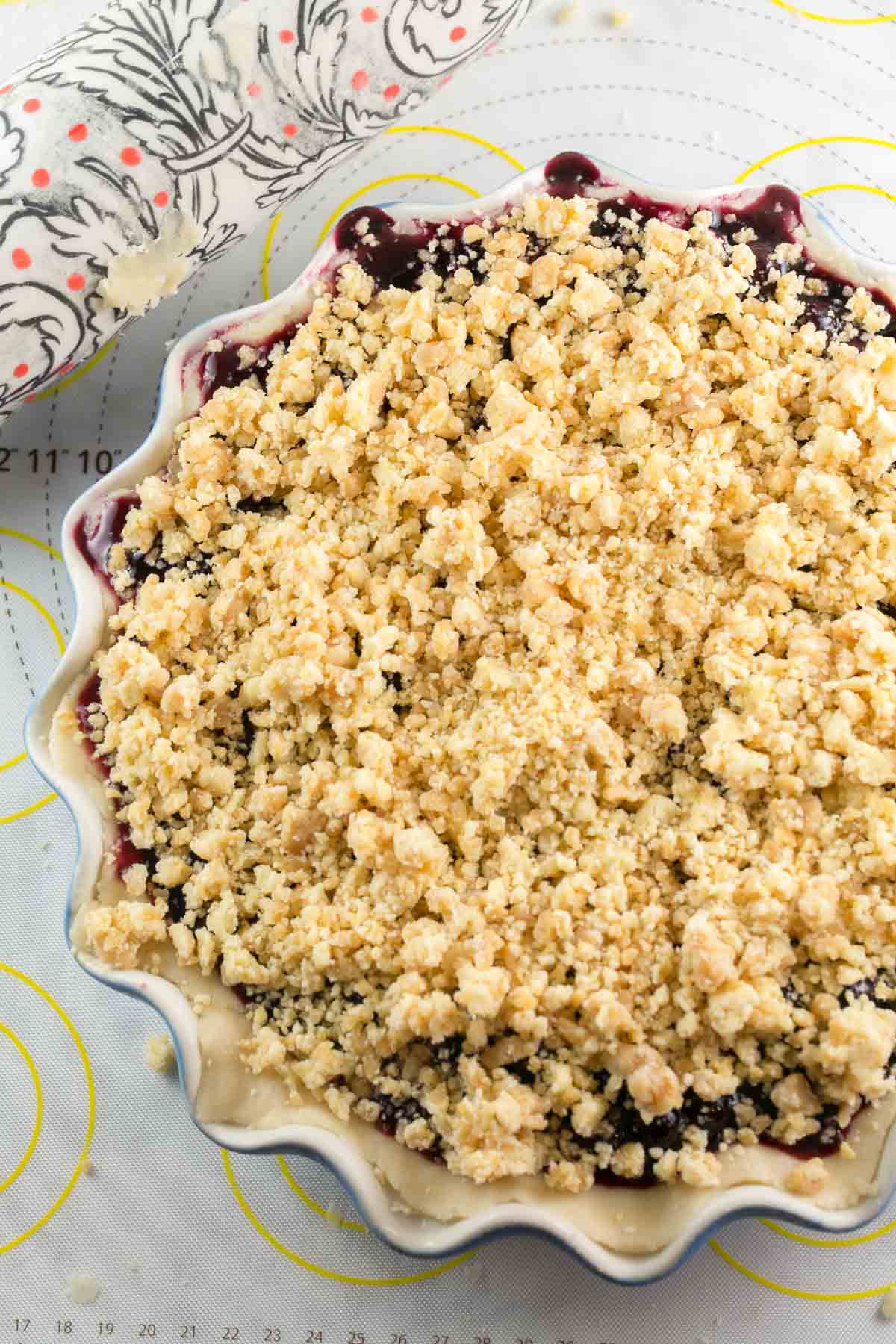 Almond Crumble Topping
I love blueberries. Love them. But I think my favorite part of this pie may very well be the almond crumble topping!
I'll admit that while I like the look, I don't love the taste of double-crust pies (think traditional apple pie). The top and the bottom of the pie have the exact same flavor! It's like a sandwich made with pie crust (although when you put it that way, it sounds pretty good!).
Lattice pies are by far the most visually appealing, and I generally go that route for cherry or rhubarb pies because they're beautiful.  But crumble-topped pies are the tastiest, by far, a sentiment echoed by everyone else with whom I have shared this pie.
The almond paste introduces a new flavor (almond! my favorite!), but it's subtle enough that it doesn't distract from the fresh summer blueberries (or frozen, making this a great year-round pie). It just adds a little something extra, and the crunchy crumble texture is the perfect contrast to the soft blueberries.
Let's talk a little more about this texture, too. Adding almond paste creates an even more textured, crunchier, delicious crust than your typical flour-and-butter crumble. Let's learn about why, with my favorite subject… kitchen chemistry!
Kitchen Chemistry

Almond paste, which is made from ground almonds and sugar, contains the natural oils found in almonds. The almond paste mixes in with the butter and as the pie bakes, the fats in both the butter and almond paste melt. The steam generated from this melting pushes apart the crumb mixture, creating a craggy, crispy, crunchy topping.
If you can't find almond paste, you can sub in a tube of marzipan as well. Either way, just break it up into little crumbly bits before mixing in with the butter and flour. Scatter it on top of the blueberries, and pop the whole thing into the oven. Bake until golden brown on top and the filling is bubbling up around the edges of the crumble top.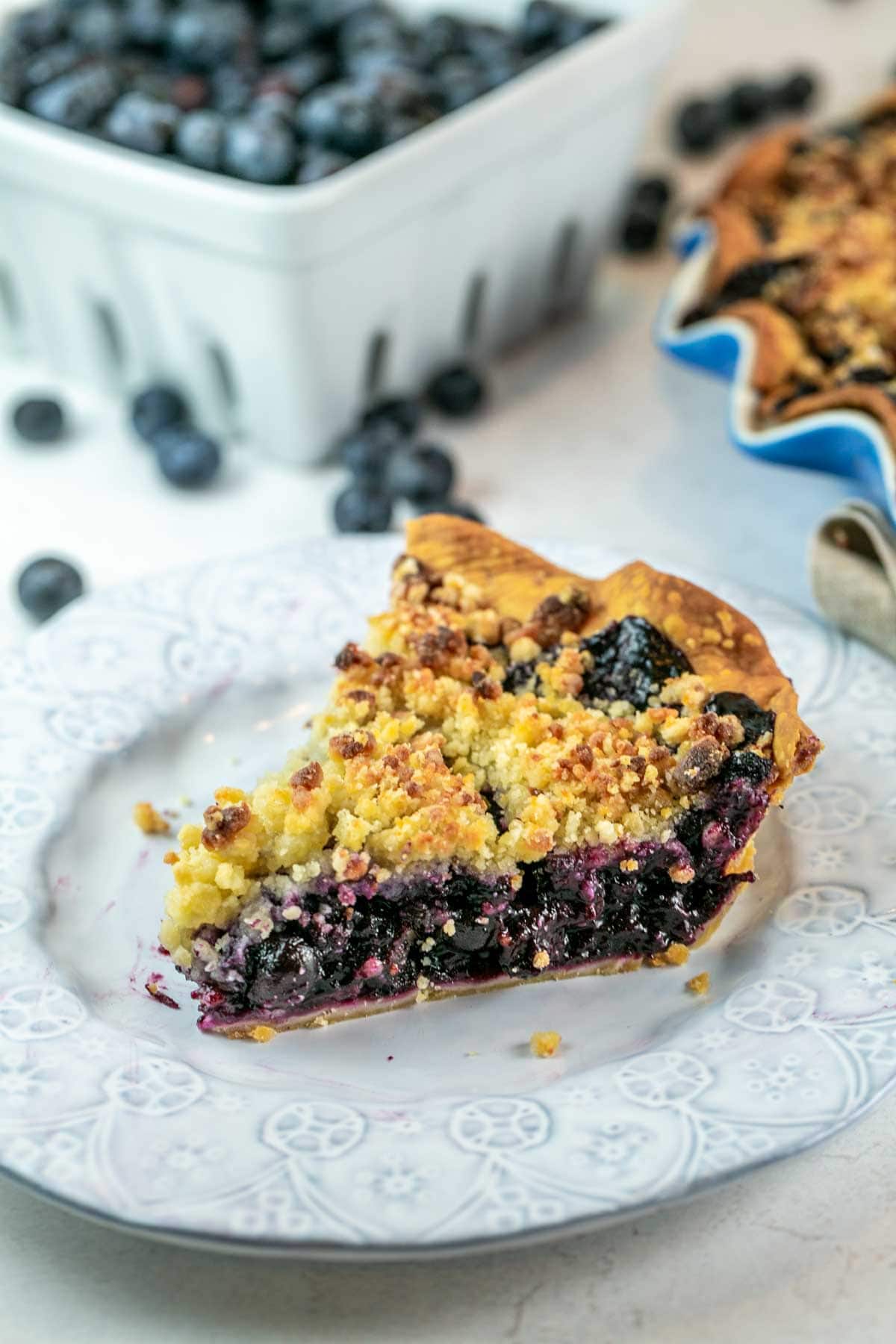 Top with Homemade Blueberry Pie Ice Cream!
Of course, a fresh fruit pie is practically begging for a scoop of ice cream.  Vanilla is the obvious choice, but I vote you get a little meta and top your almond crumble blueberry pie with a big scoop of blueberry pie ice cream.  Too much blueberry pie?  No such thing.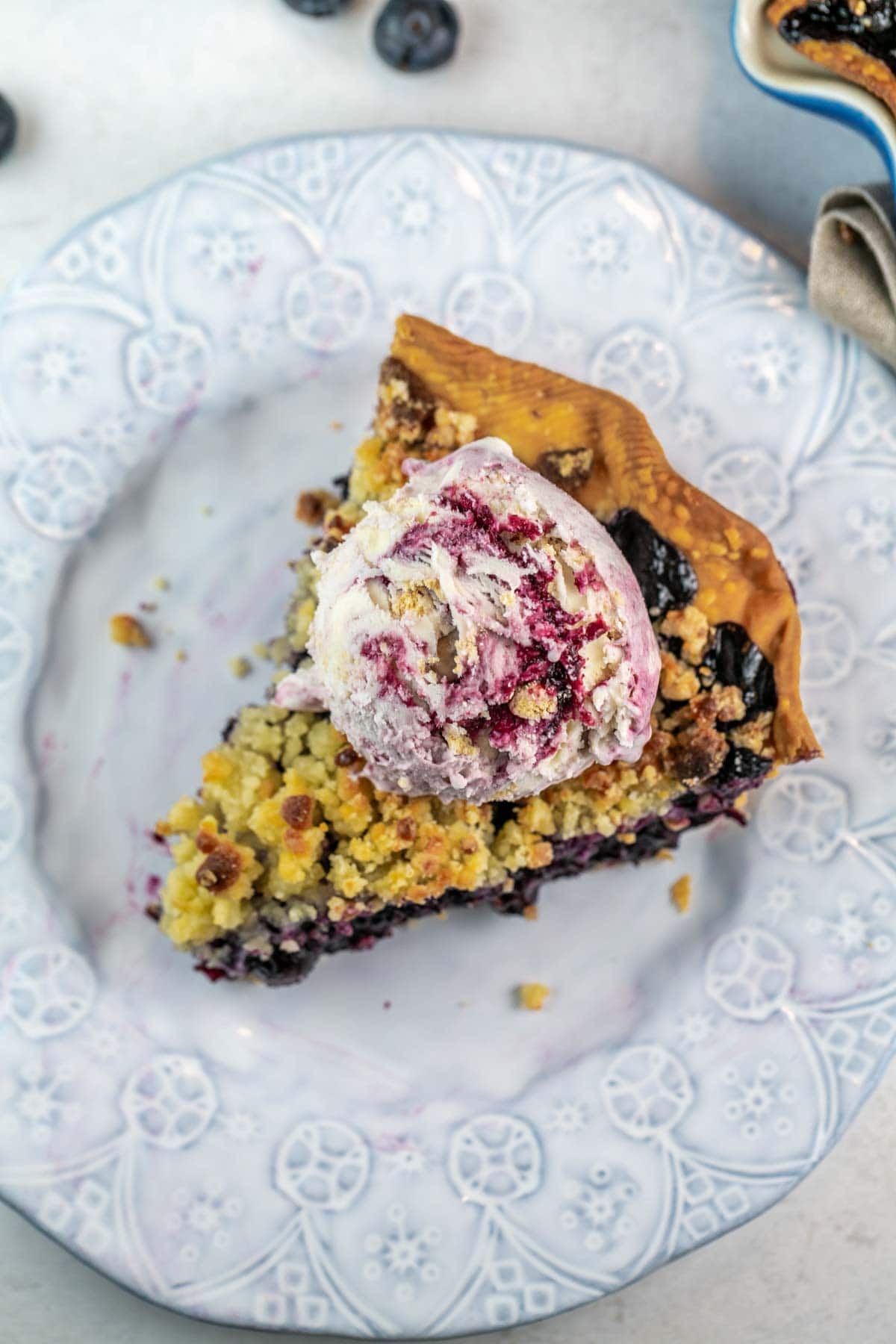 Recommended Tools to Make Blueberry Pie
Tips and Tricks for the Best Almond Crumble Blueberry Pie
Keep the butter cold! For both the crust and the almond crumble, making sure the butter is cold is crucial for achieving a flaky pie crust and a crunchy crumble.
Add additional spices or flavorings to the blueberry filling. Cardamom is always one of my favorites to pair with blueberry (nutmeg or cinnamon is also delicious), or adding almond extract will perfectly match the almond crumble.
If the crust or crumble starts to over-brown during baking, tent the pie with aluminium foil.
Bake the pie on a rimmed baking sheet in case any of the blueberry filling bubbles up and over the side of the pie dish.
Let the pie set for at least 4 hours, but an overnight rest is ideal. This will help the pie hold together while slicing it.
This homemade blueberry pie can be stored in the refrigerator for up to 5 days or frozen for up to 3 months.
More Blueberry Desserts:
Almond Crumble Blueberry Pie
Total Time:
1 hour
50 minutes
Flaky crust, fresh blueberries, and an almond paste crumble topping. The perfect pie has arrived, just in time for blueberry season.
Ingredients
3/4 cup (149 grams) + 2 tablespoons sugar, divided
1/3 cup (37 grams) cornstarch
40 ounces (1137 grams) blueberries (if using frozen, do not thaw)
2 tablespoons lemon juice
2/3 cup (80 grams) + 2 tablespoons all purpose flour, divided
6 ounces (170 grams) almond paste, crumbled into small pieces
1/4 cup (57 grams)) unsalted butter, cut into 1/2-inch cubes and chilled
1/2 teaspoon salt
Instructions
Start by rolling out your pie dough to a 12-inch round. Transfer to a 9-inch diameter pie plate. Trim the edges and crimp decoratively. Place this pie dish with the dough in the freezer while preparing the filling.
Whisk together 3/4 cup of the sugar and the cornstarch in a large, heavy-bottomed saucepan. Stir in roughly 30 ounces (a little under 7 cups) of the blueberries and the lemon juice. Cook over medium heat for 10-15 minutes, until the mixture starts to bubble and thicken, stirring frequently. Remove the filling from the heat, gently stir in the remaining 10 ounces of blueberries, and chill the filling until cool.
To prepare the crumble, combine 2/3 cup of the flour, the almond paste, cold butter, and salt in a bowl. Cut the butter and almond paste into the flour using a pastry blender or two forks (alternatively, pulse in a food processor until the mixture begins to clump together). Transfer this mixture to a bowl and chill for 30 minutes.
Remove the pie dish from the freezer while preheating the oven to 400 °F. Allow the pie crust to sit for 10 minutes before filling so that it is still very cold but no longer frozen.
Sprinkle the remaining 2 tablespoons of sugar and flour along the crust. This will help soak up any excess juice and form a little protective barrier to prevent a soggy crust. Spread the blueberry filling evenly in the crust, and sprinkle the crumble topping over the top, breaking apart any large clumps with your fingers.
Place the pie on a rimmed baking sheet and bake for 50 minutes, until the crust and topping are golden and the blueberry filling bubbles. If the crust and topping are browning too quickly, tent the entire pie with aluminum foil around 35 minutes. Transfer the pie to a cooling rack and cool completely. Let the pie sit for at least 4 hours, preferably overnight, before slicing and serving.
Recommended Products
As an Amazon Associate and member of other affiliate programs, I earn from qualifying purchases.