February 26, 2015
Buttermilk Lime Quick Bread
Citrusy and tangy buttermilk lime quick bread covered with a sweet-tart lime sugar glaze. Pretend it's summer year round with this simple buttermilk bread.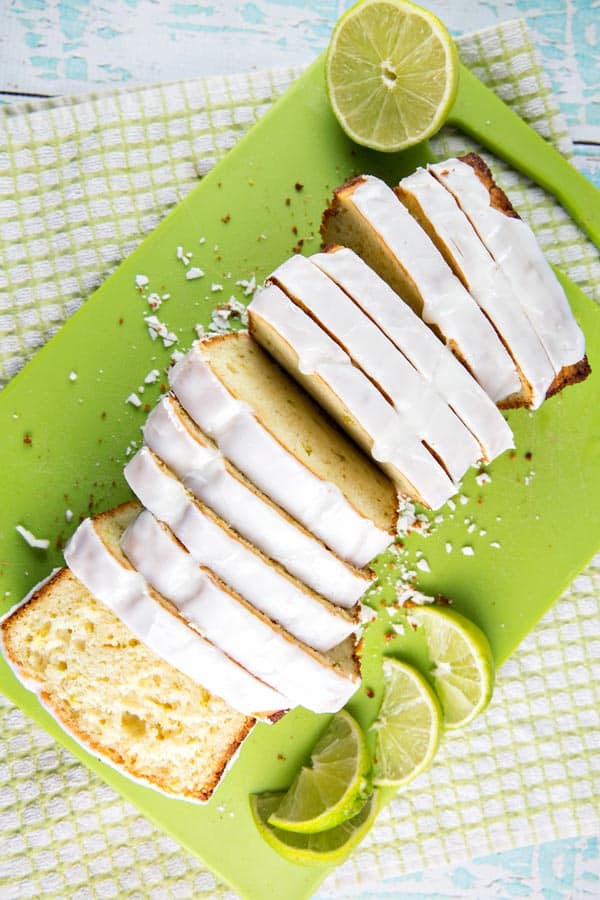 Normally, I'm a huge proponent of cooking (and eating!) in season.
In the winter, I gravitate towards more time-consuming, heartier recipes, like lasagna, Swedish meatballs, or fish stew.
In the summer, it's all about quick recipes featuring fresh vegetables from my CSA, such as this tomato and zucchini galette, coleslaw, or a grilled steak salad.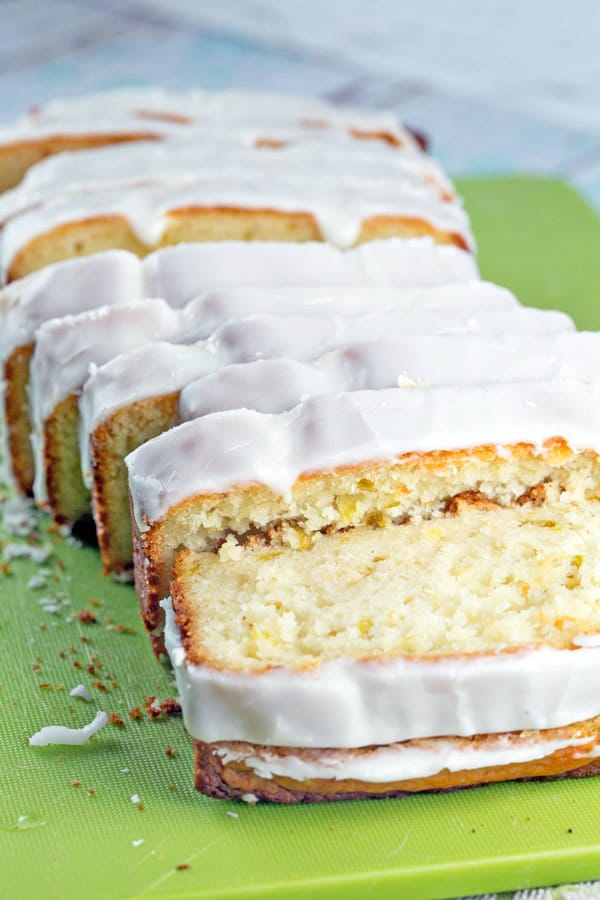 While many desserts tend to be less seasonal (cookies and brownies are perfect year-round!), I tend to find a lot of what I bake rotates throughout the year as well.
Berry crumble bars or mint chocolate chip ice cream are summer-only desserts with fresh berries or mint from my garden.
Clementine vanilla quick bread and hot chocolate only make appearances in the winter.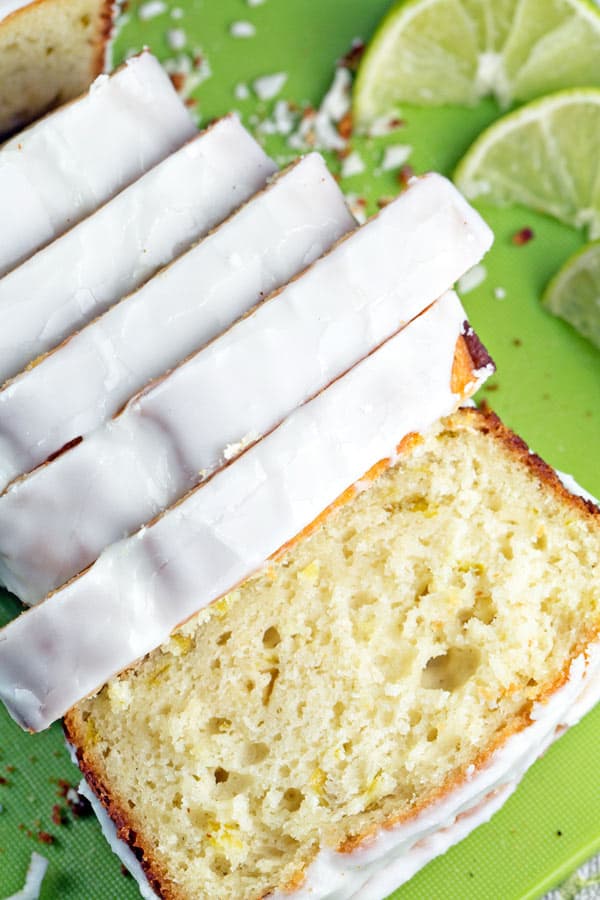 But when life hands you limes leftover from a margarita-making adventure, you can't let them go to waste. Forge on, even if there is snow on the ground and temperatures well below zero.
This buttermilk lime quick bread may not be seasonally appropriate right now, but maybe if you close your eyes and crank up the heat while eating a slice, you can pretend it's summer for a few minutes.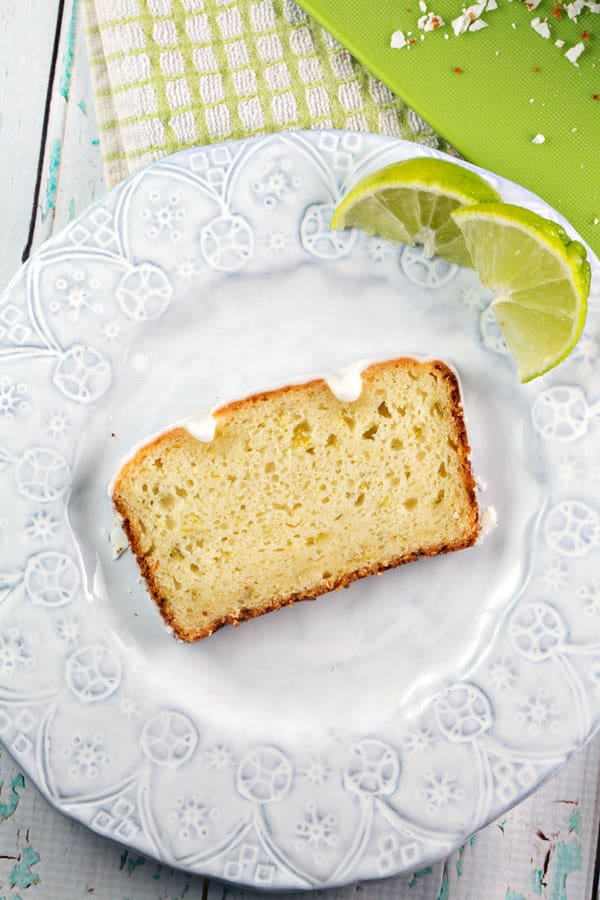 This recipe is really simple with a refreshing citrus flavor. The lime glaze kicks it up a notch – don't leave it off if you're looking for a little extra sweet-tart flavor.
Alternatively, the buttermilk lime quick bread isn't extremely sweet on its own, so it's perfect if you'd like something a little more savory. Serve it for brunch with a side of lime-zest cream cheese.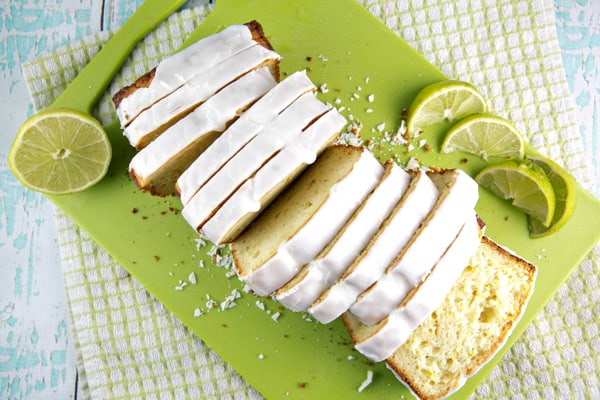 Not a fan of lime? Go ahead and swap out the lime for lemon. Or I bet this would be amazing with the blood oranges out in full force this time of year. Lime is less expected when it comes to baked goods though, and I like the little element of surprise.
Keep this in your back pocket for the spring or summer, or an alcohol-free celebration for Cinco de Mayo… but if you can't resist making it sooner, I won't blame you. Sugar IS season-less, after all.
Yield:
1 loaf (12 slices)
Buttermilk Lime Quick Bread
Citrusy and tangy buttermilk lime quick bread covered with a sweet lime sugar glaze.  Pretend it's summer year round with this simple buttermilk bread.
Ingredients:
1 egg
1 cup buttermilk
1/4 cup vegetable oil
lime zest from 4 limes
4 tablespoons lime juice, divided
1 3/4 cup all-purpose flour
3/4 cup sugar
2 teaspoons baking powder
1/4 teaspoon salt
1 cup confectioners sugar
Directions:
Heat oven to 350F.  Grease and flour the bottom and sides of an 8×4 or 9×5 inch loaf pan.
In a medium bowl, whisk together the egg, buttermilk, oil, lime zest, and 2 tablespoons of the lime juice until well blended.  Add in the flour, sugar, baking powder, and salt and stir until just moistened (some lumps will remain).
Pour the batter into the pan and bake for 50 to 60 minutes until golden brown and a toothpick inserted into the center comes out clean.
Cool in the pan for 10 minutes, then remove the bread to a cooling rack and cool completely, about 1 hour.
In a small bowl, mix together the confectioners sugar and 2 tablespoons of lime juice, adding additional lime juice if necessary to reach the desired consistency.  Drizzle the glaze over the bread and allow it to solidify, about 30 minutes, before slicing and serving.