March 3, 2015
Traditional Homemade Hamantaschen Recipe
The great hamantaschen debate: cakey or cookie? Crunchy or soft? Folded or pinched? Traditional or modern? Try this one on for size.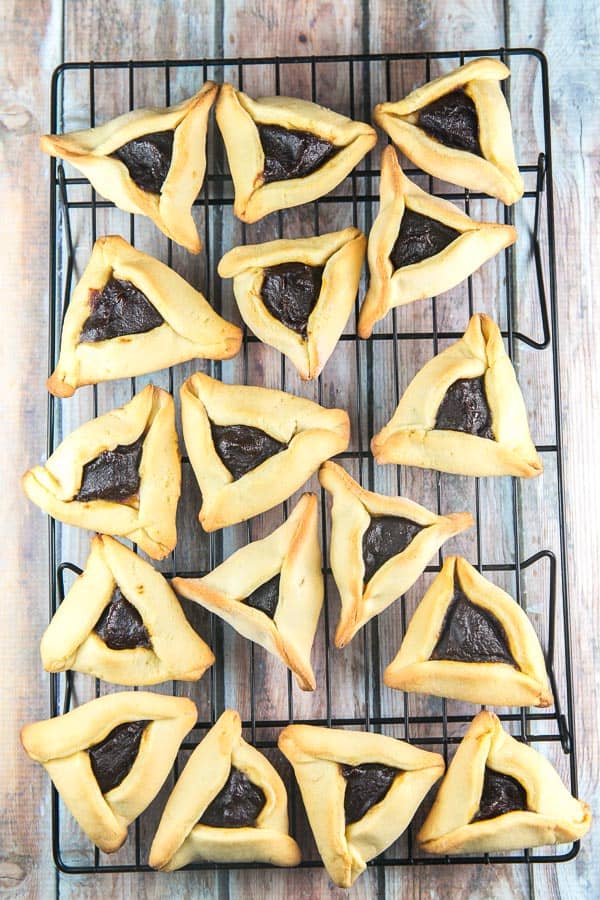 Judaism: the religion based on loud, pointless arguments. I only joke, although sometimes it seems that way — there are dozens of useless points of contention, and sides are generally staked based on what your grandmother taught you.
Chanukah or Hanukkah? (Hanukkah.)
Matzoh balls: sink or swim? (Swim.)
Latkes: grated potatoes or from a box? (Grated potatoes, obviously.)
Challah with or without raisins? (Without. Always without. ALWAYS.)
But I've come to realize there is no debate so strong as the hamantaschen debate.
Should the dough be more cakey or cookie-like? And if you like a cookie, should it be soft and chewy or slightly crunchy?
Do you pinch or fold the corners?
Do you fill it with traditional fillings, like apricot, prune, and poppy, or modern 'anything goes' fillings, which run the gamut from mint chocolate chip brownie to blueberry goat cheese?
(For the record, the correct answers to the hamantash questions are: cakey, fold, and traditional.)
What are Hamantaschen?
Let's back up a second. If you're scratching your head wondering what a hamantash is, you're probably like most of the general population.
This week is Purim, which celebrates the story of Esther when the Jews escaped from evil Haman's plot of annihilation. Purim is a festival — whenever Haman's name is mentioned during the reading of the Megillah, everyone boos and hisses and shakes gragers (noisemakers).
Children dress up in costumes, playing off the theme that Esther hid her own cultural identity from the king. But the BEST part of Purim? The hamantaschen.
Hamantaschen are made in a triangular shape as a reference to the supposedly triangular shaped hat that Haman wore. Apparently we eat hamantaschen (translation: Haman's pockets) to symbolically destroy his memory — I'm not sure I quite grasp that connection, but let's not dwell on that mere detail — let's focus on the fact that hamantaschen are basically the perfect dessert.
The sugary dough combined with the fruit filling is an absolutely perfect pairing — light and sweet, sugary but not rich, a little bit cake, a little bit cookie, and a little bit fruity.
Hamantaschen: Cookie or Cakey?
I grew up eating bakery-purchased hamantaschen, and the cookie-part was always very cakey: dry, crumbly, and strangely yellowish-orange in color, and I've spent years trying to replicate that texture.
It turns out that perhaps I'm in the minority with my feelings on this — most recipes I come across specifically advertise that they're more like a cookie, unlike those stale crumbly cakey hamantaschen of your childhood. Harrumph.
So, is this the recipe? The one that finally matches my childhood expectations and brings back a flood of memories? No, sadly, it is not. But it is very good, so I decided to go ahead and share – after all, I may never perfectly replicate the hamantaschen in my mind.
This is a little more cookie-like than I prefer… a little crunchier and not quite crumbly enough. But the dough itself is very good and the hamantaschen mostly held their shape in the oven (see below for tips on this) and if you prefer your hamantaschen more cookie-like, you will love this.
Tips for Perfect Hamantaschen
The biggest challenges with hamantaschen is maintaining the shape. Corners tend to open while baking, spilling the (delicious) filling everywhere.
Here are my top tips for leak-proof hamantaschen:
Roll your dough out to 1/6-inch thick. This is a little thicker than some other recipes, but I think it works very well for this soft dough. Too thin and the filling often spills out through tiny cracks on the side. Too thick and it's hard to fold up the edges. I've found 1/6-inch to be perfect for this recipe.
Use a thick enough filling that won't bubble over or run over the edges. Traditional fillings, like prune and poppy seed, are pretty thick. Now we often use a lot of fruit fillings. Jams are good – they're nice and thick. Something runnier, like a pie filling with the juicy component, is not a good choice.

Use a minimum of 3-inch circles for the dough.

3.5-inches is my favorite size, and what I use for this recipe, but 3-inches works as well. These aren't going to be petite bite-sized cookies… it's too hard to keep the dough folded.

Pinch or fold corners well and seal with water if necessary.

I'm a folder. My mother is a pincher. Either way, press that dough together tightly to hold it in place! If you have a bit of dough that won't stick together, dip your finger in water and run it over the dough to help hold the seal.

Don't overfill your hamantaschen!

I know it's tempting because fillings are the best part, but even if they don't spill out the corners, too much filling can bubble up while baking and pour over the sides. One to two teaspoons is all you need (one teaspoon for 3-inch circles, two teaspoons for 4 inch circles).
Chill the dough! After rolling the hamantaschen and forming the cookies, transfer the baking sheet to the refrigerator and chill for 15-20 minutes. The cold dough is less likely to spread once baked, helping the cookies retain their shape.
Would I make this recipe again? Absolutely. Will I make this recipe again? Probably not – I'm still on the quest for that perfect dough recipe. Have a good cakey hamantaschen recipe? Send it my way, please!
More Cookie Recipes:
Traditional Homemade Hamantaschen
Yield:
30 (3.5-inch) cookies
Chilling Time:
1 hour
20 minutes
If you're looking for a traditional cookie-like hamantaschen recipe, this is the dough you want!
Ingredients
1 cup sugar
1/3 cup butter, room temperature
1/3 cup vegetable oil
3 eggs, room temperature
1/2 cup milk, room temperature
1 tablespoon vanilla extract
4 1/4 cups all-purpose flour
3 teaspoons baking powder
1/2 teaspoon salt
20 ounces fruit preserves for filling
Instructions
In a large mixing bowl, beat together sugar and butter until pale and fluffy. Add in the oil, followed by the eggs, milk, and vanilla extract; mix well.
Whisk together the flour, baking powder, and salt. Slowly incorporate this into the wet ingredients, one cup at a time. The dough will be soft and slightly sticky. Roll into a ball, wrap in plastic wrap, and refrigerate at least 1 hour or up to 2 days.
Preheat oven to 350 °F and line two baking sheets with parchment paper.
Divide chilled dough into 4 portions. On a generously floured surface, roll out each piece to a 1/6" thickness. The dough will be fairly sticky, so continue to flour as you work with the dough.
Use a 3.5" circle cutter to cut out as many circles as possible from the dough; gather up scraps and continue to roll again.
Move the circles of dough to the prepared baking dishes. Spoon one and a half to two teaspoons of filling into the center of the circle. Shape into triangles by folding up three sides over the filling and push down on the corners.
Refrigerate the cookie sheet with unbaked hamantaschen for at least 20 minutes before baking.
Bake for approximately 20 minutes, or until the cookies are barely golden. Cool on a wire rack. Best consumed within 3 days – the cookies will get a little soggy after that, thanks to the fruit preserves.
Notes
Hamantaschen are best consumed within 3 days, as the fruit filling makes the dough a bit soggy afterwards. To save for longer, freeze hamantaschen in a freezer bag and thaw at room temperature before eating.
A Bunsen Burner Bakery Original Protocol
Recommended Products
As an Amazon Associate and member of other affiliate programs, I earn from qualifying purchases.
Nutrition Information:
Yield:

30
Serving Size:

1 cookie
Amount Per Serving:
Calories:

185
Total Fat:

5.2g
Carbohydrates:

32.8g
Protein:

2.7g