August 20, 2015
Healthy Mint Chocolate Chip Greek Yogurt Popsicles
Greek yogurt, nonfat milk, mint extract, and chocolate chips combine into the perfect anytime (breakfast included!) healthy Greek yogurt popsicles.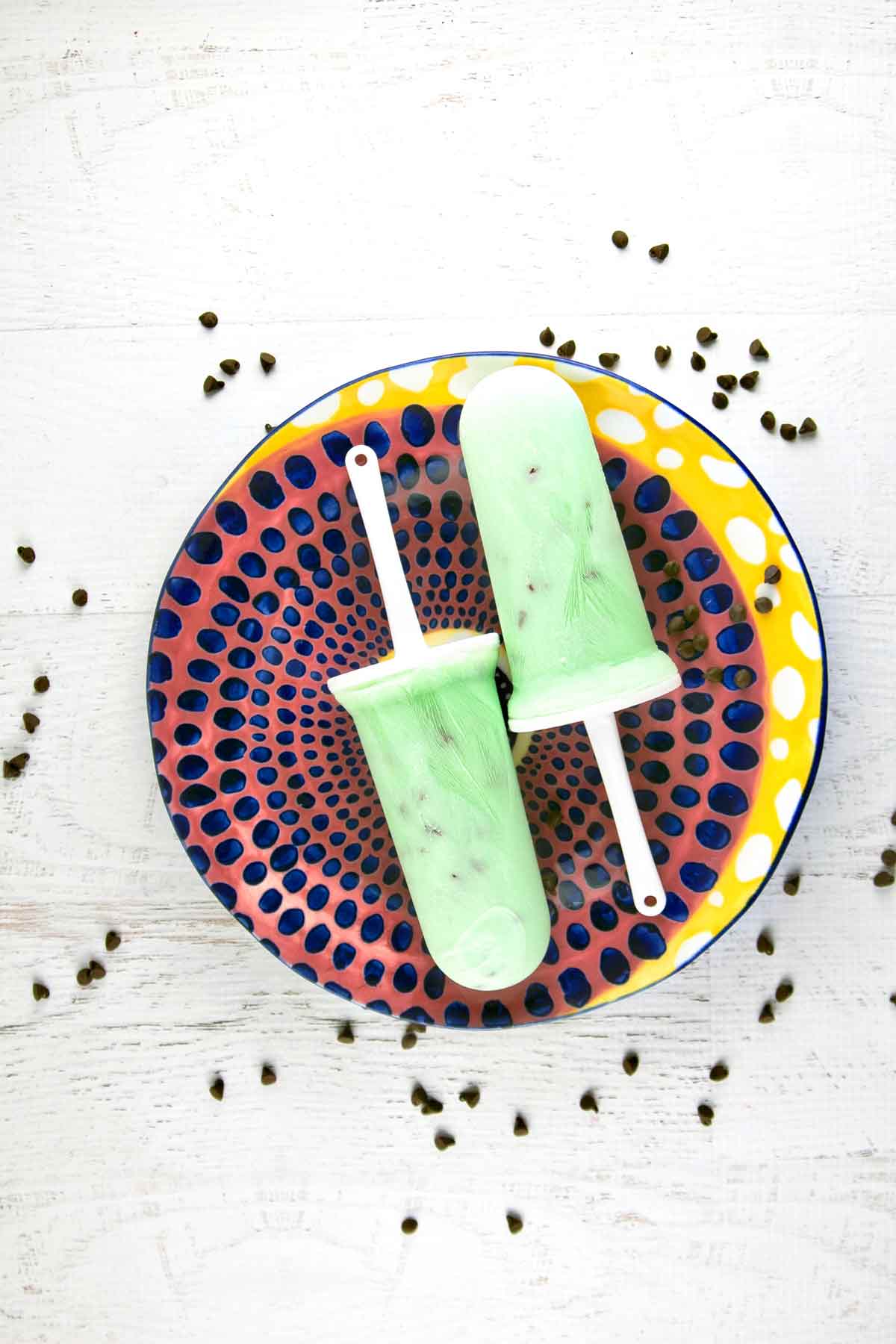 These Greek yogurt popsicles aren't what you think of when you think of frozen yogurt and popsicles. In fact, I'm going to go ahead and call them Breakfast Popsicles.
Breakfast popsicles? Yes, indeed. But not just for breakfast. These could also be after school popsicles. Or post workout popsicles. Or avoiding lots of sugar dessert popsicles. Or an I'm-up-pumping-at-3am-and-want-a-snack popsicles. (Maybe that last one is just me.)
The point is that these Greek yogurt popsicles are anytime popsicles, unlike traditional frozen yogurt or most yogurt-based popsicles.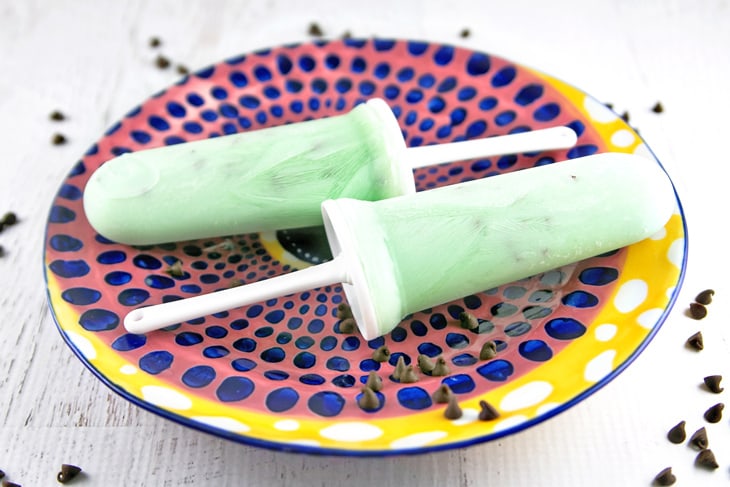 My husband and I have a nice little routine down when it comes to food purchasing and preparation. I cook all the meals in our house… he does all the dishes and cleans the kitchen afterwards. I do all the meal planning and make detailed grocery lists… he does all the grocery shopping.
Knowing how much I love mint chocolate chip (if you're also a fan, check out my extra minty mint chocolate chip ice cream!), he tossed a package of mint chocolate chip yogurt bars into the cart on one of his recent grocery shopping trips. I wasn't sure what to expect, but they were good… really good.
Soft and creamy, nice and minty, as sweet as you would expect from a traditional dessert frozen yogurt, but not as rich as ice cream. Plus, the popsicle form was perfect – as a new mom, I spend a lot of time trying to do things one handed, and the portion control was pretty nice as opposed to digging into a container with a spoon (breastfeeding hunger is seriously out of control).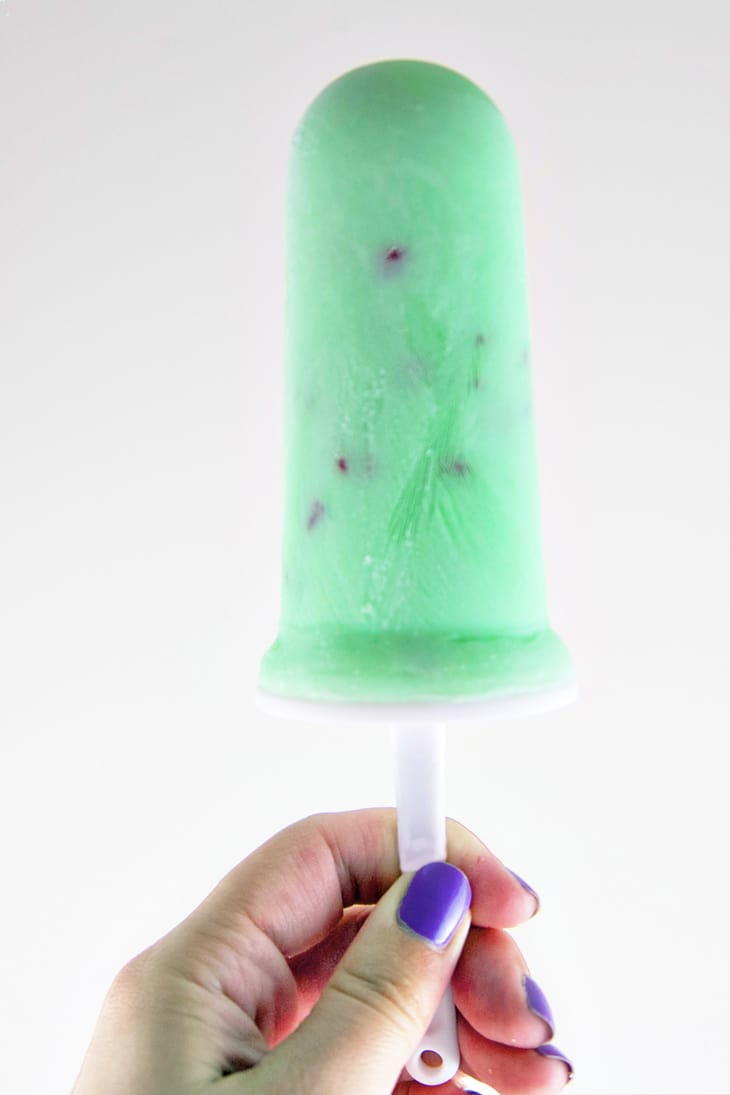 I've been working on a mint chocolate chip frozen yogurt recipe for a while, but these bars inspired me to change direction a little and try yogurt popsicles instead. And I wanted the recipe to be easy – something you can whisk together and pour into molds, rather than churn in an ice cream machine.
If you're looking for the perfect recipe for soft, creamy, minty, sweet, frozen yogurt style popsicles… well…. so am I. This is not that recipe.
What this is, however, is a recipe for easy, healthy, protein-rich popsicles that you won't feel guilty about eating for breakfast (or a snack, or after dinner, or at 3am… or at all of those times on the same day).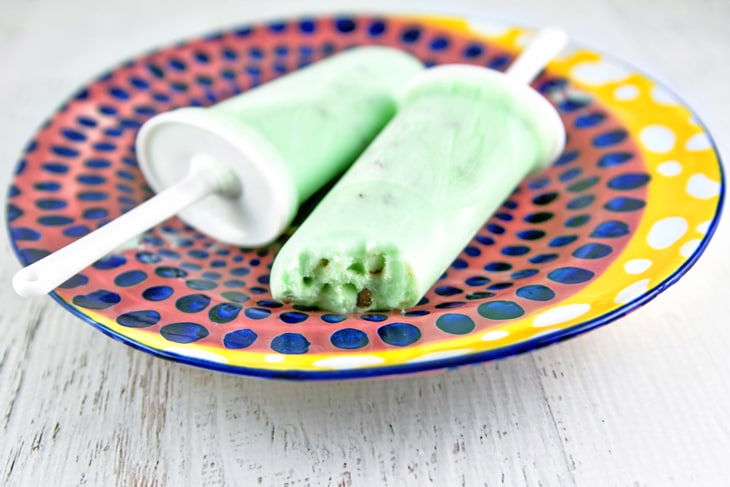 I originally made these mint chocolate chip Greek yogurt popsicles thinking about a not-so-sweet after dessert treat, but after walking the dog yesterday before work, on an especially hot and humid morning, I found myself craving one. I kept telling myself that you can't have a popsicle for breakfast, but then I thought about the ingredients.
Plain, nonfat Greek yogurt – well, I usually eat Greek yogurt for breakfast anyway (coconut is my favorite!). Nonfat milk – that's a normal part of breakfast. A little vanilla and mint extract – no reason that can't go into breakfast. Okay fine, so there's a little sugar and some chocolate chips, but a few chocolate chips in the morning never killed anyone, right?
So yeah, I can totally justify a Greek yogurt popsicle for breakfast! And it was awesome. This morning was even better – I realized the portability allowed me to eat breakfast while walking the dog, something I can't do with my normal breakfast of yogurt or oatmeal. Delicious, healthy, and portable? Now that's a winning idea!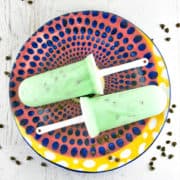 Healthy Mint Chocolate Chip Greek Yogurt Popsicles
Greek yogurt, nonfat milk, mint extract, and chocolate chips combine into the perfect anytime (breakfast included!) popsicle snack.
Ingredients:
2 cups plain Greek yogurt
3/4 cup nonfat milk
1/2 teaspoon vanilla extract
1 teaspoon mint extract
2 tablespoons sugar
2 drops green food coloring (optional)
1/2 cup mini chocolate chips
Directions:
In a medium bowl, whisk together the Greek yogurt, nontfat milk, vanilla extract, mint extract, and sugar until smooth.  Whisk in the green food coloring, one drop at a time, until desired color is achieved.  Stir in miniature chocolate chips.  Pour into popsicle molds.  Freeze for at least 6 hours before consuming.
A Bunsen Burner Bakery Original Protocol