February 17, 2015
Homemade Swedish Meatballs
Ultimate comfort food: homemade Swedish meatballs with thick gravy and lingonberry jam, served over egg noodles or mashed potatoes. 
While the content of this blog doesn't reflect it, I cook far more than I bake.  I think the posting mismatch is likely because I find desserts and sweets so much easier to photograph.
Not only are they more visually appealing, but also because I'm not trying to actually get them on the table for dinner in a timely fashion.
But you guys can't live on pie alone.  So let's take a break from all the cookies and muffins and quick breads and get back into some savory dishes.
So! Swedish meatballs.  <Insert obligatory Ikea reference here.>
Seriously, what is it about Ikea's Swedish meatballs?  People are obsessed.  I have friends who will drive an hour out of their way to stop at Ikea, peruse the marketplace area, and get Swedish meatballs for lunch.
I live 15 minutes away from an Ikea and have never once had the meatballs.  Tell me, readers – am I really missing out?  Do I need to remedy this ASAP and go buy 284 tea lights and a heaping plate of meatballs for $1.99?
Or is it just that by the time you've made it through the furniture maze and measured 27 cabinets with the paper measuring tape, you're just downright hangry and whatever you eat would be OMG.BEST.THING.EVER.?
Regardless of what you say, I probably won't make it out to Ikea this weekend.  If you live in the mid-Atlantic or northeast, you're also probably covered with a layer of snow right now.
It's cold out there and there's nothing like a warm dinner to combat all that cold weather and dreariness.
These Swedish meatballs come together quickly enough to constitute a weeknight meal after a day of work, but they're also cozy enough to enjoy if you're stuck at home with a snow day.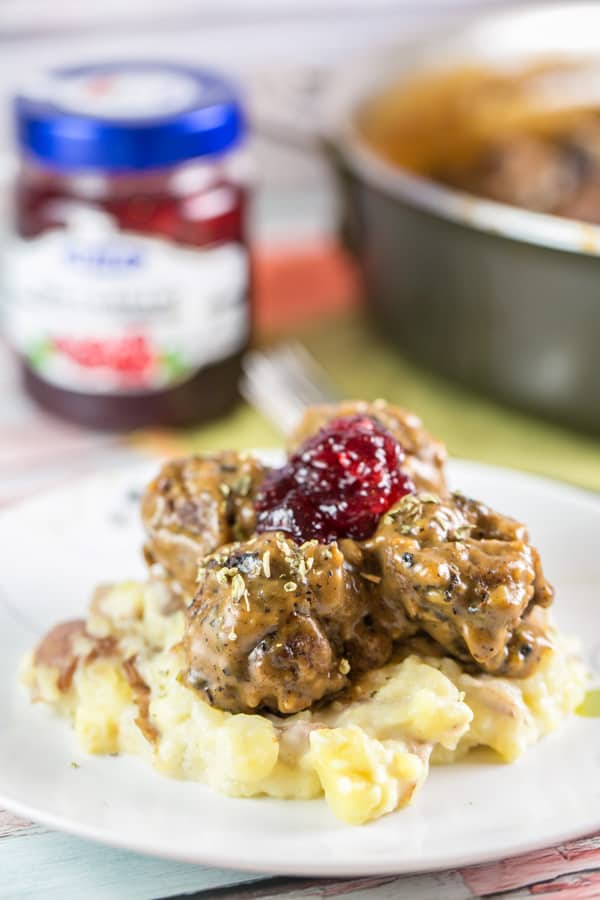 The leftovers freeze well, so if you do happen to find yourself with an unexpected day at home, why not make a double or triple batch and stock your freezer for later?
Go ahead and mix them right in with the gravy, allow them to cool, and freeze in airtight containers or a freezer bag.  When you're ready to eat them, thaw overnight in the refrigerator and warm on the stovetop the next day.
I served mine over garlicky, lumpy, hand-mashed red potatoes with a dollop of lingonberry jam and a side of sautéed kale.
Can't find lingonberry jam outside of Ikea?  Substitute red current jam, which you should be able to find at most supermarkets.  Enjoy!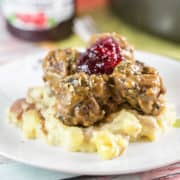 Homemade Swedish Meatballs
Ultimate comfort food: homemade Swedish meatballs with thick gravy and lingonberry jam, served over egg noodles or mashed potatoes.
Ingredients:
12 ounces ground pork
12 ounces ground chuck
4 tablespoons breadcrumbs
2 shallots, diced
2 egg yolks
1 teaspoon salt
1/2 teaspoon black pepper
1/4 teaspoon allspice
1/4 teaspoon nutmeg
1 tablespoon butter
1/4 cup all-purpose flour
2.5 cups beef broth
1/2 cup milk
lingonberry or red current jam, for serving
Directions:
In a large bowl or the bowl of a stand mixer, combine the pork, ground chuck, breadcrumbs, shallots, egg yolks, and spices.  Mix by hand until well combined or beat on medium speed for 1 to 2 minutes.
Roll 1.5 – 2 tablespoons of the mixture into golfball-sized meatballs.
Heat the butter in a large sauté pan over medium-low heat until melted.  Add the meatballs and sauté until brown on all sides, about 7 to 10 minutes.  Test for doneness by cutting a meatball in half.  You may need to do this in batches to avoid overcrowding the pan.
Remove the meatballs with a slotted spoon and rest on a paper towel.
Once all of the meatballs are cooked, decrease the heat to low and all the flour to the pan.  Whisk until the flour is lightly toasted, 1 to 2 minutes.  Gradually add the beef stock, continuing to whisk, until the sauce begins to thicken.  Add the milk and continue to cook until the gravy reaches the desired consistency.
Add the meatballs back to the pan and warm.  Serve with a side of ligonberry jam over egg noodles or mashed potatoes.
A Bunsen Burner Bakery Original Protocol