February 21, 2019
Hot Chocolate Bundt Cake
This easy chocolate cake is made with a double dose of hot chocolate: in the batter and in the glaze!  Add a marshmallow drizzle and some miniature marshmallows on top for a Hot Chocolate Bundt Cake reminiscent of a steaming mug of hot cocoa.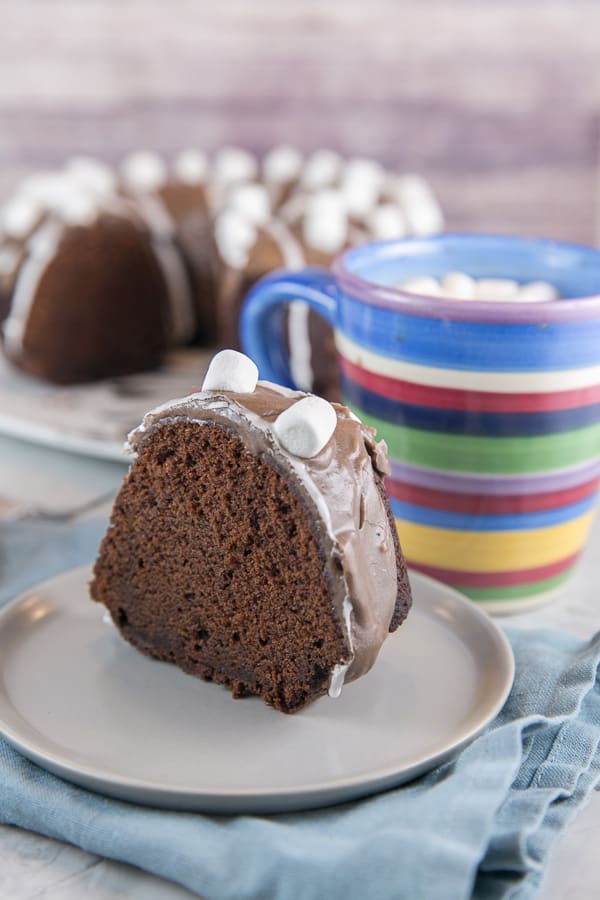 This is the Cake That Almost Wasn't.
After an entire yearlong series on bundt cakes — and over 20 bundt cake recipes on my food blog to date — it's safe to say I know my way around a bundt cake.
I haven't had a bundt cake crack or crumble or stick to the pan or fall apart on me in years.
So you can probably imagine my confusion when, over and over, every bundt cake I made in our new house in our fancy new Thermador oven stuck to the side, collapsed, or burned on the top while still being raw in the middle.  What was going on?!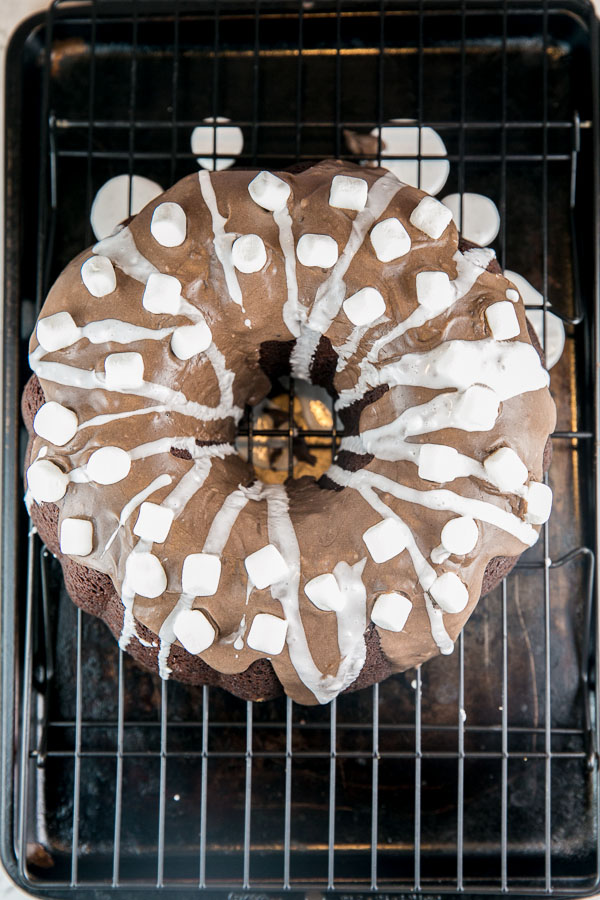 I was getting extremely close to making my husband move our old oven from our old house over here and doing all my baking in our garage. But! I am thrilled to report that I have finally figured out the appropriate rack to use, learned the oven's hot and cold spots, and am back in business.
As we say here in Philly, trust the process. Even if that process involves no less than 7 failed attempts at bundt cakes until you're familiar enough with your new oven. And consider this my periodic reminder to ? use ? an ? oven ?thermometer!
No matter how new and how fancy your oven is, odds are it's not perfectly adjusted. I own this oven thermometer. It's $6. And moving it around from corner to corner and on various racks over the past 2 months really helped me learn exactly where I should be putting my bundt cakes to bake. Well worth the $6 investment.
While I've been learning my oven, I've also been working on perfecting this hot chocolate bundt cake recipe. And yesterday was the perfect day to make it one more time, just to make sure, as we were covered with a few inches of fluffy white snow.
My children were home from daycare and preschool, so we baked a cake and played in the snow. And then had a mug of hot chocolate. A perfect day.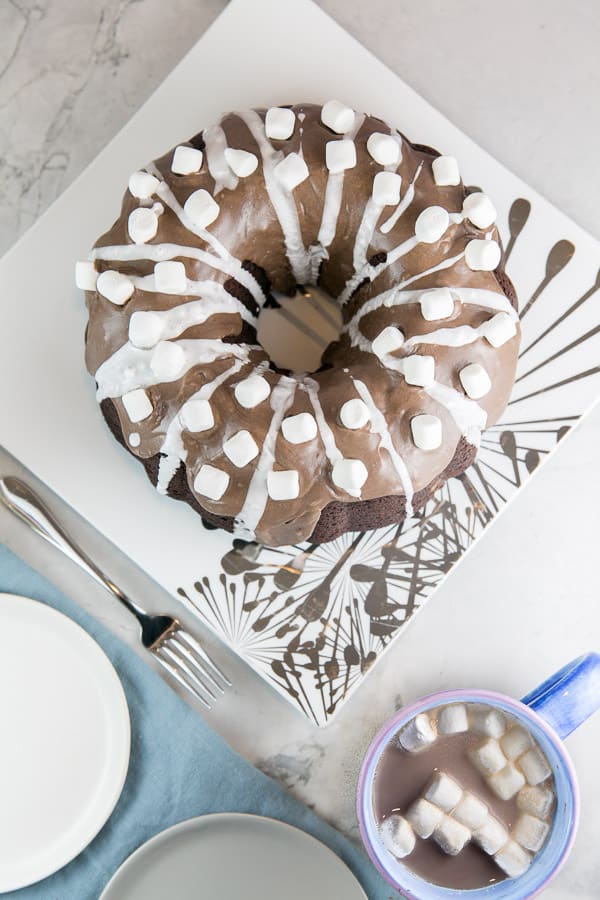 Hot Chocolate in a Cake
What's a hot chocolate bundt cake? Quite simply, a bundt cake made with hot chocolate!  There's hot chocolate in the cake batter and hot chocolate mix in the glaze. 
No hot chocolate on hand?  No worries — you can just substitute milk instead of the hot chocolate in the batter; it's still delicious (I've tried). 
Even if you skip the true hot chocolate mix, the cake is still an appropriate nod to everyone's favorite winter beverage.  It's covered with a little marshmallow glaze and some miniature marshmallows. 
And everyone knows the best mug of hot chocolate comes complete with marshmallows on top!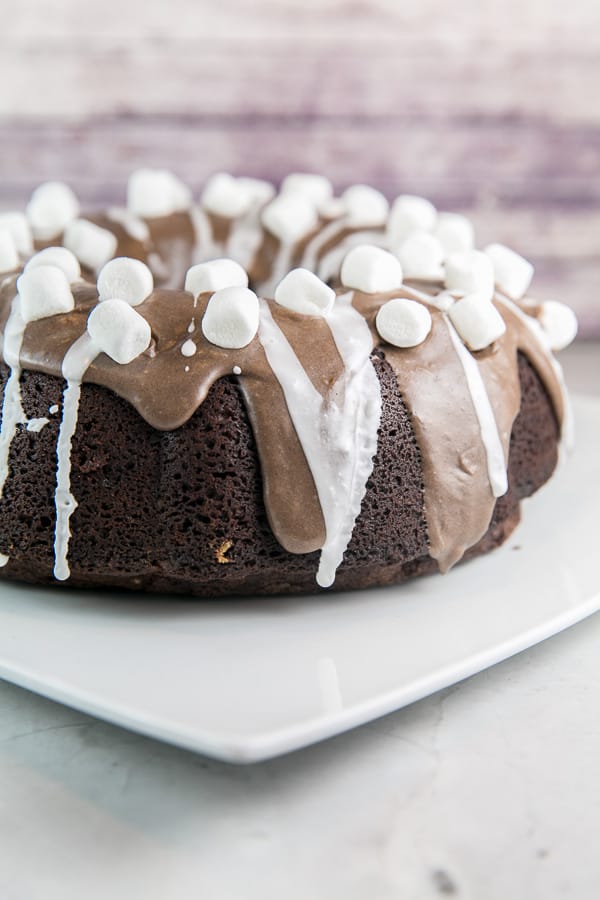 The Best Chocolate Bundt Cake
The cake itself is a delightfully smooth chocolate cake. It's sweet, but the lack of a thick layer of frosting keeps it from being overly cloying.
Much like your childhood favorite hot cocoa packet, the chocolate flavor is smooth, not bitter or sharp. We achieve this by using Dutch-processed cocoa powder instead of natural unsweetened cocoa powder.
What does that mean? Why is it important?  It's time for my favorite subject… kitchen chemistry!
Kitchen Chemistry

Cocoa beans are naturally fairly acidic, with a pH of 5.5. This is why super dark chocolate is actually quite bitter. When cocoa beans are dutched, however, they are washed with potassium which neutralizes the acidity. (Inversely, natural cocoa powder is made from roasted and ground beans, and thus remains acidic.) Dutch processed cocoa powder has a much smoother, more mellow flavor.
Because we're using Dutch-processed cocoa powder, which has a neutral pH, we'll use baking powder in the cake to add a little extra lift. 
Inversely, cakes made with natural unsweetened cocoa powder generally call for baking soda, because the ingredients are already acidic.
What Kind of Hot Chocolate To Use
Whatever you have! I happened to use a pack of Swiss Miss hot cocoa mix, because I found three packets in the back of a drawer when we moved to the new house. Use the fancy stuff. Use the cheap stuff.
In the end, it doesn't matter. If you really, really don't want to get a packet, you can add some cocoa powder to the glaze instead. But for the fun childhood nostalgia, I recommend finding some hot chocolate mix.
(But if you're looking to elevate your at home drinking hot chocolate routine, you have to try this decadently thick hot chocolate recipe!)
Tips to Bake the Best Bundt Cake
I guess the first tip should be: learn your oven! Know where it's hot and cold, the rate at which various rack levels heat, and the temperature it actually runs at.
But assuming you already know your oven and didn't just buy a new one, click here for all my essential bundt baking tips. You'll be a bundt cake master in no time at all.
Learn how to get your bundt cake out of the pan intact, how to combat doming and keep the top flat, and how to prevent air pockets, plus so many more tips (and more great bundt cake recipes!)
And then use those tips to make this hot chocolate bundt cake. It's the perfect winter cake, and yesterday's snow day tells me winter is still sticking around for a little bit longer.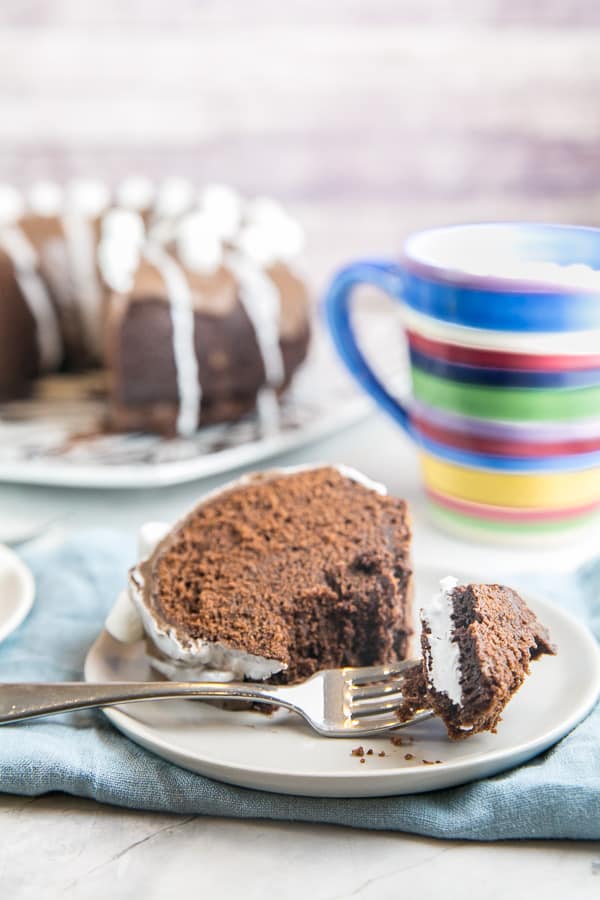 Common Questions about Hot Chocolate Bundt Cake
What size bundt pan should I use?
This recipe is written for a 12-cup bundt pan, which is the standard size of a 10-inch diameter bundt pan. Make sure to use a metal bundt pan and not silicone.
How do I prevent the cake from sticking in the pan? How do I tell when the bundt cake is done? How do I prevent the bundt cake from doming?
The answer to all of these questions — and more — can be found in my post about how to bake the perfect bundt cake!
Can this bundt cake be made without a bundt pan?
No bundt pan? No problem! Divide the batter equally between two well-greased 9×5-inch loaf pans and bake for 40-50 minutes.
Can this cake be made ahead of time?
Store the cake at room temperature, covered tightly, for up to 4 days.  The whole cake can be frozen without the glaze, either in the bundt pan or wrapped tightly in plastic wrap and aluminum foil. Thaw fully, then add glazes before serving. Individual glazed slices can also be frozen — place cut slices in the freezer on a sheet pan until frozen solid, then wrap in a layer of plastic wrap followed by aluminum foil and store in a freezer bag.  Unwrap before thawing.
Does hot chocolate bundt cake have to be refrigerated?
This cake can be stored at room temperature in an airtight container for up to 5 days, but will taste the freshest if consumed or frozen within 3 days.
More Chocolate Cakes: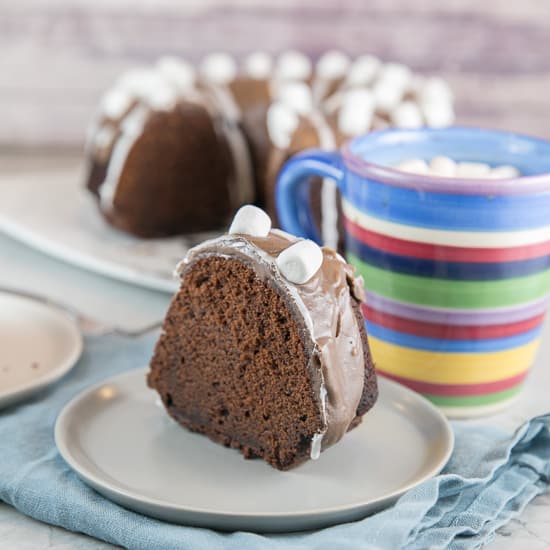 Hot Chocolate Bundt Cake
Total Time:
1 hour
20 minutes
This easy hot chocolate bundt cake is made with a double dose of hot chocolate: in the batter and in the glaze! Add a marshmallow drizzle and some miniature marshmallows on top.
Ingredients
For the Cake:
1 1/2 cups (339 grams) butter, room temperature
1 cup (198 grams) granulated sugar
3/4 cup (160 grams) brown sugar
5 large eggs, room temperature
1 tablespoon vanilla extract
1/2 cup (113.5 grams) hot chocolate, cooled to room temperature (or milk)
1 teaspoon kosher salt
2 teaspoons baking powder
1 cup (84 grams) Dutch-processed cocoa powder
2 cups (240 grams) all-purpose flour
2 cups (227 grams) confectioners' sugar
For the Glaze:
1 1/2 cups (340.5 grams) confectioners' sugar
1 packet (0.73 ounce) hot chocolate mix
2-3 tablespoons water
1/2 cup (64 grams) marshmallow fluff
1/2 cup (21.5 grams) miniature marshmallows
Instructions
Preheat oven to 350 °F. Grease a 12-cup metal bundt pan.
Using an electric mixer on medium high speed, beat together the butter, granulated sugar, and brown sugar until light and fluffy. On low speed, add the eggs, one at a time, and the vanilla extract. Slowly pour in the hot chocolate, continuing to beat on low speed.
On low speed, beat in the remaining dry ingredients (salt, baking powder, cocoa powder, flour, and confectioners' sugar) until just combined and no dry streaks of flour remain.
Scrape batter into prepared pan (it will be thick!) and bake for 50-60 minutes, until a tester inserted into the center of the cake comes out with a moist crumb. Cool upright on a wire rack for 10 minutes, then invert and remove from the pan to cool completely.
For the glaze, combine the confectioners' sugar, hot chocolate mix, and water until smooth. Add an additional tablespoon of water if glaze is too thick. Spread over the top of the cake. Heat the marshmallow fluff in a microwave for 20-30 seconds, until spreadable (or add a teaspoon or two of water) and drizzle over the chocolate glaze. Top with miniature marshmallows. Let cake sit until glaze solidifies, about 30 minutes.
Notes
Cake will keep stored in an airtight container at room temperature for 3-4 days. To freeze, wrap cake tightly in plastic wrap, followed by a layer of aluminum foil. Allow to thaw overnight at room temperature before serving.
A Bunsen Burner Bakery Original Protocol
Recommended Products
As an Amazon Associate and member of other affiliate programs, I earn from qualifying purchases.
Nutrition Information:
Yield:

16
Serving Size:

1 slice
Amount Per Serving:
Calories:

436
Total Fat:

19.9g
Carbohydrates:

63.6g
Protein:

4.91g