May 16, 2019
Strawberry Layer Cake with Whipped Cream Frosting
Perfect for all your summer celebrations, this Strawberry Layer Cake with Whipped Cream Frosting is made entirely with real strawberries and filled with thick layers of homemade strawberry puree.  No strawberry extract, jell-o, or jams necessary!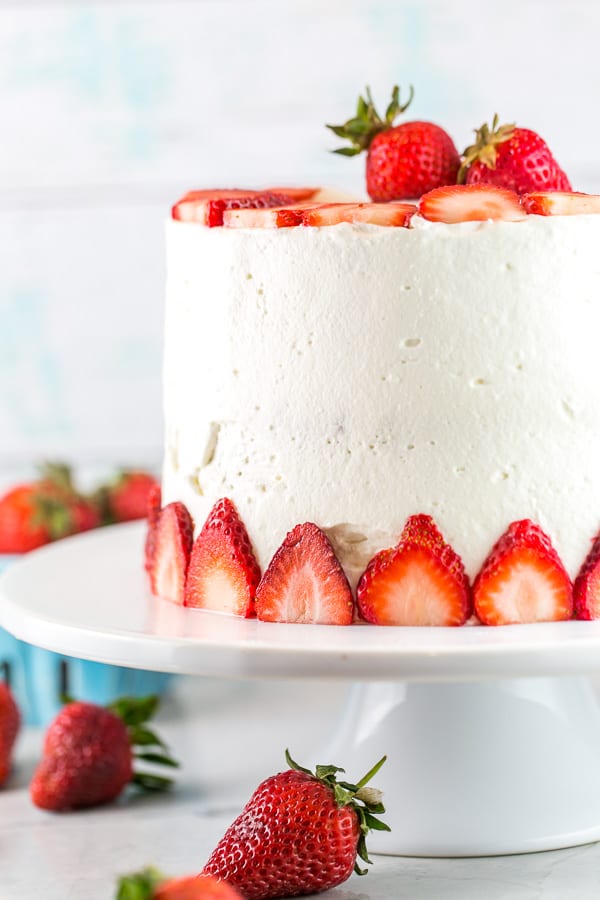 Last month, we celebrated our daughter's first birthday.  Even though we didn't have a party, what kind of dessert-baking food-blogging mother would I be if we didn't celebrate with a homemade cake?!
When my son turned one, I made him this vanilla layer cake with blueberry cardamom curd which, to date, is still one of my favorite cakes I've ever made.  Since Brielle loves strawberries, it only seemed fitting to make a similar version of that cake, but using strawberries instead!
A three-layer cake, one layer filled with strawberries (read on for tips on how to impart strawberry flavor into a cake!), filled with homemade strawberry puree, all covered in whipped cream frosting.
Suffice it to say, the strawberry layer cake was a total hit — Brielle loved it.  And just like her big brother, she was most excited to pick all the fresh fruit right off the outside of the cake (although once she ate all the strawberries, she was more than happy to dig into some of the cake).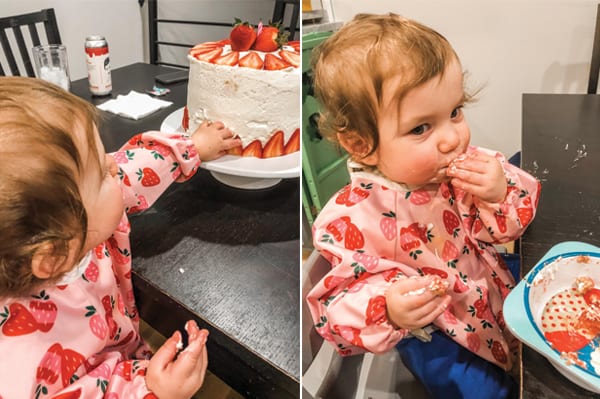 Happy birthday, little Beanie — I can't promise you much in life, but I do always promise to make you a delicious homemade birthday cake for as many years as you want!
And as for the strawberry layer cake? This definitely won't be the last time we're making it, either. Memorial Day, 4th of July, Labor Day — I'm pretty sure this is going to make multiple appearances at cake-worthy celebrations for the rest of summer!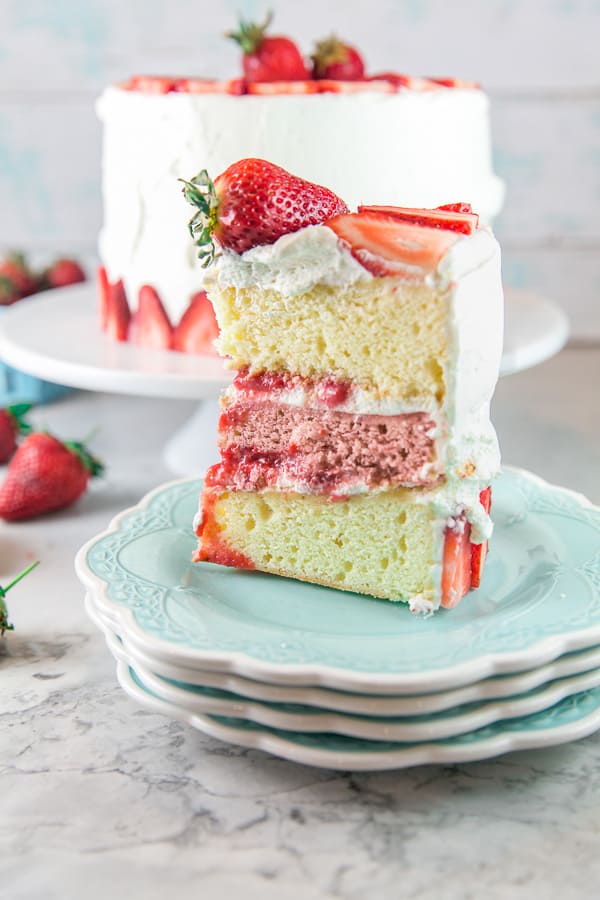 How to Make a Strawberry Layer Cake
The cake layers themselves for this strawberry layer cake start as my favorite white vanilla cake recipe. I chose to make just one of the layers strawberry-flavored and leave the others plain vanilla.
I love the color contrast between the vanilla layers and the slightly pinkish strawberry layer, but you can absolutely turn all three layers into strawberry cake by tripling the amount of freeze-dried strawberries in the batter.
Freeze-dried strawberries?  Yes indeed!  This is the secret to the strawberry cake layer. 
Slices of whole strawberries are delicious, but then you're eating slices of strawberries, which takes away from the light and fluffy cake texture.  Adding pureed strawberries adds too much liquid to the batter.  Artificial strawberry flavoring is, well, kind of gross.  Jell-o just doesn't belong in cake.  So we'll use ground-up freeze-dried strawberries — all real strawberry flavor, none of the excess water!
While no one eats strawberry cake for its nutritional value, a fun fact is that freeze-dried fruit retains much of its original nutrient value and is one of the best ways to preserve food for long-term storage.  Freeze-dried strawberries are a great way to retain fresh strawberry flavor in the middle of winter.  But how is fruit freeze-dried anyway?  It's time for my favorite subject… kitchen chemistry!
Kitchen Chemistry

Freeze drying fruit is a three part process. Ripe fruit is frozen and then placed in a vacuum chamber, where water crystals undergo sublimation — going straight from frozen to a vapor, bypassing a liquid state. Next, the fruit is slightly heated to fully dry and ensure no water molecules remain.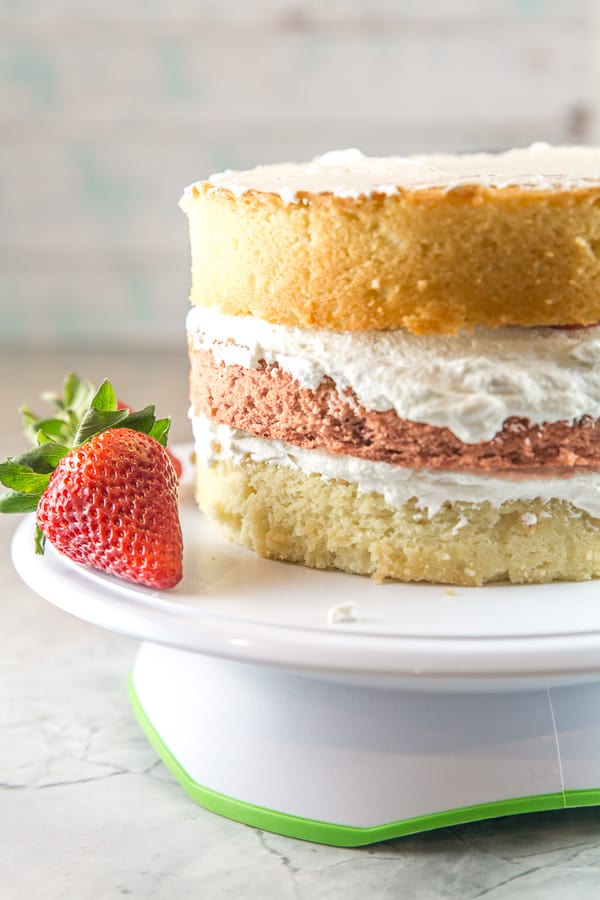 How to Make Strawberry Cake Pink
Reality check: strawberry cake usually isn't the beautiful bright shade of pink we think of when we picture a strawberry cake. At least not on its own!
Strawberries and strawberry juice are prone to turning brown when baked, leaving us with a muted pink at best; an unappetizing brown at worst.
If you want to combat this, use a few drops of pink food coloring gel for the classic strawberry pink color!
I skipped this in my cake (because what one-year-old is going to decline cake because it's not pink enough?!) and had a pale mauve-ish cake layer, but a few drops of gel food coloring will solve this problem!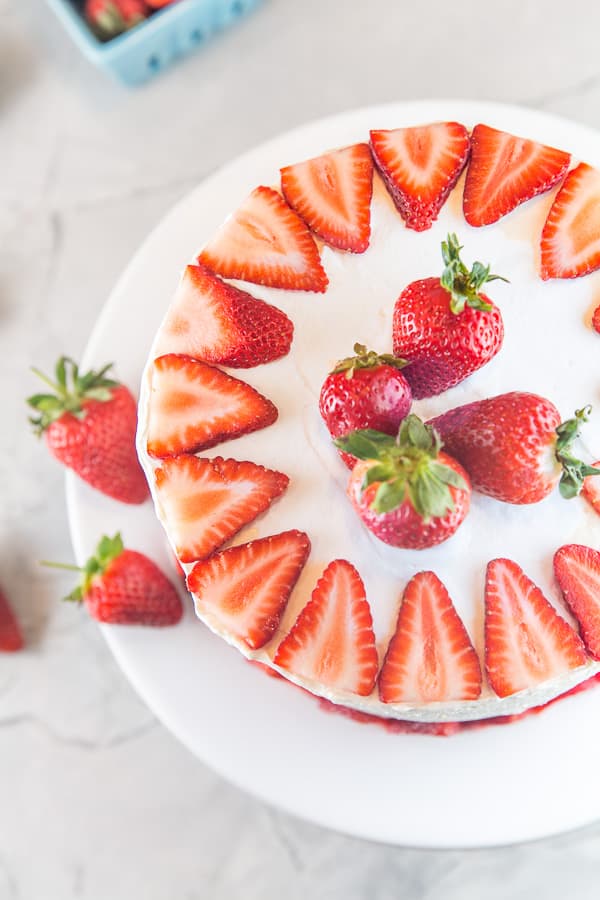 Does Strawberry Filling Make Cake Soggy?
In addition to a layer of strawberry cake, we're also packing strawberries in between the layers of cake, in the form of homemade strawberry puree. Because we're adding extra moisture between the layers, we want to make sure to use a slightly denser cake.
A super light and fluffy cake absorbs the excess moisture and becomes soggy. A denser cake, however, can last for several days and still be just as delicious! This strawberry layer cake is just the right texture to hold up to the strawberry puree filling.
And while we're talking about the strawberry filling — here's a tip on filling cakes.  Pipe a tall, thick layer of the whipped cream frosting around the perimeter of each layer of cake and pile the frosting in the middle, like so ↓↓↓ to prevent the filling from oozing out the sides under the weight of the top layers.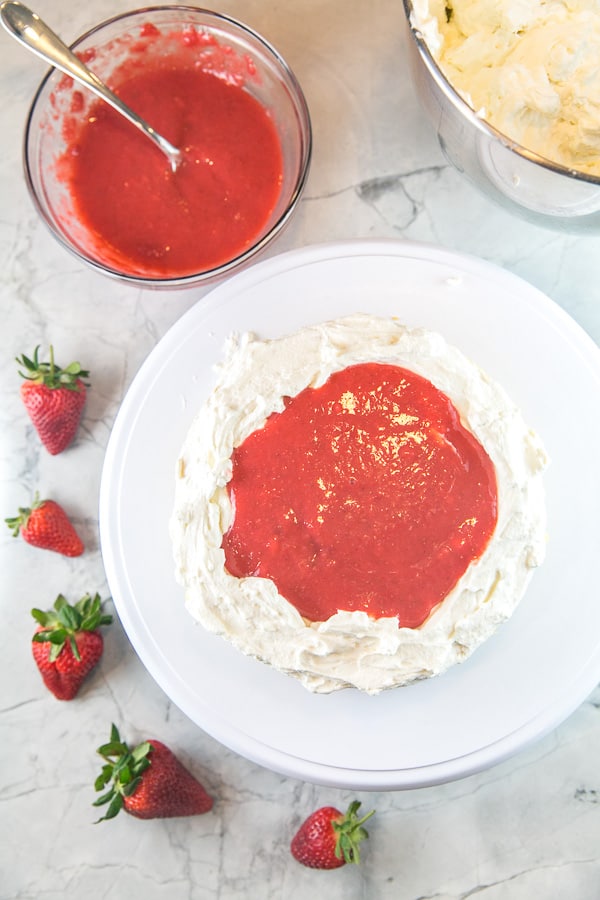 If a little does spill out, no worries!  We're going to crumb coat the cake, which will trap any filling that oozes out the side.
A crumb coat is just a thin layer of frosting that is applied and then set in the refrigerator.  It's designed to hold together any crumbs from the cake, but is also perfect for filled cakes.  Any residual pink strawberry filling that spills out the side is contained by the crumb coat, so the final frosting layer stays perfectly white.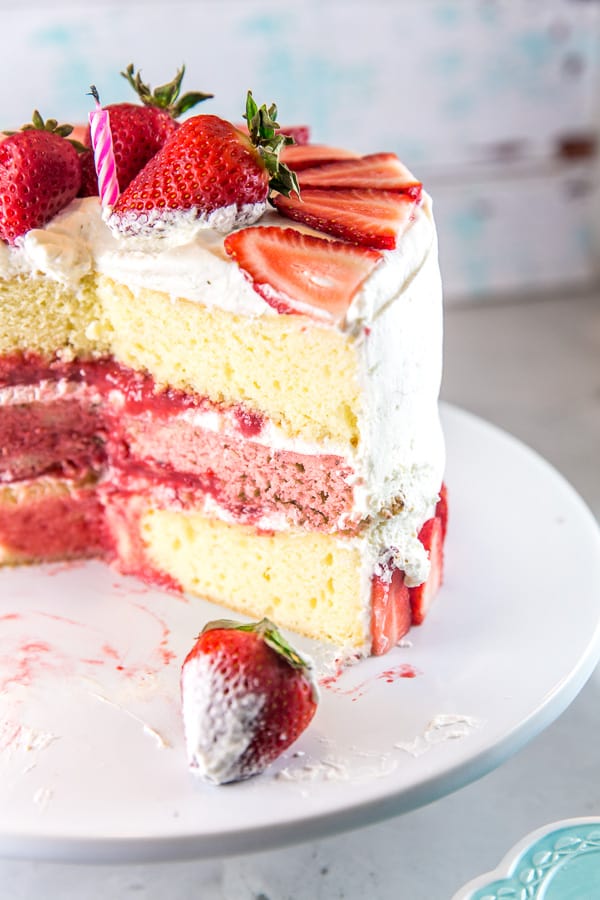 How to Make Whipped Cream Frosting
One of my personal favorite parts of this strawberry layer cake? The homemade whipped cream frosting!
Whipped cream frosting is tricky, because it tends to deflate over time, reverting back into a runny texture.  Normally, this doesn't matter: most of the time, we're using whipped cream as a garnish and add it just before eating.
But for a cake, it's a whole different story. We need our whipped cream frosting layer to stay nice and thick, and we want it to last for a few days!
To solve this problem, we use stabilized whipped cream, which keeps the whipped cream fluffy for much longer. Traditionally, gelatin is used to stabilize whipped cream, but after a few tests, I found that a little cream cheese works just as well for frosting. And the most important part — you can't even taste it.
(I hate cream cheese frosting. Haaaaaate it. So if I can't taste it in here, and just get the dreamy, creamy whipped cream frosting flavor, trust me — it's providing some extra structure, but no flavor. And your cake will hold up for an extra day or two!)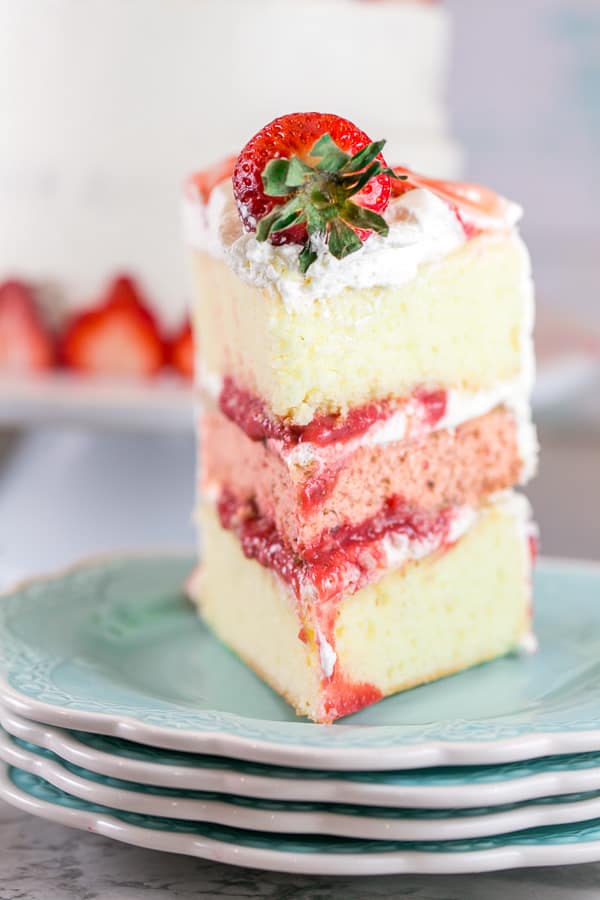 Can Strawberry Cake Be Frozen?
Absolutely!  One of the best parts about this cake is the ability to make all the components ahead of time.  The baked cake layers can be wrapped in foil and frozen.  The strawberry puree can be refrigerated for several days, or even frozen.  The whipped cream frosting is best made the day of or the night before, so all that is left to do is assemble the cake and frost.
While I don't recommend freezing the entire assembled cake, those last few slices can be frozen to enjoy later!  Freeze individual slices on a cookie sheet.  Once the slices are thoroughly frozen, wrap them in a layer of plastic wrap, followed by aluminum foil, and store them in a freezer-safe storage bag.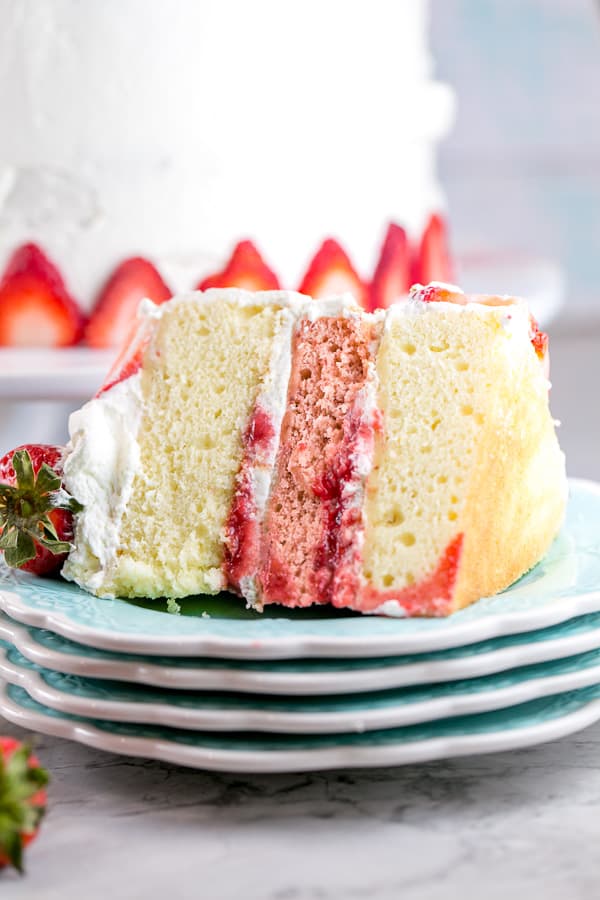 Tips and Tricks for Strawberry Layer Cake
Freeze-dried strawberries can be found in the dried fruit aisle at grocery stores like Trader Joe's, Wegmans, or Whole Foods, or purchased online.
Grind your freeze-dried strawberries really well.  A food processor, spice/coffee grinder, or blender will do this, but be sure to sift out any large pieces to ensure a consistent texture.
For perfectly flat, non-domed cakes, use Bake Even Strips (or wet cloths soaked in water and wrapped around the outside of the cake).
For perfectly even cake layers, weigh the batter of the cake and divide it into three baking pans. (I eyeballed and you can see the strawberry layer is smaller than the others. If you'd like to ensure they are equal, divide by weight!)
For a pink cake, add a few drops of gel food coloring — AmeriColor is my favorite brand.
Take the extra time to crumb coat the cake to ensure the strawberry filling does not leak out and tint the whipped cream frosting pink.
Store the strawberry layer cake in the refrigerator.  The whipped cream frosting can only safely withstand a few hours at room temperature.
More Summer Fruit Cake Recipes: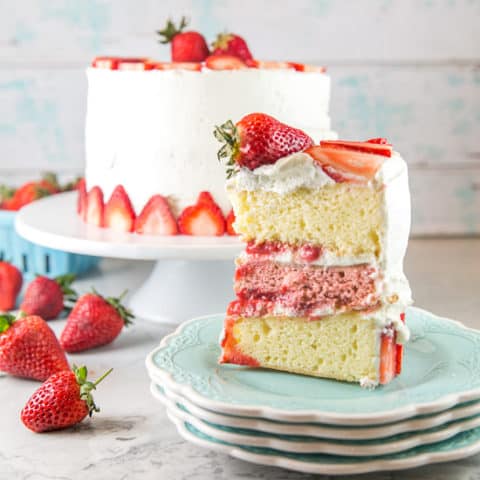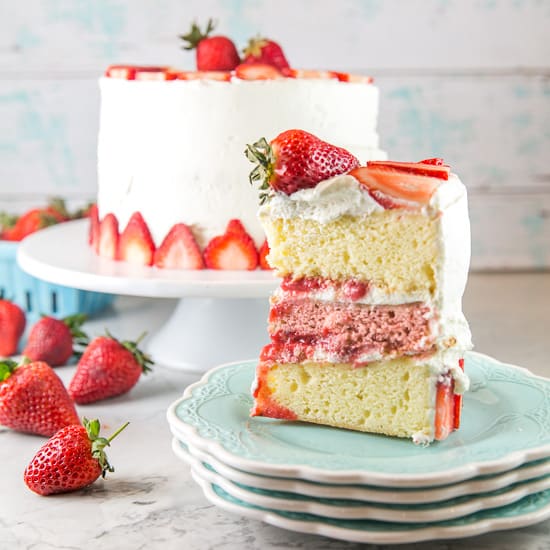 Strawberry Layer Cake with Whipped Cream Frosting
Prep Time:
1 hour
20 minutes
Perfect for all your summer celebrations, this strawberry layer cake with whipped cream frosting is made entirely with real strawberries and filled with thick layers of homemade strawberry puree.
Ingredients
FOR THE CAKE:
1 1/2 cups butter, softened
3 cups sugar
5 eggs, room temperature
3 cups flour
1 teaspoon baking powder
1/2 teaspoon salt
1 cup + 1 tablespoon buttermilk
1 tablespoon vanilla extract
1 ounce freeze dried strawberries, ground to a powder
2-3 drops pink gel food coloring (optional)
FOR THE FILLING:
3 cups (450 g) chopped strawberries
1 1/2 tablespoons lemon juice
3 tablespoons sugar
2 tablespoons flour
FOR THE FROSTING:
4 ounces cream cheese, softened
1 cup confectioners sugar
3 cups heavy cream, cold
1 teaspoon vanilla extract
Instructions
Preheat oven to 350° F. Line three 8-inch round cake pans with parchment paper, then spray parchment paper with nonstick baking spray.
In the bowl of an electric mixer, beat together the butter and sugar until light and fluffy, 5 minutes. Beat in the eggs, one at a time.
In a small bowl, stir together the flour, baking powder, and salt. Add half of this mixture to the butter and eggs and beat until just combined. Pour in 1 cup of buttermilk and vanilla extract, mix to combine, and follow with the remaining flour. Beat until just combined and no lumps remain.
Divide the cake batter into three equal portions. To one portion, add the freeze dried strawberries and one additional tablespoon of buttermilk and food coloring, stirring to mix (batter will be thick). Scrape the cake batter into each of the tree prepared pans. Bake for 35-40 minutes, until a tester inserted into the center comes out with a moist crumb. Remove from the oven, allow to cool in the cake pans for 5 minutes, then turn out onto a wire rack to cool completely.
While cakes are cooling, prepare the strawberry puree filling. Puree the strawberries using an immersion blender or food processor. In a medium-sized saucepan, combine the pureed strawberries, lemon juice, sugar, and flour, stirring well to combine. Cook over medium-high heat until the mixture starts to boil, continuing to stir frequently. Reduce heat and simmer an additional 5 minutes, until the puree starts to thicken. If the puree is too thin, add up to 1 additional tablespoon of four. Allow the puree to cool completely (puree can be refrigerated to speed up the process).
To make the whipped cream frosting, add the cream cheese and confectioners sugar to a large bowl and beat on medium-low speed until smooth. Turn the mixer down to medium-low and pour the heavy cream down the side of the bowl slowly. Once all the cream has been added, scrape the sides and bottom of the bowl with a spatula and then turn the mixer up to medium-high speed, whipping until the frosting holds stiff peaks, 5 to 7 minutes. Fold in the vanilla extract.
To assemble the cake, spread a thin layer of the whipped cream frosting on the bottom of a cake plate to help prevent the cake from sliding. Place a layer of vanilla cake on the bottom and pipe a thick border of frosting along the outside perimeter of the layer of cake. Fill the center with half the strawberry puree. Repeat with the layer of strawberry cake, frosting, and strawberry puree, followed by topping with a layer of vanilla cake.
Spread a thin layer of whipped cream frosting along the sides of the cake. Add a thin layer of whipped cream to the top of the cake and refrigerate for 30 minutes.
Remove the cake from the refrigerator and use the remaining whipped cream frosting to cover the sides and top of the cake. Decorate with additional strawberries as desired. Refrigerate cake until serving
Notes
Frosted cake should be stored in the refrigerator.
A Bunsen Burner Bakery Original Protocol
Recommended Products
As an Amazon Associate and member of other affiliate programs, I earn from qualifying purchases.
Nutrition Information:
Yield:

16
Serving Size:

1 slice
Amount Per Serving:
Calories:

571
Total Fat:

30g
Carbohydrates:

71g
Protein:

6.2g