September 12, 2019
Caramel Apple Cheesecake
With a perfectly smooth cheesecake and a caramel apple topping, this Caramel Apple Cheesecake is the perfect make-ahead entertaining dessert! Plus all the tips for a silky-smooth, creamy, crack-free cheesecake every time.
Anyone who knows me knows that I'm not really a cheesecake fan. And yet I keep making them because I married a cheesecake lover.
The running joke in our family is that my husband requests a cheesecake every year for his birthday because he knows he'll get to eat the entire thing himself since I won't touch it.
(Things are changing, however – our 4-year-old seems to have inherited the cheesecake-enjoying gene.)
I never mind making cheesecakes, however, because they're just so easy. Combine all ingredients in a food processor or mixer. Pour into springform pan. Bake. Done.
Of course, the stressful part is often waiting to see if your cheesecake cracks, but don't worry. Keep on reading for my favorite tips to prevent that.
And even if it does crack, who cares? This caramel apple cheesecake has a whole pile of apples and salted caramel sauce poured on top so if it does crack, no one will ever know.
An easy, delicious, stress-free cheesecake. Does it get any easier? No, no it does not.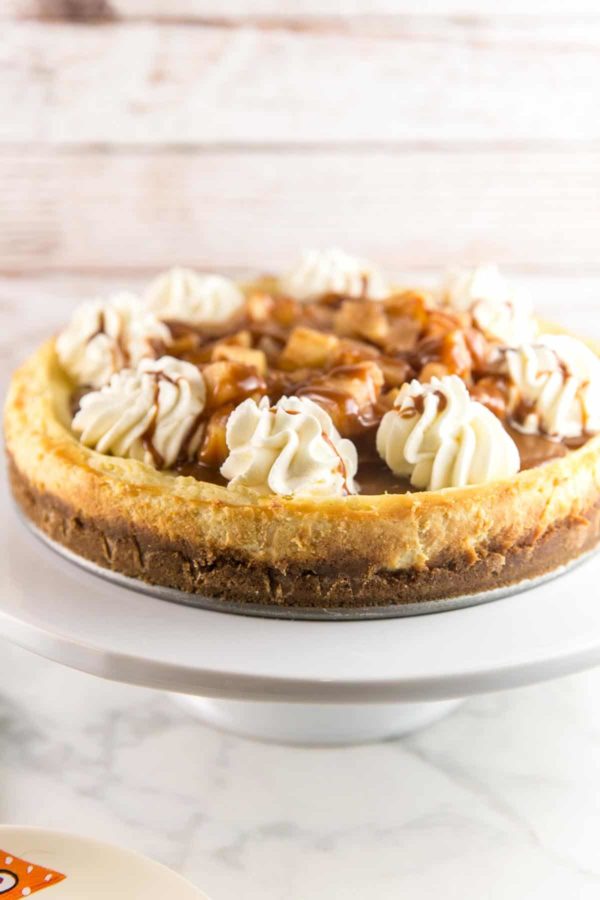 Magic of Cheesecakes
In order to prevent cheesecakes from cracking, we need to understand why cheesecakes crack in the first place. And in order to do this, we have to talk about how cheesecakes set. This means it's time for my favorite subject… kitchen chemistry!
Kitchen Chemistry

When we (slowly!) heat a cheesecake, the proteins in the eggs begin to lose their shape, unfolding in a process called denaturation. As the proteins expand, new bonds form with other nearby proteins. These proteins begin to clump together, or coagulate. When we bake a cheesecake, the egg proteins denature, exposing additional surface area. Sugar molecules are able to interact with the denatured egg proteins, and these larger molecules begin to coagulate together to form a solid structure. With enough time and heat, the liquid ingredients combine to form a solid cheesecake.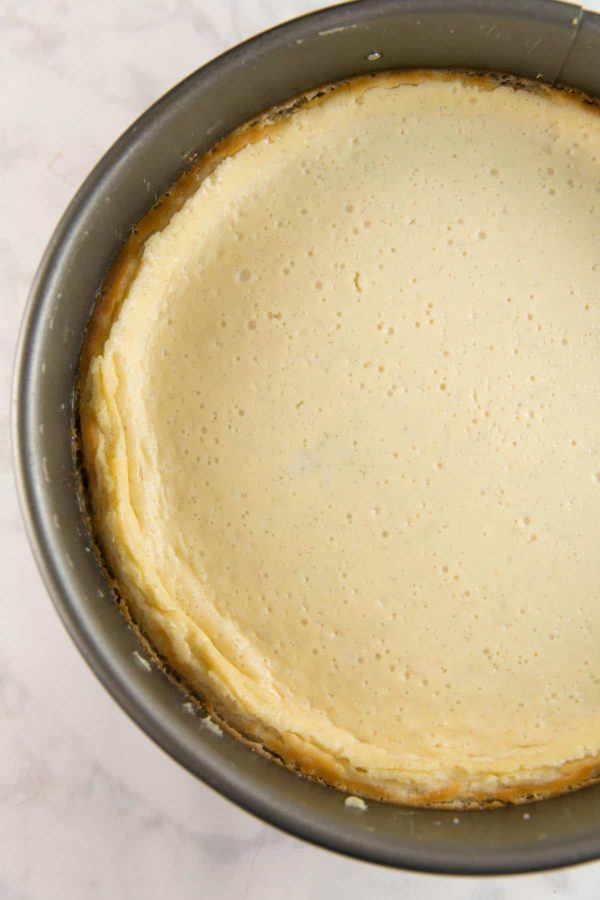 Caramel Apple Cheesecake Components
Now that we learned a little about how a cheesecake works, let's talk about this specific cheesecake: a caramel apple cheesecake!
Caramel and apple are (obviously) a perfect flavor combination, and work year-round, but are especially great in fall and winter when most other fruits are not easily available. I've made this caramel apple cheesecake as a dessert for Thanksgiving, but it's perfect all fall long – or for any other fall or winter celebration!
(And did I mention that it's really easy? A perfect last-minute dessert? And it can be made ahead of time?!)
We have five components for this caramel apple cheesecake: a graham cracker crust, a vanilla-based cheesecake, a homemade apple pie topping, whipped cream, and super easy homemade salted caramel sauce.
We'll start with the graham cracker crust. Crushed graham crackers, sugar, cinnamon, and butter. Press along the bottom and partway up the sides of a springform pan. Par-bake the crust for a bit, then let it cool. Easy peasy.
Next, the star of the show: the cheesecake layer. I make mine in a food processor since I already pull it out to crush the graham cracker crumbs, but you can use a stand or a hand mixer as well. As long as your ingredients are at room temperature, they will mix together easily. Combine ingredients, mix, pour into the crust, and bake. (See below for all my best cheesecake-baking tips!)
While the cheesecake bakes, make the apple pie topping. You can really use any apple you like here; add a little sugar if it's too tart. Since we're cooking this on the stovetop, you can stop when the apples get soft without the risk of overcooking them. I like to use baking-specific apples for this, like Braeburn, Honeycrisp, Granny Smith, or Golden Delicious. Can you stir a few ingredients for 5 minutes? Because that's all this apple topping requires.
While the apple pie topping cools, break out your mixer (or my favorite trick: an immersion blender with a whisk) to make some whipped cream. Or you know, cheat and use a can of Reddi-Whip. I'm pretty sure no one will notice with everything else going into this!
Lastly, the homemade salted caramel. Sounds fancy and complicated, right? Wrong! It only requires 4 ingredients and 10 minutes. The only trick is using it while it's still warm and pourable. Don't worry if it solidifies or if you want to use the extra to drizzle on a cut slice; just pop it back on the stove and stir while it heats. It will be back to a pourable consistency in no time at all!
When it's time to assemble the caramel apple cheesecake, remove the sides from the springform pan. Pipe the whipped cream around the outside and pile on the apple topping. Drizzle the salted caramel all across the top. And then… dig in!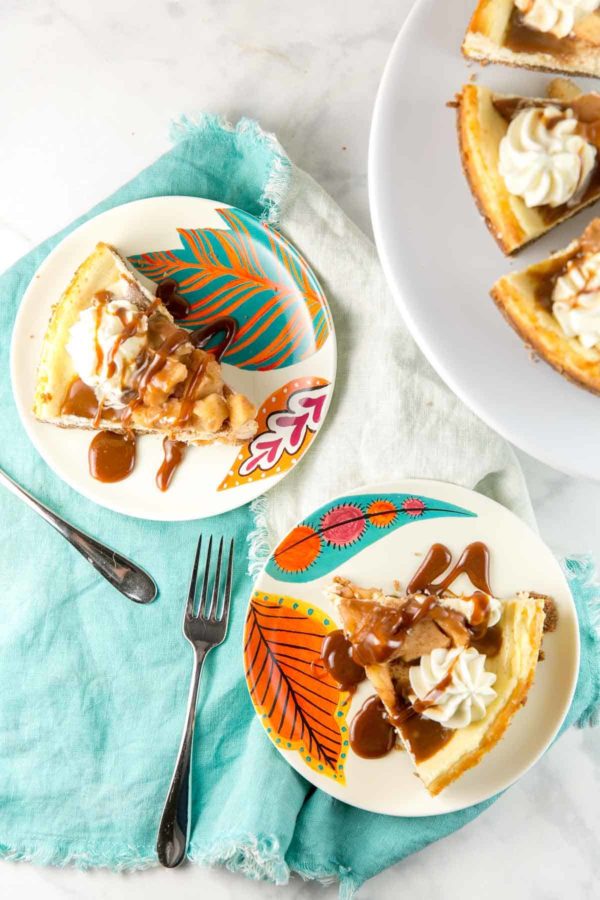 Easy Make Ahead Dessert
Don't let the number of steps or layers fool you; this caramel apple cheesecake actually comes together pretty quickly. You can make the cheesecake ahead of time and refrigerate (or freeze!) it. If frozen, thaw the night before you plan to serve it.
The caramel apple cheesecake can be stored in the refrigerator for up to 4 days. If frozen, wrap in aluminum foil for up to 3 months.
Make the apple filling a day or two before, too! The only things I generally make day of are the whipped cream and the caramel, and this only takes 15 minutes: 5 for the whipped cream and 10 for the salted caramel.
Assemble, serve, and enjoy a big slice.
Recommended Tools to Make Caramel Apple Cheesecake
Tips and Tricks for a Perfect Caramel Apple Cheesecake
Use room temperature ingredients. Cold cream cheese and eggs are harder to mix smoothly. To try to get a smooth batter, you'll probably overbeat the ingredients, adding in excess air. Make sure to set out all your ingredients ahead of time to bring them to room temperature first!
Avoid excess overmixing. Even if your ingredients are room temperature, you can still mix too much! Do you sometimes turn on your mixer and stop to wash some dishes or do something else and get distracted? (Just me?) Over-beating the batter adds too much air, which causes the cheesecake to puff up while baking and skin while cooling, leading to cracks.
Grease the sides of the pan. If the crust stops halfway up the sides of the pan, grease the sides above the crust. A cheesecake shrinks a little as it cools; you want it to pull away from the edges and shrink inward, not stick to the sides.
Cool the cheesecake slowly. One easy way to do this is to turn off the oven, leave the door open partway, and let it cool. Alternatively, take the cheesecake out of the oven and let it cool inside a closed microwave or invert a large bowl overtop the cheesecake.
Chill overnight before serving. I know, I know. You want that cheesecake and you want it now! But by letting the cheesecake cool to room temperature and then refrigerating overnight, the cheesecake really has a chance to set.
More Cheesecake Recipes:
Caramel Apple Cheesecake
Cook Time:
1 hour
10 minutes
Total Time:
5 hours
40 minutes
With a perfectly smooth cheesecake and a caramel apple topping, this caramel apple cheesecake is the perfect make-ahead entertaining dessert!
Ingredients
For the Crust:
1 1/2 cups (213 grams) graham cracker crumbs (approximately 14 full size sheets, finely crushed)
1/3 cup (66 grams) granulated sugar
6 tablespoons (85 grams) unsalted butter, melted
1/2 teaspoon cinnamon
For the Cheesecake:
32 ounces (908 grams) cream cheese, room temperature
1 cup (198 grams) granulated sugar
2/3 cup (151 grams) sour cream, room temperature
2 teaspoons vanilla extract
1/4 teaspoon salt
4 large eggs, room temperature
For the Apple Topping:
4 medium apples, peeled, cored, and chopped
1 teaspoon cinnamon
1/4 cup sugar
For the Salted Caramel:
1/2 cup (114 grams) water
1 1/4 cups (248 grams) granulated sugar
1 rounded teaspoon kosher salt
1 cup (227 grams) heavy cream
For the Whipped Cream!
1/2 cup (113 grams) heavy cream
2 tablespoons sugar
1/2 teaspoon vanilla extract
Instructions
Make the crust. Preheat the oven to 350 °F. Combine all crust ingredients together in a small bowl. Press the crumbs along the bottom and extend partway up the sides of a 9-inch springform pan, compacting the crumbs as much as possible. Bake for 10 minutes, then remove from the oven. Reduce the heat to 325 °F.
Make the cheesecake. Using an electric mixer with the whisk attachment, beat the cream cheese and sugar until creamy and well combined, for 2 to 3 minutes. Mix in the sour crea and salt, stirring until well combined. Add the eggs, one at a time, mixing just until combined after each addition. Do not over-mix the cheesecake - this makes it more likely to crack.
Prepare the springform pan. Wrap the springform pan in 3 layers of aluminum foil, or create a pan-in-pan water bath by placing the 9-inch springform pan inside a 10-inch cake pan (both pans together will be placed inside the water bath). Pour the cheesecake batter into the graham cracker crust.
Bake the cheesecake. Place the springform pan inside a larger roasting pan and pour in hot water until the water level comes approximately halfway up the sides of the springform pan (or the outer cake pan). Bake at 325 °F for 70 to 80 minutes, or until the edges have set but a 3 to 4-inch diameter circle in the center of the cheesecake still jiggles and the center of the cheesecake reaches 150 °F. Turn off the oven and open the door slightly; cool in the warm oven for 30 minutes. After 30 minutes, remove the cheesecake from the oven and let it sit at room temperature for 1 hour before placing it in the refrigerator to chill for at least 4 hours, preferably overnight.
Make the apple topping. While the cheesecake chills, make the apple topping. Combine all the ingredients in a small saucepan set over medium heat. Stir together and cook for 5 to 10 minutes, or until the apples are softened. Set aside to cool.
Make the salted caramel. Follow the recipe for this easy homemade salted caramel sauce.
Make the whipped cream. Using a hand mixer, stand mixer, or immersion blender with a whisk attachment, whisk together the heavy cream, sugar, and vanilla extract until medium-stiff peaks form. Refrigerate until ready to use.
Assemble the cheesecake. Once the cheesecake and apple topping are chilled, assemble the cheesecake. Remove the cheesecake from the springform pan. Pipe or dollop the whipped cream along the outer edge of the cheesecake. Spoon the apple filling into the center. Drizzle the caramel sauce over the entire cheesecake (you will not use the whole batch of caramel sauce). If the caramel sauce has thickened too much while cooking, warm it slightly on the stovetop while stirring.
Notes
Cheesecake components can be made ahead of time.
Cheesecake layer can be stored in the refrigerator for up to 4 days or wrapped in plastic wrap and aluminum foil and stored in the freezer for up to 3 months. Thaw overnight in the refrigerator.
Apple topping can be made up to 3 days in advance and stored in the refrigerator.
Salted caramel can be made up to two weeks in advance; gently reheat on the stovetop to return to a pourable consistency.
Cheesecake should be assembled the same day or the night before serving.
The fully assembled cheesecake can be stored in the refrigerator for up to 4 days or frozen for up to 3 months.
Recommended Products
As an Amazon Associate and member of other affiliate programs, I earn from qualifying purchases.
Nutrition Information:
Yield:

14
Serving Size:

1 slice
Amount Per Serving:
Calories:

445
Total Fat:

27.8g
Carbohydrates:

46.3g
Protein:

4.62g