October 21, 2022
Sweet Potato Cheesecake
With a gingersnap crust and classic warming fall spices, Sweet Potato Cheesecake is deliciously light and fluffy and full of freshly-roasted sweet potatoes. This will be your new favorite dessert for fall gatherings and celebrations!
Any long-time readers (or anyone who follows me on Instagram) know that, despite doing a year-long series on cheesecakes, I actually… don't like cheesecake.
I know, I know.
But. BUT! After making this cheesecake – this sweet potato cheesecake – I might have to rethink my stance.
This cheesecake contains more than a pound of roasted sweet potatoes, pureed and mixed right into the cheesecake. The end result is a light, whipped, almost mousse-like texture – it's like eating a cloud. A cloud spiced with cinnamon and nutmeg and ginger and cardamom. A delicious, delicious cloud.
Yes, you could make a pumpkin cheesecake. But canned pumpkin isn't always available. And also, it's a little overdone (even though I still love pumpkin). A sweet potato cheesecake is a little different, with easier-to-find ingredients, and equally perfect for fall.
Thanksgiving? Friendsgiving Halloween? Just because it's fall and you want a cheesecake? Perfect for all of the above!
Gingersnap Crust
In my mind, at least, no cookie says fall more than gingersnaps. Even more specifically, I'm going to say that no cookie says fall more than spiced wafers in the classic black and orange box. I've recently learned that this is really just a Philly-area thing, though, so for everywhere else, gingersnaps are the way to go!
(If you're curious about what spiced wafers – made by either Sweetzels or Ivins which – spoiler alert – are actually made by the same company although the recipe differs slightly – actually are, they're like a spicier, more molasses-y, even crunchier gingersnap.)
Gingersnaps are sold in most major supermarkets, but what if you can't find them? Don't worry – you can mimic the flavor by adding fall spices to a graham cracker crust! Follow my recipe for a perfect graham cracker crust, adding 1 teaspoon ginger, 1/2 teaspoon cinnamon, and 1/2 teaspoon ground cloves.
Roasted Sweet Potato Puree
While the crust is important and adds a warm, spicy flavor, the star of this cheesecake is, of course, sweet potatoes!
And if you think sweet potatoes are strange for dessert, think again — after all, isn't sweet potato casserole just a dessert hidden in side dish form?!
We need to cook the sweet potatoes before we can puree them and mix them in with the rest of the cheesecake filling. There are several ways you can technically do this, although only one way that I recommend.
If you were really short on time, you could peel the sweet potatoes, cut them into chunks, and boil them until soft. Or you could microwave the sweet potato or steam it.
But! If you want the best sweet potato flavor and the most delicious sweet potato cheesecake, take the time to roast the sweet potato, low and slow in the oven. Why does this make a difference? The answer, of course, is all in my favorite subject… kitchen chemistry!
Kitchen Chemistry

Sweet potatoes contain an enzyme called amylase which breaks down starches into maltose, a sugar molecule. Like all enzymes, amylose has an optimum temperature for activity. For amylose, this is 135-170 °F. The longer the sweet potato retains this temperature, the more starch is converted to sugar and the sweeter a sweet potato tastes.
Boiling, steaming, or microwaving a sweet potato takes less time – but also results in less starch conversion to sugar. To maximize the time at the ideal temperature, roast your sweet potato in the oven. Put the sweet potato in a cold oven and set the heat to 350 °F. Roast until the sweet potato is soft and can easily be pierced with a fork, 1.5 to 2 hours.
To save time the day you make the cheesecake, you can also roast your sweet potatoes ahead of time! Bake the sweet potato a day or two before, remove the flesh from the skin, and store it in the refrigerator.
Creamy Sweet Potato Cheesecake Filling
Once your sweet potatoes are roasted and cooled, scrape the flesh out from the skin. Place this flesh in a food processor or use an immersion blender to puree the sweet potatoes into a completely smooth consistency. We'll need two cups of pureed sweet potatoes, which means starting with around 2 pounds of skin-on raw sweet potatoes.
Making the cheesecake is the same process as all the other cheesecakes on my site. Using a mixer, beat together the ingredients in the indicated order until combined, being sure not to overmix (which leads to cracks!).
We want to use a water bath to keep this cheesecake extra creamy. You can either wrap a springform pan several times with foil or use my favorite technique – a pan-in-pan water bath. Place your 9-inch springform pan inside a 10-inch round cake pan. Then place both of these pans together inside a larger pan, like a roasting pan, and add water to the outermost pan.
Salted Caramel Topping
This sweet potato cheesecake is delicious on its own! But of course, I always like to add a little something extra – both for visual interest and for a little extra flavor!
I opted to top this cheesecake with some whipped cream swirls, a drizzle of homemade salted caramel sauce, and a whole pecan.
(Pro tip: if your salted caramel is a little too thick to drizzle easily, microwave it for 15-20 seconds!)
Covering the whole top with a layer of whipped cream, more salted caramel sauce, drizzles of chocolate, or caramel sauce mixed with chopped pecans would all be delicious!
Tips and Tricks for the Best Sweet Potato Cheesecake
Roast your sweet potatoes! Boiling, steaming, or microwaving may save time but will sacrifice flavor.
Make sure all ingredients are at room temperature before adding. Bring the cream cheese, sour cream, and eggs up to room temperature, and make sure the pureed sweet potato cools down.
If you can't find gingersnap cookies or spiced wafers, make a graham cracker crust and add in 1 teaspoon ginger, 1/2 teaspoon cinnamon, and 1/2 teaspoon ground cloves.
If desired, top the cheesecake with whipped cream and salted caramel (highly recommended!). To drizzle thick salted caramel, microwave the sauce for 15-20 seconds and stir well, until the consistency is thinned and pourable.
More Fall Favorite Desserts:
2022 Cheesecake of the Month Series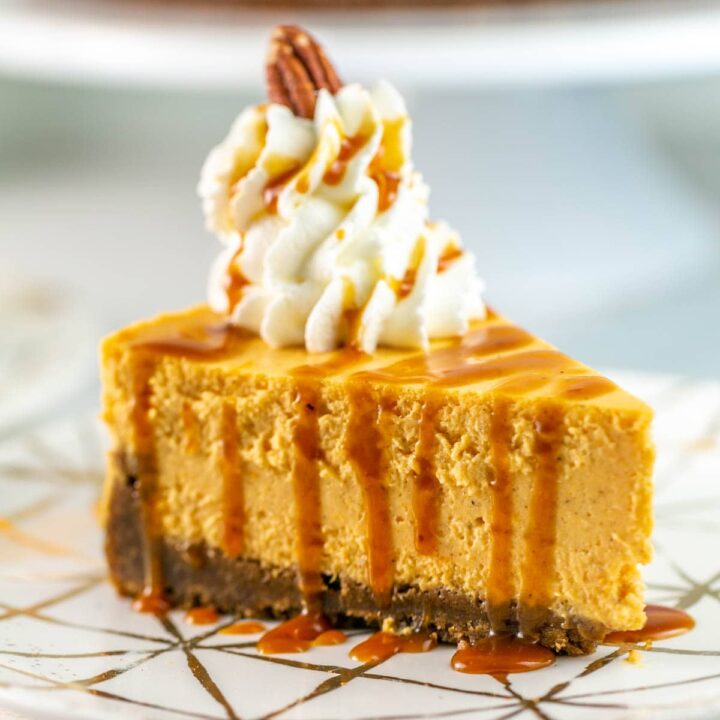 Sweet Potato Cheesecake
Cook Time:
1 hour
15 minutes
Total Time:
9 hours
15 minutes
With a gingersnap crust and classic warming fall spices, Sweet Potato Cheesecake is deliciously light and fluffy and full of freshly-roasted sweet potatoes.
Ingredients
For the Crust:
2 1/4 cups (312 grams) crushed gingersnap cookies
6 tablespoons (85 grams) unsalted butter
For the Cheesecake:
approx. 2 pounds (907 grams) sweet potatoes
24 ounces (681 grams) cream cheese, room temperature
1/2 cup (99 grams) granulated sugar
1/2 cup (106 grams) brown sugar
2/3 cup (151 grams) sour cream
2 teaspoons vanilla extract
1 teaspoon cinnamon
1/2 teaspoon ginger
1/2 teaspoon nutmeg
1/4 teaspoon salt
3 large eggs, room temperature
For Decorating:
Instructions
Roast the sweet potatoes. Use a fork or a knife to puncture several deep slits in the sweet potatoes. Place on a baking sheet and set on the middle rack of a cold oven. Set the temperature to 350 °F and roast the sweet potatoes until fork-tender, 90 to 120 minutes. Once soft, remove the sweet potatoes from the oven, slice them open, and scoop the flesh from inside the skin. Using a food processor or blender, puree the sweet potato flesh until completely smooth. Set aside to cool (this step can be done up to two days in advance; refrigerate the sweet potato puree once cooled.)
Make the gingersnap crust. Combine the finely-crushed gingersnap crumbs and melted butter until thoroughly mixed. Press this mixture into a 9-inch springform pan across the bottom and extending 1 to 2-inches up the sides. Bake at 350 °F for 12 minutes, then set aside to cool. Reduce the oven temperature to 325 °F.
Make the cheesecake. Using an electric mixer with the paddle attachment, beat together the cream cheese and both sugars until creamy and well combined, 2 to 3 minutes. Mix in the sour cream, 2 cups (565 grams) of mashed sweet potatoes, vanilla extract, cinnamon, ginger, nutmeg, and salt, stirring until well combined. Crack the four eggs into a small bowl and mix with a fork to break up the yolks. Slowly pour roughly a quarter of the eggs into the cream cheese mixture, mix to combine, and repeat until all egg has been added, scraping down the sides and along the bottom of the bowl. Do not over-mix the cheesecake - this makes it more likely to crack.
Prepare the springform pan. Wrap the springform pan in 3 layers of aluminum foil, or create a pan-in-pan water bath by placing the 9-inch springform pan inside a 10-inch cake pan (both pans together will be placed inside the water bath). Pour the cheesecake batter into the gingersnap cookie crust.
Bake the cheesecake. Place the springform pan or larger 10-inch cake pan inside a larger roasting pan and add hot water until the water level comes approximately halfway up the sides of the springform pan (or the outer cake pan). Bake at 325 °F for 75 minutes, or until the edges have set but a 3 to 4-inch diameter circle in the center of the cheesecake still jiggles. Turn off the oven and open the door slightly; cool in the warm oven for 30 minutes. After 30 minutes, remove the cheesecake from the oven and let it sit at room temperature for 1 hour before placing it in the refrigerator to chill for at least 4 hours, preferably overnight before unmolding from the springform pan.
Decorate the cheesecake. If desired, top slices of the cheesecake with whipped cream and salted caramel sauce.
Notes
If you can't find gingersnap cookies, use this graham cracker crust recipe and add in 1 teaspoon ginger, 1/2 teaspoon cinnamon, and 1/2 teaspoon ground cloves.
If the salted caramel is too thick to drizzle, microwave the sauce for 15-20 seconds before drizzling it over the cheesecake.
The sweet potatoes can be roasted, pureed, and refrigerated for up to two days before making the cheesecake. Allow the sweet potatoes to come to room temperature before adding them to the cheesecake batter.
Sweet potato cheesecake can be stored in the refrigerator for up to 5 days or frozen for up to 3 months.
Recommended Products
As an Amazon Associate and member of other affiliate programs, I earn from qualifying purchases.