September 6, 2018
Chocolate Banana Cheesecake
Why decide between chocolate or banana cream cheesecake when you can have both? Rich, creamy layered Chocolate Banana Cheesecake, with all the tips you need for a perfect cheesecake every time!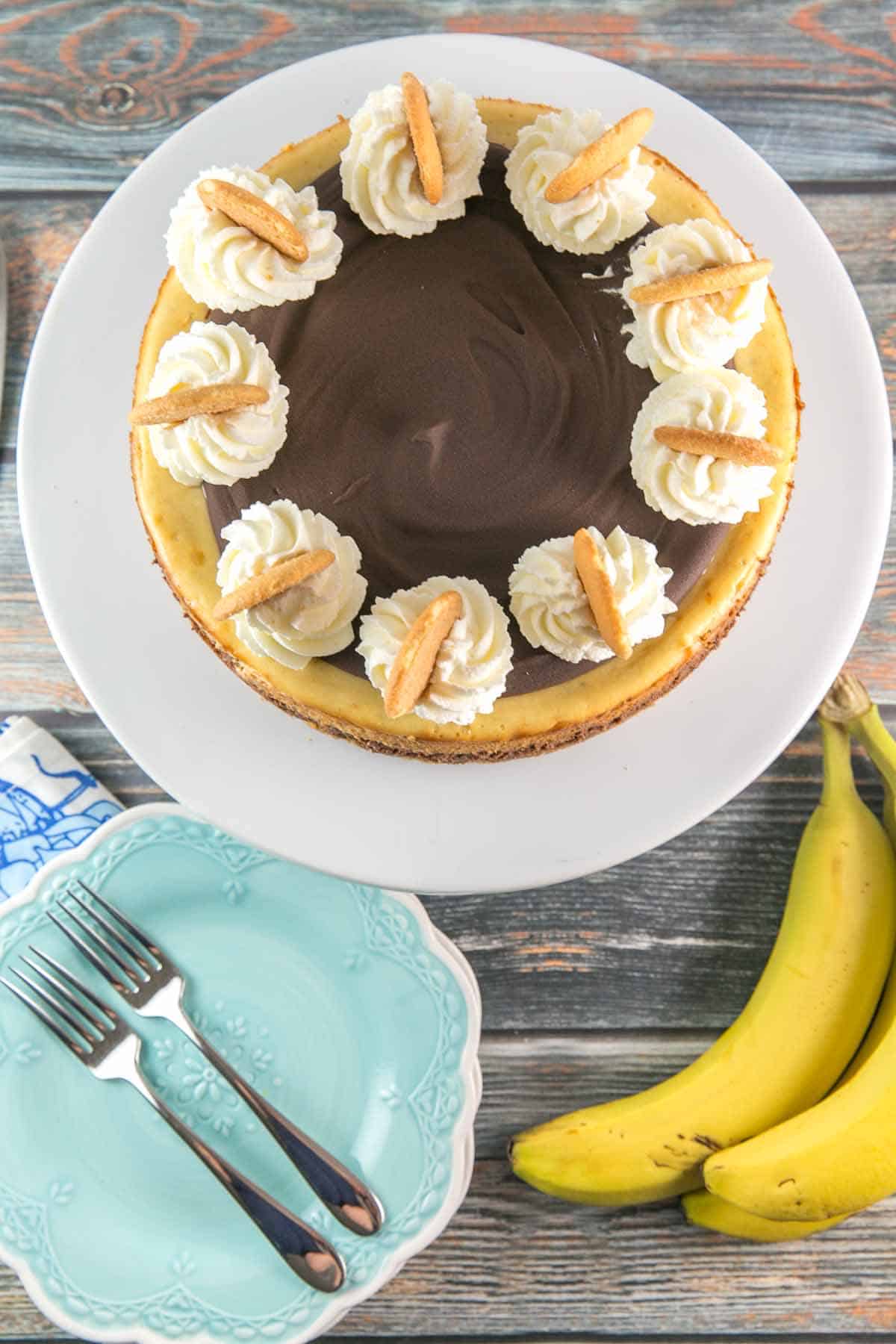 Every year, I make a cheesecake for my husband for his birthday. I always joke that I don't know if it's because he really likes cheesecake all that much, or if it's because he knows I don't like cheesecake at all, so he gets an entire cheesecake to himself.
Either way, it means I have an annual opportunity to work on my cheesecake skills and try new flavors.
This year, he poured over cheesecake flavors offered at various bakeries and settled on a chocolate banana cheesecake. (He normally requests this dark chocolate cheesecake, so this wasn't too big of a deviation from the norm.)
Because banana can be a fairly muted flavor sometimes in desserts, and I know how much my husband loves chocolate, I did this as a layered cheesecake: a layer of chocolate cheesecake, topped with a layer of banana cheesecake, topped with chocolate ganache.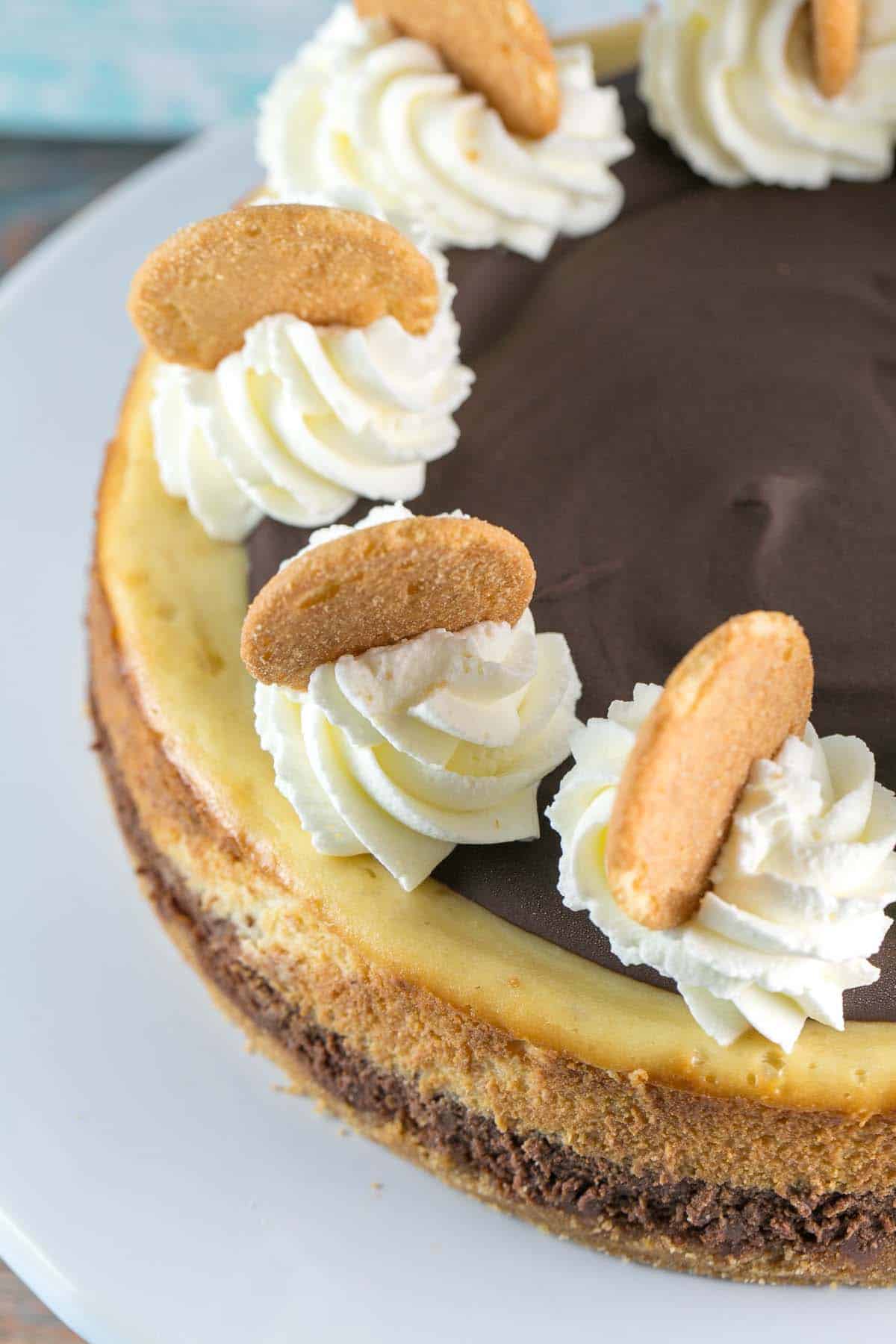 Cheesecake: With or Without Starch?
Before we get further into this particular chocolate banana cheesecake, let's talk about the types of cheesecake for a minute. There are two general styles for cheesecake: those with an added starch, and those without. Time for my favorite subject… some kitchen chemistry!
Kitchen Chemistry

A cheesecake made without starch contains sugar, eggs, and cream cheese for the base, which results in a super smooth, silky, and light texture. This type of cheesecake relies on the eggs to set and hold the structure. As the cheesecake is (gently!) heated, the egg proteins denature and link together, forming a solid. Cooked too quickly, however, the proteins will tighten and curdle, forming clumps.

When you add a starch, like cornstarch or flour, the resulting cheesecake is denser and heavier. As the cheesecake heats, the starch molecules begin to absorb the liquid and swell, a process known as gelatinization. Cheesecakes made with starch can be cooked at a slightly higher temperature because the gelatinization occurs before the eggs will curdle.
In this particular chocolate banana cheesecake, we have a layer of each! The banana layer contains no starch, while the chocolate layer includes some cocoa powder for a rich chocolate flavor. Because of the different textures, the banana layer feels extra creamy – kind of like a banana cream cheesecake, without having to add extra cream!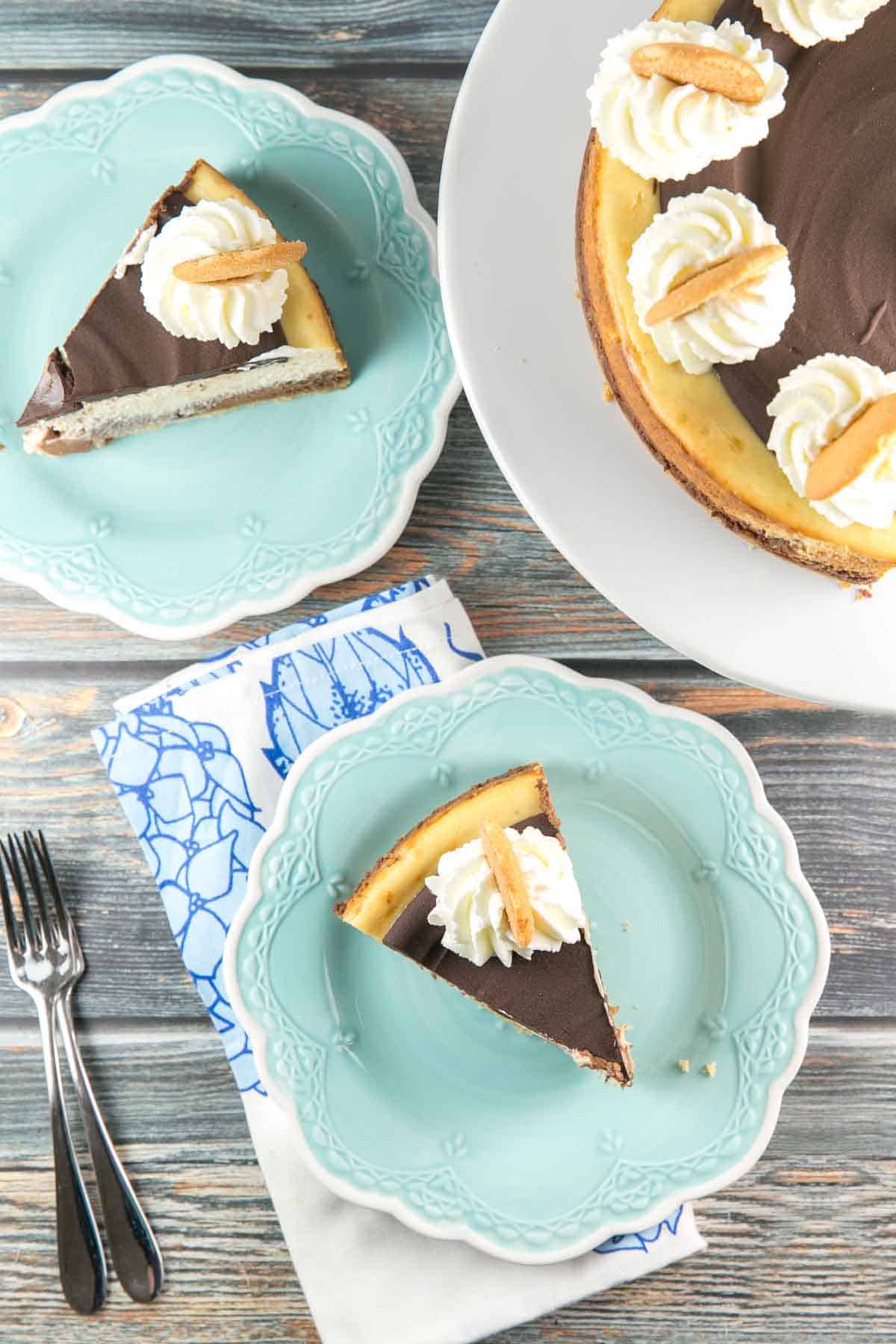 How to Prevent a Cheesecake from Cracking
The good news for this cheesecake is: it doesn't really matter! In the end, we'll cover this one with a layer of ganache on top, so a super smooth top doesn't really matter.
But what if you want to make this without the ganache topping? The number one reason cheesecakes crack is because they're overcooked. The cheesecake continues to cook and set as it cools, so waiting until the cheesecake jiggles just a little before removing it from the oven means it's cooked too long.
You want to pull it out when it still jiggles a lot. You're still looking for a 3-4 inch diameter ring in the center which is really wobbly – this is probably bigger than you think!
Or, take all the guesswork out and bake the cheesecake by temperature. Using an instant-read thermometer, turn off the oven when the cheesecake reaches 150 °F. No need to hem and haw over whether that wobbly spot is too big or too small. Science: it works!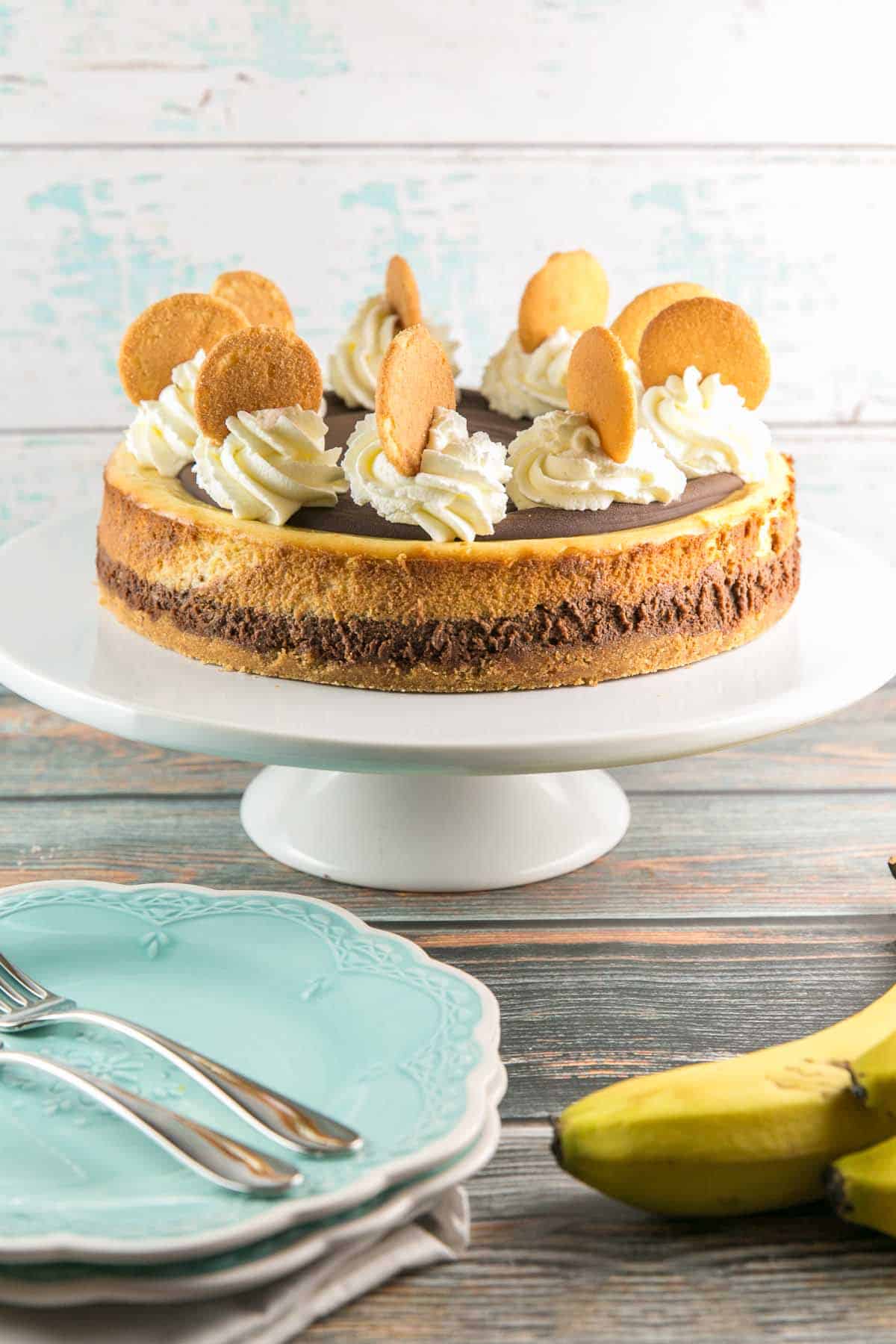 Chocolate + Banana Cheesecake Layers
As I mentioned above, I kept this as a layered cheesecake. A vanilla wafer cookie crust, a layer of chocolate cheesecake, and a layer of banana cheesecake.
Once cooled, top with some chocolate ganache, and then decorate with whipped cream and extra vanilla cookies.
Because banana doesn't tend to come out as a really strong flavor, I added some banana extract to the banana cheesecake layer. Don't worry, there are real bananas in here, too. The riper the bananas, the stronger the banana flavor, and you can even roast the bananas for a little extra flavor boost!
Since I am all about saving time, I used the same base – both layers of cheesecake start off the same. Then I removed half the batter and added the mashed bananas, mixing until just combined.
Scoop out this layer, add the other half into the mixer, and add the cocoa powder. Because you're going from banana (light colored) to chocolate (dark colored), you don't have to wash and dry the bowl in between.
But when you pour the layers, put the chocolate on the bottom. The chocolate layer has starch (cocoa powder!), so it will be a little denser and more firm as it cooks. We want the lighter and fluffier layer on top. (And yes, technically a banana has starch, but by the time it is fully ripe most of that starch has converted to sugar.)
Bake the cheesecake until an internal temperature of 150 °F, then turn off the oven, prop open the door, and let it cool in the oven for 30-45 minutes before removing to the counter. Let the cheesecake cool to room temperature, cover with chocolate ganache, and refrigerate overnight.
You may notice that unlike most of the other cheesecake recipes on my site, I don't use a water bath for this one. The cocoa powder (starch!) in the chocolate layer allows the bottom of the cheesecake to set at a higher temperature without worrying about eggs curdling – so we can skip it for this cheesecake.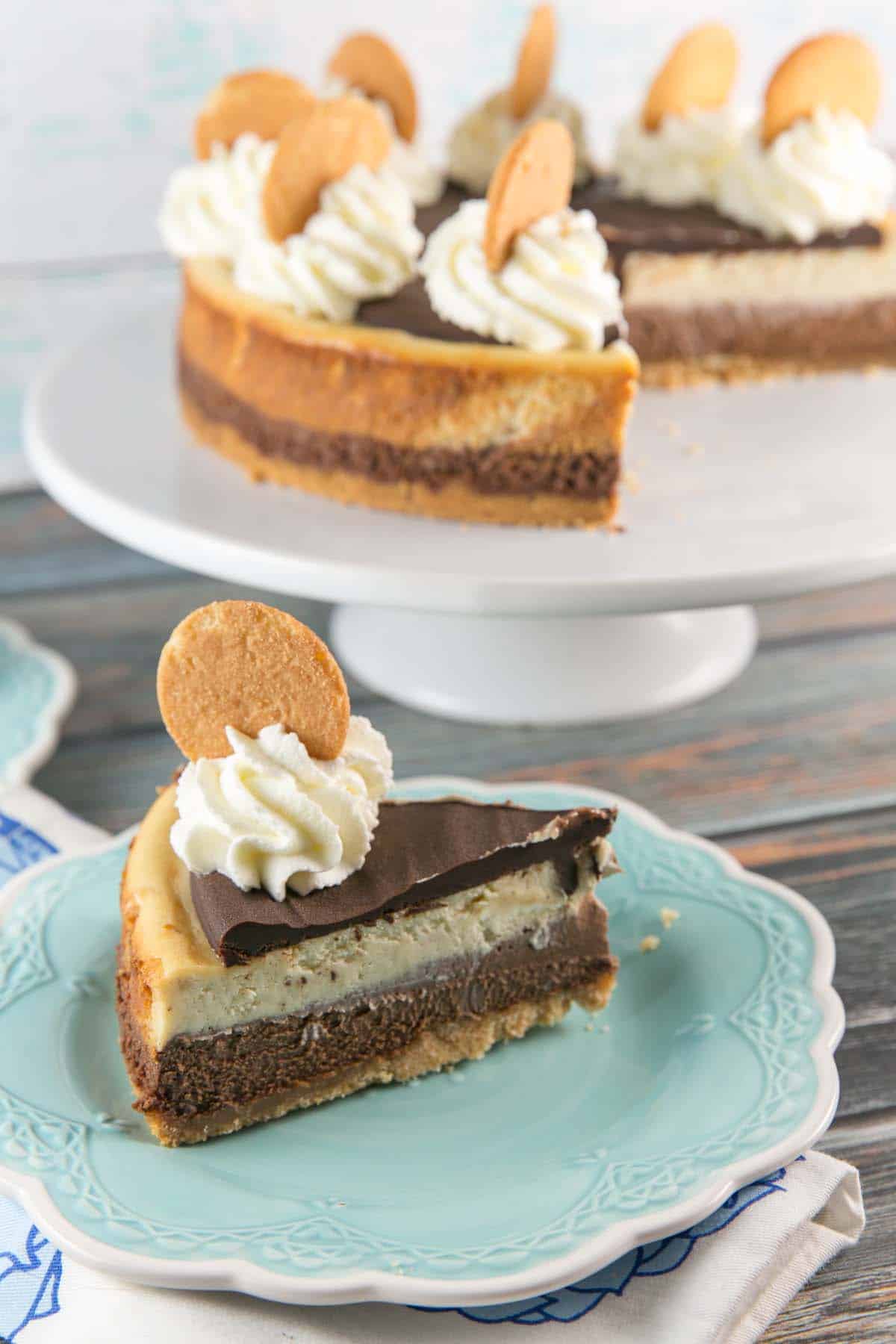 Recommended Tools to Make Chocolate Banana Cheesecake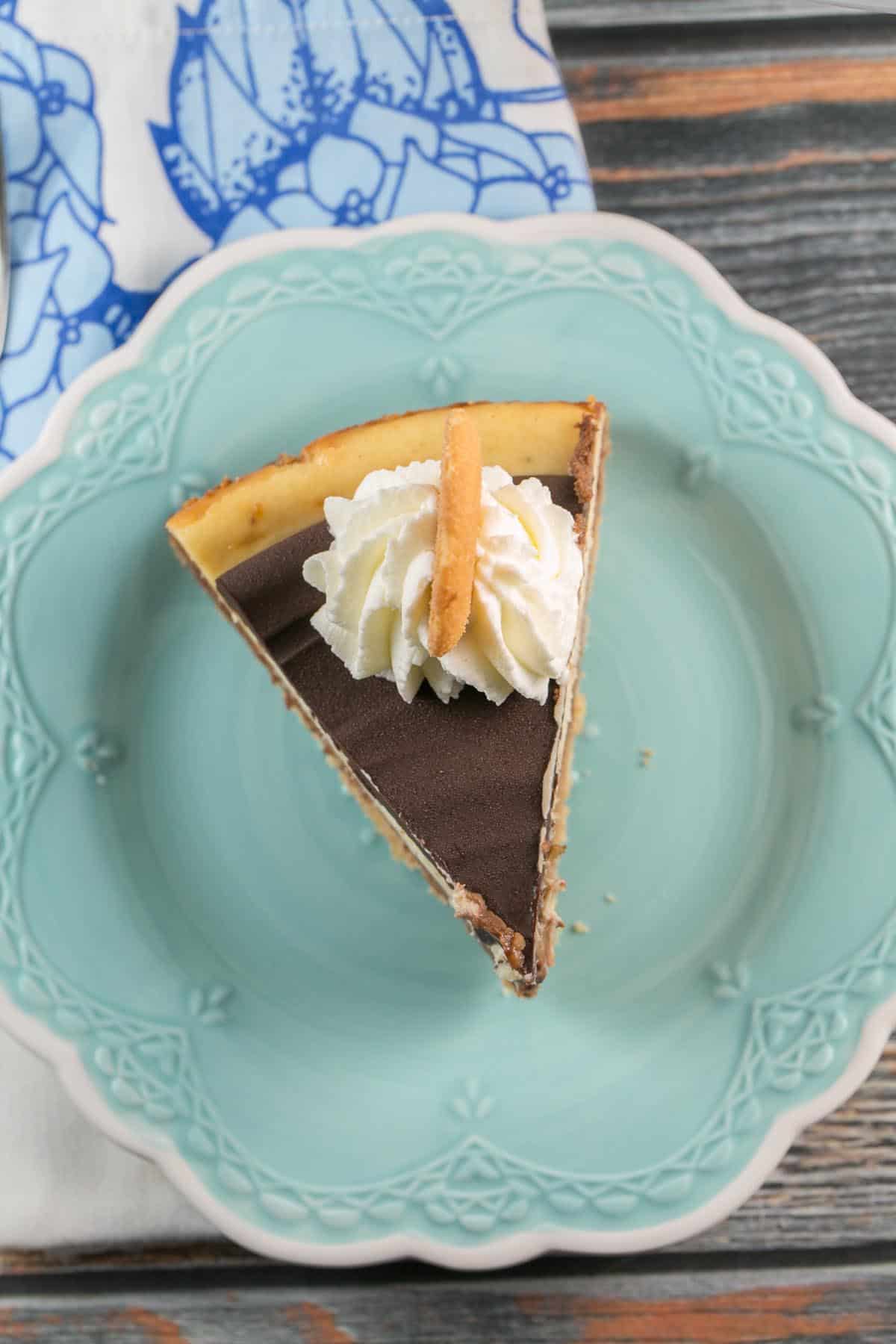 Tips and Tricks for the Best Cheesecake
Use room temperature ingredients. Cold cheesecake is harder to mix smoothly, which can result in lumps and overbeating.

Avoid excess overmixing.

Over-beating the batter adds too much air, which can cause the cheesecake to puff up while baking and sink while cooling, leading to cracks. Mix just until the batter is smooth and no lumps remain, and no longer.

Grease the sides of the pan.

If the crust stops halfway up the pan, grease the sides above the crust. A cheesecake shrinks a little as it cools; you want it to pull away from the edges and shrink inward. If it sticks to the side, cracks will form in the center as it shrinks.

Cool the cheesecake slowly.

One easy way to do this is to turn off the oven, leave the door open partway, and let it cool. Alternatively, take the cheesecake out of the oven and let it cool inside a closed microwave or invert a large bowl overtop the cheesecake, capturing the radiant heat.
Chill overnight before serving. Let the cheesecake cool to room temperature, then cover with saran wrap and refrigerate overnight. This really helps the cheesecake 'set' and gives you that perfectly cool, creamy texture!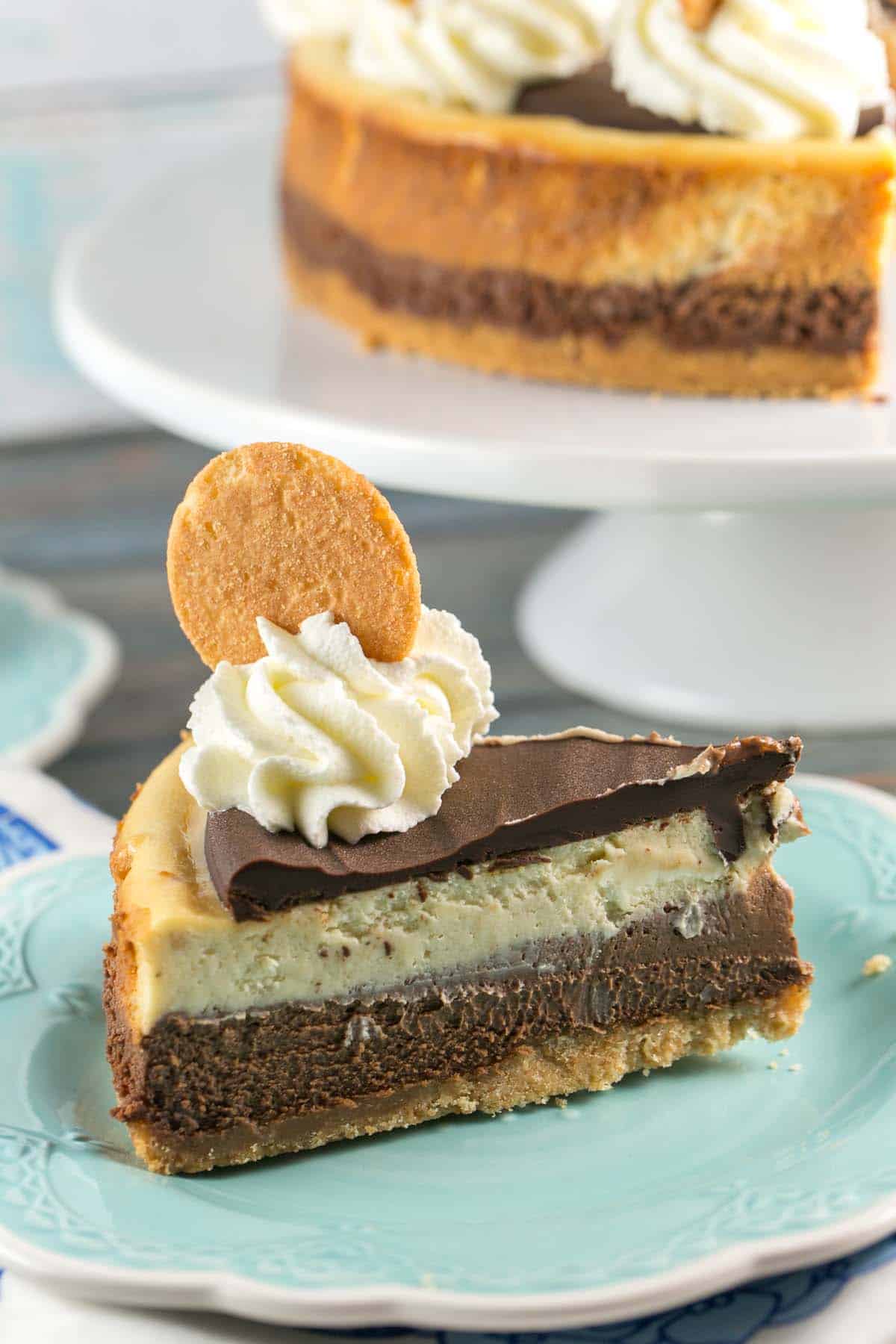 Other Chocolate Banana Dessert Recipes: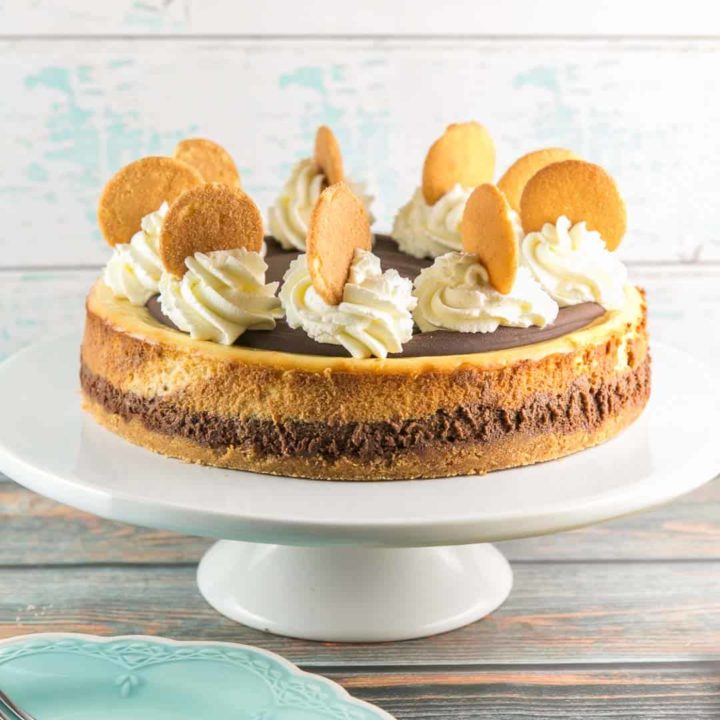 Chocolate Banana Cheesecake
Cook Time:
1 hour
30 minutes
Why decide between chocolate cheesecake and banana cream cheesecake when you can have both?!
Ingredients
For the Crust!
60 "Nilla" vanilla wafers
1/4 cup (50 grams) granulated sugar
1/3 cup unsalted butter (75 grams), melted
For the Cheesecake!
4 ounces (113 grams) bittersweet chocolate, chopped
4 (8-ounce) packages cream cheese (908 grams), room temperature
1 1/4 cups (250 grams) granulated sugar
4 eggs
1 cup (227 grams) mashed bananas (approximately 2 medium bananas)
3/4 teaspoon banana extract
1/8 (10.5 grams) cup unsweetened cocoa powder
For the Topping:
6 ounces (170 grams) bittersweet or semisweet chocolate, chopped
3/4 cup (170 grams) heavy cream
additional whipped cream and cookies, if desired
Instructions
Make the crust. Preheat oven to 350F. Butter a 9-inch springform pan. Chop cookies in a food processor or crush by hand until finely ground; stir in sugar and butter until well blended. Press crumbs evenly onto the bottom of the springform pan. Bake for 5 minutes, until just set. Allow crust to cool. Reduce oven temperature to 300 °F.
Make the chocolate and banana cheesecake layers. Set a metal bowl over a saucepan of simmering water. Add in the 4 ounces of chopped bittersweet chocolate; stir continuously until melted and smooth. Remove bowl from saucepan and cool chocolate until lukewarm but still liquid.
Using an electric mixer on low speed, combine cream cheese and sugar, beating until smooth. Mix in the eggs, one at a time, beating until just combined (do not overmix the batter).
Remove half the batter to a bowl. Add the mashed banana and banana extract to the remaining half of the batter, mixing briefly just until combined. Scoop this banana batter into a separate bowl and return the reserved unflavored batter to the mixer bowl. Add in the melted chocolate and cocoa powder, again beating just until combined.
Bake the cheesecake. Pour the chocolate batter into the prepared crust, followed by the banana batter. Smooth the top gently with a spatula. Bake at 300 °F for 1 hour and 30 minutes, or until the internal temperature reaches 150 °F. The center of the cheesecake will be quite jiggly.
Cool the cheesecake in the oven. Once the cheesecake reaches the appropriate temperature, turn off the oven, open the oven door a few inches, and allow the cheesecake to cool in the oven for 30 minutes before removing to the counter.
Make the ganache. To make the ganache topping, stir whipping cream and remaining 6 ounces of chocolate in a heavy saucepan over low heat until smooth. Cool sightly before pouring over the center of the cheesecake, spreading to within 1/2 inch of the edge.
Refrigerate the cheesecake. Chill overnight for the best texture. Top with additional whipped cream and cookies before serving, if desired.
Notes
Leftover cheesecake can be stored in the refrigerator for up to 5 days.
Cheesecake can be made ahead and frozen.  Once fully chilled, wrap the cheesecake (still in the pan) in a layer of plastic wrap, followed by a layer of aluminum foil.  Freeze for up to 3 months.  Thaw overnight in the refrigerator. 
Individual slices of cheesecake can be wrapped in plastic wrap and foil and frozen sitting flat on a cookie sheet, then transferred to a freezer bag once frozen solid.
Recommended Products
As an Amazon Associate and member of other affiliate programs, I earn from qualifying purchases.