June 28, 2011
Dark Chocolate Cheesecake
Rich, decadent, silky smooth dark chocolate cheesecake with a chocolate cookie crust, covered in rich chocolate ganache.  No water bath necessary!
It only seemed fitting that I start this new food blogging journey with a tribute to my mother.
While she did not teach me to cook or bake, and my recipe box is not full of family recipes, she did raise me in a home where preparing fresh, homemade food was the norm.
My mother cooked dinner most nights rather than eating out or bringing home takeout. My father made breakfast on weekends, instead of going out to brunch or eating a plain bowl of cereal.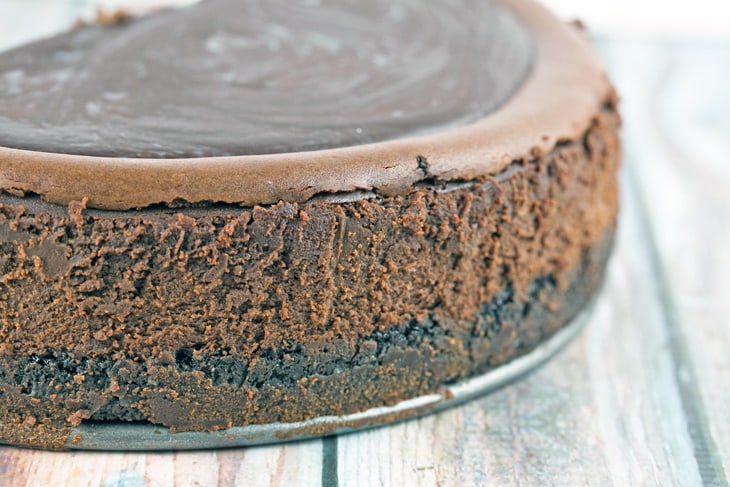 Birthdays and anniversaries were celebrated with a homemade cake, not a trip to the bakery. Holidays meant dinner parties, complete with my mother's china and my great-grandmother's silver.
In an age where most individuals seem to survive by picking up pre-made food, I certainly have my parents to thank for teaching me the benefits of making everything yourself.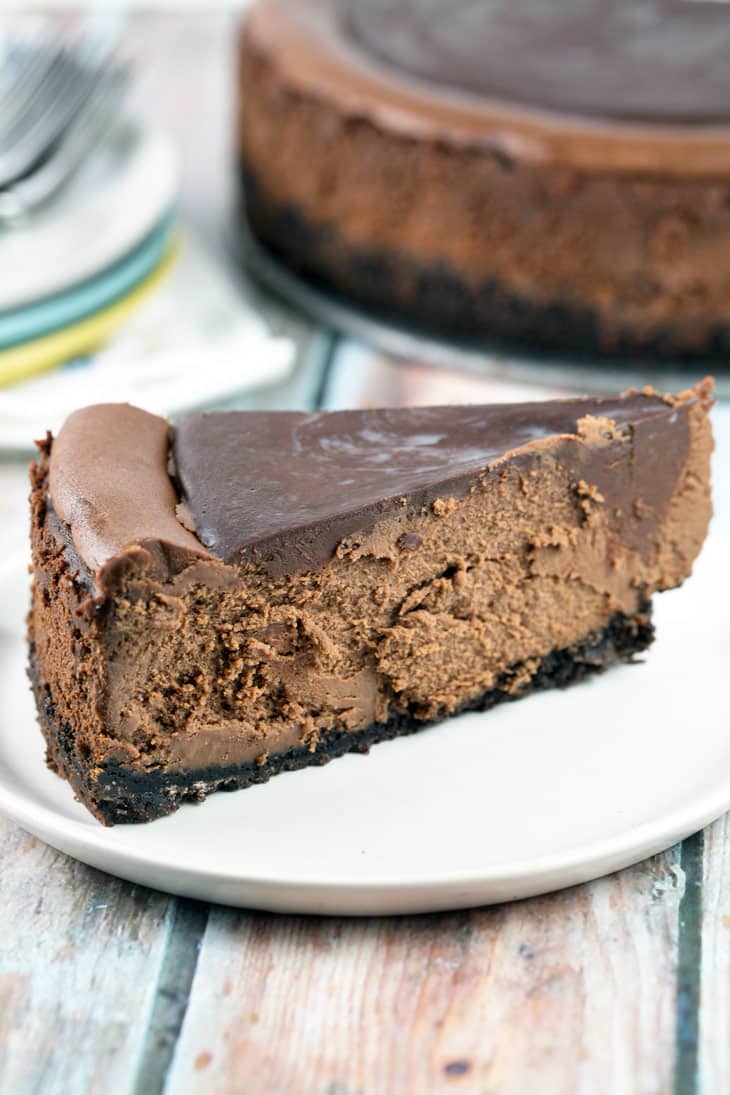 Yesterday, my parents came to visit for my 28th birthday. The small gathering was held at my mother-in-law's house and consisted mostly of my husband's family.
My mother brought a chocolate cheesecake to feed his family, which was met with rave reviews. I, however, dislike both chocolate and cheesecake.  Instead, I enjoyed a candle in a delicious almond crumble blueberry pie.
My husband deemed this recipe a winner, and since it does not require baking in a water bath like my normal cheesecake recipe, I will happily retire my recipe in favor of my mother's!
Love chocolate? Check out these other popular chocolate desserts!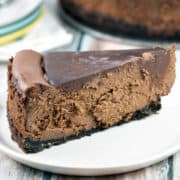 Dark Chocolate Cheesecake
Rich, decadent deep chocolate cheesecake covered in rich chocolate ganache.  No water bath necessary!
Ingredients:
24 chocolate wafer cookies
1 1/2 cups sugar, divided
1/4 cup butter, melted
15 ounces Ghiradelli 60% bittersweet chocolate chips, divided
4 (8-ounce) packages cream cheese, room temperature
1/4 cup unsweetened cocoa powder
4 eggs
3/4 cup heavy cream
Directions:
Preheat oven to 350F. Butter an 8-inch springform pan. Chop cookies in a food processor until finely ground; add in 1 tablespoon sugar and butter until well blended. Press crumbs evenly onto the bottom of the springform pan. Bake for 5 minutes, until just set. Allow crust to cool.
Roughly chop 9 ounces of chocolate chips. Stir in a metal bowl set over a saucepan of simmering water until melted and smooth. Remove bowl from water and cool chocolate until lukewarm but still liquid. Blend cream cheese, 1 1/4 cups plus two tablespoons sugar, and cocoa powder in a food processor or mixer until smooth. Blend in eggs. Mix in melted chocolate. Pour filling over crust. Bake until center is just set, about one hour. Cool for 5 minutes. Run knife around sides of cake to loosen. Chill overnight.
To make the ganache topping, stir whipping cream, remaining 6 ounces of chocolate chips, and sugar in a heavy saucepan over low heat until smooth. Cool sightly before pouring over the center of the cheesecake, spreading to within 1/2 inch of the edges and filling any cracks. Chill until topping is set, about one hour.