March 5, 2015
Chicken Tikka Masala (Crockpot or Stovetop)
Warm up from the cold with this easy, flavorful gluten free chicken tikka masala, adaptable for either the stovetop or crockpot. Don't forget to make a double batch and freeze the leftovers; stocking your freezer means delicious Indian food whenever the mood strikes!
Another week, another snowstorm. I love winter and I love snow, but this winter is starting to wear me thin with all the ice.
I'm tired of tiptoeing around my neighborhood, paranoid of wiping out in front of all the houses with unshoveled sidewalks.
[Soapbox rant: you live in a row home in the city – your sidewalk is a mere 8 feet long and has heavy pedestrian traffic – IT IS NOT THAT HARD TO SHOVEL 8 FEET OF SIDEWALK.]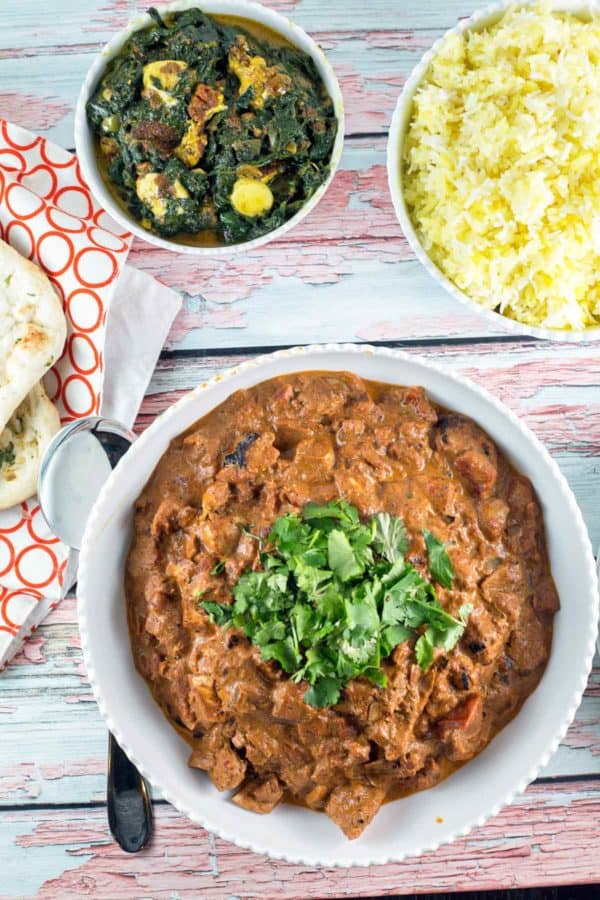 If you're also stuck at home today with the snow and have a well-stocked spice cabinet, you just may have everything you need to make this chicken tikka masala.
I really can't think of a better way to brighten up another snowy evening.
Indian food is one of my favorites to make at home, and I'll be back next week to share my favorite saag paneer recipe.
This chicken tikka masala is flavorful (but not too spicy) and comes together quickly on the stovetop or with minimal effort in the crockpot. Keep on reading; I'll share how to adapt it for either!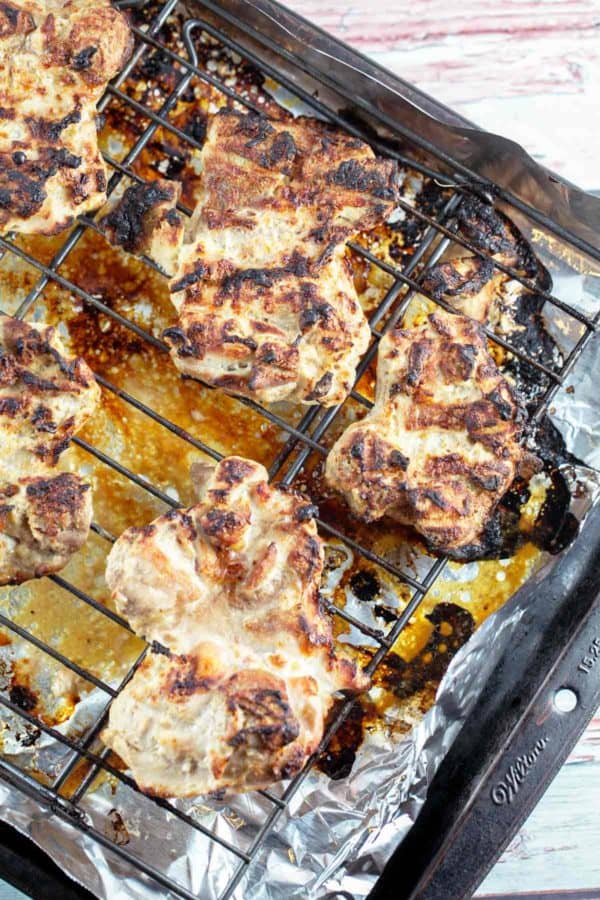 What is Chicken Tikka Masala?
I was fortunate enough to grow up with an "Indian"-food enjoying family, and live in a city with some delicious options (Ekta is my favorite, for Philadelphia-area readers!). But for those of you who didn't, maybe you're not familiar.
If you notice the quotes above around "Indian," it's because chicken tikka masala is really a British-Indian dish, which has become equally popular here in the states. This Americanized/British-ized version is, I'm sure, completely inauthentic to India, but it is most definitely delicious!
Chicken tikka masala consists of pieces of chicken, marinated in spices and yogurt. This is then baked in a tandoor oven and served in a masala sauce — masala, meaning spices. As far as what spices, well… there are as many options as there are Indian restaurants around the country! Common ingredients include tomatoes, cream or coconut milk, and classic Indian spices such as ginger or garam masala.
No tandoor oven? No problem (I certainly don't have one, either!) I've adapted this version for either broiling in your regular oven or prepping right in the slow cooker. Easy peasy — if you think homemade Indian food is complicated, think again!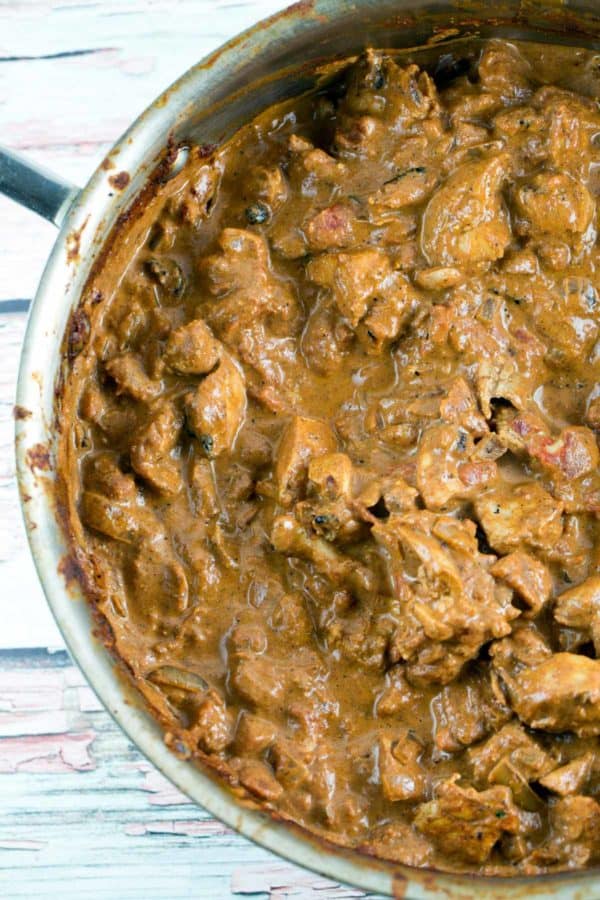 Stovetop Chicken Tikka Masala
To make chicken tikka masala in your oven and on the stovetop, start by marinating some boneless, skinless chicken thighs in yogurt, lemon juice, cumin, and coriander. (Yes, you can swap in chicken breasts if you prefer, but I find this is much more flavorful with thighs.) .I recommend a minimum marination time of 30 minutes, but it's even better if you let it sit all day.
Broil the chicken in the oven. To do this, I like to set the chicken on a cookie cooling rack, set overtop a cookie sheet lined with aluminum foil (for easy cleanup!). Broil until chicken is cooked through.
The flavorful sauce comes together in just one pot. Warm, spicy flavors without too much heat — onion, garlic, ginger, garam masala, smoked paprika. Simmer everything together until it starts to thicken; then add in the chicken and stir to combine.
Slow Cooker Chicken Tikka Masala
Want a more hands-off approach? Off to go play in the snow (or, sigh, go to work?) and want a delicious hot dinner waiting for you?
Start the chicken the same as for the stovetop version, marinating in the yogurt sauce. But instead of broiling, put the chicken right into your slow cooker or crockpot.
If you have time, I like to sautee the onions, garlic, and ginger on the stovetop for a few minutes, but if you're short on time, you can just add them raw into the slow cooker. Add the remaining ingredients on top, give a little stir, and let the slow cooker do its thing.
Once the chicken is cooked through, remove the top and simmer an additional 15-20 minutes to help thicken the sauce.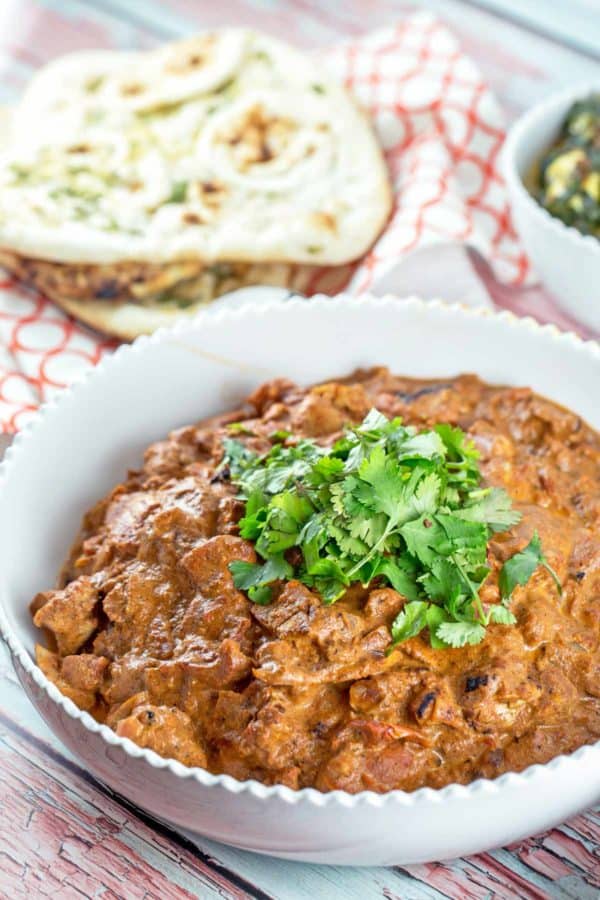 How to Serve Chicken Tikka Masala
I always like to serve chicken tikka masala over some basmatic rice to help soak up the delicious sauce — or perhaps with a side of homemade naan for dipping. Because we always eat our veggies, I usually pair it with a batch of spinach-filled saag paneer.
Make Ahead Chicken Tikka Masala
This chicken tikka masala dish freezes beautifully, so it's great to make ahead of time or to use as a meal prep dinner!
It will last in the refrigerator for a week after cooking (4 days if you live by the USDA rules), so I often make it on the weekend and portion out into easy lunches with some rice and vegetables.
Or I'll make a double batch (or even triple – I have a big slow cooker!) and freeze the leftovers to have an easy dinner waiting for the future. Pile the chicken sauce (and sometimes I'll even include rice with it) in a freezer safe storage container and freeze for up to 3 months.
Thaw overnight in the refrigerator (or use the defrost setting on the microwave if you forget the night before!) and warm in a saucepan on the stove.
Enjoy delicious homemade Indian food whenever the mood strikes. Which, for me, is pretty much all the time. Indian food everyday? I'm so in.
More Slow Cooker Recipes: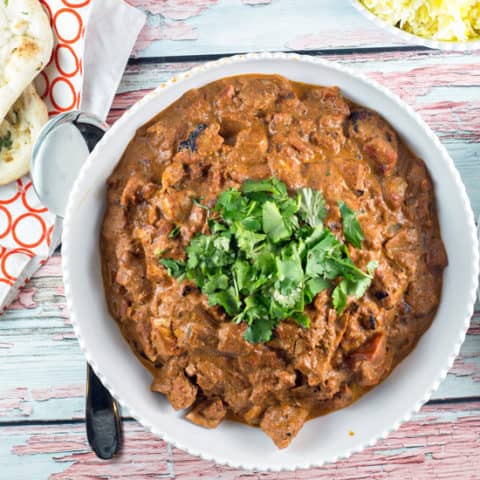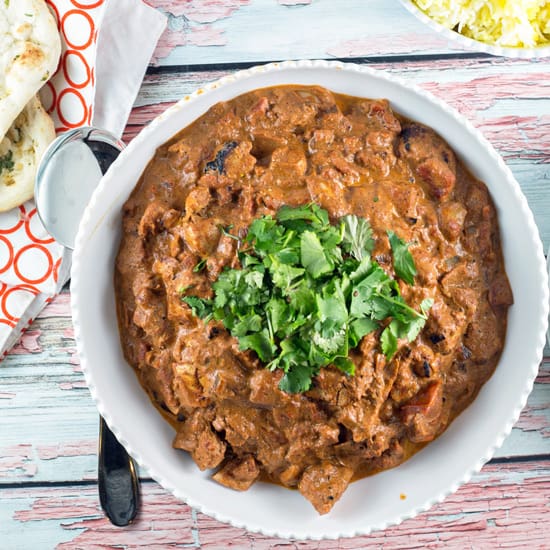 Chicken Tikka Masala
Warm up from the cold with this easy, flavorful chicken tikka masala, adaptable for either the stovetop or crockpot.
Ingredients
FOR THE CHICKEN:
1 1/2 pounds boneless, skinless chicken thighs
1/2 cup whole milk yogurt
3 tablespoons lemon juice
1 teaspoon cumin
1 teaspoon coriander
FOR THE SAUCE:
1/2 tablespoon butter
1 large onion, sliced
3 cloves garlic, diced
1 1/2 inch ginger, peeled and grated
2 tablespoons tomato paste
2 tablespoons garam masala
1 tablespoon smoked paprika
pinch of cayenne pepper
1 (28-ounce) can diced tomatoes
1/2 cup heavy cream
1/2 cup chopped cilantro, optional
TO SERVE:
3 cups prepared basmati rice
Instructions
Trim excess fat off the chicken thighs and place in a shallow dish or large freezer bag. Stir together the yogurt, lemon juice, cumin, and coriander. Pour the marinade over the chicken thighs, turning to coat each piece. Marinate the chicken in the refrigerator, 30 minutes up to 10 hours.
When ready to cook, line a baking sheet with parchment paper. Turn the oven broiler to high with a rack positioned ~6 inches below the broiler.
Remove the chicken from the yogurt, shaking off any excess marinate before placing in a single layer on the parchment-paper lined baking sheet. Broil for 10-15 minutes, flipping halfway through cooking, until the thickest part of the chicken registers 160F on an instant-read thermometer.
While the chicken is broiling, start the sauce. Melt the butter in a large skillet. Add in the onions and cook 5 minutes, until soft and translucent. Add the garlic and ginger and cook, stirring constantly, about 1 minute. Add in the tomato paste, garam masala, paprika, and cayenne and stir.
Pour the tomatoes and their juices into the mixture and turn the heat to low. Simmer until the sauce starts to thicken, about 5 minutes.
Once the chicken is done, dice into bite-sized pieces and stir both the chicken and the cream into the sauce. Simmer until everything is warmed through and the sauce starts to bubble. Stir in the cilantro just before removing from the heat.
Serve immediately with rice.
Notes
To Adapt for Slow Cooker: Marinate as directed above. If you have time, start the sauce as directed, sauteeing the onions and adding in the ginger and garlic, followed by the spices and tomatoes (if not, skip the sauteeing step). Place chicken in the slow cooker, followed by the onion, garlic, tomato pate, garam masala, and paprkia. Stir this together to coat the chicken. Add in the diced tomatoes with their juices. Cover and cook for 4 hours on high or 6-8 hours on low. Stir in the heavy cream and simmer for an additional 15-20 minutes, uncovered, to allow the sauce to thicken. Sprinkle with cilantro before serving.
Leftovers will keep in the refrigerator for up to a week or in the freezer for up to a month – to reheat from frozen, allow the chicken and sauce to thaw, either overnight in the refrigerator or using the defrost setting on the microwave. Transfer to a small or medium heavy-bottomed saucepan and stir on the stovetop over medium heat until heated through.
Recipe adapted from The Kitchn
Recommended Products
As an Amazon Associate and member of other affiliate programs, I earn from qualifying purchases.
Nutrition Information:
Yield:

6
Serving Size:

1
Amount Per Serving:
Calories:

414
Total Fat:

19g
Trans Fat:

0g
Carbohydrates:

32g
Protein:

32g