May 24, 2013
Slow Cooker Honey Sesame Chicken
Sweet and spicy Slow Cooker Honey Sesame Chicken – just toss it in the crockpot and walk away.  Add rice and steamed broccoli for an easy, hands-off family-friendly dinner.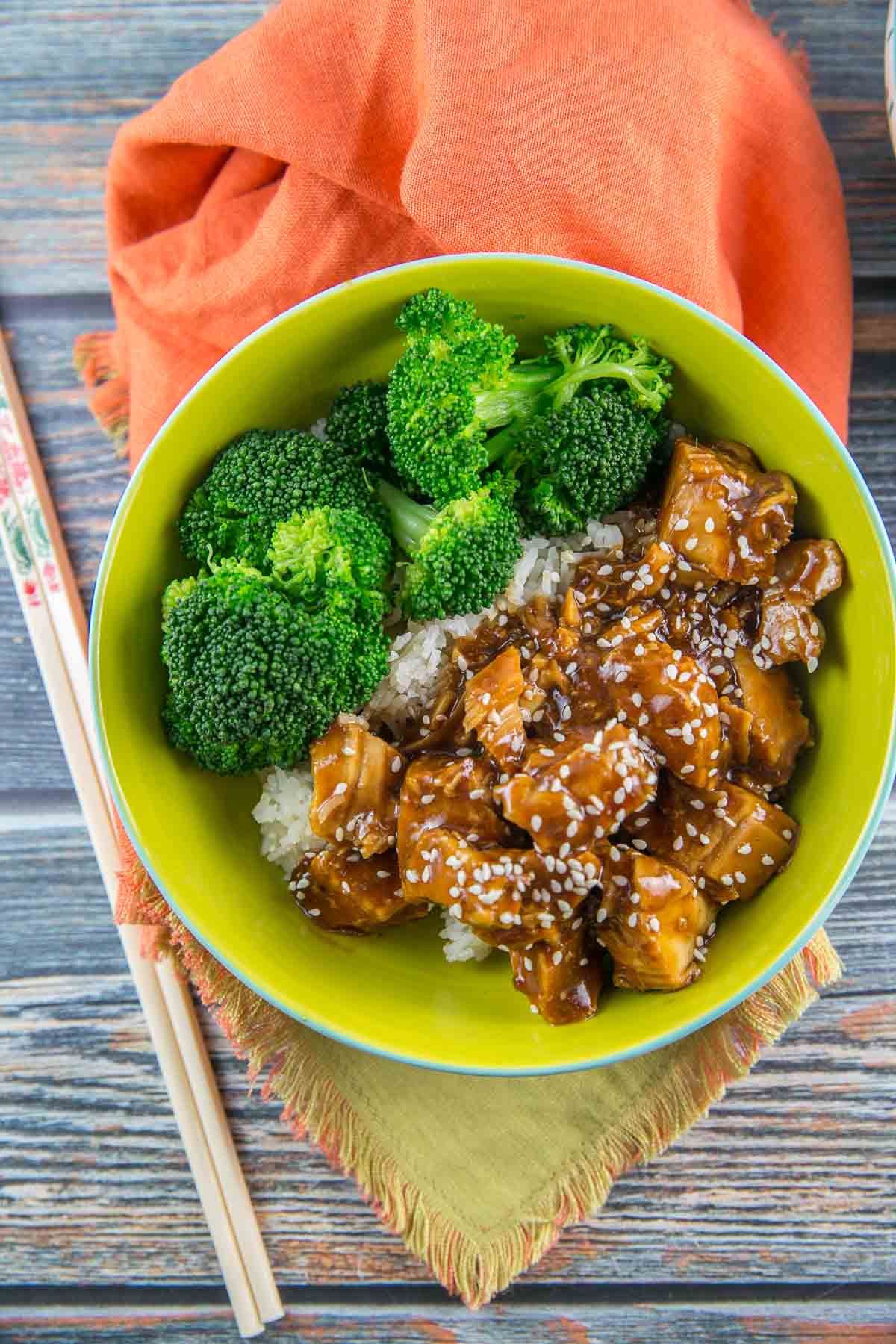 My crockpot is probably my most under-utilized small kitchen appliance. (Which is really a shame, since it's so big!)
Not eating meat, combined with the fact that I'm usually not home from work 8-10 hours after I leave, means that I never really figured out what to do with it.
I love to make pulled pork for weekend football parties (easy, hands-off, and feeds a crowd!).  But to date, that's all I've ever made in it.  Which is really a shame (see above comment about size of said crockpot!).
Fortunately, things have now changed.  My crockpot will now be a TWO trick pony: pulled pork and honey sesame chicken.
This honey sesame chicken is EASY, it's QUICK (for slow cooker dinners!), and my sources say it's also delicious. Plus, it freezes well so you can make a big batch and save the leftovers for another day!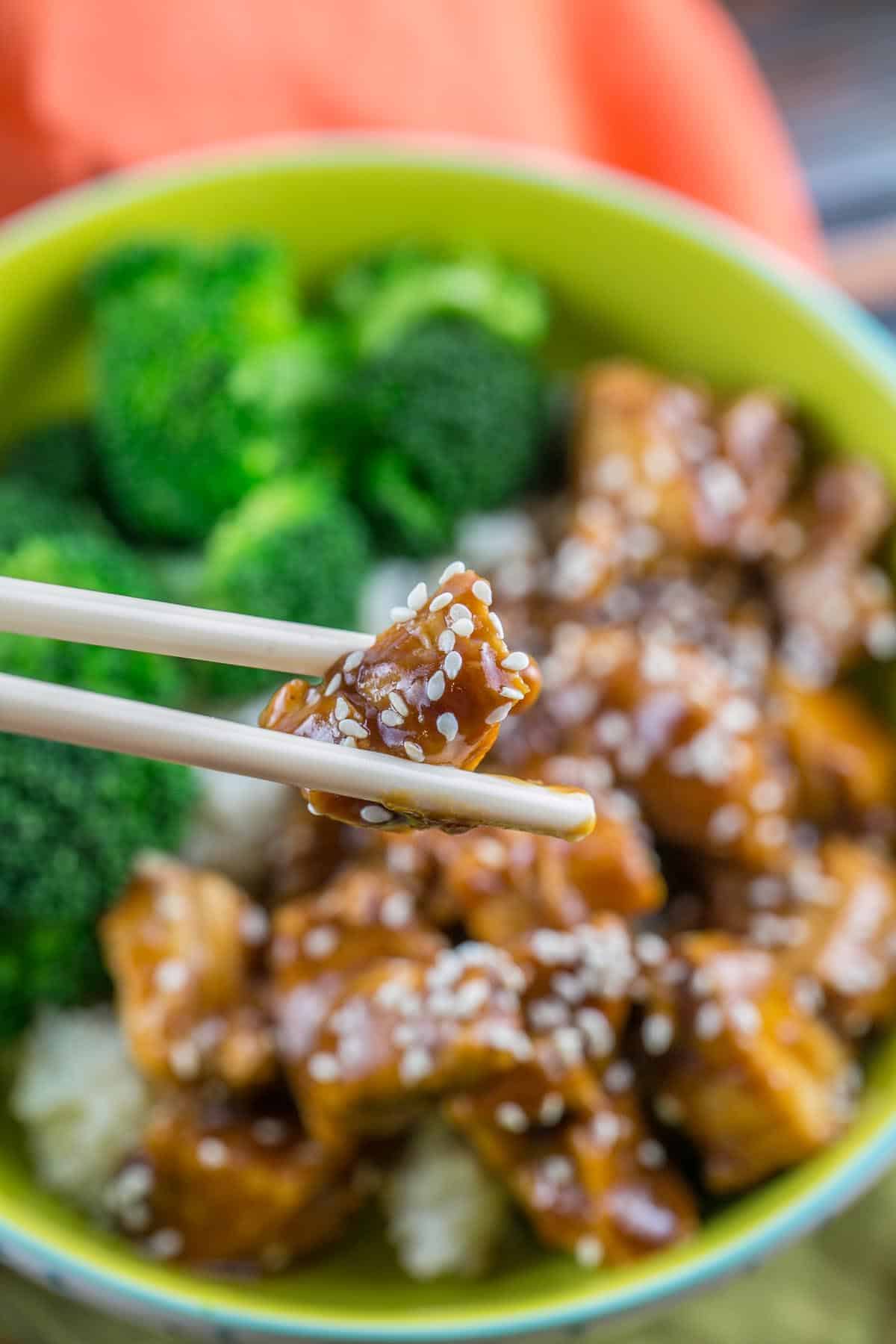 An Easy Crockpot Dinner
When I first stumbled across a similar recipe taking sesame chicken, which is normally deep fried, and making it in. a slow cooker, I was intrigued. Easy and fast: my favorite kind of dinner!
I don't like the mess (and lingering smells) of frying, and I love healthier versions of traditional comfort foods!
Trust me, this recipe is SO easy, and the sauce is so flavorful, you won't even mind that it's a "healthier" take!
Making this slow cooker honey sesame chicken is practically a dump-and-go recipe.  And unlike most crockpot recipes, which call for an 8-10 hour low cooking time, this one is only 3-4 hours on low (or 2 hours on high).
How easy is this?  Put your chicken breasts in the crockpot.  Sprinkle a little salt and pepper on top.  Whisk together a few ingredients.  Pour sauce over the top.  Walk away.  Come back in a few hours.  Done.
The short cooking time made it a perfect Tuesday night dinner for my husband. I could set it up as soon as I returned home from work, and he could eat it a few hours later when we returned from our dog training class.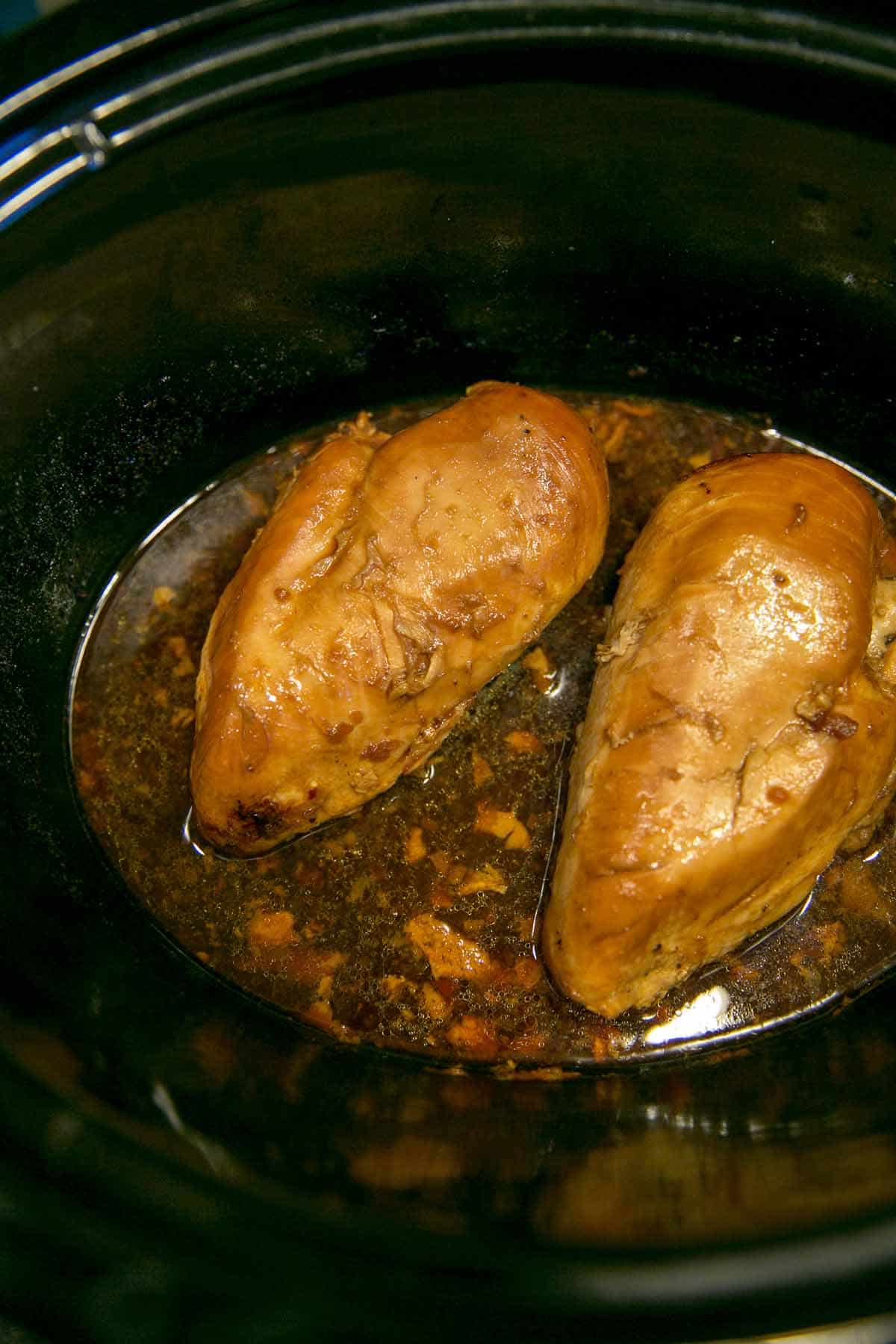 Cooking Chicken in a Slow Cooker
If you've ever had dry, bland chicken after cooking it in a crockpot, I do have a few tips to make this recipe super flavorful and delicious!
First, always use skinless chicken. Bone-in works, but the skin gets all rubbery and unappetizing if it's cooked in a slow cooker. Skin needs high heat, which is exactly what we don't have in a slow cooker!
If you have time, start with room-temperature chicken. The juices within the chicken will be more evenly distributed at room temperature, resulting in juicier cooked chicken when compared to cooking chicken straight out of the fridge.
Cook the chicken IN the sauce, rather than adding sauce after cooking. As the chicken cooks in the slow cooker, it will absorb all the flavors from our honey sesame sauce!
When time allows, cook chicken on low instead of high. I've made this plenty of times with the 2-hour high cooking time and it's still good, but the texture is even better when it's cooked for 3-4 hours on low.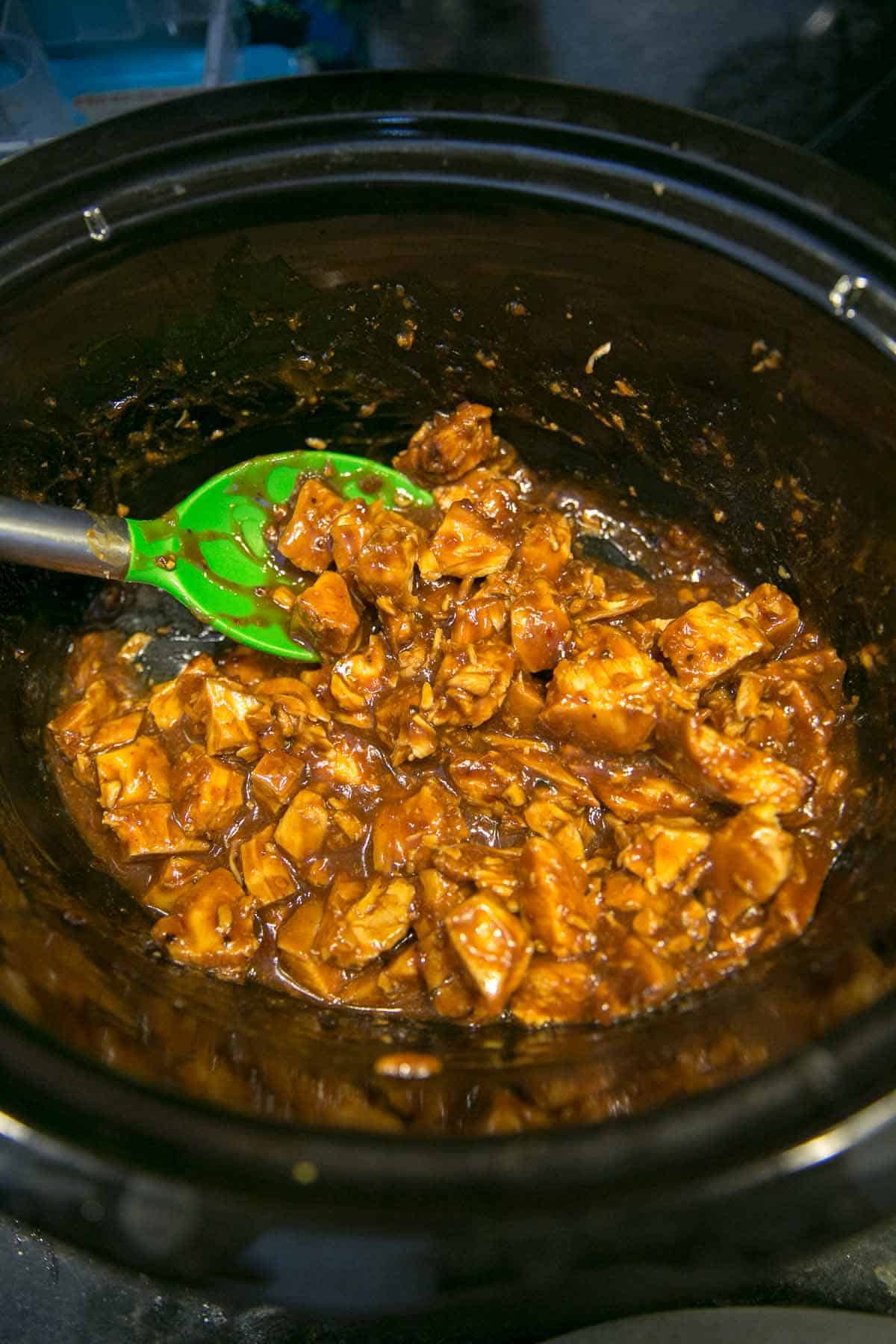 Best Honey Sesame Sauce
Of course, the star of our slow cooker honey sesame chicken is the SAUCE! Let's be honest: plain chicken breasts are pretty bland. Adding an extra flavorful sauce, however, takes chicken from boring to delicious!
The sauce is made up of basic ingredients for Asian cooking: soy sauce, Hoisin sauce, and sesame oil, with diced onion, garlic, and red pepper flakes. While the chicken cooks, natural juices from the chicken are released, making the sauce a little runny. This is perfect for cooking, but not quite what we want when it comes to eating.
So, we'll thicken up the sauce with one of my favorite magical kitchen ingredients: cornstarch! Don't just add the cornstarch into the sauce; however – we need to remove a few tablespoons of the sauce, stir in the cornstarch until no lumps remain, and then add this slurry back into the crockpot and cook on low heat until the sauce is thickened.
How does cornstarch thicken sauces? Why don't we want to add it at the beginning of the cooking process? This can all be answered by my favorite subject… kitchen chemistry!
Kitchen Chemistry

Cornstarch molecules absorb water, expanding to over six times their original size when heated, thickening liquids. To achieve this expansion, cornstarch requires heat (205 – 210 °F) for the starch gelatinization to occur. However, if cornstarch is exposed to temperatures that are too high or held at these temperatures for too long, the starch molecules deflate and the liquid will become runny again.
If we added the cornstarch at the beginning, it would be too hot for too long and no longer serve as a thickening agent!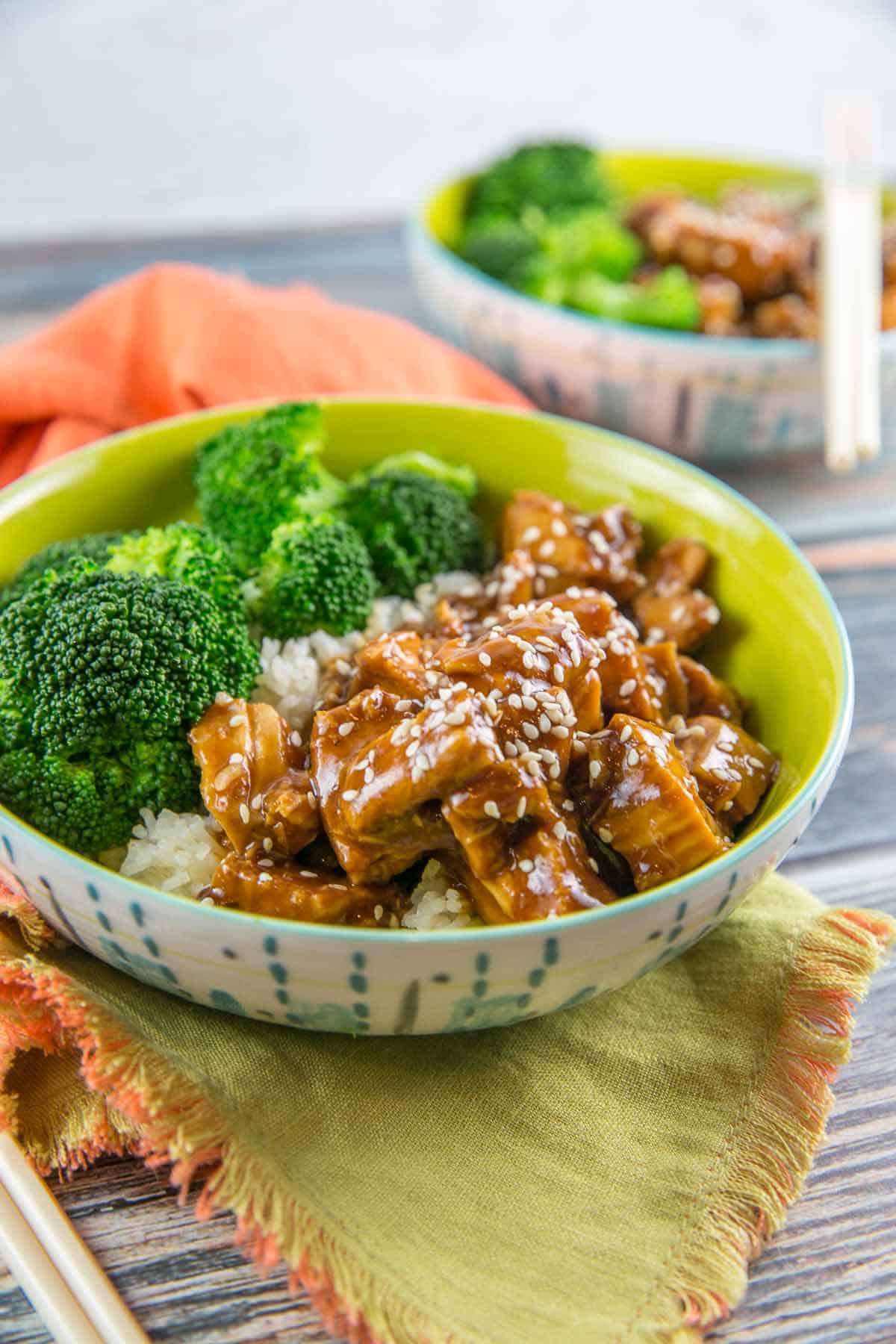 What to Serve With Honey Sesame Chicken
Okay fine, a chicken breast covered in sauce is probably not a whole dinner. How do we make this an actual servable dinner, but keep it fast and easy?
Add in some rice and steamed gai lan or broccoli and it's a quick, easy, dinner.  Make the rice ahead of time or use my favorite trick: microwave the rice! Don't have fresh broccoli?  Keep a bag of frozen broccoli stashed away.
In fact, this is the perfect cook-from-the-pantry (well, freezer) type meal. Some chicken breasts, frozen broccoli, and a scoop of rice. All easy ingredients to keep on hand.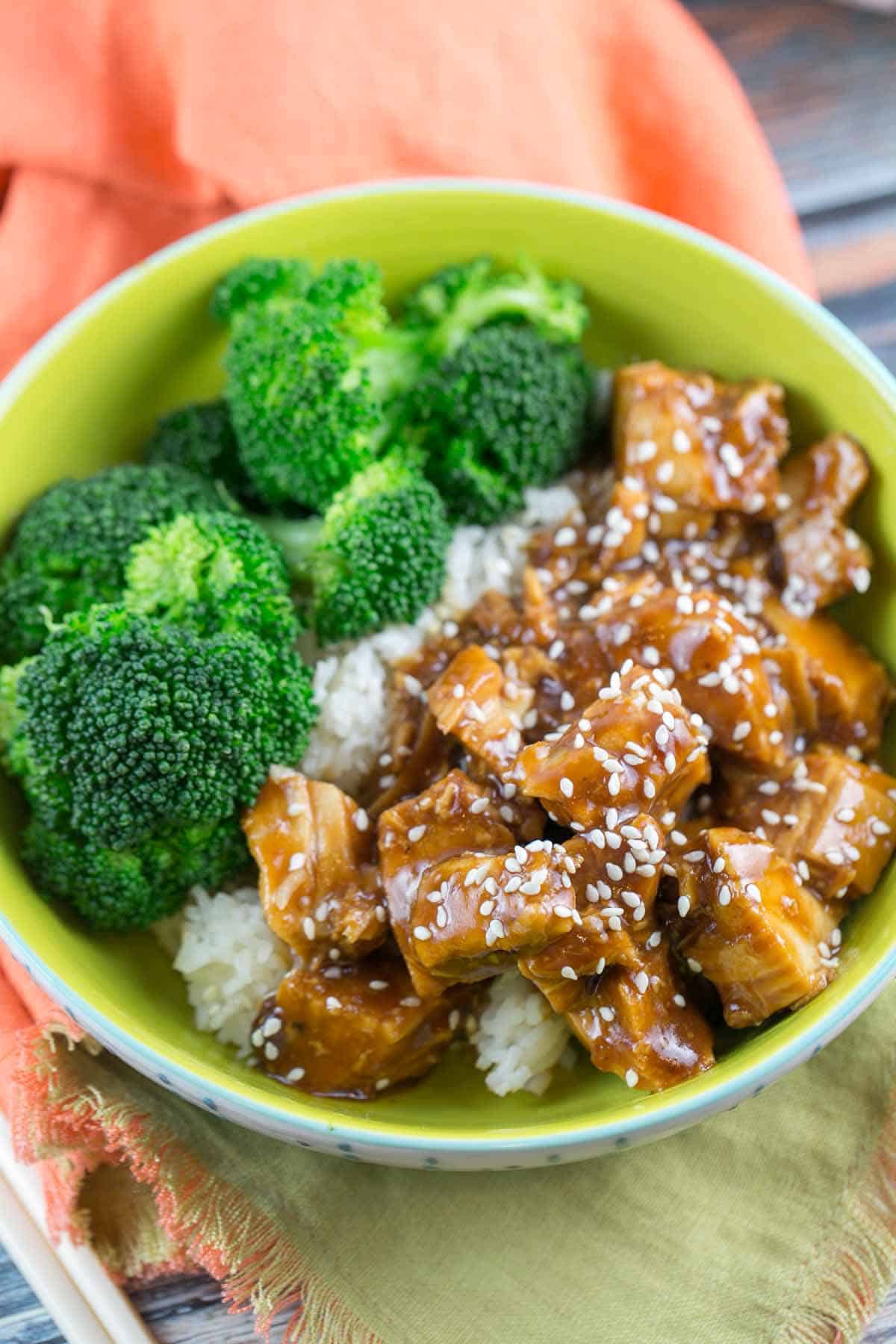 Tips and Tricks for The Best Honey Sesame Chicken
To keep this dinner gluten-free, use gluten-free soy sauce and hoisin sauce (Kikkoman makes both as gluten-free, or use tamari soy sauce).
If you prefer dark meat, substitute boneless, skinless chicken thighs.  The cook time will remain the same.
Whisk the cornstarch into a small amount of sauce until all clumps dissolve, then pour back into the slow cooker.  Adding the cornstarch directly into the slow cooker will result in a clumpy, grainy sauce.
This is a perfect recipe for make-ahead meal prep.  Chicken, rice, and broccoli can be assembled into storage containers and kept in the refrigerator for up to 5 days, or frozen for up to 3 months.  Reheat in the microwave.
More Easy Dinner Recipes
Slow Cooker Honey Sesame Chicken
Cook Time:
2 hours
20 minutes
Total Time:
2 hours
25 minutes
Sweet and spicy slow cooker honey sesame chicken – just toss it in the crockpot and walk away.
Ingredients
2 boneless, skinless chicken breasts
1/4 cup honey
1/4 cup soy sauce
1/4 cup Hoisin sauce
1/2 cup onion, diced
2 teaspoons sesame oil
2 cloves garlic, minced
1/4 teaspoon red pepper flakes
3 tablespoons cornstarch
1 teaspoon sesame seeds
Instructions
Season chicken breasts with salt and pepper and place in the bottom of the crock pot.
Whisk together honey, soy sauce, hoisin sauce, onion, oil, garlic, and pepper flakes in a small bowl. If necessary, microwave for 10 seconds to warm the honey enough to stir. Pour sauce over the chicken.
Cook on low for 3-4 hours or high for 2 hours, just until chicken is cooked through.
Remove the chicken from the crockpot, leaving the sauce behind. Scoop out a few tablespoons of the sauce and stir in cornstarch until dissolved. Stir to combine with the remaining sauce in the crockpot. Cook sauce on low for an additional 5-10 minutes until the sauce is starting to bubble and has thickened.
Cut the chicken into bite-sized pieces, then return to the crockpot and mix with sauce before serving. Sprinkle with sesame seeds. Serve with rice and steamed broccoli, pouring any excess sauce over the broccoli.
Notes
Ensure all ingredients (soy sauce, hoisin sauce) are gluten-free if preparing for a gluten-free household (Kikkoman makes both gluten-free soy sauce and hoisin sauce).
Boneless, skinless chicken thighs can be used instead of chicken breasts. The cook time remains the same.
For meal prep, combine chicken and sauce, rice, and steamed broccoli in storage containers and store in the refrigerator for up to 5 days or in the freezer for up to 3 months. Reheat in the microwave.
Recommended Products
As an Amazon Associate and member of other affiliate programs, I earn from qualifying purchases.
Nutrition Information:
Yield:

2
Amount Per Serving:
Calories:

537
Total Fat:

11g
Carbohydrates:

66g
Protein:

58g
Nutrition information is for chicken and sauce and does not include broccoli or rice.