May 24, 2013
Slow Cooker Honey Sesame Chicken
Sweet and spicy slow cooker honey sesame chicken – just toss it in the crockpot and walk away. Add rice and steamed broccoli for an easy, hands off family friendly dinner.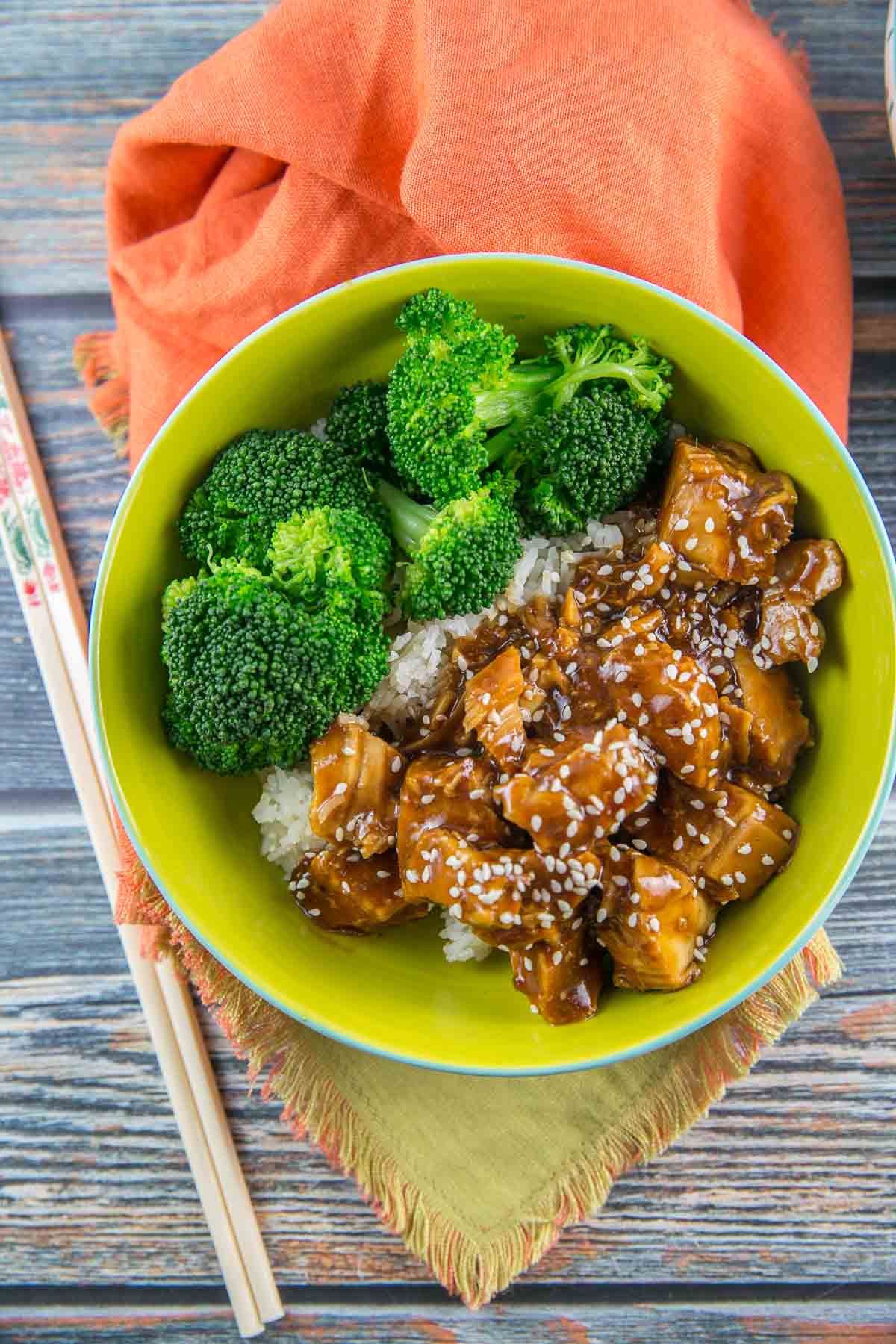 My crockpot is probably my most under-utilized small kitchen appliance. (Which is really a shame, since it's so big!)
Not eating meat, combined with the fact that I'm usually not home from work 8-10 hours after I leave, means that I never really figured out what to do with it.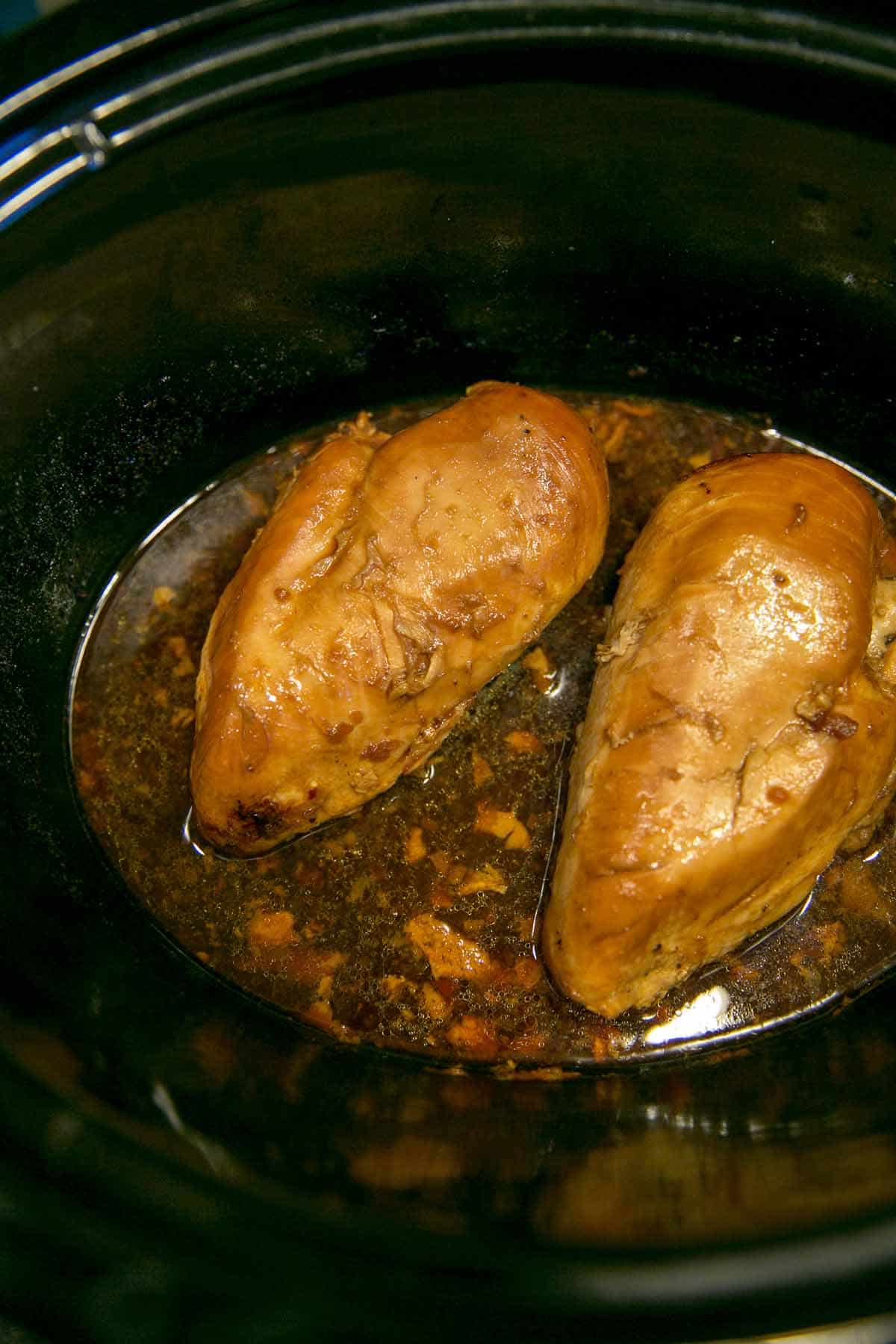 I love to make pulled pork for weekend football parties (easy, hands off, feeds a crowd!). But to date, that's all I've ever made in it. Which is really a shame (see above comment about size of said crockpot).
Fortunately, things have now changed. My crockpot will now be a TWO trick pony: pulled pork and honey sesame chicken.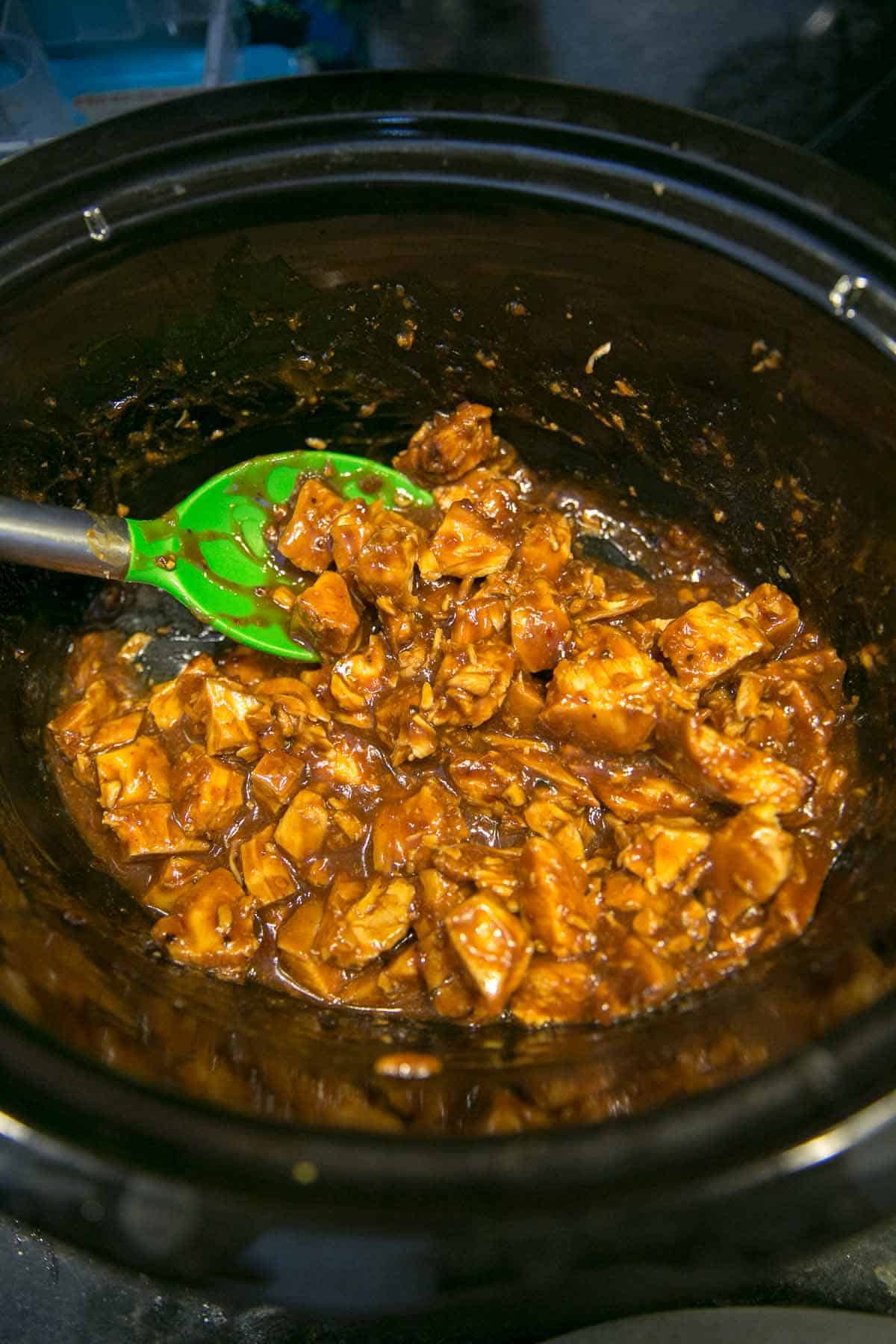 How to Make Crockpot Honey Sesame Chicken
When I saw this recipe for slow cooker honey sesame chicken pop up over on my friend Amy's blog, Playing House, I immediately mentally filed it away for the future. Easy and fast: my favorite kind of dinner!
It's practically a dump-and-go. And unlike most crockpot recipes, which call for an 8-10 hour low cooking time, this one is only 2 hours on high (or 3-4 on low).
How easy is this? Put your chicken breasts in the crockpot. Sprinkle a little salt and pepper on top. Whisk together a few ingredients. Pour sauce over the top. Walk away. Come back in 2 hours. Done.
The short cooking time made it a perfect Tuesday night dinner for my husband. I could set it up as soon as I returned home from work, and he could eat it a few hours later when we returned from our dog training class.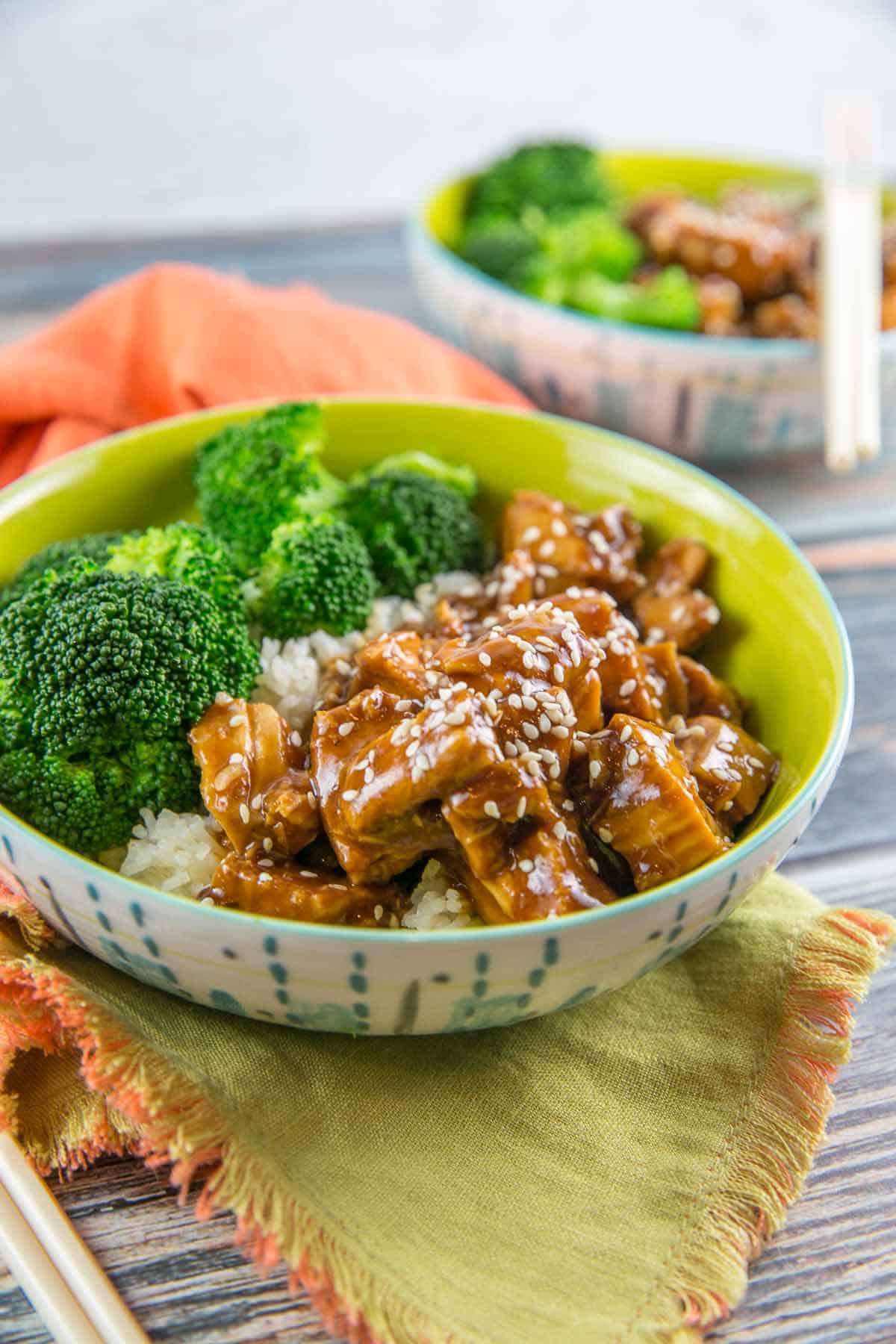 What to Serve With Sesame Honey Chicken
Okay fine, a chicken breast covered in sauce is probably not a whole dinner. How do we make this an actual servable dinner, but keep it fast and easy?
Add in some rice and steamed gai lan or broccoli from our weekly CSA box, and it's a quick, easy, dinner. Make the rice ahead of time or use my favorite trick: microwave the rice! Don't have fresh broccoli? Keep a bag of frozen broccoli stashed away.
In fact, this is the perfect cook-from-the-pantry (well, freezer) type meal. Some chicken breasts, frozen broccoli, and a scoop of rice. All easy ingredients to keep on hand.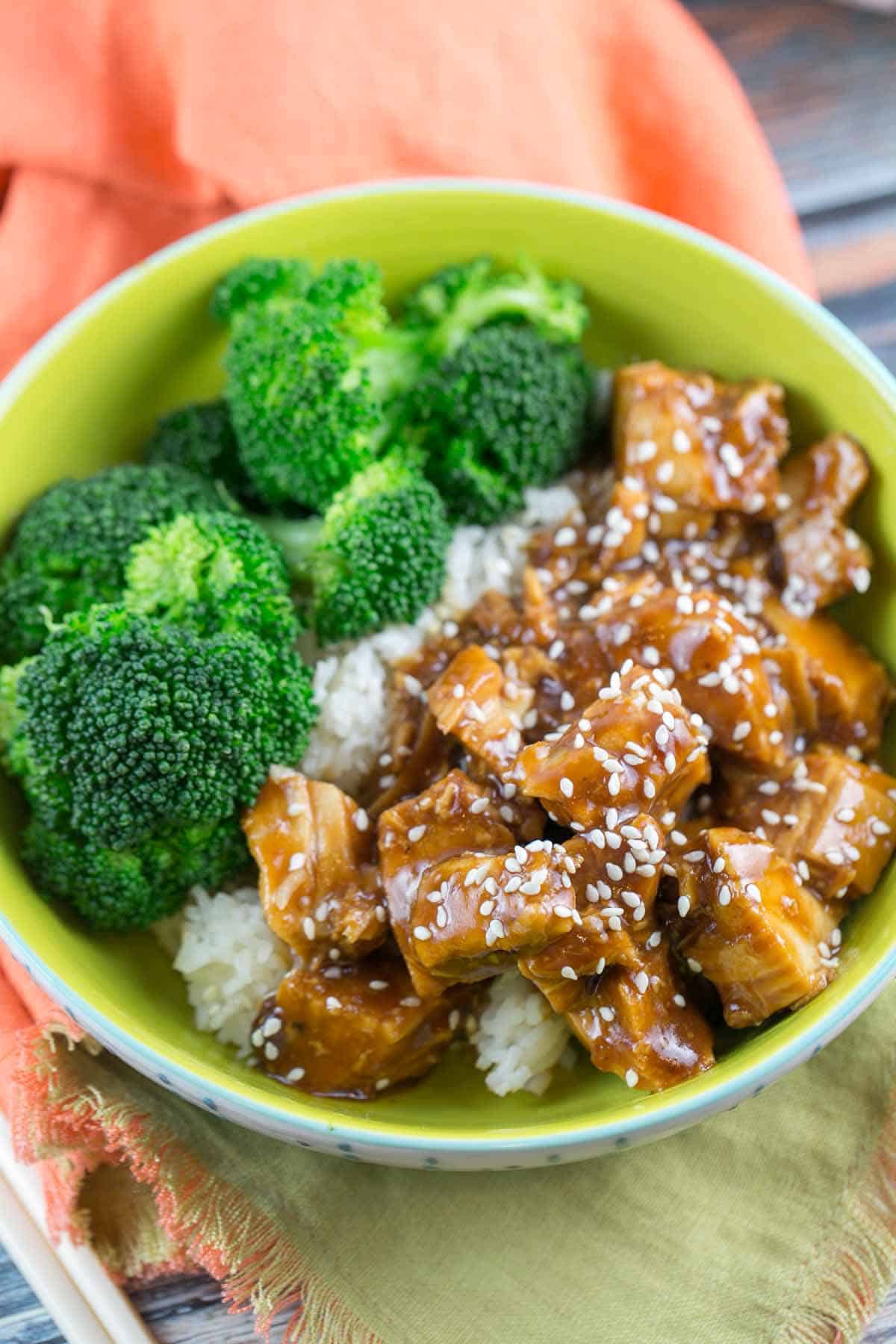 In a few weeks, my husband is moving to Baltimore for fellowship. I'll be cooking on the weekends and sending him back with dinners for the week.
I know this will go into the rotation – easy, hands off cooking on the weekend, freezes well, and a great way to make sure he still eats some veggies!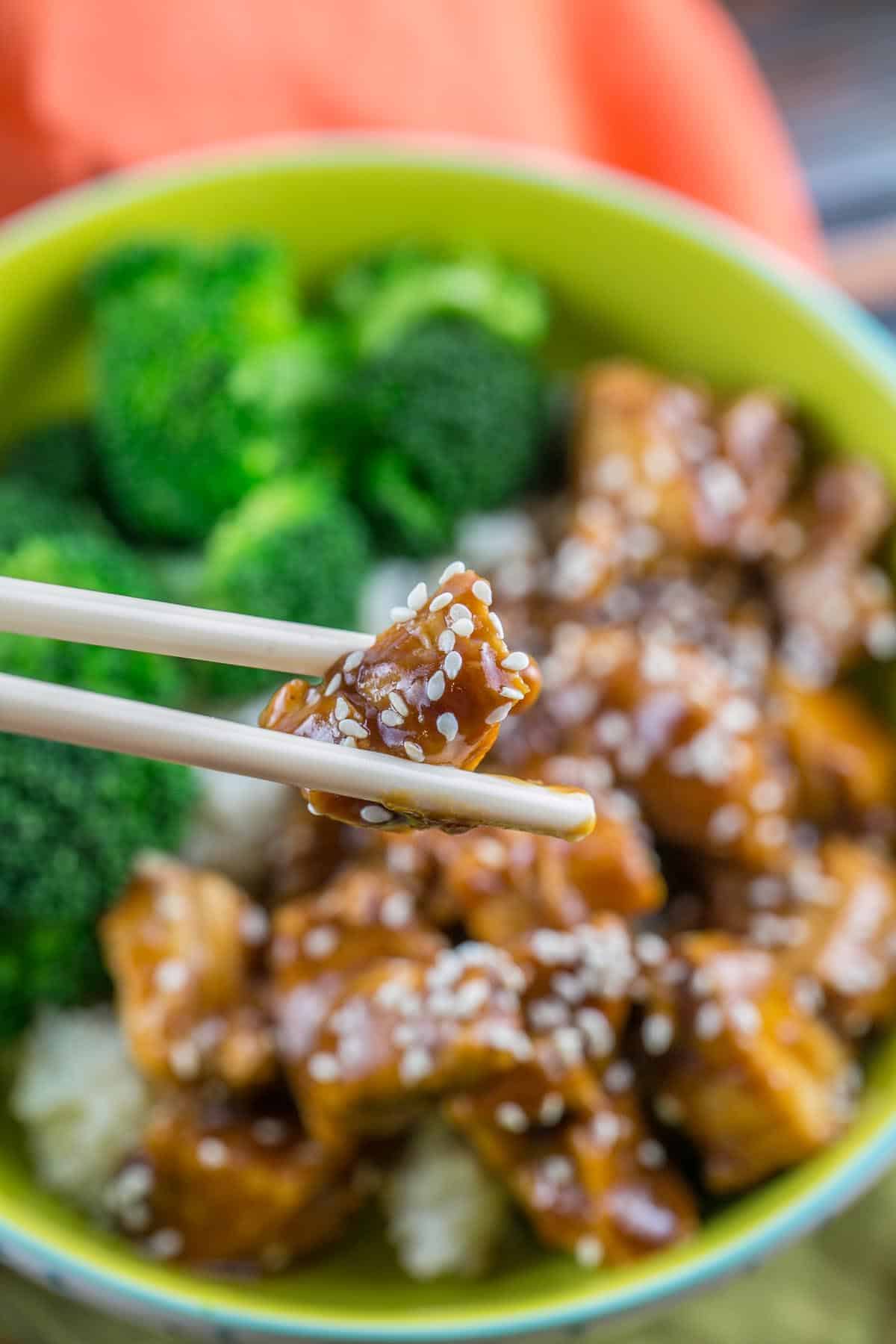 More Easy Dinner Recipes:
Slow Cooker Honey Sesame Chicken
Yield: Serves 2

Prep Time: 5 minutes

Cook Time: 2 hours 20 minutes

Total Time: 2 hours 25 minutes

Sweet and spicy slow cooker honey sesame chicken – just toss it in the crockpot and walk away.
Ingredients
2 boneless, skinless chicken breasts
1/4 cup honey
1/4 cup soy sauce
1/4 cup Hosin sauce
1/2 cup onion, diced
2 teaspoons sesame oil
2 cloves garlic, minced
1/4 teaspoon red pepper flakes
3 tablespoons cornstarch
1 teaspoon sesame seeds
Instructions
Season chicken breasts with salt and pepper and place in the bottom of the crock pot.
Whisk together honey, soy sauce, hosin sauce, onion, oil, garlic, and pepper flakes in a small bowl. If necessary, microwave for 10 seconds to warm the honey enough to stir. Pour sauce over the chicken.
Cook on low for 3-4 hours or high for 2 hours, just until chicken is cooked through.
Remove chicken from crockpot, leaving the sauce behind. Scoop out a few tablespoons of the sauce and stir in cornstarch until dissolved. Stir to combine with remaining sauce in crockpot. Replace lid and cook sauce on high for 15-20 more minutes until thickened. If sauce is not thick enough, cook an additional 5 minutes with the lid off.
Cut the chicken into bite sized pieces, then return to the crockpot and mix with sauce before serving. Sprinkle with sesame seeds. Serve with rice and steamed broccoli, pouring any excess sauce over the broccoli.
Notes
Ensure all ingredients (soy sauce, hosin sauce) are gluten free if preparing for a gluten free household.

Recipe adapted from Playing House
Recommended Products
As an Amazon Associate and member of other affiliate programs, I earn from qualifying purchases.
Nutrition Information:
Yield: 2
Amount Per Serving: Calories: 483Total Fat: 10gCarbohydrates: 57gProtein: 42g