January 27, 2023
Easy Homemade Saag Paneer
Make your own Indian food with this Easy Homemade Saag Paneer – plus substitutions if you have difficulty finding paneer (and tips to make your own!).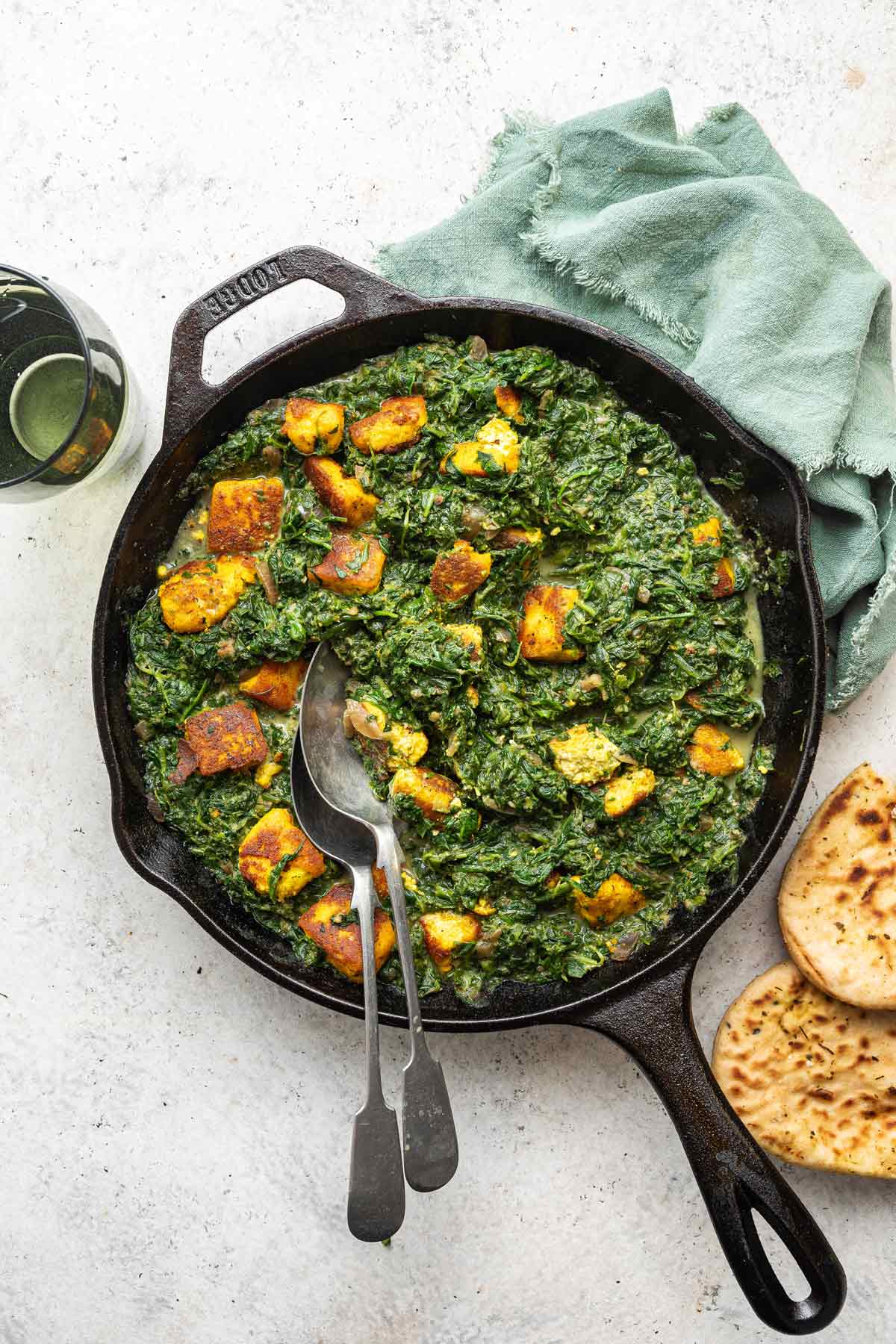 We are big Indian food lovers in our house – and especially my 8-year-old, whose favorite food in the world is tandoori chicken. While I'm still working on a good homemade tandoori recipe, I've already shared our favorite homemade chicken tikka masala recipe.
And because we're big believers in vegetables with every meal (delicious and nutritious!), this easy homemade saag paneer is almost always paired on the side. Gluten-free and vegetarian, too!
This is probably one of my favorite things to make for dinner.  The combination of spinach, cheese, and spices is perfect, it comes together quickly, and is quite filling.
You can actually use any leafy greens here – we use kale, mustard greens, or whatever else we have on hand. Spinach is easy because you can buy it frozen or fresh. (If you use spinach, technically this becomes palak paneer!)
The only challenging part is sometimes finding paneer – our grocery store doesn't even carry it. Good thing I have some tips and tricks for you – the best substitute to use, and even the super easy steps to making your own homemade paneer!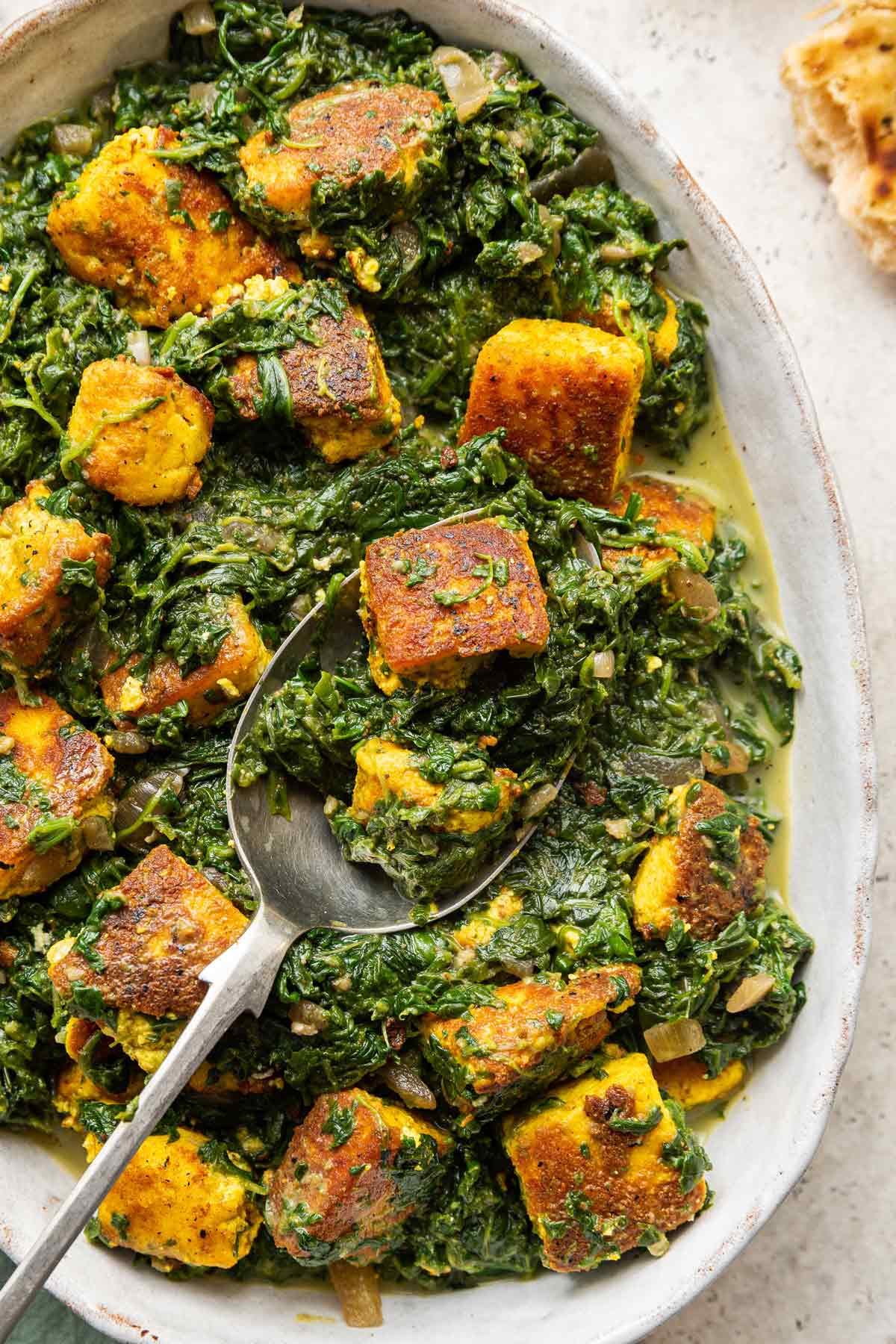 Spices in Saag Paneer
While there are dozens of versions of saag paneer, each using slightly different spice mixtures, I like this one because these are all spices I already keep stocked in my pantry. The ingredient list for this might seem a little long, but I promise it comes together quickly and it's well worth it!
First, we'll sear the paneer. For this we need:
paneer
turmeric
cayenne pepper
salt
To make the greens, we'll need:
leafy greens (spinach, kale, mustard greens, or any other leafy greens)
onion
fresh ginger
garlic cloves
garam masala
coriander
cumin
plain yogurt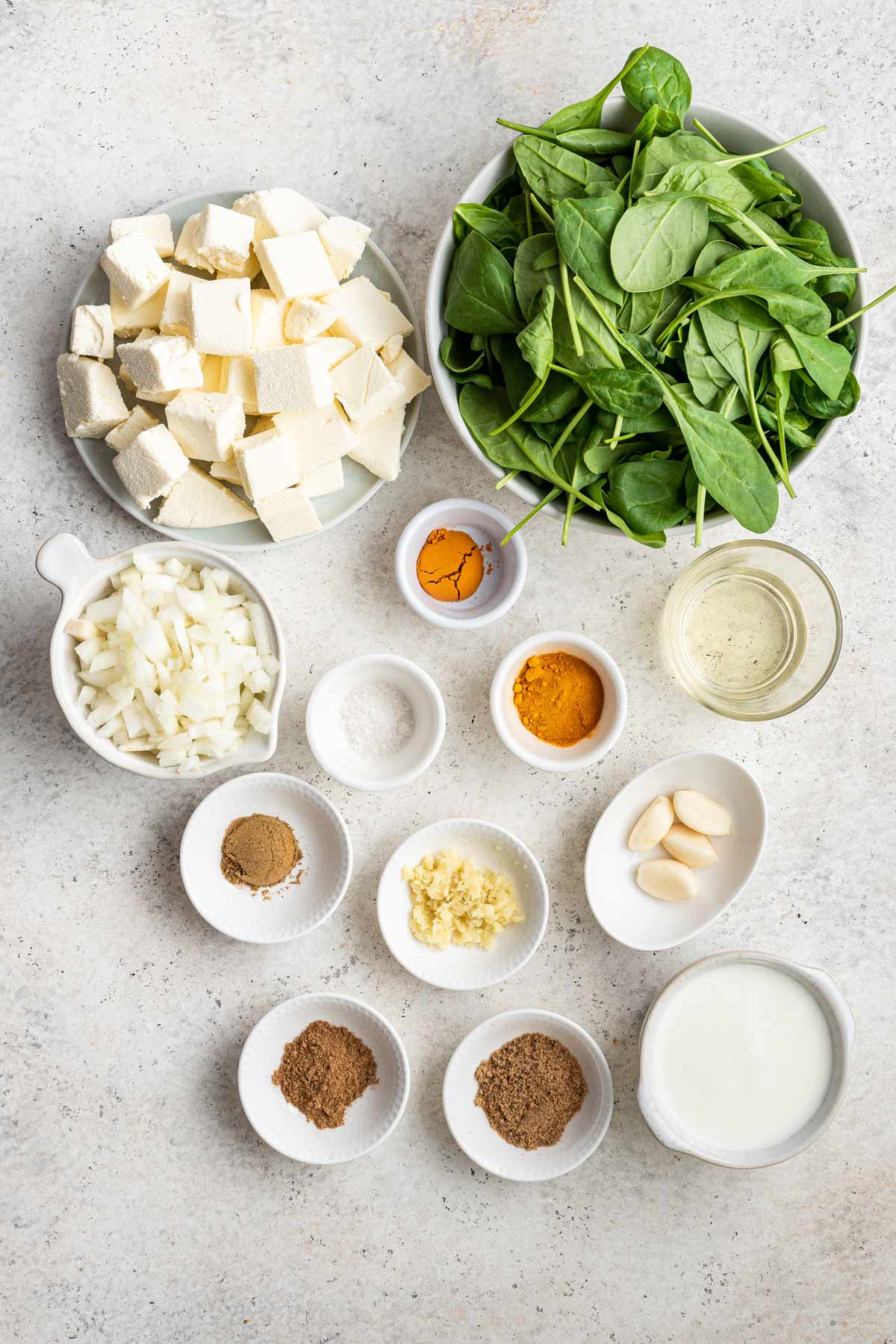 How to Make Homemade Paneer
If your local grocery store doesn't carry paneer, it's quite easy to make your own. If I have the time, this is always my first choice!
I have a whole post on making easy homemade paneer! In short, you'll want to simmer a half gallon of milk at 200 °F. Once foamy, remove the milk from the heat and add 1/4 cup vinegar.
Cover the pot and let it sit until clumpy curds form. Strain through a fine mesh cloth and squeeze out all the excess liquid. Collect the curds, press them into a square, and set them under a heavy plate to press out additional moisture.
The post linked above has all the step-by-step instructions for foolproof homemade paneer!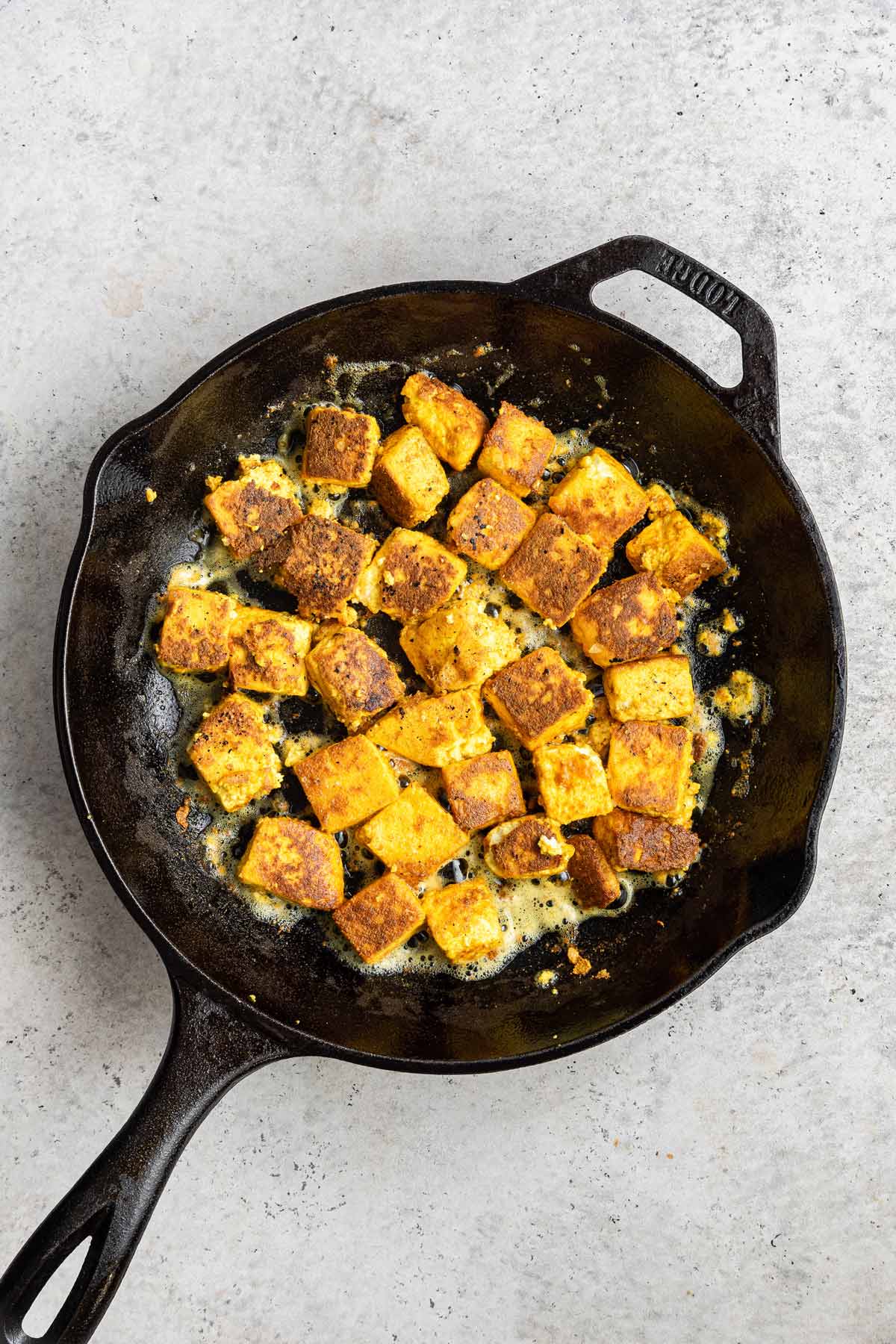 Easy Paneer Substitute
Unfortunately, making paneer moves this from a "really quick weeknight option" into a "need a little more time" dinner, since I prefer to press the paneer for a few hours to get a firmer texture.
Of course, you can buy paneer, but as I said above, I often find my grocery store does not have it available.
So to speed things up, I'll share a tip that was once shared with me by an Indian friend: use queso blanco instead.
I've never had a problem finding queso blanco at a typical big-box supermarket, and the process to make queso blanco is quite similar to paneer (though it is more heavily salted, so I typically don't add salt to the spice mix with the paneer if I'm subbing in queso blanco).
Just like paneer, queso blanco doesn't melt, which allows us to sautee it until crispy. Why don't these cheeses melt? It's time for my favorite subject… kitchen chemistry!
Kitchen Chemistry

To make paneer, acid and heat curdle the milk, which drastically changes the casein proteins in the milk. The acid breaks down the calcium holding the casein proteins together, eliminating the negative electrical charges of the protein. Proteins are then ample to clump together and will continue to stay connected, even when heated.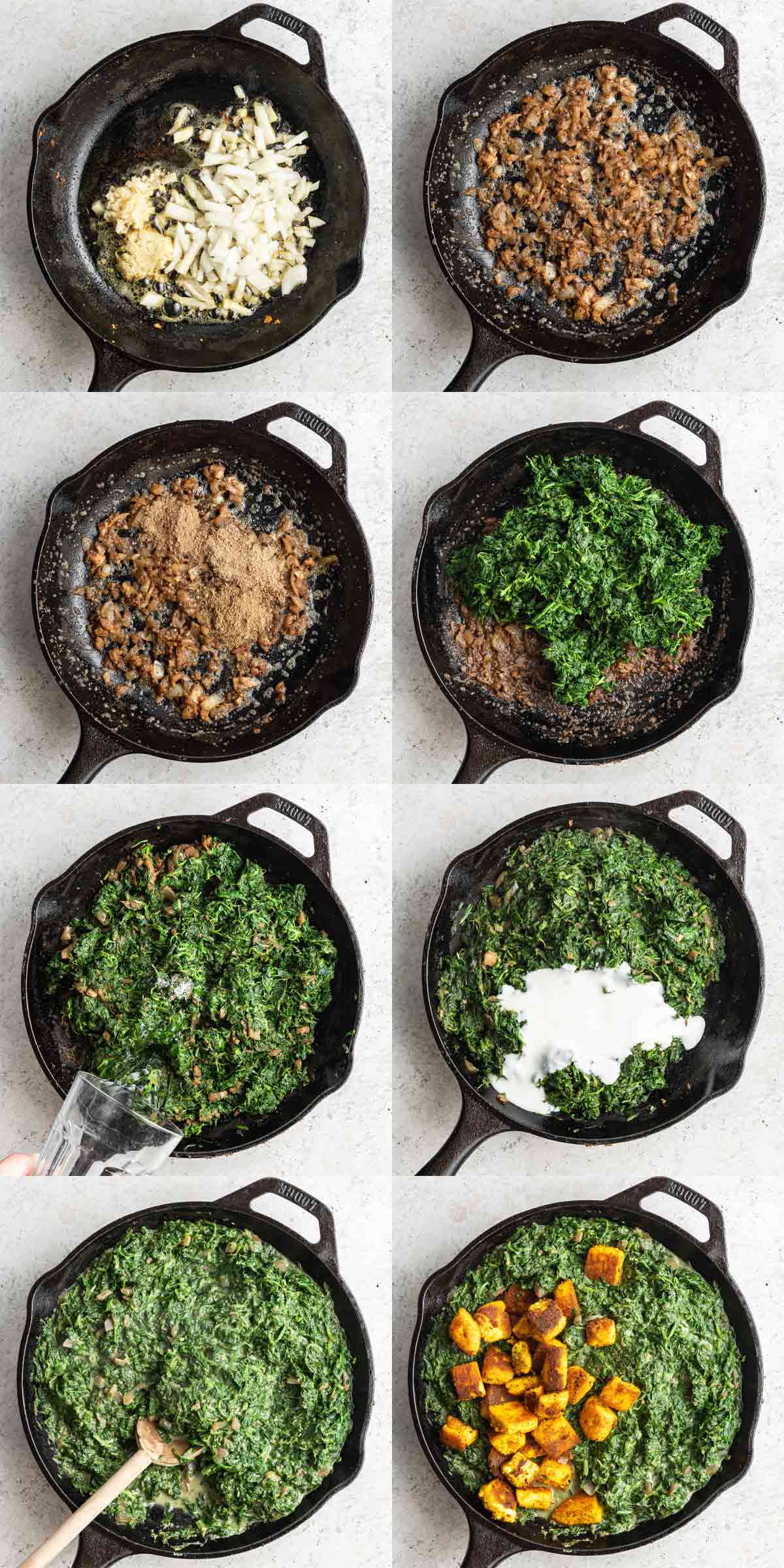 Common Questions about Homemade Saag Paneer
I can't find paneer! What can I use as a substitute?
See the above sections for instructions on how to make homemade paneer, or use queso blanco as a direct substitute.
Can I substitute other leafy greens for the spinach?
Yes! Saag refers to 'leafy greens' whereas palak paneer indicates just spinach. You can use kale, swiss chard, or other leafy greens in this recipe.
Is the paneer spicy?
The addition of cayenne pepper does give the paneer a little kick, but it is not overwhelmingly spicy when mixed in with the spinach. If you are spice-averse, halve or leave out the cayenne pepper.
Is saag paneer gluten free?
Saag paneer is gluten-free and vegetarian.
Can saag paneer be frozen?
To freeze saag paneer, cool it completely, then transfer it to a freezer-safe container and freeze for up to 3 months. To thaw, place the container in the refrigerator for several hours, then heat in a saucepan over medium-low, or thaw directly from frozen in the microwave using the defrost setting.
More Easy Vegetarian Recipes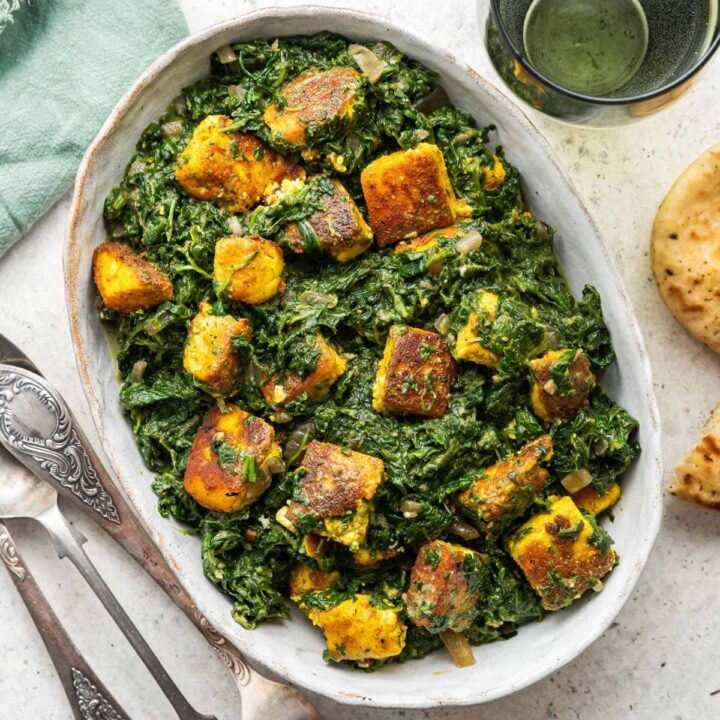 Easy Homemade Saag Paneer
Make your own Indian food with this easy homemade saag paneer – plus substitutions if you have difficulty finding paneer.
Ingredients
2 teaspoons turmeric
1 teaspoon cayenne pepper
kosher salt, to taste
2 tablespoons vegetable oil
32 ounces spinach or other leafy greens, fresh or frozen
1 medium sized onion, diced
1 (1-inch) piece ginger, peeled and grated
4 garlic cloves, diced
1 teaspoon garam masala
2 teaspoons ground coriander
1 teaspoon cumin
1/2 cup plain yogurt
Instructions
In a medium bowl, whisk together the turmeric, cayenne, salt, and oil. Drop in the cubes of paneer and toss to coat with the spice mixture. Let this marinate for a few minutes while prepping the rest of the ingredients.
Cook the spinach in a microwave-safe dish, either according to package directions (if frozen) or microwaved for a few minutes with a few tablespoons of water (if fresh). Drain the spinach, squeezing out all excess moisture with a kitchen towel, and chop finely.
Place a large nonstick skillet over medium heat. Add the paneer as the pan warms. After a few minutes, flip the paneer; each piece should be golden brown on one side. Fry for another few minutes, then remove the paneer from the skillet with a slotted spoon, leaving the oil in the pan.
Add the onions, garlic, and ginger to the remaining oil. Saute this mixture for several minutes until dark brown – about 15 minutes. If the mixture starts to dry out, add a few tablespoons of water.
Add in the garam masala, coriander, and cumin. Sprinkle a little water in to keep the spices from burning. Cook for about 5 minutes, until fragrant, stirring frequently.
Add the spinach and stir well. Add a little salt to taste, a quarter cup of water, and cook for 5 minutes.
Turn off the to low and stir in the yogurt. Once the yogurt is mixed with the spinach, add the paneer. Cover and cook until everything is warmed through.
Notes
Read this post for step-by-step instructions on how to make homemade paneer.
Queso blanco can be substituted for paneer, but do not add salt with the turmeric and cayenne.
Other leafy greens, such as kale or mustard greens, can be substituted for spinach.
Leftover saag paneer should be stored in the refrigerator for up to 4 days or frozen for up to 3 months.
Recommended Products
As an Amazon Associate and member of other affiliate programs, I earn from qualifying purchases.
Nutrition Information:
Yield:

6
Amount Per Serving:
Calories:

283
Total Fat:

19.9g
Carbohydrates:

11.9g
Protein:

17.3g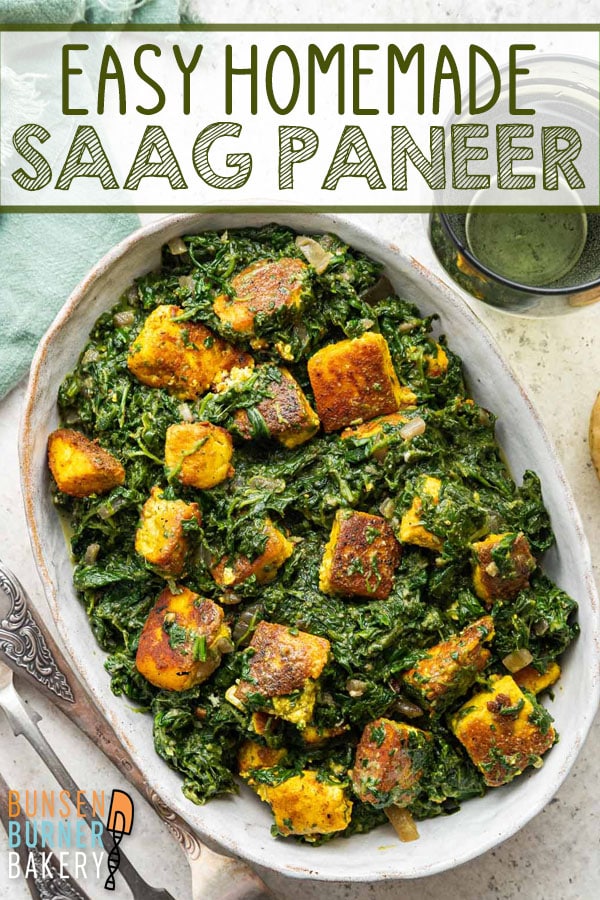 This recipe was originally posted in March 2015 and updated with new pictures and helpful tips in January 2023.