March 12, 2015
Easy Homemade Saag Paneer
Make your own Indian food with this easy homemade saag paneer – plus substitutions if you have difficulty finding paneer.
When I shared my chicken tikka masala recipe, I promised that I'd also share an easy saag paneer recipe. It's time to make your own take out fake out even better with this delicious gluten free and vegetarian Indian favorite!
This is probably one of my favorite things to make for dinner. The combination of spinach, cheese, and spices is perfect, it comes together quickly, and is quite filling.
I usually make it as a side with something meat-based for my husband (like the aforementioned chicken tikka masala). Personally, however, I'd be more than happy to eat a bowl of just this for dinner (and lunch the next day… and again for dinner…).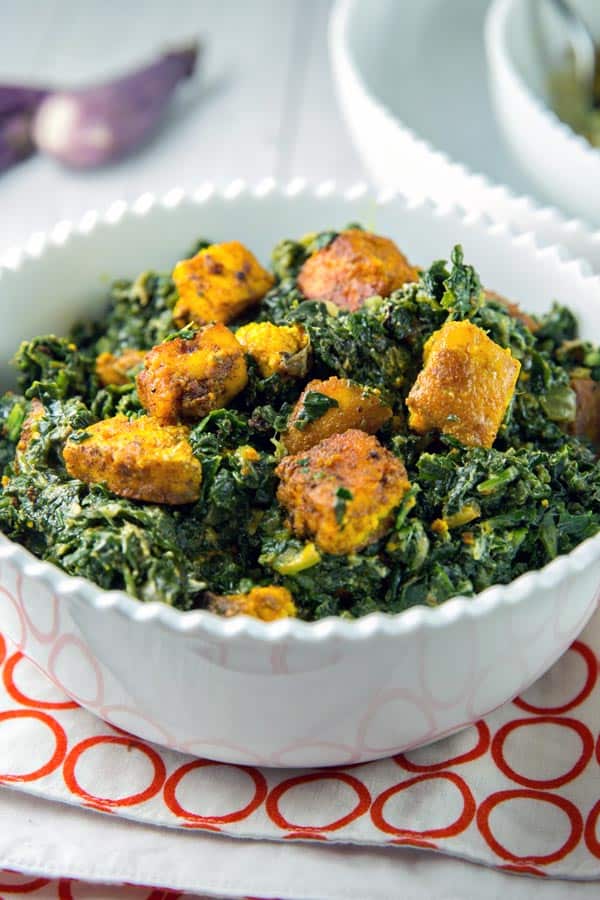 If your local grocery store doesn't carry paneer, it's quite easy to make your own. I've done this before without any complications, and is usually my top choice.
Unfortunately, making paneer moves this from a "really quick weeknight option" into a "not really viable for a night I don't get home from work until 8pm" dinner, since I prefer to press the paneer for longer to get a firmer texture.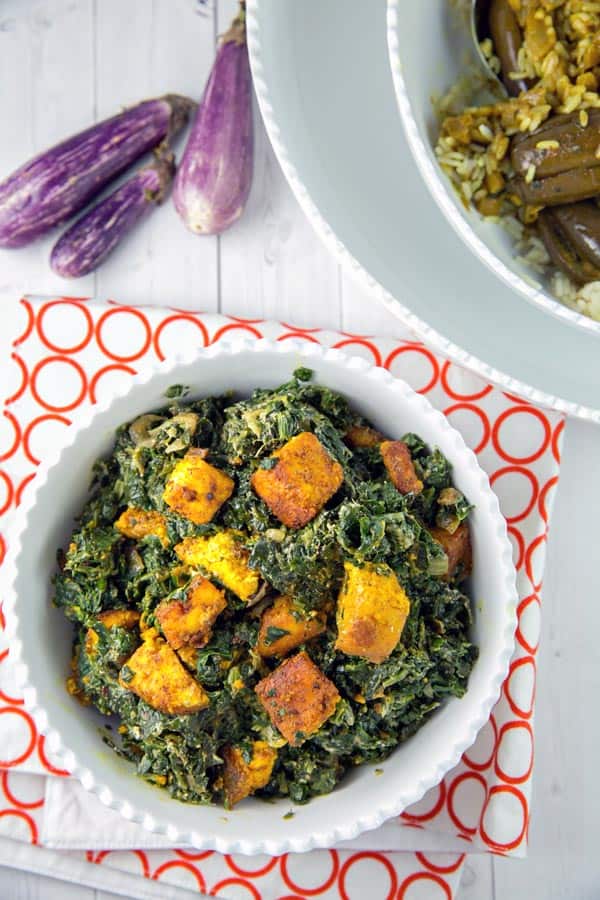 So to speed things up, I'll share a tip which was once shared with me by an Indian friend: use queso blanco instead. I've never had a problem finding queso blanco at a typical big-box supermarket, and the process to make queso blanco is quite similar to paneer (though it is salted, so I typically don't add salt to the spice mix with the paneer if I'm subbing in queso blanco).
It also has a high melting point, another reason why the substitution works well.
While we're on the topic of substitutions, I've also made this with kale during CSA kale overload season. (But uh, I suppose by that point, when you're using neither saag nor paneer, the dish perhaps needs a new name.)
Regardless of substitutions, you really can't go wrong with this saag paneer… or kale queso blanco!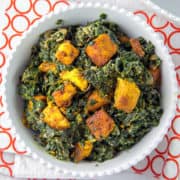 Easy Homemade Saag Paneer
Make your own Indian food with this easy saag paneer – plus substitutions if you have difficulty finding paneer.
Ingredients:
2 teaspoons tumeric
1 teaspoon cayenne pepper
kosher salt, to taste
2 tablespoons vegetable oil
12 ounces paneer, cut into 1-inch cubes
32 ounces spinach, fresh or frozen
1 onion, diced
1 (1-inch) piece ginger, peeled and grated
4 garlic cloves, diced
1 teaspoon garam masala
2 teaspoons ground coriander
1 teaspoon cumin
1/2 cup plain yogurt
Directions:
In a medium bowl, whisk together the tumeric, cayenne, salt (if using), and oil.  Drop in the cubes of paneer and toss to coat with the spice mixture.  Let this marinate for a few minutes while prepping the rest of the ingredients.
Cook the spinach in a microwave safe dish, either according to package directions (if frozen) or microwaved for a few minutes with a few tablespoons of water (if fresh).  Drain the spinach and chop finely.
Place a large nonstick skillet over medium heat.  Add the paneer as the pan warms.  After a few minutes, flip the paneer; each piece should be slightly browned on one side.  Fry for another few minutes, then remove the paneer from the skillet with a slotted spoon, leaving the oil in the pan.
Add the onions, garlic, and ginger to the remaining oil.  Saute this mixture for several minutes until dark brown – about 15 minutes.  If the mixture starts to dry out, add a few tablespoons of water.
Add in the garam masala, coriander, and cumin.  Sprinkle a little water in to keep the spices from burning.  Cook about 5 minutes, stirring frequently.
Add the spinach and stir well.  Add a little salt to taste, a quarter cup of water, and cook for 5 minutes with the lid off.
Turn off the to low and stir in the yogurt.  Once the yogurt is mixed into the spinach, add the paneer.  Cover and cook until everything is warmed through.
Love Indian food? Don't miss these other delicious options!