March 17, 2015
Chocolate Chip Cookie Dough Dip
What's better than a baked chocolate chip cookie? This egg-free chocolate chip cookie dough dip! Go ahead, dig right in and relive your childhood.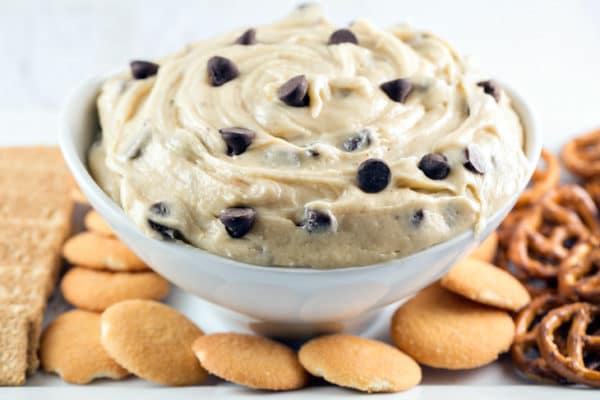 Let's backtrack several weeks to the Super Bowl. I mentioned back in this post what I made for our Super Bowl party.
Desserts can be challenging for parties. I didn't want to make anything like cake or pie, which requires cutting and serving. Most of my go-to bite-sized desserts already made an appearance last month for our annual Chrismukkah party and a New Years Eve party.
I was busy most of the weekend, meaning there wasn't time to bake ahead, and on the day of the party, my oven was doing double-duty with all the savory components.
Enter the need for a simple no-bake, no-utensils, one-handed dessert… like this chocolate chip cookie dough dip.
Is Chocolate Chip Cookie Dough Dip Safe to Eat?
Who doesn't love chocolate chip cookie dough? (No, seriously. Does anyone not love cookie dough?)
99 times out of 100, I find the unbaked batter for any cake, cookie, tart, muffin, etc., tastier than the actual baked product.
But raw dough generally has eggs, and while I may be willing to take that risk for a bite or two, I'm certainly not going to serve something with raw eggs to any guests. So we're not including any raw eggs in here.
Why not just take my normal chocolate chip cookie recipe and leave out the eggs? Well, it's dense… really dense. If you're planning on digging in with a spoon, it would work just fine.
However, I wanted something lighter and fluffier, to dip with brownies, graham crackers, and pretzels.
Folding in some freshly-whipped cream did exactly this, making a scoopable dip with all safe-to-eat-raw components.
Can you Eat Raw Flour?
Wait! Wasn't there just an e. coli outbreak in flour? And there's flour in this dip!
Yes, there was. Apparently now, raw flour is off the table too. Sooooo…. confession. This does take it from a total no-bake dessert to a teeny tiny bake dessert.
But if you want to ensure your flour is perfectly safe, spread the flour on a baking sheet and bake at 350 °F for 5 minutes. Cool and proceed – bacteria killed!
(Confession: I like to live dangerously. I still use raw flour in mine, unless I'm serving to other people.)
Chocolate Chip Cookie Dough Dip Without Cream Cheese
One thing that is missing from my recipe compared to most chocolate chip cookie dough recipes? Cream cheese! We've left it out. Quite frankly, I don't like cream cheese in desserts. But also, it's not necessary.
Here's the thing about cream cheese: it's not innately sweet. Which means we would have to add more sugar to the recipe to mask the tang from the cream cheese. Who needs more sugar than we already have?
Plus, cream cheese is pretty dense. Remember that whole needing to lighten up the dip without eggs? Cream cheese doesn't help there, either. It (a) changes the flavor and (b) makes the dip heavier.
No thank you. So skip the cream cheese this time around (save it for a caramel apple cheesecake or a chocolate banana cheesecake or a dark chocolate cheesecake!). Folding in a little whipped cream is all you need for the perfect flavor and texture.
What to Serve with Chocolate Chip Cookie Dough Dip
The most important part: the dippers! Because handing everyone their own spoon and telling them to dig in is, generally, frowned upon.
It's a little meta, but my favorite thing to dip in cookie dough dip is… more cookies! (The actually baked kind.) Graham crackers or vanilla wafers are both a fairly neutral flavor that is downright delicious with a big scoop of cookie dough dip.
Love the salty-sweet combination? Pretzel sticks are amazingly delicious!
Want to add a little fruit? Apples in cookie dough dip is an unexpected combination, but the crunchy of the apple is A+ with this. Bananas are also good too — and to make them a little firmer, pop banana slices into the freezer for 10 minutes before using them to scoop up some dip.
This chocolate chip cookie dough dip was a big hit. If we're being honest, I'm already contemplating making a scaled down version for my own personal snacking pleasure.
I'll definitely be making this again for parties – it's so quick and easy, and I generally have all the ingredients on hand for a very last minute dessert!
More No Bake Desserts:
Chocolate Chip Cookie Dough Dip
What's better than a baked chocolate chip cookie? This egg-free chocolate chip cookie dough dip! Go ahead, dig in.
Ingredients
2 cups all-purpose flour
1/2 teaspoon salt
3/4 cup butter, melted
1 cup brown sugar, packed
1/2 cup granulated sugar
1 tablespoon vanilla extract
1 cup heavy cream, whipped
1 cup chocolate chips
dipping sides: brownie bites, graham crackers, nilla wafers, pretzel bites, apple slices, bananas on toothpicks, etc.
Instructions
Using an electric mixer, beat together the melted butter, brown sugar, granulated sugar, and vanilla until smooth. With the mixer running on low, add in the flour and salt until just incorporated.
Add half of the whipped cream and beat until smooth. Fold in the other half of the whipped cream with a rubber spatula, until just mixed. This will take a little time, but don't rush it – folding slowly is the key to keeping the dip light and soft.
Add in the chocolate chips and fold until incorporated.
Serve with sides and refrigerate any leftovers.
Recommended Products
As an Amazon Associate and member of other affiliate programs, I earn from qualifying purchases.
Nutrition Information:
Yield:

12
Amount Per Serving:
Calories:

391
Total Fat:

20g
Carbohydrates:

51g
Protein:

3.1g