May 13, 2022
Chocolate Chip Cookie Dough Dip
What's better than a baked chocolate chip cookie? This safe-to-eat Chocolate Chip Cookie Dough Dip! Easy to make, perfect for parties, and the most delicious way to relive your childhood of sneaking bites of cookie dough!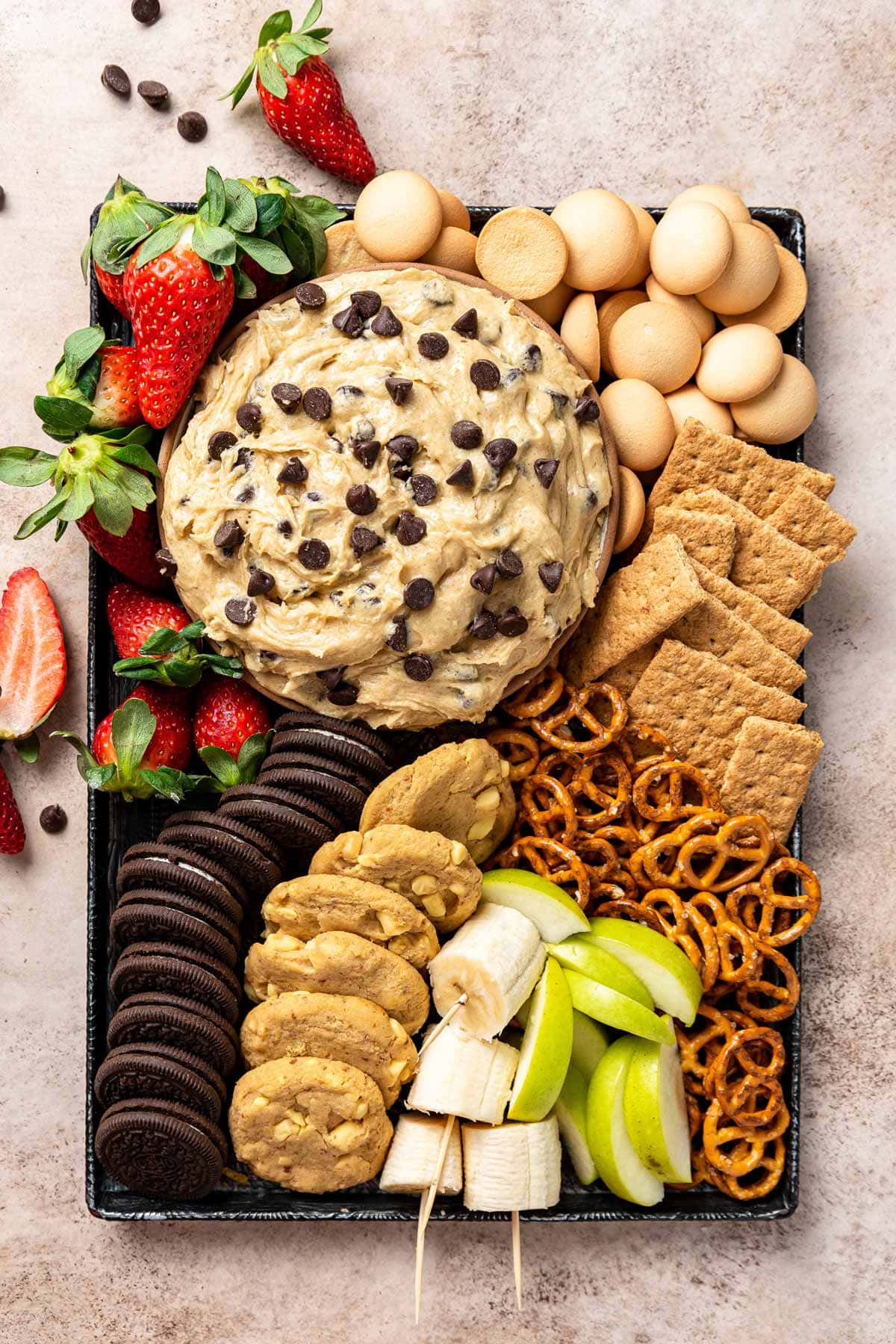 We're slowly moving closer to summer – and all the fun summer entertaining that comes along with it!
If you're looking for a super easy, super popular dessert, look no further than this cookie dough dip.
On a dessert-based food blog full of layer cakes and bundt cakes and pies and brownies and cheesecakes, this cookie dough dip has consistently been one of the most popular recipes, especially during peak entertaining seasons!
This no-bake dip is easy to make, requires minimal ingredients (you may already have everything you need!), can be made ahead of time, and lasts for several days.
I have suggestions for different mix-ins and all sorts of things to dip into it. Plus, all the tips and tricks you need to make sure it's actually safe to eat… unlike actual raw cookie dough!
Picnic? Birthday? Graduation? Pool party? Super Bowl? New Year's Eve? It's hard to think of an event where this cookie dough dip wouldn't fit right in!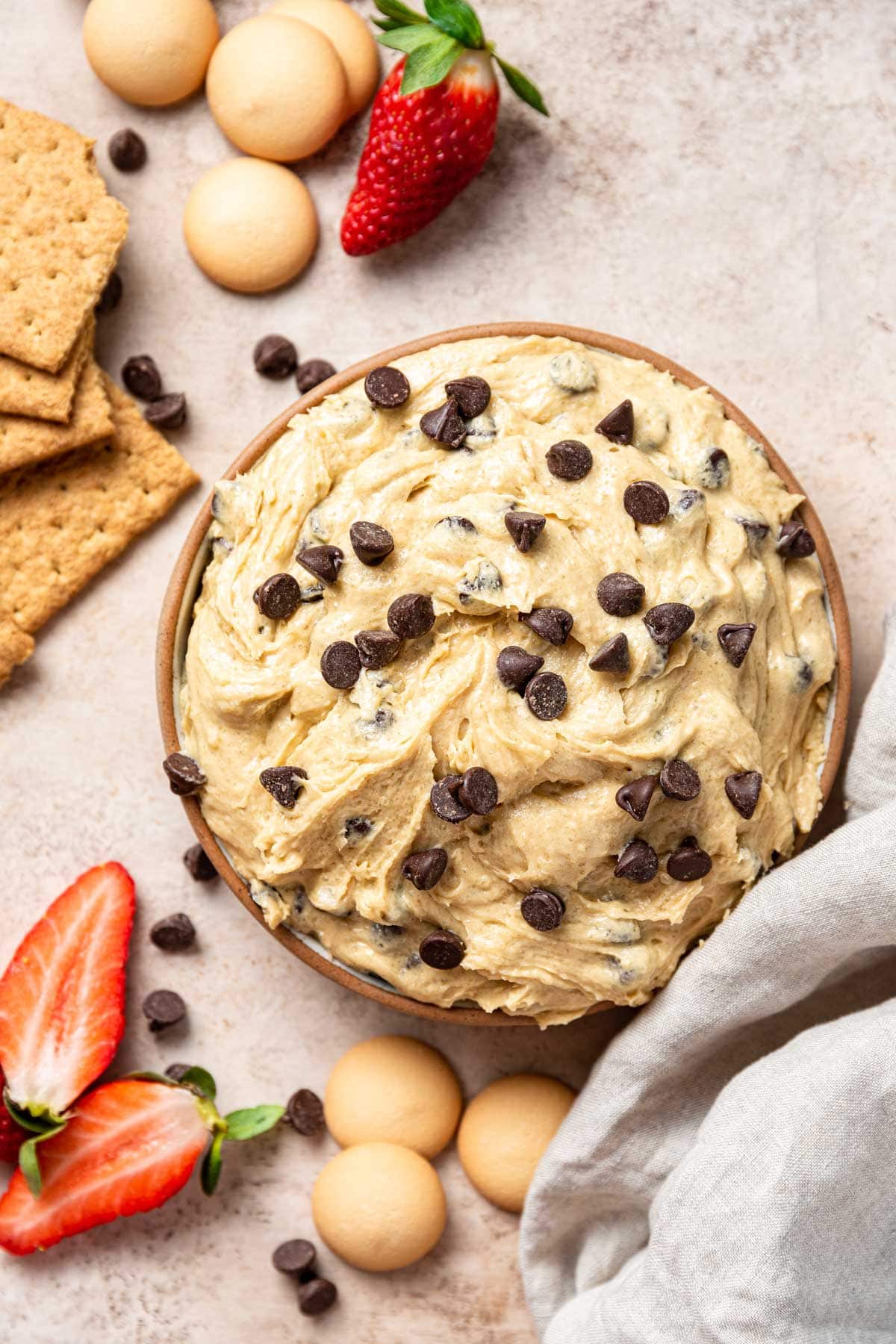 Only Needs Simple Ingredients
If you keep a well-stocked kitchen, you may have everything you need already on hand!
We need the following to make cookie dough dip:
all-purpose flour
salt
butter
brown sugar
granulated sugar
vanilla extract
heavy cream
chocolate chips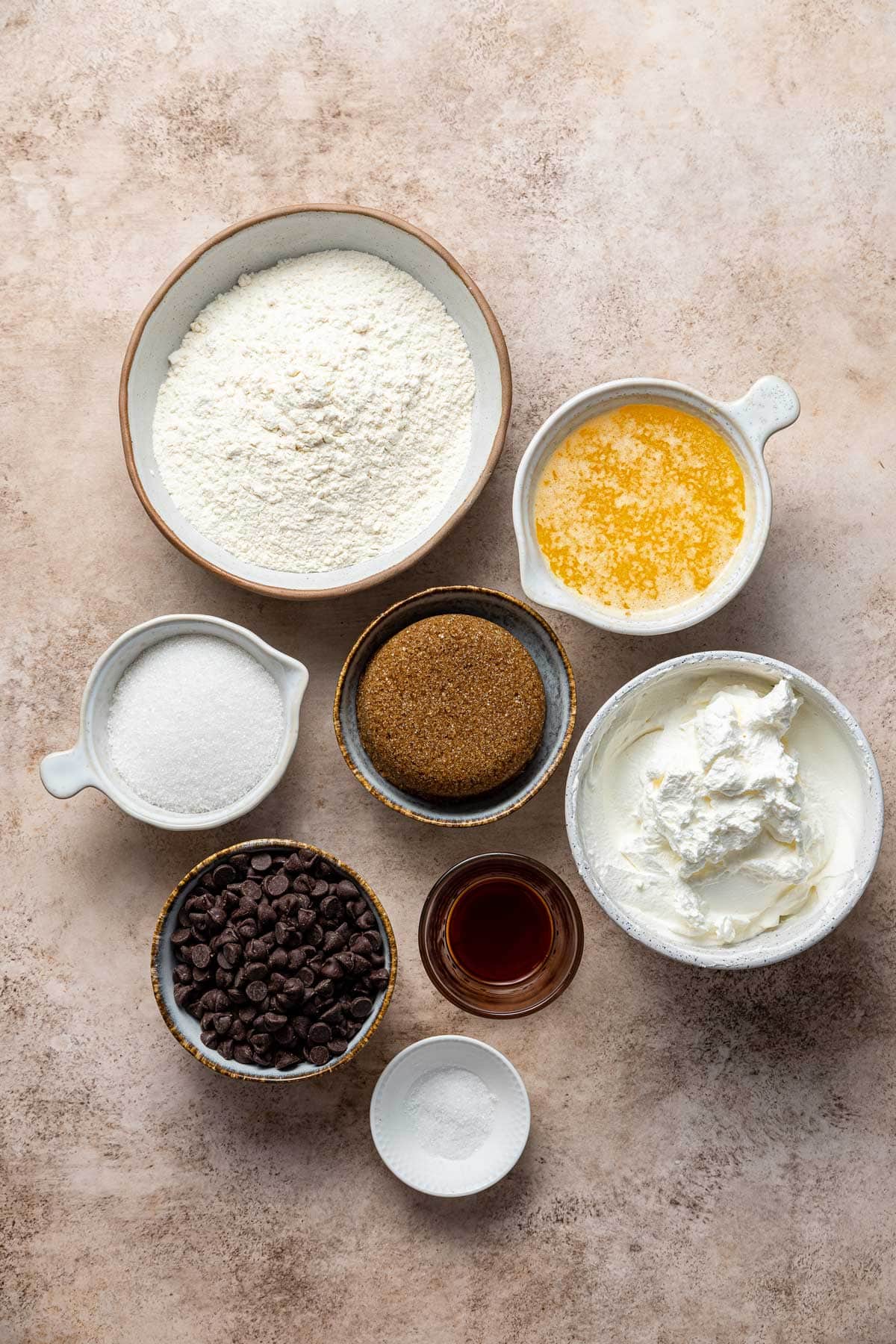 Egg-Free Cookie Dough
But raw cookie dough generally has eggs, and while I may be willing to take that risk for a bite or two, I'm certainly not going to serve something with raw eggs to any guests. So we're not including any raw eggs in here.
If we take normal chocolate chip cookie dough and leave out the eggs, the end result is really, really dense. Too dense to use as a dip – everything would get stuck or break in half!
So we'll skip the eggs – and fold in some whipped cream to keep the dip light enough to actually dip!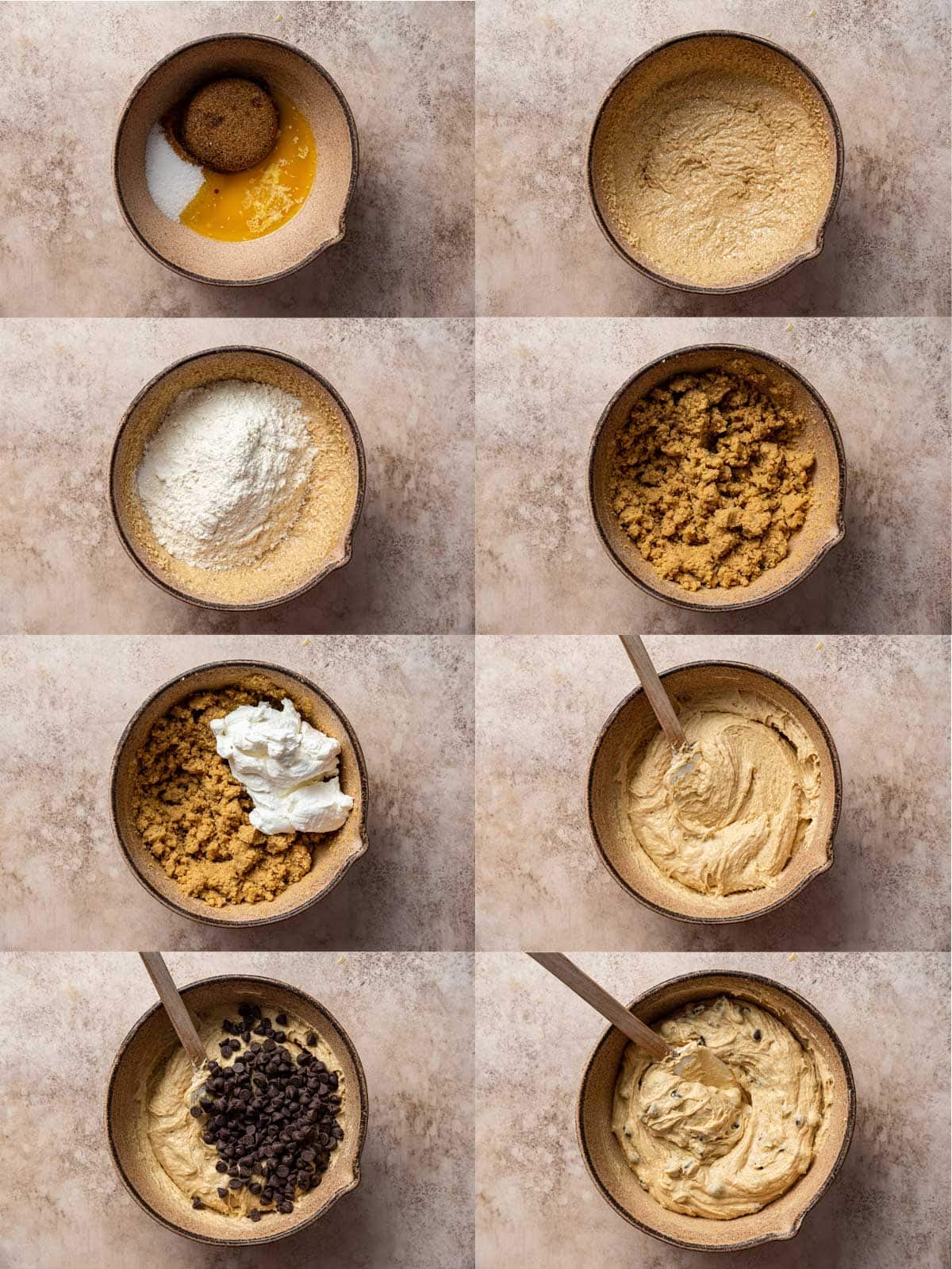 Heat Treat the Flour
As you may remember, there was an E. coli outbreak in flour a few years ago.
To make the cookie dough raw-appropriate, we're going to pasteurize the flour ourselves at home!  It takes 5 minutes and eliminates any worry about dangerous organisms hiding in your cookie dough brownies.
But first, what is pasteurization and how does it work? It's time for my favorite subject… kitchen chemistry!
Kitchen Chemistry

Pasteurization was developed by the French biologist, Louis Pasteur, while exploring what made food spoil. The process of pasteurization involves heating food products to kill off harmful bacteria, making them safe for consumption. As the temperature increases, enzymes in the bacteria are denatured and unfold, deactivating the enzymes and killing the bacterial cells.
When it comes to heat treating your flour at home, we can do this either with an oven or a microwave.
To use the oven, spread your flour in a thin layer on a baking sheet and bake for 5 minutes at 350 °F.
For the microwave, scoop your flour into a bowl and microwave on high for 30 seconds. Stir well to disperse hot spots, then repeat. Use an instant-read thermometer to check the temperature of the flour — all areas must reach 160 °F to be safe.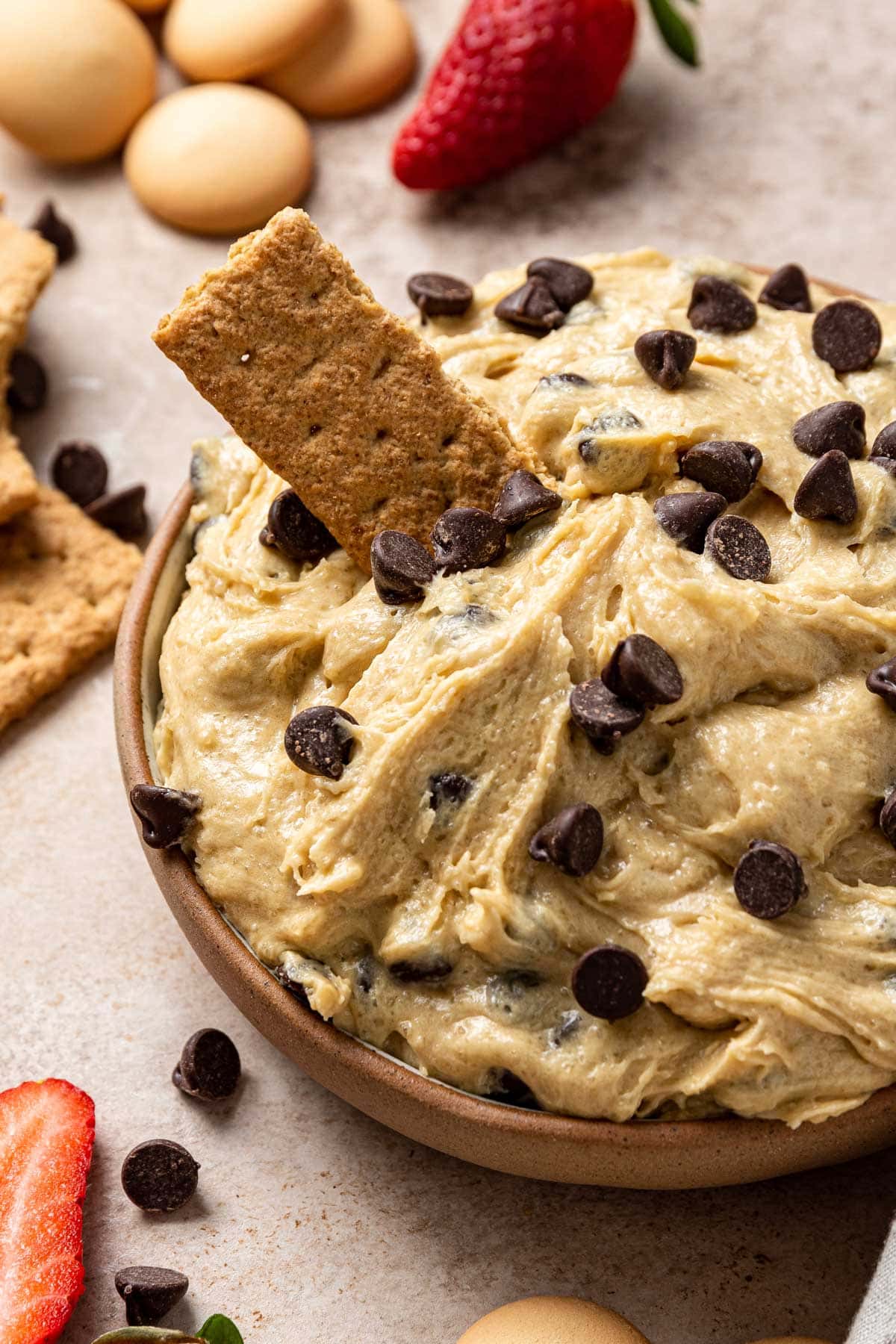 No Cream Cheese Necessary
One thing that is missing from my recipe compared to most chocolate chip cookie dough recipes? Cream cheese! We've left it out. Quite frankly, I don't like cream cheese in desserts. But also, it's not necessary.
Here's the thing about cream cheese: it's not innately sweet. This means we would have to add more sugar to the recipe to mask the tang from the cream cheese. Who needs more sugar than we already have?
Plus, cream cheese is pretty dense. Remember that whole needing to lighten up the dip without eggs? Cream cheese doesn't help there, either. It (a) changes the flavor and (b) makes the dip heavier.
No thank you. So skip the cream cheese this time around (save it for the yearlong series I'm doing on cheesecakes!). Folding in a little whipped cream is all you need for the perfect flavor and texture.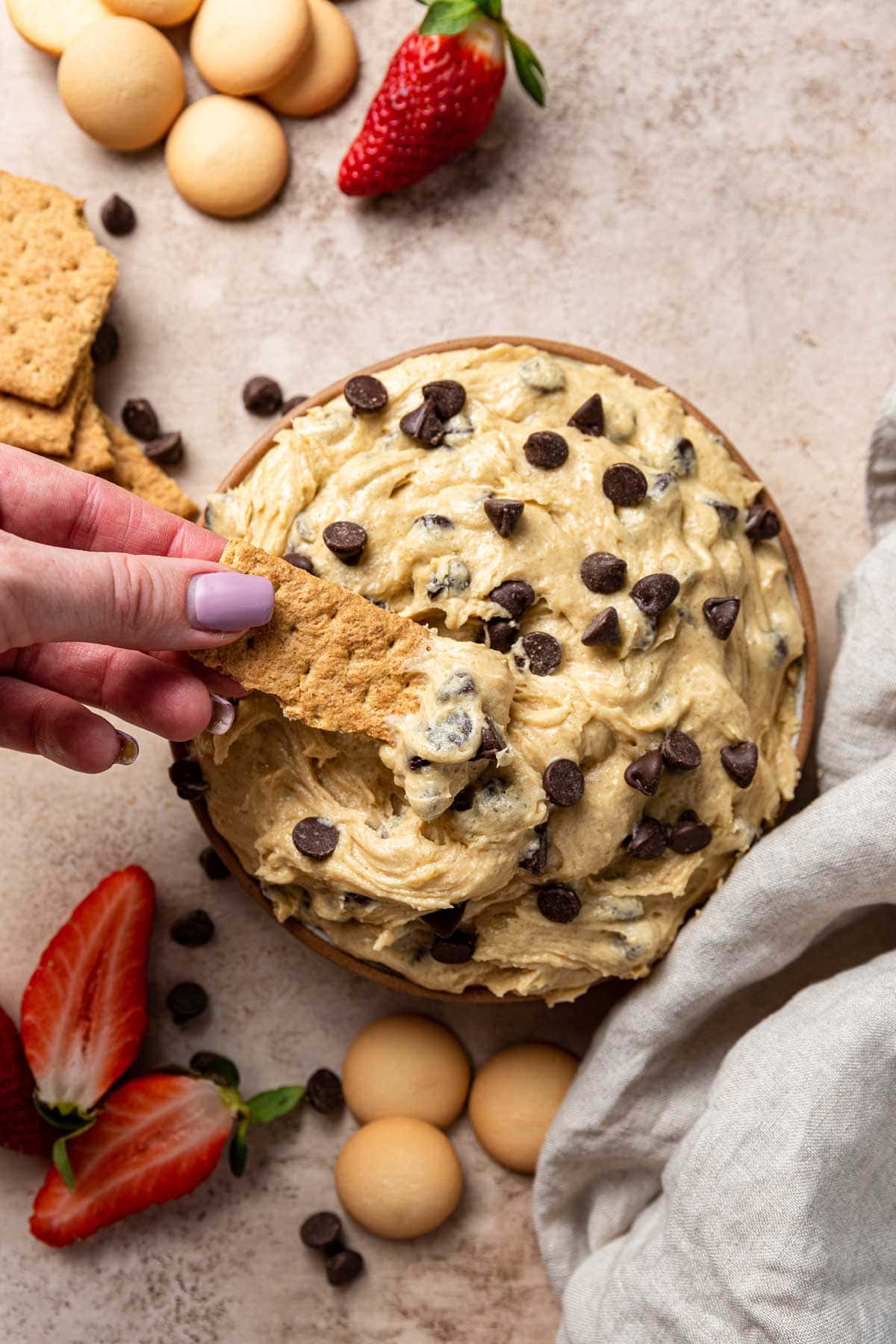 Dipper and Mix-In Suggestions
Now let's talk about the most important part: the dippers! Because handing everyone their own spoon and telling them to dig in is, generally, frowned upon.
It's a little meta, but my favorite thing to dip in cookie dough dip is… more cookies! (The actually baked kind.) Graham crackers or vanilla wafers are both a fairly neutral flavor that is downright delicious with a big scoop of cookie dough dip.
Love the salty-sweet combination? Pretzel sticks are amazingly delicious!
Want to add a little fruit? Apples in cookie dough dip is an unexpected combination, but the crunchy of the apple is A+ with this. Bananas are also good too — and to make them a little firmer, pop banana slices into the freezer for 10 minutes before using them to scoop up some dip. And my personal favorite: strawberries!
If you'd like to change up the flavor of the dip itself, there are loads of great ideas for mix-ins other than (or in addition to!) chocolate chips, like:
toffee bits
mint chocolate chips
peanut butter chips
sprinkles
miniature M&Ms
chopped up candy bars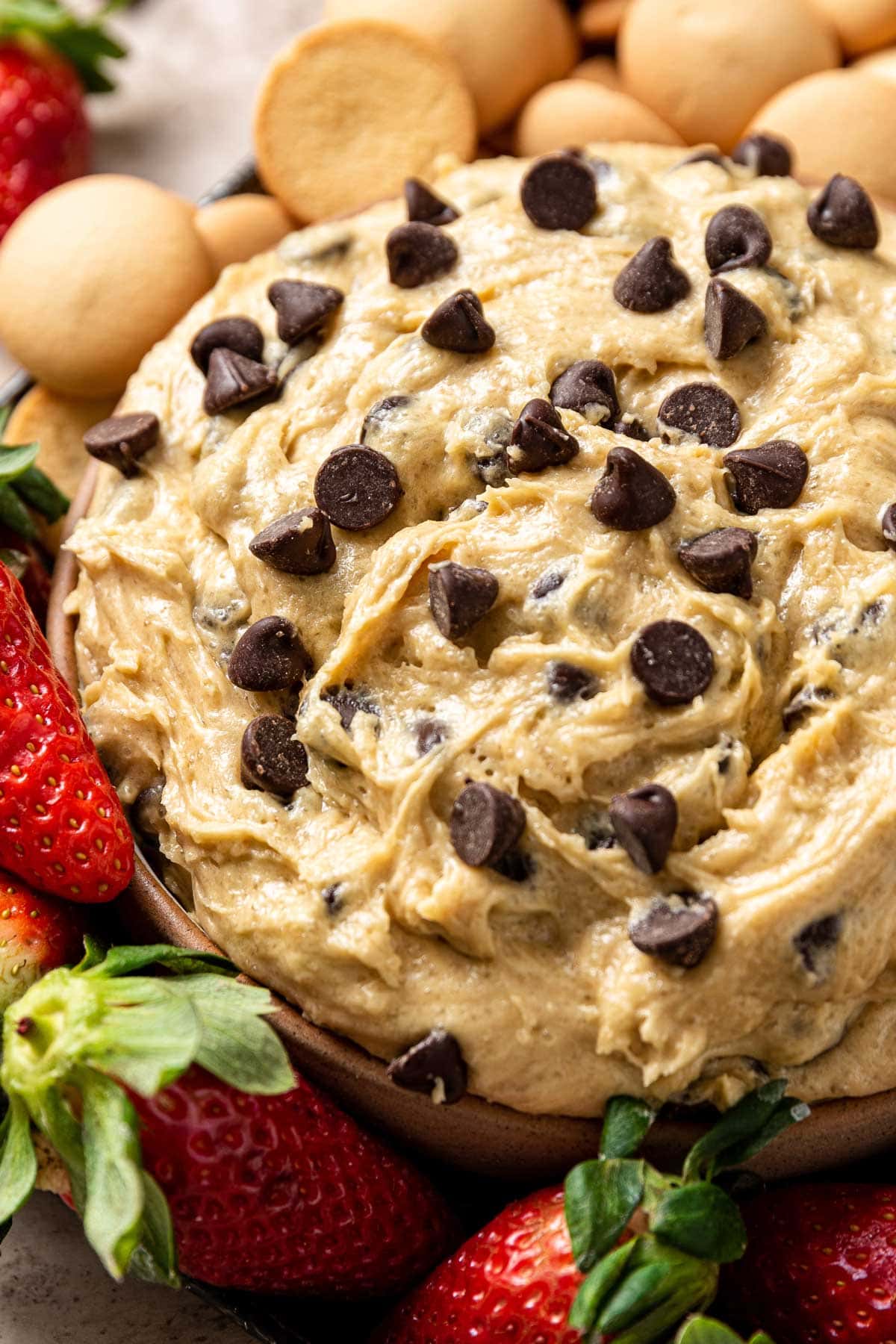 Tips and Tricks for the Best Cookie Dough Dip
While this can be mixed by hand, using a stand or hand mixer helps create a fluffier, more consistent texture.
Whip the heavy cream prior to use using a mixer or the whisk attachment of an immersion blender. Whip the heavy cream until medium-stiff peaks are achieved.
Fold in the whipped cream slowly – this is key for a soft, dippable texture.
Serve cookie dough dip at room temperature to keep it soft enough to dip in cookies and fruit.
Store leftovers in the refrigerator for up to 1 week. Bring to room temperature for 30-60 minutes before serving.
More No-Bake Desserts: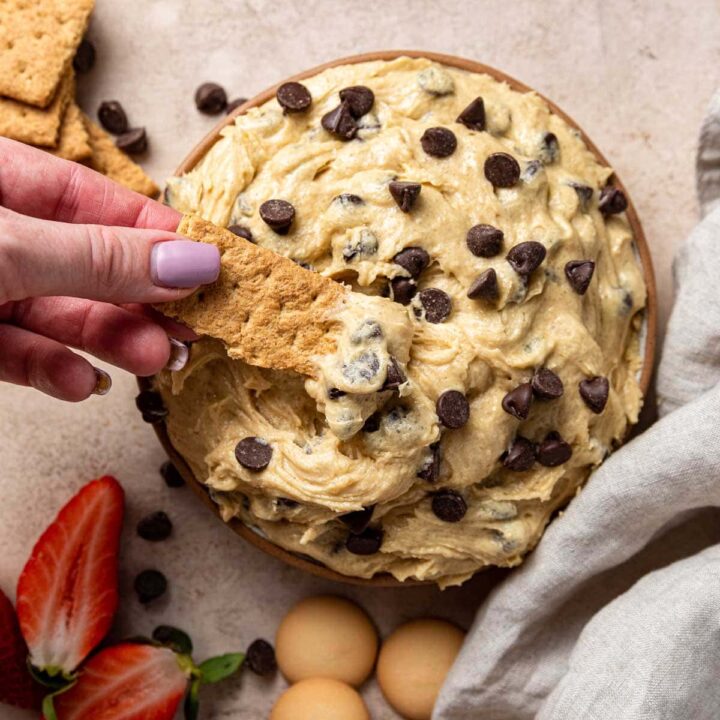 Chocolate Chip Cookie Dough Dip
What's better than a baked chocolate chip cookie? This egg-free chocolate chip cookie dough dip! Go ahead, dig in.
Ingredients
2 cups (240 grams) all-purpose flour, heat treated (see notes)
1/2 teaspoon salt
3/4 cup (170 grams) unsalted butter, melted
1 cup (213 grams) brown sugar, packed
1/2 cup (99 grams) granulated sugar
1 tablespoon vanilla extract
1 cup (227 grams) heavy cream, whipped to medium peaks
1 cup (170 grams) chocolate chips
dipping sides: brownie bites, graham crackers, nilla wafers, pretzel bites, apple slices, bananas on toothpicks, etc.
Instructions
Using an electric mixer, beat together the melted butter, brown sugar, granulated sugar, and vanilla until smooth. With the mixer running on low, add in the flour and salt until just incorporated.
Add half of the whipped cream and beat until smooth. Fold in the other half of the whipped cream with a rubber spatula, until just mixed. This will take a little time, but don't rush it – folding slowly is the key to keeping the dip light and soft.
Add in the chocolate chips and fold until incorporated.
Serve with sides and refrigerate any leftovers.
Notes
To heat treat the flour, spread the flour in a thin layer on a baking sheet and bake for 5 minutes at 350 °F. Alternatively, scoop the flour into a bowl and microwave on high for 30 seconds.  Stir well to disperse hot spots, then repeat.  Use an instant-read thermometer to check the temperature of the flour — all areas must reach 160 °F to be safe.  Cool before using.
Whip the cream using a mixer or immersion blender with the whisk attachment immediately before slowly folding into the dip.
Cookie dough dip is best served at room temperature so it is soft enough to dip.
Recommended Products
As an Amazon Associate and member of other affiliate programs, I earn from qualifying purchases.
Nutrition Information:
Yield:

12
Amount Per Serving:
Calories:

391
Total Fat:

20g
Carbohydrates:

51g
Protein:

3.1g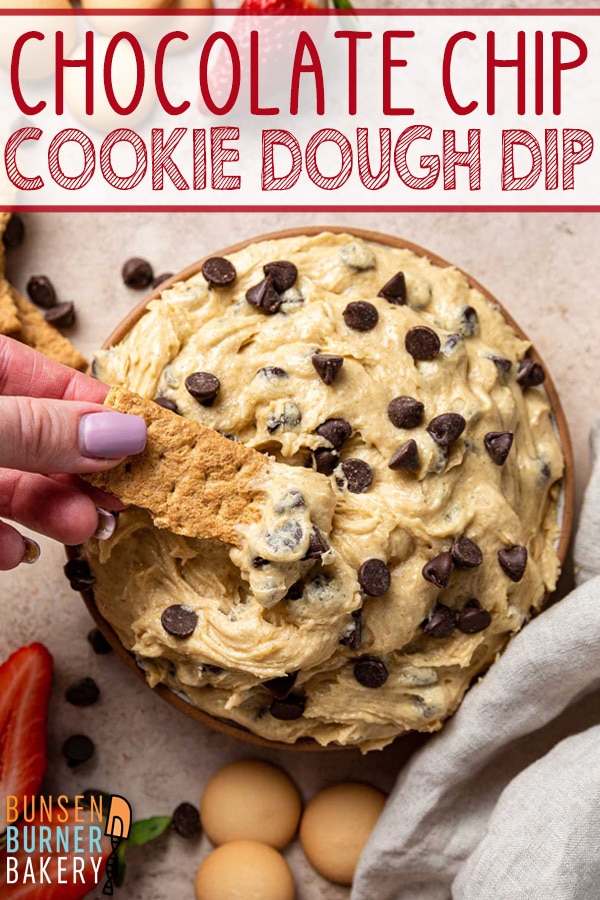 This Chocolate Chip Cookie Dough Recipe was first published in March 2015 and updated with new photos and helpful tips in May 2022.