March 26, 2015
Lemon Shallot Chickpea Casserole
A hearty yet light one-dish vegetarian chickpea casserole, full of protein and fresh flavors. Freezer friendly!
In case you missed it, Bunsen Burner Bakery now has a home on Facebook. You can find the page here – a great way to receive notifications of future recipes if you don't subscribe via e-mail or an RSS feed!
Everyone who cooks or bakes has something they just can't seem to master in the kitchen. I know so many wonderful chefs who don't like to bake, or hate making bite-sized appetizers, or have never had a loaf of bread properly rise.
Inversely, it seems even more common to love to bake, but have no interest or talent when it comes to cooking savory components for dinner. I enjoy both baking and cooking, but my own personal kitchen nemesis has always been the seemingly simple casserole.
Yes, that's right, the casserole – the one-dish meal popular with 1950s housewives everywhere.
Believe me, I've tried my fair share of casseroles in the kitchen, but I've never found one that I've actually liked. I'm unsure if this is because I'm doing something wrong, or if my husband and I just aren't "casserole people".
It doesn't matter how many people swear that their husband thinks this particular casserole was the best thing they ever ate… mine always just says "meh" in response to my attempts. And yet despite all the failures, I keep trying – because I love the idea of the casserole.
A one dish meal that can be prepared ahead of time and popped in the oven as soon as you get home from work? It sounds amazing, especially for those nights that I don't leave the lab until 8pm and don't have the time or energy to start cooking a complex dinner at 9:00 at night.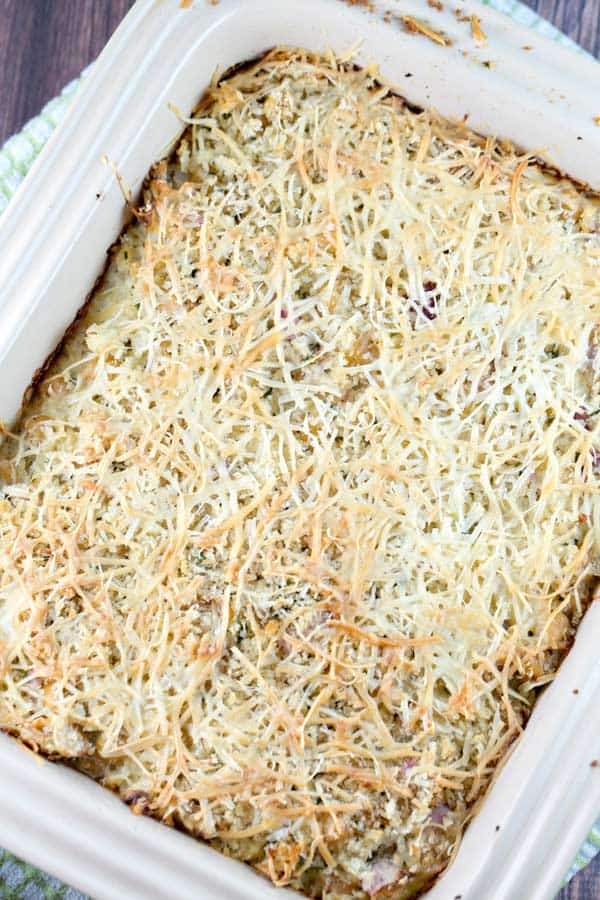 All this considered, you can imagine my shock when even my chickpea-disliking husband willingly ate this chickpea casserole, and even dared to say that it was good.
For him, it falls firmly in the "side, not main dish" category, but it's easy enough to grill a chicken breast while this is in the oven and call it dinner.
For me, it's a perfect dinner or lunch on its own, or something I'd even serve to casual company, accompanied with a nice, crisp salad and something delicious for dessert.
It's a modern take on those heavy cream-of-something laden casseroles from the 70s – fresh and bright, with lemons and shallots, warm and creamy inside with a nice crispy parmesan crust.
Make it the day before and pop it in the oven after work, make it the day of, or make it well ahead of time and freeze it; you really can't go wrong.
And if I can manage to make this chickpea casserole, I assure you that you can, too.
Lemon Chickpea Shallot Casserole
A hearty yet light one-dish vegetarian chickpea casserole, full of protein and fresh flavors. Freezer friendly!
Ingredients:
3 large eggs, beaten
1 cup cottage cheese
3/4 cup plain yogurt
1 cup grated Parmesan cheese (vegetarian friendly), divided
3 (15-ounce) cans chickpeas, drained
1 cup cooked brown rice
4 shallots, minced
3 cloves garlic, minced
1 lemon, juiced and zested
1/2 cup vegetable broth
salt and freshly ground black pepper, to taste
2/3 cup panko or dried bread crumbs
1/2 cup fresh chopped herbs (I like a combination of parsley and oregano)
olive oil, for drizzling
Directions:
Preheat the oven to 375F and lightly grease a 9×13-inch baking dish.
Beat the eggs in a large bowl.  Add in the cottage cheese, yogurt, and 1/2 cup of the Parmesan cheese.  Stir in the chickpeas, rice, shallots, garlic, and lemon zest and juice, and vegetable broth.  Season with salt and pepper and stir in the herbs.
Spread the mixture into the baking dish and top with the remaining Parmesan cheese and bread crumbs.  Drizzle with olive oil and bake for 45 minutes, until golden and bubbling.  Allow the casserole to stand for 10 minutes before serving.