April 10, 2020
Honey Glazed Moroccan Eggplant
Meltingly soft Honey Glazed Moroccan Eggplant, covered with a sweet and spicy honey and harissa sauce.  Vegetarian and gluten-free!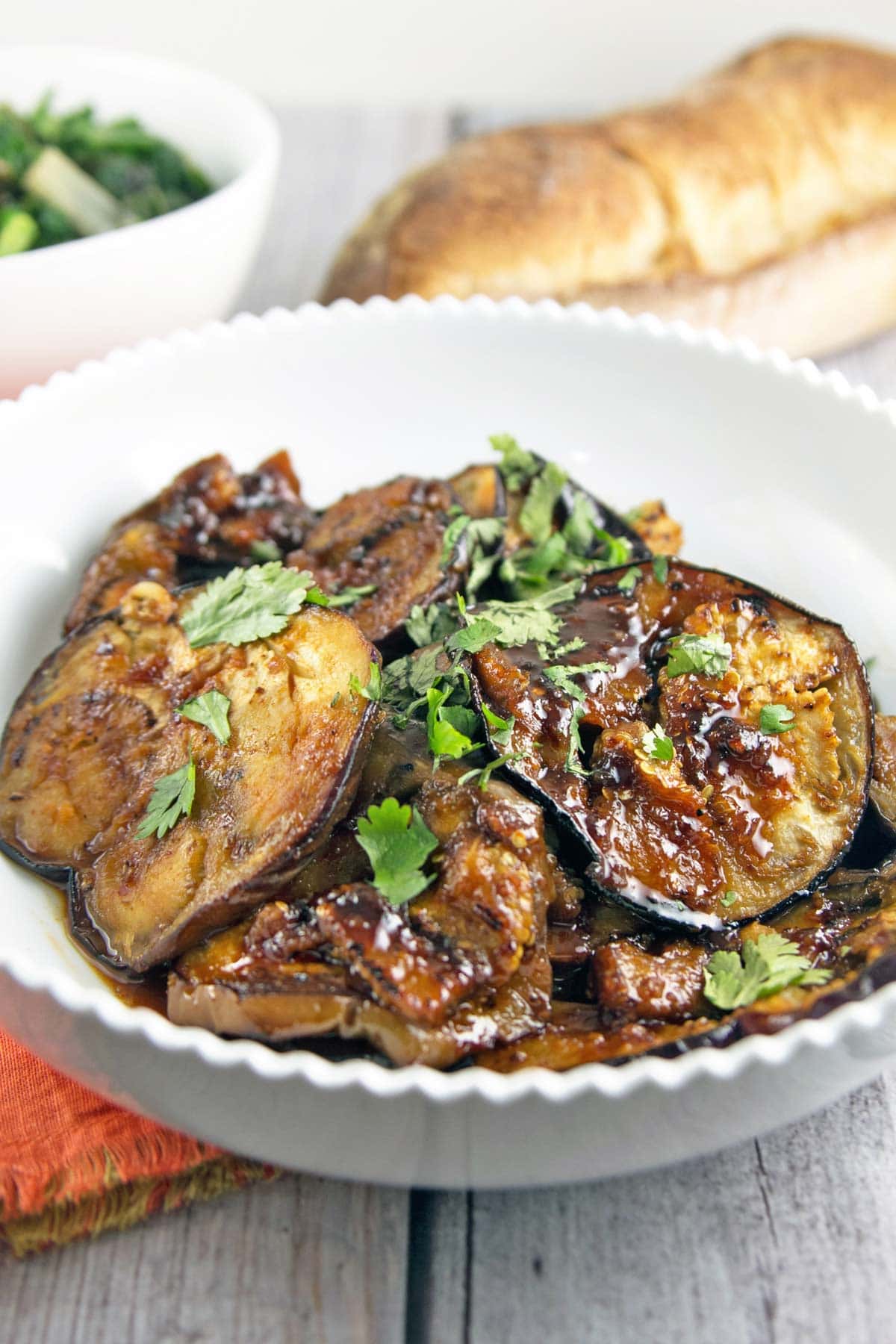 Today, we're updating an old recipe that seems strangely appropriate for the current times.
This is one of my personal favorite savory recipes on here, and you guys love it, too. It's been one of my top 10 most popular recipes in 2019, 2018, 2017, and 2016.
I've been meaning to update the post with some new pictures (and a new video!) for quite some time, and now seems especially appropriate.
With the current world climate, more and more people are turning to produce delivery boxes rather than grocery stores.  As a result, people are getting vegetables they normally don't cook with — and are searching for recipes.
I've had more than a few people reach out and ask what to do with eggplants.  This friends — this is what you should do with your eggplant.  
(Or check the bottom of this post for more eggplant recipe ideas!)
It's also appropriate because this week is Passover, and Moroccan-inspired food like this is often a staple for our family for Passover.  No grains or chametz are present in this sweet and spicy harissa and honey-glazed Moroccan eggplant!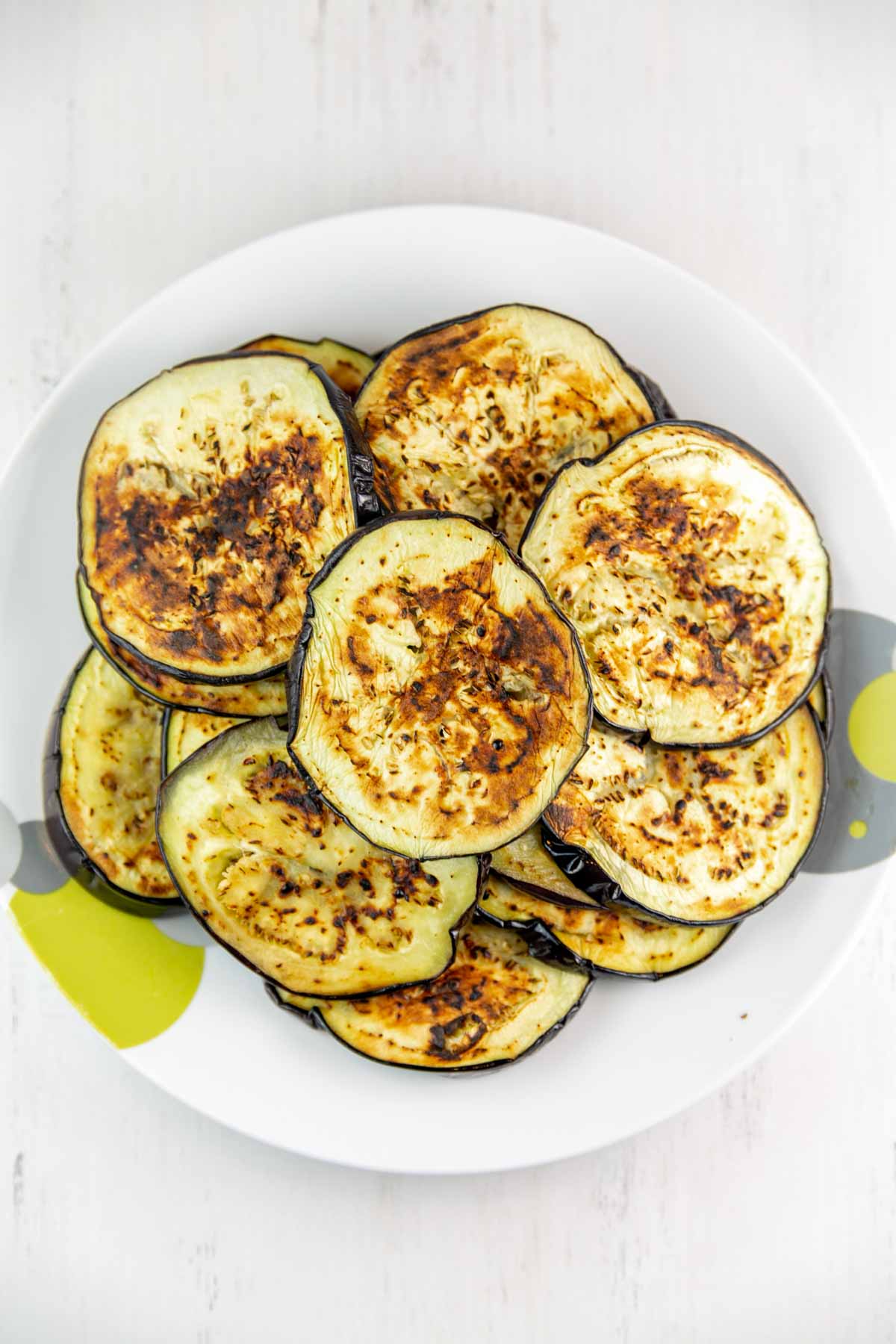 Easy Moroccan Eggplant Video
Because this is one of my favorite recipes, I wanted to show you how easy it is to make!
Cooking eggplant might be a little out of your comfort zone, especially if you're more into baking than cooking.
But this recipe is super easy! Just watch below. ↓↓↓
The Most Tender Eggplant
One of the biggest complaints people have about eggplant is its texture. It can often be too stringy or too chewy.
Let's talk about the very best way to make sure your eggplant stays super soft and tender. It's time for my favorite subject… kitchen chemistry!
Kitchen Chemistry

Sweating an eggplant — sprinkling salt on the surface and letting it sit — draws out extra moisture from the cells of the eggplant through a process called osmosis. Solvent (the water in the cells) will always move from an area of low salt concentration (inside the eggplant) to an area of high concentration (the salted outside of the eggplant), drawing the water out.
There's a myth that sweating an eggplant reduces the bitter taste, but it's just the salt masking the bitter. Whether we salt an hour ahead of time or just before cooking, the taste is the same.
Where we see a big difference, though, is the texture. Sweated eggplant will be softer, especially the skin – meaning we don't have to peel our eggplant before cooking!
After removing the excess water, the eggplant is ready to absorb the next liquid we add to it — our delicious honey and harissa sauce.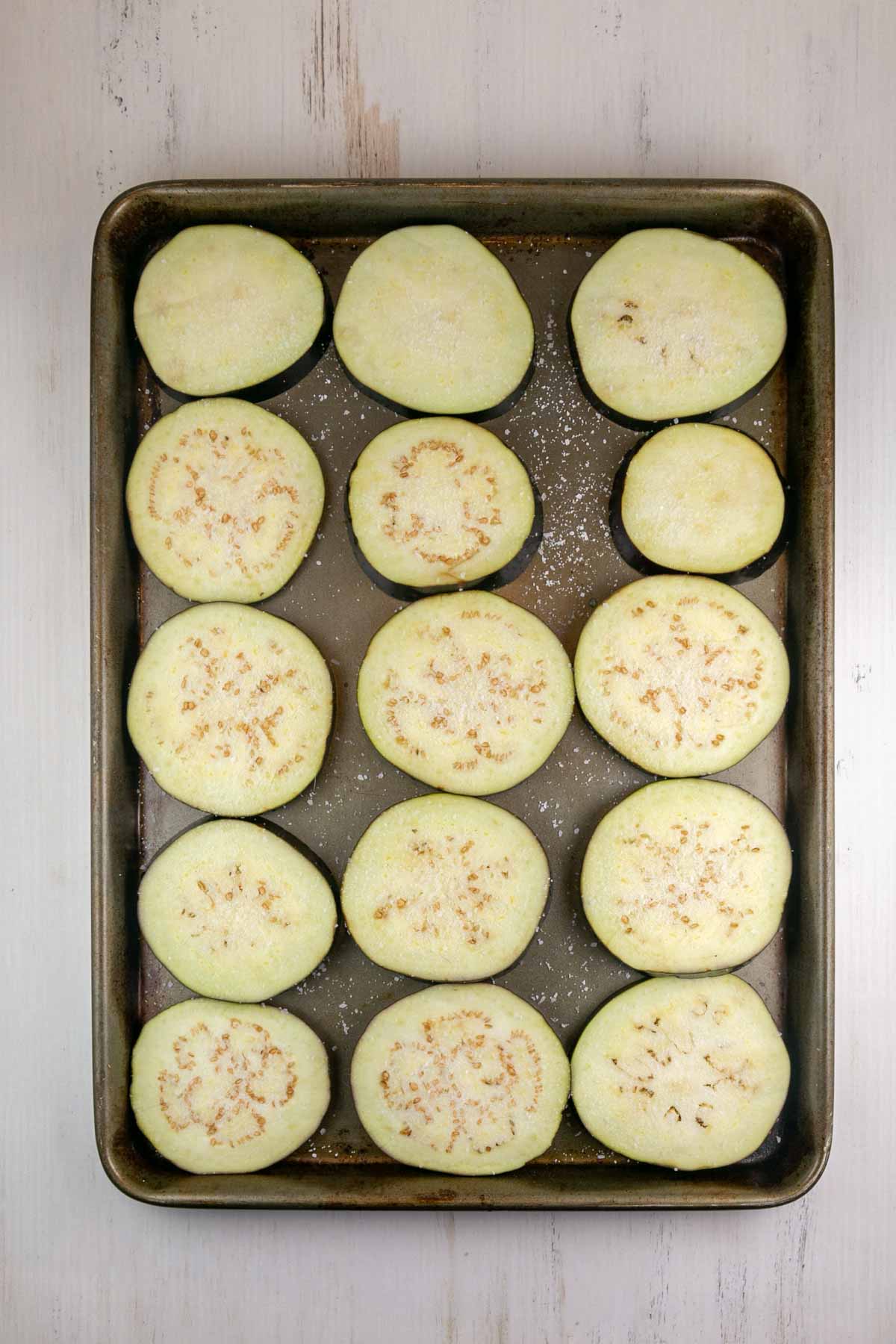 Sweet and Spicy Sauce
All the flavor for this dish comes from the sauce.
Start by sauteing fresh garlic and ginger, just until fragrant. Add in cumin and harissa, a North African chili pepper spice.
Pour in a mixture of lemon juice and honey and simmer with the eggplant until the sauce is reduced and thick, covering the eggplant slides.
The end result is super soft and tender eggplant that nearly melts in your mouth.
What to Serve with Moroccan Eggplant
We usually have this as our main dish, served with a loaf of fresh, crusty bread (except during Passover, obviously) and a big pile of sauteed greens or a salad.
As a side, it is perfect with chicken or fish. Paprika Chicken with Chickpeas or Moroccan fish stew are two of our favorite options.
The Moroccan eggplant is also just as delicious cold as it is warm, so it's a great side for a picnic or potluck. Or as leftovers for lunch the next day… assuming there is any left.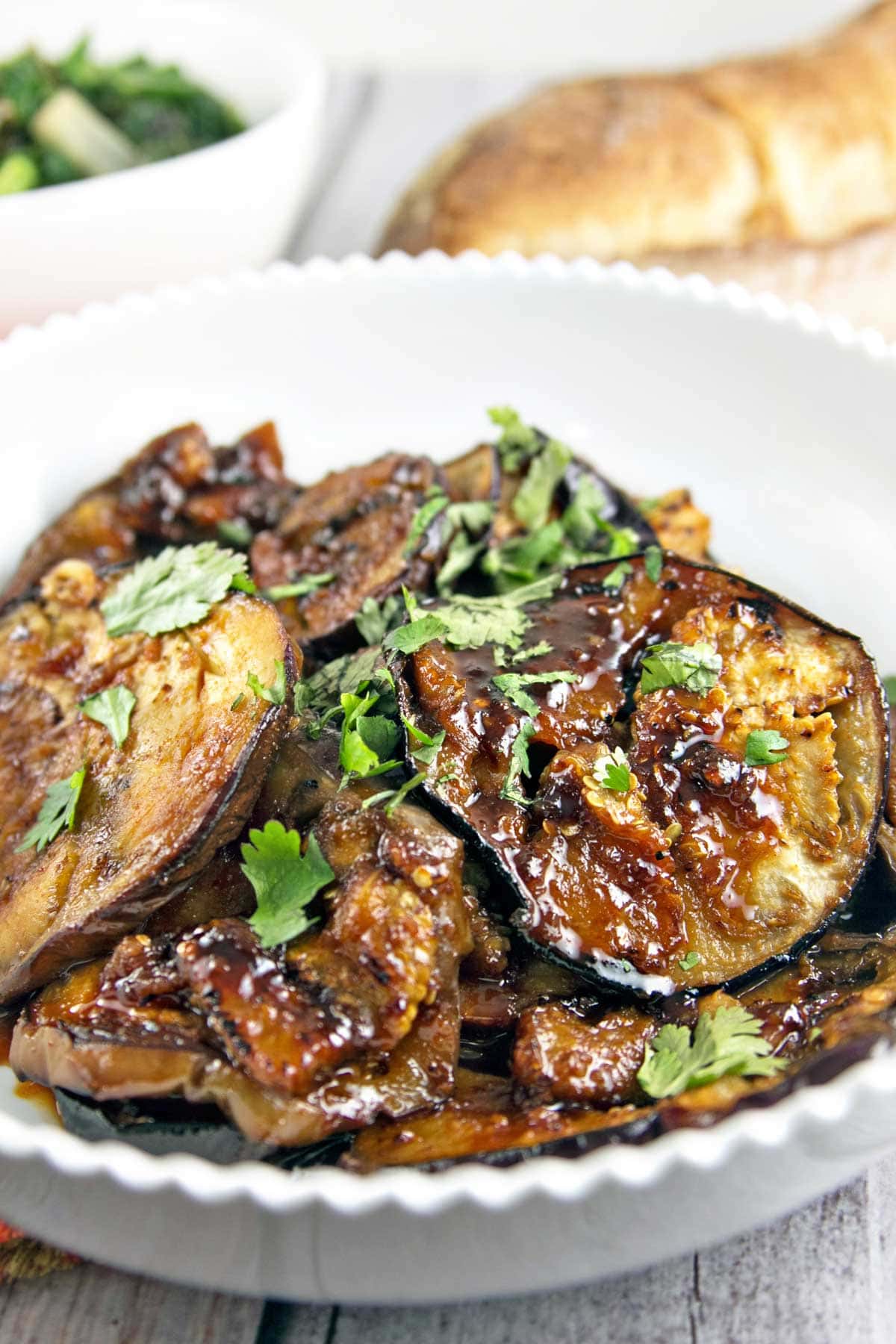 Tips and Tricks for the Best Honey Glazed Moroccan Eggplant
Slice the eggplant into thick slices, at least 1 inch thick. Thinner slices will fall apart as the eggplant simmers in the sauce.
Salt the eggplant to draw out excess moisture. This step is not mandatory if you're short on time, but the texture will be better.
Can't find harissa? Substitute in a pinch of red chili flakes or a few dashes of hot sauce.
This is equally delicious served warm or cold. Leftovers can be stored in an airtight container in the refrigerator for up to 4 days or flash-frozen for up to 3 months.
More Eggplant Recipes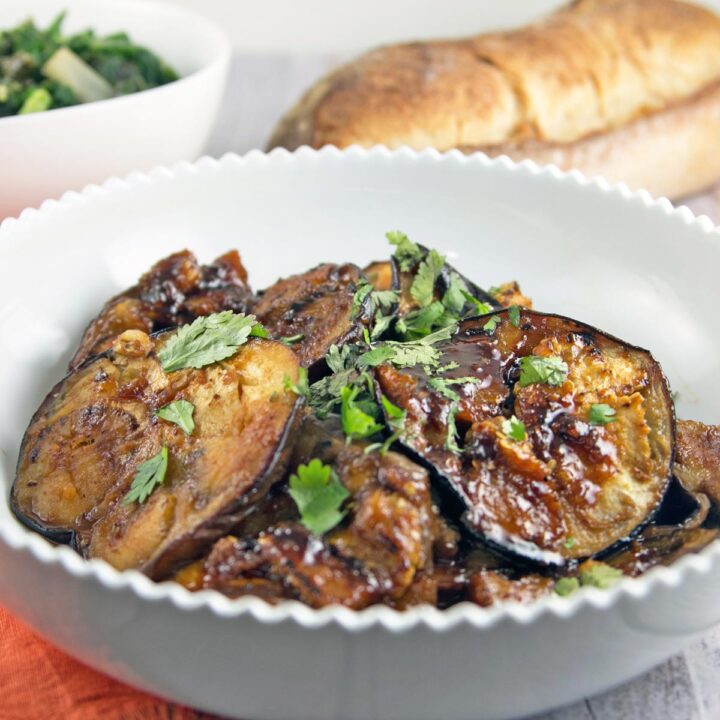 Honey Glazed Moroccan Eggplant
Meltingly soft eggplant, covered with a sweet and spicy honey and harissa sauce.  Vegetarian and gluten free!
Ingredients
2 large globe eggplants, thickly sliced
kosher salt
1/4 cup olive oil
5 tablespoons honey
1 large lemon, juiced
2 cloves garlic, minced
2 tablespoons ginger, minced
2 teaspoons cumin
1-2 teaspoons harissa
1/2 cup chopped fresh cilantro or parsley
Instructions
Spread the slices of eggplant on a towel and sprinkle both sides generously with salt. Allow the eggplant to sweat for 30 minutes, then wipe off the salt with a damp towel and dry the surface with a dry towel.
Preheat a large, heavy skillet over medium-high heat. Brush both sides of each slice of eggplant with olive oil and cook, without overlapping the slices, until well browned on both sides. Remove the slices to a plate and set aside; repeat with remaining slices.
Combine the honey and lemon juice with 1/2 cup hot water in a small bowl, stirring until the honey is completely dissolved. Add the garlic and ginger to the empty skillet and stir for 30 seconds, or until fragrant, followed by the spices. Stir in the honey-lemon mixture and bring to a boil.
Place the eggplant in the pan, overlapping as needed, and cook over medium heat for 10 minutes, turning halfway through to ensure all pieces are coated with sauce. Continue to heat until the sauce has turned into a thick glaze and the eggplant is soft.
Garnish with cilantro and serve warm or at room temperature.
Notes
Cut the eggplant into thick rounds, at least 1-inch thick.
Salting the eggplant can be skipped to save time, but the resulting eggplant will not be as soft and tender. Season with a little salt before sauteeing.
A pinch of red chili flakes or a few dashes of hot sauce can be used as a substitute to harissa.
The eggplant can be served warm, room temperature, or even straight out of the refrigerator.

Leftovers can be stored in an airtight container in the refrigerator for up to 4 days or frozen for up to 3 months. To freeze leftovers, flash freeze individual
slices on a cookie sheet to keep the pieces from sticking together.  Once fully frozen, transfer to a freezer bag.
Inspired by a recipe in Modern Moroccan
Recommended Products
As an Amazon Associate and member of other affiliate programs, I earn from qualifying purchases.
Nutrition Information:
Yield:

4
Serving Size:

1 serving
Amount Per Serving:
Calories:

283
Total Fat:

14.4g
Carbohydrates:

40.8g
Protein:

3.5g
This Honey Glazed Moroccan Eggplant recipe was originally published on 03/08/2016. It was republished on 04/10/2020 with new text, pictures, and video.