January 13, 2017
Sweet Potato Kale Chickpea Bowl (GF + Vegan)
Roasted sweet potatoes, spicy chickpeas, and fresh kale paired with a maple-tahini dressing.  This sweet potato kale chickpea bowl is the ultimate gluten free and vegan comfort food.
I know.  I know.
On Monday I called out food bloggers for turning all healthy in January, before sliding back into regularly scheduled content.
And here I am, sharing a sweet potato kale chickpea bowl.
That is gluten free and vegan.
I know.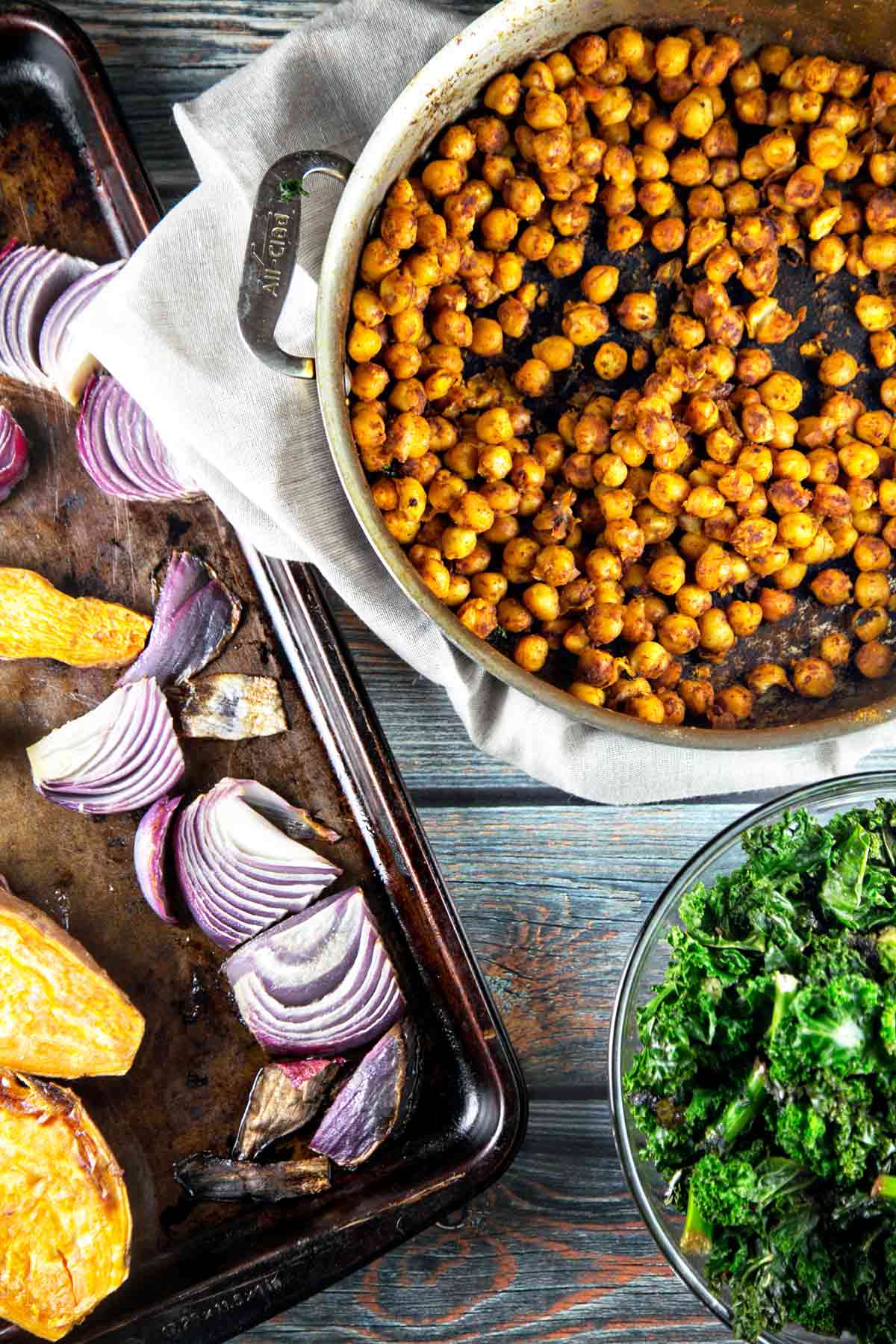 But my dinner category tends to run on the healthy side (no fried chicken around here – not that I don't love some good friend chicken!), so this fits right in.
And you can follow it up with one of those delicious sprinkle sugar cookies from Monday.  Balance, friends, balance.  Life is all about balance.
So if you need to tip your scales a little bit towards the healthy category, come on over to my house, because I can't stop making this sweet potato kale chickpea bowl!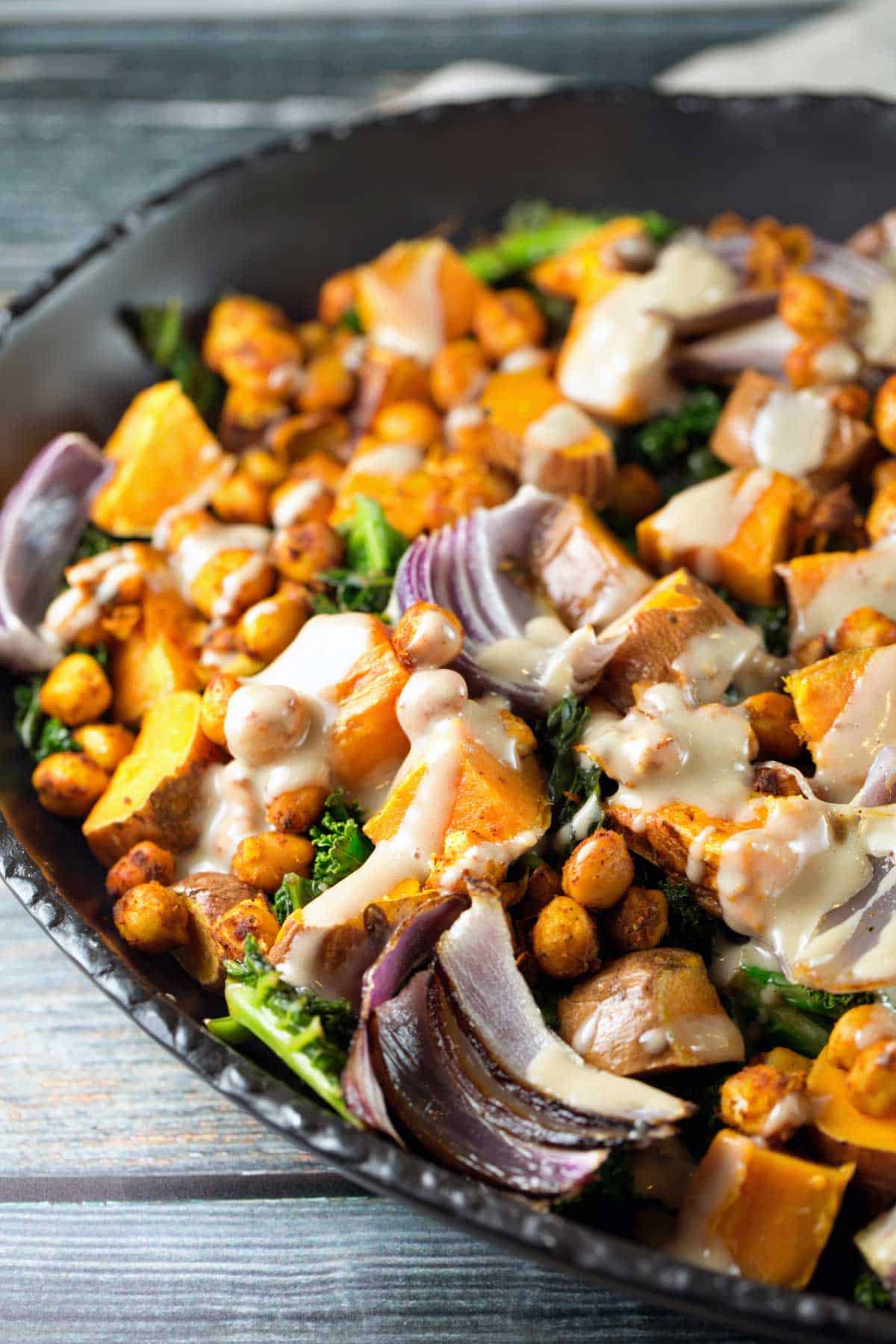 It's basically the perfect winter comfort food.  Warm and filling – like eating a hug. (Is that a weird analogy?)
But unlike traditional pasta and cheese-laden comfort food, you don't feel like groaning afterwards, even if you go back for seconds.
Which you probably will.  Because it's so good.
(It's so good, in fact, that I made this for a friend the last week of December.  Before I had a chance to share my recipe, he texted me a picture of his recreation, because he also can't get enough.)
How to Make Sweet Potato Kale Chickpea Bowls
So let's talk about how to make this delicious, nutritious, healthy sweet potato kale chickpea bowl, shall we?  It's suer easy. Roast some sweet potatoes and red onion.  Wilt some kale.  Sautee some chickpeas in a bunch of delicious spices.
And then make the true star of this dish: a maple tahini dressing, drizzled on top.  I have a mild obsession with tahini and put it on all the things – it's such a perfect earthy, nutty flavor and such a great way to add creaminess to something without cream or yogurt. (Examples of all the things: grilled tahini chicken, flourless chocolate tahini cake, brownies with salted tahini buttercream.)
I add just a little maple syrup to sweeten it up, but if you're avoiding additional sugars, you can certainly skip the maple syrup.  (But if you're not, add it.  It's so good!)
Sidenote: Soom Tahini is my absolute favorite tahini – it's woman-owned and it's local to Philly, too!  And also gluten free; if using another brand and concerned about gluten, please double check.  (Not a sponsored post, but Amazon link is affiliate.)
If you're part of a winter CSA in the northeast, you're probably getting a lot of sweet potatoes and winter kale right now.  Eating local, eating in season, and eating healthy?  This sweet potato kale chickpea bowl is the ultimate comfort food trifecta.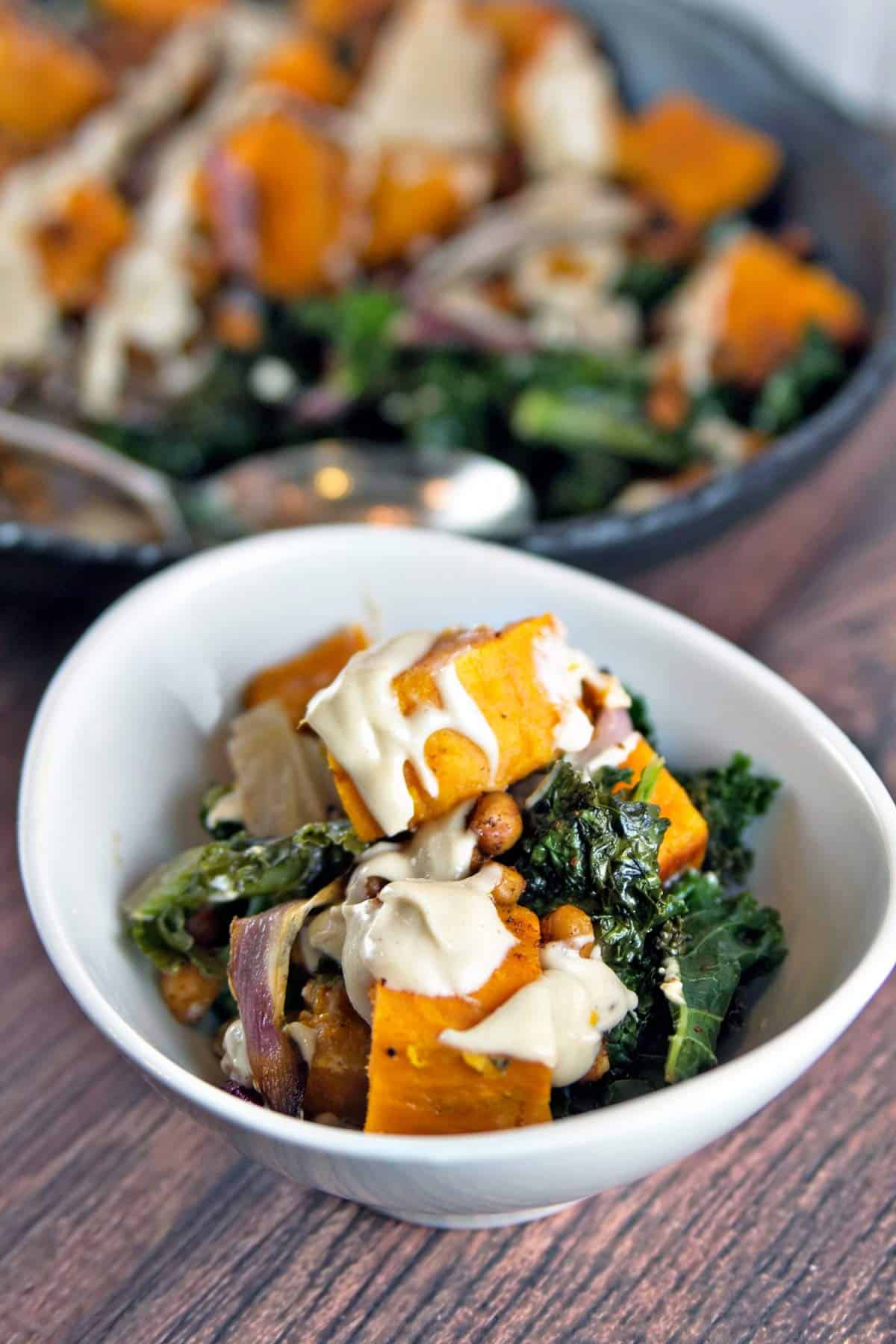 More Vegan Dinner Recipes: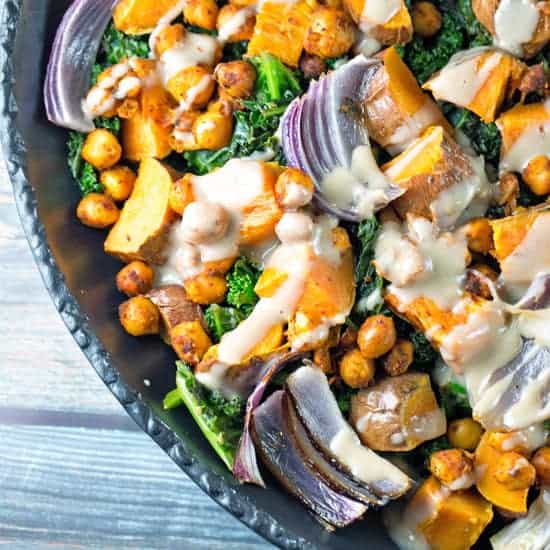 Sweet Potato Kale Chickpea Bowl (GF + Vegan)
Roasted sweet potatoes, spicy chickpeas, and fresh kale paired with a maple-tahini dressing – the ultimate gluten free and vegan comfort food.
Ingredients
3 tablespoons olive oil, divided
1 red onion, sliced into wedges
2 large sweet potatoes, halved
3 bunches fresh kale, stems removed and leaves chopped
1 teaspoon salt, divided
2 (15-ounce) cans chickpeas
1 teaspoon cumin
1 teaspoon chili powder
1 teaspoon garlic powder
1 teaspoon smoked paprika
1/4 teaspoon turmeric
pinch cayenne pepper (optional)
1/2 cup tahini
1 tablespoon maple syrup
2 tablespoons fresh lemon juice
2 tablespoons hot water
Instructions
Preheat oven to 400 °F.
Drizzle 2 tablespoons olive oil over sweet potatoes and onion. Spread on baking sheet, with the sweet potatoes skin side down.
Bake for 10 minutes, then flip sweet potatoes and bake an additional 10 minutes, until sweet potatoes are cooked yet firm.
While sweet potatoes are baking, prepare the kale and chickpeas. Place the kale in a large skillet over medium heat. Sprinkle with half a teaspoon of salt, cover, and cook for 5 minutes, stirring frequently. When the kale is bright green and wilted, remove the from the skillet and set aside.
Pour out any accumulated liquid from the kale and add the chickpeas to the skillet. Sprinkle with the cumin, chili powder, garlic powder, smoked paprika, turmeric, cayenne pepper (if using), and remaining half teaspoon of salt. Stir the chickpeas well to combine with the spices. Add the additional tablespoon of olive oil and sauté, stirring frequently. Cook for 10 minutes, until chickpeas are golden brown.
To make the tahini sauce, combine the tahini, maple syrup, lemon juice, and hot water in a small mixing bowl. Whisk with a fork to combine.
To serve, cut the sweet potatoes into bite sized cubes. Mix with the onions, kale, and chickpeas, and drizzle with the tahini sauce.
Recommended Products
As an Amazon Associate and member of other affiliate programs, I earn from qualifying purchases.
Nutrition Information:
Yield:

4
Amount Per Serving:
Calories:

600
Total Fat:

31g
Carbohydrates:

68g
Fiber:

18g
Sugar:

17g
Protein:

20g