November 8, 2018
Quinoa Cakes with Poached Eggs
Step out of your dinner rut with these easy, freezer friendly quinoa cakes. Top with a pile of fresh kale and a poached egg for a year-round updated take on breakfast for dinner.
Life is crazy, friends. Two kids. New job. Planning a move to a new house. Slow, leisurely evenings cooking complicated dinners are a thing of the past.
Fast, easy, and make ahead is the name of the game right now. The faster, the easier, and the more prep work we can do ahead of time, the better.
Right now, I'm trying to cook as much as I can on Sundays, with the goal of prepping enough food for lunches and dinners throughout the week.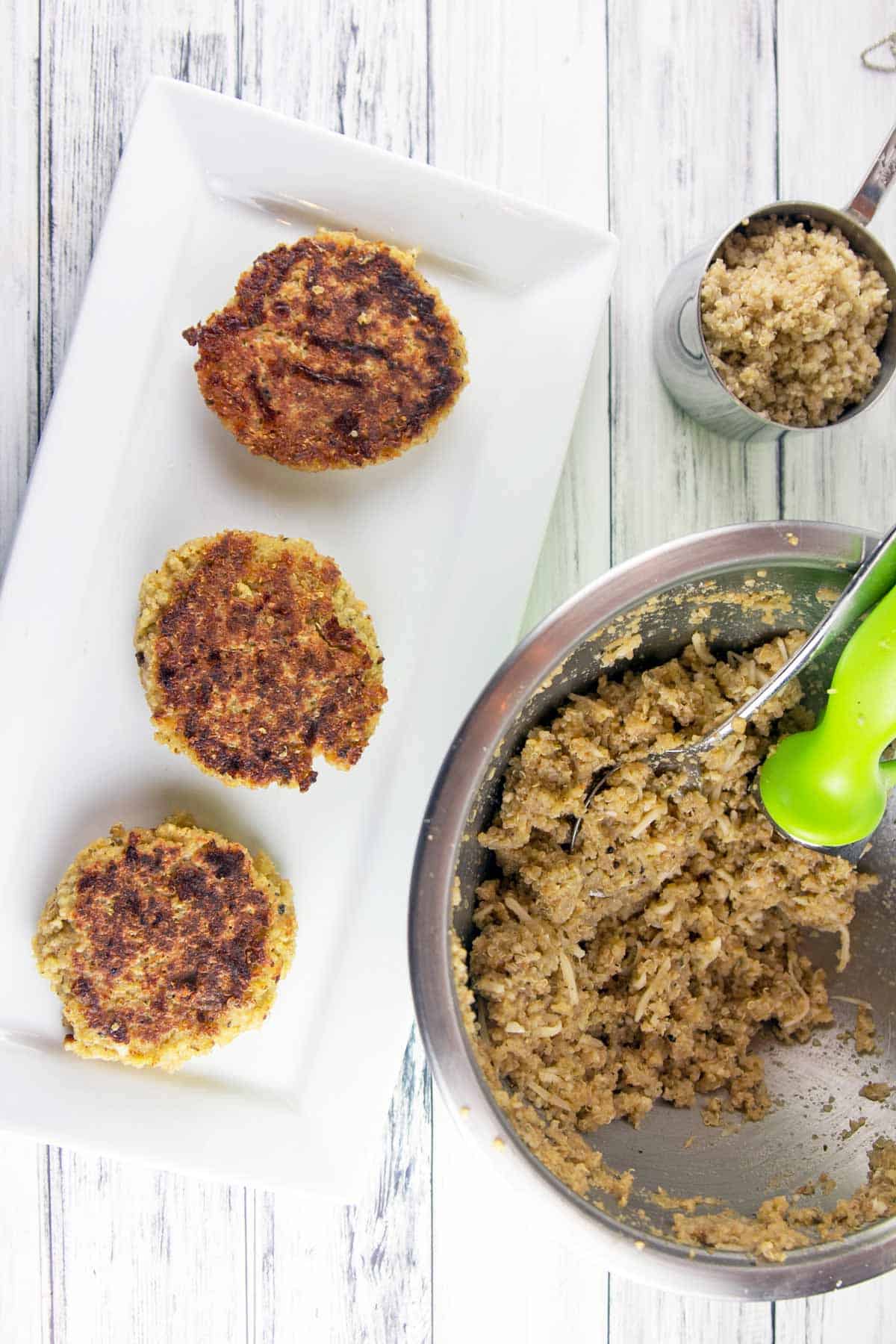 I know weeknight dinners are a struggle for lots of you, as well, so this year I'm hoping to share a series on "make ahead meals" — food you can cook on a weekend and enjoy during the week, with less than 10 minutes of hands-on cooking time.
These quinoa cakes with poached eggs fit the bill (and are pretty darn tasty and healthy, too!).
I first started making these many years ago when I had an overload of leafy greens from our CSA. Spring? Kale. Summer? Kale. Fall? Kale. What can we do with all this kale?! (Other delicious ideas: vegan sweet potato peanut soup, sweet potato kale chickpea bowl).
Now we make them because they're quick and fast and even the 3 year old likes them: in other words, the perfect make ahead dinner.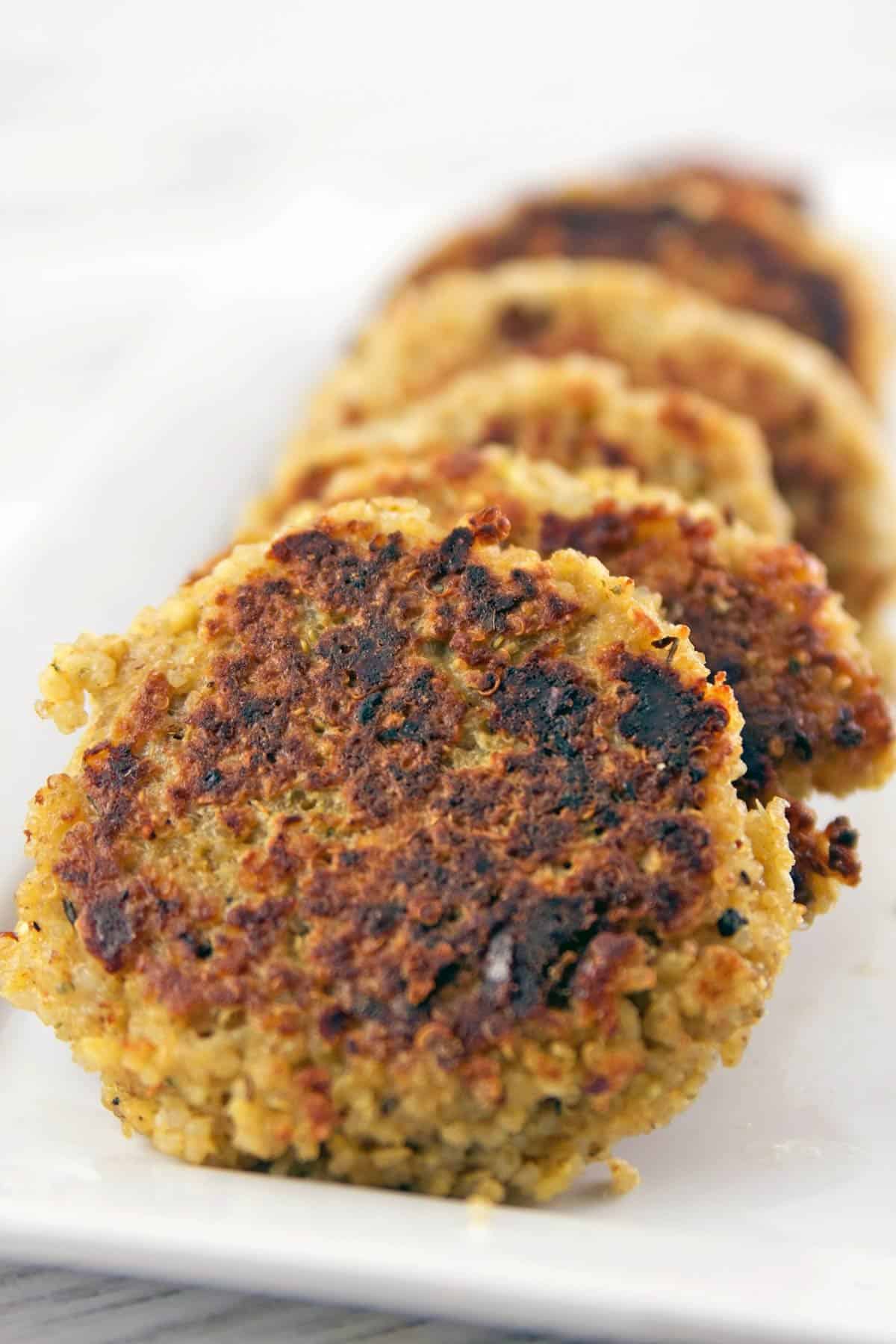 How to Make Quinoa Cakes
Super easy. Cook your quinoa however you like. (My favorite hack? Right in the microwave!) Stir in the eggs, onion, fresh (or dried) herbs, some grated cheese, and bread crumbs. (Gluten free? Use gluten free breadcrumbs or the same volume of ground oats.)
The quinoa cakes are pan fried for 8-10 minutes per side. Once you form the cakes into a patty and add them to the hot pan, just let them sit — no need to check on them. This gives you the perfect amount of time to sauté a giant pile of kale. Flip the quinoa cakes, poach the eggs, and everything is ready at once.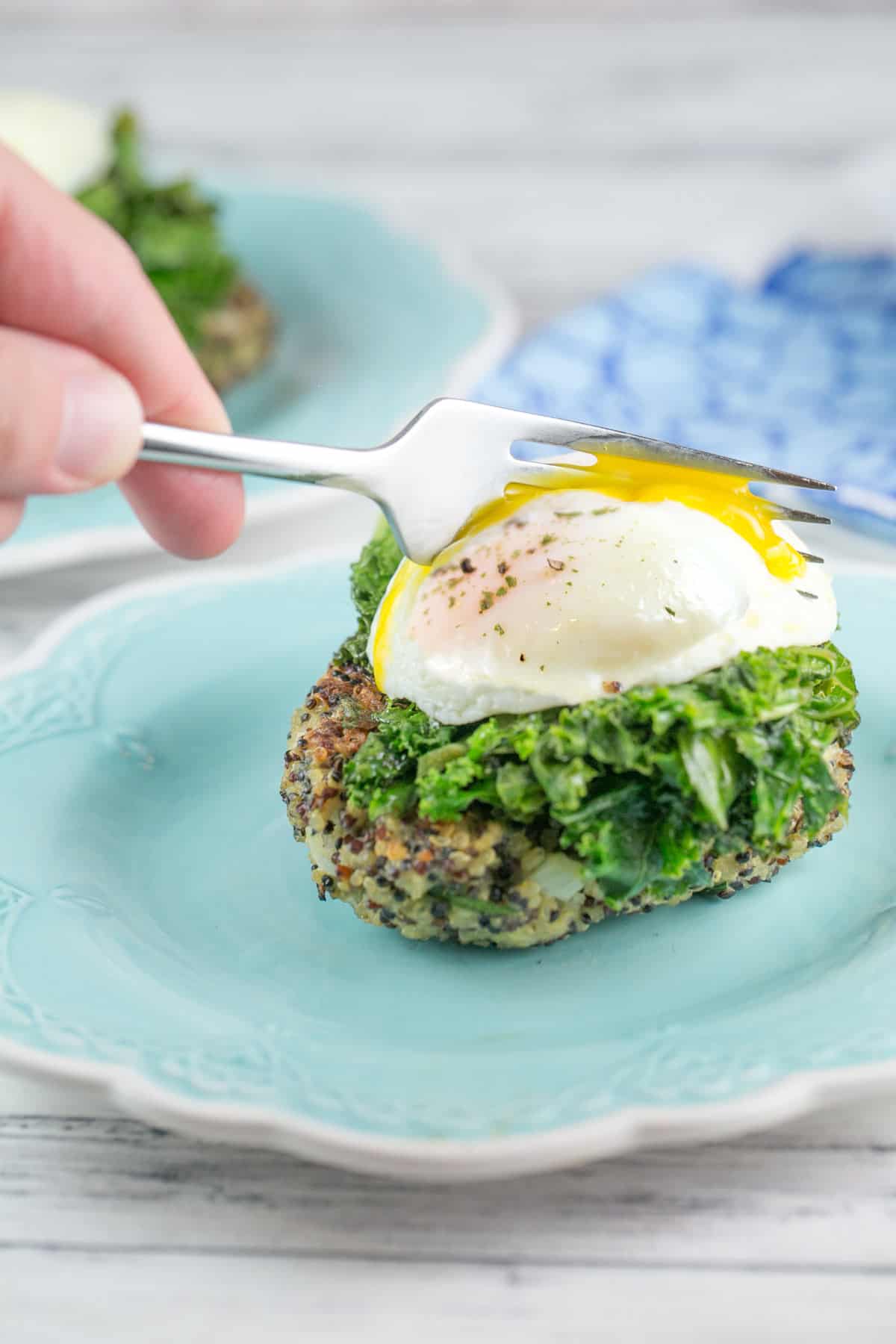 Make Ahead Quinoa Cakes and Poached Eggs
Guess what? You can make this an even easier weeknight dinner by making your quinoa cakes ahead of time! They freeze really well, so go ahead and make a triple batch and store them in the freezer. Reheat in the oven or toaster oven straight from frozen until warm for an even faster dinner. While the quinoa cakes warm, sauté the kale and poach the eggs, and you've saved yourself the time it takes to make the quinoa and shape the quinoa cakes.
What's that? You're saying it's too much work to poach eggs the day of? Oh, okay. Use this amazing trick from Serious Eats on how to partially poach your eggs, store in the refrigerator (for up to 5 days!) and then finish cooking in 2 minutes just before dinner.
Boom. Weeknight dinner woes solved.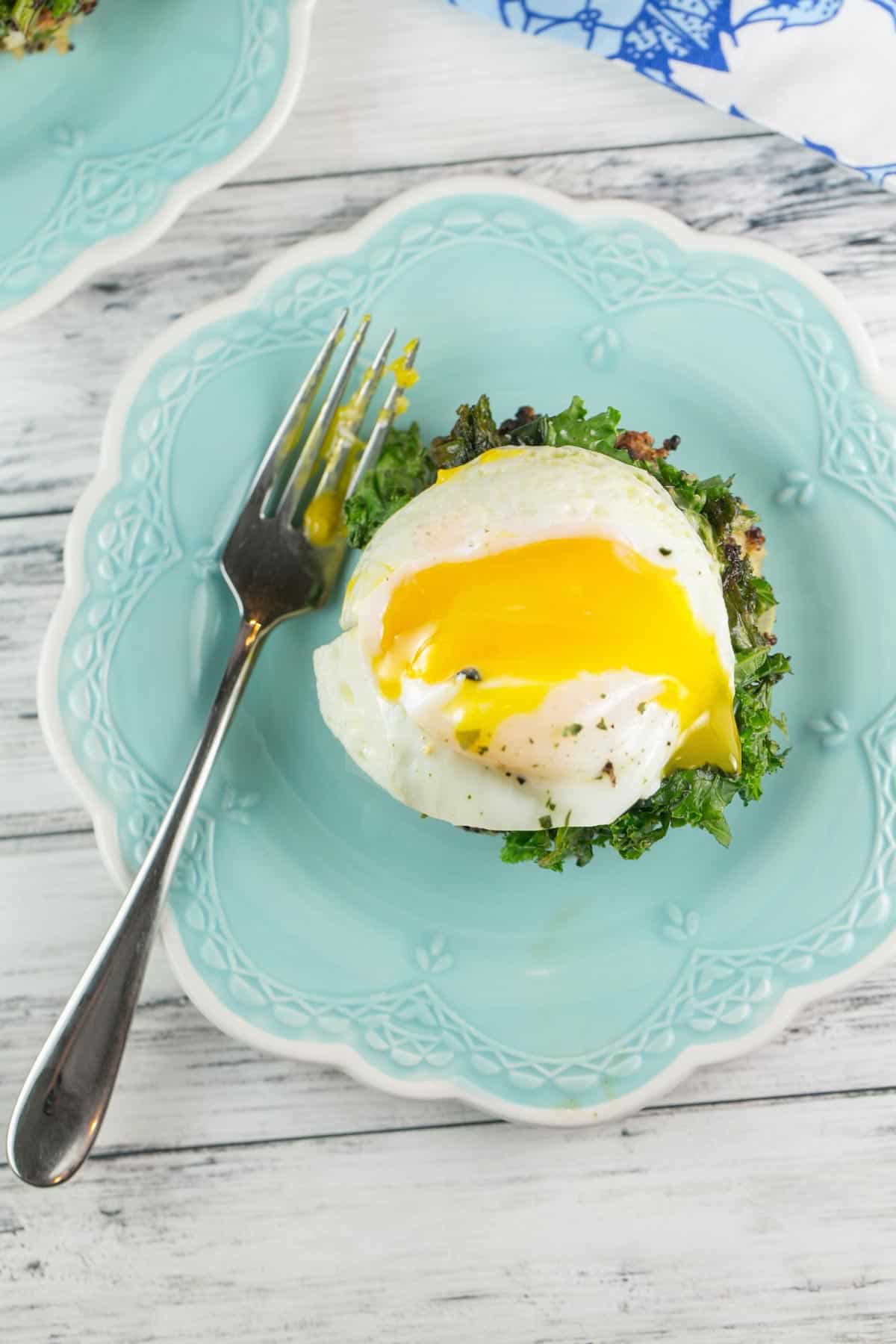 The nutty quinoa and rich, runny egg yolk are a great complement to the kale and served together, it makes for a quick, easy, filling meal. And really, what more could you want from a weeknight dinner?
Love poached eggs? Put one on top of these other delicious recipes!
Quinoa Cakes with Poached Eggs
Easy, freezer friendly quinoa cakes, topped with a pile of fresh kale and poached eggs.
Ingredients
FOR THE QUINOA CAKES
2 1/2 cups cooked quinoa, room temperature
4 eggs, beaten
1/2 teaspoon sea salt
1 teaspoon freshly ground pepper
1/3 cup fresh chives, chopped
1 onion, diced
1/3 cup shredded cheese (suggested: mozzarella or gouda)
6 cloves garlic, diced
1 cup seasoned bread crumbs (use gluten free or 1 cup ground oats for gluten free)
1 tablespoon olive oil
FOR THE KALE
1 tablespoon olive oil
1 bunch kale or other leafy greens
2 tablespoons red wine vinegar
FOR THE POACHED EGGS
Instructions
Combine the quinoa, eggs, and salt in a medium bowl. Stir in the chives, onion, cheese, and half of the diced garlic. Mix in the bread crumbs and allow the mixture to sit for a few minutes so the crumbs absorb some of the moisture.
Form the quinoa mixture into 6 2-inch patties.
Heat 1 tablespoon of the oil in a large, heavy skillet over medium low heat. Add the quinoa cakes, cover the skillet, and cook for 10 minutes, until the bottoms are deeply browned. Carefully flip with a spatula and cook on the second side for 5 to 7 minutes, until golden.
While the quinoa cakes are cooking, heat remaining 1 tablespoon of oil over medium heat. Add in the remaining garlic and stir frequently to prevent garlic from burning. Add the kale leaves, torn into pieces, and cover. Cook for 3-4 minutes, until kale is wilted. Deglaze the pan with a few tablespoons of red wine vinegar and season to taste.
When the quinoa cakes are done cooking and cooling, poach the 6 eggs. For a good egg-poaching tutorial, I recommend Alton Brown.
Serve the quinoa cakes, topped with the wilted kale and a poached egg. Serve immediately.
Notes
A Bunsen Burner Bakery Original Protocol
Recommended Products
As an Amazon Associate and member of other affiliate programs, I earn from qualifying purchases.
Nutrition Information:
Yield:

6
Amount Per Serving:
Calories:

318
Total Fat:

16g
Carbohydrates:

27g
Protein:

17g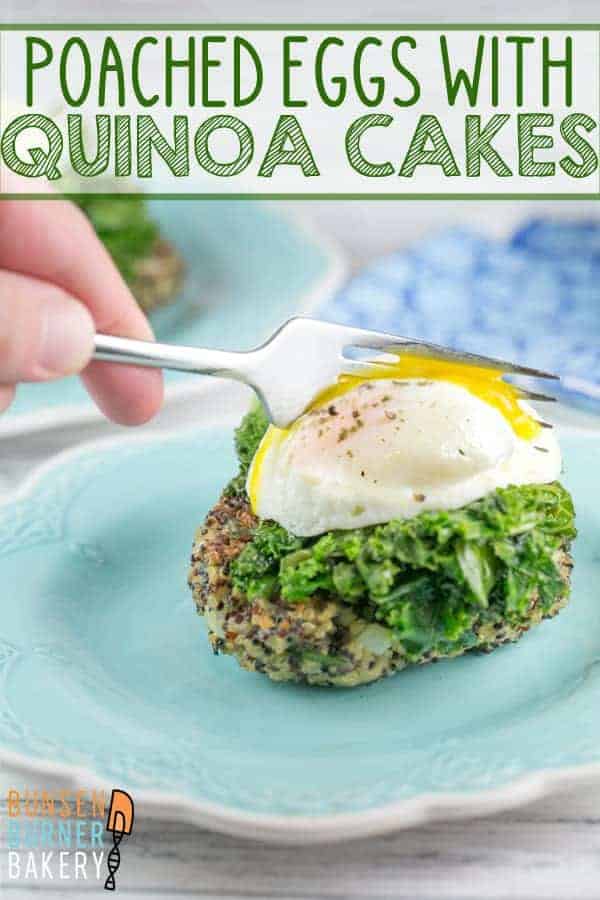 This recipe was originally published in July 2016 and updated in November 2018.