November 8, 2018
Quinoa Cakes with Poached Eggs
Step out of your dinner rut with these easy, freezer-friendly Quinoa Cakes. Top with a pile of fresh kale and a poached egg for a year-round updated take on breakfast for dinner.
Life is crazy, friends. Two kids. New job. Planning a move to a new house. Slow, leisurely evenings cooking complicated dinners are a thing of the past.
Fast, easy, and make ahead is the name of the game right now. The faster, the easier, and the more prep work we can do ahead of time, the better.
Right now, I'm trying to cook as much as I can on Sundays, with the goal of prepping enough food for lunches and dinners throughout the week.
I know weeknight dinners are a struggle for lots of you, as well, so this year I'm hoping to share a series on "make ahead meals" — food you can cook on a weekend and enjoy during the week, with less than 10 minutes of hands-on cooking time.
These quinoa cakes with poached eggs fit the bill (and are pretty darn tasty and healthy, too!).
I first started making these many years ago when I had an overload of leafy greens from our CSA. Spring? Kale. Summer? Kale. Fall? Kale. What can we do with all this kale?! (Other delicious ideas: vegan sweet potato peanut soup, sweet potato kale chickpea bowl).
Now we make them because they're quick and fast and even the 3-year-old likes them: in other words, the perfect easy, healthy, delicious make-ahead dinner.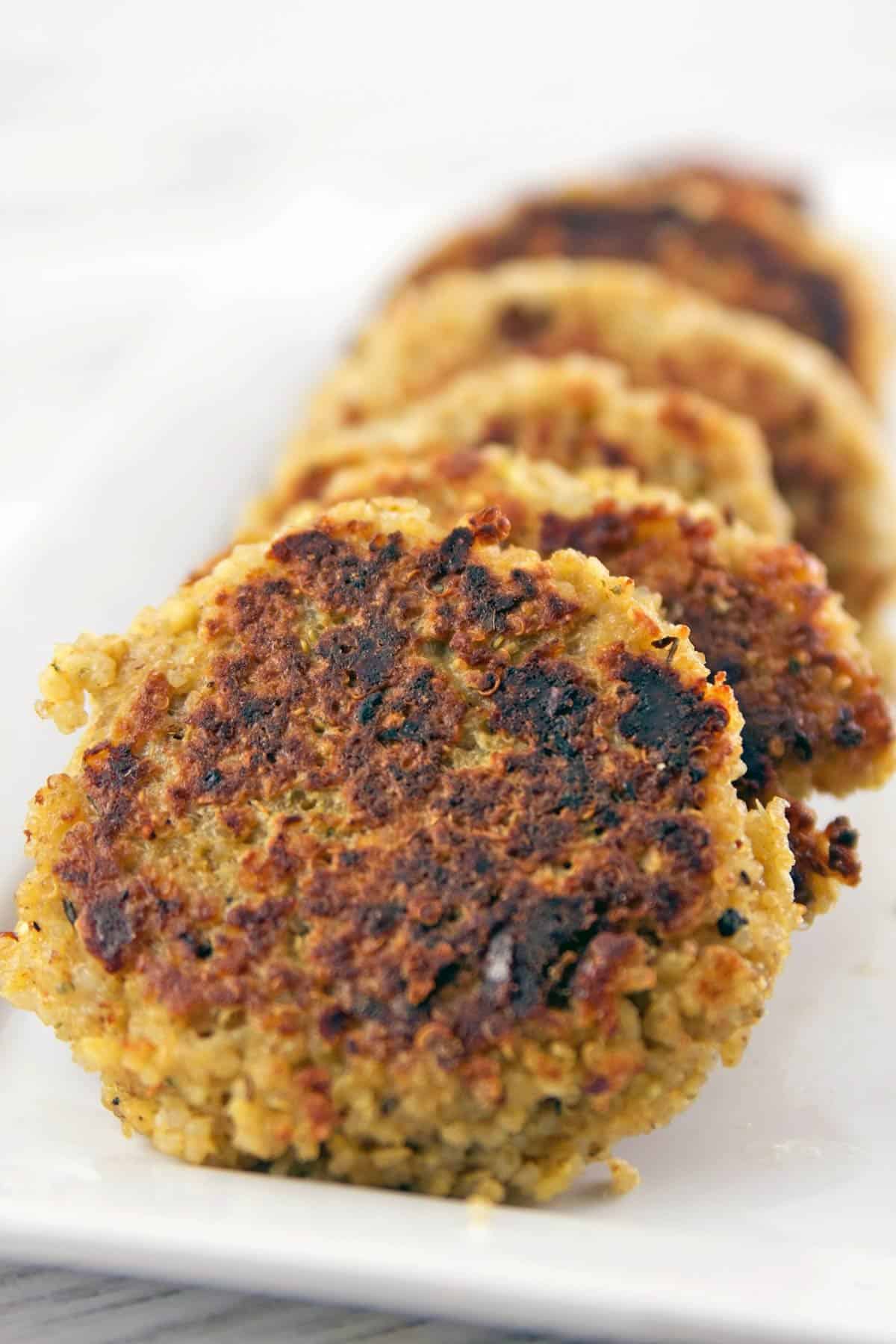 Easiest Way to Cook Quinoa
If you want to cook quinoa the standard way, use 1 3/4 cups of water for every cup of quinoa. For this recipe, this is exactly what you need! Add the water and quinoa to medium-sized, heavy-bottom pot. Bring the water to a boil, cover with a tight-fitting lid, and reduce the heat to low. Let the quinoa cook for 15 minutes, then remove the pot from the heat. Let it sit for an additional 10 minutes with the lid still on, then remove the lid and give the quinoa a few good stirs with a fork.
Now, this method isn't hard by any stretch, but sometimes I'm not even in the mood to turn on my stove. So my favorite foolproof way to cook quinoa: use the microwave!
I still use the same 1 3/4 cups of water to 1 cup of quinoa ratio, but instead of combining them in a pot, add them to a large microwave-safe bowl. Cover with a lid or an inverted dinner plate and microwave on high for 6 minutes. Remove the lid and stir the quinoa, being sure to stir in any little bits that may be stuck to the side of the bowl above the water level. Cover the bowl again, microwave for 2 more minutes on high, and then let the quinoa sit, covered, for an additional 10 minutes until all the water has been absorbed.
You can even cook the quinoa a day or two in advance before using it to form the quinoa cakes – perfect make-ahead dinner prep!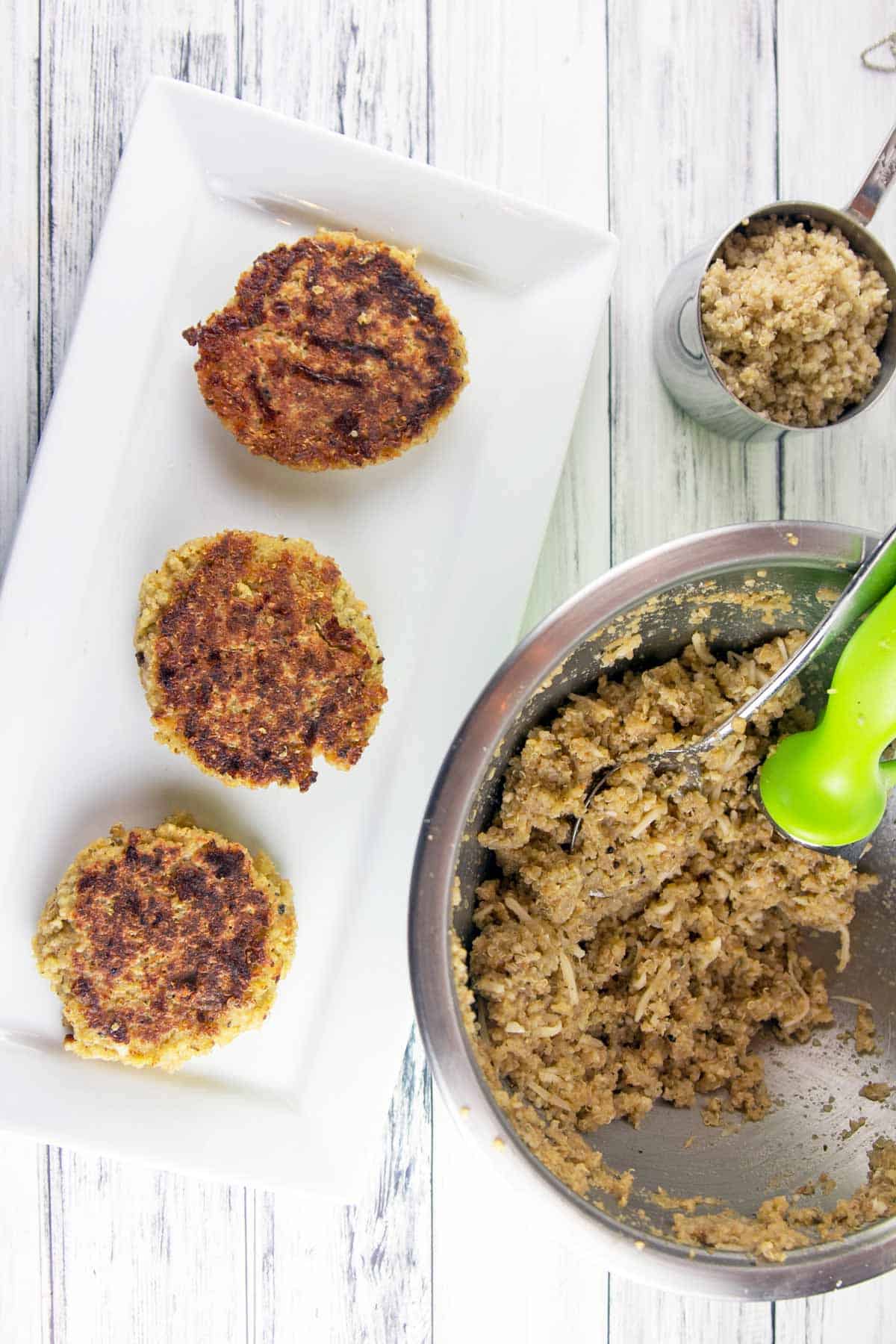 Seared or Baked Quinoa Cakes
Once your quinoa is ready, making the quinoa cakes (also called quinoa patties) is so simple. Stir in the eggs, onion, fresh (or dried) herbs, grated cheese, and some bread crumbs. Gluten-free or avoiding bread? Just use the same volume of finely-ground oats – a hack I use all the time!
Let this mixture sit for a few minutes so the bread crumbs or oats absorb some of the moisture – 10 minutes is plenty, or you can even refrigerate the mixture and let it sit overnight. When you're ready, shape the quinoa into 6 patties, using your hands, a measuring cup, or even an ice cream scoop. Flatten down the patties until they're roughly 2 inches in diameter.
Pan-fry the quinoa cakes for 8 to 10 minutes per side. Just add them to the hot pan and let them sit – no need to check on them. (This gives you the perfect amount of time to saute a giant pile of kale!) After 8-10 minutes, flip the quinoa cakes, poach the eggs, and everything is ready at once.
I prefer these sauteed because I love the crispy outside, but you can also bake these quinoa cakes! Once the cakes are formed, place them on a parchment-lined baking sheet and bake for 20 minutes at 400°F.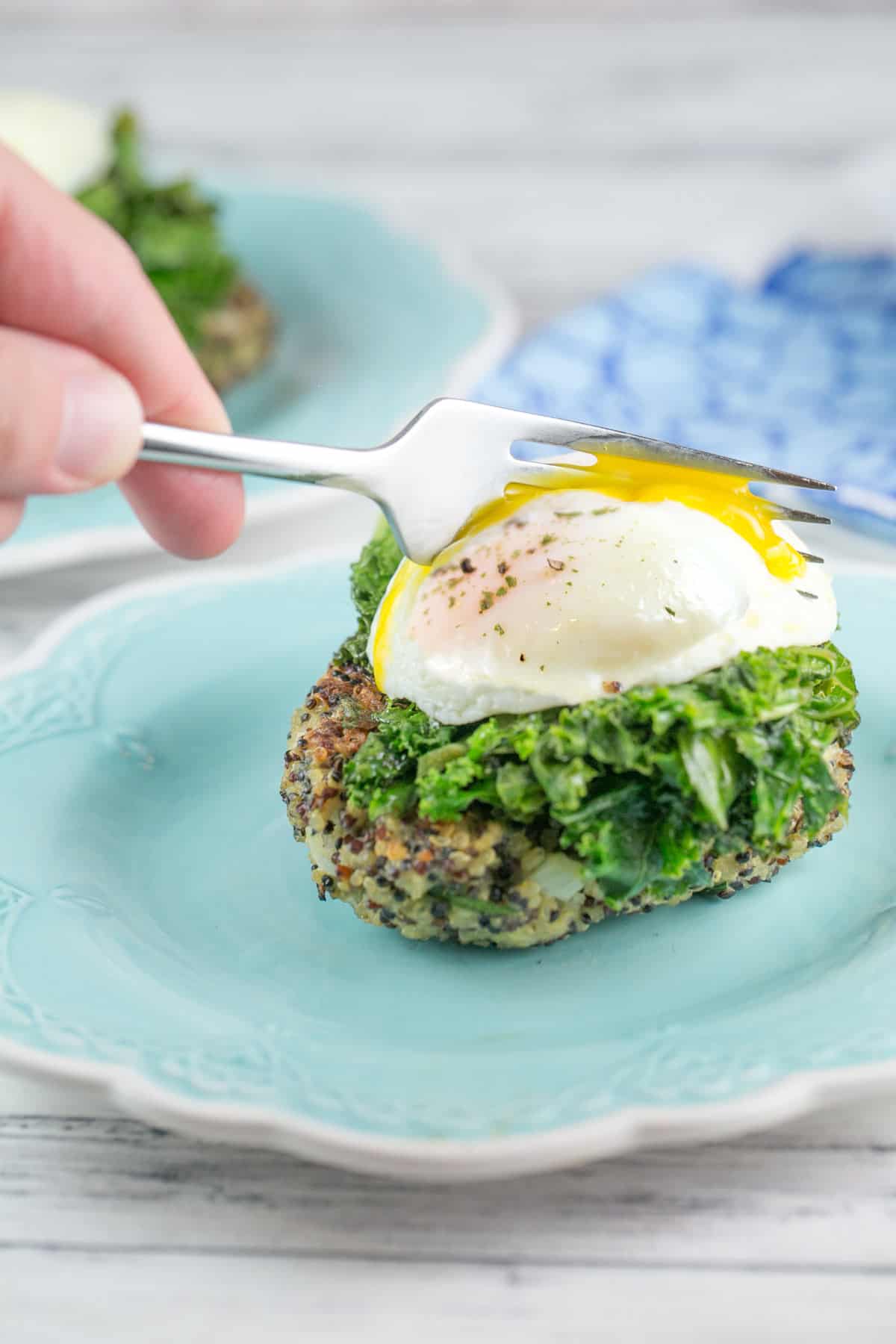 Poaching Eggs
These quinoa cakes are perfect on their own – top with your favorite sauce, crumble over a salad, or pile on some pulled pork. But my favorite way to eat them is with a big poached egg on top.
Poaching eggs is not as hard as you think – and Alton Brown has my favorite egg-poaching tutorial. If you're looking to make it even easier, I recommend starting with egg-poaching cups, which are little silicone bowls. You crack the egg right into the cup and place the cup in a pan that is filled with about an inch of simmering (not boiling!) water. Cover with a lid and cook for 3-4 minutes, until the whites are set. Remove from the heat and serve immediately.
Whether you're poaching traditionally or using egg poaching cups, the most important step is to just simmer the water, not boil! Why is this so important? The answer, of course, can all be explained by kitchen chemistry!
Kitchen Chemistry

We are able to poach an egg – setting the egg whites while maintaining a runny yolk – because the egg whites and egg yolks have different temperatures at which the proteins coagulate and set. Egg whites, which contain albumin, start to thicken at 145°F, whereas the yolk, which also contains fats, will start to set between 150 and 160°F. Cooking at a lower temperature allows the whites to gently set before the yolk cooks and solidifies.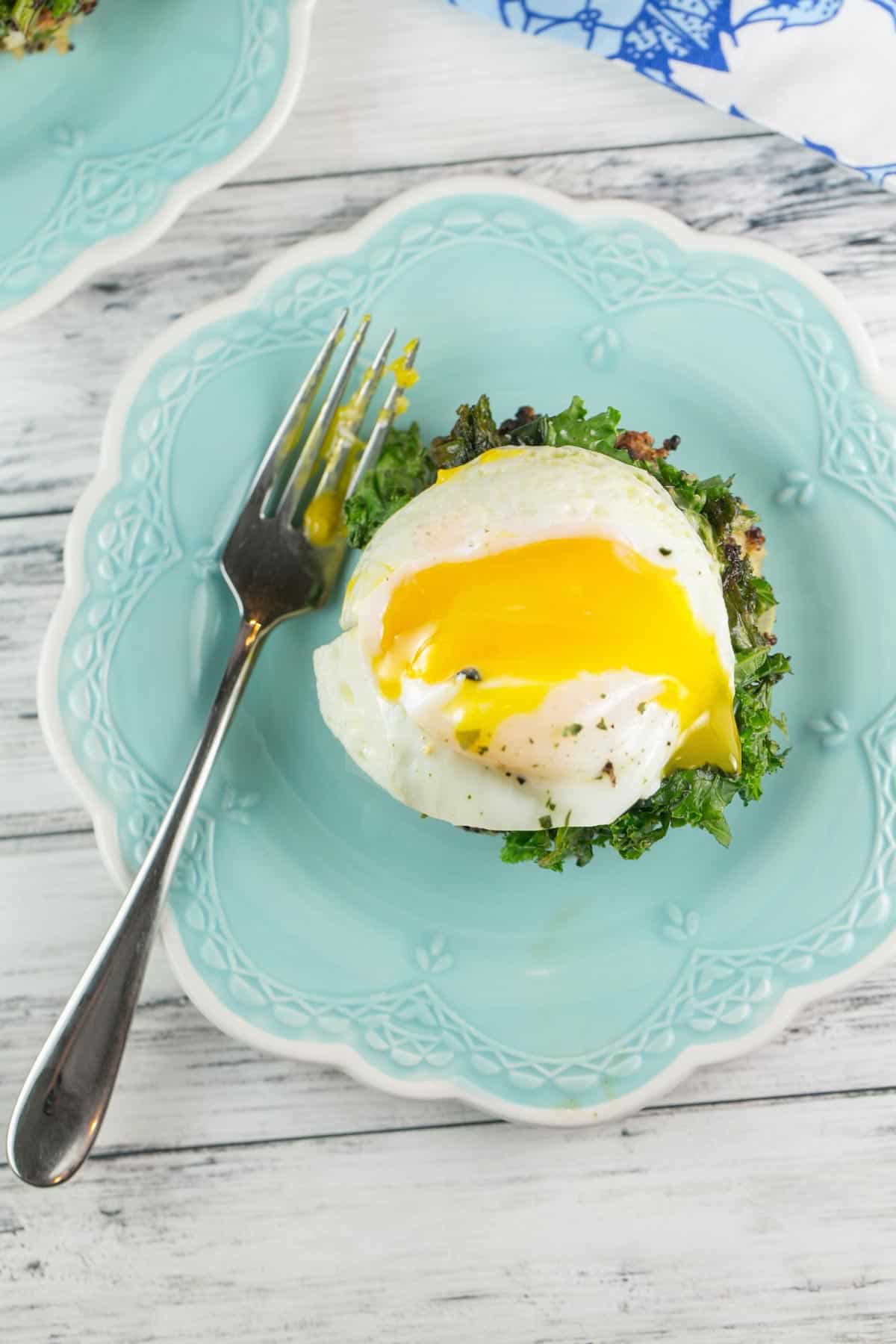 Easy Make Ahead Dinner
Guess what? You can make this an even easier weeknight dinner by making your quinoa cakes ahead of time! They freeze really well, so go ahead and make a triple batch and store them in the freezer. Reheat in the oven or toaster oven straight from frozen until warm for an even faster dinner. While the quinoa cakes warm, sauté the kale and poach the eggs, and you've saved yourself the time it takes to make the quinoa and shape the quinoa cakes.
What's that? You're saying it's too much work to poach eggs the day of? Oh, okay. Use this amazing trick from Serious Eats on how to partially poach your eggs, store in the refrigerator (for up to 5 days!) and then finish cooking in 2 minutes just before dinner.
Boom. Weeknight dinner woes solved.
Tips and Tricks for the Best Quinoa Cakes
Quinoa can be made either on the stovetop or in the microwave ahead of time. The quinoa can be used immediately or stored in the refrigerator for up to 2 days before shaping into cakes.
The quinoa cakes can be either pan-seared or baked. Pan-searing creates a deliciously crispy outside, but baking is completely hands-off.
To make poaching eggs even easier, use egg poaching cups which prevent the egg whites from feathering and create a uniform poached egg shape.
Leftover quinoa cakes can be stored in the refrigerator for up to 5 days or frozen for up to 3 months.
Love poached eggs? Put one on top of these other delicious recipes!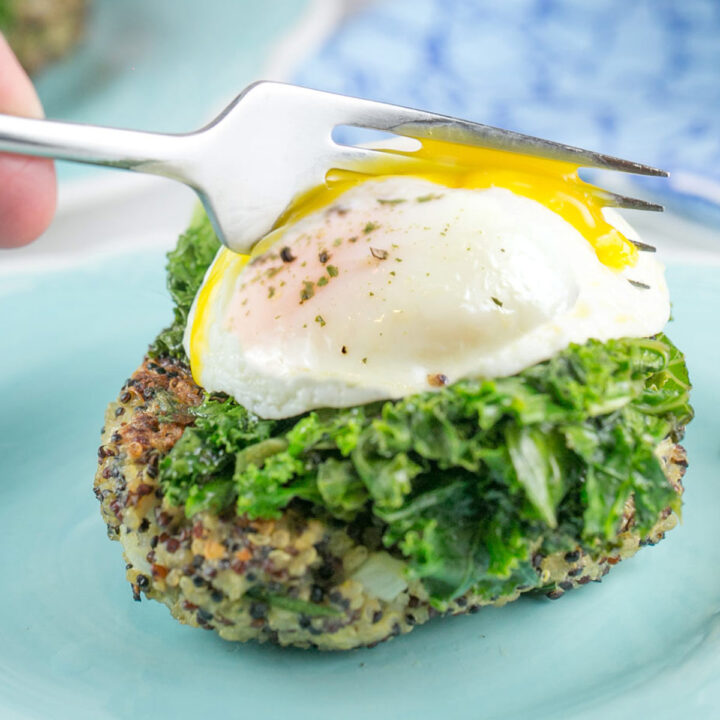 Quinoa Cakes with Poached Eggs
Easy, freezer friendly quinoa cakes, topped with a pile of fresh kale and poached eggs.
Ingredients
For the Quinoa Cakes:
2 1/2 cups cooked quinoa, room temperature
4 eggs, beaten
1/2 teaspoon sea salt
1 teaspoon freshly ground pepper
1/3 cup fresh chives, chopped
1 onion, diced
1/3 cup shredded cheese (suggested: mozzarella or gouda)
6 cloves garlic, diced
1 cup seasoned bread crumbs (use 1 cup ground oats for gluten free)
1 tablespoon olive oil
For the Kale:
1 tablespoon olive oil
1 bunch kale or other leafy greens
2 tablespoons red wine vinegar
For the Poached Eggs:
Instructions
Combine the quinoa, eggs, and salt in a medium bowl. Stir in the chives, onion, cheese, and half of the diced garlic. Mix in the bread crumbs and allow the mixture to sit for a few minutes so the crumbs absorb some of the moisture.
Form the quinoa mixture into 6 2-inch patties.
Heat 1 tablespoon of the oil in a large, heavy skillet over medium low heat. Add the quinoa cakes, cover the skillet, and cook for 10 minutes, until the bottoms are deeply browned. Carefully flip with a spatula and cook on the second side for 5 to 7 minutes, until golden.
While the quinoa cakes are cooking, heat remaining 1 tablespoon of oil over medium heat. Add in the remaining garlic and stir frequently to prevent garlic from burning. Add the kale leaves, torn into pieces, and cover. Cook for 3-4 minutes, until kale is wilted. Deglaze the pan with a few tablespoons of red wine vinegar and season to taste.
When the quinoa cakes are done cooking and cooling, poach the 6 eggs. For a good egg-poaching tutorial, I recommend Alton Brown.
Serve the quinoa cakes, topped with the wilted kale and a poached egg. Serve immediately.
Notes
Qinoa cakes can be baked instead of pan-seared. Bake at 400°F on a parchment-lined baking sheet for 20 minutes.
To make poaching eggs even easier, use egg poaching cups.
Leftover quinoa cakes can be stored in the refrigerator for up to 5 days or frozen for up to 3 months.
Recommended Products
As an Amazon Associate and member of other affiliate programs, I earn from qualifying purchases.
Nutrition Information:
Yield:

6
Amount Per Serving:
Calories:

318
Total Fat:

16g
Carbohydrates:

27g
Protein:

17g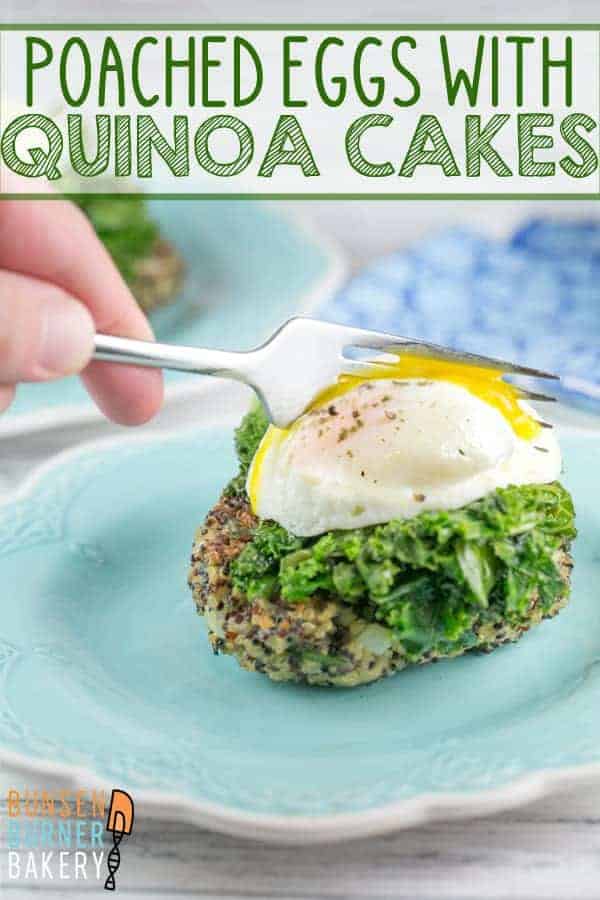 This recipe was originally published in July 2016 and updated in November 2018 with new photos and helpful tips.