November 18, 2022
Pumpkin Chocolate Chip Bundt Cake
Filled with classic fall spices, chocolate chips, and an entire can of pumpkin, Pumpkin Chocolate Chip Bundt Cake is a beautiful and easy addition to your fall table. With multiple options for glazes and frostings, everyone will love this easily adaptable cake!
Is it even fall without at least one pumpkin recipe? Of course not! We've covered sweet potatoes (with my new favorite recipe – sweet potato cheesecake!) and pecans (chocolate pecan turtle cheesecake), so now it's time for a pumpkin dessert.
And what perfect timing, with Thanksgiving right around the corner! I know we always think about Thanksgiving as a pie holiday, but cakes are the perfect way to change it up just a little. Bundt cakes are my personal favorite because they look stunning with minimal decorating work!
This pumpkin chocolate chip bundt cake is super flavorful, extra moist, and just the right amount of dense. It's not too dissimilar from a pumpkin pound cake, although not quite as heavy or sweet.
And of course, it's filled with chocolate chips! Totally optional if you're not a chocolate person, but just enough chocolate to win over chocolate lovers without being too chocolatey. (My kids are both firmly on Team Chocolate and even they loved this cake!)
Whether you make this for Thanksgiving or just any fall day, this pumpkin bundt cake will look beautiful on your table!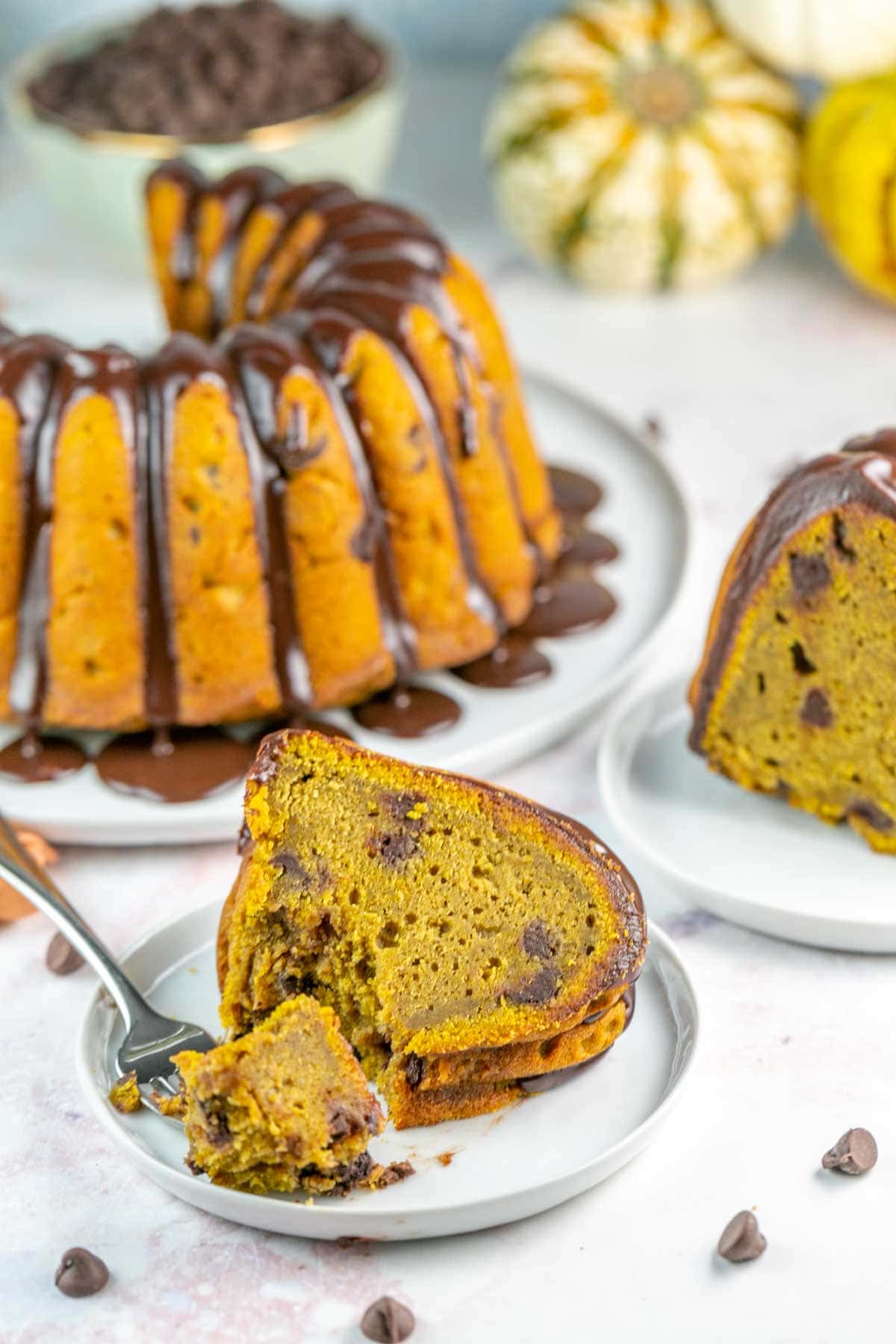 Spiced Pumpkin Bundt Cake
This cake contains all your favorite fall spices: cinnamon, nutmeg, ginger, and allspice. It's made in one bowl with a mixer and the very best part: it contains a full 15-ounce can of pumpkin! No need to figure out what to do with the rest of the can… just add it all to this cake!
Because of all the moisture (butter! eggs! pumpkin!), this cake is denser than a typical cake, but in all the right ways. Plus, all the extra moisture means it won't dry out and get stale! We kept this cake in the refrigerator and still enjoyed pieces six whole days later, meaning it is the perfect make-ahead cake.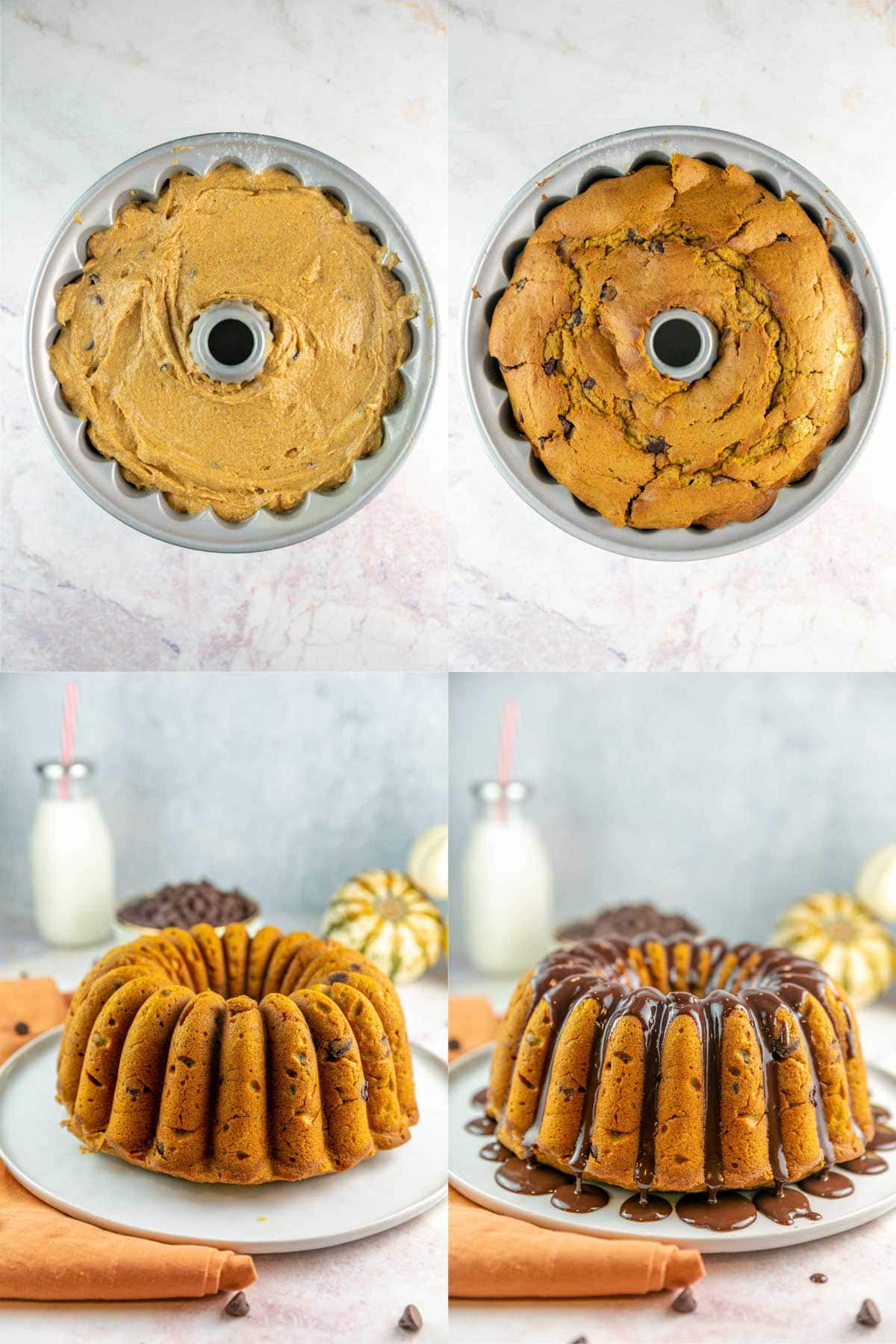 Pumpkin Bundt Cake Toppings
I wanted to play up the chocolate chip aspect of the pumpkin chocolate chip bundt cake, so I went with a simple chocolate ganache. You'll find the instructions for the ganache below. Not into extra chocolate? There are SO many other delicious toppings for your cake!
Best Bundt Pans
I baked this bundt cake in a 10-cup capacity bundt pan because I really wanted to use this pan. I think it looks so pretty with the glaze dripping down the sides!
But I'm going to advise you to use a 12-cup capacity bundt pan. I was pushing the limits here and the batter puffed up over the top a little too much. If, like me, you really want to use a fancier 10-cup bundt pan, I'd recommend filling the pan 80% full and baking the rest of the batter in a muffin tin or ramekin.
(Or, you can just live dangerously like me and forge ahead with an overfilled 10-cup pan. It turned out okay in the end, puffy bottom and all!)
You'll also want to make sure to use a metal bundt pan and not silicone. I've had some comments on other bundt cake posts over the past few years about bundt cakes being over-baked or still raw in the middle, and upon further investigation, it's often because it was baked in a silicone pan. I've been going back and updating recipes to specify a metal bundt pan. Why does metal make such a difference?
You know it's time for my favorite subject… kitchen chemistry!
Kitchen Chemistry

Metal is an excellent conductor of heat, quickly and evenly transferring heat from the oven to the cake batter. Silicone, on the other hand, insulates heat rather than conducts it, resulting in an uneven transfer of heat. This means timing is not consistent for baking, and sometimes one side of the cake can be done before the other side.
If you don't want to use a bundt pan at all, you can even bake this pumpkin chocolate chip cake in two loaf pans instead!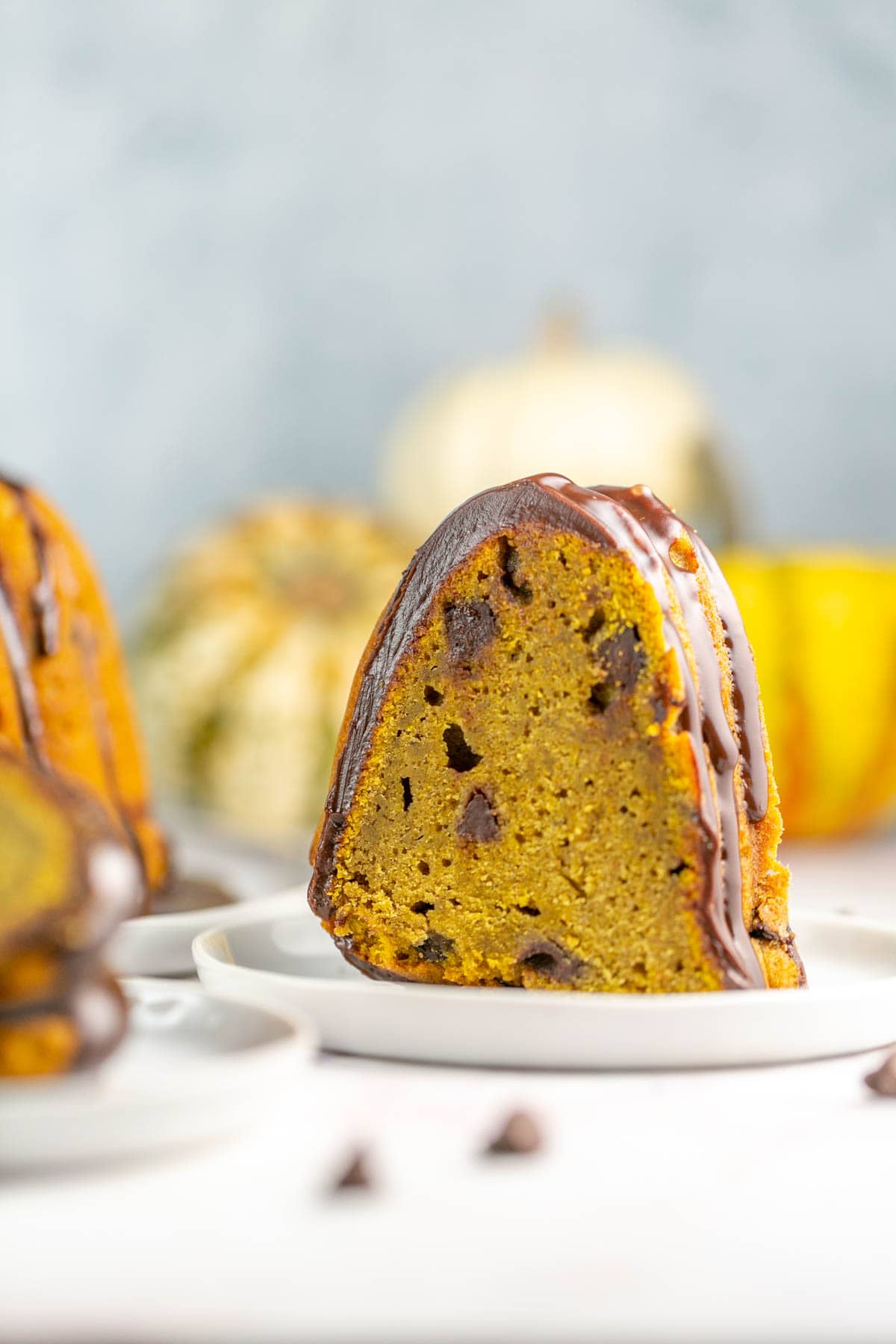 Tips and Tricks for the Best Pumpkin Bundt Cake
Use room-temperature butter and eggs for the best texture. Butter that is too cold or too warm won't aerate properly when creamed with sugar.
Make sure to use pumpkin puree and not canned pumpkin pie filling for the cake.
This recipe can also be baked in two well-greased 9 x 5-inch loaf pans at 350 °F for 40 minutes.
To tell if the cake is done, stick a toothpick or skewer into the cake. If it comes out mostly clean, with just a few moist crumbs, it's done! If there is wet batter or lots of crumbs, bake it for another 5 minutes and check again.
New to baking in bundt pans? Looking for the best tips and tricks to ensure your cake doesn't stick? Check out THIS POST for all my best bundt tips!
The cake can be made ahead of time and stored at room temperature for up to 2 days, refrigerated for up to 6 days, or frozen for up to 3 months.
More Chocolate + Pumpkin Recipes: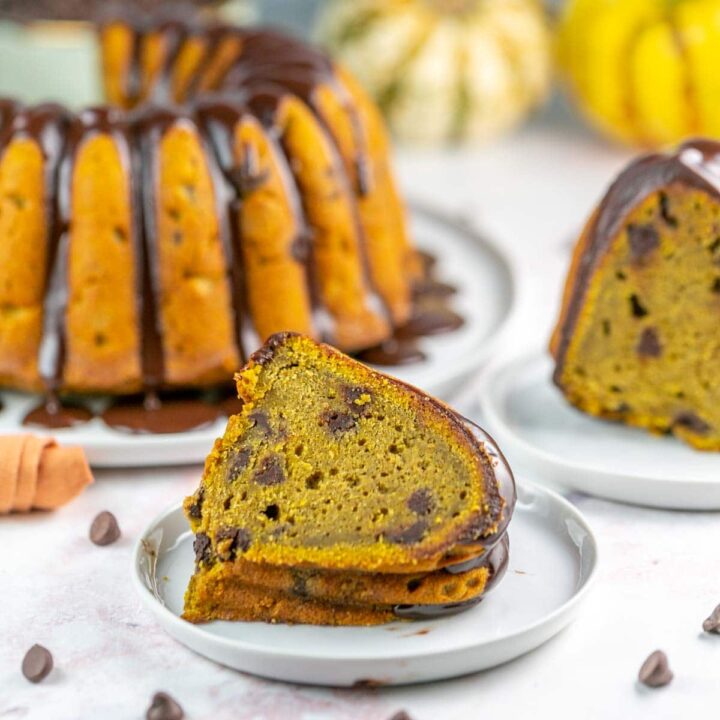 Pumpkin Chocolate Chip Bundt Cake
Total Time:
1 hour
15 minutes
Filled with classic fall spices, chocolate chips, and an entire can of pumpkin, Pumpkin Chocolate Chip Bundt Cake is a beautiful and easy addition to your fall table.
Ingredients
For the Pumpkin Cake:
1 cup (226 grams) unsalted butter, room temperature
1 cup (198 grams) granulated sugar
1/2 cup (106.5 grams) brown sugar
5 large eggs, room temperature
1 (15-ounce) can (425 grams) pumpkin puree
2 teaspoons vanilla extract
3 cups (360 grams) all-purpose flour
2 teaspoons baking powder
1/2 teaspoon salt
2 teaspoons ground cinnamon
1 teaspoon ground nutmeg
1/2 teaspoon ground ginger
1/2 teaspoon ground allspice
1 1/2 cups (225 grams) chocolate chips
For the Ganache:
1 cup (170 grams) chocolate chips or chopped chocolate
3/4 cup (170 grams) heavy cream
pinch of salt
Instructions
Preheat the oven to 325 °F.
In a large bowl, use an electric mixer to cream together the butter, granulated sugar, and brown sugar until light and fluffy, 4 to 5 minutes. Add in the eggs, one at a time, followed by the pumpkin and vanilla extract.
Combine the dry ingredients in a bowl and slowly add to the batter. Beat on low speed for an additional 30 seconds to 1 minute, or until no traces of flour remain. Stir in the chocolate chips.
Grease and flour a 12-cup bundt pan. Scoop the cake batter into the pan and bake until a tester inserted into the center comes out with a moist crumb, about 60 minutes.
Cool in the pan for 15 minutes, then invert onto a cooling rack and cool completely.
While the cake is cooling, make the ganache. Heat the heavy cream in a microwave or on the stovetop until steaming, then pour in the chocolate chips. Let the mixture sit for 5 minutes, then stir until the ganache is smooth and no lumps of chocolate remain. Continue to let the mixture sit at room temperature for an additional 10-15 minutes, until starting to cool and thicken. Once the cake has cooled, spoon the ganache over the bundt cake, spreading it down the sides if necessary.
Notes
Use room temperature ingredients for the best texture.
This recipe can also be baked in two 9 x 5-inch loaf pans at 350 °F for 40-45 minutes.
Pumpkin bundt cake can be stored at room temperature for up to 2 days, refrigerated for up to 6 days, or frozen for up to 3 months.
Recommended Products
As an Amazon Associate and member of other affiliate programs, I earn from qualifying purchases.