February 1, 2017
One Pan Salmon Paella
Thank You for supporting the brands that support me and allow me to continue to grow my blog.  This shop has been compensated by Collective Bias, Inc. and its advertiser.  All opinions are mine alone. #HuntsHasHeart #CollectiveBias
Easy, one pan salmon paella is a great way to change up your salmon game.  Made with easy-to-find ingredients, this is a great heart-healthy dinner option.
First, let's clear the air here.  This is not traditional, authentic paella.  I have had amazing, authentic paella in Spain.
I have cooked even more amazing, authentic paella with Iron Chef Jose Garces in his kitchen at Volver.  I still can't believe I haven't blogged about that experience – it was one in a million.  Standing side by side with Chef Garces, getting paella tips and chatting about how his kids won't eat their vegetables.  Now that was legit paella.
This salmon paella is delicious, but in a different way.  It's easy.  It's made with ingredients that you can find.  There's no need to import any specialty ingredients.  You don't need a top notch fish monger to provide you with the freshest shellfish.
This is weeknight, all easy to find ingredient, paella.  But did I mention it's still delicious?
It's also a heart-healthy dinner option.  Today's the first day of February, which coincidentally is American Heart Month.  Did you know that heart disease is the number one cause of death in the United States for both men and women?  Yikes!
Heart disease is near and dear to me personally – I, like 10% of the female population, suffer from polycystic ovarian syndrome.  In addition to a host of other potential concerns, like infertility, diabetes, and hypertension, women with PCOS have an increased risk of developing heart disease.
If you're also at risk, what can you do?  Most importantly, talk to your doctor!  Make sure you get enough exercise (you can find me at the gym most days after work) and eat a heart-healthy diet.
We stick to healthy dinners around here, especially because we want to raise our toddler with a healthy relationship with food (note that little hand, grabbing a raw pepper while I was photographing this!).  This salmon paella is a great choice: the American Heart Association recommends that we eat fatty fish like salmon at least twice a week.
Now, back to our salmon paella!  I don't own a paella pan, so I make mine in a cast iron pan.  Any wide pan will work – we want a lot of surface area for the rice.  We'll start with sofrito, the flavor base that is part of all paellas   It's just some chopped vegetables cooked in oil.  I like to use garlic and onions for this.  Some people add tomatoes and peppers; I prefer to toast the rice first and then add the rest of the vegetables.
Once the onions and garlic are nice and dark, we'll add the rice.  Let it cook for just a few minutes to absorb the remaining oil, then add in tomaotes and peppers, some spices, and the broth.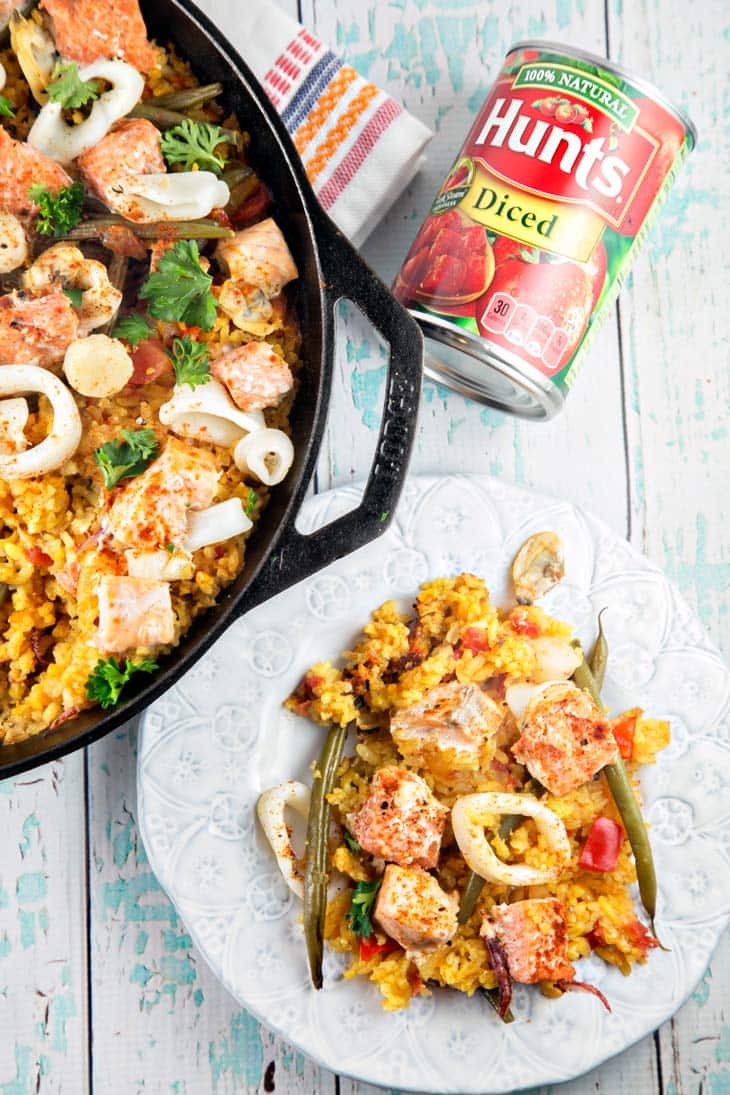 Then, you don't touch it.  Wrap everything tightly with aluminum foil and step away.  This is NOT risotto – don't stir.  Put down that spoon and walk away.  Go wash some dishes or check your email or play with your kids.  Nope, you still can't touch it.
After 20 minutes, add your seafood.  You can use whatever you like here.  I like salmon, both because it's so good for you and because we can easily find wild salmon, which is a better option than typical farm raised fish.  I also add some frozen shellfish and squid, but if you don't eat these, leave them out.  Sure, fresh clams and mussels in the shell are a much "prettier" dish, but like I said above – not everyone has access to great fresh seafood.
Add the seafood and a little more broth, cover the pan back up, and wait another 15 minutes.  We're still not going to stir the rice.  The bottom layer will get nice and crispy and create a crust, called socarrat, which is my personal favorite part of the paella.
Again, this isn't risotto.  Instead of rich and creamy, paealla rice is drier, denser, and crispier (and much better, if you ask me.)
This heart-healthy one pot salmon paella is a favorite around here – even my toddler loves it.  ("More salmon! More geen beans! More pay-ya, Mama!")  And since it's healthy, I'm happy to let him have seconds.  Or thirds.  Or fourths, as the case may be.
One Pan Salmon Paella
Easy, one pan salmon paella is a heart-healthy dinner option made with easy-to-find ingredients.
Ingredients:
2 tablespoons olive oil
1 large onion, chopped
4 cloves of garlic, minced
1.5 cups medium-grain rice (I like Goya brand, but any medium grain rice works)
1 14.5 ounce can Hunt's Diced Tomatoes, undrained
1 red bell pepper, chopped
6 ounces green beans, ends trimmed
1 large pinch saffron threads (optional)
1.5 tablespoons smoked paprika, divided
1 teaspoon turmeric
1/2 teaspoon red pepper flakes
1/2 teaspoon salt, plus extra for salmon
2 1/4 cup vegetable broth or water, divided
1 pound wild-caught salmon, cut into bite-sized pieces
1/2 pound frozen shellfish, thawed (optional)
¼ cup chopped fresh parsley
Directions:
Heat the olive oil in a large cast iron skillet or other wide, flat pan over medium-high heat.  Add the onions and sautee until translucent, about 5 minutes.  Add the garlic and stir for another 5 minutes, until onions are starting to darken.  Add in the rice and toast in the pan for 2-3 minutes.
Add the Hunt's diced tomatoes and juices from the can into the pan, along with the red pepper and green beans.  Stir to combine.  Add the saffron threads (if using), 1 tablespoon of the smoked paprika, turmeric, red pepper flakes, and salt.  Give a few final stirs to combine the spices.  Pour in 2 cups of water and bring the liquid to a boil.  Allow the water to boil for 2 minutes, then reduce to low heat and cover the pan tightly with aluminum foil.  Cook for 20 minutes without touching.
While the paella cooks, sprinkle the remaining smoked paprika over the salmon and add salt and pepper to taste.
After 20 minutes, carefully remove the foil.  Spread the salmon and shellfish over the rice.  Pour an additional 1/4 cup of water over the rice, recover the pan, and cook for an additional 12 – 15 minutes until salmon is cooked through and flakes with a fork.  Garnish with chopped parsley and enjoy hot.
A Bunsen Burner Bakery Original Protocol