October 7, 2022
Mediterranean Poached Fish
This flavorful Mediterranean Poached Fish features marinated veggies, an aromatic sauce, and perfectly cooked couscous. Get dinner on the table in 30 minutes with this easy one pot meal!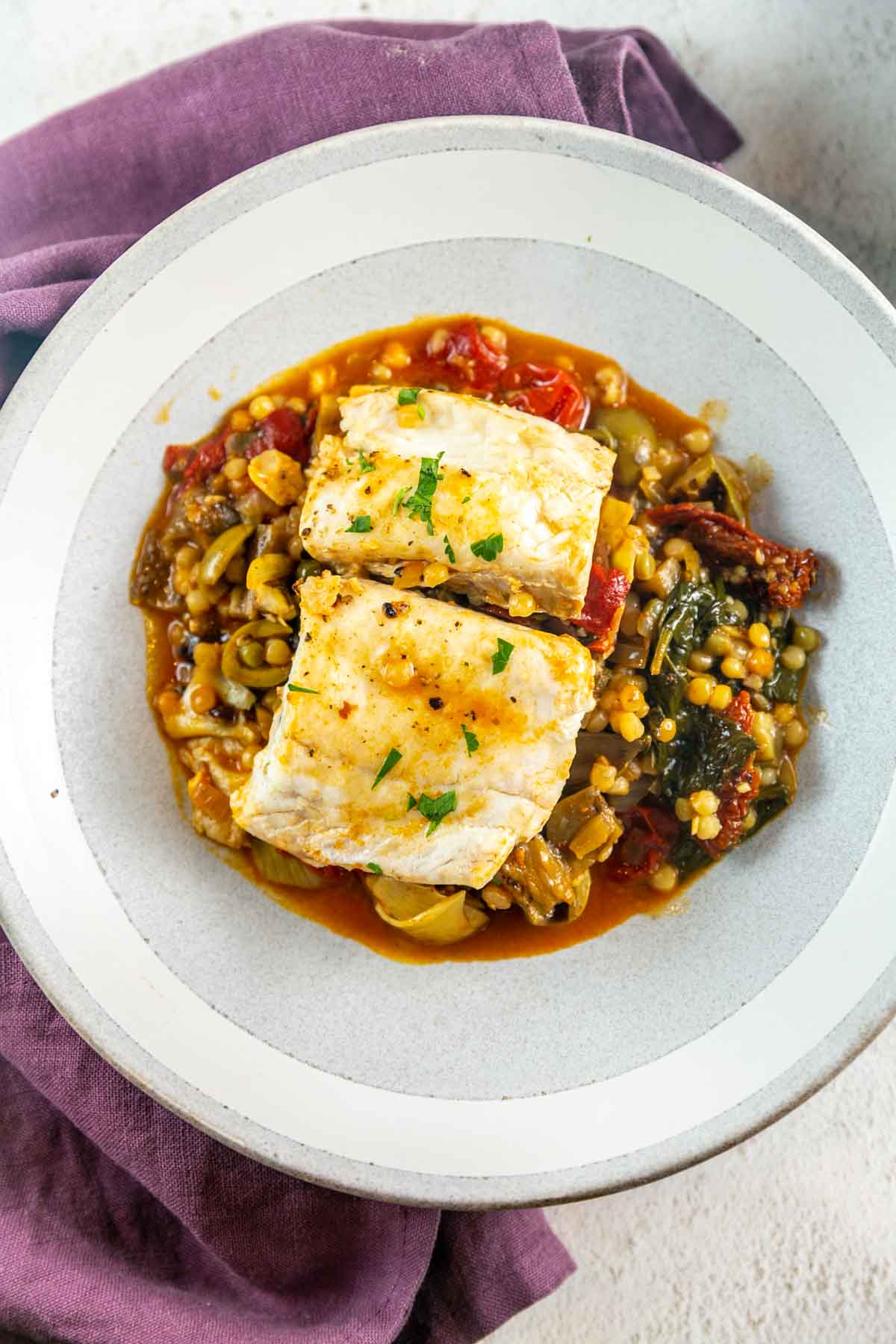 Every year, I ask my Instagram followers what sort of recipes they want, and the answer is always "more easy, healthy dinners!" So this fall, I'm committed to bringing you more of what you want: weeknight-easy dinners that also pack a nutritional punch!
As someone who loves big, bold flavors, I honestly can't get enough of this one. This Mediterranean Poached Fish is flavorful and so easy to make. Plus, it only takes one pot and you have a full meal packed with veggies and protein!
I use all my favorite Mediterranean-inspired flavors and vegetables, like zucchini, artichokes, onion, olives, capers, and sun-dried tomatoes, paired with vegetables like zucchini, eggplant, cherry tomatoes, and spinach. But think of this recipe as a jumping-off point: if there's something you don't like, leave it out! If you have another flavor you love, add it in!
This recipe is quick (only 30 minutes!), easy (one pan!), and fully adaptable – and, at least in our family, kid-approved. Talk about the ultimate win!
Types of White Fish
"White fish" is any fish that has white flesh. Some examples of white fish that would go great in this recipe are cod, fluke, halibut, tilapia, or haddock. All of these fish are relatively mild tasting and soak up the flavors of what they are cooked in.
In addition to tasting good, white fish is also high in protein and micronutrients while also being low in fat. When you can, try to select wild-caught fish because they generally have a higher level of nutrients. Choosing the right fish can sometimes be difficult in the supermarket, but if there is a fish counter, the fishmonger can often help you select what is the best quality fish available.
(There are also LOADS of flash-frozen, supposedly sustainable seafood services that ship freshly caught fish across the country. I've never used one of these, but if you have one to recommend, please leave a comment and share your experiences – I'd love to hear what fish companies you're enjoying!)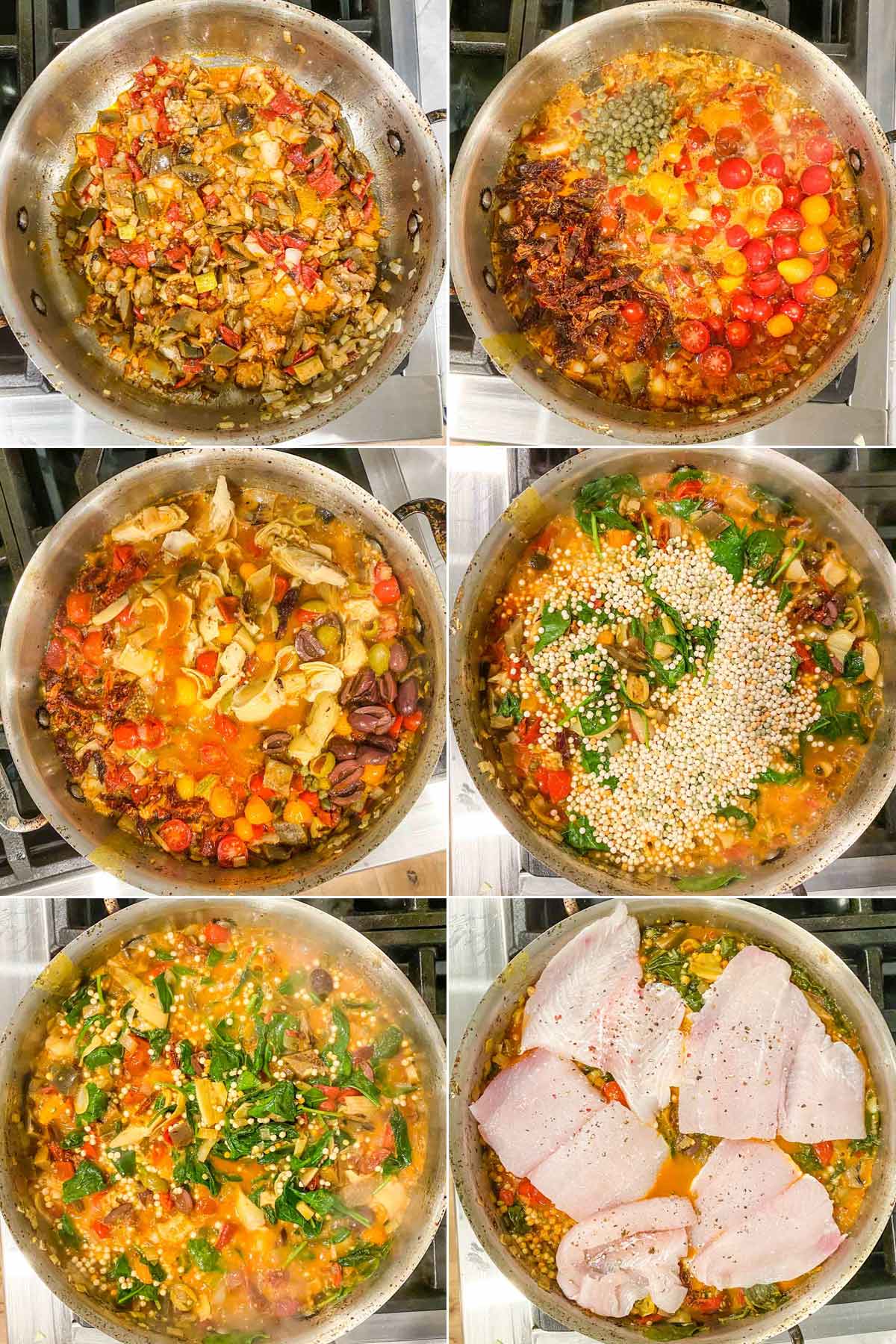 Perfectly Poached Fish
Poaching is cooking something by simmering it in a small amount of liquid. You will also cook it with some steam by leaving the lid on the pot while the fish cooks.
One of the keys to making Mediterranean poached fish so delicious is poaching it for the right amount of time. Not enough time and your fish is undercooked and raw in the center. Too much time, and your fish gets tough, chewy, and unappetizing.
In this recipe, the fish will poach for about 10 minutes. You want the fish to be visibly flaky, but not so flaky that it is completely falling apart.
Have you ever wondered why fish flakes, while other proteins like chicken or beef shred into long strands when cooked until completely tender? It's time for my favorite subject… kitchen chemistry!
Kitchen Chemistry

The muscle fibers in fish are much shorter than in other meats and are held together by less connective tissue. This connective tissue is formed of collagen, which soften sand turns to gelatin at a much lower temperature than connective tissue in other meats. As fish is cooked, the gelatin no longer holds these short muscle fibers together, so the fish separates into small flakes.
Common Questions about Mediterranean Poached Fish
How do I choose the best fish?
For this recipe, you can't go wrong with any white fish. If you are buying fresh fish, make sure that the fish smells clean. Some signs of fish that is starting to go bad are a slimier than usual texture and a super-super fish smell (the fish should smell like the ocean, not rancid).
Should I use fresh or frozen fish for this recipe?
You can use either fresh or frozen fish in this recipe. We often use frozen, because it's easy to keep on hand. To thaw the frozen fish, remove from the plastic package and thaw overnight in the refrigerator, loosely covered with plastic wrap.
What is harissa paste? Can I use powdered harissa instead? Is this dish spicy?
Harissa is a Moroccan/North African red chile paste. It is both smoky and just a little spicy but does not pack a lot of heat. In this recipe, it provides a great flavor without adding a spicy-hot feeling (but if you love spicy, feel free to add more!) Harissa paste is more commonly used in recipes and is perfect for adding to a sauce, but you can substitute in harissa powder instead.
Is this recipe gluten-free?
Couscous is a small pasta shape, and thus contains gluten. To make this recipe gluten-free, substitute quinoa for the pearl couscous. Add an extra 5 minutes to the initial simmering time before adding the fish, and add a few extra tablespoons of broth or water if necessary.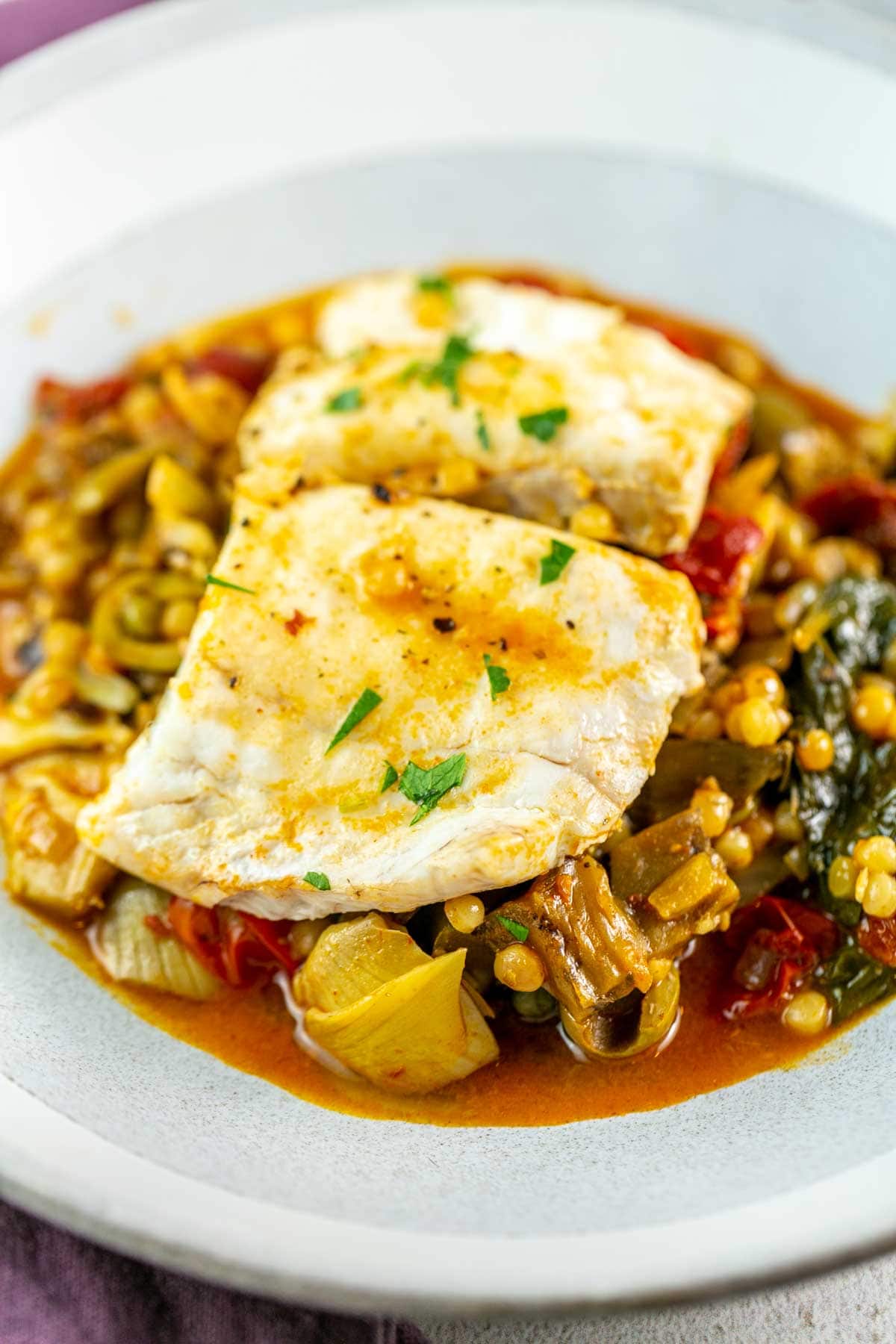 Tips and Tricks for The Best Poached Mediterranean Fish
If using frozen fish, ensure it is fully thawed before using it in this recipe. Frozen fish can be thawed overnight in the refrigerator, or to quick thaw, place the fish in the vacuum-sealed packaging in a bowl of cold water. Change the water every 15-20 minutes until the fish is completely thawed and ready to use.
This recipe calls for Israeli couscous, which is also called pearl couscous. Israeli couscous is recommended for this recipe because it is larger and coats with the sauce instead of absorbing it all.
To make this recipe gluten-free, it is possible to sub quinoa for the Israeli couscous. Use the same amount, but add an extra 5 minutes to the simmering time before adding the fish to the pan. None of the other ingredients in the recipe contain gluten, but ensure particular brands are gluten-free!
Marinated vegetables add lots of great flavor to this dish, but you can use fresh zucchini, eggplant, and red peppers instead. Use the same volume and cut into a small dice before adding them to the pan.
More Mediterranean-Inspired Recipes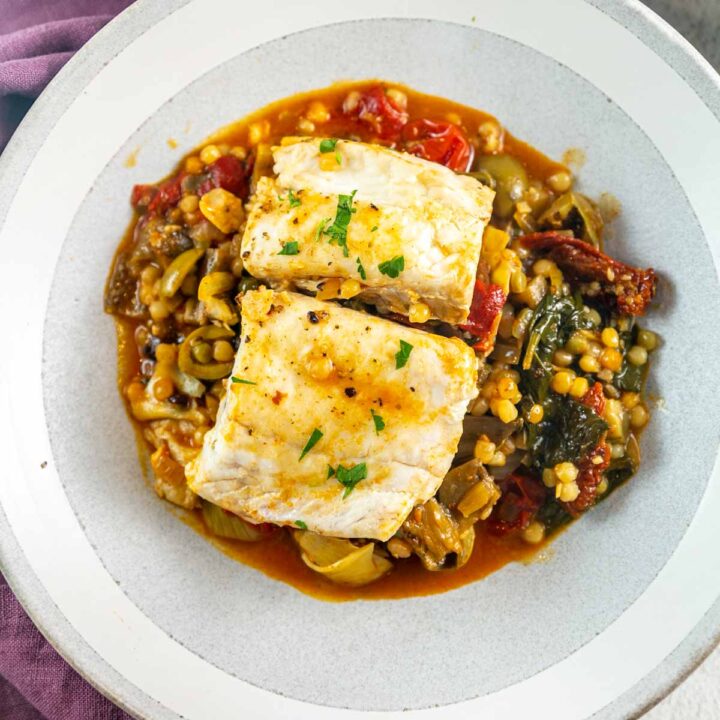 Mediterranean Fish with Couscous
This flavorful and veggie packed Mediterranean Poached Fish with Couscous features marinated veggies, an aromatic sauce, and perfectly cooked couscous. 
Ingredients
3 tablespoons olive oil
1 cup jarred marinated vegetables, drained and chopped (red peppers, zucchini, and/or eggplant)
1 medium yellow onion, thinly sliced
3 large cloves garlic, minced
2 teaspoons smoked paprika
2 teaspoons harissa paste
1 3/4 cups vegetable or chicken stock
2 teaspoons capers (optional)
1/2 cup sundried tomatoes, loosely chopped
1 pint cherry tomatoes, halved
1 cup marinated artichoke hearts, drained and roughly chopped
1/2 cup green and/or Kalamata olives, halved
2 cups fresh spinach
kosher salt and freshly ground black pepper
2/3 cup pearl (Israeli) couscous
4 (6-ounce) skinless mild, white fish fillets, such as cod, fluke or halibut
Instructions
Heat the olive oil over medium heat in a 12-inch heavy-bottomed skillet with a lid. Add the chopped marinated vegetables and onion and cook, stirring occasionally, until lightly browned, 6 to 7 minutes. Add the minced garlic, smoked paprika, and harissa paste, stir to combine, and cook for 1-2 minutes, until fragrant. Add the vegetable or chicken stock, capers (if using), sundried tomatoes, and cherry tomatoes, and bring to a boil over medium-high heat. Stir in the artichoke hearts, olives, spinach, 1 teaspoon salt, and freshly ground pepper to taste, followed by the pearl couscous. Turn the heat to low, cover the pot with the lid, and simmer for 5 minutes.
Meanwhile, pat the fish filets dry with a towel and season on both sides with kosher salt and freshly ground pepper. After the couscous has simmered for 5 minutes, remove the lid, add the fish to the skillet (place it gently on top of the couscous mixture), cover again with the lid, and simmer for another 5 minutes. Remove the lid after 5 minutes and simmer until the couscous is tender, the liquid in the pan has reduced slightly, and the fish is flaky and cooked through.
Serve in shallow bowls with generous scoops of the vegetable mixture and broth, topped with a fish fillet.
Notes
Either fresh or frozen fish can be used for this recipe. If using frozen fish, ensure the fish is full thawed before using.
IIsraeli couscous is recommended, but quinoa can be swapped to make this recipe gluten-free. Use the same amount, but add an extra 5 minutes to the simmering time before adding the fish to the pan. The quinoa will stick to the bottom of the fish for serving.
Marinated vegetables add the best flavor to the dish, but fresh zucchini, eggplant, and red peppers can be substituted for the jarred marinated vegetables.
Recommended Products
As an Amazon Associate and member of other affiliate programs, I earn from qualifying purchases.