July 23, 2021
Thai Basil Beef Stir Fry
Thinly sliced beef, bell peppers, and Thai basil combine into this fast, flavorful Thai Basil Beef.  Make your own Thai takeout in under 15 minutes!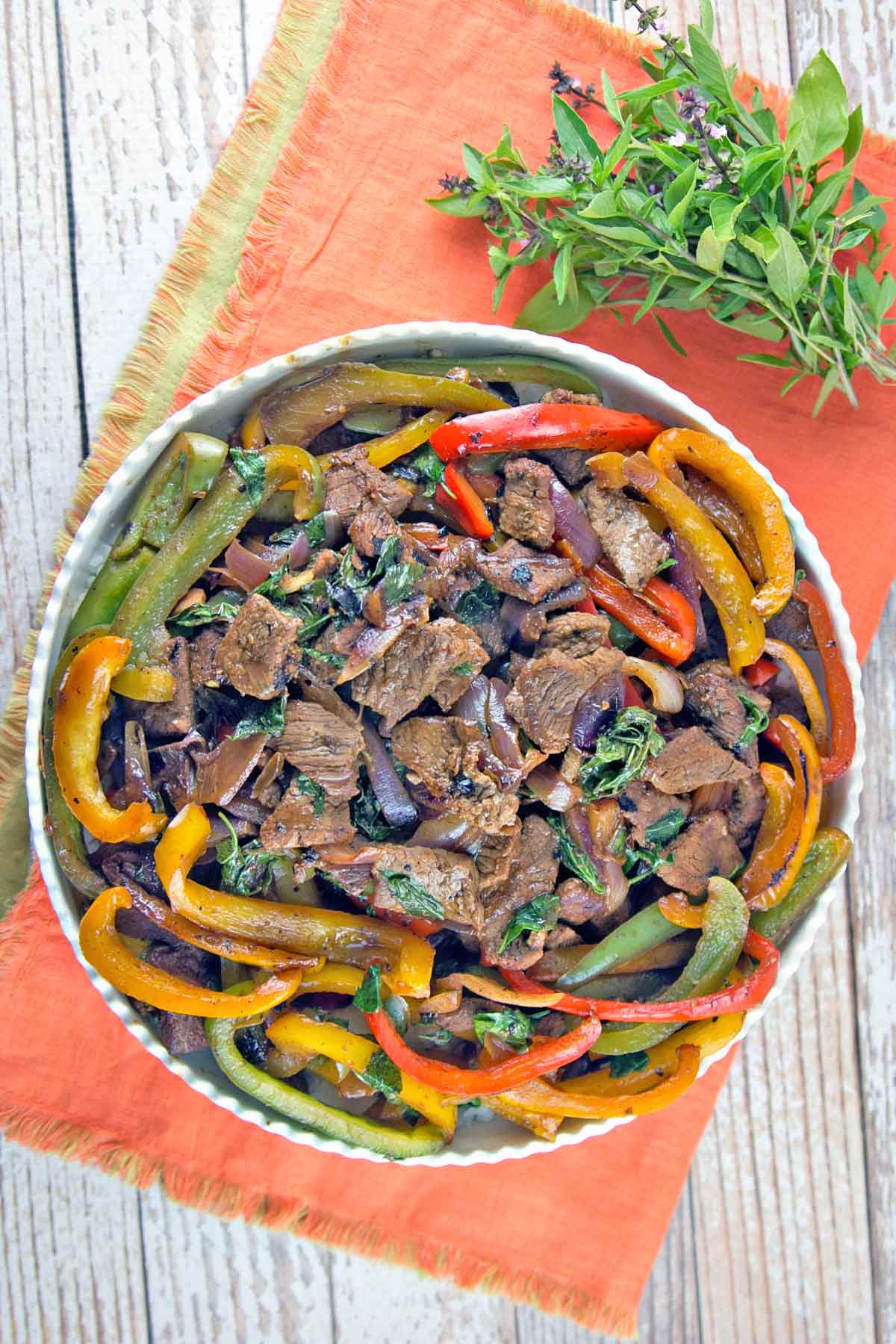 If you have a garden of any variety, be it the large backyard type or the small pots hanging off a balcony rail variety (hello, fellow city dwellers!), you probably have some basil growing every summer.
Most people grow sweet basil, but if you're not already, I highly encourage you to add thai basil to your garden next summer! The flavor is a little bolder, a little spicer, and what really makes Thai food taste like… well.. Thai food!
There are so many delicious ways to use Thai basil, but our personal favorite is this Thai Basil Beef — a quick 15 minute dinner that our whole family loves.
How to Make Thai Basil Beef
For starters, I will clarify that this is likely not a truly authentic recipe. I am not Southeast Asian, nor have I visited. But this is delicious, and the Thai basil brings a flavor I always associate with (Americanized) Thai restaurants.
Now that we cleared the air, let's talk a little about my take on Thai Basil Beef.  I wanted to make this more of a one pot (wok?) meal, so I added more peppers than typically included in an attempt to up the vegetable content.
(Hey, I have a young kids.  I have to teach them that vegetables are a delicious and important part of every meal, right?!)
Add an easy sauce – soy sauce, oyster sauce, a little sugar, some Thai chili paste. Serve over steamed rice for a fast, delicious dinner – even better than your local Thai restaurant.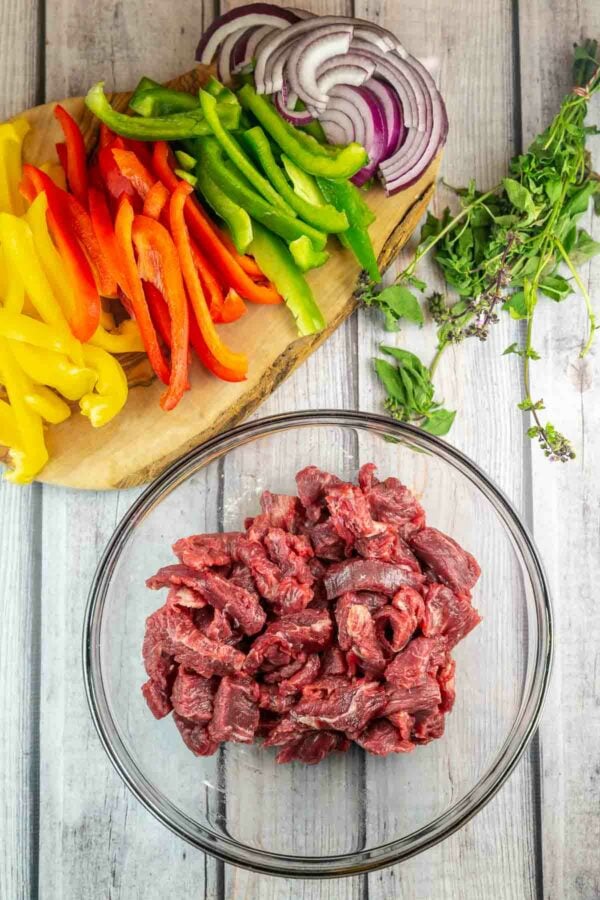 Tips for a Perfect Stir Fry
New to stir frying or looking to perfect your stir fry game? Here's a few tips to help make this quick and easy meal one of your weeknight staples:
Use a wok – or the largest stainless steel pan you have available.  The key to fast cooking is a large surface area, so the bigger the better!
Get your oil hot.  We want everything to be hot — get your burner turned up as hot as possible.  You need to use an oil which can handle this heat, so avoid olive oil or other low smoke point oils.  (And whatever you do – no butter!)
Don't crowd the pan.  If you can't fit all the beef in one layer, do it in two batches.  We need each piece of to make surface contact with the wok so it will cook thoroughly and quickly.
Dry your vegetables.  If you just rinsed your veggies, dry off any extra moisture with a paper towel.  If you put them in damp, the vegetables will steam, rather than stir fry.  We want crisp vegetables, not soggy!
Cut everything to a similar size – this will help it all cook evenly.  Big pieces take longer to cook than small (common sense).  Because we're cooking for such a short period of time, we want everything the same size.
Cook your meat first — and only until it's about 80% done.  We'll add it back into the pan with the vegetables at the end, and toss it again over high heat.  This prevents the meat from overcooking.
Keep it moving!  The key to successful stir fry is that constant tumbling motion.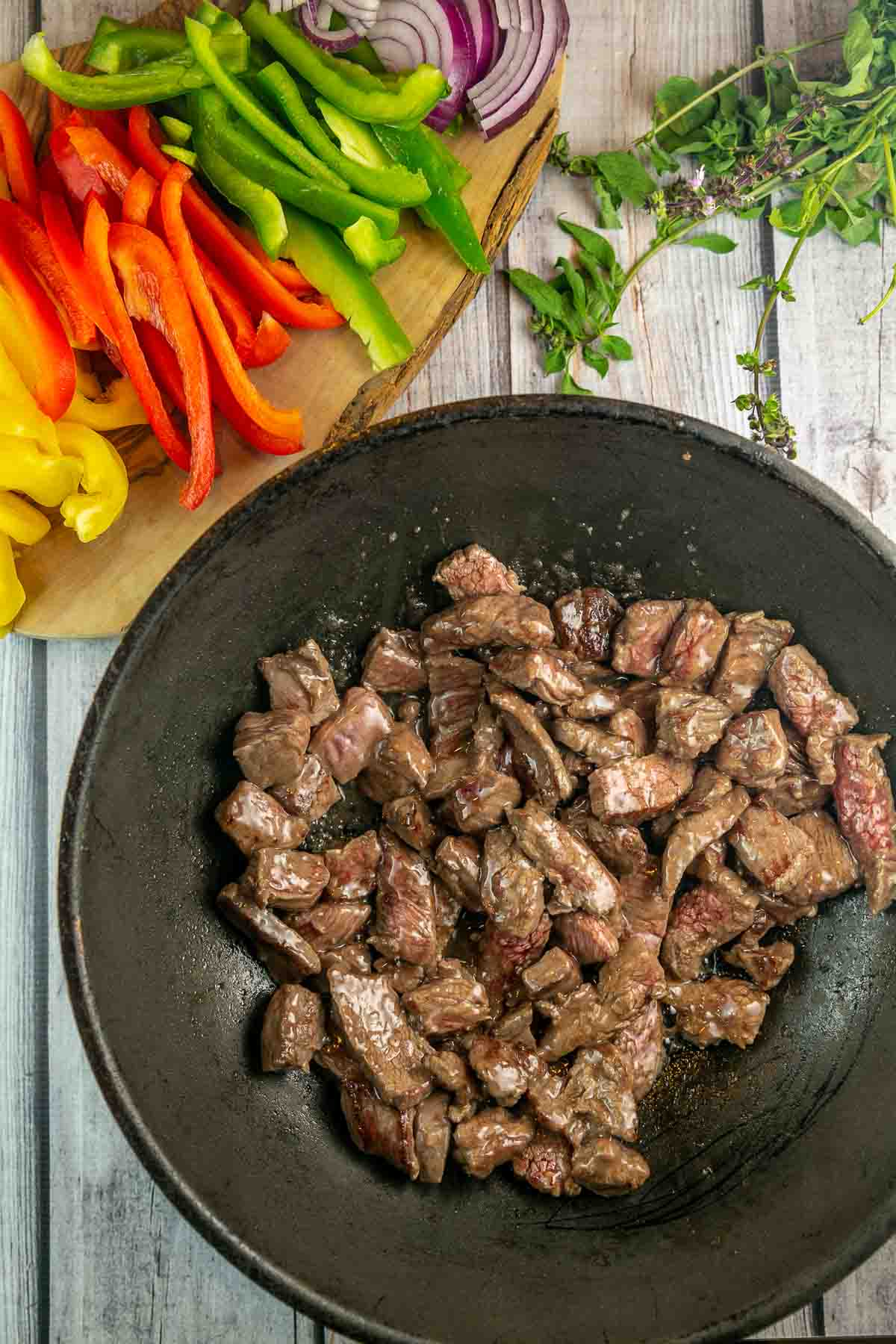 Let's talk about this last one for a minute. I know a lot of people are taught to let meat sit to develop a perfect sear. But in reality, moving food constantly helps it cook quicker, which is perfect for thin cuts of beef. Why is this? It's time for my favorite subject.. kitchen chemistry!
Kitchen Chemistry

Constantly stirring food continues to bring new surfaces of the food in contact with the hot pan, evenly heating the food from all outside edges inward.  It also release steam, and this release of water allows the surface to heat up enough for the Maillard reaction, the chemical reaction between amino acids and sugars resulting in the release of additional flavor compounds.
Thai Basil Beef is basically the ultimate weeknight meal.  It's comforting, delicious, and fast.  Like, really fast.  As in, 15 minutes start to finish fast.  In the amount of time it takes to preheat your oven for frozen pizza, you can have a steaming hot bowl of Thai Basil Beef.   And if that's not a win for dinner, I don't know what is.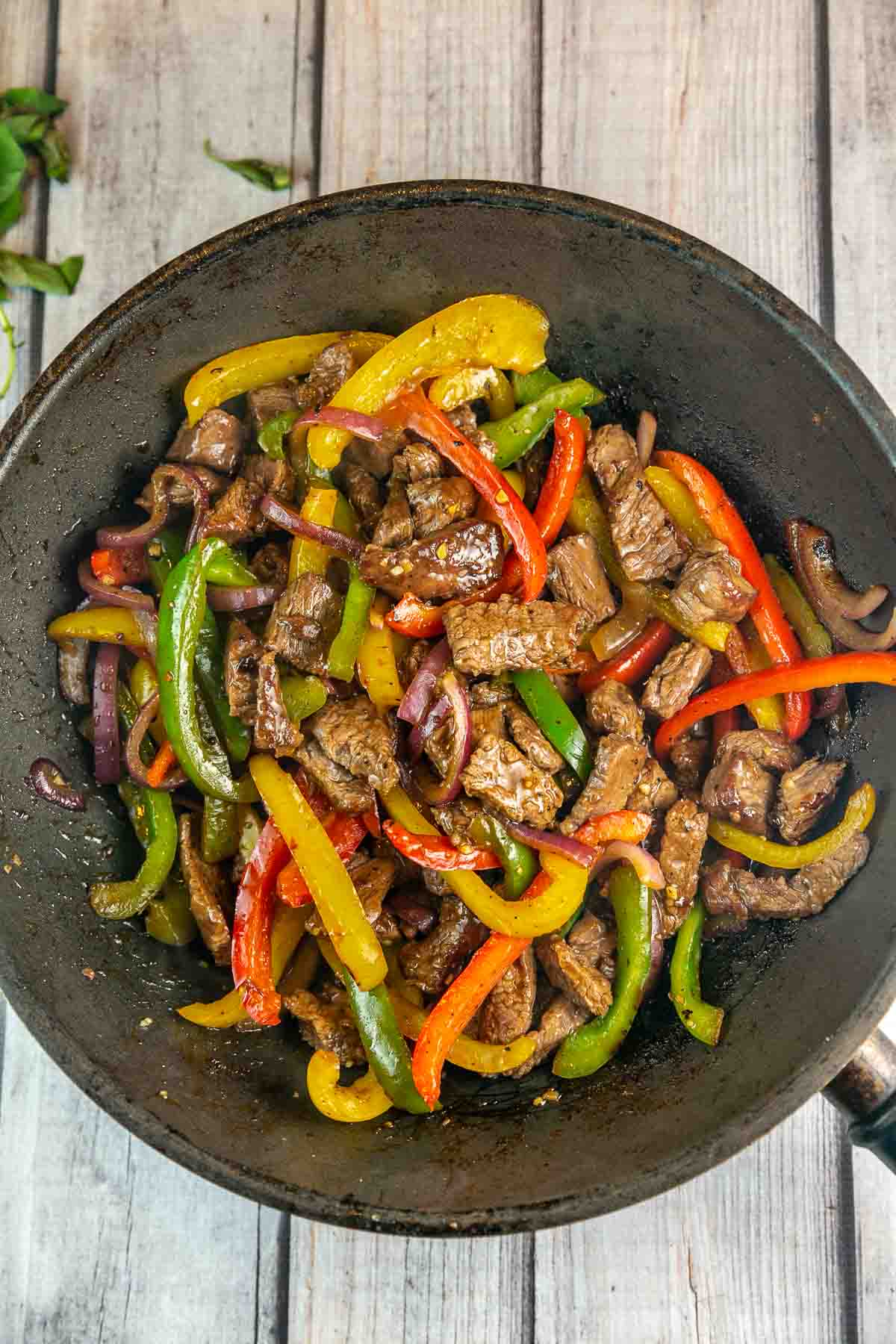 More Asian Inspired Recipes: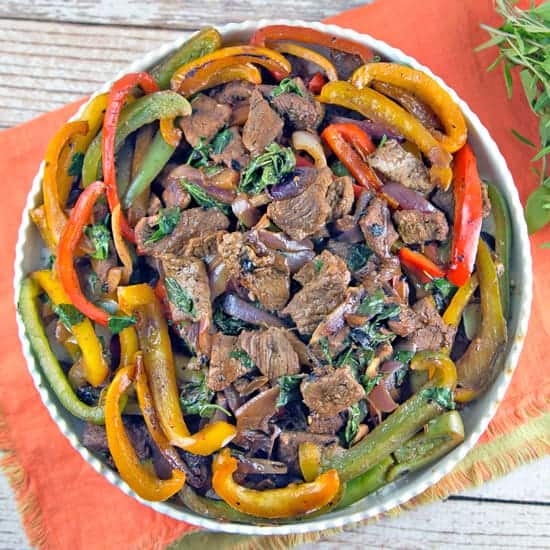 Thai Basil Beef Stir Fry
Thinly sliced beef, bell peppers, and Thai basil combine into this fast, flavorful Thai Basil Beef.
Ingredients
1 pound flank steak, sliced thinly against the grain
2 teaspoons cornstarch
2 tablespoons plus 1 teaspoon vegetable oil, divided
4 cloves garlic, minced
1 onion, sliced thinly
3 bell peppers, varying colors, sliced thinly
1-2 tablespoons Thai chili paste
1 tablespoon oyster sauce
1 teaspoon dark soy sauce
1 teaspoon light soy sauce
1 tablespoon fish sauce
1 teaspoon brown sugar
1 cup Thai basil leaves, packed
2 cups steamed rice, for serving
Instructions
Toss the sliced beef with the cornstarch and 1 teaspoon oil. Set aside.
Heat the wok over high heat. Add the remaining oil. Sear the beef until just browned, then remove from the wok.
Add the garlic, onion, and peppers to the wok, stir-frying until crisp-tender. Add the beef back to the wok. Stir in the chili paste, oyster sauce, soy sauces, fish sauce, and brown sugar. Continue to stir fry for an additional minute until sauce is combined and beef is heated through, then remove from the heat and fold in the basil until wilted. Serve over rice.
Notes
If preparing for someone with gluten sensitivities, ensure that the oyster sauce, soy sauces, and fish sauce are gluten free.
Recommended Products
As an Amazon Associate and member of other affiliate programs, I earn from qualifying purchases.
Nutrition Information:
Yield:

4
Amount Per Serving:
Calories:

361
Total Fat:

9g
Cholesterol:

68mg
Sodium:

669mg
Carbohydrates:

36g
Fiber:

3g
Sugar:

4g
Protein:

28g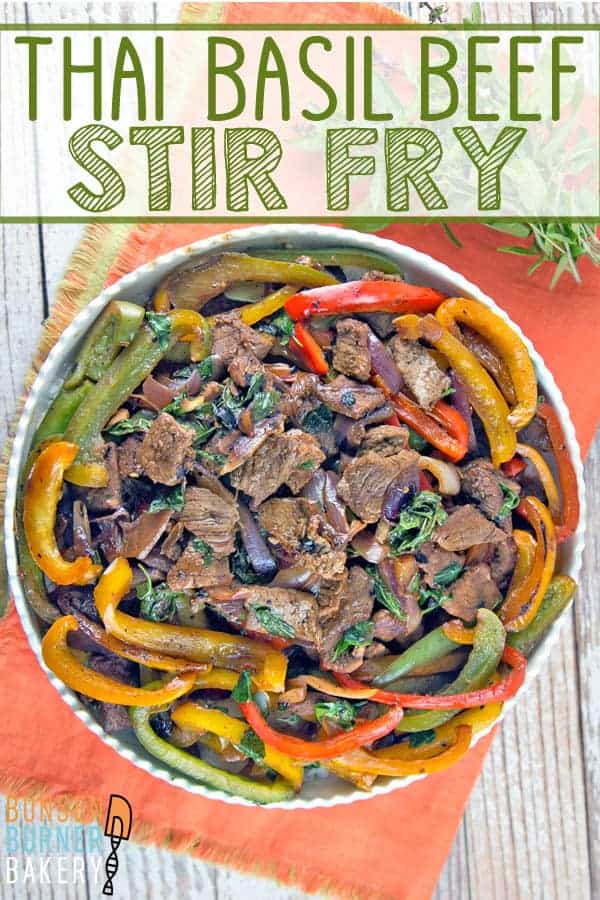 This Thai Basil Beef recipe was originally published on 10/21/2016 and updated with new pictures and helpful tips on 07/23/2021.