March 25, 2022
Easy Instant Pot Carnitas
Made in just one hour, these Easy Instant Pot Carnitas take away the all-day braising of classic carnitas without sacrificing any of the flavor! Tender and easy to shred, the resulting carnitas are delicious to eat alone or as fillings for tacos, burritos, enchiladas, nachos, and so much more!
Carnitas are one of our favorite dinners. The slightly-crispy pork is just full of flavor, the perfect level of spicy, and so versatile! I always make a large batch and freeze half for a future easy dinner. Tacos! Quesadillas! Nachos! Piled on top of a sweet potato! The possibilities are seemingly endless.
Buuuuut… carnitas can take a really long time to make. Like, in the oven or in a slow cooker all day sort of a long time. And I don't know about you, but I don't always have my act together to start working on dinner first thing in the morning. We're often not even home all day, and I don't love the idea of leaving my slow cooker or oven on when no one is home.
So how do we remedy this? With Instant Pot carnitas! All the amazing flavor and tender, shreddable meat… in a mere fraction of the time!
And while the carnitas cook in the Instant Pot, you have just enough time to make your favorite toppings – like charred corn, quick pickled red onions, and even a batch of roasted tomatillo salsa verde.
Plus, these Instant Pot carnitas are gluten-free (substitute diced chipotles for the chipotles in adobo), Whole30 compliant, dairy-free, and keto-friendly – meaning they work for a variety of diets and food intolerances, too!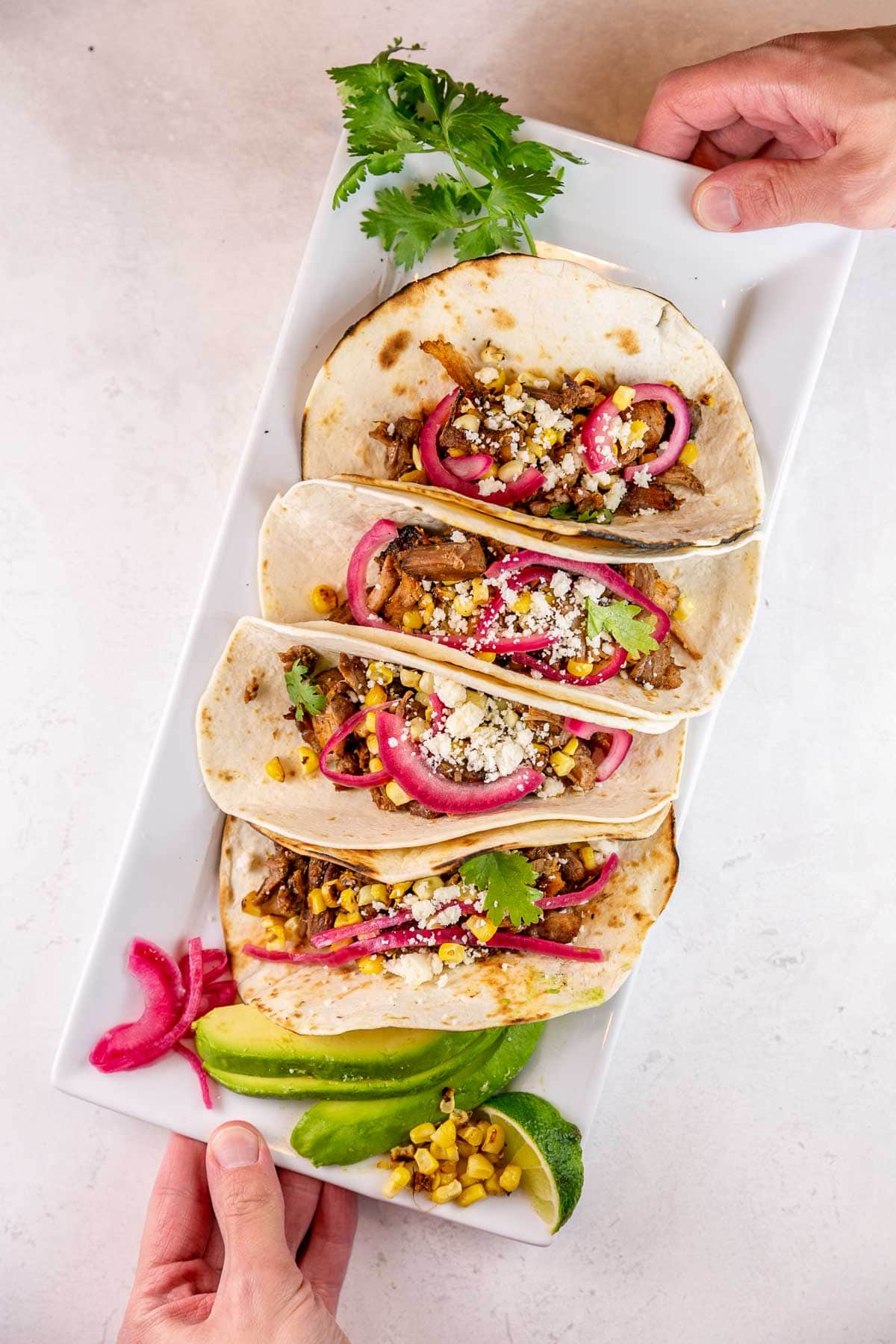 What are Carnitas?
On the simplest level, carnitas are a Mexican version of pulled pork. Carnitas means "little meats" in Spanish, and consists of pork shoulder or pork butt braised for hours until the collagen in the meat breaks down and becomes tender enough to shred.
Common spices used for carnitas include chili powder, garlic, cumin, oregano, and paprika, and the meat is simmered in citrus juice.
After cooking, the pork is often served on its own with various sides and toppings or used as the filling for tacos, burritos, enchiladas, or numerous other dishes.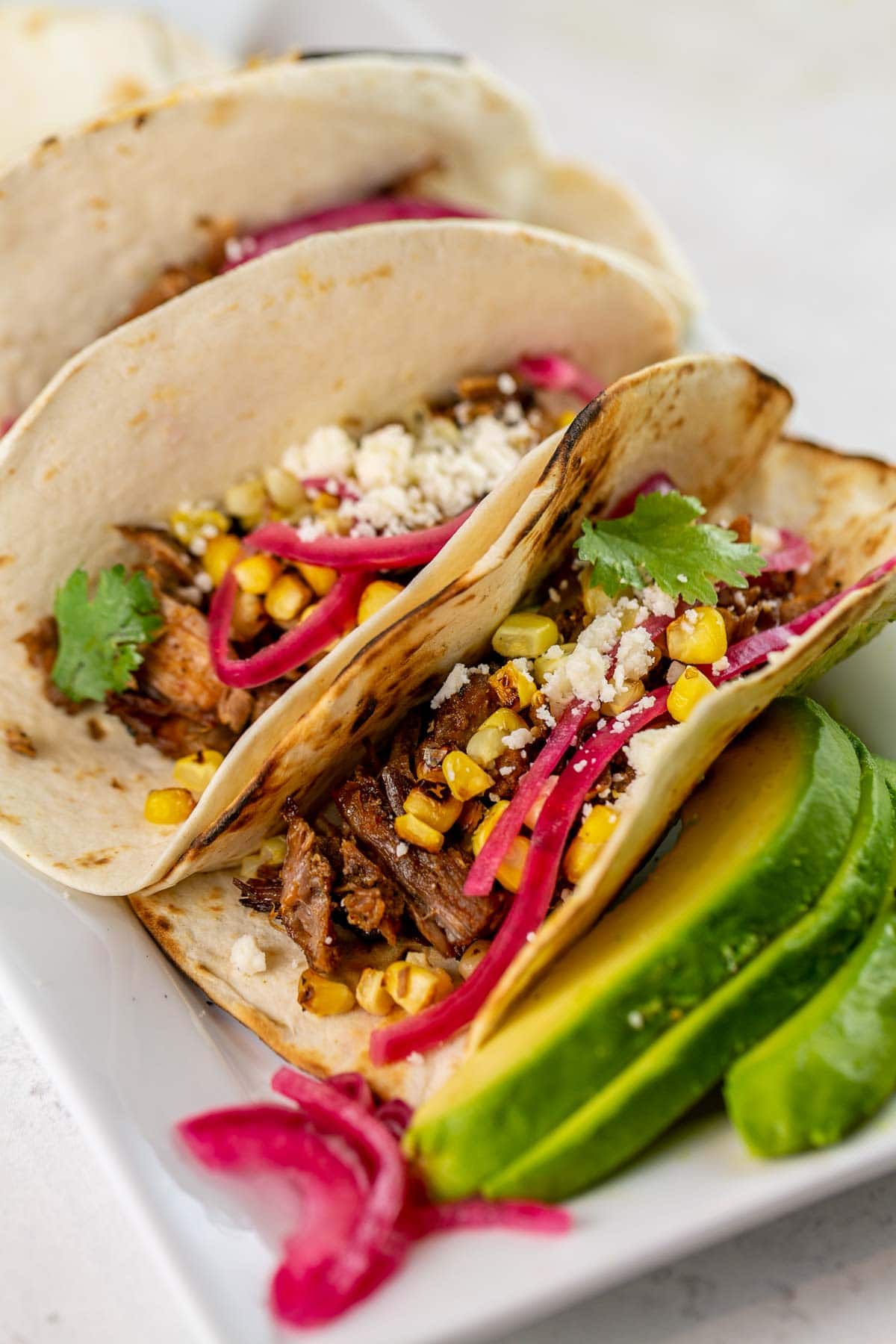 Ingredients for Carnitas
To make these Instant Pot pork carnitas, we'll need the following:
Pork: Either pork shoulder or pork butt (Boston butt) work for this recipe. Boneless or bone-in will work but start by trimming off any excess fat and cutting the pork into 2 to 3-inch cubes.
Garlic: We'll use a lot for the best pork flavor – starting with 5 cloves.
Spices: The spices are what make carnitas so delicious! Gather some oregano, chili powder, coriander, cumin, and smoked paprika, along with kosher salt and freshly ground pepper.
Citrus: The citrus adds liquid to the Instant Pot, along with necessary acid and lots of flavors. I like to use one whole orange and half of a lime.
Chipotle Peppers in Adobo: You will always find a can of chipotle peppers in adobo in my kitchen – they add so much flavor and just the right amount of heat to so many things, including these carnitas! To keep this dish gluten-free, keto-friendly, or Whole30 compliant, use 2 tablespoons of canned diced chipotle peppers instead. The La Costina brand of Diced Chipotle Peppers does not contain any additional flour and is gluten-free.
Toppings: Add in whatever you'd like to serve with your carnitas. We like soft tortillas, quick pickled red onions, charred corn, avocado, crumbled cotija, a little cilantro, and a squeeze of lime.
Instant Pot to Break Down Tough Meat
The key to making these carnitas weeknight quick and easy is using a pressure cooker! The time commitment drops from 6-8 hours to a mere hour, and that includes bringing the pressure cooker up to pressure!
So how does a pressure cooker reduce the cooking time so drastically and break down a tough cut of meat? It's time for my favorite subject… kitchen chemistry!
Kitchen Chemistry

A pressure cooker creates a seal to lock in moisture and steam generated from cooking. Because the steam cannot escape, the atmospheric pressure inside the pot increases, which raises the temperature of boiling water from 212 °F to 250 °F. As the moisture surrounding the food reaches a higher temperature under pressure, the chemical processes involved in cooking, like breaking down collagen in a tough piece of meat, happen much more quickly.
To make these Instant Pot carnitas, start by cutting the pork into large cubes and seasoning well with the spices. Add the chipotles in adobo, squeeze in the citrus, and pressure cook on high for 40 minutes, followed by a manual release.
I often start Instant Pot recipes by searing meat using the saute feature, but I've found because the spices and citrus are so flavorful, it doesn't make a big taste or texture difference. We're going to crisp up the carnitas in a skillet or under the broiler at the end anyway – but if you'd like to sear each side of the pork shoulder until brown before adding the citrus, feel free to do so.
Once the pork is cooked, it should shred easily with a fork. (If it doesn't, put the lid back on and bring it to pressure for an additional 10 minutes.) Optional but highly recommended: transfer the shredded pork to a cast iron skillet or sheet pan. Drizzle with several tablespoons of the liquid remaining in the Instant Pot. Broil under high until the edges of the pork are dark and crispy, checking every minute or two.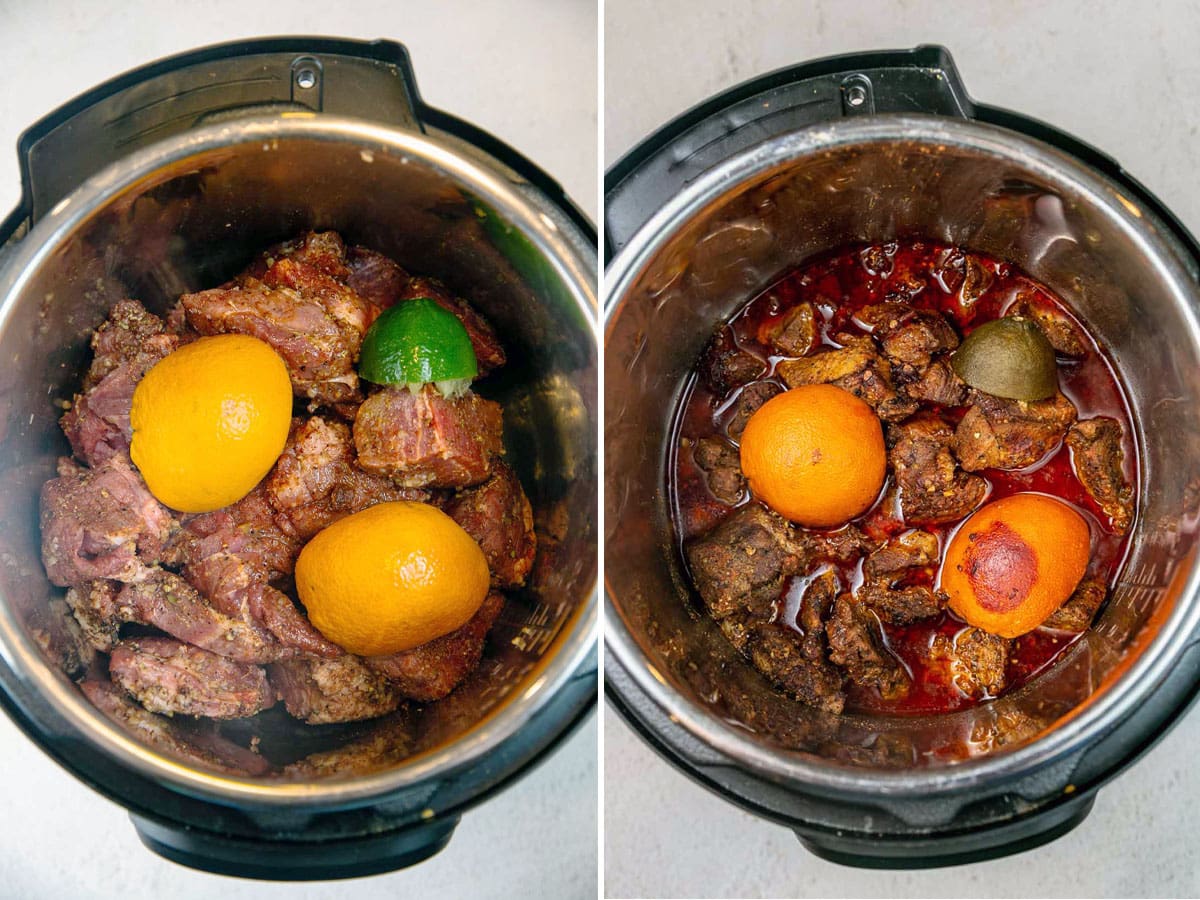 Serving Ideas and Suggestions
The most straightforward way to enjoy these carnitas is as tacos — served in soft tortillas with quick pickled onions, charred corn, avocado, crumbled and crumbled cojita. This is always how we start the first day we make carnitas.
The time while the carnitas cook in the Instant Pot is just enough time to make a batch of easy homemade pickled red onions and saute some corn to serve with the tacos. For extra bonus points, make your own roasted tomatillo salsa verde – it's delicious on carnitas!
But for the second day or third day, or sometimes even the fourth day, we like to mix things up a little! Other favorite ways include using the carnitas as a filling for quesadillas, enchiladas, or burritos, stirred into chili, as a topping for roasted sweet potatoes or sheet pan nachos, or piled high on family favorite Mexican couscous bowls.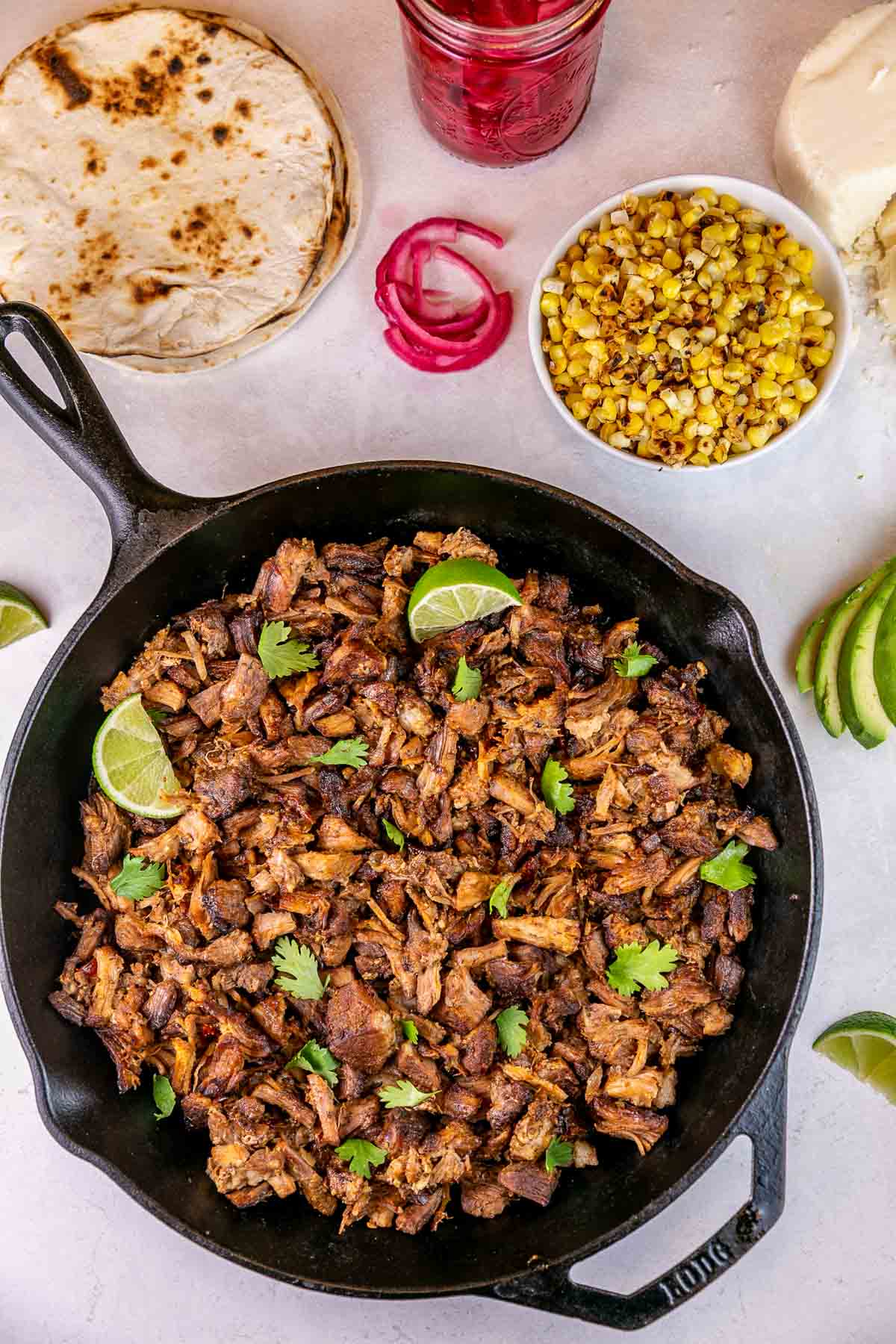 FAQ About Instant Pot Carnitas
Should I use pork shoulder or pork butt to make carnitas?
Either option will work! Pork shoulder and pork butt both come from the shoulder of the pig, although different locations (pork butt is higher on the shoulder, while pork shoulder extends farther down). If choosing between the two, pork butt is generally better marbled throughout the cut and is thus a little more tender – but I've made this many times with pork shoulder as well and it's still delicious.
Can carnitas be made ahead of time?
Yes! After cooking in the Instant Pot, shred the meat and set it in a container with about half the remaining cooking liquid. This can be frozen for up to 3 months (defrost overnight in the refrigerator before serving) or refrigerated for up to three days. Before serving, spread the shredded carnitas with 2-3 tablespoons of the liquid on a sheet pan or place in a cast iron skillet. Reheat in the oven at 350 °F for 10 minutes covered in foil, then remove the foil and crisp under the broiler for a few additional minutes.
Can I use frozen pork for this carnitas recipe?
Yes! Use a sharp knife to cut the frozen pork shoulder or butt into 2 to 3-inch pieces. The spice mix will not stick well to the outside, but cover it as best you can and add the remaining spices into the Instant Pot. Cook directly from frozen, adding an additional 10 minutes to the cooking time (for a total of 50 minutes).
Can I use this recipe to make Instant Pot chicken carnitas?
Yes! Chicken can be substituted for pork. Use 3 pounds of boneless chicken breasts or boneless, skinless chicken thighs. Cook on high pressure for 10 minutes for the chicken breasts or 12 minutes for the chicken thighs, followed by a natural release.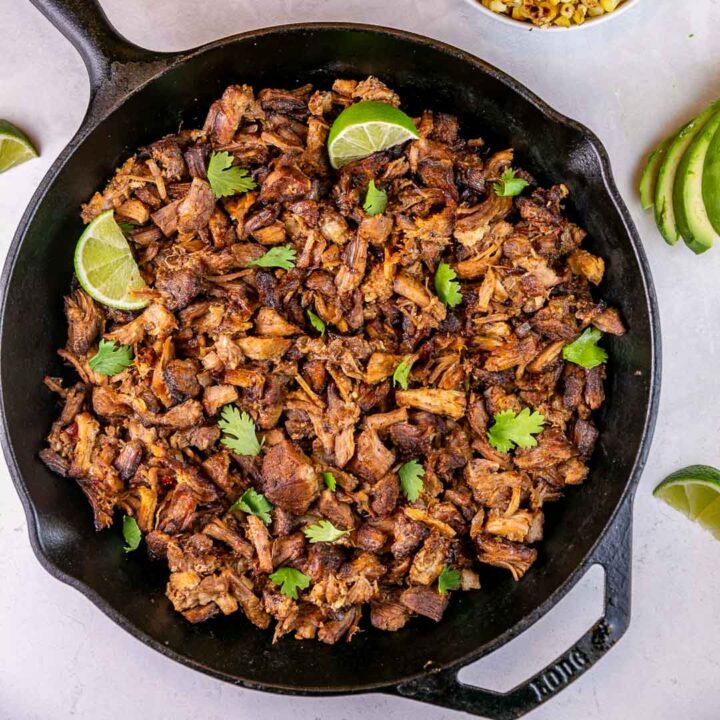 Easy Instant Pot Carnitas
Made in just one hour, these Easy Instant Pot Carnitas take away the all-day braising of classic carnitas without sacrificing any of the flavor! 
Ingredients
For carnitas:
3 pounds boneless skinless pork butt or pork shoulder
5 large garlic cloves, minced
2 1/2 teaspoons kosher salt
2 teaspoons dried oregano
1 teaspoon chili powder
1 teaspoon fresh ground pepper
1 teaspoon ground coriander
2 teaspoons ground cumin
2 teaspoons smoked paprika
1 orange halved, juice squeezed
1/2 lime, juice squeezed
2 canned chipotle pepper in adobo sauce, chopped, plus an extra 1-2 teaspoons of adobo sauce or 2 tablespoons chopped chipotle pepper
Suggestions For Serving:
corn or flour tortillas
charred corn kernels
crumbled cojita cheese
sliced avocado
cilantro
extra lime wedges
Instructions
Cut the pork into 2 to 3-inch cubes. Sprinkle all the spices, from garlic to smoked paprika, over the cubed pork and toss to combine well, ensuring all pieces of pork are coated with some of the spice mixture.
Add the pork to a 6 quart Instant Pot. Squeeze the juice from the orange and lime over top and add the chopped chipotles in adobo and additional adobo sauce, if using. Stir once or twice to combine, then add the orange and lime rinds, pulp side down, on top of the pork.
Place the lid on the Instant Pot, turn the vent to cooking, and cook on high pressure for 40 minutes, followed by a manual pressure release.
Transfer the cubes of pork to a sheet pan or cast iron skillet and shred using two forks. Pour 2-3 tablespoons of the liquid left in the Instant Pot over top of the shredded pork and broil for 3-5 minutes, or until edges of the pork are golden and crispy. Taste and sprinkle with extra salt and pepper if necessary.
Recommended Products
As an Amazon Associate and member of other affiliate programs, I earn from qualifying purchases.