April 7, 2012
Macaroon Crust Cheesecake
Rich chocolate swirled macaroon crust cheesecake, perfect for your Passover seder or a gluten-free dessert option.  So good, you'll want to eat it year round!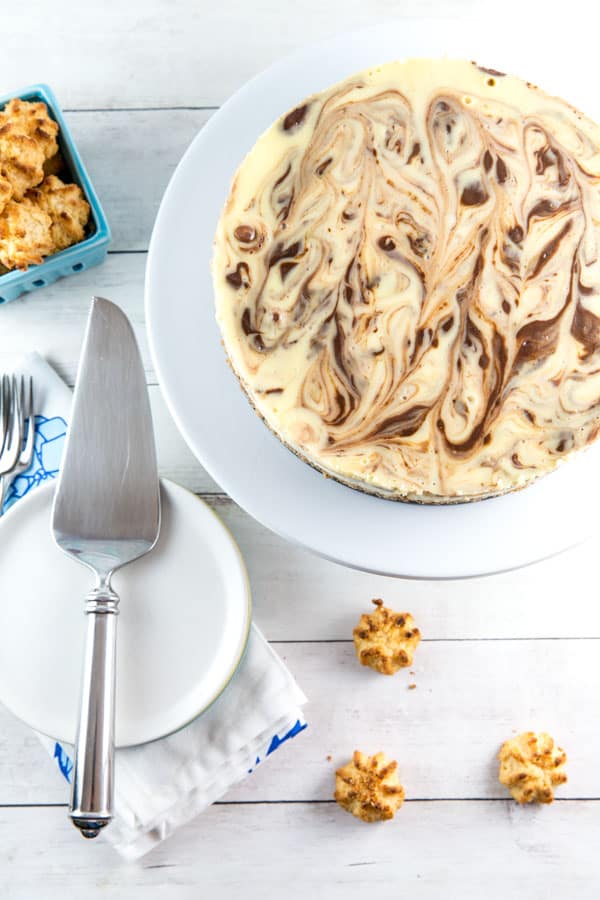 Passover is right around the corner! Have you thought about your seder desserts, yet?
If it's not on your list, macaroon crust cheesecake is a great dairy option for dessert.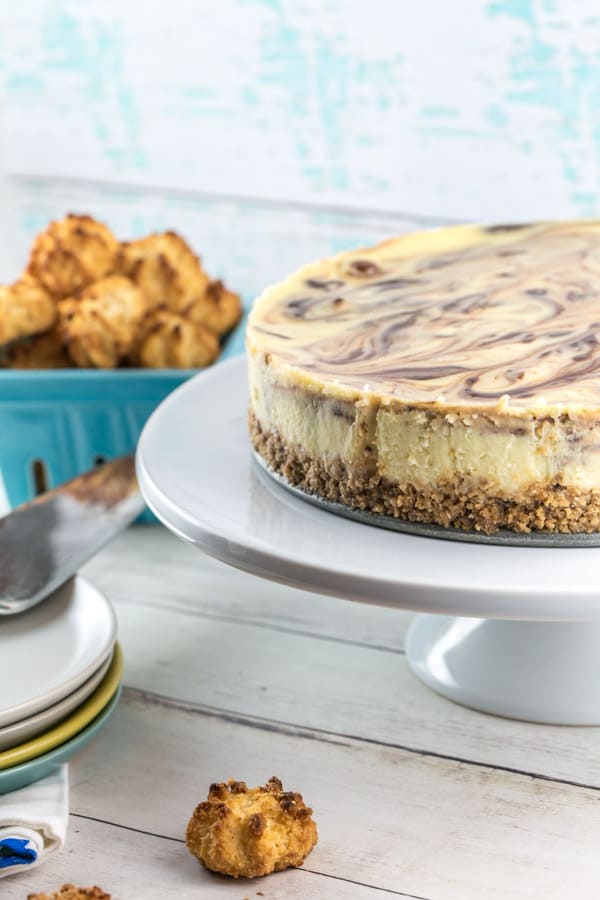 Personally, I'm not really a fan of cream cheese in sweet applications.  Cheesecake is no exception to this rule.
My husband, however, could not disagree more.  In fact, every year he requests some variation of this dark chocolate cheesecake for his birthday!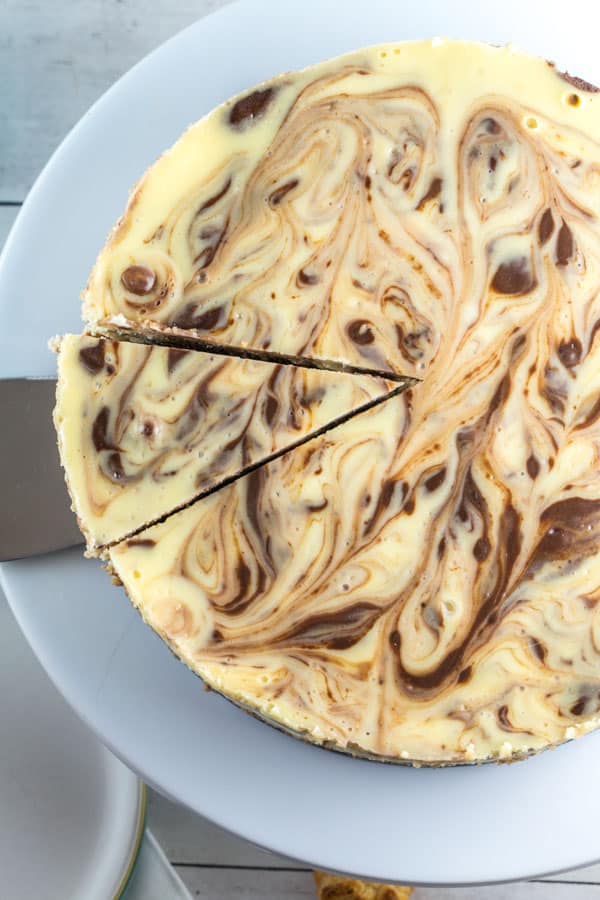 Between his love of cheesecake, and how hands off they generally are to make… I'll be making a macaroon crust cheesecake for our seder again this year.
It's always a big hit, and because it's so rich and decadent, a little goes a long way.  This cheesecake can feed a crowd!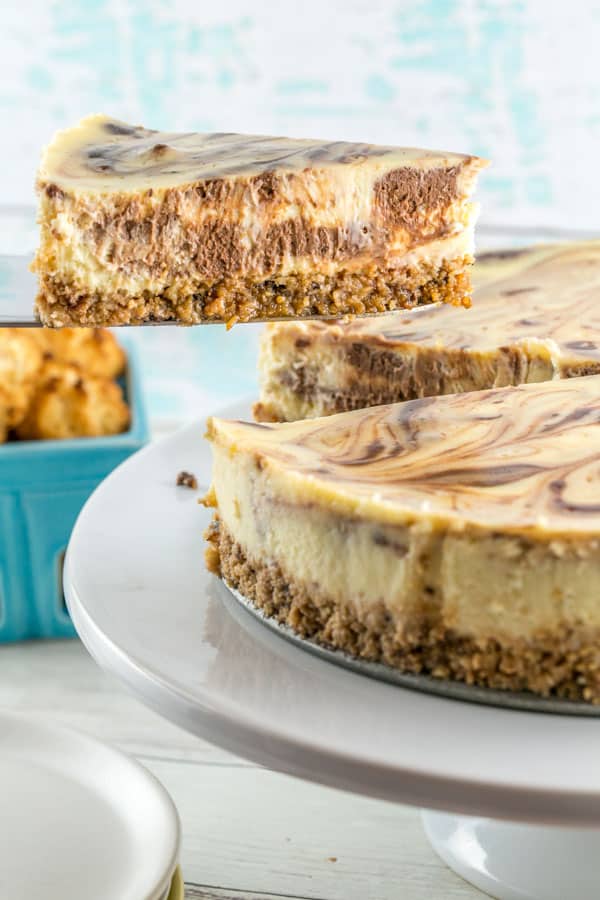 We'll start with a macaroon crust.  Use whatever kind of macaroons you like — I usually do chocolate, but for this particular one, I went with chocolate chip macaroons.  You can't go wrong with plain coconut, either!
Grind them up in your food processor.  Because macaroons are so moist to begin with, we don't even need to add any butter — just press the crumbs right in the bottom of a springform pan.
There are lots of methods out there for baking cheesecakes.  For this one, I use a water bath to prevent the top from cracking.  After all, we're not covering the top with chocolate or whipped cream so we can show off the marble swirl, so we want it to be pretty, right?  Plus, water bath cheesecakes tend to come out far creamier because there's no risk of drying out while baking.
Here's the best advice I can give you for this cheesecake: wrap in more layers of foil than you think you need.  Two layers? Not enough.  Three.  Four is better!  We want a leakproof seal so no water gets in and makes the crust all soggy!
As far as the cheesecake itself, I like a simple vanilla and chocolate marble swirl.  Here's the thing with swirled cheesecakes, though.  Adding chocolate to the vanilla batter means it has a really different density.
It's hard to actually swirl.  So what usually winds up happening is a layer separation — vanilla on the bottom, chocolate on top.  That's all fine and dandy, but I really wanted the flavors to mix.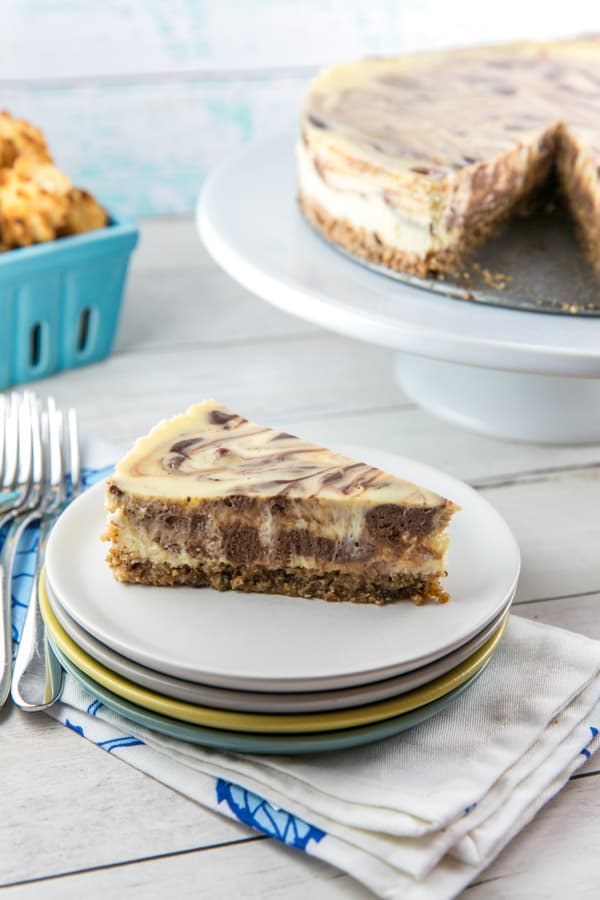 So instead of dropping the chocolate batter just on the top and swirling, I did it in two layers.  Half the vanilla batter, drop on spoonfuls of chocolate, swirl.  Rest of the vanilla batter, rest of the chocolate, swirl again.
It means that each bite has multiple layers of swirl in there.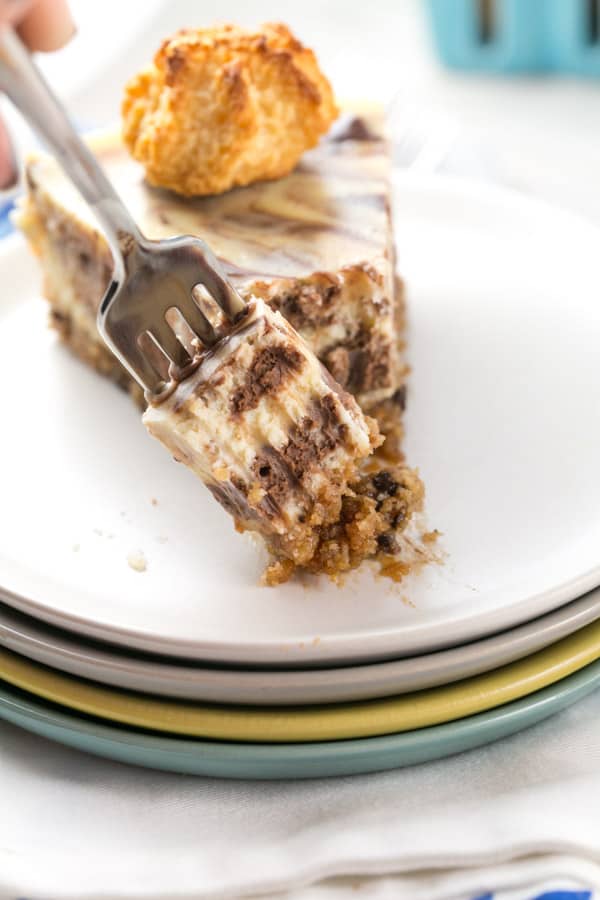 Rich swirls of chocolate and vanilla.  Coconut (or chocolate coconut!) macaroon crust.  Whether you celebrate Passover or are just looking for a gluten-free crust alternative, this macaroon crust cheesecake is sure to be a hit!
Don't miss these other Passover desserts!
Macaroon Crust Cheesecake
Rich chocolate swirled macaroon crust cheesecake, perfect for your Passover seder or a gluten-free dessert option.
Ingredients:
1 can chocolate Kosher for Passover macaroons
3 (8-ounce) packages of cream cheese, room temperature
1 cup granulated sugar
3 large eggs
1 cup heavy cream
1 tablespoon lemon juice
1 tablespoon vanilla extract
4 ounces bittersweet chocolate, melted
Directions:
Preheat oven to 350 °F.  Add approximately 2-inch depth of water to a large roasting pan.  Place the pan in the oven while the oven preheats.
Grind contents of can of macaroons in food processor. Press crumbs into bottom of 9" springform pan. Set crust aside.  Wrap the springform pan in 3-4 large sheets of aluminum foil, tucking the foil up and over the edge to form a slight overhang.  Ensure all sides of the springform pan are fully covered with foil.
Combine cream cheese and sugar in the bowl of a stand mixer and cream together until smooth. Add the eggs one at a time, fully incorporating each before adding the next. Scrape down the bowl between the addition of each egg. Add cream, vanilla, and lemon juice and blend until smooth and creamy.
Remove a third of the batter into a separate bowl and stir in melted chocolate.
Pour half the vanilla batter into the prepared crust. Drop half the chocolate batter by spoonful into the vanilla batter and swirl with a knife into the vanilla. Repeat with the remaining batters.  Tap the pan on the counter a few times to bring all air bubbles to the surface.
Carefully lower the springform pan into the roasting pan with water (the water will be hot at this point!).  Bake for 45 to 55 minutes, until almost done – the sides of the cheesecake should hold together, but the center should still have significant jiggle. Close the oven door, turn off the heat, and let rest in the cooling oven for 1 hour. This allows the cake to finish cooking and cool down gently enough to prevent cracks at the top. After one hour, remove the cheesecake from the oven and lift carefully out of the water bath. Let the cheesecake finish cooling on the counter and then cover and chill in the refrigerator for at least one more hour, up to overnight, before serving.
Cheesecake can be made ahead and frozen.  Once chilled, wrap in several layers of plastic wrap, followed by aluminum foil.  Freeze for up to 3 months.  Thaw overnight in the refrigerator.