April 4, 2019
Chocolate Dipped Coconut Macaroons
Chewy and sweet, it's just not spring without a batch of homemade Chocolate Dipped Coconut Macaroons!  These little treats are so easy to make, there's no reason to buy them from a can. 
Passover is coming up, and if you're Jewish, you know that means stocking up on the Passover essentials. Matzoh flour. Parsley. Dozens and dozens of eggs. Macaroons.
But this year, can I make one little suggestion? Instead of buying cans of Manischewitz macaroons, try making your own!
Don't celebrate Passover? These chocolate dipped coconut macaroons are delicious year-round.  Gluten-free, easy to make (only 3 necessary ingredients for the macaroons!), easy to make ahead of time and store.  And my sources tell me coconut is popular for Easter, too – so I'd bet these are also perfect for your Easter brunch dessert spread! (And don't forget Christmas – macaroons are DELICIOUS on a Christmas cookie tray!)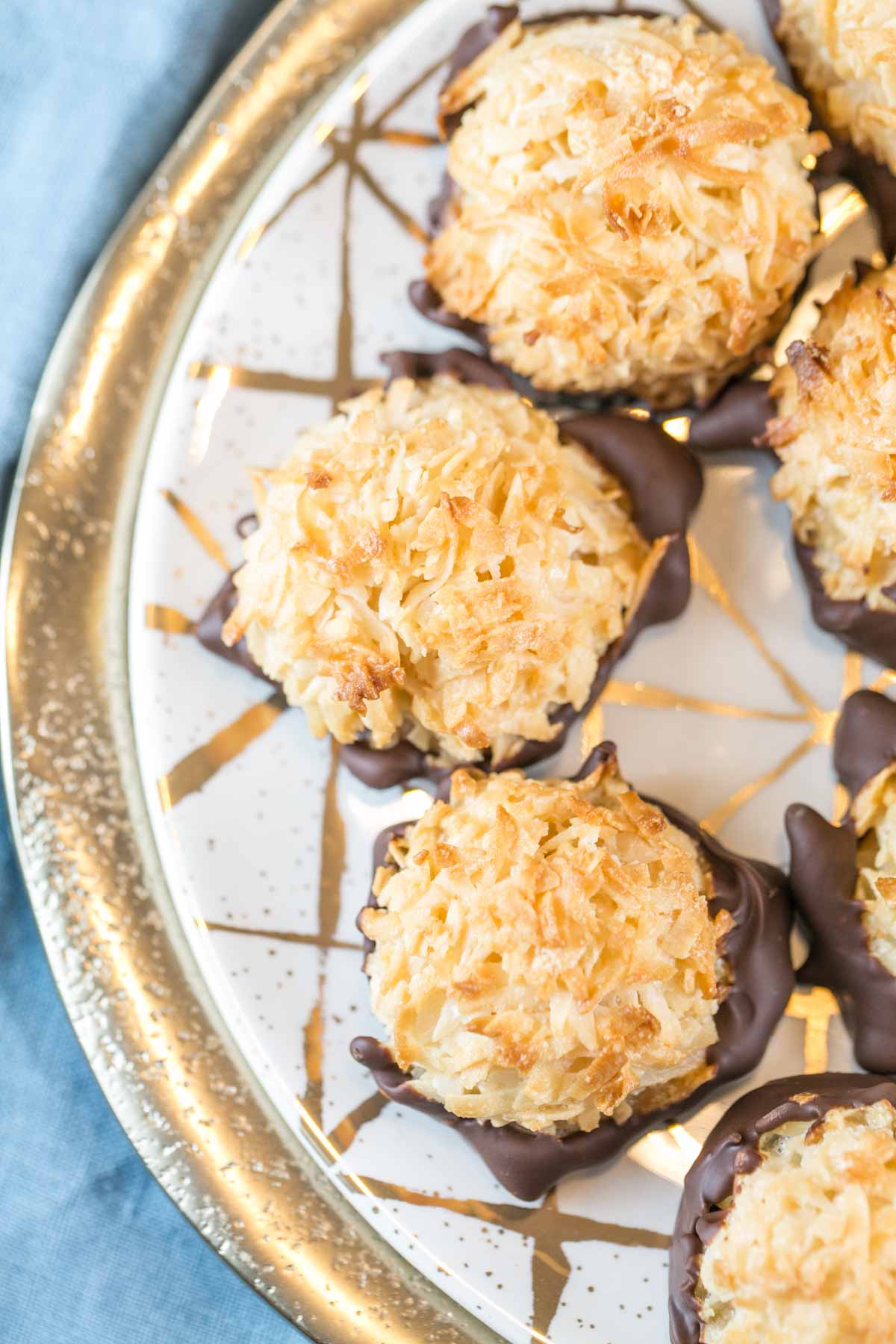 What are Macaroons?
Let's start with the basics — because I find a lot of people confuse macaroons and macarons.  Macarons are brightly colored little French almond cookie sandwiches.  (Looking for a macaron recipe? Step waaaaay back into the archives for my French macarons.)
Macaroons, on the other hand, started similarly — made from ground almonds, but over time, have shifted to a most common coconut base.  Macaroons started as a sugar, egg white, and almond paste cookie, and it wasn't until these cookies immigrated to the US that coconut became a staple.
Modern macaroons are made with shredded coconut, sugar, and egg whites, and are sweet, chewy, and dense.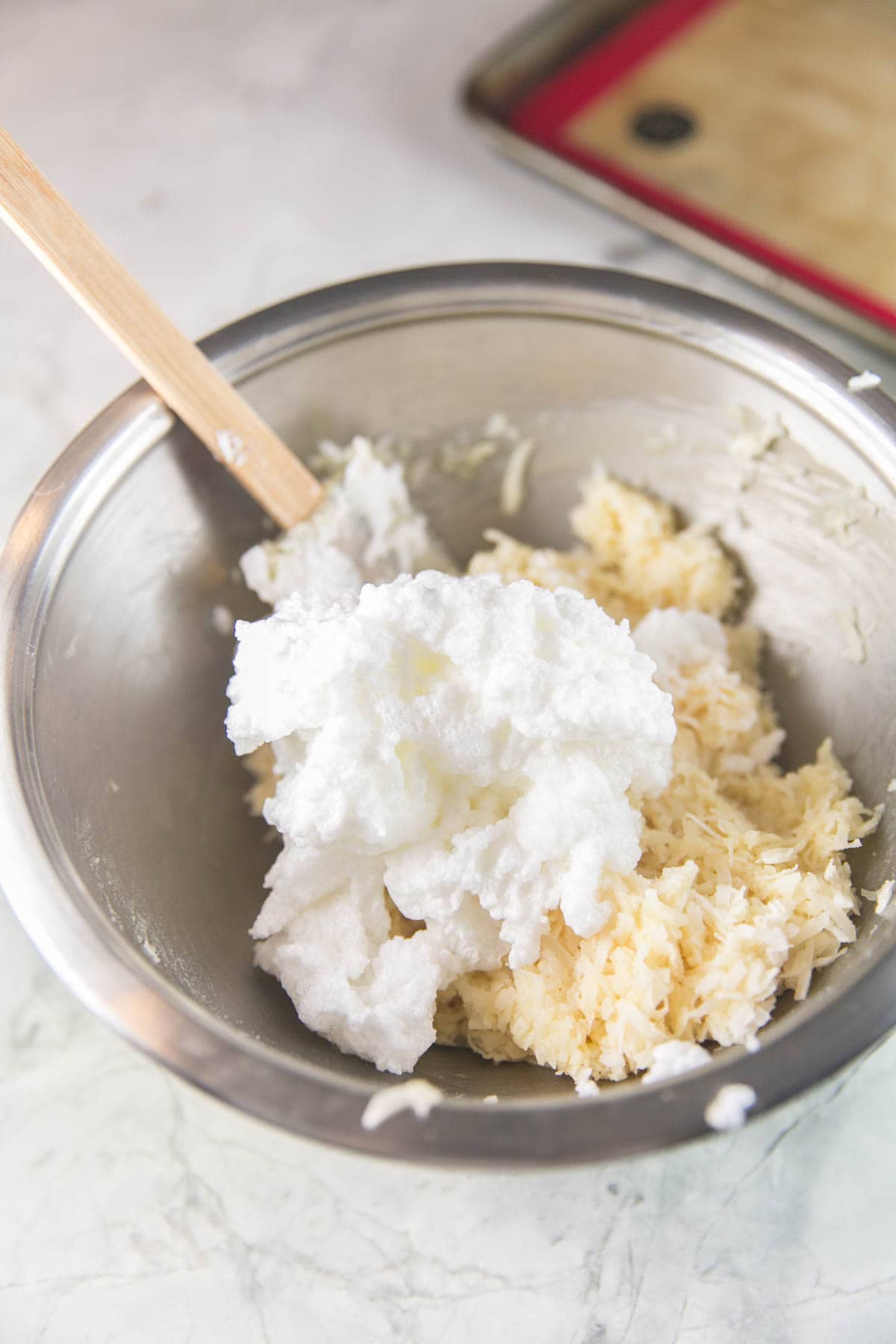 Coconut Macaroons + Passover
Coconut macaroons are a staple on Passover! I didn't actually know the tradition behind this until I started writing this post.  Macaroons originated in Italy, and apparently, we have the Italian Jewish population to thank for this Passover trend. 
Because macaroons contain no flour and no leavening (like most other Passover desserts, macaroons rely on whipped egg whites for leavening), macaroons became a Passover tradition. This then spread to other European Jews, and now it's just not Passover without cracking open a can making your own coconut macaroons!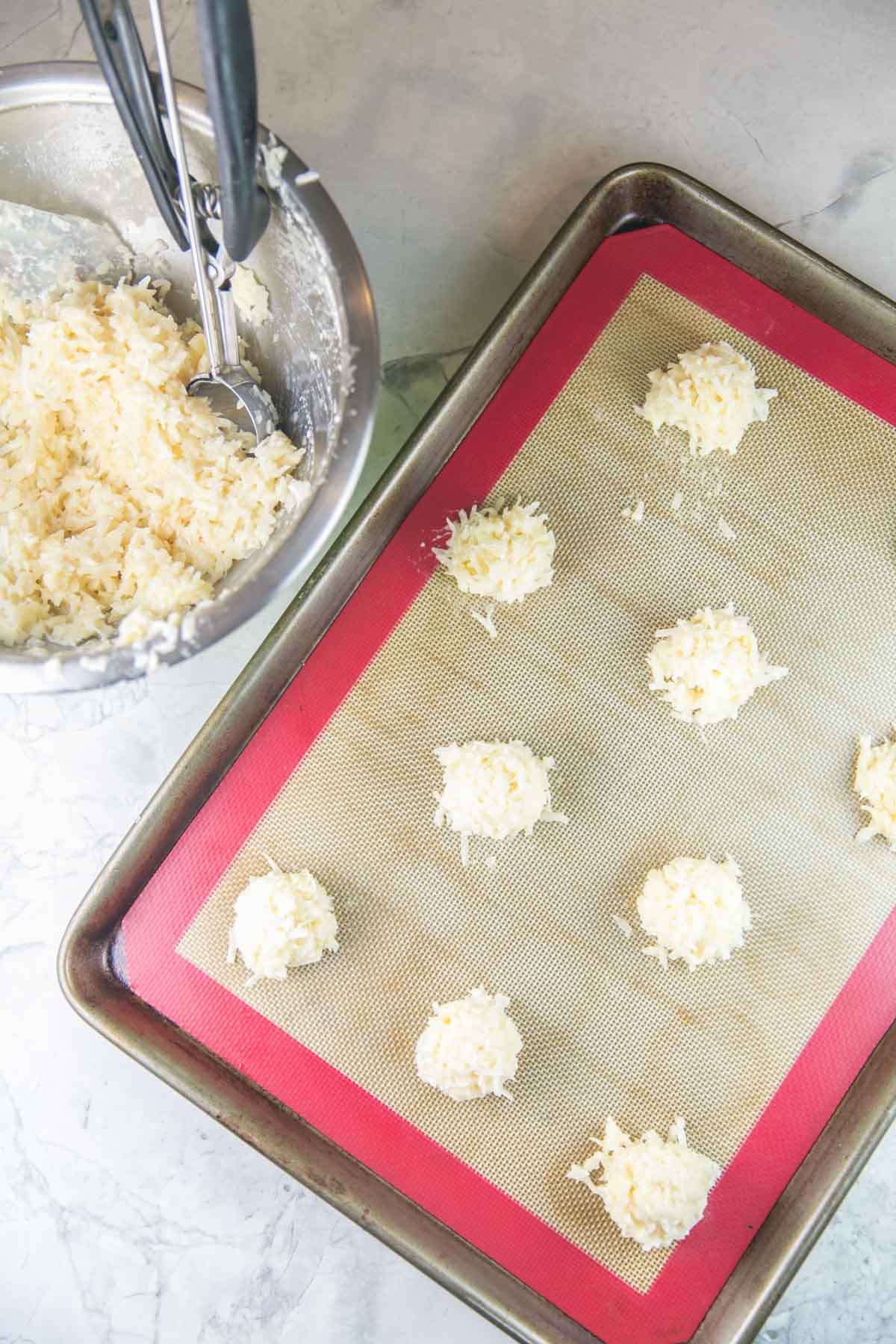 Easiest Homemade Cookies
There are two paths to making coconut macaroons: you can either use sugar or you can use condensed milk. My personal preference, and what I'm sharing here, uses sweetened condensed milk. Of course, this means they are not parve, but we're dipping them in semi-sweet chocolate anyway.
I'd argue that macaroons are probably the easiest cookies out there to make – perfect for any pint-sized budding bakers in your kitchen! All we need to do is mix together three main ingredients: sweetened shredded coconut, sweetened condensed milk, and egg whites. That's it! Stirring together the coconut and sweetened condensed milk, folding in the egg whites, scooping the macaroons, and dipping in chocolate are all perfect for little helpers.
We'll add a few extra things for flavor, but really — it's optional. I add both vanilla extract and almond extract because I like the hint of almond, but you can certainly skip one (or both). A handful of mini-chocolate chips or a sprinkle of cinnamon would be delicious, too!
The only arguably challenging part of making coconut macaroons is whipping the egg whites. I actually prefer to do this using the whisk attachment of my immersion blender, but a hand or stand mixer does a great job too. The most important part: use room temperature egg whites! Why? It's time for my favorite subject… kitchen chemistry.
Kitchen Chemistry

Whipping egg whites results in a form as the proteins in the egg unfold and then refold around air bubbles. Room temperature egg whites whip much faster than cold egg whites, as cold temperatures keep the proteins rigid. As a result, these room temperature eggs achieve a higher volume than cold egg whites. However, once whipped, the foam collapses more quickly as the air bubbles are much larger. If the goal of the egg whites is to increase volume and act as a leavening agent, use room temperature egg whites. Inversely, however, if the whipped egg whites are important for structure, like baking a meringue, whip the egg whites while still cold.
Eggs are much easier to separate, however, when they're still cold. So separate your eggs straight out of the fridge, then let your egg whites warm up to room temperature (20-30 minutes) before whipping. And once you have stiff peaks, fold the egg whites into the coconut mixture immediately!
Stir together the coconut and sweetened condensed milk in a large bowl. Using a spatula, gently fold in the egg whites. Scoop 1.5 tablespoons of this mixture onto a cookie sheet and bake. See? So easy!
Once the macaroons are cool, dip the bottoms in melted chocolate. You can put these right back on the cookie sheet, lined with a silicone baking mat or parchment paper, even though the bottom is covered in chocolate. Pop the tray in the refrigerator for 15 minutes to firm up the chocolate and they will pop right off, no melted chocolate left behind!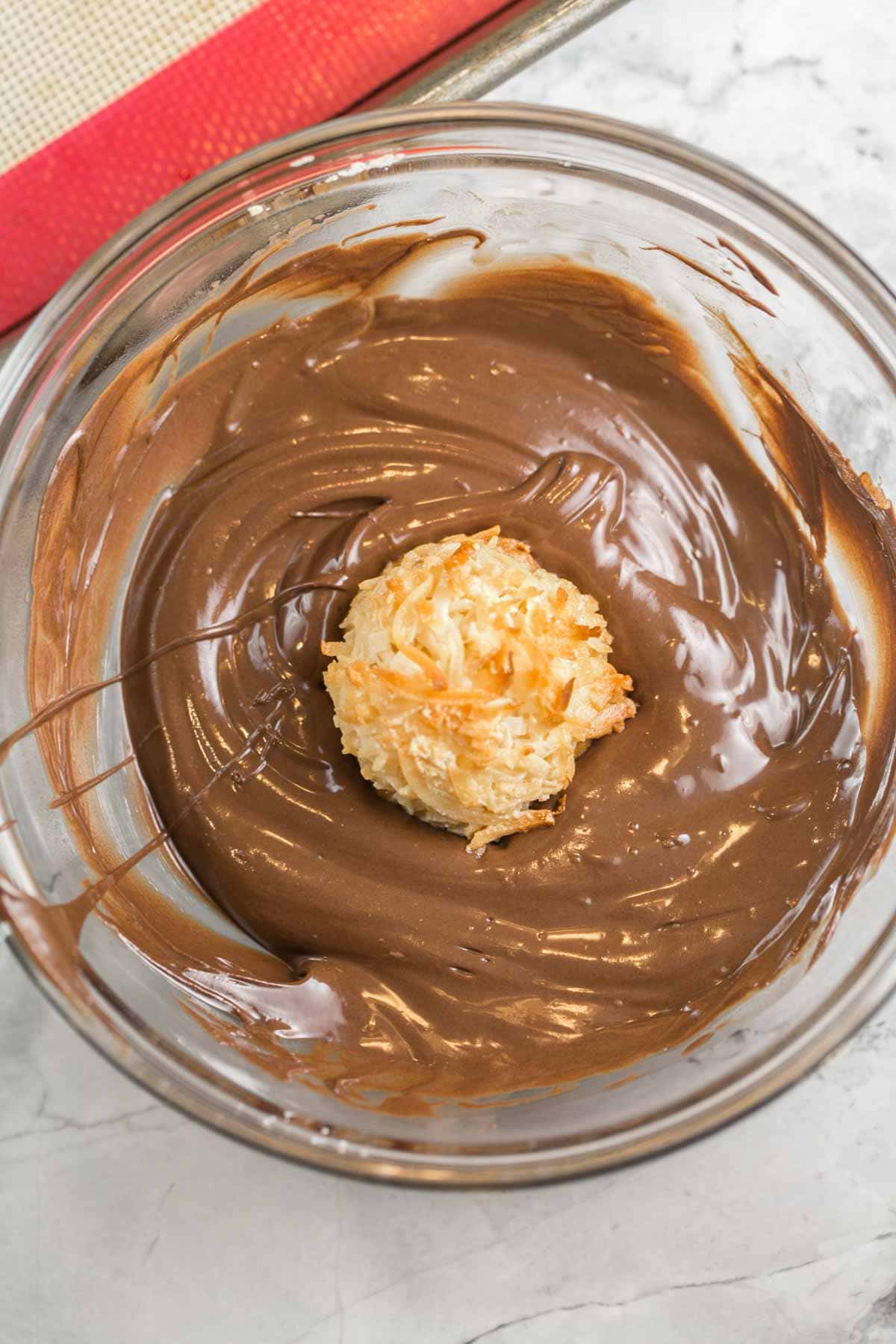 Storing Macaroons
These chocolate dipped coconut macaroons are perfect because they can be made ahead of time!  Macaroons can be kept at room temperature in an air-tight container for up to 5 days, refrigerated for 3 weeks, or frozen for up to 3 months.
You can even dip them in chocolate before storing or freezing them!  To freeze the chocolate dipped coconut macaroons, place sheets of wax paper between the macaroons and freeze them in an air-tight container.  Remove the container from the freezer and bring it to room temperature before opening.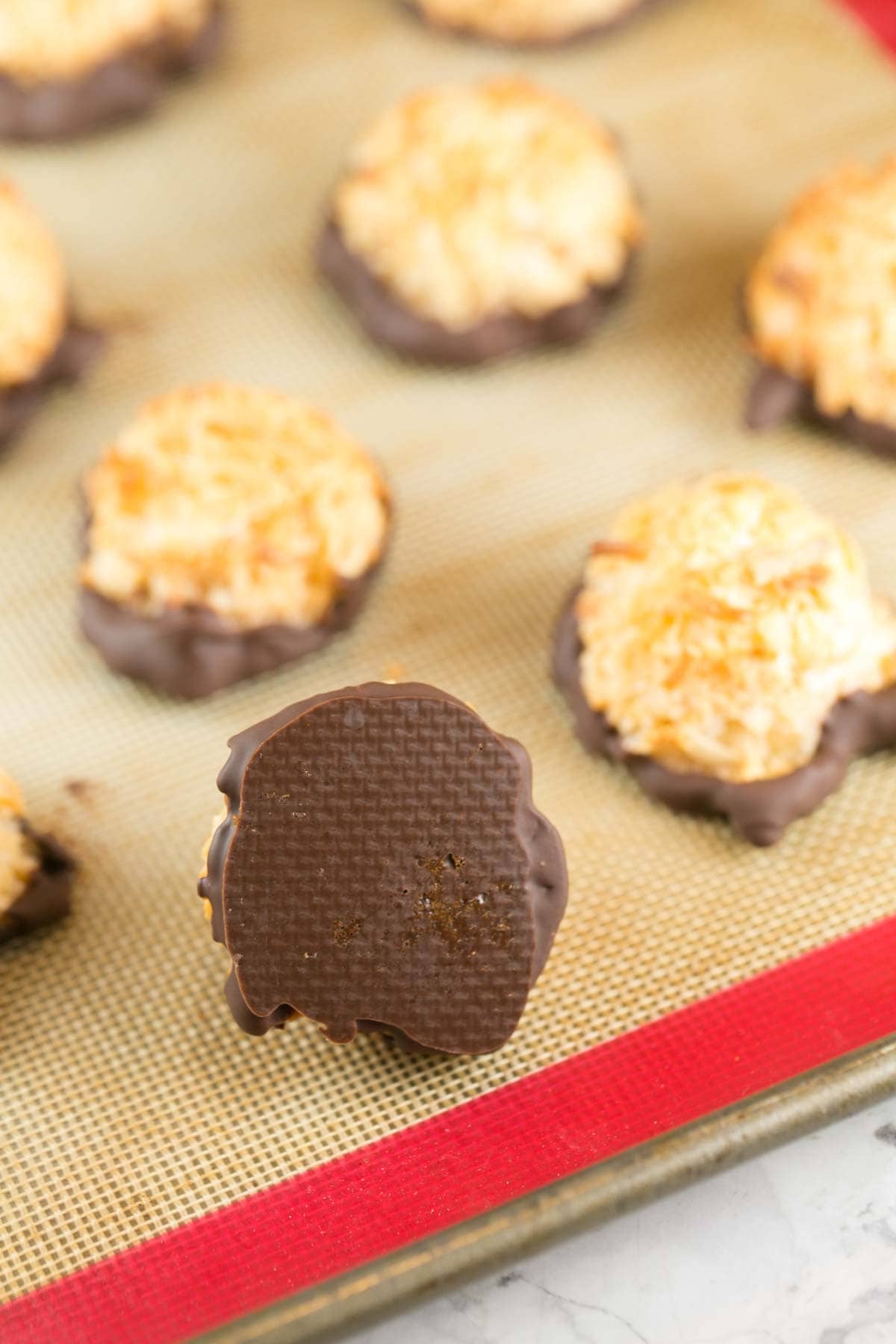 Recommended Tools to make Coconut Macaroons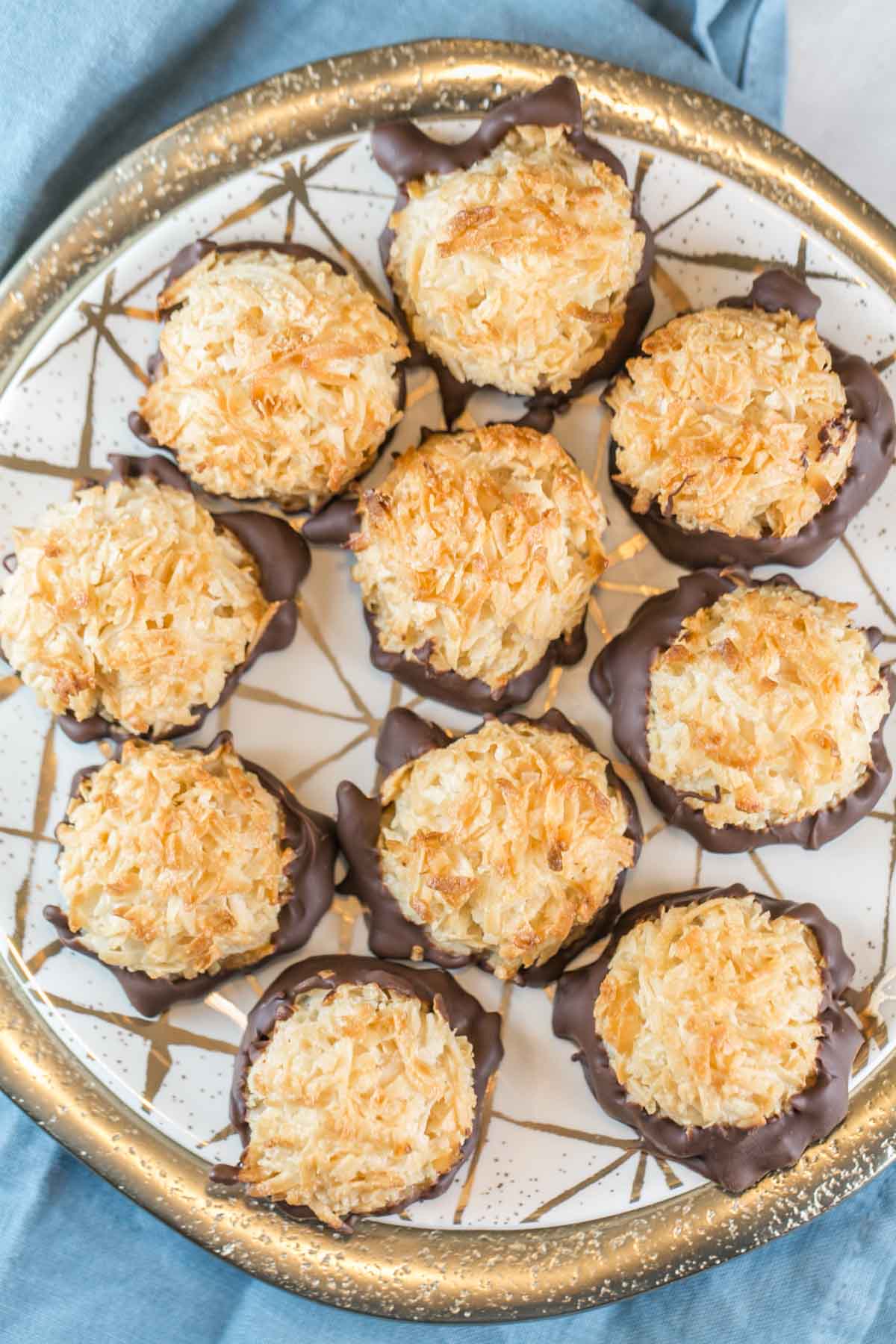 Tips and Tricks for Perfect Coconut Macaroons
Beat room temperature egg whites until stiff peaks form. Stiff peaks means that when you lift your whisk out of the egg whites, the trail of egg whites continues to stand upright, rather than sinking back into the foam.
Use a clean, dry bowl to beat the egg whites — any extra fat or grease (or egg yolk) prevents the formation of stiff peaks.
Fold in the egg white foam immediately. The longer you wait, the more the foam will collapse and turn back into runny egg whites.
Use sweetened condensed milk, not evaporated milk! This is an easy mistake to make, but they are not the same and are not interchangeable in recipes.
Accidentally bake your macaroons for a little too long and they came out crunchy? Store the macaroons in the refrigerator, which will soften them up.
Wondering what to do with your leftover egg yolks? Try one of these delicious recipes!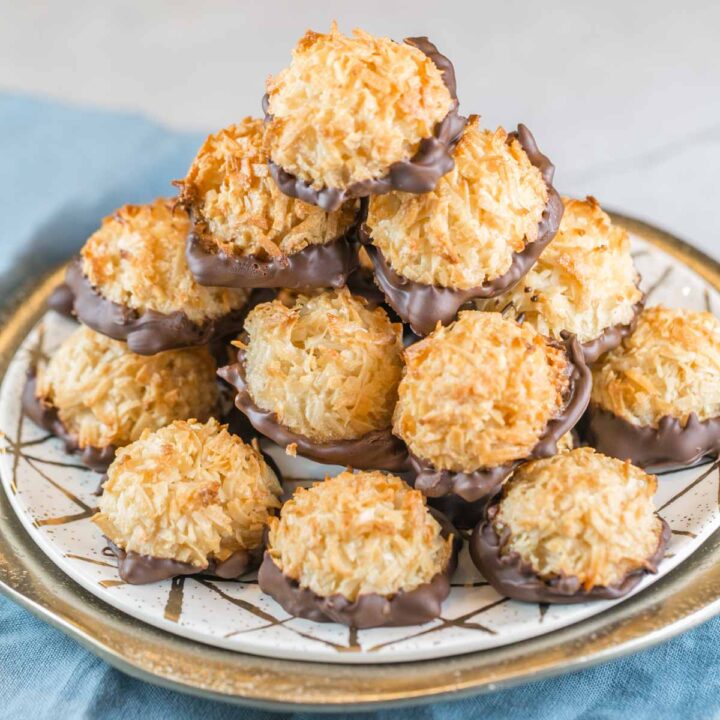 Chocolate Dipped Coconut Macaroons
Chewy and sweet, it's just not spring without a batch of homemade chocolate dipped coconut macaroons!
Ingredients
1 (14-ounce) bag sweetened flaked coconut
1 cup sweetened condensed milk
1 teaspoon vanilla extract
1/2 teaspoon almond extract
2 large egg whites, room temperature
1/4 teaspoon salt
4 ounces semi-sweet chocolate, chopped
Instructions
Preheat the oven to 325 °F. Line two baking sheets with parchment paper or silicone baking mats.
In a large bowl, mix together the coconut, sweetened condensed milk, vanilla extract, and almond extract.
Using an electric mixer or an immersion blender with the whisk attachment, beat the room temperature egg whites and salt together until stiff peaks form. Immediately fold the whipped egg whites into the coconut mixture using a rubber spatula.
Scoop 1 1/2 tablespoons of the coconut mixture into an oval and place on the prepared baking sheets, spacing 1-inch apart. Bake for 25 minutes, rotating the two pans halfway through, until the tops of the macaroons are a light golden brown. Cool on the baking sheet.
Melt the chocolate using a double boiler or in the microwave, heating for 30 second intervals and stirring in between. Dip the bottoms of the macaroons into the chocolate and place back on the baking sheet lined with parchment paper or the silicone mat. Place the cookie sheet in the refrigerator for 15 minutes to allow the chocolate to solidify, then remove from the baking sheet and store in an airtight container.
Notes
Chocolate dipped macaroons can be stored at room temperature for up to a week, in the refrigerator for up to 3 weeks, or frozen for up to 3 months. To thaw, remove the sealed container from the freezer and bring to room temperature before opening.
Recommended Products
As an Amazon Associate and member of other affiliate programs, I earn from qualifying purchases.
Nutrition Information:
Yield:

25
Serving Size:

1 macaroon
Amount Per Serving:
Calories:

145
Total Fat:

8.2g
Carbohydrates:

17g
Protein:

1.9g