April 15, 2019
Roasted Beet Salad with Mandarin Oranges and Goat Cheese
Full of mandarin oranges, goat cheese, and candied walnuts, this Roasted Beet Salad is the perfect pop during the slow winter produce season. Great for holiday dinners, dinner parties, or any time your CSA gives you too many beets!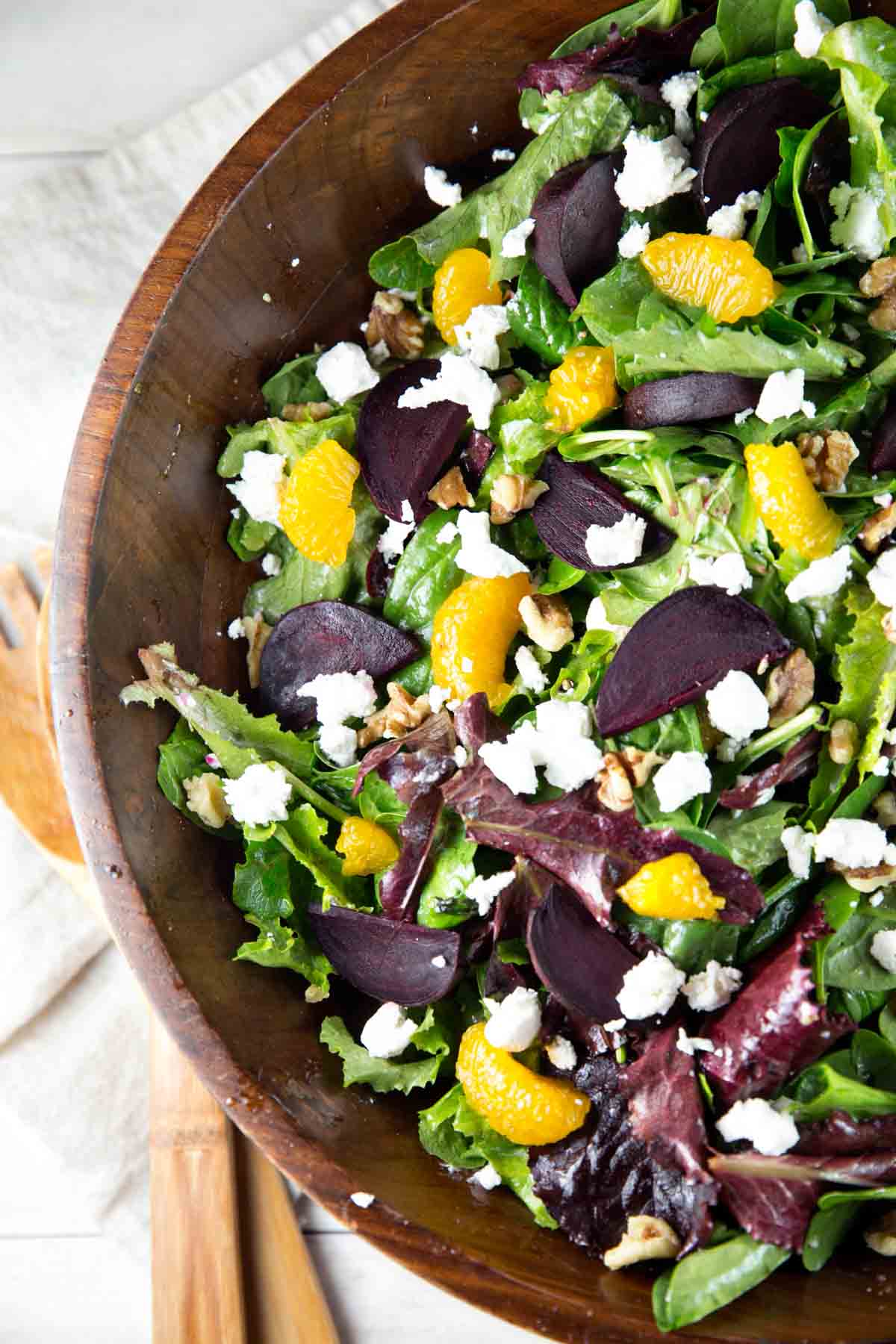 This roasted beet salad is one of those recipes that I have been making seemingly forever and wanted to share with you seemingly forever, but never really got my act together enough to take pictures.
And these pictures are, at best, a pretty half-assed attempt. But really, I can't hold off any longer.
Let's talk about beets. Either you are a beet fan, or you're not. This isn't an attempt to hide the beet flavor and win over any beet haters, but if you like beets, this salad is for you.
If you don't like beets, the good news is that you can pick around them and the rest of the salad is still really delicious, so you can make this for a mixed beet household.
I love this salad because it seems to work year-round. Beets usually pop up at our farmers market both in spring and fall, but for whatever reason, I tend to think of this as a winter and spring salad. Maybe it's the citrus that makes it seem more wintery. It's absolutely perfect this time of year as we move between seasons — we can still find winter citrus, but spring produce is just starting to show up, too.
Either way, this roasted beet salad is right at home for celebrations throughout the year. I served it this year for Rosh Hashanah, at our Thanksgiving dinner, and it will probably make another appearance next week for Passover, too. I've also served it at countless dinner parties "just because" since it's one of my favorites.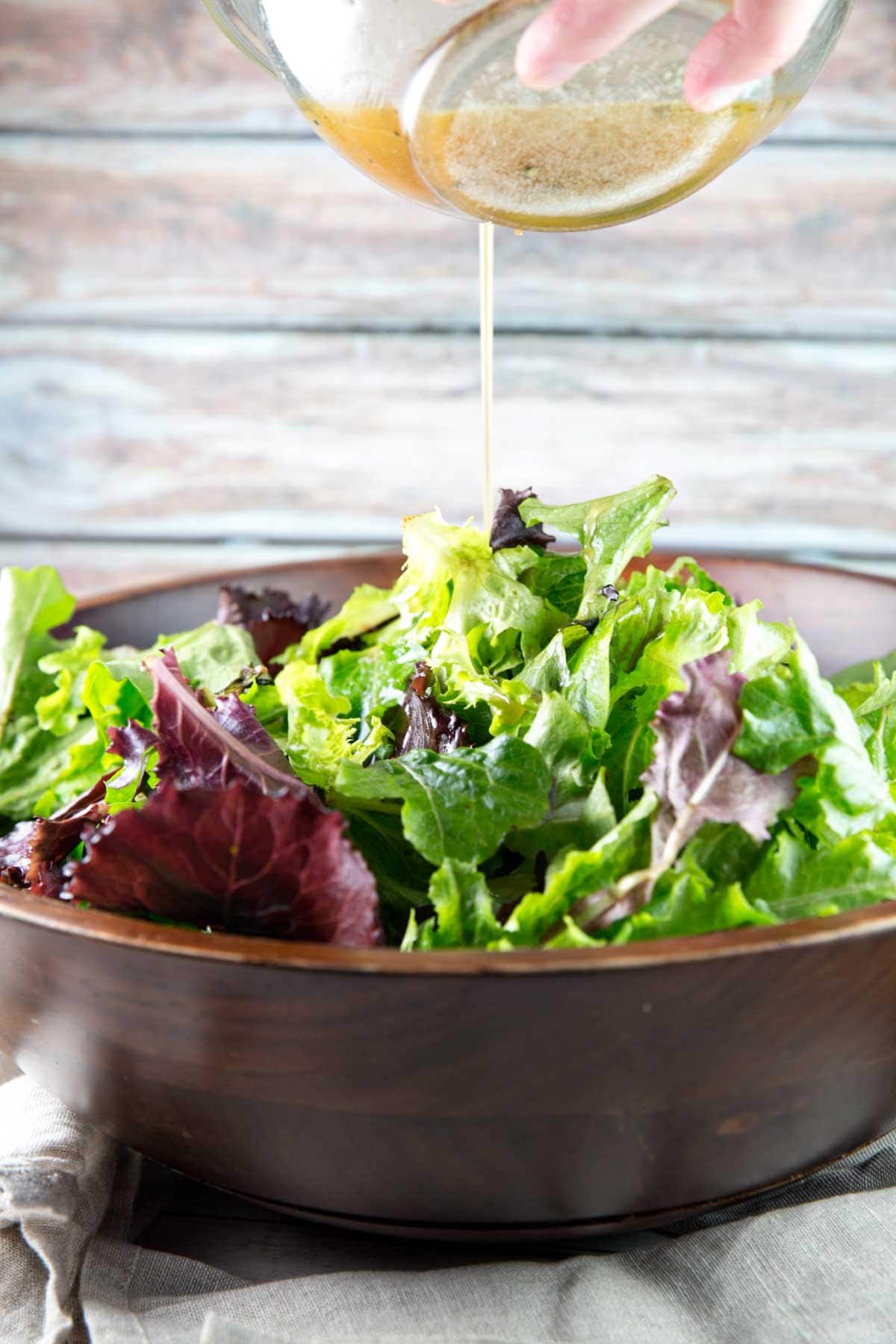 Ingredients & Substitutions
To make this roasted beet salad, you'll need the following:
Beets: Either red or golden beets work for this recipe. Scrub the beets, wrap them in aluminum foil, and roast.
Maple Glazed Walnuts: I LOVE the slight sweetness of glazed walnuts, but regular walnuts (or pecans!) are delicious in this salad, too.
Mandarin Oranges: Use your favorite winter citrus – mandarin oranges, tangerines, clementines, cara cara oranges, etc. You can also substitute in canned mandarin oranges, but look for ones packed in water rather than syrup.
Goat Cheese: Any sort of flavorful soft crumbly cheese is delicious in this salad.
Mixed Greens: Pick the greens you like best – arugula, baby spinach, chard, mustard greens, or tender lettuces of any type.
Olive Oil: Use good quality olive oil with a fruity flavor.
Red Wine Vinegar: I like red wine vinegar the best for the dressing, but you can also use champagne vinegar or apple cider vinegar.
Spicy Brown Mustard: Any "fancy" mustard (i.e., not plain yellow mustard) will work – dijon mustard, honey mustard, whole grain mustard, etc.
Garlic: You can either mince the garlic cloves by hand or use a garlic press.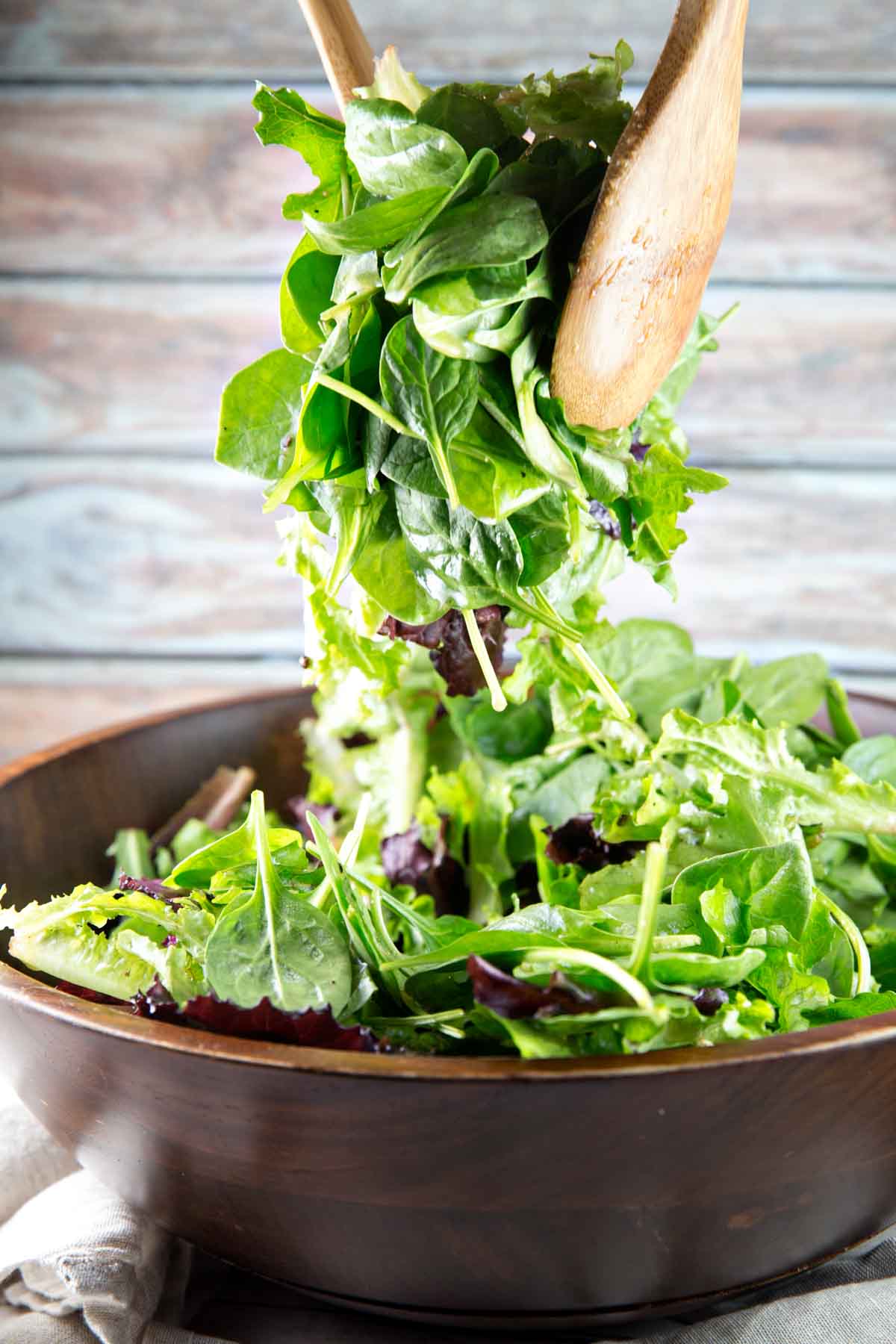 Why You Should Roast Beets
There are lots of ways to prepare beets, but I always like to roast them. It takes a little longer, but it's easy, hands-off, and brings out the best sweet beety flavor. Have you ever noticed that roasting makes just about any vegetable taste a little better (looking at you, brussels sprouts)? Wonder why that is? It's time for my favorite subject… kitchen chemistry!
Kitchen Chemistry

Roasting vegetables in dry heat caramelized the natural sugars in vegetables. Caramelization is a non-enzymatic browning reaction which occurs as sugar is oxidized. The reaction includes the conversion of water to steam (which then evaporates from the vegetables) and the breakdown of sugar at high temperatures. As the individual sugar molecules lose water and begin to react with each other, hundreds of new aromatic compounds are formed, responsible for the flavor change following roasting.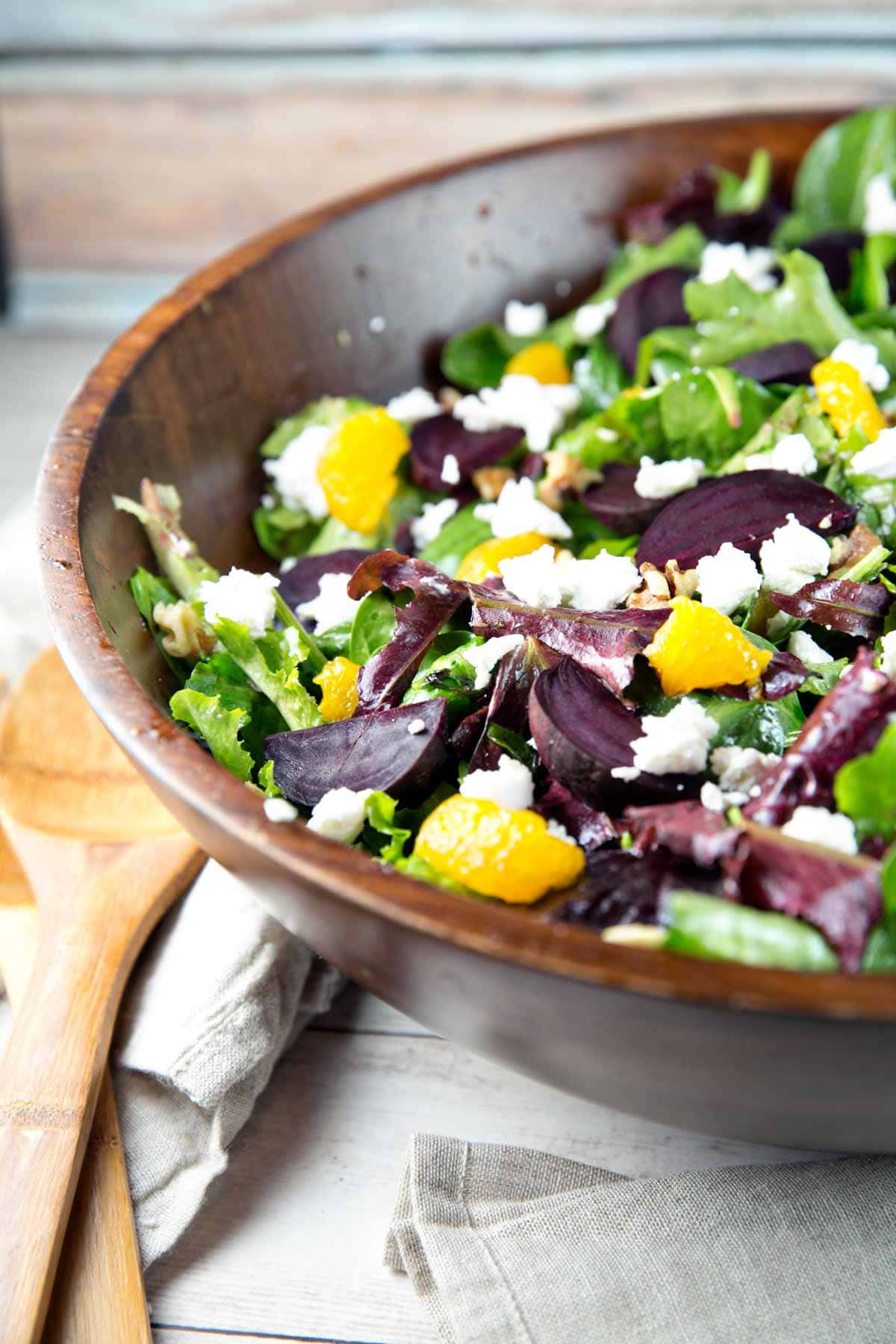 Roasted Beets = Perfect Salad
This roasted beet salad is made up of really simple ingredients that combine into what has become one of our favorite salads.
Because beets are a little earthy, they taste best when paired with bright, sweet flavors. We hit on both of those in this salad, including clementines and candied walnuts. A little tang from some goat cheese and a super fast homemade salad dressing.
While the beets are roasting and cooling, make some candied walnuts, segment and de-seed the clementines (shortcut below!), and whisk together the 5-minute dressing. Easy peasy.
I never really expected a beet salad to be so popular, but it's one of the most requested things that I make. It makes an appearance at so many family holiday dinners and dinner parties. And even my preschooler loves it. Talk about a real winner when it comes to salad!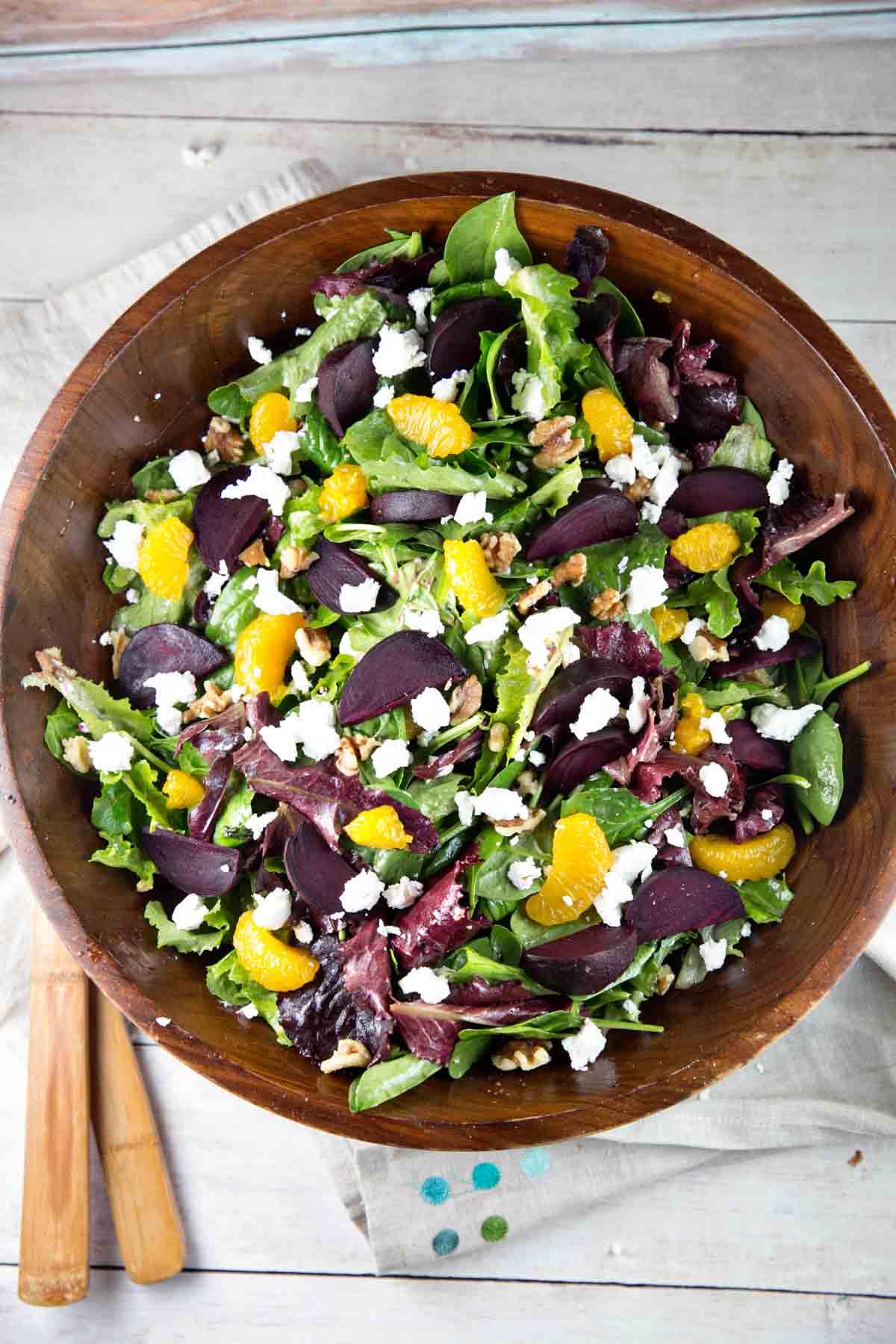 Tips and Tricks for the Best Roasted Beet Salad:
Protect your work surface while cutting the beets. Beets stain everything. Your hands, your cutting boards, your counters. If you're worried about pink hands, wear gloves. Use a plastic cutting board, which can be bleached afterwards. And if you have porous stone countertops – place your cutting board inside a rimmed sheet pan to ensure beet juice doesn't drip on the counters!
Roast the beets in their skins. Roasted beet skins are perfectly edible (I usually leave them on), but if you want to remove them, it's much easier to peel them after roasting.
If fresh mandarins (including tangerines and clementines) aren't in season or you're looking for an easy shortcut, use a can of mandarin oranges in water.
Toss the lettuce and spinach with the dressing first before adding anything else to the salad to make sure each leaf is coated in dressing. Then mix in the rest of your toppings to prevent the bland pile of dressing-less lettuce at the bottom.
More Delicious Salad Recipes: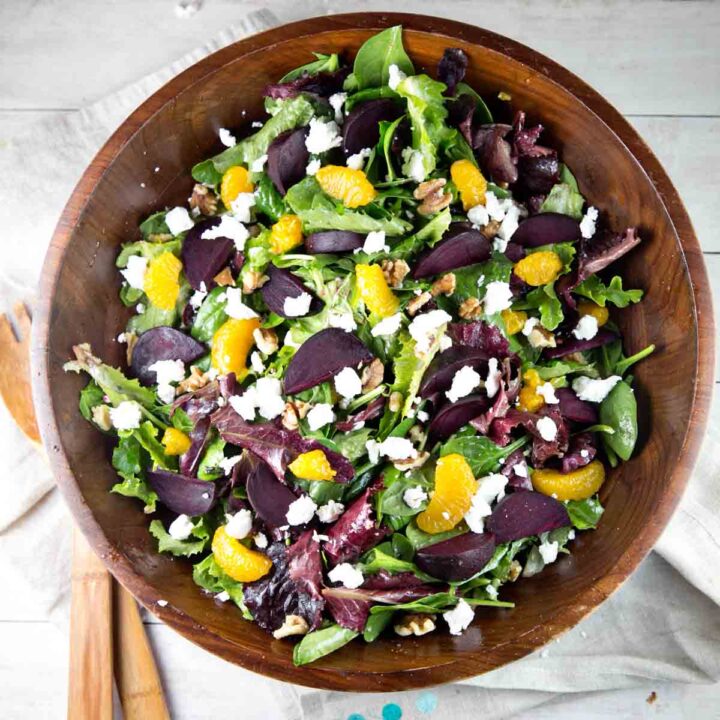 Roasted Beet Salad with Mandarin Oranges and Goat Cheese
Yield:
Serves 8 (as a salad course)
Full of mandarin oranges, goat cheese, and candied walnuts, this roasted beet salad is the perfect pop during the slow winter produce season.
Ingredients
1 bunch beets (3-4 small to medium sized beets)
2 fresh mandarin oranges, clementines, or tangerines, segmented and de-seeded
4 ounces goat cheese
20 ounces mixed greens or baby spinach
1/2 cup olive oil
1/4 cup red wine vinegar
1 tablespoon spicy brown mustard
2 gloves garlic, crushed
salt and pepper, to taste
Instructions
Scrub the beets well under running water. Drizzle with a little olive oil or cooking spray and sprinkle with kosher salt. Wrap beets in aluminum foil and bake at 350 °F for 45 minutes, or until soft. Once cool, cut the beets into eighths.
While the beets are roasting, make the maple glazed walnuts.
Whisk together the olive oil, red wine vinegar, spicy brown mustard, and garlic. Add salt and pepper to taste. Toss the spinach and lettuce with the dressing. Top with the roasted beets, mandarin oranges, walnuts, and crumbled goat cheese.
Notes
Beets stain everything - work with care to ensure beet juice doesn't wind up on countertops, wooden cutting boards, or your hands!
Roasted beet skins are edible, so there is no need to remove them. If you prefer to remove the skins, roast the min the skin and then peel after roasting.
Toss the greens with the dressing first to ensure each leaf is coated with dressing before mixing in the rest of the salad ingredients.
Recommended Products
As an Amazon Associate and member of other affiliate programs, I earn from qualifying purchases.
Nutrition Information:
Yield:

8
Amount Per Serving:
Calories:

265
Total Fat:

22.3g
Carbohydrates:

12.4g
Protein:

7g