January 29, 2018
Oreo Cookie Crust Recipe
Start crushing up those Oreos – it's time to make an easy, no-bake, homemade Oreo Cookie Crust! Skip the premade crusts and make one yourself with just oreos and melted butter. So easy, a 2.5 year old can do it! Plus, suggestions for what to put in your newly made Oreo crust.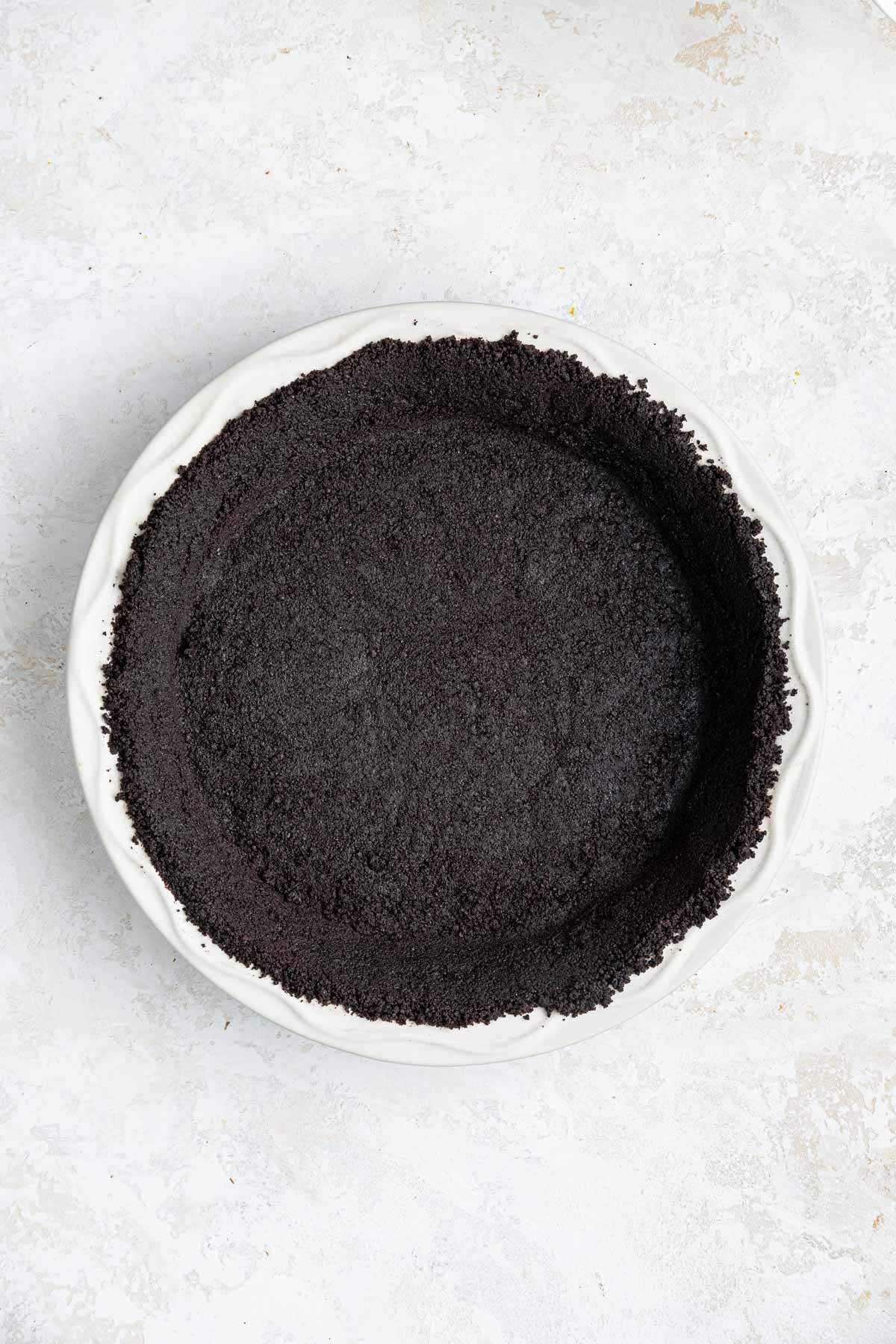 As part of my Pie of the Month series, it only seems fitting to also share recipes for my favorite pie crusts.
I've already shared my No Fail Pie Crust (for a perfect pie every time!). Today, we're going in an easier… darker… chocolatier direction with an Oreo cookie crust recipe.
Oreo cookie crusts are super easy to make at home, but there are a few tips and tricks necessary. Have you ever tried one and found that it was super greasy? Or maybe a cookie crust that was so dry, it immediately crumbled?
We'll tackle all those questions and more with my recipe for a PERFECT Oreo cookie crust!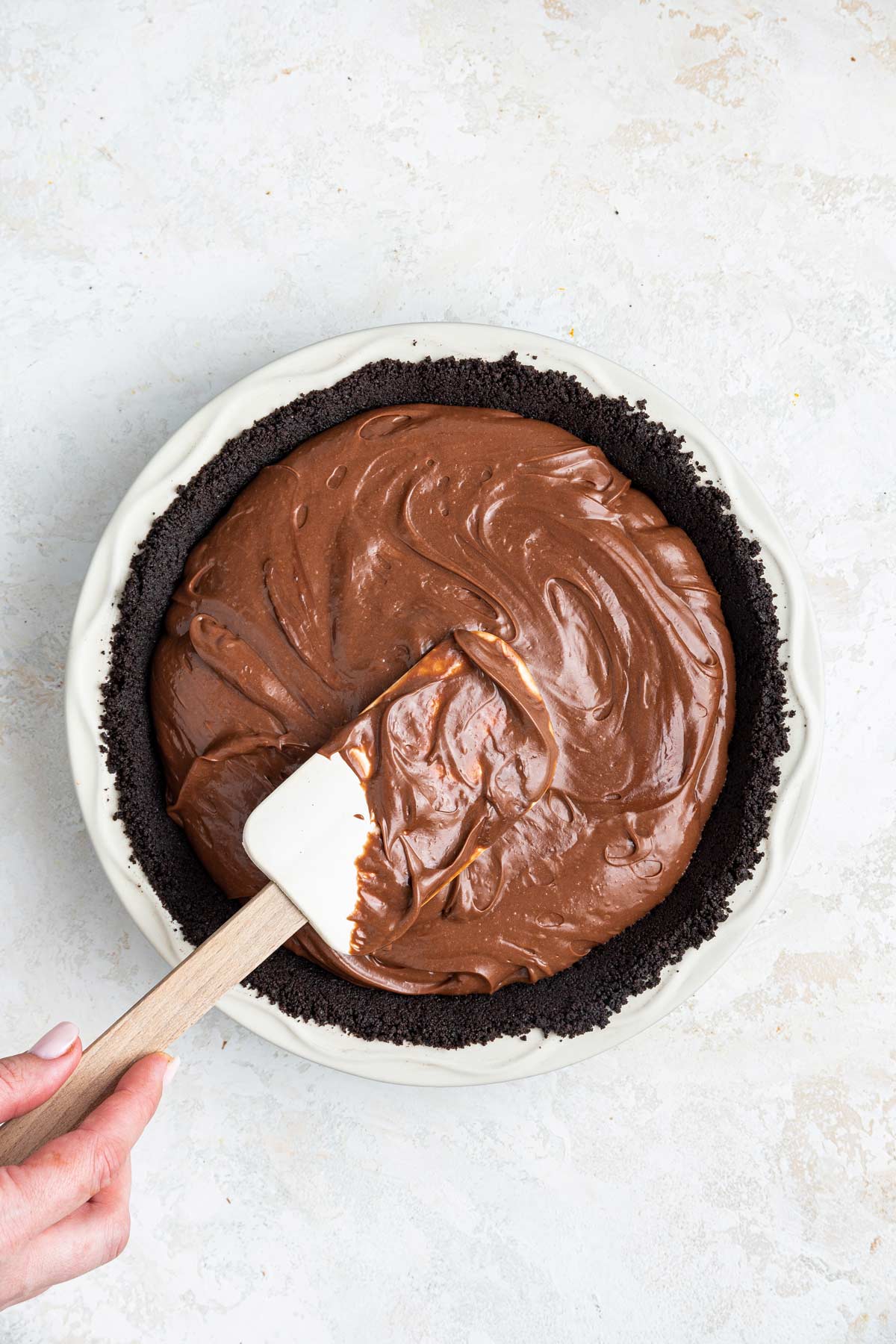 Frosting-Filled Sandwich Cookies
This recipe is designed for frosting-stuffed cookie sandwiches. It doesn't have to be Oreo brand, obviously (looking at you, Hydrox or JoeJoe's!), but it does require a frosting filling. And only one layer of filling! Double Stuff Oreos need not apply.
(Also, it's actually Double Stuf Oreos. What happened to that extra f? Why does leaving off an f imply twice the filling?)
The appropriate amount of frosting in the sandwich cookie plays a big role in making sure your cookie crumbs are appropriately hydrated.
Using chocolate animal crackers instead of Oreos? You'll need more butter to hold everything together.
Accidentally bought "Double Stuf" Oreos? You need to use less butter, or else you'll wind up with a greasy crust.
So keep in mind, this recipe calls for chocolate sandwich cookies with a regular amount of frosting!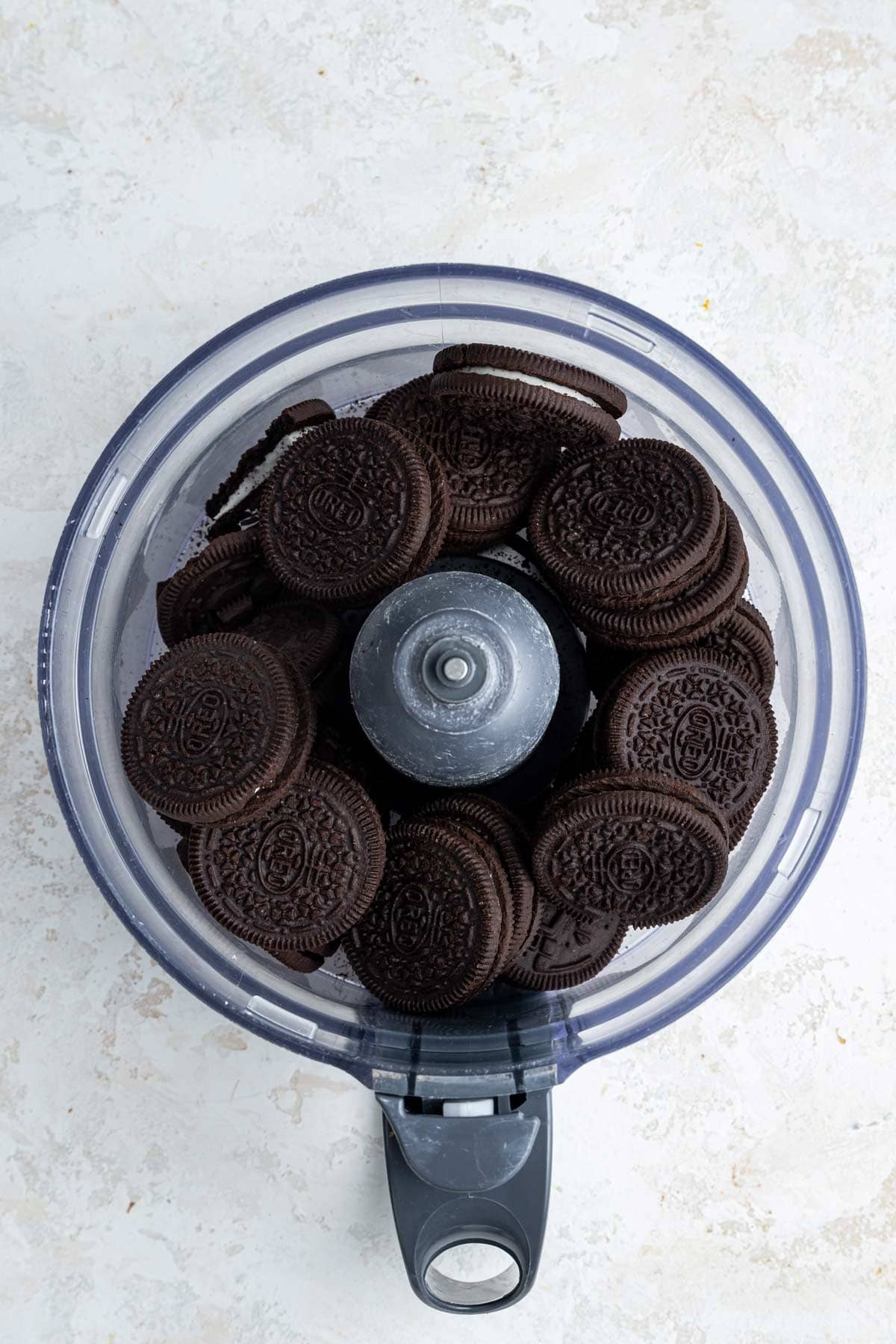 Easiest Cookie Crust
Okay, now that we have the technical details out of the way, let's talk about how dang easy this is! So easy, my 2.5-year-old made this Oreo cookie crust by himself!
He likes to push the button on the food processor, so we grind up all our crumbs that way. No food processor? No problem. Grab a gallon-sized freezer bag and a rolling pin or a heavy frying pan, and start smashing.
Once all your crumbs are finely processed to the point that you can't see any chunks (and can't distinguish between cookie and frosting), you're good to go!
Melt your butter in the microwave and mix in the cookie crumbs. Once everything is thoroughly mixed, dump it into your pie tin. No need to grease the pan – the butter in the crust takes care of this for you.
Then all you need to do is press the crumbs into place along the bottom and sides of the pan. Ryan is ready to demonstrate: ↓↓↓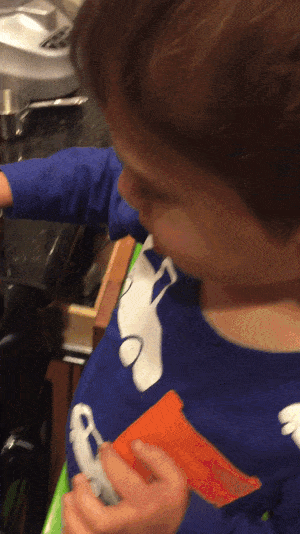 You can do this hand if you prefer, but I find a metal measuring cup or the bottom of a small juice glass works even better. Really squish those crumbs in there!
You should get a very compact crust along the bottom, but the sides will be a little looser, especially if you're dealing with a deep dish pie crust. Whatever you bake/chill in the Oreo cookie crust will help hold the sides together.
A cookie crust always gets a little crumbly when you cut it, but most of it will stay together!
Bake or No Bake Crust
As far as baking the crust or not: totally up to you!  This can be a truly no-bake pie crust.  After pressing the crust into the pie plate, you can chill it for 20 minutes to solidify the butter or bake it at 350 °F for 10-12 minutes to set the pie.
There's no need to bake this crust for structural reasons: the butter acts as a "glue" for the crumbs and will hold them together. You can pour your ingredients right in, unless a recipe specifies that you should bake the crust.
Personally, I always prefer to bake my crust. Why do I like it more, and why do some recipes specify that you should bake the crust? It's time for my favorite subject… kitchen chemistry!
Kitchen Chemistry

When the crust hits the hot oven, the water in the butter is heated and starts to evaporate, leaving behind the milk solids mixed in with the cookie crumbs. Evaporating out this moisture results in a crispier crust.
See? Super easy. No need to ever buy a store-bought Oreo cookie crust again – make your own whenever you want one!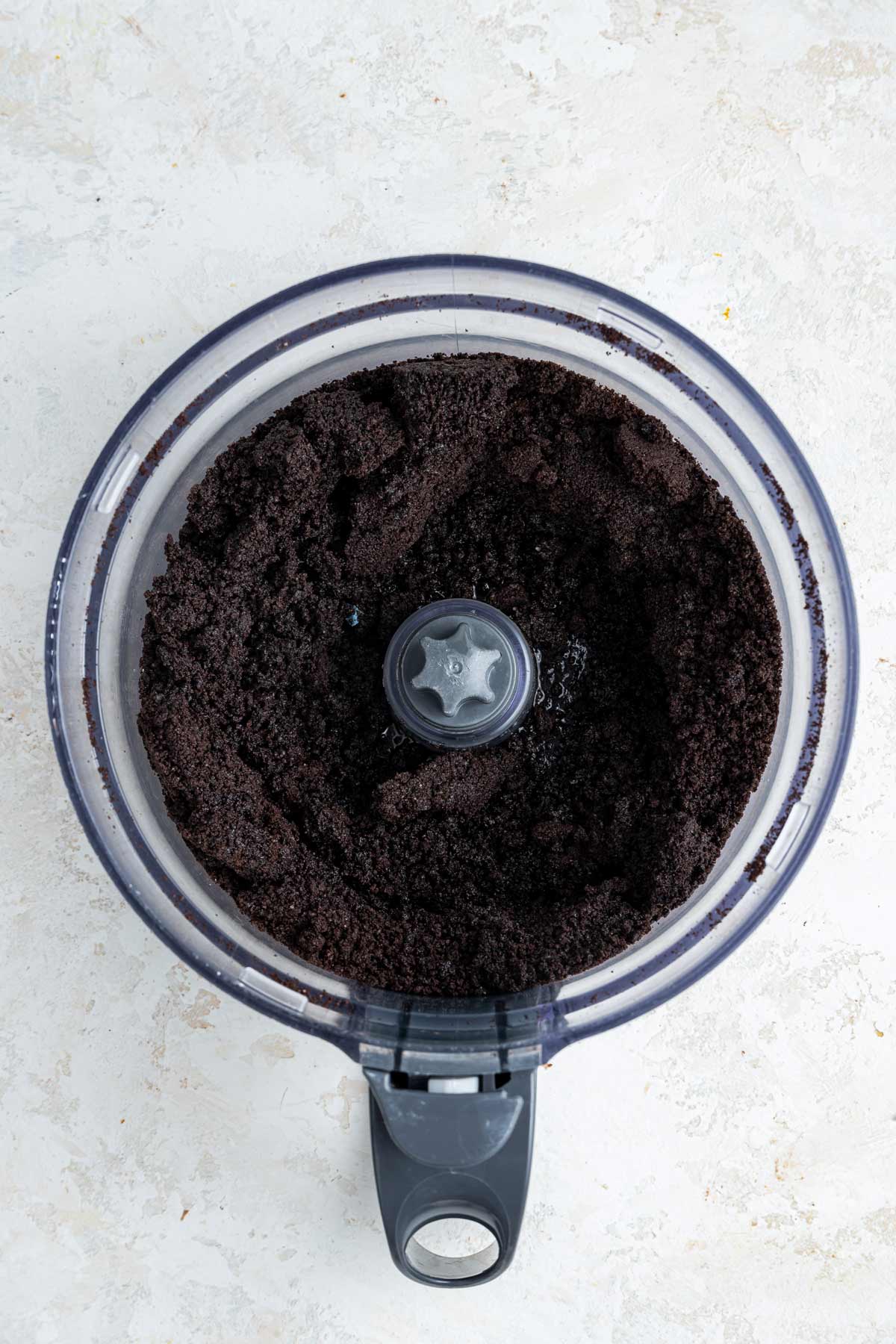 Oreo Cookie Crust Variations
The world is your oyster when it comes to Oreo cookie crusts, which is to say that there are endless opinions! With so many different Oreo flavors and lots of add-in ideas, you truly and customize an Oreo cookie crust for absolutely anything!
Here are a few ideas to get you started:
Mint Oreo Crust: Use mint Oreo cookies instead of regular Oreos.
Peanut Butter Oreo Crust: Add 1/4 cp of smooth peanut butter to the melted butter and Oreo cookie crumbles.
Caramel Oreo Crust: Drizzle homemade salted caramel over the Oreo crust before adding your filling.
White Chocolate Oreo Crust: Use white chocolate Oreos instead of regular Oreos.
Red Velvet Oreo Crust: Use red velvet Oreos instead of regular Oreo.
Lemon Oreo Crust: Crush lemon Oreo cookies and mix in a little lemon zest for a citrus-inspired cookie crust.
Birthday Cake Oreo Crust: Use birthday cake Oreos and add some additional rainbow sprinkles.
And of course, you can easily make this crust gluten-free and/or dairy-free by using gluten-free Oreos and mixing with vegan butter or margarine.
Recommended Tools to Make an Oreo Cookie Crust
Tips and Tricks for the Best Oreo Cookie Crust
This recipe makes a sufficient crust for a regular-size pie plate. If you are using a deep dish pie plate, a springform pan and want the crust to extend up the sides, or a crust for a 9×13-inch dish, double the recipe.
Use something heavy, like the bottom of a glass or a metal measuring cup, to firmly press the crumbs into the pie plate. If the crumbs are not packed down, the crust will crumble when it is cut.
Refrigerate for at least 20 minutes before filling if you are not baking the crust.
To prevent the crust from getting soggy with custard fillings, brush melted chocolate on top of the crust to create a moisture barrier.
Use an Oreo cookie crust for any sort of pie or cheesecake that calls for an Oreo crust, a graham cracker crust, or even a regular flaky pie crust pastry!
Ideas to Use an Oreo Cookie Crust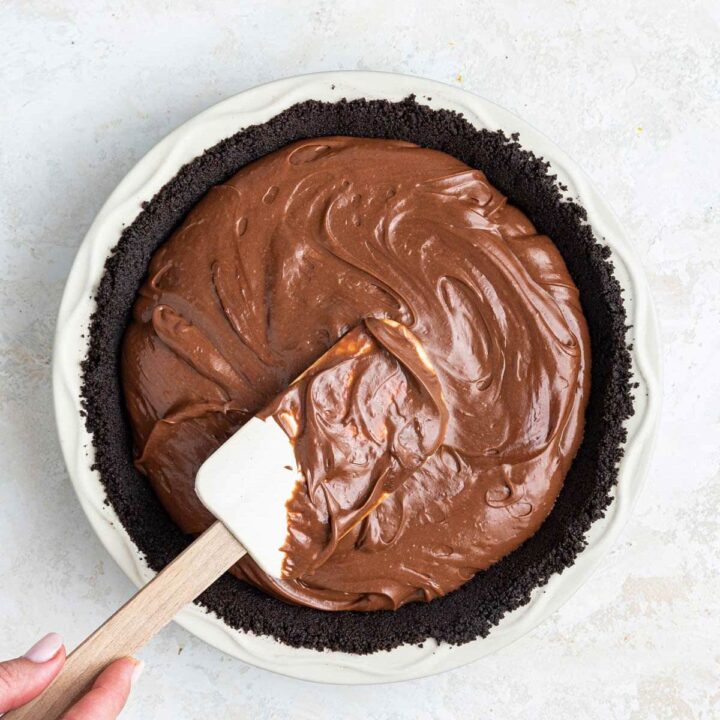 Oreo Cookie Crust Recipe
Yield:
1 9-inch pie crust
Start crushing up those Oreos - it's time to make an easy, no-bake, homemade Oreo Cookie Crust!  Skip the premade crusts and make one yourself with just Oreos and melted butter.
Ingredients
25 Oreo cookies (or other frosting-stuffed sandwich cookies)
4 tablespoons butter
Instructions
Finely crush the chocolate sandwich cookies, using either a food processor or a rolling pin or a heavy pan to crush cookies in a gallon-sized freezer bag.
Melt the butter in a large microwave-safe bowl. Pour cookie crumbs into the bowl and mix to combine well, until the crumbs start to stick together.
Pour the crumbs into a pie pan and press down along the bottom and sides of the pie pan, using the bottom of a measuring cup or juice glass. Firmly press the crumbs, packing them down well.
Refrigerate for 20 minutes for a no-bake crust or bake the crust at 350 °F for 10 minutes for a crunchier crust. The crust can be used for no-bake custard pies or baked pies.
Notes
This recipe is scaled to make 1 9-inch regular pie plate. If you are using a deep dish pie plate, a springform pan with tall dies, or a crust for a rectangular dish, increase the Oreos and butter proportionally.
To prevent the crust from getting soggy once filled, brush melted chocolate along the top of the prepared crust to create a moisture barrier.
An unfilled Oreo crust can be made ahead of time and stored at room temperature for up to 3 days before filling.
Recommended Products
As an Amazon Associate and member of other affiliate programs, I earn from qualifying purchases.