August 4, 2015
Pork Chops with Sour Cherry Sauce
Perfectly brined juicy pork chops with a delicious sweet and sour sauce starring fresh seasonal sour cherries.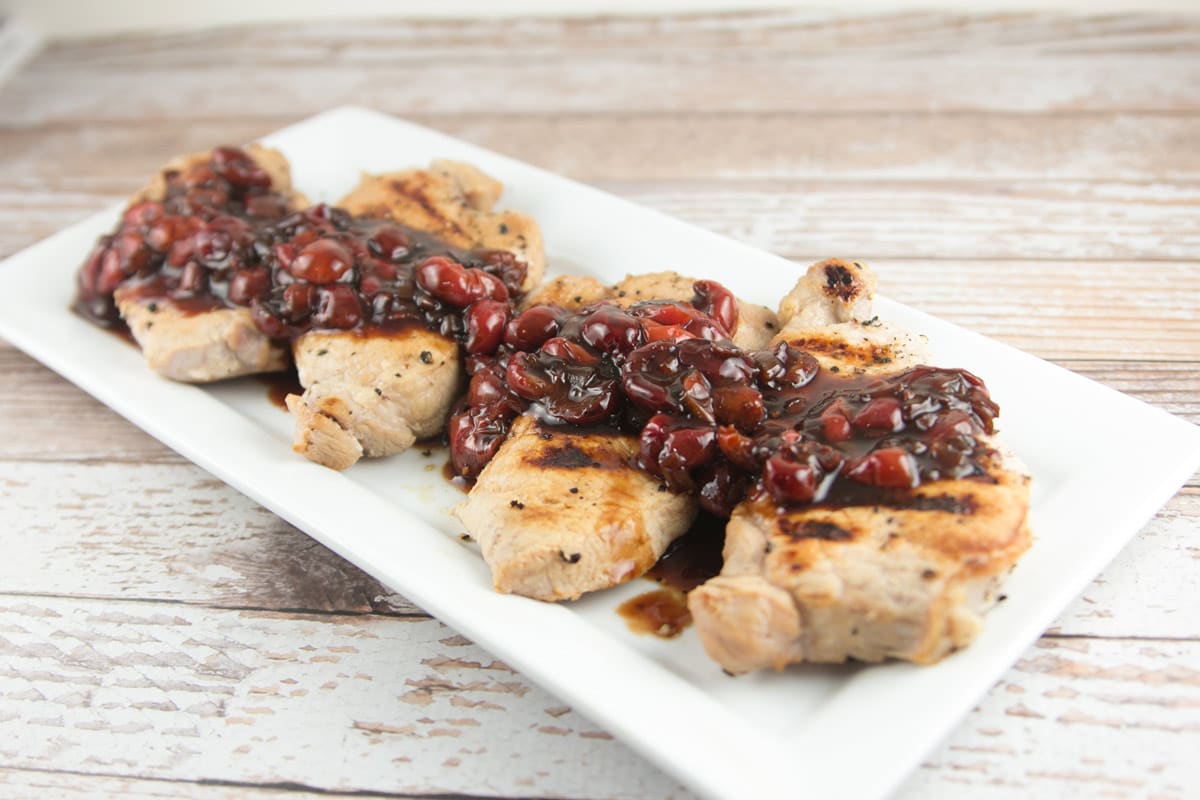 A few weeks ago, we received a bag of sour cherries in our CSA box.  As the name suggests, sour cherries are a bit… tart.  I happen to love sour things and rather enjoyed snacking on them plain, but I also happened to have a giant container of bing cherries at the same time and was worried I wouldn't get around to eating all the cherries during their relatively short lifespan.  I debated what to do with the sour cherries for a few days – bake a pie? pickle them in vinegar? marinate them in bourbon? turn them into sour cherry ice cream or dark chocolate sour cherry brownies? – but in the end, I went with the most practical option of something for dinner.  Sadly, as delicious as bourbon marinated sour cherries sound, (wo)man cannot exist on booze-soaked fruit alone (but if anyone meets one of those three-wish granting genies, can you please do something about this?).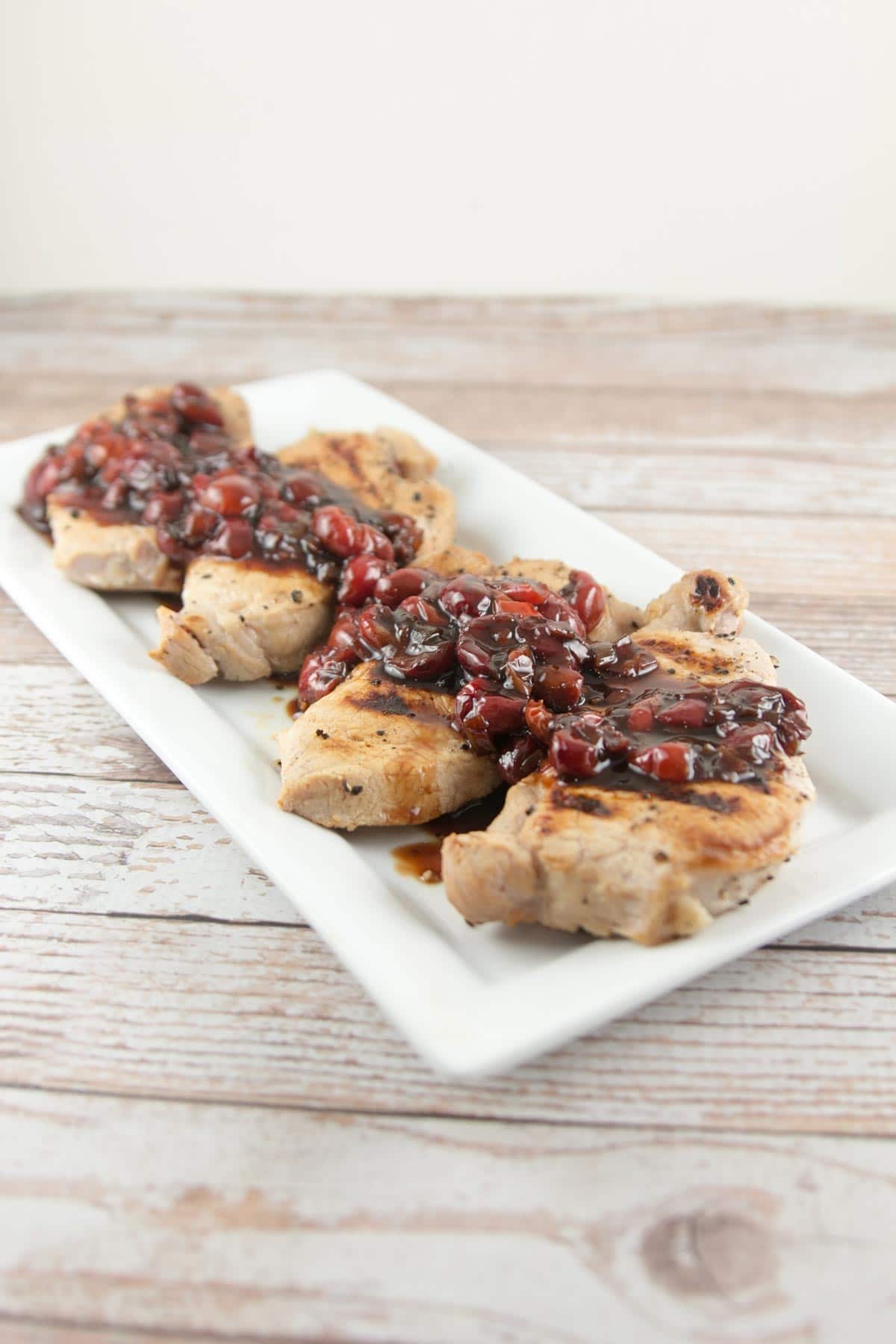 While the most interesting component of this dish is the sour cherry sauce, let's start by talking basics about pork chops.  People seem to be deathly terrified of undercooked pork (hello, trichinosis), so it winds up overcooked, tough, and extremely dry – practically inedible.  To prevent dry pork chops, two things are key: (1) start with a thick chop – at least 1.5, preferably 2 inches, and (2) brine overnight (we can add a third thing – investing in a good meat thermometer – but the longer you cook the better you become at recognizing appropriate doneness, so you may not need this step).  I always, always, always brine pork chops – it's so simple (all you really need is a little salt, some water, and some herbs) and yet makes a huge impact.  Ready for a quick science lesson?
Kitchen Chemistry: Because the brining solution is saltier than the cells in the pork chop, the salt ions diffuse into the cells.  The increased salinity of the cell fluid results in the absorption of even more water from the brine via osmosis.  More water in the cells = moister meat.  Yay, science!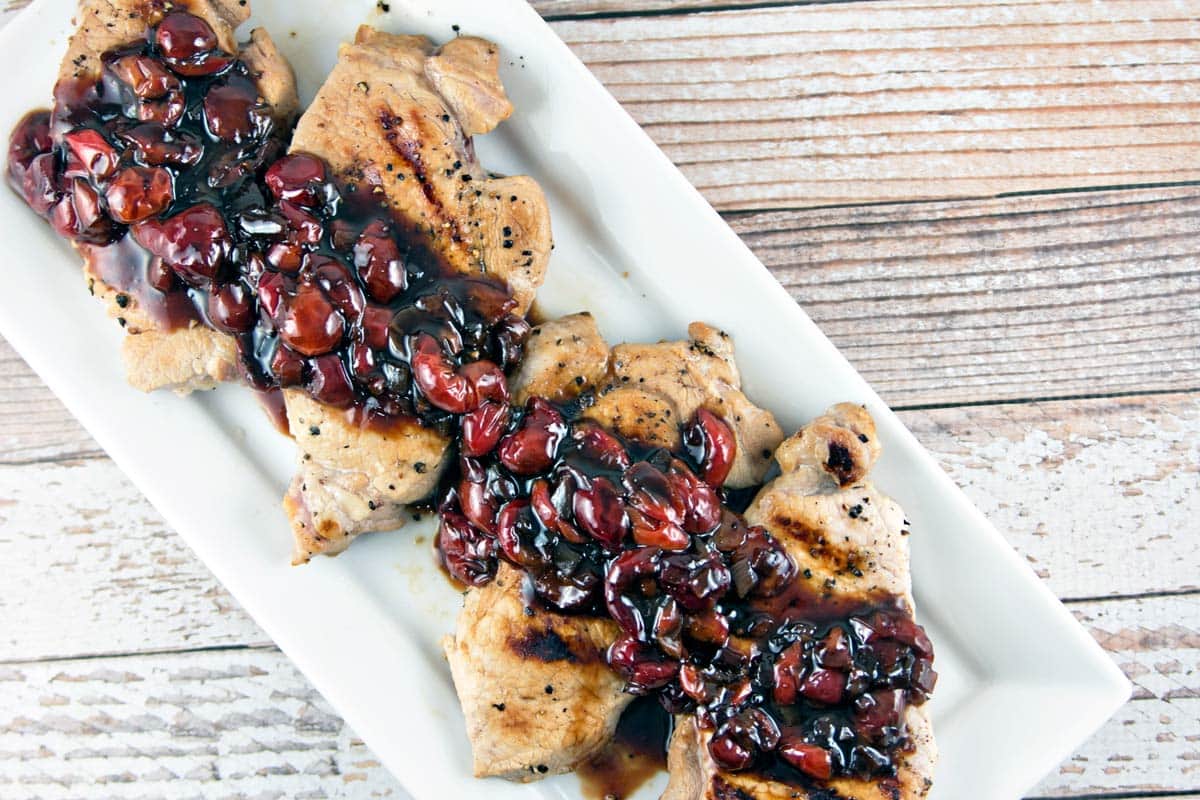 These pork chops are tender and juicy, and the sour-sweet sauce was the perfect compliment.  You could certainly use regular sweet cherries if you can't find sour cherries, and while cherries have a short season, they freeze well – this would make an excellent winter dinner, served over a pile of mashed root vegetables, with those frozen cherries saved from the summer.  In fact, I think I may need to take my own advice and stock up on some cherries these last few weeks before they disappear for another year.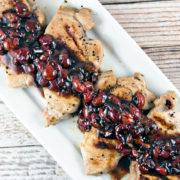 Pan-Grilled Pork Chops with Sour Cherry Sauce
Perfectly brined juicy pork chops with a delicious sweet and sour sauce.
Ingredients:
4 boneless, skinless pork chops, 1.5 – 2 inches thick
8-10 cups cold water
1/2 cup kosher salt
1/2 cup molasses
1 tablespoon whole pepper corns
2 sprigs fresh rosemary
2 tablespoons balsamic vinegar
2 tablespoons sugar
3/4 cup red wine
1 shallot, minced
1/2 cup chicken broth
2 cups sour cherries, pitted
1 tablespoon cornstarch
Directions:
Add the salt, molasses, and water to a large glass bowl or enameled pot, stirring until thoroughly mixed.  Add in the rosemary sprigs and peppercorns, followed by the pork chops.  Add more water as necessary to ensure the pork chops are submerged.  Cover tightly and refrigerate overnight, up to 24 hours.  Remove pork chops from the brine and pat dry.
In a heavy saucepan, combine the balsamic vinegar and sugar, boiling over moderate heat until the mixture is reduced to a glaze.  Add in the wine, the minced shallot, and the cinnamon stick.  Boil until the mixture is reduced to roughly 1/2 cup.  Add in the broth and the cherries, simmering for 5 minutes.  Remove a few tablespoons of the sauce, stir in the cornstarch mixture until it is fully dissolved, and add this back to the sauce.  Stir and simmer for a few minutes, until the sauce has reached the desired consistency.  Discard the cinnamon stick and add salt and pepper to taste.
While the sauce is reducing to a glaze, rub each side of the pork chops with vegetable oil and season with salt and pepper.  Heat a grill pan or heavy sauté pan over medium-high heat, and grill (sauté) the chops for ~5 minutes per side, or until just cooked through (145F).  Transfer the pork chops to a platter, spoon the sauce overtop, and allow to rest 5 minutes before serving.
A Bunsen Burner Bakery Original Protocol