March 16, 2016
Guinness Irish Soda Bread
Take your St. Patrick's Day up a notch with this stout-infused Guinness Irish Soda Bread.  No yeast necessary for this easy and delicious homemade bread!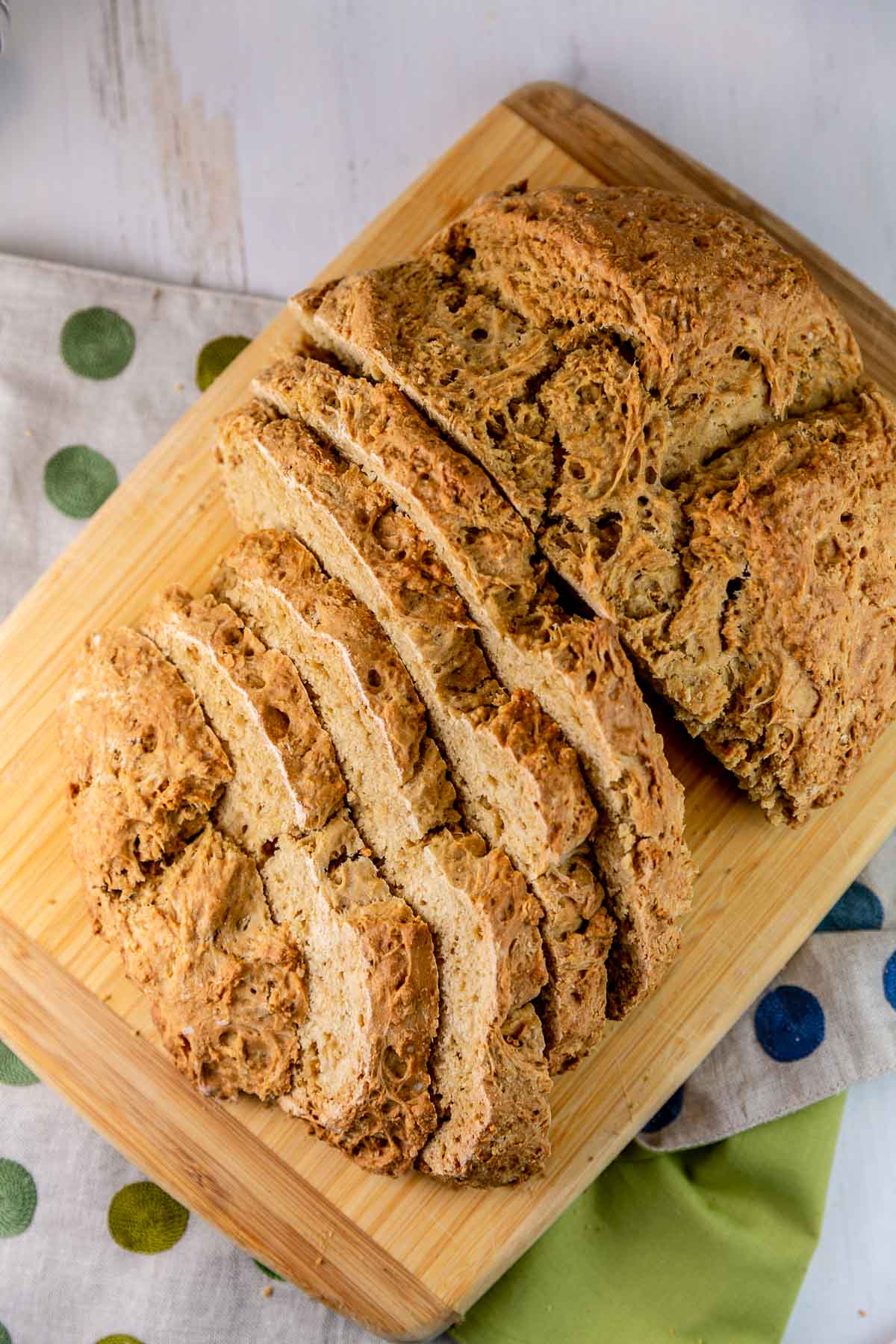 Do you love St. Patrick's Day? Whether you're a corned beef and cabbage fan and always wear green, or let the day pass without a thought, everyone needs a good Irish soda bread recipe!
I'm not super into St. Patrick's Day, but I am a food blogger, and you know we thrive on holiday-appropriate recipes!
Not only am I food blogger, but I'm also a food blogger who is doing a yearlong series on quick breads.
Did you know that Irish soda bread is a quick bread? That's right – no yeast involved! Which makes this a super easy recipe, great for beginners, OR for anyone looking for a quick bread recipe because you don't have a few hours to let your yeast rise.
And thus I present to you: Irish soda bread. But not just any Irish soda bread… Guinness Irish soda bread, which must make this doubly Irish, right?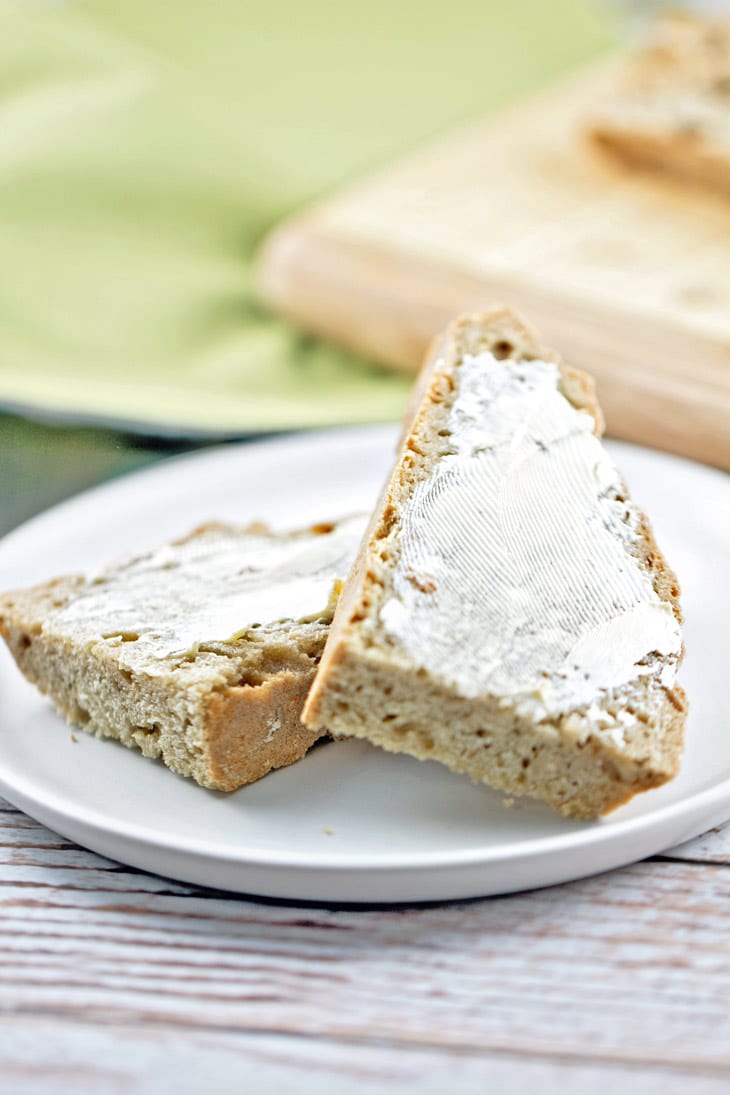 Baking Bread Without Yeast
By definition, a quick bread is any bread leavened with leavening agents other than yeast or eggs. Chemical leaveners, like baking soda and baking powder, are used instead.
Irish soda bread is unique because it uses sodium bicarbonate (baking soda) as its leavening agent, instead of yeast.
Whether you don't have any yeast on hand or are looking for a quicker option, this yeast-free Irish soda bread is a great easy option.
Yeast breads require one, often two, proofing steps, which can add hours of additional time. (Some, like no-knead breads, even require an overnight proofing step!)
Instead, this quick Irish soda bread takes only 20 minutes to come together and under an hour in the oven.
And the best part? It develops a real crust, like a typical loaf of yeast bread. It's not just a savory version of a typical soft quick bread! The bread remains soft and tender with a golden crust – the perfect dinner bread.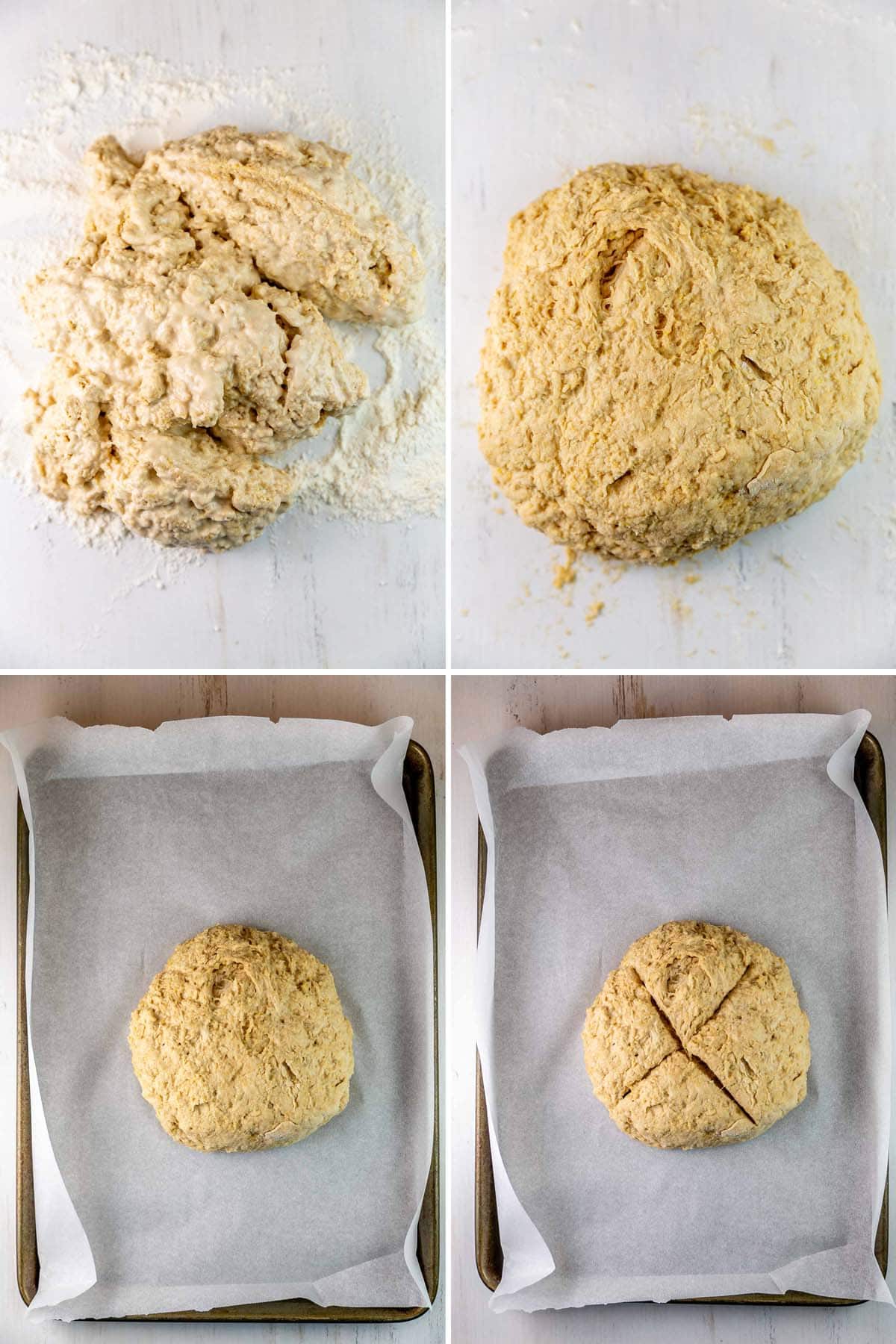 Beer Instead of Buttermilk
What makes this particular Irish soda bread recipe unique is the addition of Guinness! We're using it instead of buttermilk, which is typically necessary to activate the baking soda in the recipe.
So how does this swap work? It's time for my favorite subject… kitchen chemistry!
Kitchen Chemistry

Sodium bicarbonate is alkaline (hence the slightly salty taste) and interacts with acid to release carbon dioxide, which thus expands the batter and helps it to rise without the addition of yeast.  We're able to swap out the buttermilk for beer because both are acidic — buttermilk comes in with a pH around 4.5, while Guinness has a pH of 3.7 (citation).
You probably also realize that buttermilk has a higher fat content than beer.  The lower fat works just fine in this recipe, but the dough will be really wet.  It's wet using regular buttermilk as well (should you decide to go that route), but it's really wet with the Guinness.  
If you're thinking "Julie, this recipe is terrible! It's so soupy – there's no way this will turn into bread!" you're right on track. Form a soupy loaf-shaped mound, bake away, and perfect Guinness Irish soda bread will come out of your oven in an hour… promise!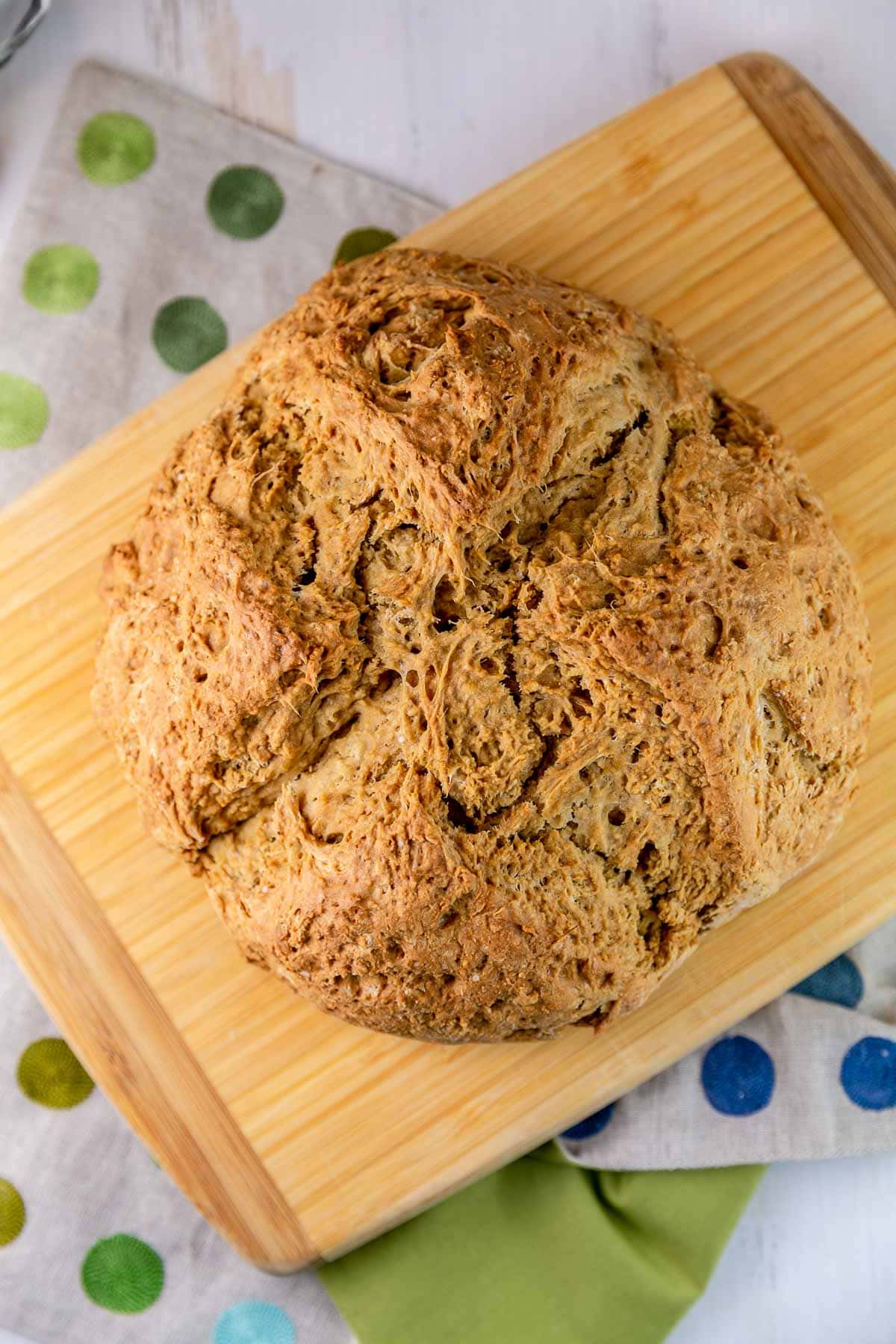 Tips and Tricks for the Best Irish Soda Bread
Don't overwork the dough! It will be wet, soupy, and a little shaggy. It will still turn into bread!
Flour your hands before trying to knead and shape the dough to help prevent all the dough from sticking to your fingers.
Use a knife to make an X-shaped mark in the top before baking. This helps with better heat distribution into the center of the loaf and provides additional surface area for the crust.
Cool the bread on a wire cooling rack rather than leaving it on the baking sheet. This will help keep the bottom of the bread from getting soft and soggy.
Irish soda bread can be baked in a cast iron skillet instead of on a sheet pan. The directions remain the same.
Irish soda bread can be stored at room temperature in an air-tight container for up to 3 days or frozen for up to 3 months.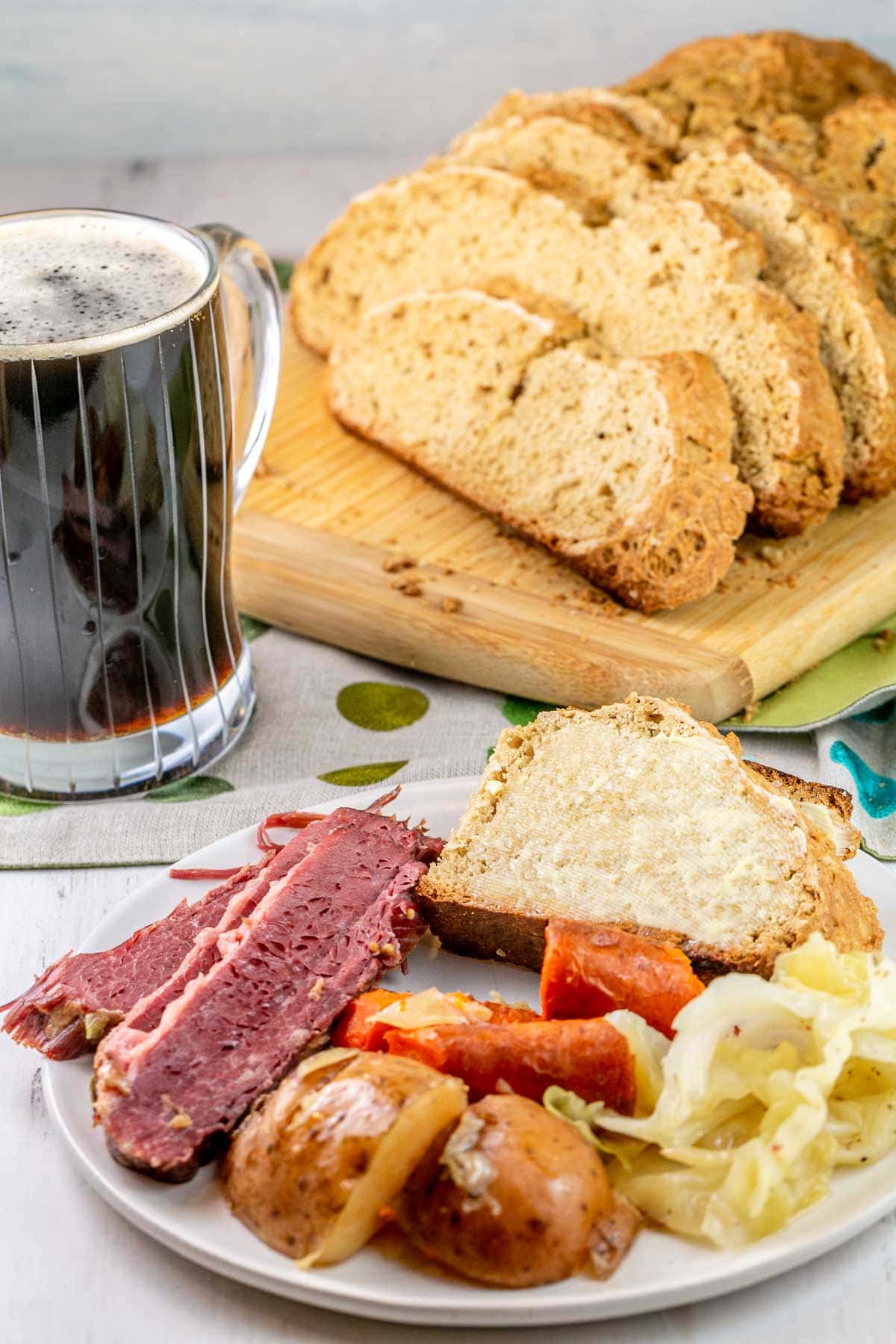 More Savory Bread Recipes:
2016 Quick Bread of the Month Recipes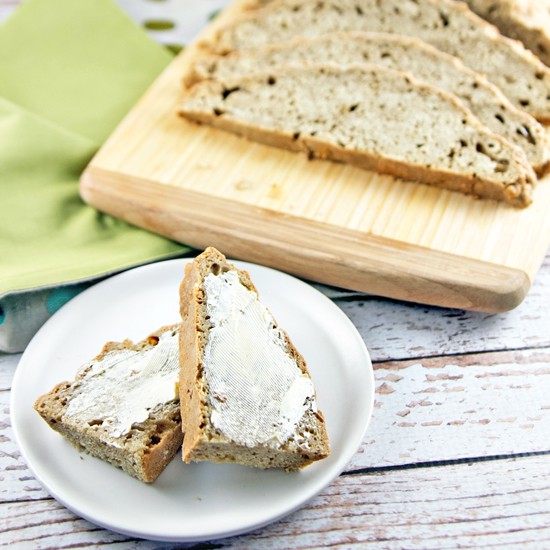 Guinness Irish Soda Bread
Total Time:
1 hour
15 minutes
Take your St. Patrick's Day up a notch with this stout-infused Irish soda bread.  It's like a double dose of Irish!
Ingredients
4-4.5 cups (480-540 grams) all-purpose flour
1/4 cup (49.5 grams) granulated sugar
1 teaspoon baking soda
1 1/2 teaspoons kosher salt
4 tablespoons (56.5 grams) cold butter, cut into 1/2 inch pieces
1 3/4 cups (197 grams) cold Guinness stout
1 large egg, lightly beaten
Instructions
Preheat the oven to 375 °F. Line a baking pan with parchment paper.
Combine 4 cups (480 grams) of the flour, sugar, baking soda, and salt in the bowl of an electric mixer. Beat with the paddle attachment to combine. With the mixer running, add the butter, one piece at a time, and mix on low speed until combined.
With a fork, lightly beat the Guinness and egg together in a measuring cup. With the mixer running on low speed, slowly pour the beer and egg mixture into the flour. The dough will be very wet.
Pour the dough onto a well-floured surface and knead it a few times into a round loaf, adding up to an additional half cup of flour to get the dough firm enough to mold. Place the loaf on the pan and lightly cut an X into the top of the bread with a serrated knife.
Bake for 50 to 55 minutes, or until a cake tester comes out clean. Tapping the loaf should result in a hollow sound.
Cool bread on a baking rack. Serve warm or at room temperature.
Notes
Flour your hands before trying to knead and shape the dough as it is sticky.
Instead of a baking pan with parchment paper, Irish soda bread can also be baked in a well-seasoned cast iron pan.
Store at room temperature for up to 3 days or freeze for up to 3 months.
Recommended Products
As an Amazon Associate and member of other affiliate programs, I earn from qualifying purchases.