May 24, 2017
Chipotle Rhubarb BBQ Sauce (RhuBarbecue Sauce)
Elevate your summer grilling with homemade spicy chipotle rhubarb BBQ sauce, packed full of fresh rhubarb!  Spicy, tangy, and just a little sweet, this barbecue sauce is the perfect use for your CSA and farmers market rhubarb.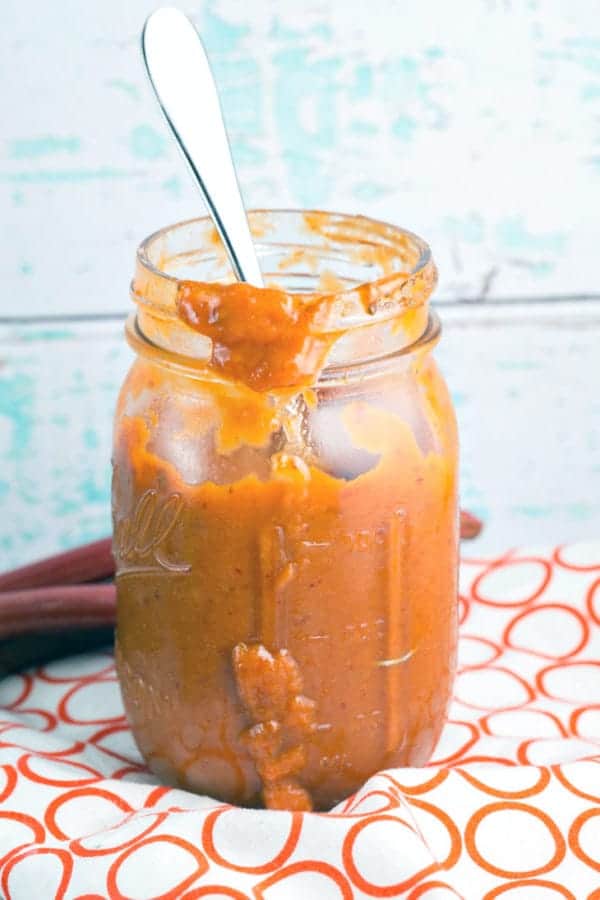 Every May, I think I make the same joke about the trendiness of rhubarb among food bloggers.
I mean, really – it's nuts, right?  Do that many people really have rhubarb that we need this many recipes?  For such a weird, geographically limited fruit/vegetable/whatever you want to call it?
Apparently – yes.  This is my first time in a few years that I (sadly) did not join a CSA.  So given my lack of CSA boxes, I asked my neighborhood group if anyone had any excess rhubarb they weren't going to use.
The response I received was pretty overwhelming.  I did get all the rhubarb I needed (and more!) from some awesome neighbors (thank you!).  But I've also been getting a lot of messages from people asking for suggestions of what to do with their rhubarb.  The message almost always start with "What can you do with rhubarb other than strawberry rhubarb pie?"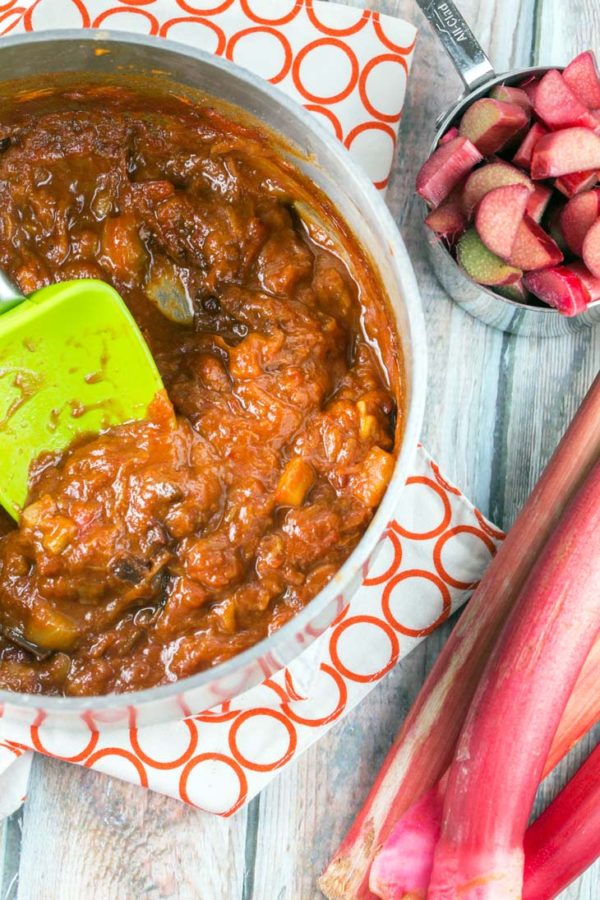 Point taken.  Everyone has heard of strawberry rhubarb pie, but you want something different.  Somehow, there is still a need for more rhubarb recipes, and I am more than happy to fulfill that need!  (No rhubarb left behind in my house.)
This is a mostly-baking blog, and rhubarb desserts are so on point this kind of year.  Buuuuut… we're doing something a little different.  This year, we're going savory instead.  And spicy.
Chipotle rhubarb BBQ sauce.  Spicy, sweet, rhubarb-y barbecue sauce.  It's possible I first made this solely because I love puns so much that I wanted to get to tell people they were eating RhubarBBQ sauce.  But then I kept making it because it's actually really delicious.
Here's what I love about this rhubarb barbecue sauce: it's the perfect combination of tangy and spicy, with just a little sweetness mixed in.  It tastes a little fruity, but not in a cloyingly-sweet way since rhubarb itself is not sweet.  It's a more complex flavor than just tomato based BBQ sauce (and I'm truthfully not a big fan of Carolina-style sauces).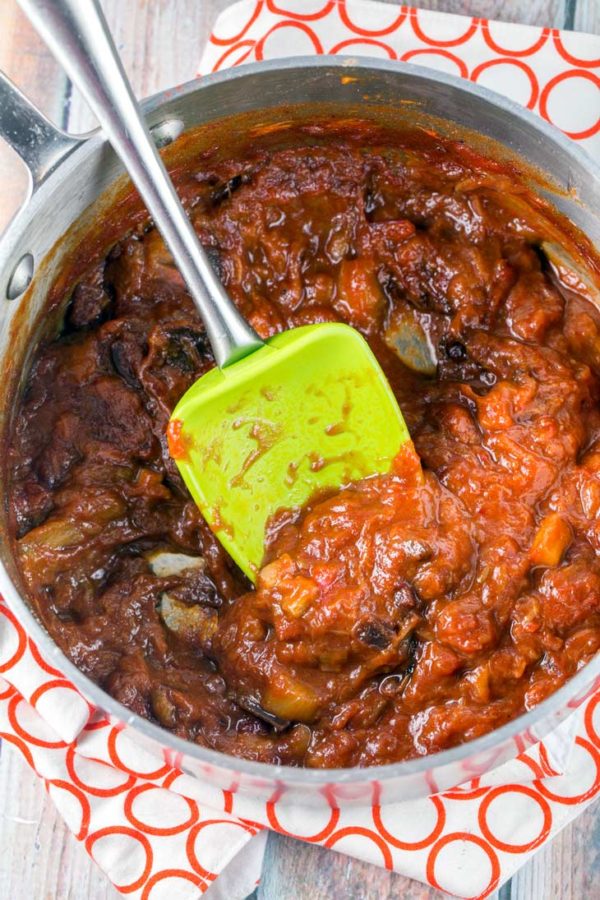 How to Make Chipotle Rhubarb BBQ Sauce
Want to know my favorite thing about this barbecue sauce?  It's so EASY.  I normally don't make my own BBQ sauce, but this is so easy, I can't help but wonder why I haven't been doing it all along!
All we need to do is add everything to saucepan and cook for 20ish minutes, until the rhubarb is soft.  Blend everything together (using a traditional blender, an immersion blender, or a food processor) until smooth and pour in a little water or chicken stock to thin to your desired consistency.
That's it.  And then the fun part: slathering it all over whatever you're going to grill or bake!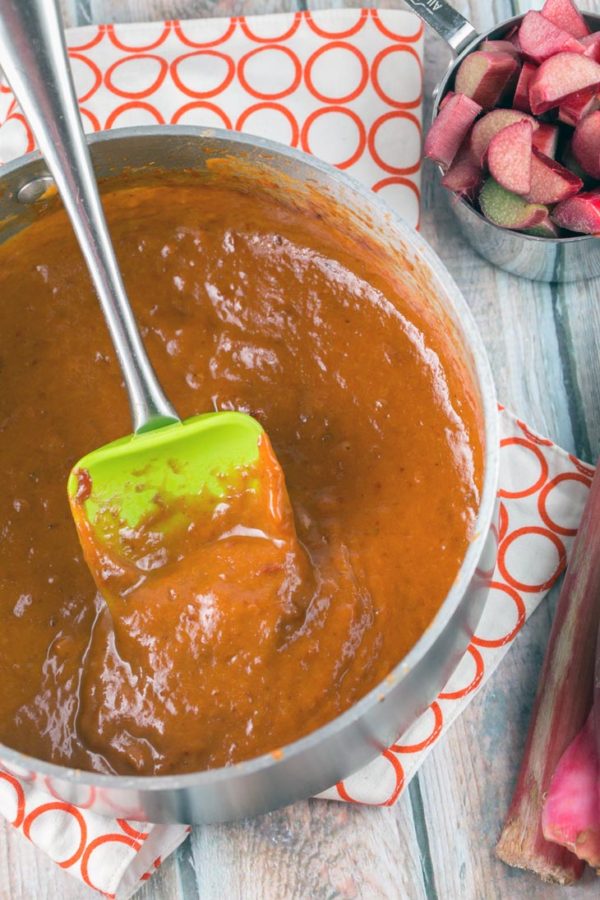 How to Use Chipotle Rhubarb BBQ Sauce
Rhubarb BBQ sauce is also completely versatile: it's delicious on grilled chicken or pork, which is how we usually use it.  It's also fantastic on fish, used as a marinade for some tofu, and when left on the thicker side, it's perfect to spoon on top of burgers.
And the best part of homemade barbecue sauce?  Totally customizable!  Make it spicier (or not).  Leave it a thicker or dilute it to a thinner sauce for a glaze.  The world is your (rhubarbecue sauce covered) oyster!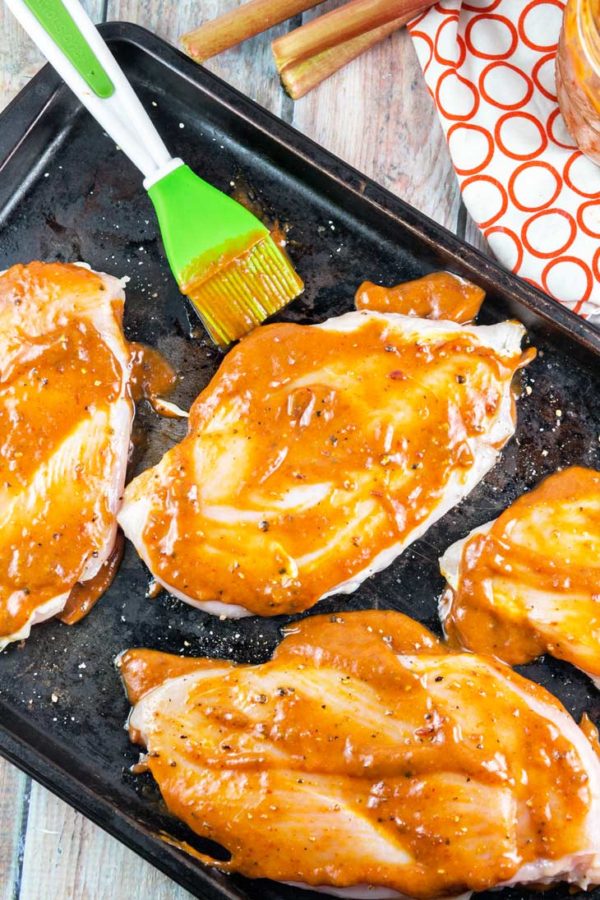 How to Store Chipotle Rhubarb BBQ Sauce
Once your batch of homemade barbecue sauce is ready and cooled, you can freeze it for a few months or store it in the refrigerator.  From a food safety standpoint, you should use this within 5 days in the fridge — but since we live dangerously, I'll admit that we used ours 2 weeks after making it to grill some chicken, and it was still perfectly fine (and delicious!).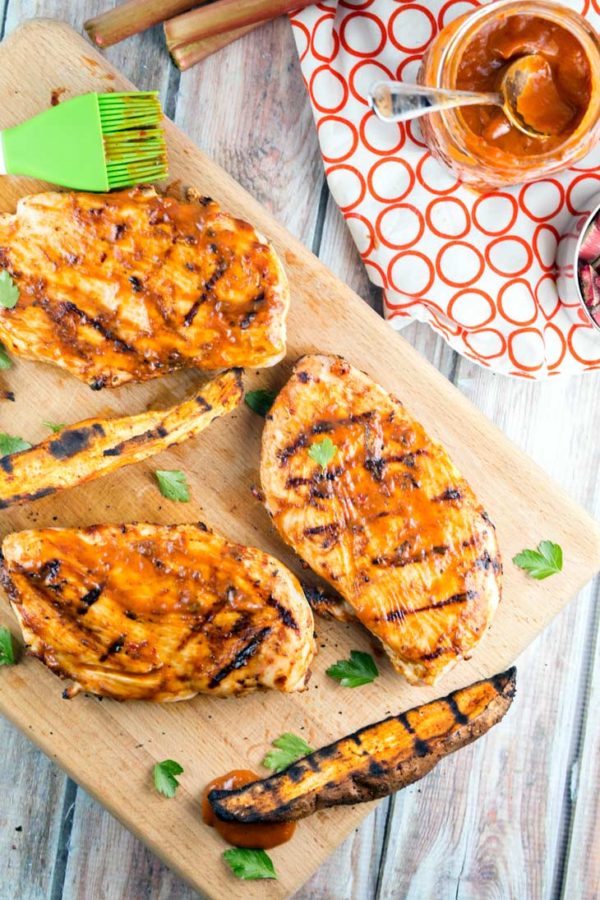 Tips and Tricks for Chipotle Rhubarb BBQ Sauce:
Fresh rhubarb has a pretty short shelf life, so you'll want to make this within 3-5 days of getting your rhubarb.  But the great news is that rhubarb freezes beautifully, so you can toss your rhubarb stalks in the freezer and make this sauce anytime in the future!
Continue to cook until the rhubarb stalks are soft.  While the blender will do the hard work of breaking it down, both the flavor and the texture are significantly improved if the sauce simmers until the rhubarb stalks are soft.
Don't like spicy? Leave out the chiles in adobo.  Can't find them at your grocery store (they're sold in a can) — ground chipotle powder brings a similar heat; stir in while you simmer and add to taste.
Freeze your leftovers!  This barbecue sauce freezes well and is perfect to pull out of the freezer months after rhubarb season has passed.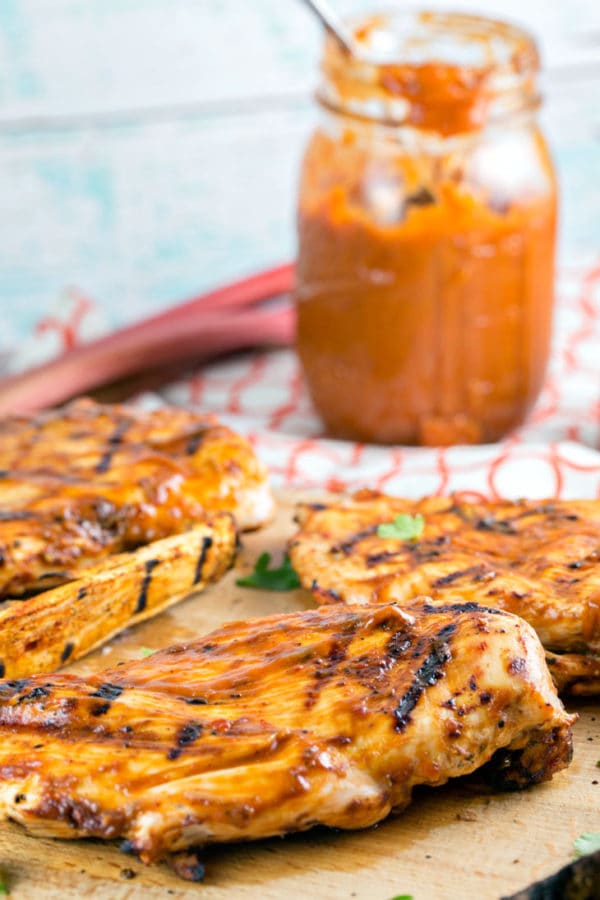 Love rhubarb? Don't forget to make these, too!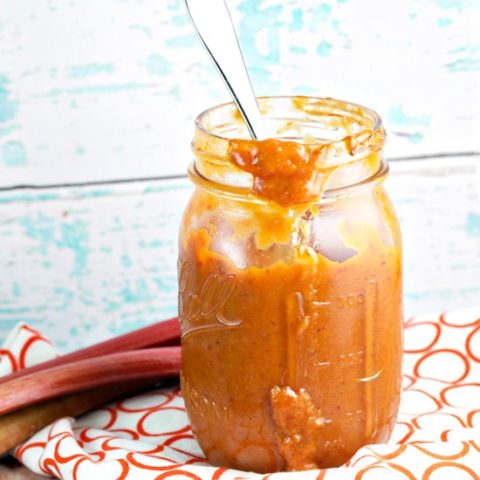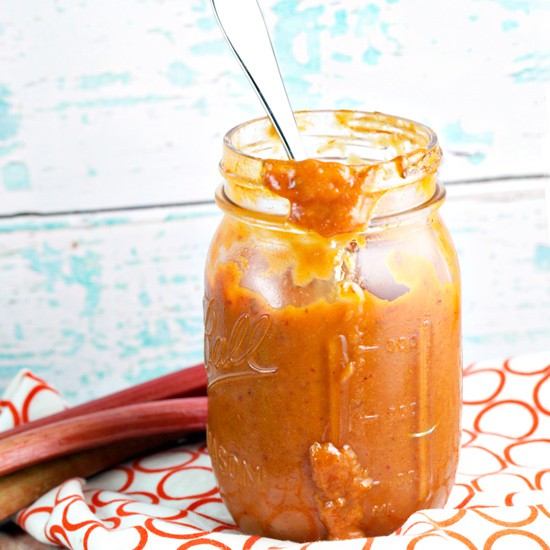 Chipotle Rhubarb BBQ Sauce
Elevate your summer grilling with homemade spicy chipotle rhubarb BBQ sauce, packed full of fresh rhubarb!
Ingredients
2 tablespoons olive oil
2 shallots, chopped
4 cloves of garlic, chopped
4-5 long stalks rhubarb, chopped into quarter inch pieces (2-3 cups)
1/3 cup brown sugar, packed
1 tablespoon spicy brown mustard
1 tablespoon apple cider vinegar
1/2 cup crushed tomatoes
2 tablespoons tomato paste
2-3 chilies in adobo
1 tablespoon smoked paprika
salt and pepper, to taste
1/2 to 1 cup water or chicken stock
Instructions
Add olive oil to a small, heavy bottom saucepan over medium heat. Saute the shallots and garlic until soft and fragrant. Add in the remaining ingredients and simmer over low heat for 20 minutes, until rhubarb is soft and cooked through.
Pour mixture into a blender or use an immersion blender to thoroughly blend ingredients. Add water or chicken stock, a quarter cup at a time, while blending. Continue to add water until desired barbecue sauce consistency is reached. Blend until completely smooth.
Notes
Barbecue sauce should be stored in a sealed container in the refrigerator for up to 1 week or frozen for up to 6 months.
A Bunsen Burner Bakery Original Protocol
Recommended Products
As an Amazon Associate and member of other affiliate programs, I earn from qualifying purchases.
Nutrition Information:
Yield:

32
Serving Size:

2 tablespoons
Amount Per Serving:
Calories:

29
Total Fat:

0.94g
Carbohydrates:

4.8g
Protein:

0.45g