August 22, 2014
Rhubarb Tom Collins
Use homemade rhubarb syrup to turn a traditional Tom Collins into a Rhubarb Tom Collins! With only four ingredients, this is the perfect simple cocktail to sip all summer long.
I like to bake, I like to eat baked goods, but I truly love a good drink.
I'm a bourbon and whiskey girl, but summer calls for gin (or tequila… or rum if you're on a tropical island and there are tiny umbrellas involved). Remember last week, when I shared a rhubarb simple syrup recipe?
I hope you procured some rhubarb and made the simple syrup, because today, we're toasting to the weekend with a Rhubarb Tom Collins.
If you're not aware, a Tom Collins is basically a sparkling lemonade, spiked with gin. It's pretty much the perfect sit-and-sip summer cocktail. And today, we're making a delightfully pink, rhubarb-flavored version.
Traditionally speaking, a Tom Collins should be served in a… drumroll please… collins glass. A collins glass is taller and narrower than a highball glass, but really, you can use whatever you like.
My barware collection is nowhere near complete enough to include collins glasses, so I used a standard highball glass. I just like a tall glass so you can garnish with a whole rhubarb stalk!
If you've made your rhubarb simple syrup ahead of time (and I highly suggest that you keep a big batch on hand all spring/summer!), this drink comes together in a flash. Gin, lemon juice, rhubarb simple syrup, and seltzer.
(I think this would also be delicious served with lime juice instead of lemon, or garnished with a little fresh mint!).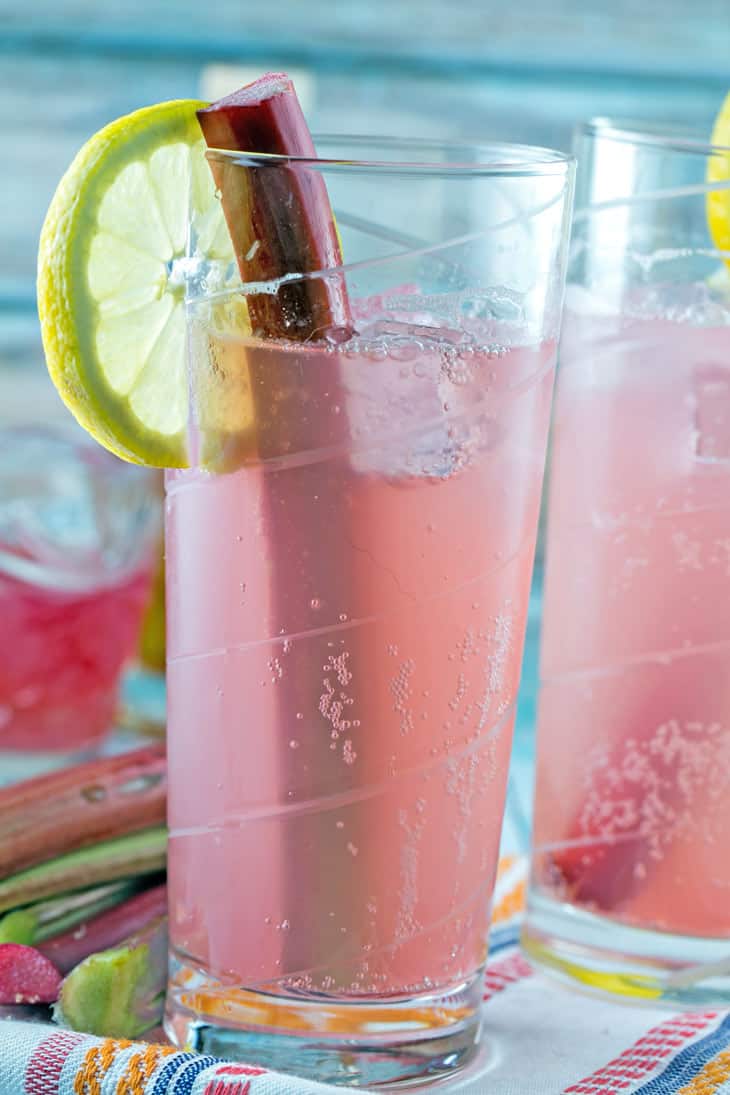 Serve with the rhubarb solids leftover from the simple syrup and some crackers. Ultimate rhubarb-themed happy hour. Aaaaaah.
Happy Friday, friends – enjoy your weekend, hopefully with a rhubarb beverage.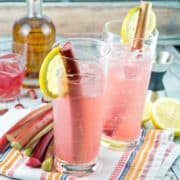 Rhubarb Tom Collins
Use homemade rhubarb syrup to turn a traditional Tom Collins into a spring-and-summer perfect Rhubarb Tom Collins.
Ingredients:
Directions:
Combine 45 mL gin (3 parts), 30 mL fresh squeezed lemon juice (2 parts), and 15 mL rhubarb simple syrup (1 part) in a cocktail shaker and fill with ice.  Shake until well combined.  Strain into a highball or collins glass with several ice cubes.  Top with seltzer (or champagne!), garnish with a rhubarb stalk, and enjoy!
Love rhubarb? Don't miss these delicious rhubarb recipes!