June 7, 2018
Blueberry Rhubarb Pie (Bluebarb Pie)
Move over, strawberries — there's a new perfect pairing for rhubarb. Full of juicy blueberries, this Blueberry Rhubarb Pie is the perfect early summer fruit dessert.
You knew this was coming, right? Every spring, at least one rhubarb dessert makes an appearance on Bunsen Burner Bakery. (Spoiler alert: this year there will be two!)
For a weird vegetable that is definitely not a mainstay of the American diet, I sure do get a lot of "what can I do with all this rhubarb?!" questions.
If you're part of a spring/early summer CSA, or frequently visit farmers markets, you're guaranteed to come across some rhubarb. And I'm here to help you figure out how to use it all up.
Strawberry rhubarb pie is certainly the most popular option. (If you're looking for an easier take, check out these strawberry rhubarb oatmeal bars.)
But today I'm going to suggest something that I'd argue is even better: a blueberry rhubarb pie.
Not only does it have a much more fun name (bluebarb pie!!), I find blueberries are just overall better in a pie.
No need to slice them. They hold up better without getting super-mushy. And the combination of the red rhubarb and purple blueberries blend into a gorgeous magenta-colored filling.
Dare I suggest that this will become your favorite version of rhubarb pie? Because it definitely will.
The Best Pie Crust
I've shared my favorite pie crust recipe before, and all my best tips for the foundation of a perfect pie. For more detailed tips and tricks, I highly recommend reading through the post!
But for a brief rundown about how to make your best pie crust ever, here's a few pointers:
Keep your fat cold. When cold butter is put into a hot oven, the water in the butter evaporates, creating that perfectly flaky crust.
Refrigerate the dough after mixing – but not for too long. I've found 30 minutes to be a great length of time – long enough for the butter to re-chill, but not so long that the dough breaks and crumbles when you try to roll it out.
Roll carefully and slowly. Take your time when it comes to rolling out dough. I usually find I need about 5 minutes to roll out pie dough – much less time and I'm too aggressive and the dough cracks, much more time and the dough starts to warm too much.
Rechill the dough before baking. Pop the pie crust in the pie dish into the freezer for a few minutes before baking. It's all about keeping that butter nice and cold.
Not into making your own pie dough? No problem! Use a store bought pie crust from the freezer section of the grocery store. You'll want a regular size crust, not deep dish.
Blueberry Rhubarb Pie Filling
For the filling, we're going to use 3 cups of chopped rhubarb and 2 cups of blueberries. These can be either fresh or frozen — if frozen, thaw the berries first.
We'll also add some sugar, lemon juice, and a pinch of salt.
Fruit like blueberries contain a lot of water, so we also need something to absorb all that extra moisture.
There are several options here. Some people use flour, some use cornstarch, others swear by a substance called ClearJel.
Different pies benefit from different times, and for this blueberry rhubarb pie, my favorite is…
Tapioca for Perfect Pie Fillings
Instant tapioca!
Tapioca is derived from cassava, a root vegetable. It's sold as flour, starch, pearls, and beads. For this pie, we're looking for instant tapioca (sometimes called minute tapioca), which is ground down tapioca pearls.
Tapioca thickens beautifully, never feels gummy, and doesn't leave the filling cloudy and opaque like flour and cornstarch.
Why is tapioca my favorite filling for this kind of double crust pie? It's time for my favorite subject… kitchen chemistry!
Kitchen Chemistry

Unlike flour and cornstarch, tapioca retains its moisture-absorbing properties even in the presence of an acid, unlike flour and cornstarch, both of which start to break down once exposed to acid and is better at holding its shape at room temperature.
Tapioca works better the more finely it is ground, so if your instant tapioca has large granules, I recommend giving it a spin in a food processor or blender before using.
You'll also want to let the filling rest for at least 10 minutes to allow the tapioca to soften and start to absorb the fruit juices.
To make sure it's fully activated, bake the pie until it's visibly bubbling in the oven, and let the pie sit out overnight before slicing – the tapioca needs time to re-bond after baking!
How to Tell When Fruit Pie is Done
While it might sound a little corny, you can tell a pie is done using a combination of all your senses.
It should smell like pie. It should look brown. You should hear the pie filling bubbling, making a thumping noise. And you should be able to feel that the fruit is soft and cooked through.
The pie is done with the filling is bubbling up in the middle of the pie, not just the edges. Especially for juicy pies, make sure the bubbles are rolling slowly and thick, rather than quick, watery bubbles on the edges.
But what about a double crust pie? It's hard to see inside to see if juices are bubbling!
If the vents on the pie have started to seal shut, use a knife to carefully cut them open again so you can see inside the pie and look for rolling bubbles.
To test the fruit, take a toothpick and insert it inside one of the vents. If it's difficult to insert the toothpick through a piece of rhubarb, the filling is undercooked. You're looking for a toothpick that slides in effortlessly with no resistance.
Tips and Tricks for the Best Blueberry Rhubarb Pie
This pie can be made using fresh or frozen blueberries and rhubarb. If using frozen berries, thaw first for an hour at room temperature. Place the fruit in a colander and set the colander over a bowl to catch the excess water that thaws.
Thicken with tapioca for the best blueberry rhubarb pie. Use "instant" or "quick cooking" tapioca, and if the granules are large, break them down into tiny granules in a food processor before using.
Bake your pie on the bottom rack of the oven.  The best way to achieve this and avoid soggy, underbaked crusts?  Put your pie on the very bottom rack of the oven to make sure the crust is fully baked before the top of the pie is overcooked.
Tent the crust if it starts to brown too quickly. Crust often bakes faster than the filling, so once the crust is the perfect shade of golden brown, tent with aluminum foil while the pie filling continues to bake.
Bake your pie on a sheet pan to catch any liquid that may drip out from the sides of the crust.
Let the pie set overnight before slicing. I know, this one is really hard. But waiting overnight will help ensure you get the perfect slice of pie, and not a slightly runny mess!
More Rhubarb Recipes
2018 Pie of the Month Series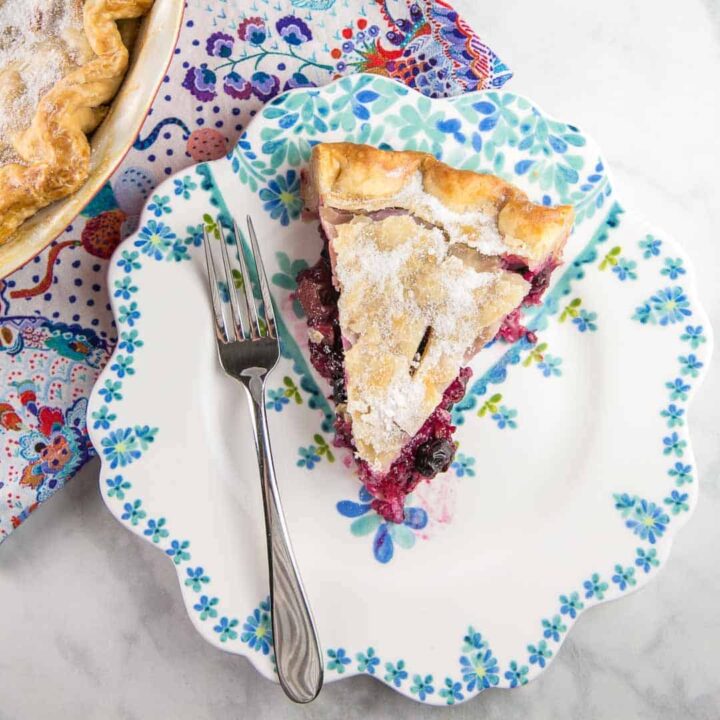 Blueberry Rhubarb Pie (Bluebarb Pie)
Total Time:
1 hour
30 minutes
Move over, strawberries -- blueberries are the new perfect pairing for rhubarb. This Blueberry Rhubarb pie will be your new favorite!
Ingredients
For the Pie Crust:
12 tablespoons (170 grams) butter, frozen for at least 2 hours
3 cups (360 grams) all-purpose flour
1 teaspoon salt
1 tablespoon sugar
1/3 cup (61 grams) vegetable shortening, frozen for at least 2 hours
6 tablespoons (85 grams) very cold water
For the Pie Filling:
3 cups (360 grams) chopped rhubarb
2 cups (300 grams) blueberries
3/4 cup (148.5 grams) plus 1/2 tablespoon sugar, divided
3 tablespoons (31.5 grams) instant tapioca
1/4 teaspoon salt
1 teaspoon lemon juice
1/2 tablespoon cold butter
1 egg white, whisked
Instructions
Preheat oven to 425 °F. Prepare pie crusts according to these directions. Line a deep 9-inch pie pan with the bottom crust and place the crust in the freezer.
Combine the rhubarb, blueberries, 3/4 cup of sugar, instant tapioca, salt, and lemon juice in a medium bowl. Stir well to combine. Remove the pie pan from the freezer and transfer this mixture into the bottom crust. Cut the butter into small pieces and scatter the butter across the top of the filling.
Place the top crust over the filling. Trim excess dough to leave a 1/2-inch border, tuck the top edges of the crust under the bottom, and crimp. Cut vents on the top crust of the pie, then brush the whisked egg white over the top of the crust.
Transfer the pie dish to a rimmed baking sheet and place in the oven. Bake for 20 minutes, then reduce heat to 375 °F and bake for an additional 25 minutes. Sprinkle the remaining 1/2 tablespoon of sugar over the top of the crust, then bake for an additional 10 minutes, or util the filling begins to bubble through the vents. If the top crust starts to darken too much, tent with aluminum foil for the rest of the baking time.
Let pie cool completely, at least 4 hours but preferably overnight, before serving.
Notes
Pie will keep at room temperature for 24 hours, refrigerated for up to 3 days, or frozen for up to 3 months.  To freeze the whole pie, wrap the pie tightly in plastic wrap and place in a freezer bag.  To freeze individual slices, place slices on a cookie sheet in the freezer.  Once fully frozen, wrap each slice in plastic wrap, followed by a layer of aluminum foil.  Defrost at room temperature before eating.
A Bunsen Burner Bakery Original Protocol
Recommended Products
As an Amazon Associate and member of other affiliate programs, I earn from qualifying purchases.